Turbocharged LS Powers Square Body Chevy Pickup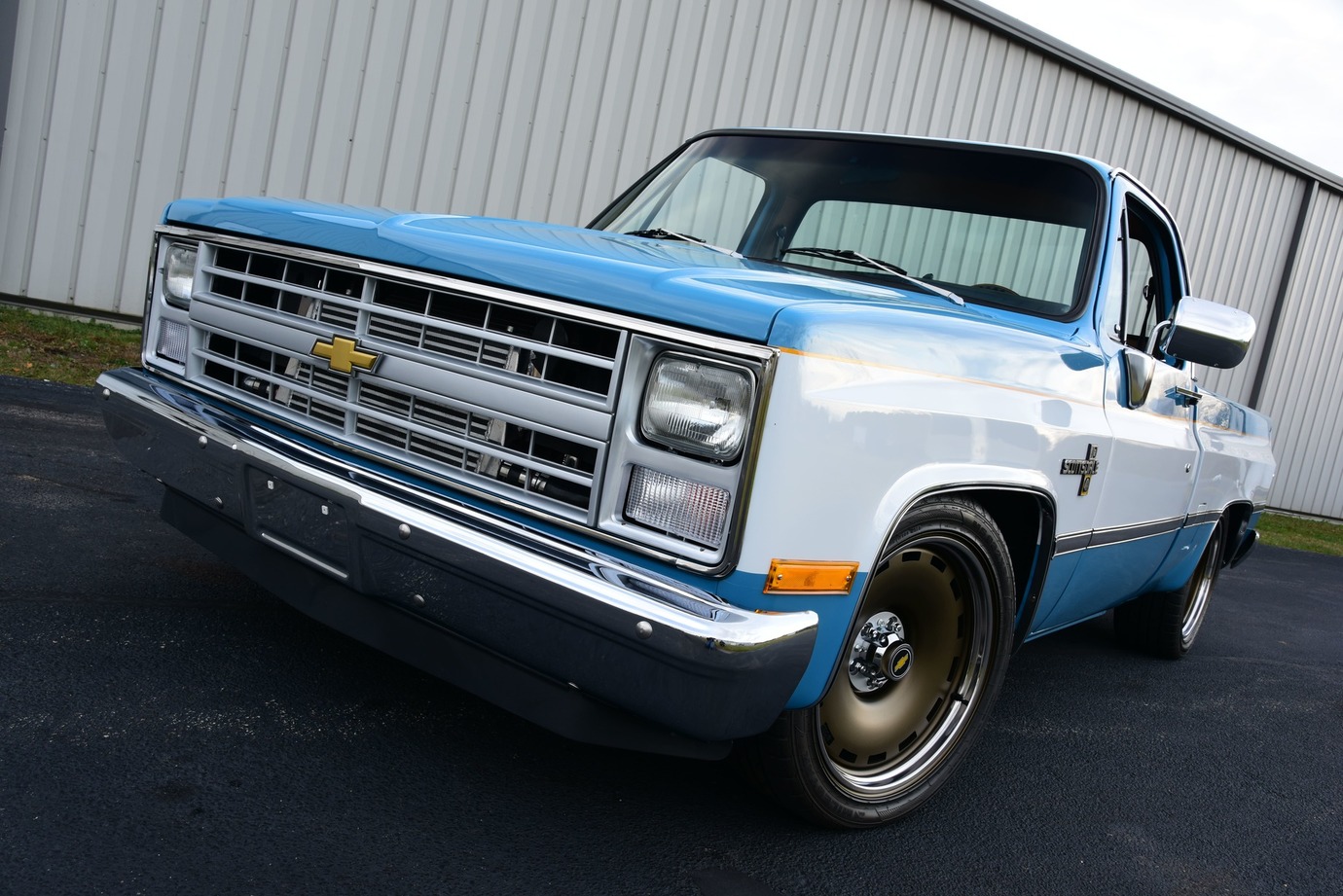 Nothing breeds creativity better than team work. The ability for a group of like-minded individuals to freely express their design ideas offers the ability to create something with a fresh new look. This was the thought that Chris Cerce of Chris Cerce Customs in Taunton, Massachusetts, had for breathing new life into a recently purchased 1983 Chevy C10 Square Body Scottsdale truck project. The concept was to create a new shop truck while engaging all of the team member's personal ideas on what it would take to make it a bitchin hauler. Cerce, extremely well-known on the scene for his razor-sharp fabrication skills, grew up in the area with a deep passion for Chevy C10 trucks and this was the perfect opportunity to let the creativity flow.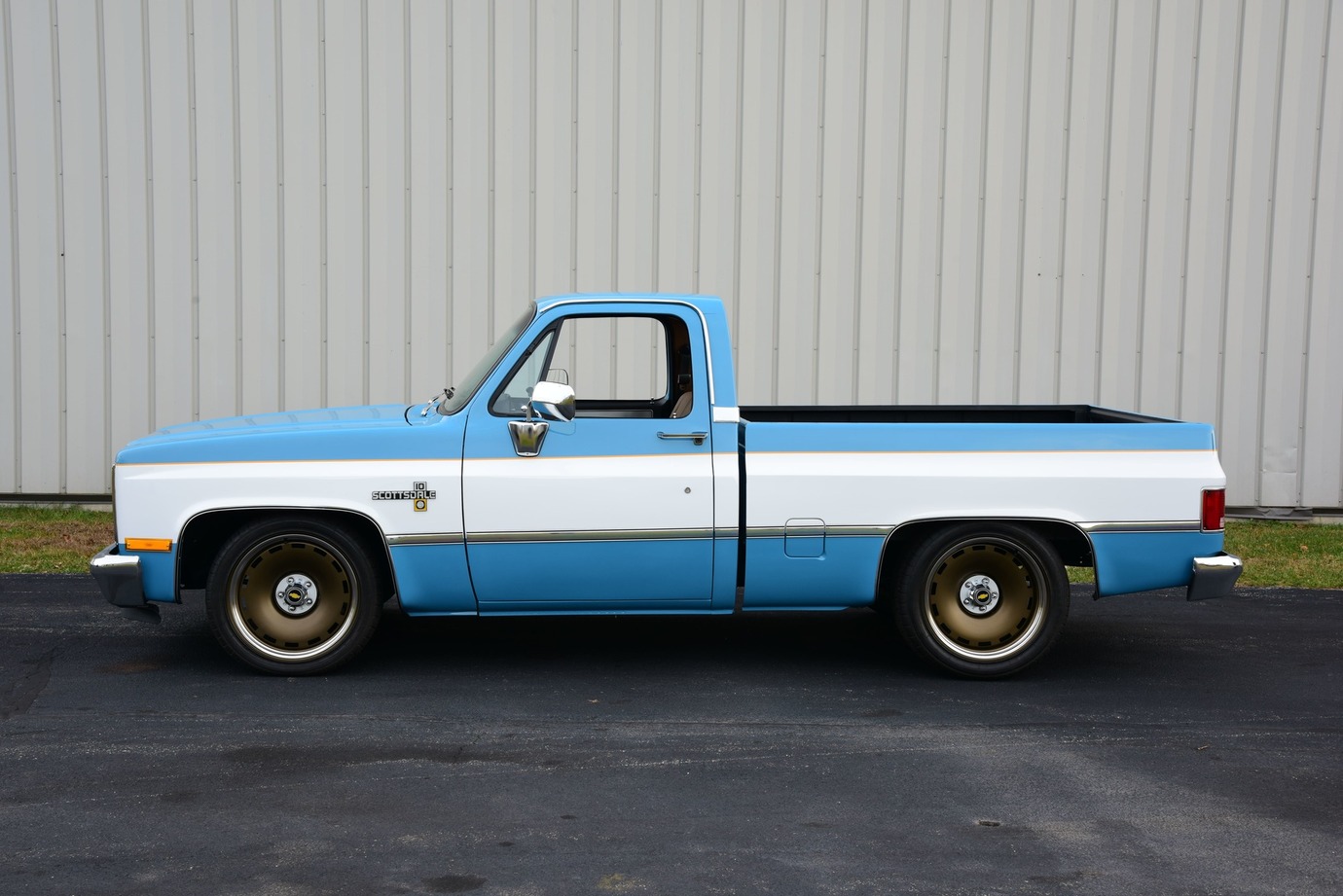 You never know when the chance to check out a potential new project will come to the table. It was fate when Chris received a call from an old friend to advise that he was moving out of state and that he had something stashed away that he might be interested in. A short trip revealed a totally rust-free Chevy C10 square body that had obviously seen far better days. The truck was non-running and obviously in need of a full revitalization but through the cobwebs Chris saw the potential for something cool. Without wasting any time a deal was made and the title changed hands with the Chevy being hauled to the shop for evaluation. Once it arrived, he immediately let the team know that this was going to be the new shop truck and that they would each have a hand in its design to give it a new signature look.
It didn't take long for ideas to flow and before long the build-board was honed and ready to go with the new styling that included a killer stance, classic color scheme, stylish wheels and a wicked LS packing a huge turbo. The initial teardown proved that the truck was indeed rock-solid with the frame and all of the sheetmetal being sent of to be media blasted. Once the factory spine was painted, the reassembly commenced starting with hanging a refreshed Chevy 10-bolt rear out back packing a Detroit Eaton Truetrac with 3.73 gears. To dial in a new stance with improved handling it's suspended in place by a set of RideTech StreetGRIP composite leaf springs combined with matching HQ-Series Mono-tube design shocks and antiroll bar. For a perfect rake up front, the team rebuilt the stock suspension incorporating the original control arms and spindles while also adding RideTech HQ-Series Mono-tube design shocks with lowered ride height, matching StreetGRIP front coil springs and antiroll bar. When its time to drop anchor a factory dual power master delivers fluid through stainless lines to front Wilwood Forged Narrow Superlite 4R Big Brakes with 12-inch drilled & vented rotors wearing four-piston calipers matched to factory drum's out back. For a contemporary look, a set of custom-painted Detroit Steel Delray-model wheels in 20×8-inch front and 20×10-inch rear sizes wearing Michelin performance rubber links it all to the street.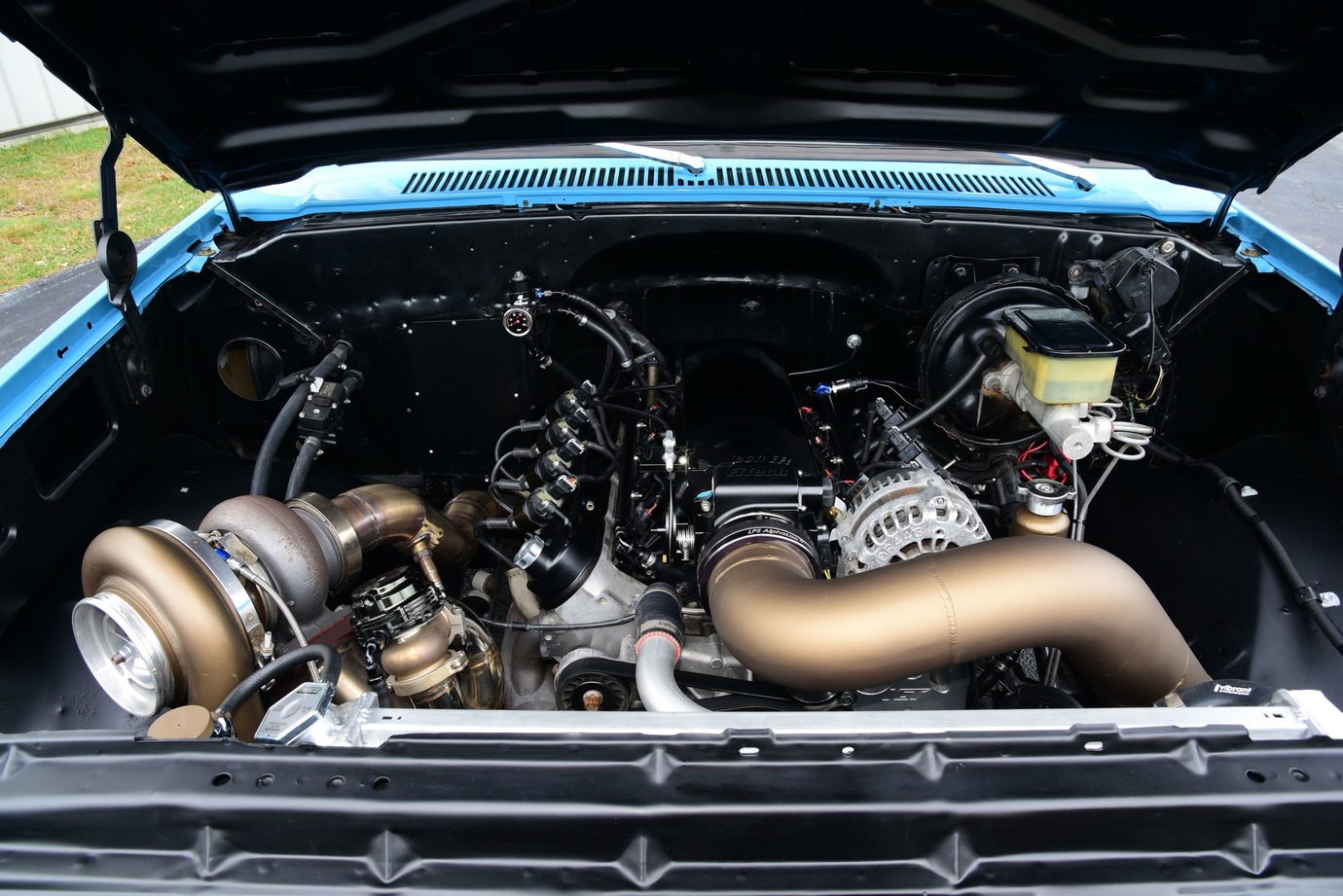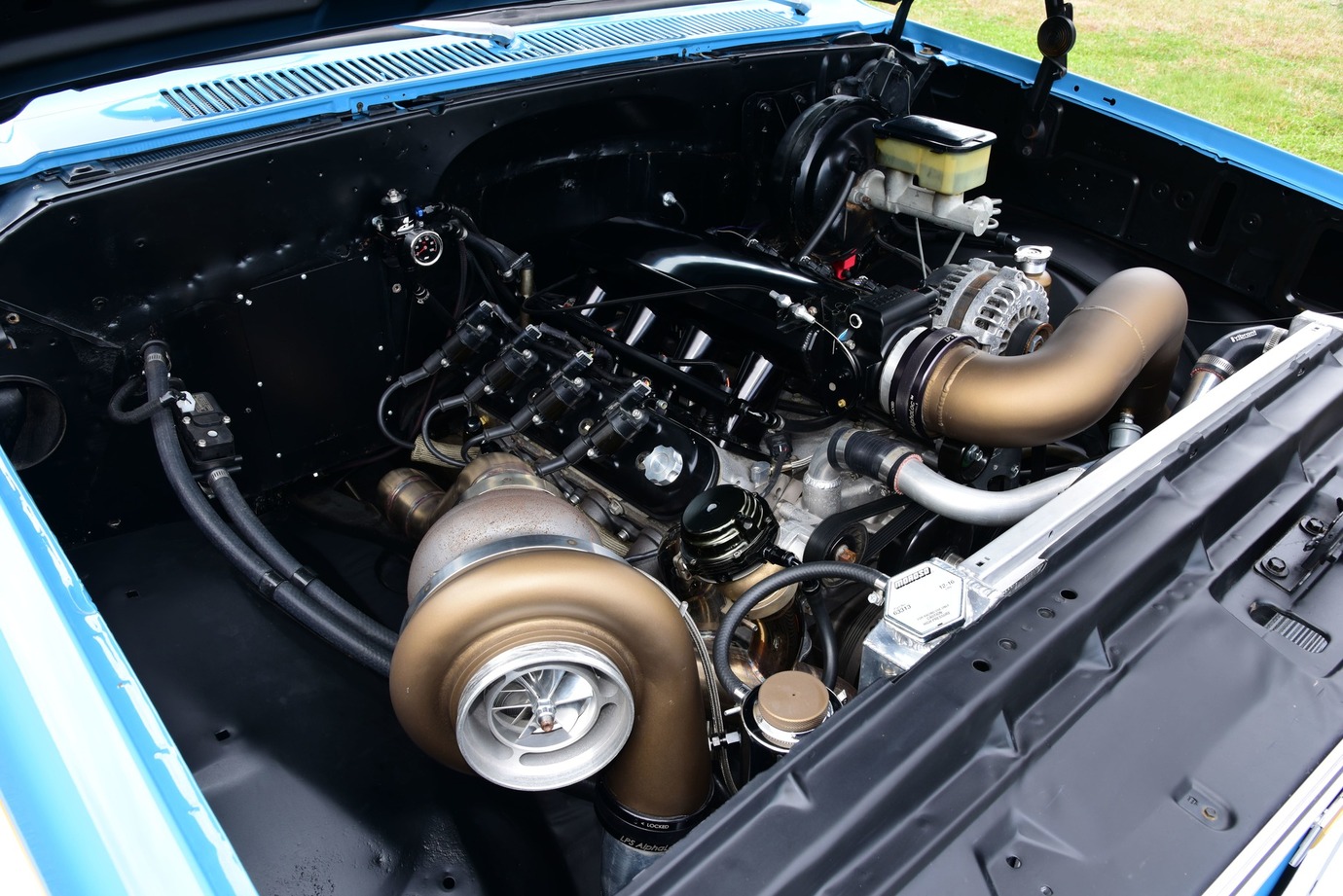 When it came time to making a decision on an engine it was unanimous that it'd need to be a tire-frying Chevy LS V-8. Starting with a 2004 6L base, Chris delivered the engine to C3 Automotive Machine in Foxboro to pack it full of go-fast goods. Once the block was massaged it was filled with a reworked factory crank linked to Callies Ultra I-beam rods wearing Wiseco forged aluminum pistons getting bumped by a custom ground stick from Don Hardy Race Cars. Up top a set of heavy-breathing aluminum heads from Texas Speed make seamless power especially when combined with a FiTech Ultimate LS EFI including their intake manifold kit, 104mm billet throttle body and high-volume fuel rails. The knock-out punch comes from a Borg Warner AirWerks 76mm billet turbo complete with custom fabricated intercooler and plumbing by Chris. A FiTech ignition lights the fire with spent gasses dumping thorough custom-fabbed stainless headers to a matching 3-inch exhaust with Magnaflow mufflers also by Chris. Its linked to a 2009 Chevy 4L80 trans packed with a shift kit from B&M moving the goods through a custom driveshaft by Brookline Machine Company in Waltham. The combination's good for a solid 600hp which is more than enough to keep the local tire outlets in business.
Thankfully when it came to addressing the factory sheetmetal it was all in solid condition with no rust repairs required thanks to its California lineage. It did however spend its life as a workhorse requiring the team including Chris, Marc Hanood, Noah Raposa, Eric Camara and Brandon Martins to roll up their sleeves and get busy ironing out the panels to perfection. Once everything was gapped and ready for paint the team decided on a classic combination of Axalta Hawaiian Blue with Stark White accented by School Bus Yellow to bring it all to life through Chris' spray gun. Final assembly included a bevy of fresh parts from LMC Truck including chrome bumpers, grille, lights, door handles and trim.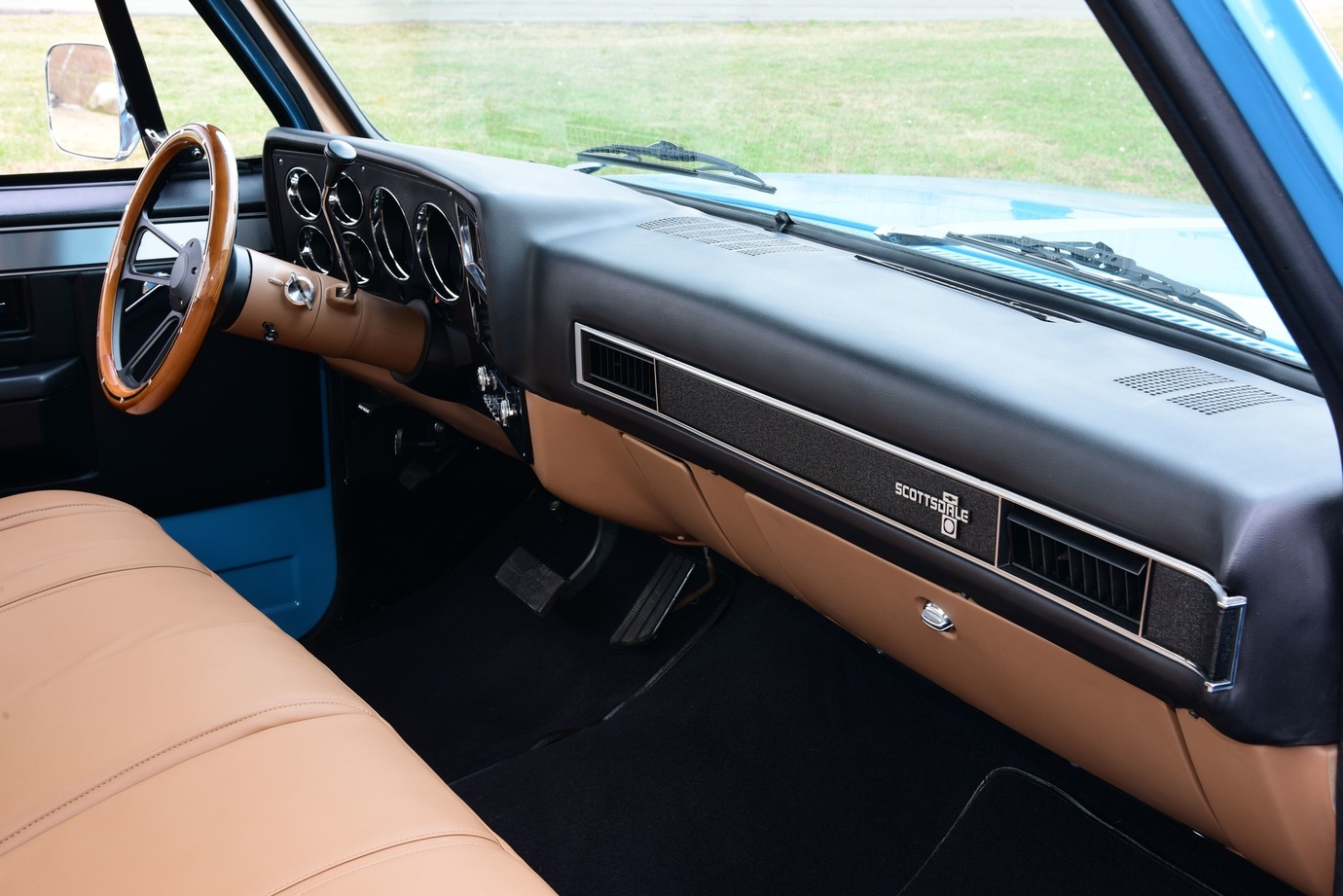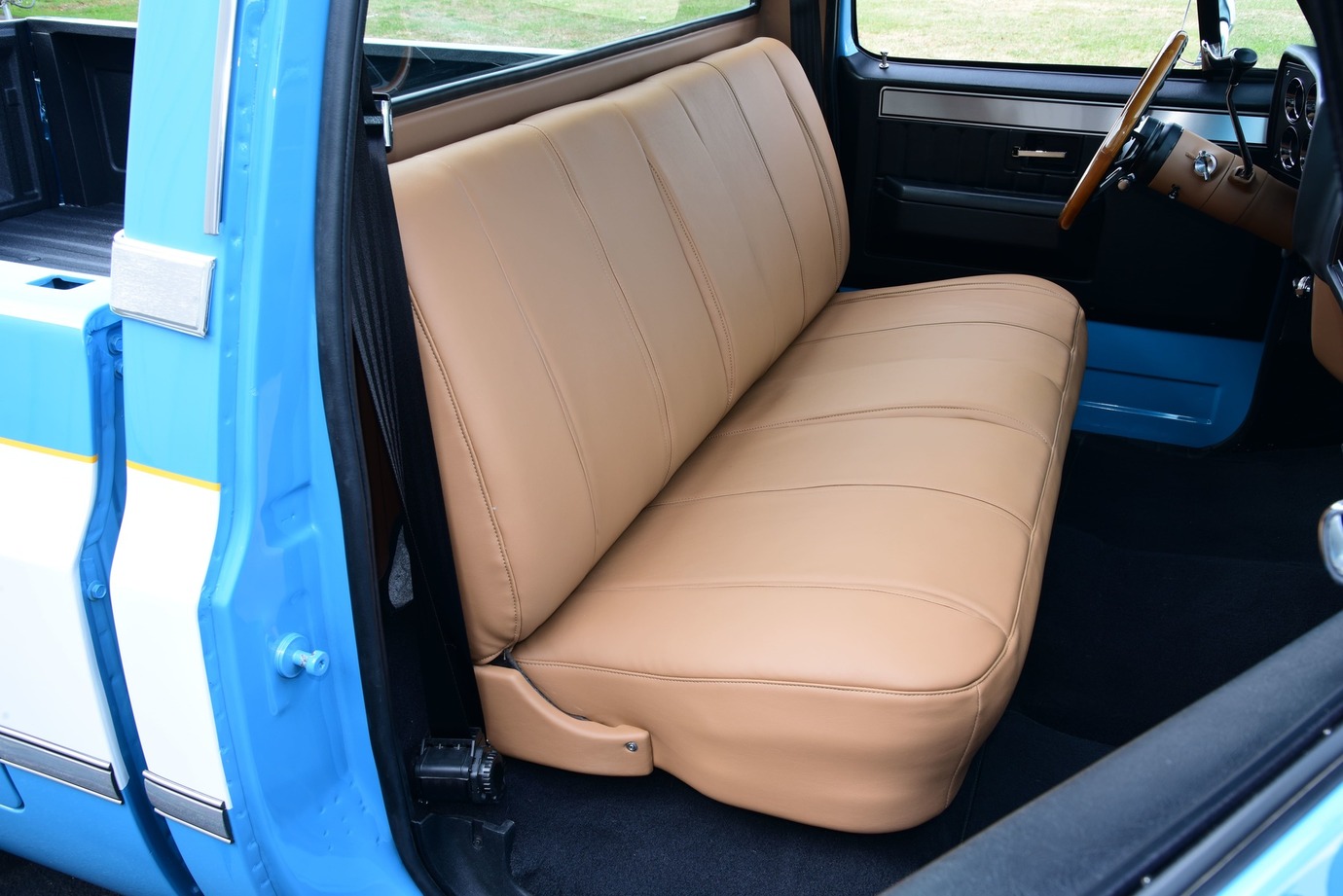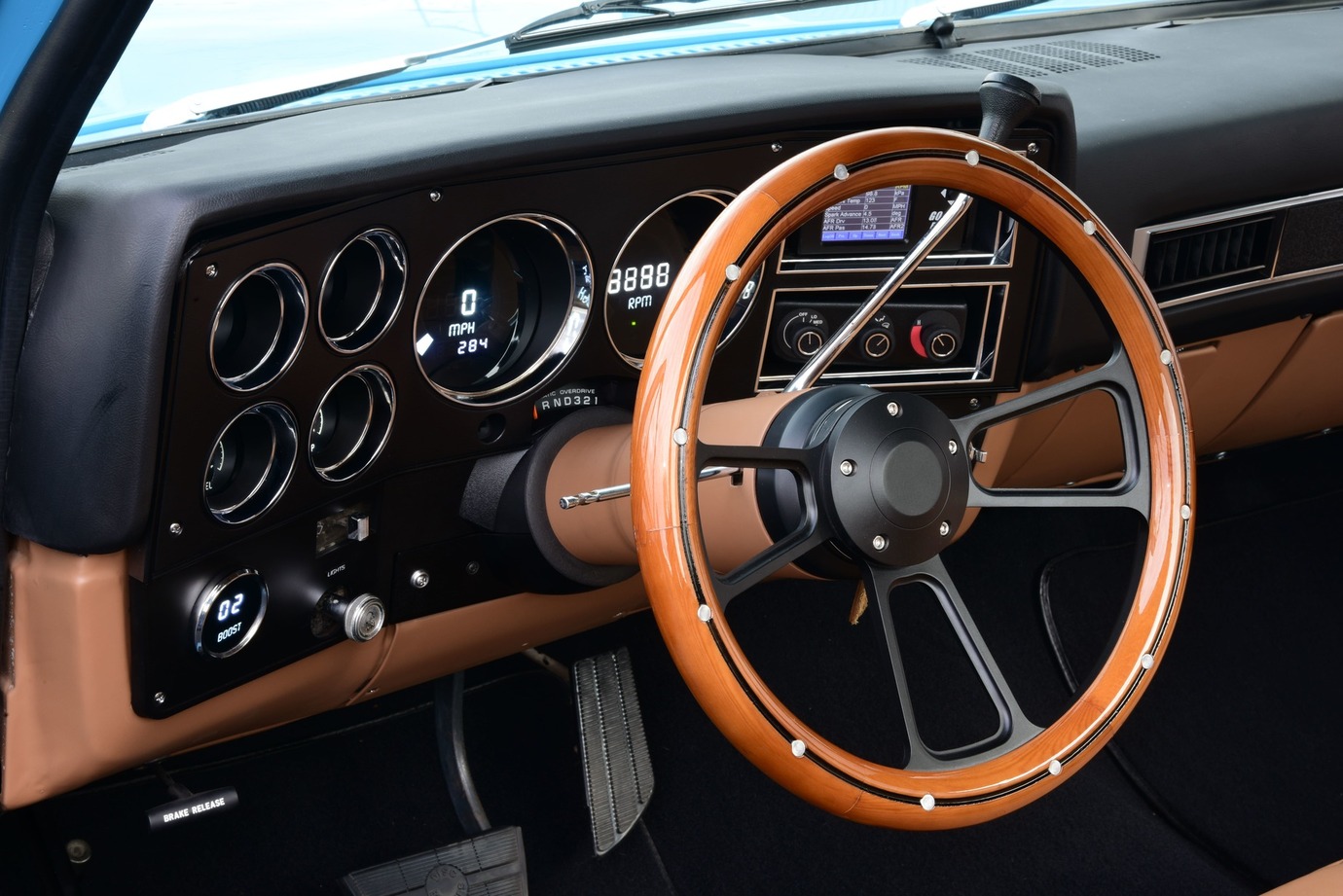 To complete the business office a new dash pad and trim from LMC was filled with LED digital Bargraph gauges from Intellitronix while a steering wheel from Con2R carves the course with shifts moving through a factory column stick. Cool breezes come from a Vintage Air unit while tunes flow thanks to a Retro Sound and Rockford Fosgate installed by Brandon who also rewired the entire truck. For comfort, Carello Auto Upholstery of Warwick, Rhode Island, refreshed the factory bench with light brown leather accented by black German square-weave carpeting and new door panels from LMC Truck to complete the look. This is one wicked shop truck that's seeing plenty of miles thanks to the creative vision of team at Chris Cerce Customs. CTP
Turbocharged LS Motorvates 1983 Chevrolet C10 Pickup