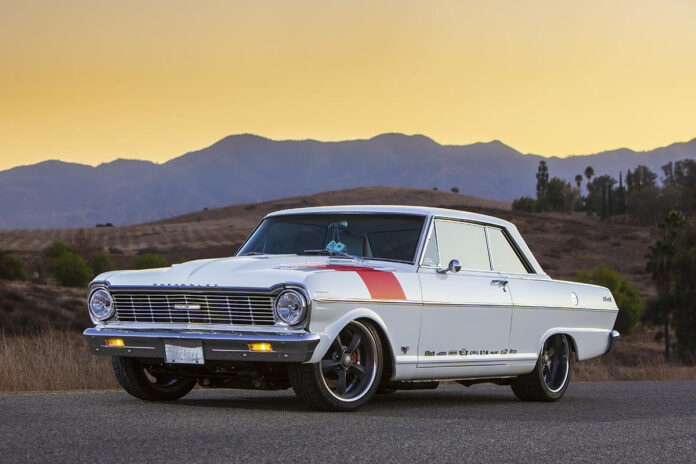 Jon Henson's Pro Touring 1965 Chevy II
By Nick Licata – Photography by Wes Allison
California Car—two words put together that add value to just about any classic car, especially those seeking out a solid foundation for a '60s muscle car build. That was exactly the case with Jon Henson's 1965 Chevy II Nova. He was no stranger to the car as he had been helping his friend, Shannon Gaither, wrench on it for about 11 years. "I actually went with [Gaither] to look at the car and talked him into buying it, as it was in amazing condition," Jon says. "It is a native California car with no rust, original paint, original trim, and sheetmetal, the windows sealed tightly, and the doors closed with a distinct 'thud'—the perfect blank slate."
After years of the duo putting in work and the car nearing the finish line, Gaither had to move onto another project for SEMA. That's when Jon expressed interest in buying the car. Gaither didn't want to sell it, but knew if he sold the car to Jon it would still be "in the family."
"I purchased the car in January 2020 and owned it for two weeks before pulling the 350ci small-block, the 200-4R transmission, and original 10-bolt rearend and leaf springs," Jon says. "By March the car had a BluePrint LS with a Magnuson TVS2300 blower, TCI Stage3 StreetFighter 4L60E, and Currie Turn 9 9-inch rearend. By May it was back on the road with a completely new drivetrain.
Now, all those upgrades didn't happen without the support of some willing, capable friends. "My good friend Kevin Winger was instrumental in the project, as he would stop by after work and help me wrench for hours," Jon says. "In addition, my buddy Cody Marquez, an instructor at UTI, helped wire in the FiTech ECU, Dakota Digital gauges, and install the Derale Performance fluid coolers. Even Gaither pitched in and 3-D printed several parts on the car, including the ECU firewall mount, fuse box cover, and prototype intake tube. Chris Decker then stepped in and took the prototype and welded up an aluminum one."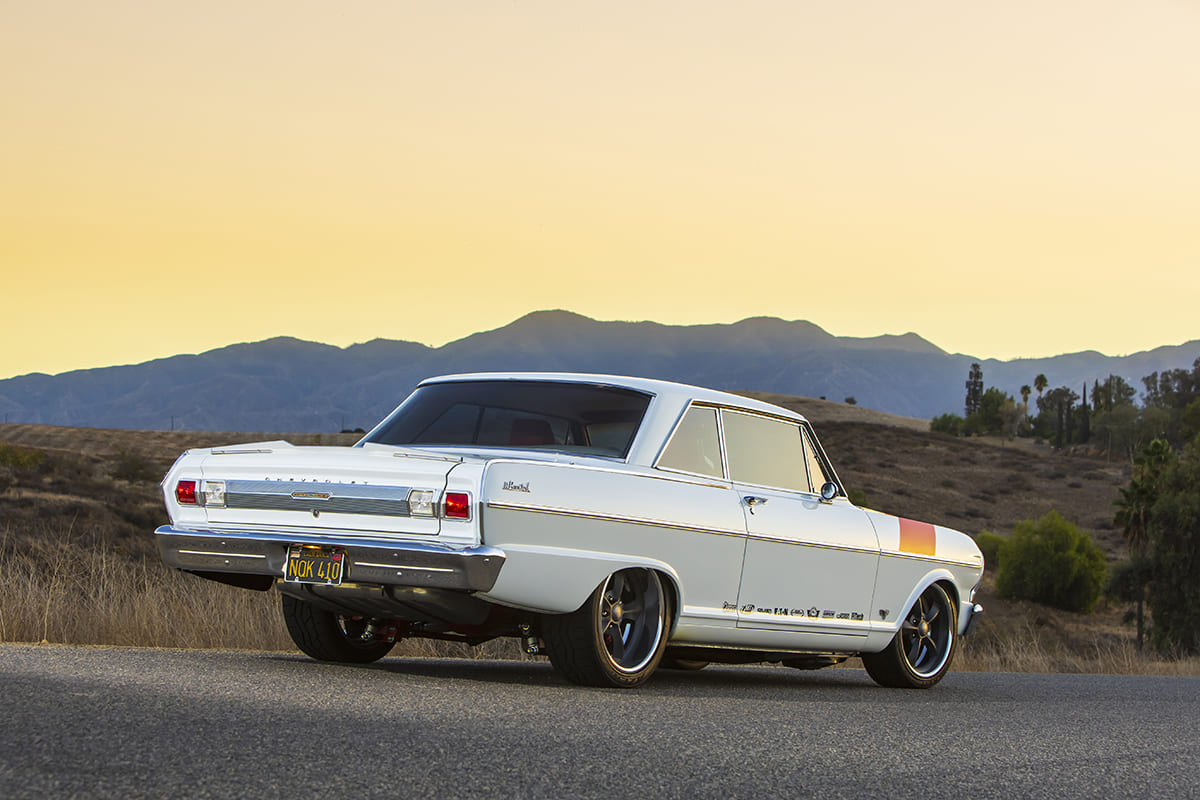 No doubt it takes a village to get a project like this on the road in such as short amount of time, and Jon is surrounded by a tight group willing to step in at a moment's notice.
Jon's original plan was to keep everything lightweight. He was in the process of sourcing an all-aluminum LS1 when his pals at Eaton caught wind he was building the car to take on the 2020 Hot Rod Power Tour. The Eaton crew had interest in using the car to travel with on the Tour so they helped put together a deal for the Magnuson supercharger. That meant Jon would have to come up with an engine capable of standing up to the abuse of forced induction. "We were on a tight deadline when my friends at Summit Racing stepped in and helped out with getting me a BluePrint Engines LS iron block with aluminum square-port heads and a TCI Stage 2 StreetFighter trans." Amazingly, all the parts arrived within a week of ordering, so with a garage full of tools and an abundance of ambition Jon and his pals got busy.
They dressed up the mill with an Eddie Motorsports front drive system and spruced up the engine bay with custom inner fenders and Eddie Motorsports hood hinges. It all complies and contributes to the engine bay's sanitary scene.
Jon happens to work at Currie, so there was little doubt the original "peg leg" and 10-bolt would make way for a Currie Turn 9 Pro-Touring rearend armed with 3.70 gears, an Eaton Truetrac, and 35-spline Currie axles. It also features a lightweight back brace for added strength and a good amount of eye candy underneath.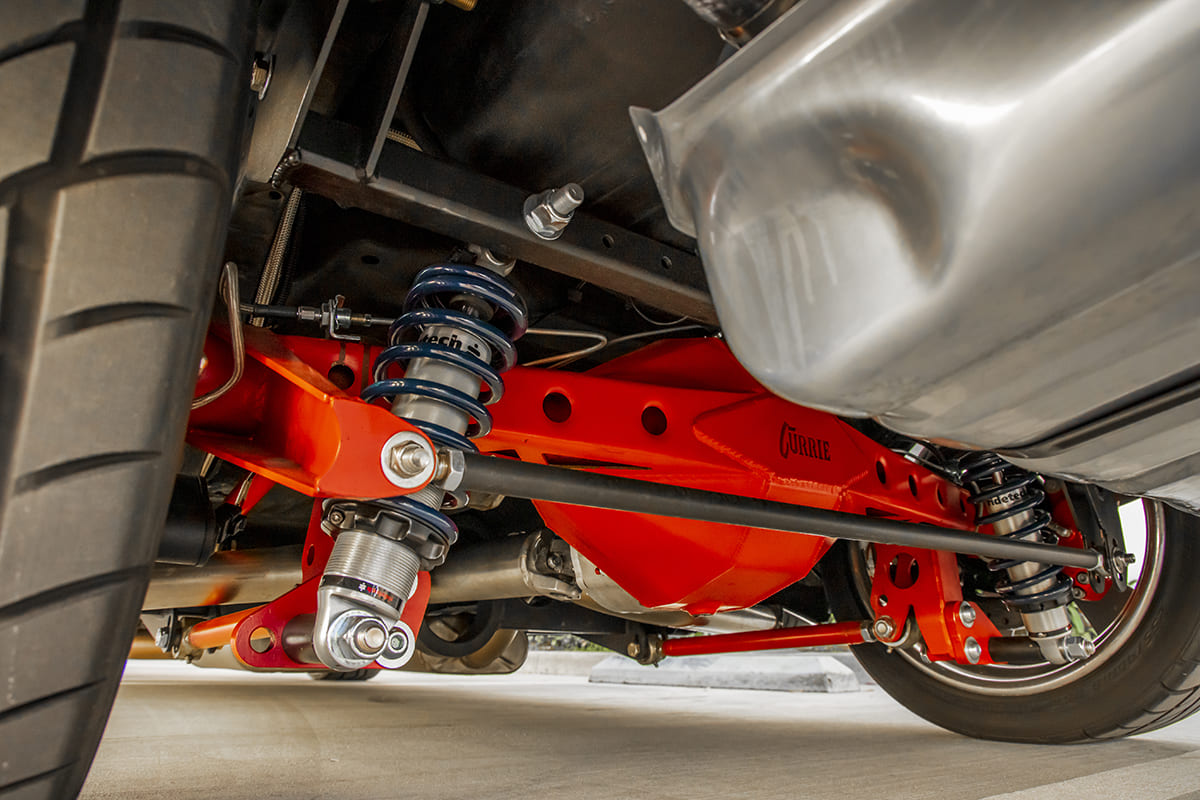 With the power and rearend aspect of the build dialed in, it was necessary for the car to handle like a beast, so Jon hit up the Heidts catalog and ordered up their 1962-1967 subframe/crossmember suspension package. The Mustang II drop spindles are supported with QA1 shocks and 500-pound springs, while out back a customized TCI four-link features adjustable Johnny Joints bolted to modified rear control arms suspended with RideTech coilover shocks and 250-pound springs.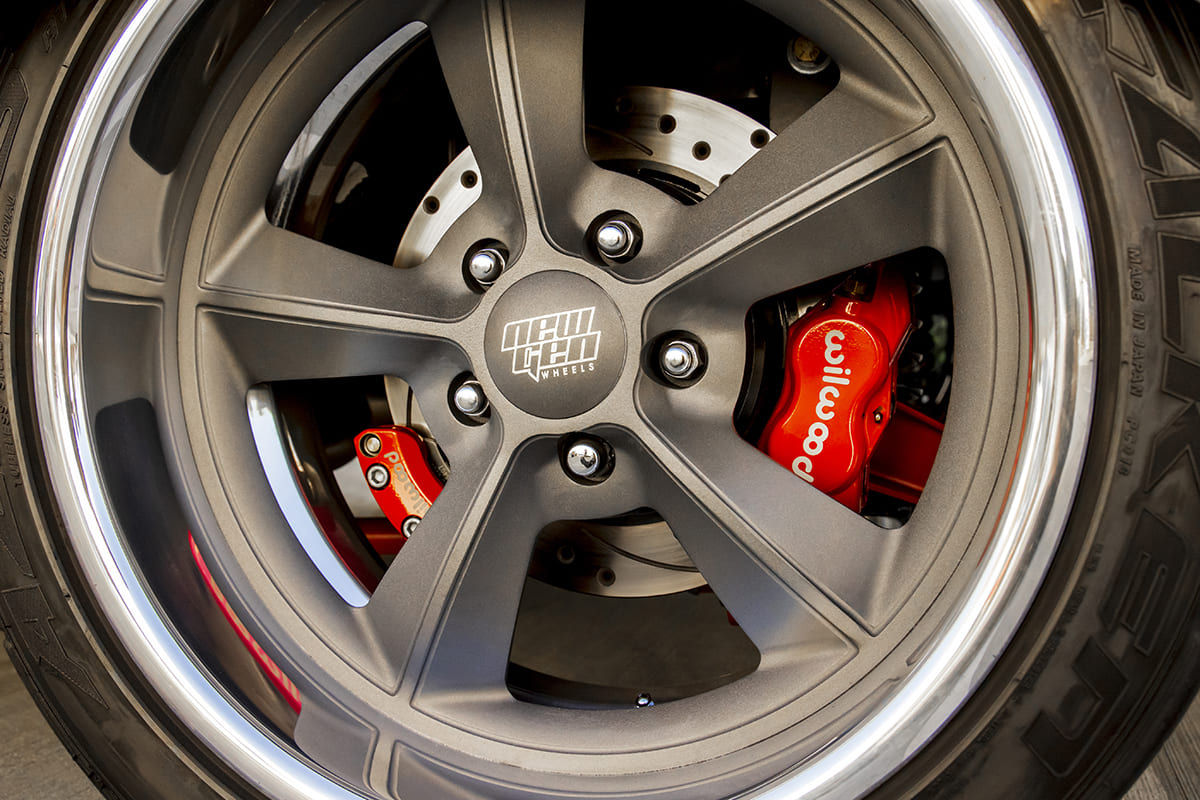 Wilwood 13-inch rotors and 13-inch plates handle stopping duties up front, while Wilwood 12-inch rotors and four-piston calipers include Wilwood's electric parking brake kit out back.
Rolling stock consists of NewGen Thrasher wheels (18×8 front, 18×9 rear) wrapped in Falken Azenis RT615K rubber (235/40R18 front, 255/40R18 rear) to ensure the Nova grabs the asphalt when Jon makes aggressive lateral decisions through the CPP Mustang II rack-and-pinion steering system.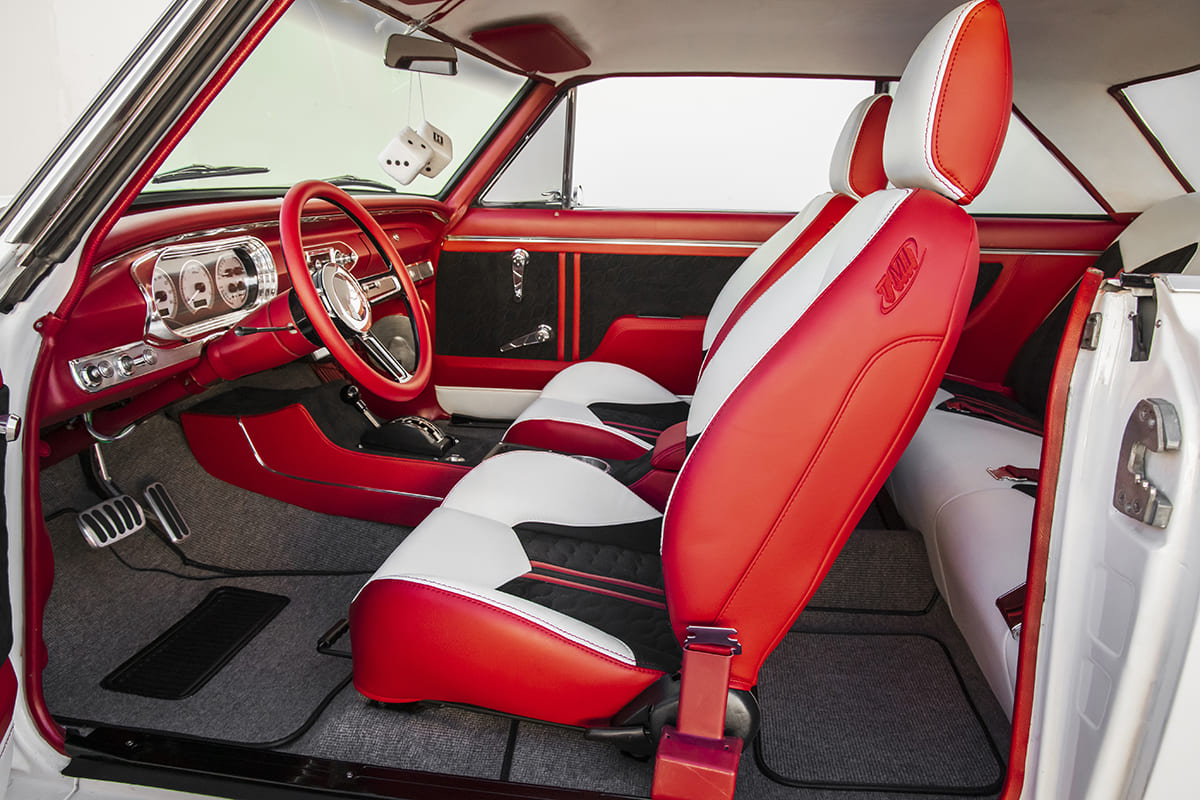 The red, white, and black interior motif comes by way of TMI seats, door panels, and center console. The whole ensemble gives off a vintage vibe amplified by the white fuzzy dice hanging from the rearview mirror. The Dakota Digital dials offer modern technology without upsetting the dash's OG style. Prior to handing the car off to Jon, Gaither installed the RetroSound head unit that keeps pace with the classic scene, while the 6.5-inch JBL speakers housed in the kick panels and trunk-mounted 10-inch Dayton sub provide the cockpit with powerful tunes for long road trips. The Lokar pedals, along with the Eddie Motorsports steering wheel perched on the stock steering column, add a performance vibe and the Vintage Air A/C system ensure Jon cruises in a pleasant climate.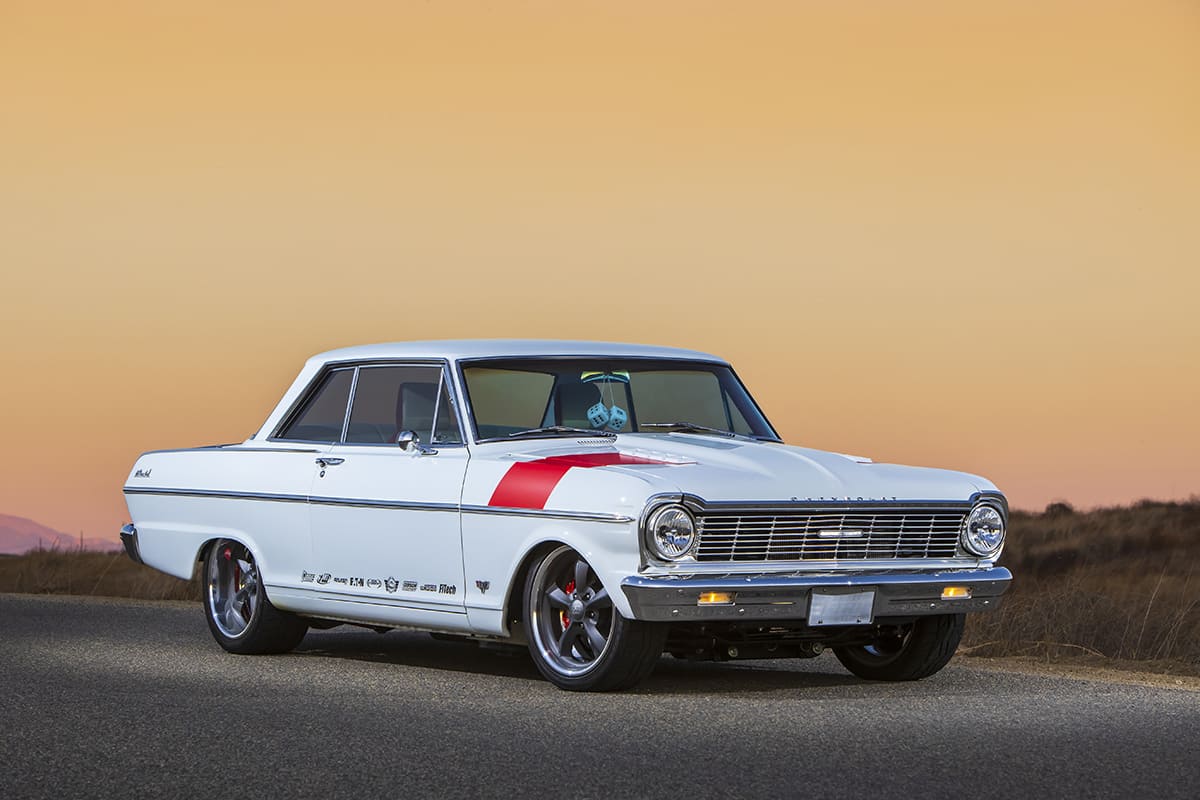 With the car living the lavish California lifestyle for the past 56 years, the factory Ermine White paint and original trim pieces escaped sun damage and wear from the natural elements. With the factory bits in pristine condition, Jon was a bit apprehensive installing the Evans CNC custom-machined side mirrors and rear spoiler, but those add to the car's performance theme. "It's truly amazing how the body and trim made it past the 50-year mark totally unscathed." Jon says. "I almost shed a tear when I had to drill out the original rivets in the grille to install the A/C and intercooler."
Jon's most memorable experience with the car so far is "putting it on FiTech's dyno and hearing the Gibson exhaust roar to life and the Magnuson supercharger whine at about 6,600 rpm. The sound of the car is absolutely amazing."
We know Jon drives the car on a regular basis and it gets looks wherever it goes, but he gives major props to the friends who pitched in their valuable time to make this memorable journey, one he'll never forget.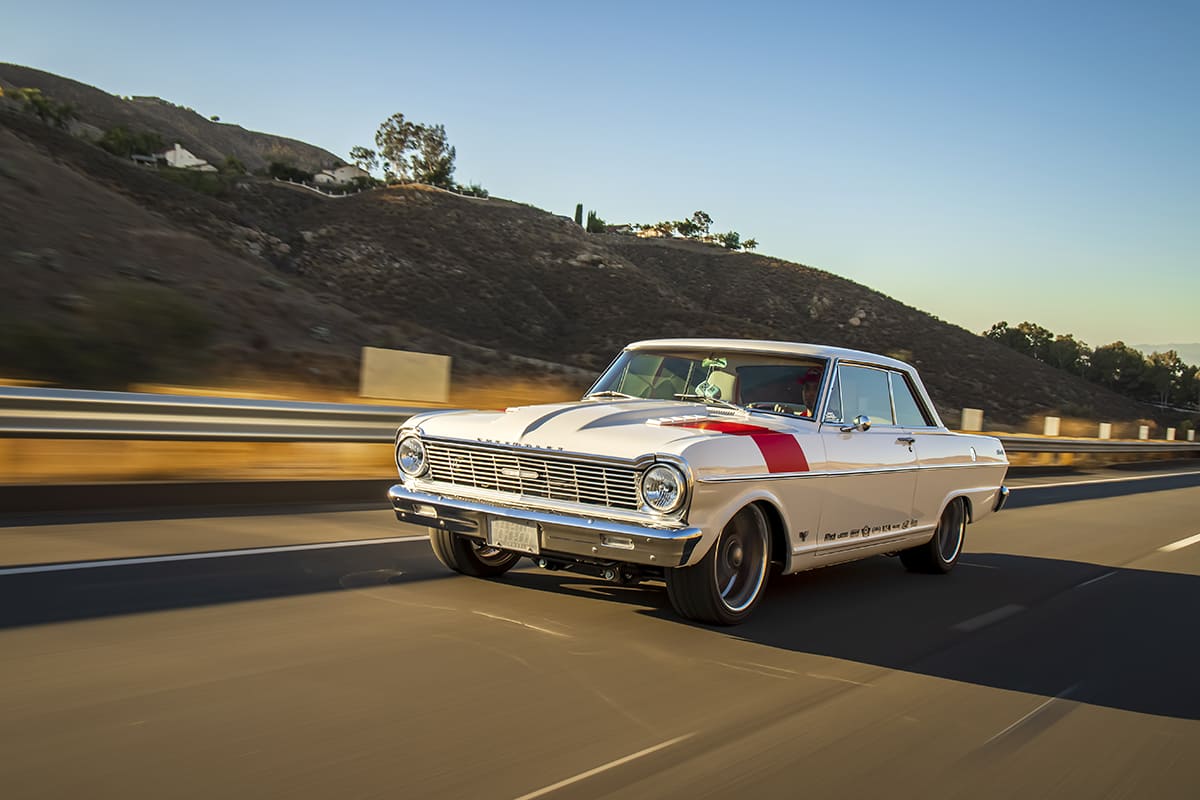 Yeah, it's a California Car, and that certainly contributes to the car's exceptional condition, even so, to hold up as well as this 1965 Chevy has for the past 56 years is an absolute anomaly–an unexpected oddity. Thankfully, the car is in capable hands and stands a good chance of surviving another half century.
TECH CHECK
Owner: Jon Henson,
Corona, California
Vehicle: 1965 Chevy II Nova
Engine
Type: BluePrint cast-iron LS
Displacement: 6.0 L (364 ci)
Compression Ratio: 9.8:1
Bore: 4.030 inches
Stroke: 4.125 inches
Cylinder Heads: 70cc aluminum, rectangle port
Rotating Assembly: Cast-iron crankshaft, forged pistons, GM powdered metal connecting rods
Camshaft: Comp hydraulic roller (0.571/0.578-inch lift, 0.228/0.236 deg. duration at 0.050, 112 LSA)
Induction: Magnuson TVS2300 supercharger
Exhaust: TCI LS headers, Gibson 3-inch side-exit exhaust, X-pipe, Gibson MWA mufflers
ECU: FiTech
Ancillaries: Eddie Motorsports serpentine system, Derale Performance fluid coolers, Champion aluminum radiator, Derale Performance 16-inch fan, custom aluminum intake tube, Eddie Motorsports hood hinges
Output: 634 rwhp at 6,500 rpm, 572 lb-ft at 5,000 rpm
Drivetrain
Transmission: TCI Super StreetFighter 4L60E, TCI 3,000 stall torque converter
Driveshaft: Inland Empire Driveline
Rear Axle: Currie Turn 9 Pro-Touring 9-inch rearend, 3.70 gears, Eaton Truetrac, Currie 35-spline axles
Chassis
Front Suspension: Heidts subframe, Heidts Mustang II drop spindles, QA1 coilover shocks, 500-pound springs
Rear Suspension: TCI four-link with double-adjustable Johnny Joints, Panhard bar, RideTech coilover shocks, 250-pound springs
Brakes: Wilwood 13-inch rotors, six-piston calipers, front; Wilwood 12-inch rotors, four-piston calipers, rear; Wilwood Electric parking brake; Wilwood Mini master cylinder
Wheels & Tires
Wheels: NewGen Thrasher 18×8, 18×9
Tires: Falken Azenis RT615K 235/40R18, 255/40R18
Interior
Upholstery: TMI Seats, door panels, center console, headliner, visors
Material: Vinyl/Ultra Suede
Carpet: Salt-and-pepper German weave
Steering: Stock column, Eddie Motorsports steering wheel
Shifter: B&M
Pedals: Lokar
Instrumentation: Dakota Digital HDX
Audio: RetroSound head unit, JBL 6.5-inch front speakers, 10-inch sub, ZED Audio amps
HVAC: Vintage Air
Exterior
Bodywork: Original factory
Paint By: GM
Paint: GM Ermine White
Hood: Factory
Grille: Factory
Bumpers: Factory
Side Mirrors: Custom Machine by Evans CNC (Santee, CA)