Driven to Perfection: What Was Once Old is Now New
By Chuck Vranas – Photography by the Author
Inspiration is something that has driven creativity in hot rodders for decades. Regardless of whether it was an experience on the showroom floor of a car dealership, an adrenalin rush felt at the dragstrip while consumed by the scent of nitro, or watching a local hop-up pull into a cruise night, it's easy to see that influences can make themselves known in many different ways. For Gary Corkell, owner of One-Off Rod and Custom in Middletown, Delaware, it was a trip to the Grand National Roadster Show in 2018 that got his gears turning. Seeing Brookville Roadster showcase an exclusive, limited-production body designed by Chip Foose was all it took. The truly unique, handcrafted 1932 Ford Phaeton body captured the graceful lines of Ford's original four-door phaeton body in a fresh-looking two-door configuration, limited to 32 units being built. (Did you know that a "phaeton" is an open automobile without any fixed weather protection; no top, no glass side windows!)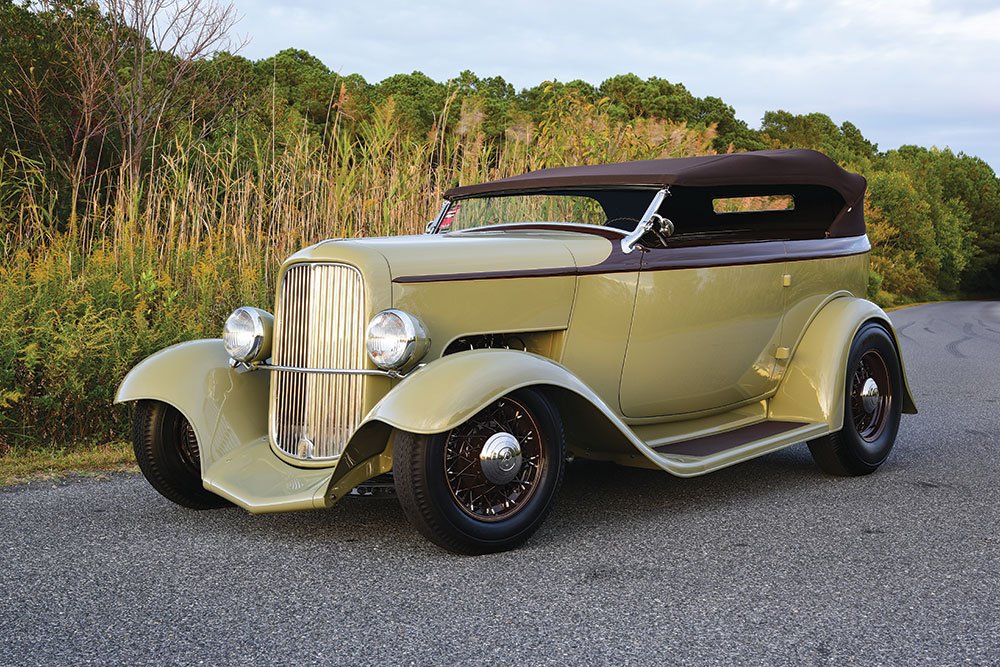 It's breathtaking to see the results of the build laid across the pages of Modern Rodding, owned by Roy and Donna Richardson of Middletown, with an amazing story to tell. Once consumed by the new design, it was imperative that Corkell was able to secure one of them. Fortunately, he was able to work with Rex Watson of Affordable Street Rods as they had secured the third body in the series and were waiting for it to be completed. A deal was made and he then took delivery, having plenty of well-thought-out ideas to bring it to completion.
Read More: Deuce Coupe Returns To its Former Glory
What would possess a hot rodder to take on the challenge to build a contender for America's Most Beautiful Roadster Show in less than four months?  Corkell knew it would be a monumental task and that his team would have to be all-in to make it happen, especially with the extremely high level of detail and dedication needed to make the car a contender. Working with well-known designer Eric Brockmeyer, the completed concept provided the perfect blueprint to follow.
As the build commenced  Corkell added plenty of unique ideas into the construction, starting with creating a proper base. A call was made to Affordable Street Rods for one of their Deuce Coupe frames, which was boxed and treated to custom-built crossmembers. The team then got busy incorporating a number of changes by first moving the front crossmember forward 1-1/2 inches to increase the wheelbase while also flattening it to enhance the stance. From there they increased the depth of the rear C-notch for added suspension travel. In the back, a fully polished Winters quick-change rear end packs 3.42 gears and is suspended in place by a combination of Johnson's Hot Rod Shop polished ladder bars with oval openings matched to a Posies Super Slide Springs transverse and Ridetech polished Hot Rod shocks. To give the car plenty of attitude, a Super Bell 4-inch dropped-and-drilled (oval openings) front axle was deftly matched to SO-CAL Speed Shop GT2 spindles linked to Johnson's Hot Rod Shop radius rods (oval openings), Pete & Jakes mono leaf spring and Ridetech Hot Rod shocks, all either plated or polished. When it's time to drop anchor, a Tuff Stuff dual master pushes fluid through stainless lines to Johnson's Hot Rod Shop Kinmont "Safety Stop" brakes mounted at each corner, featuring the unique look combined with the stopping power of modern disc brakes. To link it all to the street, a set of custom-painted wire wheels from Wheelsmith, sized 15×6 front and 16×7.5 rears are wrapped in Firestone/Coker rubber.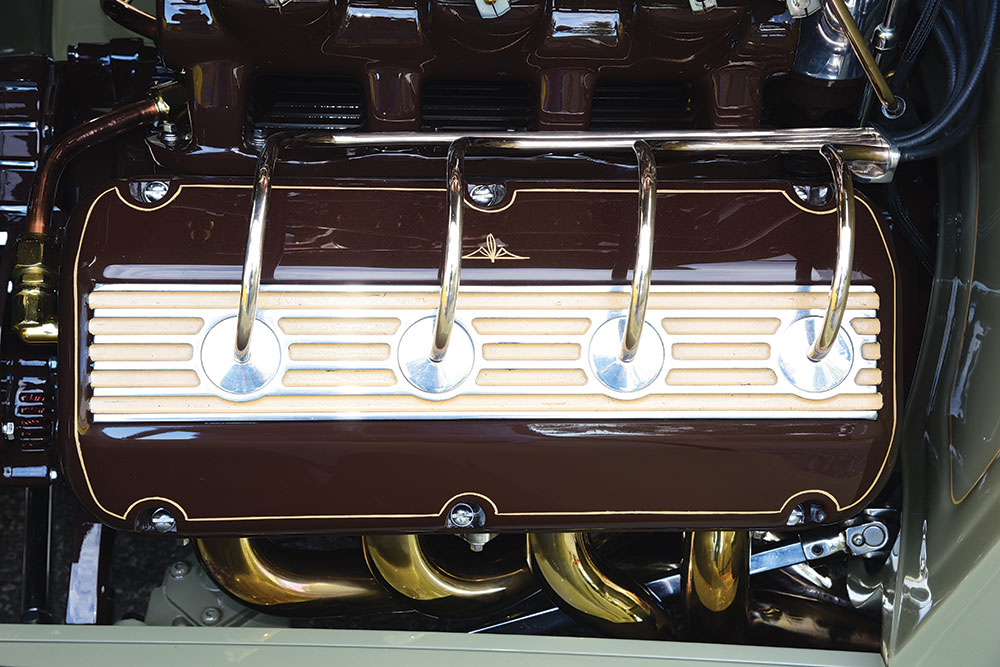 If you want to make a statement, nothing speaks louder than a well-detailed vintage Hemi V8. Team member Donnie Reeder had been holding onto a 1955 DeSoto Fire Dome 291ci Hemi since high school, wanting to find it a perfect home, and offered it up for the build. To get started he machined the block and also deburred and smoothed it. Inside you'll find a refreshed stock crank linked to matching rods capped with fresh pistons from Egge Machine getting bumped from a reground stock stick by Racer Brown. A set of tweaked factory heads bring plenty of seamless power, especially when matched to a vintage '50s-era log intake wearing a squadron of Speedway Motors 9Super7 carbs capped topped with air cleaners from OTB Gear. A Vertex magneto-looking distributor lights the fire with spent gases moving through custom, polished stainless steel headers to a matching 3-inch exhaust with Vibrant Performance resonators all by Redder. Cool bits include valve covers from Mooneyes, Powermaster starter, and alternator, along with a custom radiator fan shroud, plug wire looms, mounting brackets, and pulleys. To move the goods, a Wilcap adapter links a GM T5 transmission to the Hemi with an all aluminum custom driveshaft pushing the power rearward.
Read More: 1933 Ford Woodie Station Wagon That's Truly Memorable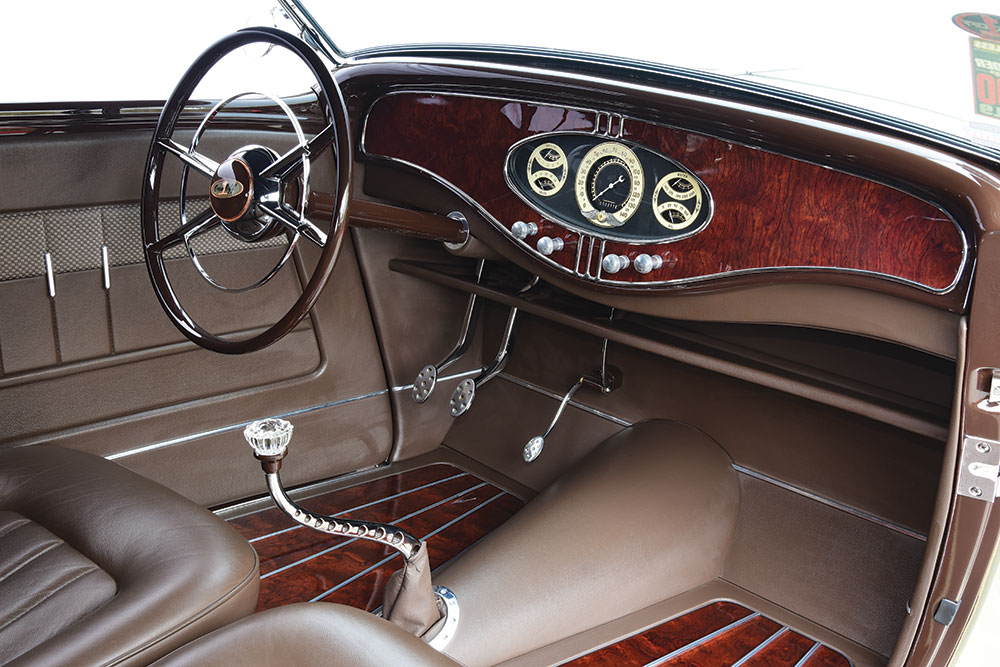 Sculpting the freshly minted limited-edition steel with a number of subtle changes to give it even more allure took an artistic eye to bring the Brockmeyer concept to life. For this the team got started by first creating a custom front apron along with fabricating running boards and re-arching the rear fenders. From there they laid back the Deuce grille shell and filled it with an insert from Alumicraft, extended and reshaped the hood and cowl, tucked the rear body panels slightly, and designed a custom gas tank cover. To give the car a perfect flow, a Dick Rodwell windshield was added, featuring a 37-degree lay back and 2-inch chop. The top frame was then updated by first shortening the overall length 5 inches to accommodate the new windshield while also re-arching the wood bows. From there a graduated 3-1/2- to 4-inch chop was added to finalize the look. Once all the fabrication was completed team member Gary O'Neal metal finished the body, gapped everything to perfection, and prepared it for paint. Wanting the car to have an aura of elegance, Erick Annas of One-Off blended a subtle combination of Glasurit Speak Easy Green with Hot Fudge Sundae accents to bring it all to life. Extra finishing details include '37 Cadillac headlights, Johnson's Hot Rod Parts quick-release gas cap, custom-tinted running board mats from The Dye Guy, and fine lines from the master, Jerry Campbell, to add the final icing.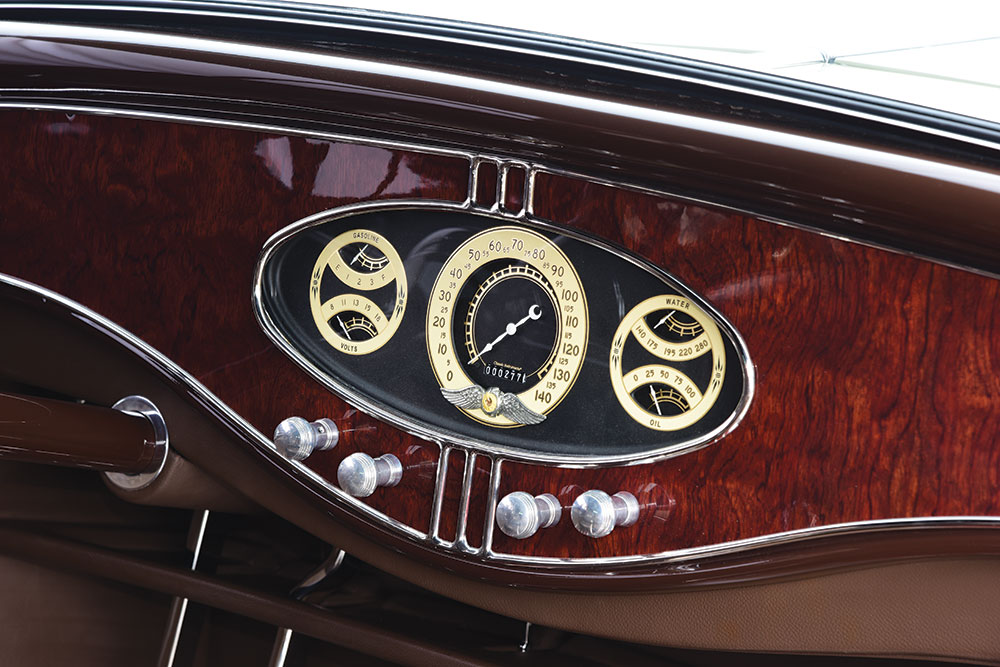 When it came time to design the interior it would need an equal amount of glamour to match the rest of the build. To start, a dash was created from burled maple and accented by stainless trim from McMillan Rod & Custom. It's filled with custom-designed dials from Classic Instruments to monitor the vitals while a Ford Crestliner steering wheel mounted to an Affordable Street Rods column carves the course with shifts moving through a stick from Johnson's Hot Rod Shop and pedals by team member Jared Schmidt. To incorporate the Brockmeyer interior designs,  Corkell enlisted the talents of Paul Atkins Interiors who started with sculpting the custom seating, which was covered in pale green leather with accenting side panels combined with matching leather across the floors. The convertible top was stitched in a warm brown Stayfast fabric while also adding a rear window from Sid Chavers. The One-Off team then crafted the unique burled maple floor inlays to complete the look while also wiring the car. Seeing that the build was created in only 117 days to compete for the America's Most Beautiful Roadster Show we have to tip our hat to Corkell and the team for a job well done. It's awesome to know that it's now seeing plenty of miles with Roy and Donna at the wheel, and to us, that's the ultimate way to roll! MR