The Root Beer 'n' Maple Woodie Wagon
By Chuck Vranas – Photography & Videography by the Author
With an amazing fusion of wood and steel, the Ford Motor Company designed and developed a station wagon (woodie) that could not only accommodate your family but also send you down the road in grand style. It's easily seen from every angle when looking at the 1933 Ford Station Wagon owned by Vaughn and Kelly Veit of Buffalo, Minnesota, laid out across our pages. Incorporating the flowing elegance of the newly designed front sheet metal with that of a woodie body, the designers created a low production vehicle that would become even rarer to see in existence well over 80 years later—making this station wagon even more unique.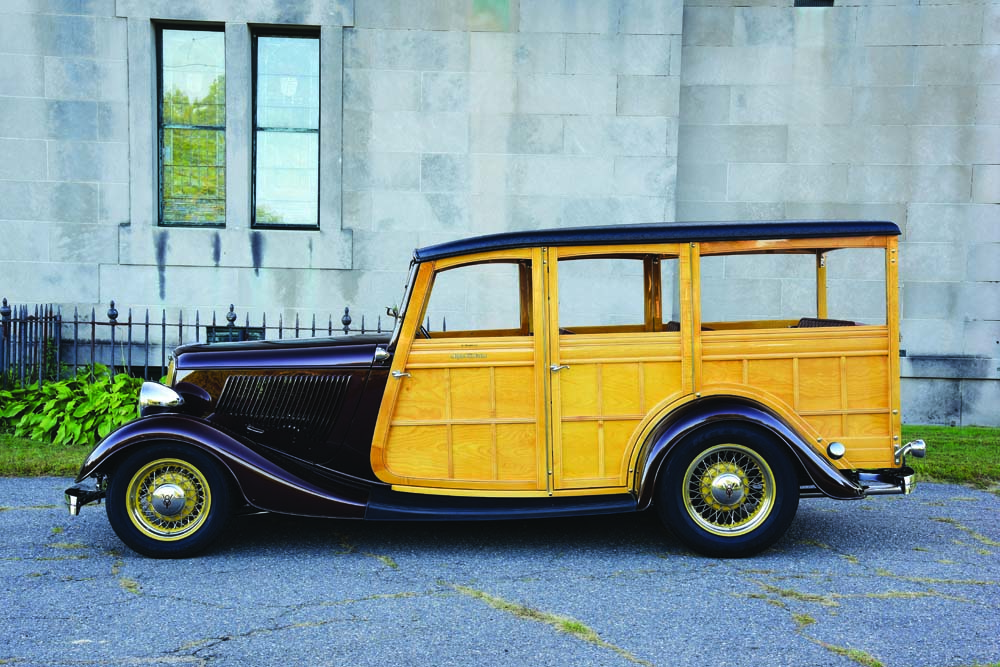 It's easy to see that the 1933 Ford Station Wagon, or woodie as we like to call them today, was geared toward a more affluent client, where the car would find itself quite at home on a rolling estate for runs with the family through the countryside.
Ford production in 1933 totaled 334,969 units, with only 1,654 woodies being built, retailing for $640. As a comparison, their Standard Tudor sedans were the most produced model with 106,387 rolling off the production line to illustrate how few wagons were built. With cars starting at $475 for the standard roadster, the cost of a wagon made it the most expensive vehicle in the lineup. When looking at the average household income of $1,550 and home price of $5,750 with gas at 10 cents per gallon, it all becomes clear how much the difference in price would have affected the average buyers.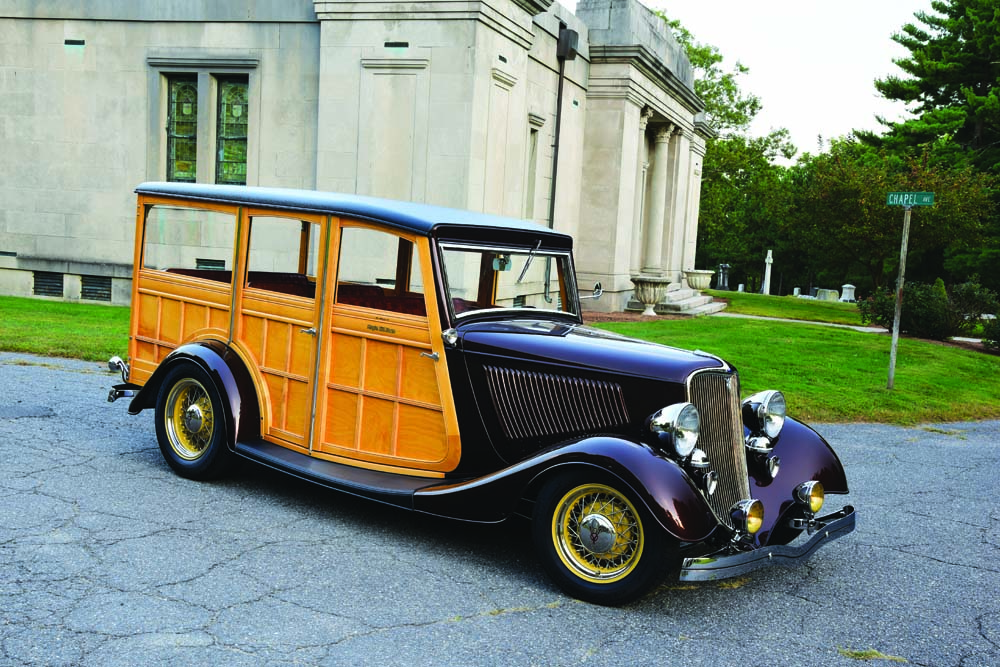 Read More: Hot Rod Model T: 1926 Ford Tudor Sedan
For Vaughn, growing up in nearby Minneapolis during the '50s, he was fully immersed in the fast-growing hot rod culture. By hanging out with the older crowd, he was able to experience firsthand the most-wicked hop-ups on the scene as they ran the 'strip as well as hanging out at the Sun Drive-In and Porky's Drive-In to check them out in great detail. Once earning his license, he immediately got involved, starting with a 1950 Chevy mild custom, eventually working his way to hot rods, including numerous 1933 Fords and a number of muscle cars. Along the way, his passion for 1933 Fords grew exponentially to a point where he set a goal of eventually collecting one of each model offered through the production years, which is no small feat.   
When it came time to start the search for a 1933 Woody Station Wagon, Vaughn carefully studied the availabilities online and weighed out his options. Since he wanted to build a hot rod, he could either start with an existing restored car or try and locate a suitable donor for the project. His search led him to fellow Ford collector Gordy Bruss in Wisconsin who just so happened to have one for sale.
The car was an original V8 model and mostly complete, although it had seen far better days. After reviewing it, the car would be a perfect base to start with seeing that it was a prime candidate for a full rebuild. A deal was made and the keys change hands with the car moving onto its new owner. Wanting to infuse the perfect balance of mid-'60s hot rod into the new build, he contacted Dave Simard of East Coast Custom (ECC) in Leominster, Massachusetts. Having worked with Simard on prior projects it was easy to get together and share ideas on what it would take to bring the station wagon back with a perfect stance, period-correct driveline, and meticulous attention to detail. The car was shipped to East Coast Custom for initial evaluation.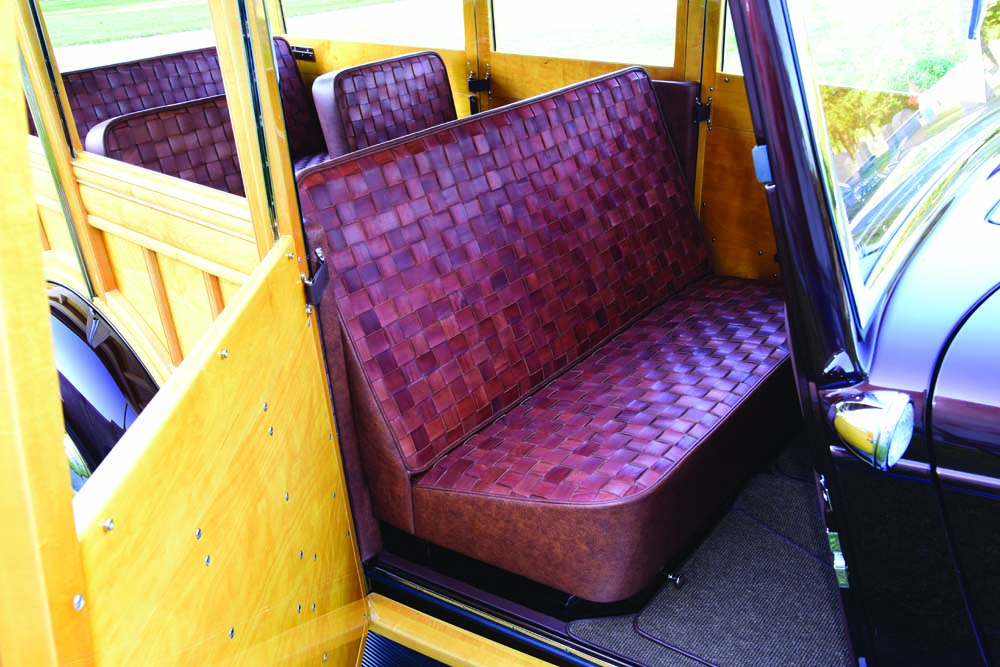 Simard and team member Ryan MacDonald wasted no time in tearing the woody wagon down while also cataloging all of the parts. It was obvious that the past decades had not been kind, however many of the crucial parts to take on the build were still intact. The original frame was sent off for blasting and was a perfect candidate for being updated.
To create a rock-solid base, it was boxed, treated to custom cross members, and C-notched front and rear to dial in the lower stance. Out back a Ford 9-inch rear end was packed with Currie 31-spline axles spinning 3.70 gears. It's suspended in place by custom-fabricated ladder bars with matching Panhard bar, 1940 Ford transverse spring, and SO-CAL Speed Shop tube shocks. For that perfect nose-in-the-dirt stance, a SO-CAL Speed Shop 4-inch forged dropped axle was deftly matched to modified 1940 Ford spindles linked to SO-CAL Speed Shop hairpin radius rods while a Posies Super Slide transverse spring and SO-CAL Speed Shop tube shocks soak up the bumps. When it's time to drop anchor, a GM dual master pushes fluid through polished stainless lines to 11-inch Ford drums out back and 11-inch discs and calipers up front from Magnum Force suspension.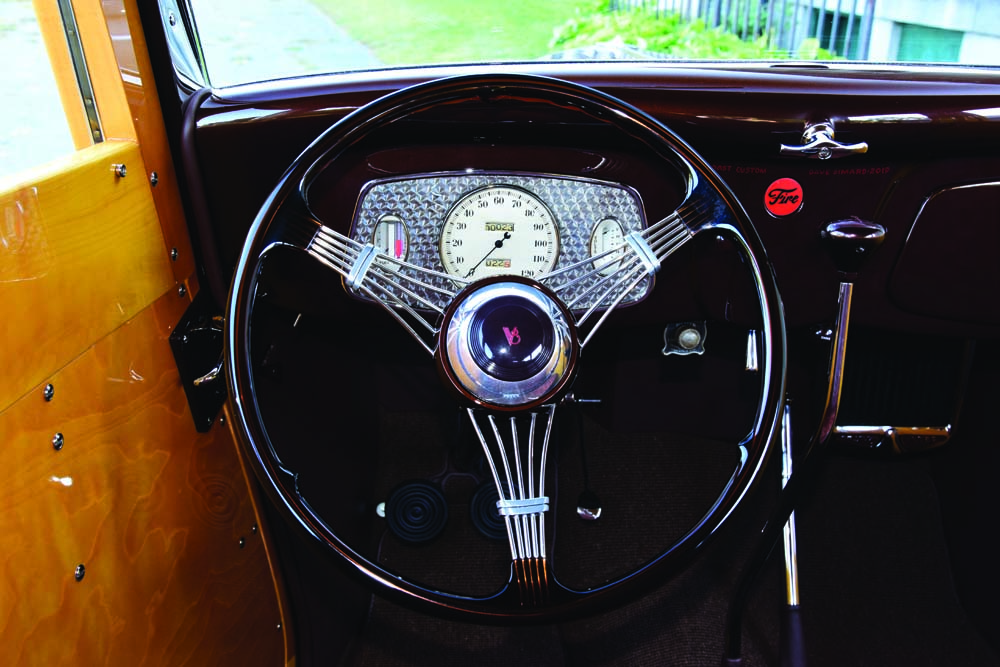 To add elegance, a set of 15×6 front and 17×8 rear Wheel Vintiques 71-Series Street Rod Wires with 1933 Ford caps were treated to Kelly Edge A/S rubber.
Read More: Ragtop Hot Rod Restoration: A Supercharged Flathead 1939 Ford Convertible
When building an era-correct hot rod, the devil is always in the details. For just the right mill between the 'rails, Simard had an ace up his sleeve. Years ago, he had attended an auction at an old engine shop in Upstate New York where he was able to purchase a number of factory-fresh, new old stock, 283ci GM crate engines. This was a perfect opportunity to bring one to life with a few speed shop bits to deliver even more punch.
The fresh block was packed with the stock rotating assembly while Simard added a more potent bump from a Comp Cams stick. Factory iron heads generate plenty of pep while up to a three-deuce Edelbrock intake breathes deep through a trio of Stromberg 97-series carbs wearing classic frog-mouth air scoops. The attention to detail is breathtaking and includes custom fuel lines, vintage Corvette valve covers, and plenty of brightwork from Jon Wright's Custom Chrome Plating. A PerTronix Flame-Thrower stock-look distributor lights the fire while spent gases flow through a set of Speedway Motors Ram Horns to a custom 2-inch stainless exhaust burbling through Stainless Specialties mufflers. To move the goods, a GM 700-R4 Transmission warmed over by Jeff Lynch links to a custom steel driveshaft from Mitchell Drivetrain Services.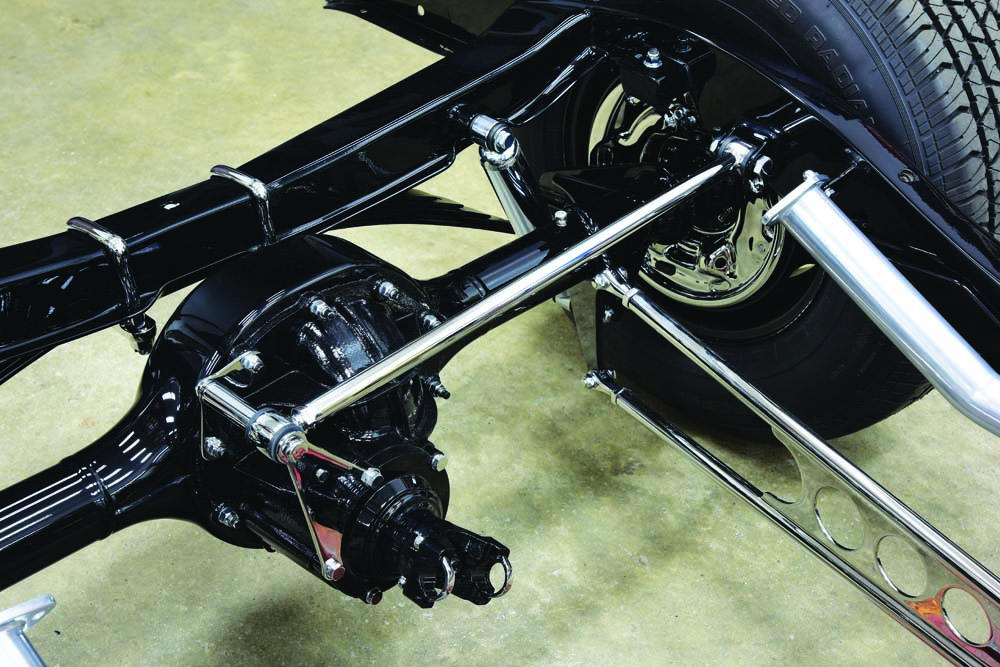 As you can imagine, breathing life into vintage steel that's over 80 years old takes true craftsmen. Adding a dilapidated wood body structure (compromised of close to 200 pieces) to the mix raises that bar even higher. It's a time where measurements, fitment, and hardware working in unison are elevated to the next level. To get started Simard and MacDonald metal finished all of the factory sheet metal to perfection, which included the flowing fenders, hood, and grille. From there they started the rebuild of the body using a structure kit from Gordy Bruss as a base. With that, there were literally endless hours involved in fitting the new maple to recreate the body, including the rebuild and fitment of all doors, hardware (much of which was hand fabricated), and critical setting of the gaps.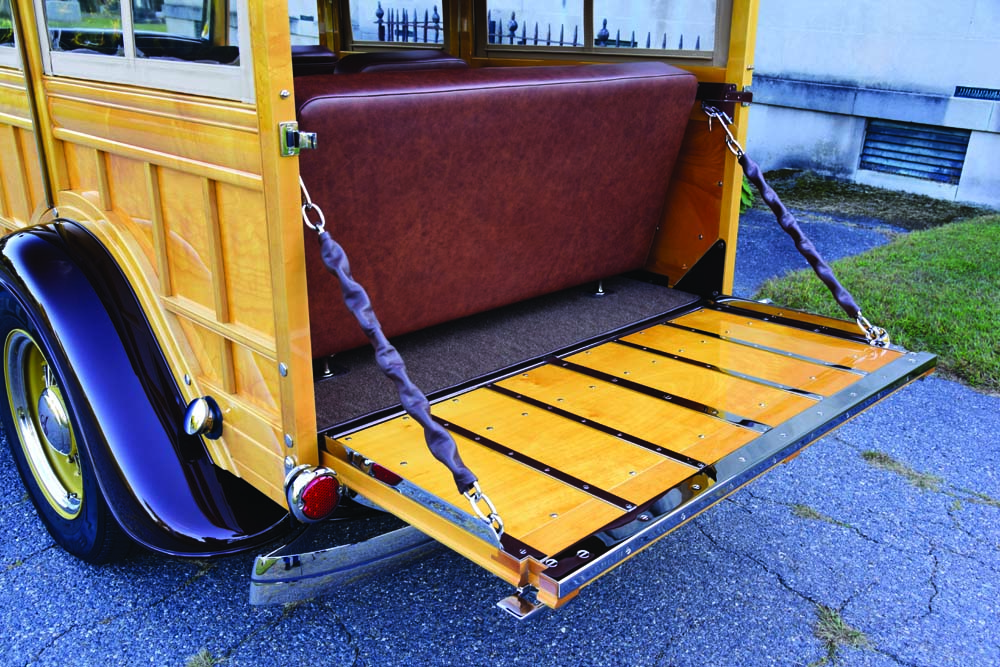 There was also the fabrication of new side curtains utilizing the original Ford blueprints by Nick Lupien of Running with Scissors Upholstery and restoration/refitment of the factory sliding window tracks for when the curtains are not in use. Finally, a new rooftop was installed by Lupien complete with fresh side rain gutters and trim. From there, team member Kevin Olson got busy starting with the application of 10 coats of varnish to the new wood, which was polished between coats to get the final luster. When it came to the steel body panels, Vaughn selected a subtle coating of custom-blended PPG Root Beer to add the final allure straight from Olson's spray gun. We would be remiss if we didn't add the final icing that came from Custom Chrome Plating by treating everything else to the chrome tank. Seeing that Vaughn owns Maple Hill Farm, he had "One Arm Bandit" Charlie Decker complete the exterior with his masterful gold leaf lettering.
Read More: How To Build Exhaust For Your Classic Ford
It was important to bring an equal amount of class inside to match the exterior. The factory dash was refreshed and filled with a set of original dials restored by Instrument Specialties while and a cool starter button tagged "Fire" was also integrated into the dash face. A 1939 Ford banjo wheel was cut down to 15 inches by Bob Monetti of Bob's Steering Wheels and treated to a brown translucent coating by Bob Deneault of D&D Automobilia. Shifts move through a Lokar shifter and a vintage heater keeps the cabin warm. Making it all come together is a custom cloth-covered wiring harness by Skip Readio.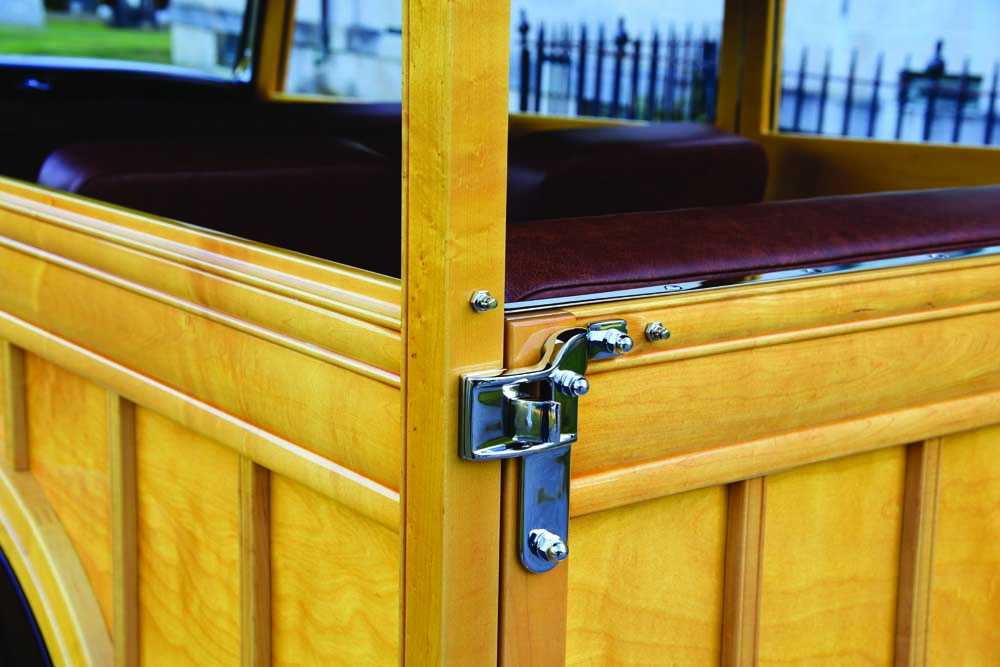 When it came time for comfort, Lupien got busy working with the original seat frames. He re-angled them for comfort and covered them with an intricate brown leather basket weave pattern. He then complimented this with a matching firewall and side panels accented by square-weave carpeting. This is one truly memorable wagon that not only pays tribute to its rarity with a true mid 60s hot rod vibe, it also looks wicked driving down the road, and to us, that's as cool as it gets!  MR