A 1952 Nash Rambler Wagon That'll Make You Green with Envy
By Shawn Brereton – Photography & Videography By The Author
A Nash car is often overlooked in the hot rod community. Despite many innovations and subpreme styling, the Nash automobile wasn't able to withstand time and ended manufacturing in 1954. Despite the short-life of the Nash car company, Nash Motors, it's still such beautiful styling for a hot rod and the platform for Fred Hardee's latest, a LS3-swapped 1952 Nash Rambler Wagon that'll make you green with envy.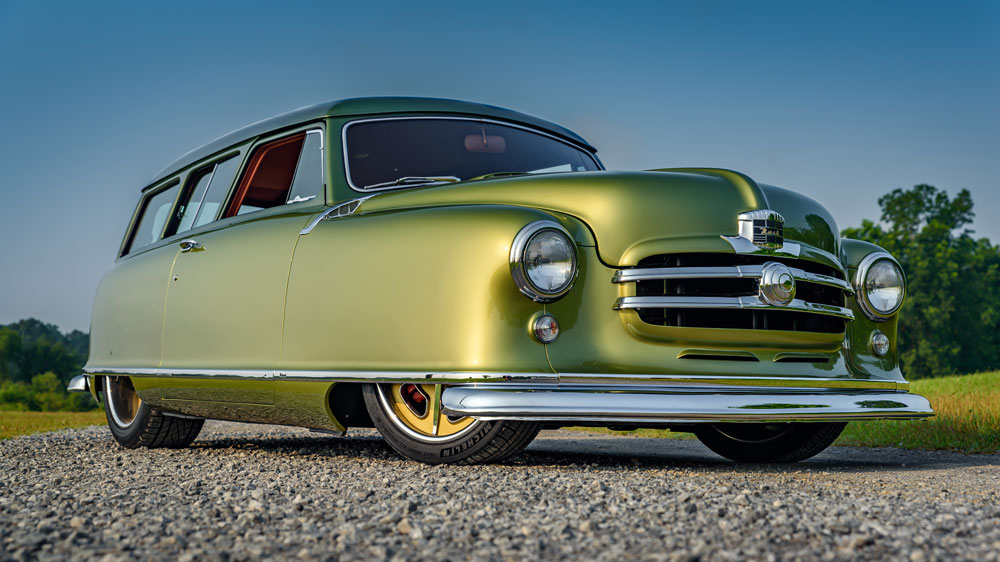 As the United States recovered after World War II, the automotive industry was dogfighting to capture customers' attention. Good news for consumers, seeing as three out of five families owned cars. Competition breeds innovation and auto manufacturers developed ingenious inventions for an increasingly mobile country. Unfortunately, some smaller pioneering car companies like Nash Motors couldn't survive the skirmishes, but some of their ideas still live on today.
Nash-Kelvinator was the first U.S. car manufacturer to pioneer seatbelts, unibody construction, the heating/ventilation systems still used today, and built the first postwar compact car in 1950—the Nash Rambler. Nash cars utilized aerodynamics to make a lower, wider car that felt bigger on the inside than it looked from the outside.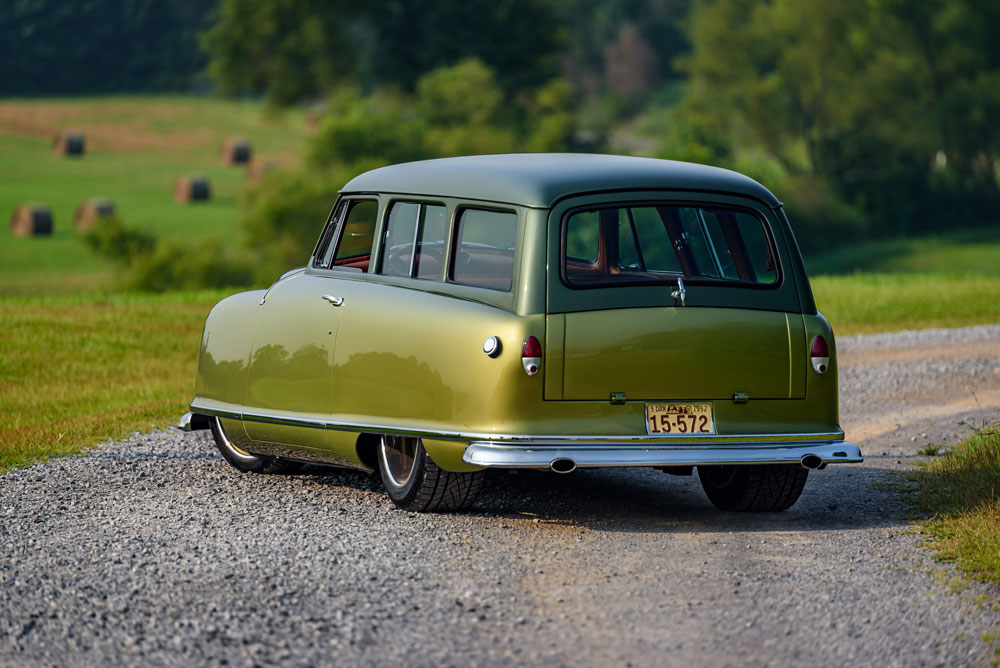 Read More: A 1965 Corvair with the Heart of a Corvette – The RareVair
Redesigned in 1952 to incorporate a Airflyte (unibody) construction with styling cues from Italian designer Battista Pininfarina, the little Nash Rambler was ahead of its time. Distinctive enveloped fenders, a result of wind tunnel testing, attracted Watertown, South Dakota's Fred Hardee to build this '52 Nash Rambler Airflyte Greenbrier Wagon. With a wheelbase of just 100 inches, the model's name might be longer than the car, but so was Fred's journey to get here.
A lifelong car enthusiast, Fred's passion was cultivated by handing tools to his father, a shade tree mechanic. Out of necessity, Fred further honed his wrenching skills on a '66 Fairlane when he reached driving age. Once life hit full-steam ahead after school, marriage to Elaine, and kids, Fred's time to work on cars dwindled. However, he still drove performance vehicles with quite a few Corvettes in his history. He certainly put in the hours as he moved up the corporate ladder, getting to a place where he could retire early.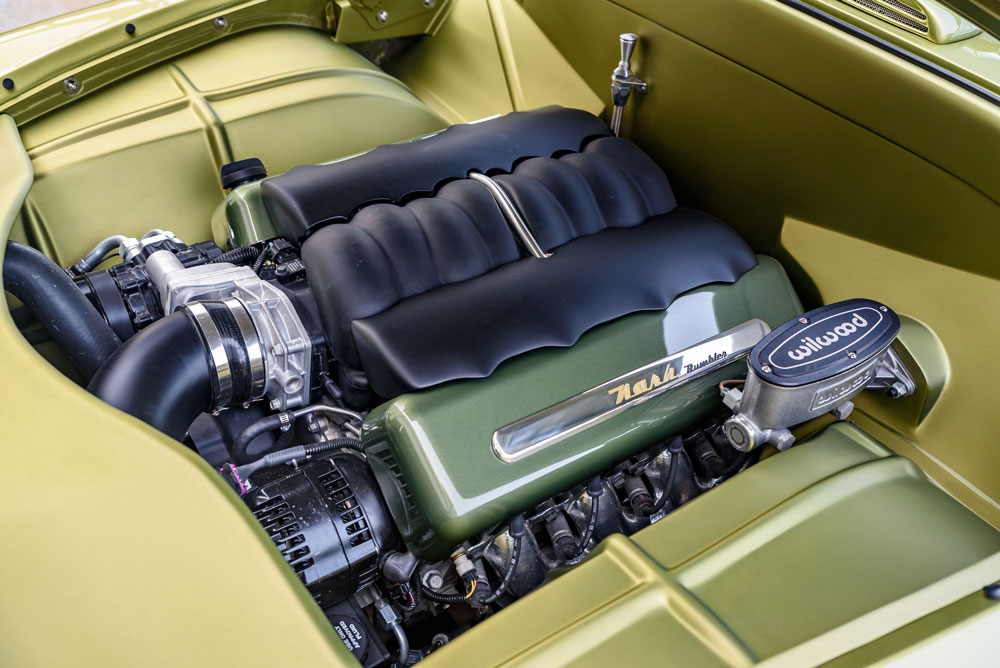 To stave off boredom, he reignited his passion for working on cars. The first project was a five-year build on a custom, two-tone, green and sandstone, 1955 Chevy hot rod finished to a high level with a Paul Atkins interior. After completion, he didn't want to drive it for fear of scratching it. So, he sold it and built a daily-driven 454 big-block, four-speed, 1962 Corvette. His next conquest was a Pro Touring 1969 Corvette equipped with an LS7, T56 Magnum transmission, and Ridetech suspension.
Also Check Out: Hot Rod Harmony: Sather's '34 Ford Coupe Chassis
Several years ago, on a day trip with his son, Ryan, to the Minnesota Street Rod Association's Back To The 50's show in St. Paul, the duo spotted a 1952 Nash wagon outside the fairgrounds that piqued Fred's interest to make it a street rod. The two agreed to go back and get the phone number on the way out of the show but exited through a different gate and headed toward Watertown.
More than 100 miles down the road, they realized they forgot about it and U-turned back to St. Paul only to find an empty parking spot. As years passed, Fred couldn't get the little wagon out of his head and started searching for one on the Internet, with no luck.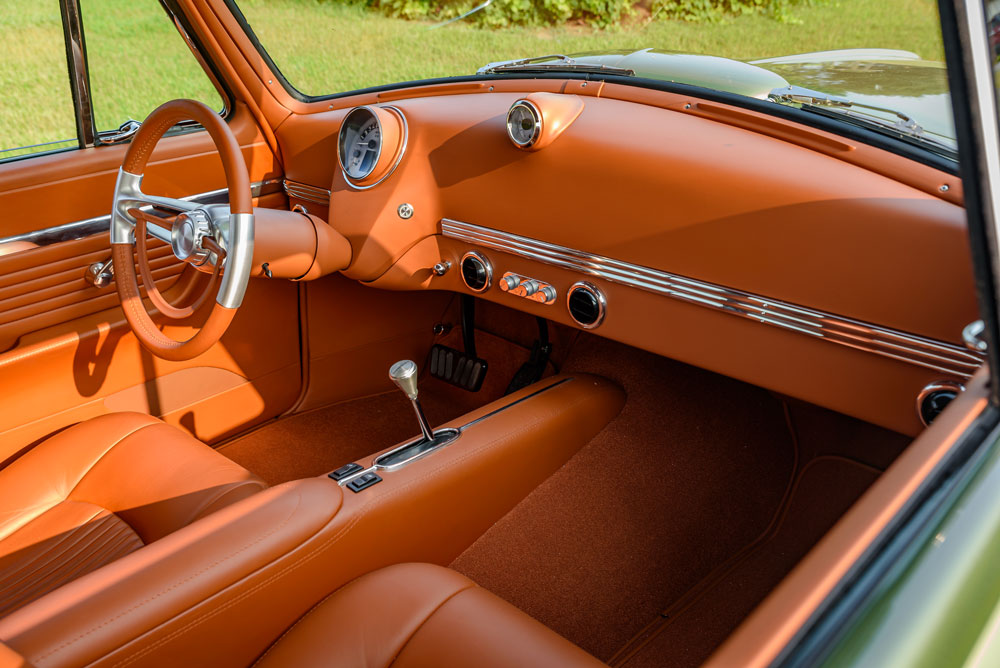 Then in 2018 Fred's friend told him about a California junkyard with 2,500 rust-free cars for sale. He figured it was worth a shot and called. Sure enough, they had a Greenbrier wagon stored inside since 1959 with 60,000 miles and a solid body. Instead of buying it right then and there Fred hesitated (as he did in St. Paul), which bit him again.
After a couple of days, he called and found out it was already heading to a fellow in Oregon. Luck was on his side this time, as the yard owner gave him the guy's phone number. It cost him a bit more, but they struck a deal over the phone.
On December 15, 2018, the as-advertised, rust-free 1952 Nash Rambler Wagon was in Watertown. Fred wanted a street rod with modern power that would handle and he didn't want to wait forever to finish it. With his plan in mind, Fred immediately commissioned Eric Brockmeyer for a design rendering then worked on disassembly and parts ordering, like a Chevrolet Performance LS3/4L70E Connect-and-Cruise combo. He had the Nash car down to the shell and floors cut out by October before trailering it to Roadster Shop (RS) for a custom, 98-inch wheelbase Fast Track chassis to fit the new drivetrain.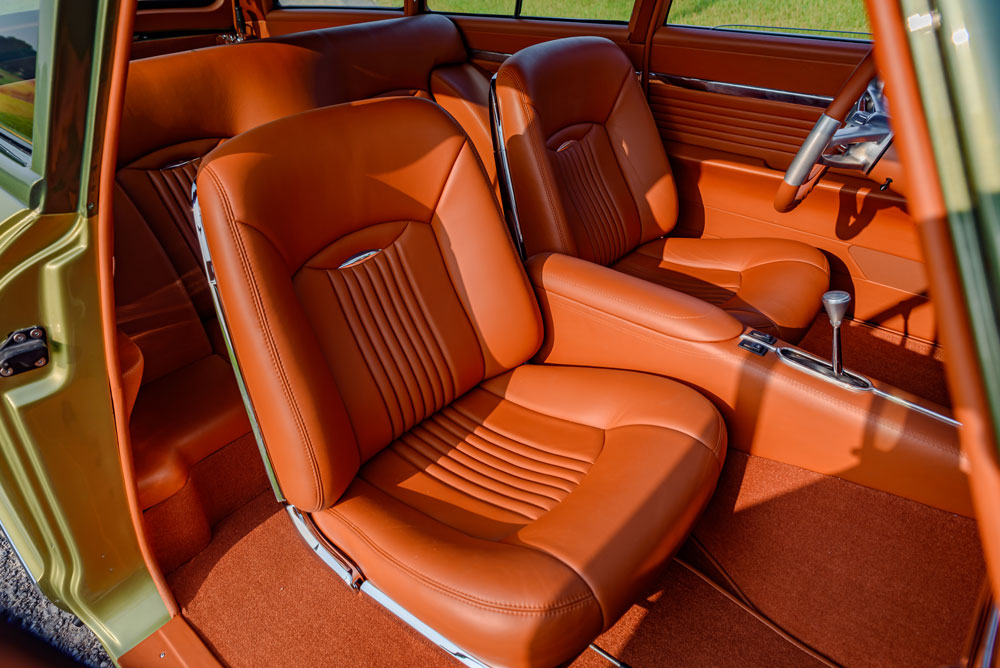 Fred rang in the new year on the road picking up the Nash Rambler in Mundelein, Illinois, and delivering it to Paul Atkins Interiors & Hot Rods in Hanceville, Alabama, to finish the build. He left it in Atkins' capable hands and turned the trailer northward. Atkins' crew put in work bringing Fred's vision and Eric Brockmeyer's design to life in just 20 months through the challenges of the COVID-19 pandemic.
Read Tech Articles Like: How To Repair a Cowl On a '55 Chevy
With a slimmer footprint afforded by the RS chassis, Atkins' guys custom built a 28-gallon gas tank for the rear and expertly threaded the Borla exhaust out the back. They also fabricated custom rear wheeltubs to accommodate 275/45ZR19 Continental Tires on 19×10 Bronze Centennial Wheels by Boyd. Likewise, custom inner fender artwork was necessary to fit 18×7 Centennials wrapped with Michelin 215/45ZR18 tires. Red-calipered Wilwood disc brakes sit on all four corners.
Staying true to Nash wagon's original design, Fred wanted only a few subtle changes to the exterior. The Nash quarter-panel seams were welded and filled to delete the seam where they meet the body. The Rambler license plate was relocated to a recess in the tail pan and bumperettes removed. The Nash Rambler bumpers were smoothed, and the rear radiused around the 2-1/2-inch Cadillac oval exhaust tips. The Nash body trim is custom-made aluminum, chromed to mimic the original. There were only two places on the body needing attention from rust; otherwise, it just needed some minor massaging before spraying the custom-mixed, two-tone green Diamont paint.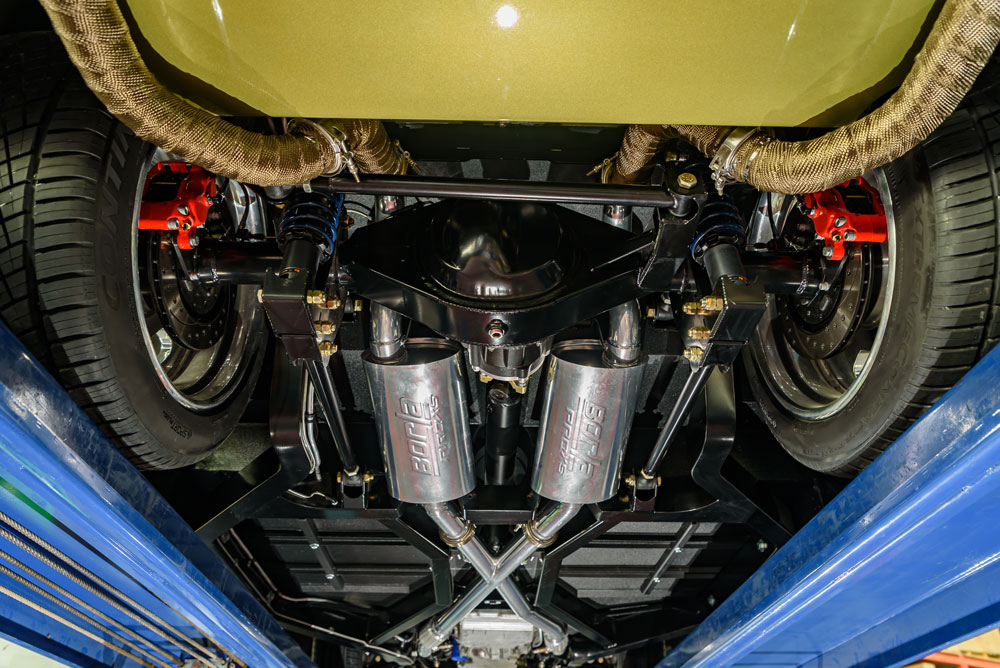 As expected, the interior is a work of art worthy of carrying the Atkins Interior name, perfectly complementing the exterior with not a stitch out of place. The Bronze Daytona-weave carpet and wool/brick headliner differentiates and highlights the rust leather upholstery.
Meanwhile, a Sparc Infinite steering wheel on an ididit column is installed in the original dash, which received custom trim work and interior-matching paint. It's not often you see black used as an accent color, but it works to perfection here with the Lokar pedals, Vintage Air vents, cruise-control lever, and even the console. The one-off gauge cluster and clock designed by Dakota Digital provides just the right amount of technology upgrade while appearing original.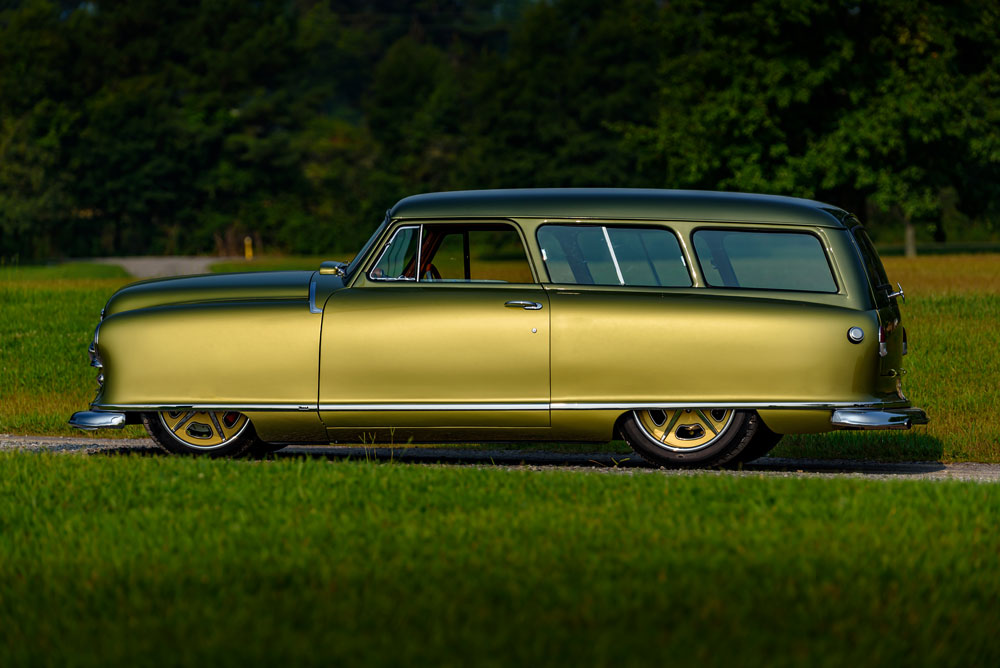 Fred's Nash made its car show debut at the Goodguys Summit Racing Nationals in Columbus, Ohio, garnering a Builder's Choice Top 10, and was chosen as a GM Retro Iron Builder of the Year finalist. Everyone involved in the build should be proud of the work bringing this little 1952 Nash Airflyte Greenbrier Wagon to a level never dreamed of by Mr. Nash himself. It's enough to make us green with envy that it's not in our garage! MR