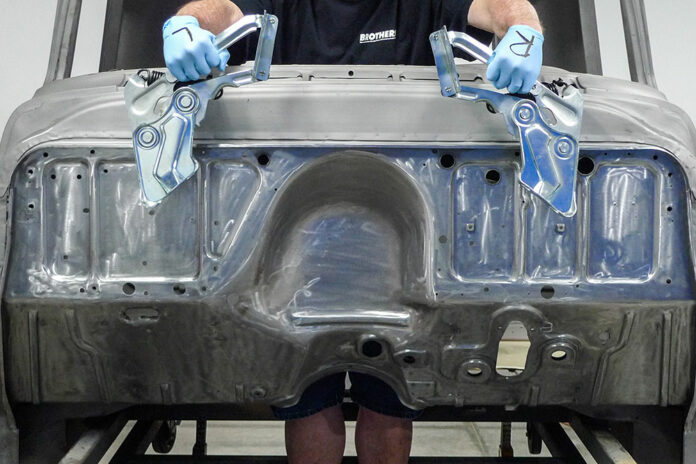 Correcting a Crash-Crunched Cowl
By "Rotten" Rodney Bauman – Photography by the Author
Here today, in our own cozy body stall, we're actually gaining ground on our '55 Chevy Second Series build. The engine, drivetrain, and chassis have been finished for some time. With a moving blanket and a blue tarp for protection between the black-finished frame and bare-steel cab, we've just about won the panel-alignment marathon. Now with rough-out bodywork and rust repairs behind us, we're nearing the point where sheetmetal can be disassembled for finish bodywork and paint. Before we do that, however, there's one little body part that we might as well test-fit.
Our hood hinges are brand new from Brothers Truck, and we've taken steps to break them in. With a uniform 3/16-width hood-to-cowl gap established, we weren't anticipating any clearance issues with the cowl grille assembly. For the test, hood adjustment screws were dialed in with new rubber cushions and a new Brothers Truck hood-to-cowl seal was temporarily installed. As the hood was raised slowly, its rearward edge just barely scuffed the cowl grille. Minor as it was, it would've eaten paint down the road for sure.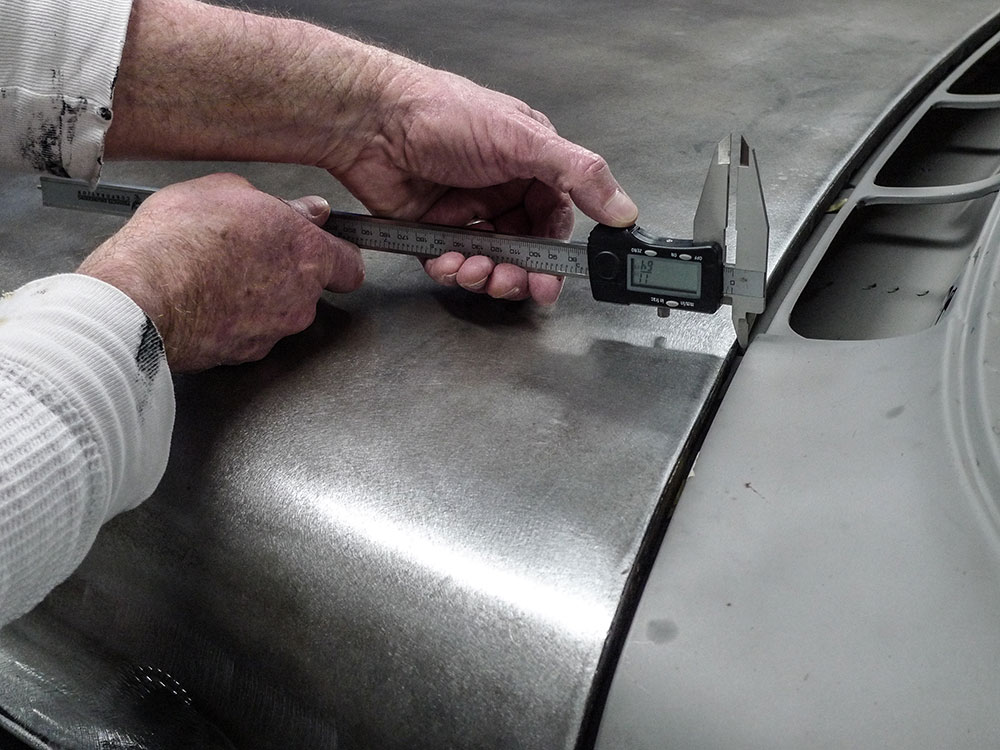 Read More: Modern Tech For Vintage Engines: PerTronix Flame Thrower Distributors
Pulling back on the front of the hood as it's raised gives us the needed clearance, but we're not about to tell the old truck's owner that he'll need to do that every time. To this point we'd been thinking we just had a little geometry glitch—something that a thin shim and a minor adjustment would compensate for. Sadly, as it worked out it took a fair stack of shims—some at the forward hood-to-hinge bolts, and more at the lower hinge-to-cowl bolts. That many shims didn't seem quite right. Since they were somewhat visible, they didn't look quite right either.
When all else fails, read the instructions. Of course, we don't usually refer to our library until we're already stumped. On a nearby shelf, we do have an original '55 Chevy shop manual, and for even-deeper detail we've obtained a reprint assembly manual from Brothers Truck. We had to look for it but the needed information was indeed in those books. Now, according to their authors and illustrators, there are only two "shim-as-required" spots for lowering the hood's rearward edge. Those two spots are at the forward hood-to-hinge attachment points. All other adjustments come by way of eight slotted holes.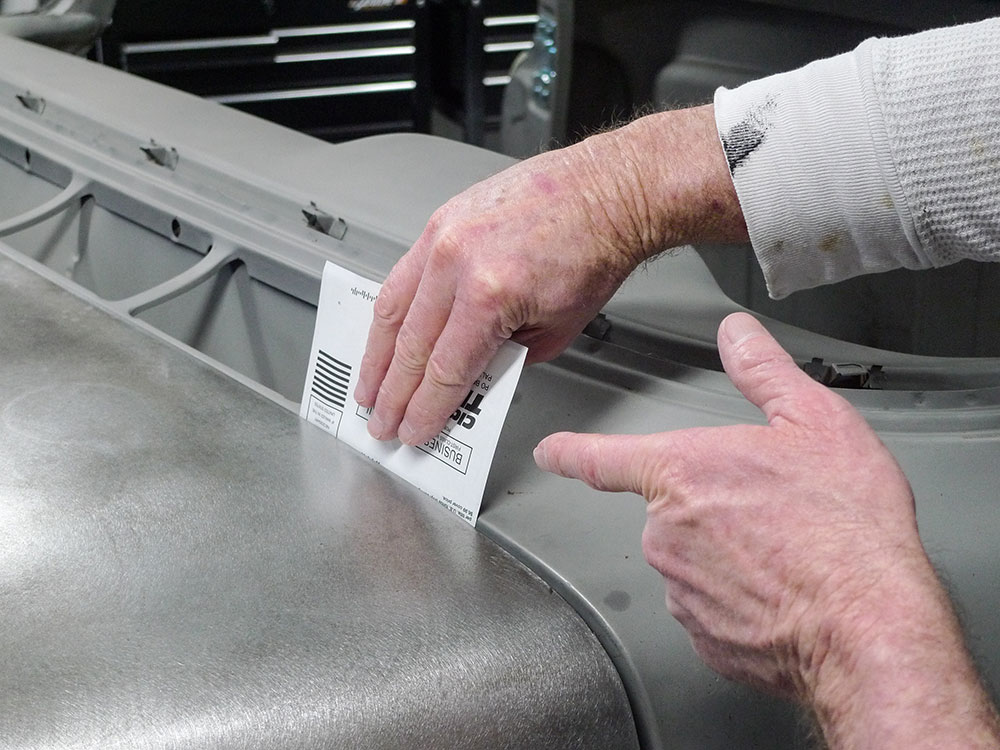 So, what did we do? Well, we started all over by removing every shim that could possibly affect the fitment and function of our new Brothers Truck hood hinges. Then once again we just couldn't gain the needed hood-to-cowl clearance—at least not with the factory-suggested 3/16 gap. No matter what we did, the hood's rearward edge still, just barely, scuffed the cowl, as well as its grille. To this point, extra shims in unusual places have been the only solution for that.
Backing up a bit—maybe two bits this time—we've been dealing with collision damage throughout this entire truck build. Initial evidence pointed to a straight-on frontal impact, which bent this truck's frame. With nowhere else to go, the Unisteel-design cab followed. At the same time the roof pillars took on some extra forward slant, and it appeared that a load in the bed clobbered the rear panel and roof. Long story short, this build pretty much began at the frame shop and the cab has received a whole lot of attention since then.
Read More: Vintage Vibes and Wild Paint: 1963 C10
At the time of this typewriting we're satisfied with 3/16-average gaps all around. The excessive number of shims required for hood-to-cowl clearance still perplexes us, but at this point we've done all we know to do.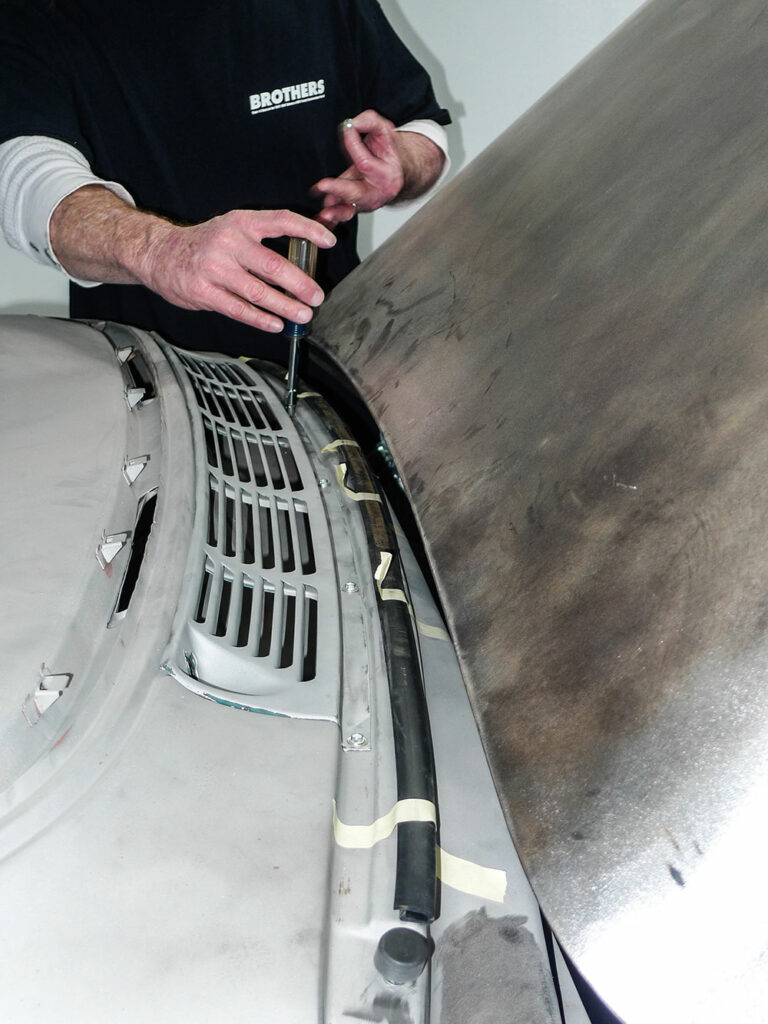 For future ease of final assembly, we'll drill some tiny guide pin holes. From there we'll bag 'n' tag our hood hinges' shims, and call it good—unless we happen to discover a better cure when the mocked-up truck is back in pieces. Sometimes we can overlook—or underlook—things when there's too much to look at. On that, let's refocus on this old truck's bare cab.
Sources
Brothers Truck Parts
(800) 977-2767
brotherstrucks.com
Harbor Freight Tools
(800) 423-2567
harborfreight.com