Born from the body of a 1953 Studebaker, the roofline of a Barracuda and the power of a late-model Cadillac.
By Dale Moreau   –   Photography By the Author
How do you design the perfect custom? You take your favorite pieces of other cars and build the one you want. That's what Steve Hudson did with his Studillac, a 1953 Studebaker with modern, supercharged power and pieces from a multitude of other cars.
Steve is a lifelong hot rodder and it all began with the influence his dad, Don, bestowed on him. To listen to Steve, you can see this influence. "I literally grew up in the car hobby. My dad, Don, started hot rodding before World War II, and jumped right back in after returning from the war. He learned the upholstery trade and opened his own shop Don's Trim Shop in Norwalk, California."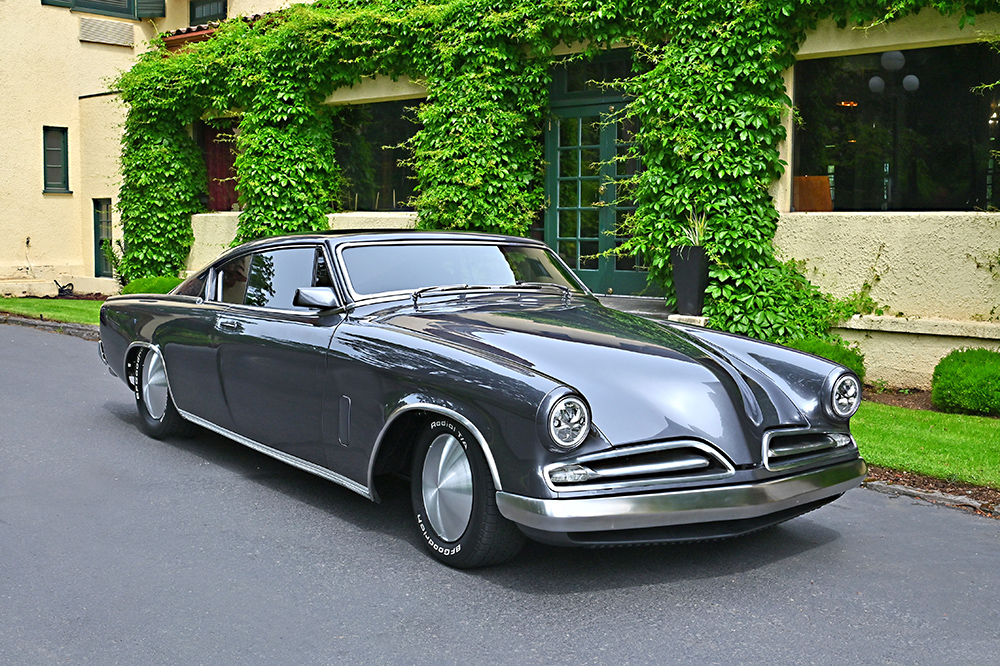 It was here that Steve spent his youth. We must think this wasn't a bad way to grow up. (And for those hot rodders with some history of their own, Don's Trim Shop should ring some bells.) Steve's boyhood was spent among the custom cars and hot rods his dad was working on plus the ones he built himself. There was one famous roadster, or it would become famous, that Steve clearly remembers, that being the 1932 Ford Highboy Roadster belonging to its future owner Tom McMullen–yes that "Tom McMullen" and that Deuce roadster.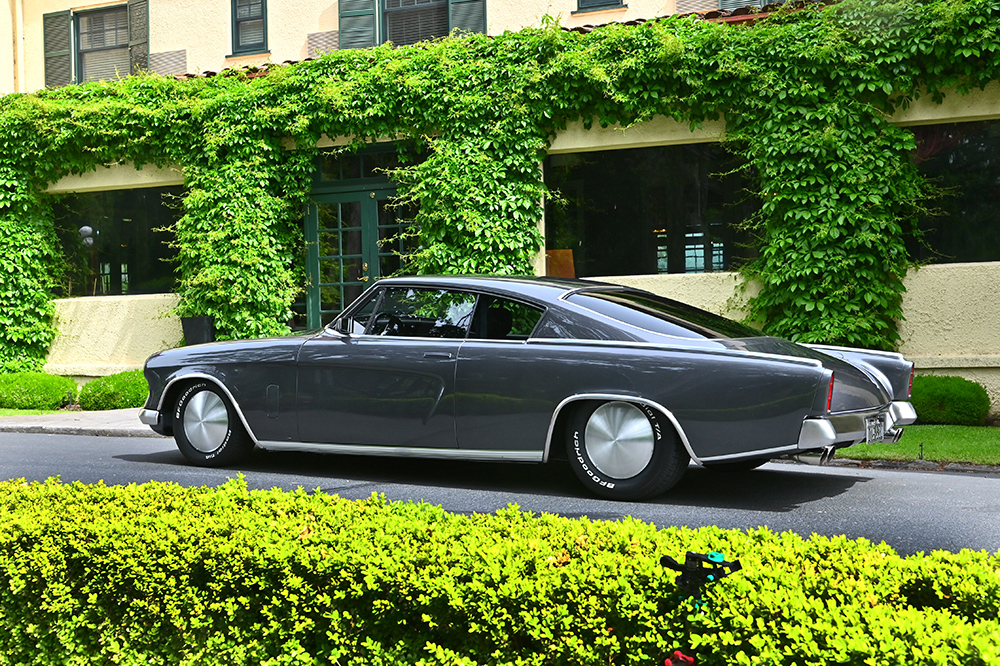 Steve was a "Chevy guy" until 1978, when he bought his first Studebaker, a 1953 Champion Starliner. He's been hooked ever since. Especially the '53-54 Lowery and Bourke coupe. Steve built several of these over the years, including a 1953 Studebaker two-door hardtop featured in Rodder's Digest magazine and a 1953 Phantom convertible featured in Rod & Custom. All the time, one of his bucket list variations, though, was a '53-'54 "Studillac." It wasn't uncommon for hot rodders back in the '50s to swap out the Studebaker engine for a 331ci Cadillac engine. Once performed it didn't take long to see you had both style and performance.
Steve wanted something more. He told us, "Although I felt the design of the Studebaker was almost ideal, I always thought the roofline was somewhat out of balance with the rest of the car. Then one day at a scale model display I spotted a model in which someone had grafted an early [Plymouth] Barracuda roof onto a '53 Studebaker body."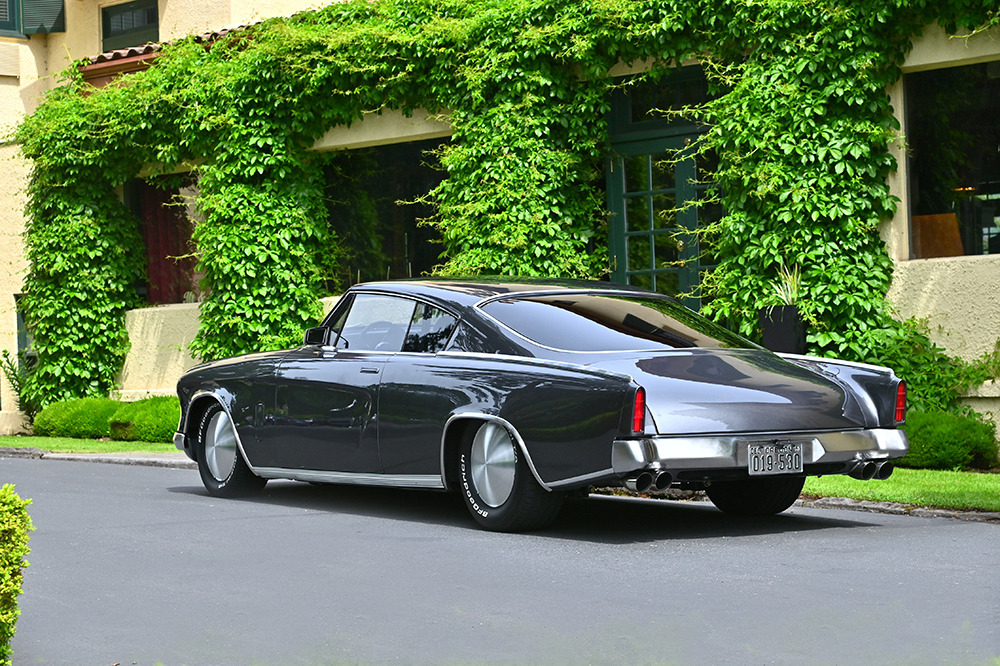 He goes on to tell us that he's "not a big fan of the early 'fishbowl' Barracuda (like on the '64-'66 First Gen Barracuda's), but the proportions on that model were perfect and got me wondering if the '67-69 Barracuda fastback roof, which I do like, might also be a good fit." It wasn't long before, lo and behold, he opens a copy of Rod & Custom and Eric Brockmeyer's Dream Car rendition of a '53 Studebaker Torpedo jumped off the page. Brockmeyer's idea was to combine elements of a Chevy Fleetline and Buick Riviera. "It was gorgeous and further validated the fastback idea in my mind," he says. He went on to build model kits of both the '53 Studebaker and '67-69 second-gen Barracuda; by mixing and matching pieces, he found that the Barracuda top would fit the Studebaker.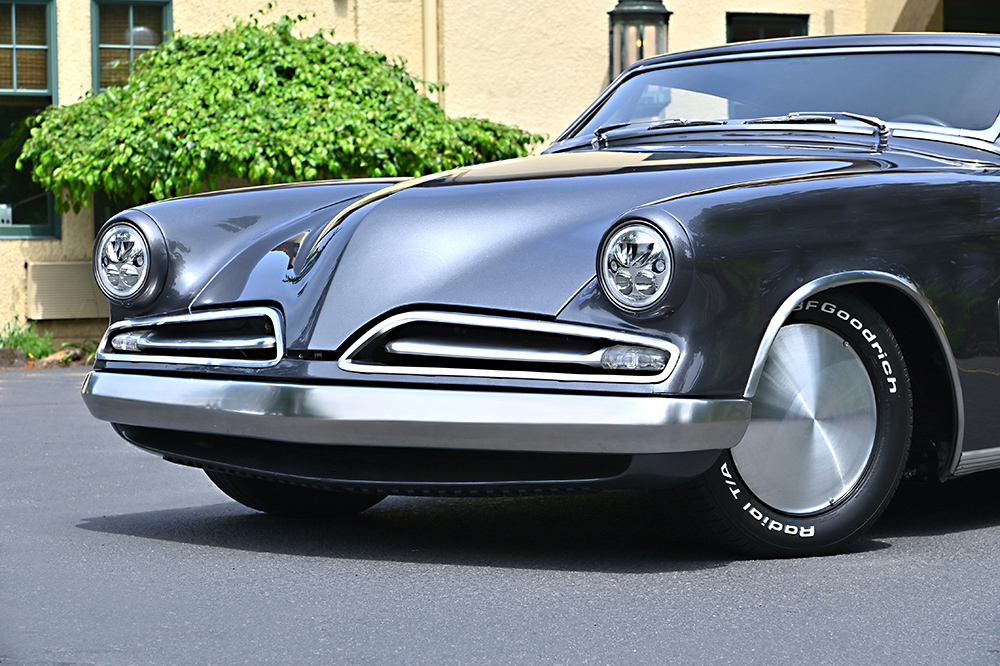 It was at this point that Steve began in earnest to find a suitable donor car. He found his first Studebaker, and while "… a little worse for wear …" he bought it back. From here he contacted All-American Classics in Vancouver, Washington, and had them remove the top of a Barracuda that was in inventory. And so begins his latest project.
Steve looked to Jim Messler of Messler Products in Cottage Grove, Oregon (now closed), to fabricate a chassis, incorporating Wilwood four-wheel disc brakes, narrowed Ford 9 inch rear end with a 3.50 limited-slip gearset, four-link plus Panhard bar rear, and Mustang II–type independent front suspension, all suspended on Ridetech coilovers.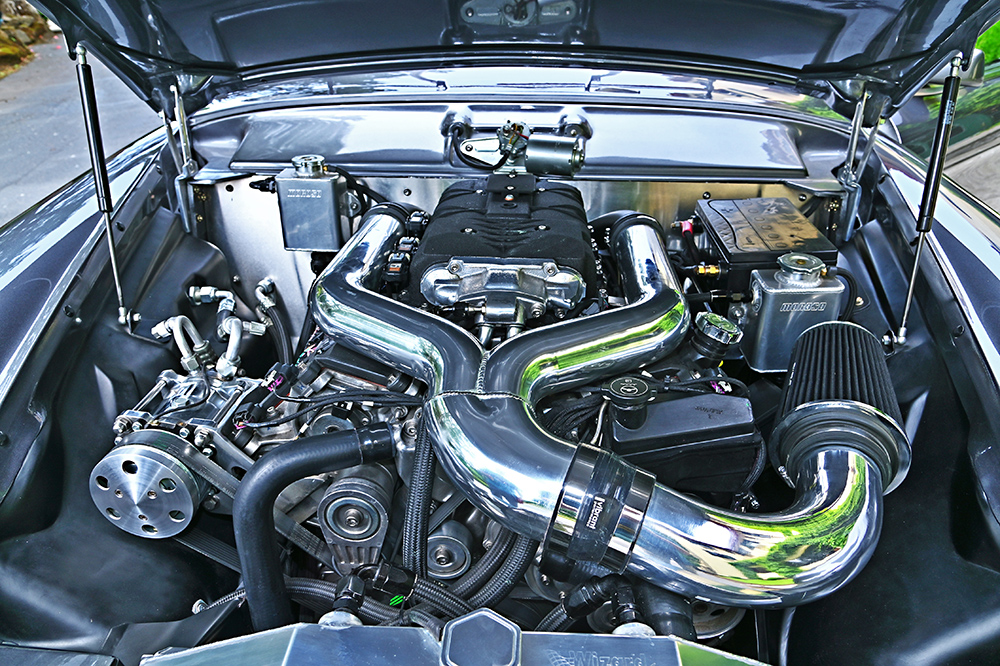 While this was going on Steve finished the roof graft and completed most of the bodywork at home. From here he adapted a set of 1979 Mustang mirrors, relocated the gas door, smoothed the stock bumpers, and had them plated and then brush finished. He also installed a GT Hawk dash fitted with AutoMeter Ultra Lite gauges and engine-turned inlays by FPM Metals. FPM also created a brushed stainless firewall plate. Up next was the Caddilac 331ci V8, a Richmond Gear 6 speed manual transmission, and a Wizard Cooling aluminum radiator with dual cooling fans to rest within the engine compartment.
The Stude was then taken over to Schroeder Speed & Custom in Troutdale, Oregon. Kegan Young, team leader, proceeded to fabricate the engine and transmission mounts, after which the frame was powdercoated and then the body would be fitted to the chassis.
A Cadillac Hot Rod Fabricators' bellhousing was used to match the Cadillac V8 engine and the Richmond manual. They also fabricated a trunklid made from pieces taken from the Studebaker and Barracuda, installed modified '79 Pontiac door handles, keyless door locks, and built a center console.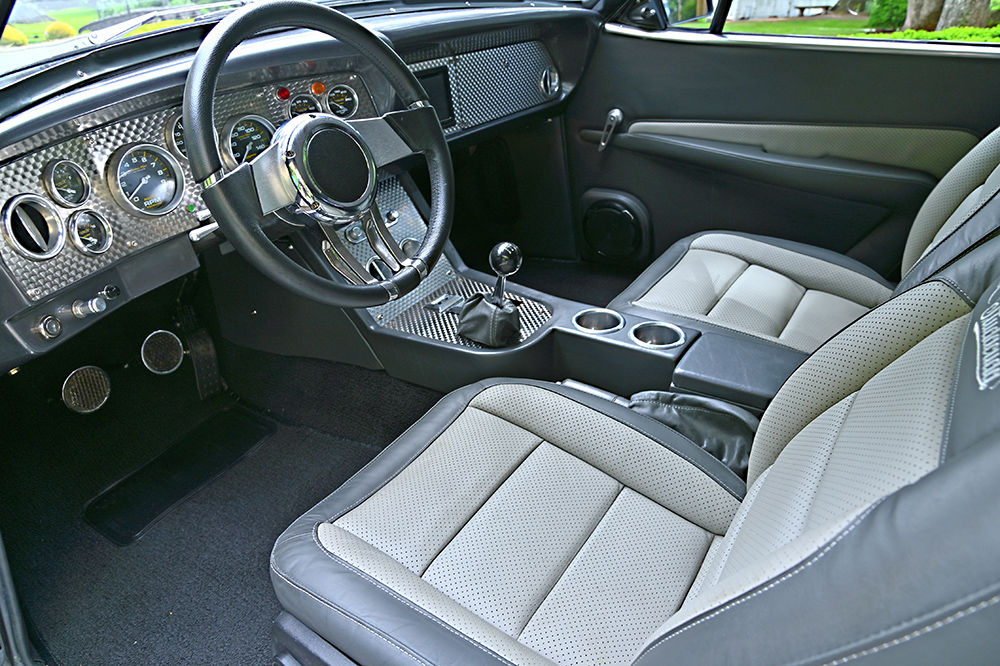 Next was the application of FatMat Rattletrap insulation to the floor, firewall, and inside of the roof. Moving forward, an intercooler was plumbed, incorporating Moroso reservoirs. While in front, a Flaming River tilt steering column was installed. They also incorporated a K&N air filter system, and working with an American Autowire kit wired the Stude. A two-piece driveshaft was manufactured by Driveline Service in Portland.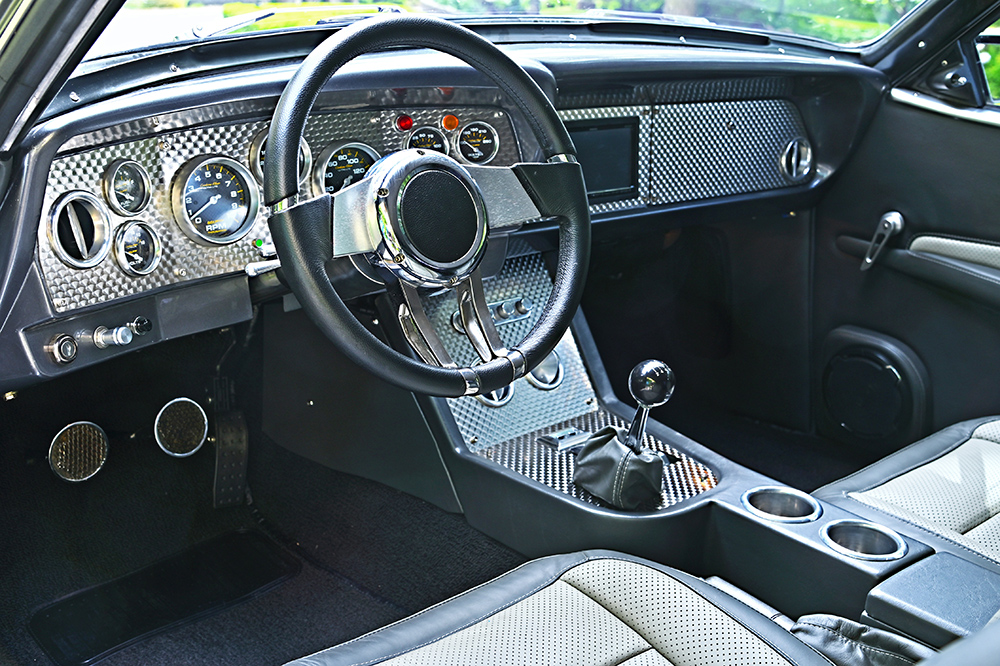 Next up was Tank's stainless 17-1/2-gallon tank while Weldon A600 inline pump and custom stainless fuel lines were added. Exiting the burnt fuel was a modified factory header system with 2-1/2-inch Siamese stainless tubing and MagnaFlow mufflers. Cadillac Hot Rod Fabricators also fabricated a vented rear valence and installed a Vintage Air Gen II Mini climate control system. While driving in comfort it was time to dial in the "good vibrations" using a Kenwood DMX706S system that accommodates Apple CarPlay and provides a screen for the rearview camera.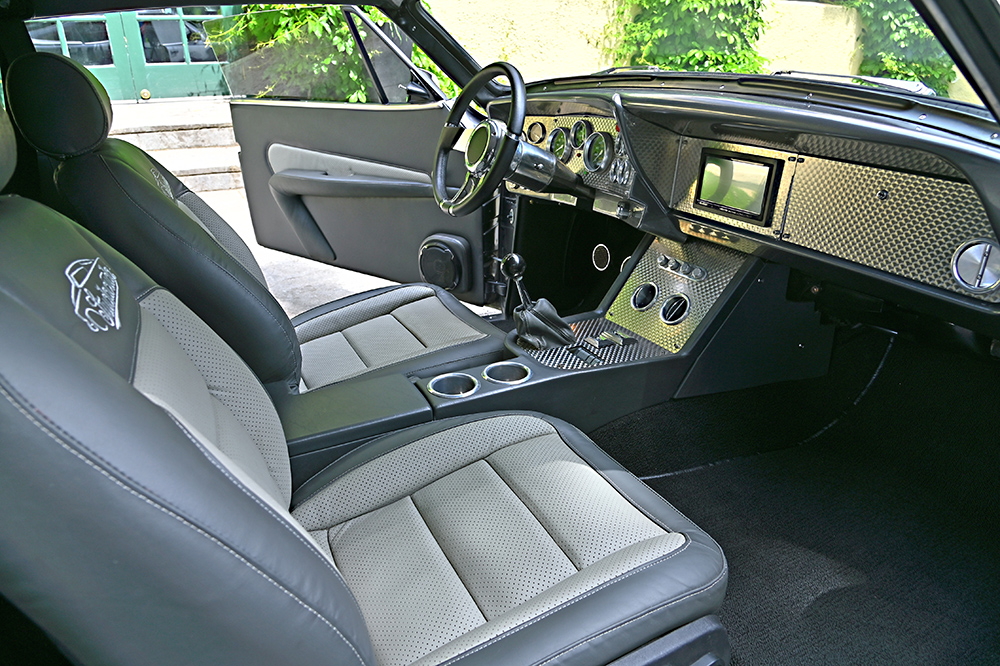 Now, no respecting hot rod with this much effort should go through life with a stock roofline. Kevin Batey at Auto Glass Past and Present in Chehalis, Washington, chopped the Studebaker windshield 3-½ inches while also fitting the side flat glass. In classic custom car fashion, the quarter windows slide out when the full hardtop feature is desired. A basecoat/clearcoat PPG Sterling Gray Metallic (a Mustang color) was applied by Carlos Perez of Perez Collision in Goldendale, Washington.
Read More: Mike Green's Unique 1950 Mercury Coupe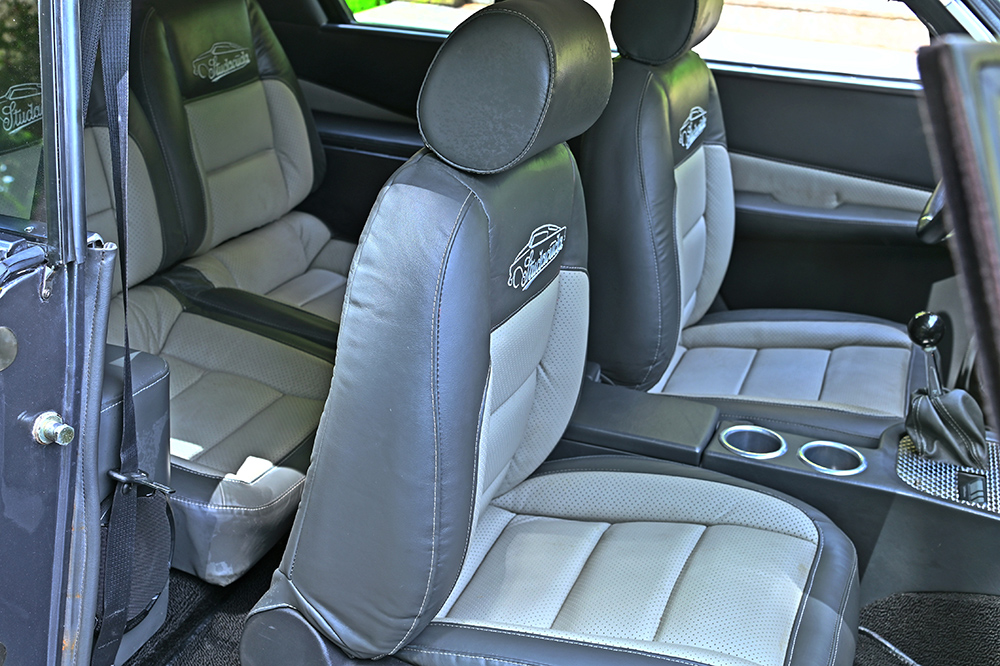 Steve goes on to tell us, "Gary Saylors, of Gary's Custom Upholstery in The Dalles, Oregon, took care of the stitchwork. The two-tone gray leather material was stitched onto cut-down Audi A4 bucket seats. [Saylors] also fabricated a rear fold-down seat mechanism to maximize storage space."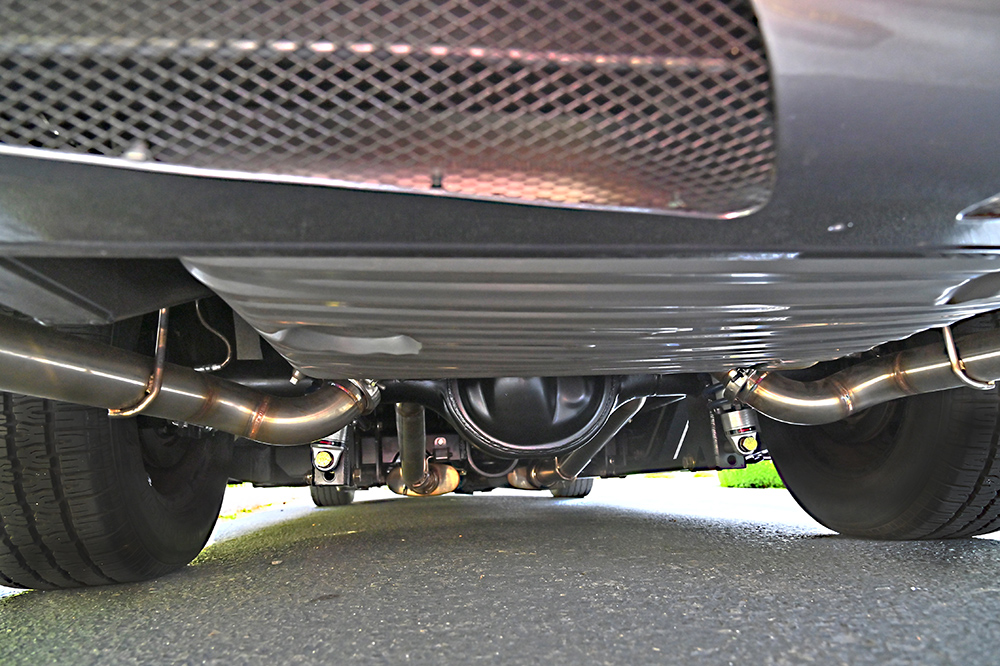 Steve did further mention, "I wanted to pay homage to the Studillac tradition, in updated form, so I acquired a supercharged Cadillac LC3 NorthStar V-8. Supercharging is another Studebaker tradition, so it seemed especially appropriate. This engine also appealed to me because it was uncommon.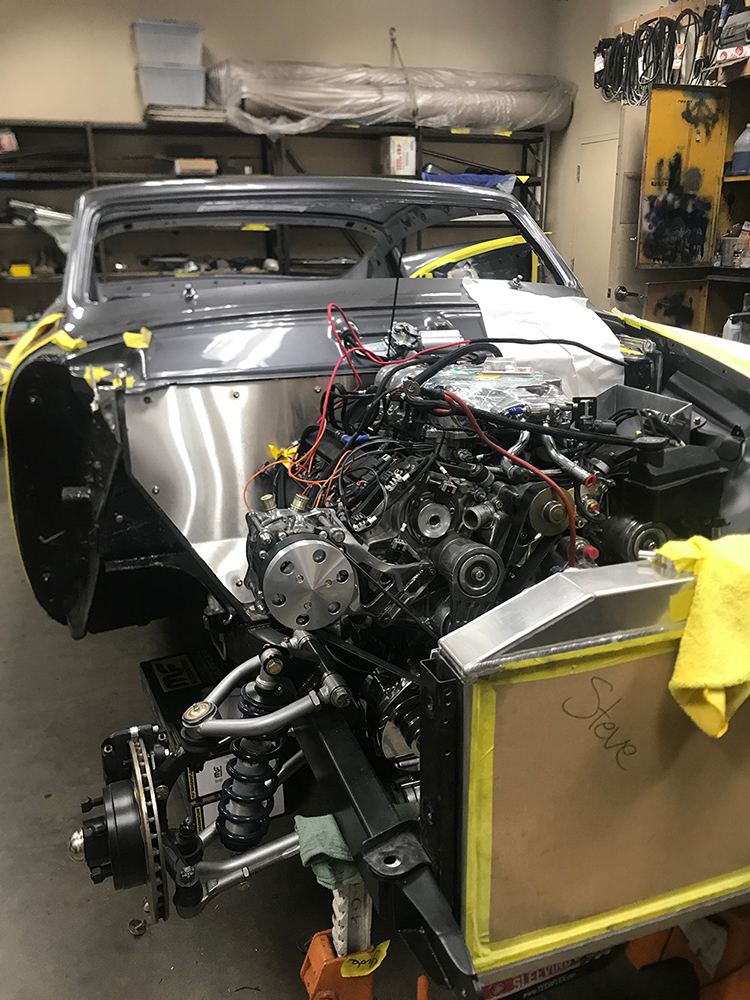 Running through the specs of the Cadillac NorthStar V8 make it sound like a promising powerplant. "The all-aluminum NorthStar puts out 500-plus horsepower, is electric motor smooth, and has an amazingly broad powerband. Maximum torque (439 lb-ft) comes on at 3,900 rpm, but it maintains 90 percent of that torque from 2,200-6,000 rpm! Also, the four-cam engine makes a goosebump-raising Formula I–type sound when running through the gears, and he has fun raising the hood and watching people try to figure out what they're looking at."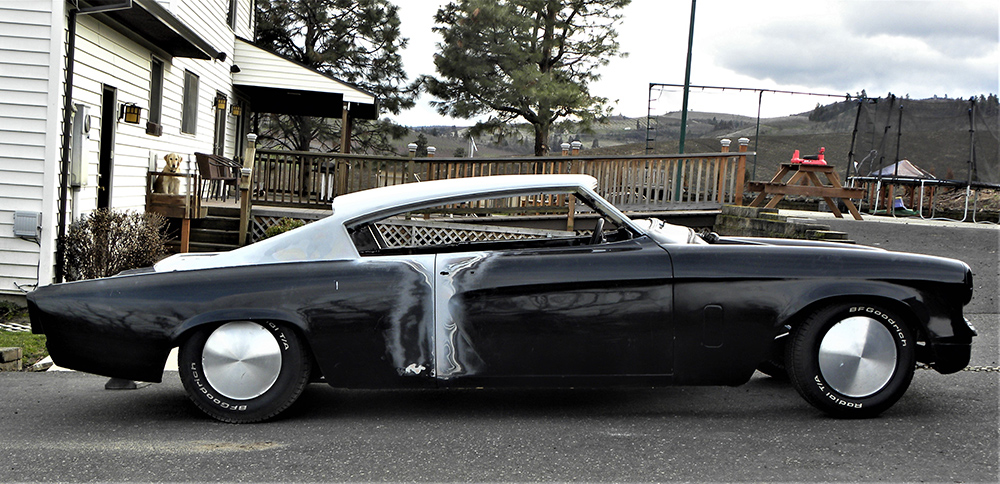 To continue the unique appearance Steve thought it would be important to give some attention to the wheel selection. In the end, he decided on the classic Moon discs over steel wheels (9×15 rear, 7×15 front). These wheel covers best fit the Bonneville look of the car. To listen to Steve, he will also tell you that these wheels/covers, "… stand out in a sea of 'me too' alloy wheels." Turns out many of the younger rodders are fascinated by the look as this look isn't common for them. Mounted to the wheels are BFGoodrich Radial T/A rubber measuring 215/60R15 in the front and 245/60R15 in the rear.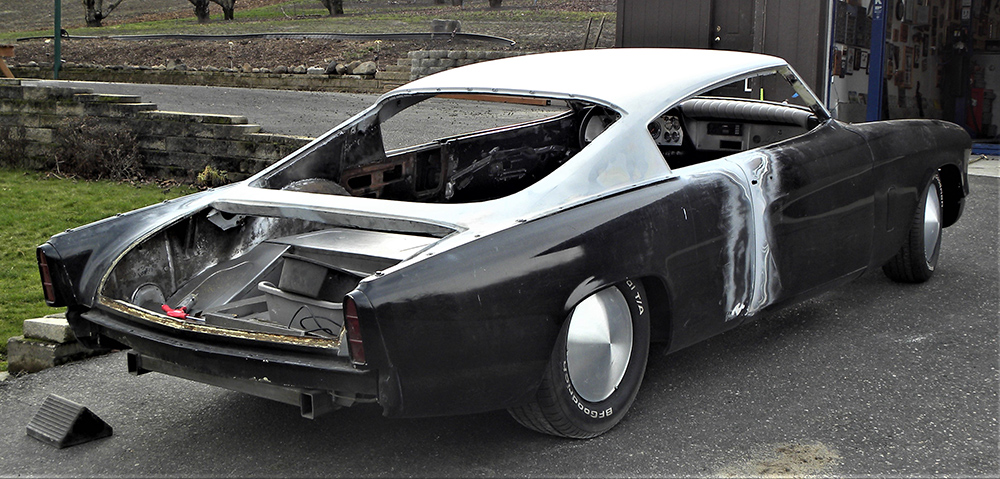 Steve wraps up by telling us, "The car attracts a lot of attention wherever it goes, and it goes a lot of places. My wife, Melody, and I both agree the car was made to drive, and that's what we are doing. So, if you live anywhere in the Northwest (or a little beyond), don't be surprised if an awesome fastback Studillac shows up in your neighborhood sometime soon." MR