The Tri-Five Nationals Giveaway Car Has '60s Charm and Modern Performance
By Tommy Lee Byrd   –   Photography By the Author
We all remember the first hot rod that grabbed our attention. For some it was a '32 Ford, but for many of us it was a Tri-Five Chevy with a radical cam, uncapped headers, and cheater slicks. Back then you had to sacrifice comfort in the name of speed, and that compromise could be extreme at times. Lucky for us, the modern age of hot rodding has transcended the obstacles that we once faced while still being able to pay homage to the glory days. A perfect example of this concept is the 2022 Golden Star Classic Auto Parts Giveaway Car, a '55 Chevy built by Woody's Hot Rodz. This car's specific purpose is to go home with a lucky individual who registered a car at the 2022 Danchuk Tri-Five Nationals in Bowling Green, Kentucky.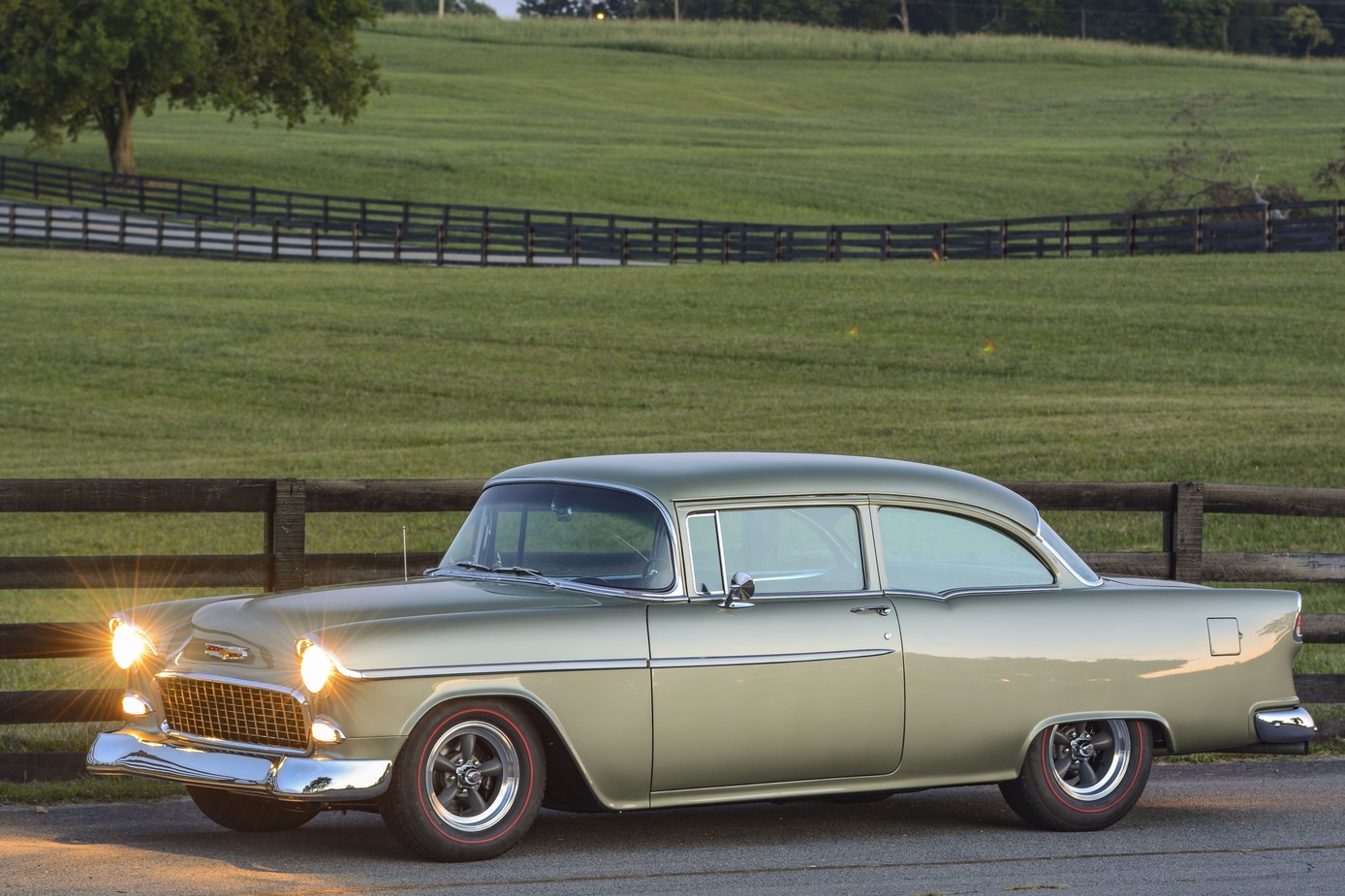 Having watched the evolution of the Danchuk Tri-Five Nationals, and the progression of the Giveaway Car, it's obvious that the crew at Woody's Hot Rodz thoroughly enjoys building these cars. The themes are always fun, ranging from gassers to pro touring cars and everything in between. Woody's Hot Rodz and American Tri-Five Association president Chris Sondles teamed up with Eric Brockmeyer to generate a rendering for the build, and then it was up to the build team to apply the vision onto a brand-new body and chassis, both built in-house at Woody's Hot Rodz in Bright, Indiana.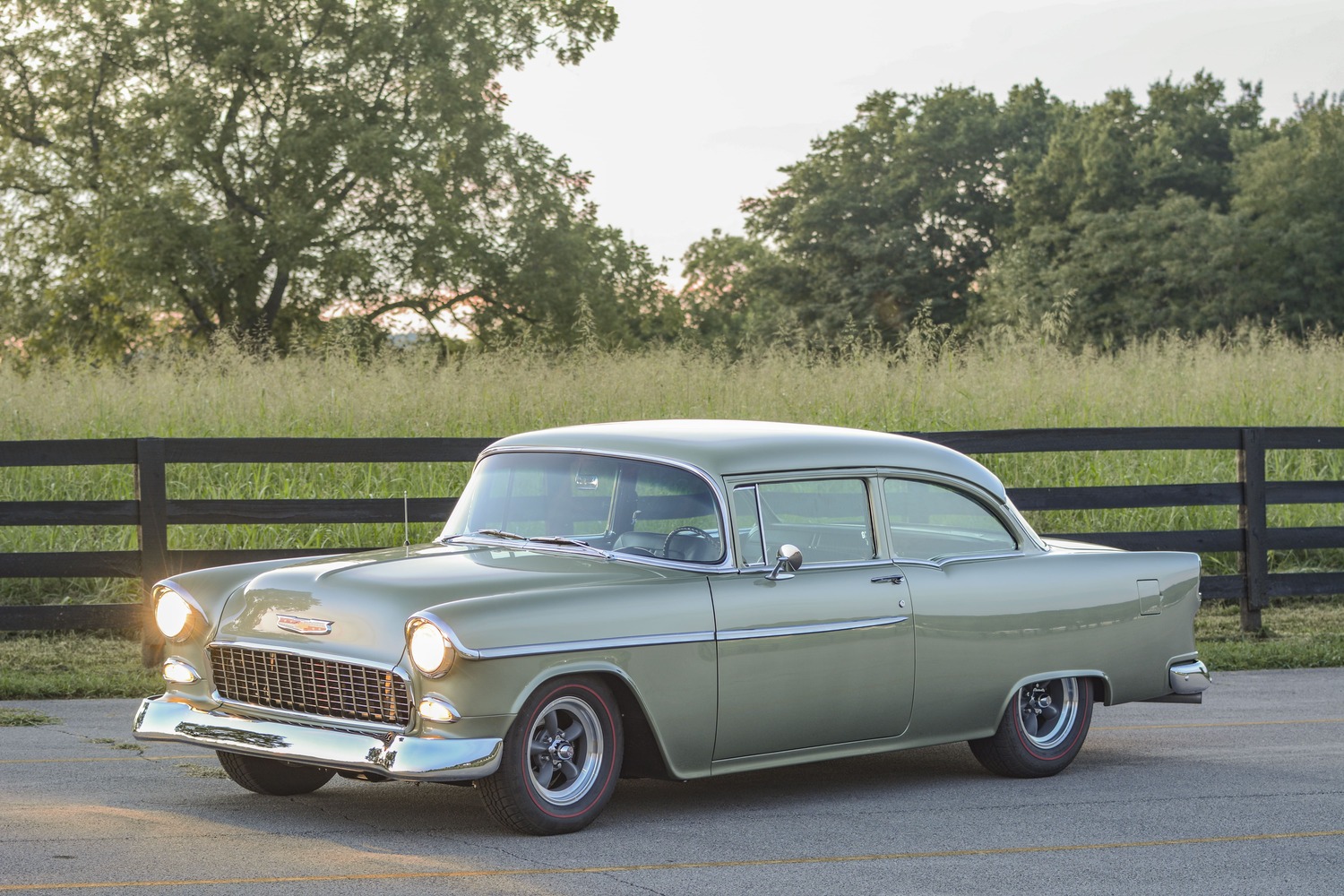 For 2022, the Giveaway Car strikes a chord with many Tri-Five enthusiasts by rewinding the clocks to the '60s, without the sacrifices of those old-school hot rods of yesteryear. In fact, Chris Sondles wanted to mimic a car that could've been in a high school parking lot in 1969. The basic theory behind the theme is that a high school hot rodder picked up a cheap '55 Chevy sedan and found a wrecked '63 Impala as a donor car. That's where the 409 engine styling comes into play, in addition to the beautiful Impala bucket seats, upholstery, and Super Sport console. Although the engine, drivetrain, and suspension are modern pieces, sliding behind the wheel of this '55 is like stepping back in time, which was the goal all along. Not only does this car provide a lucky Tri-Five enthusiast with an excellent driving experience, but it also provides a heavy dose of nostalgia.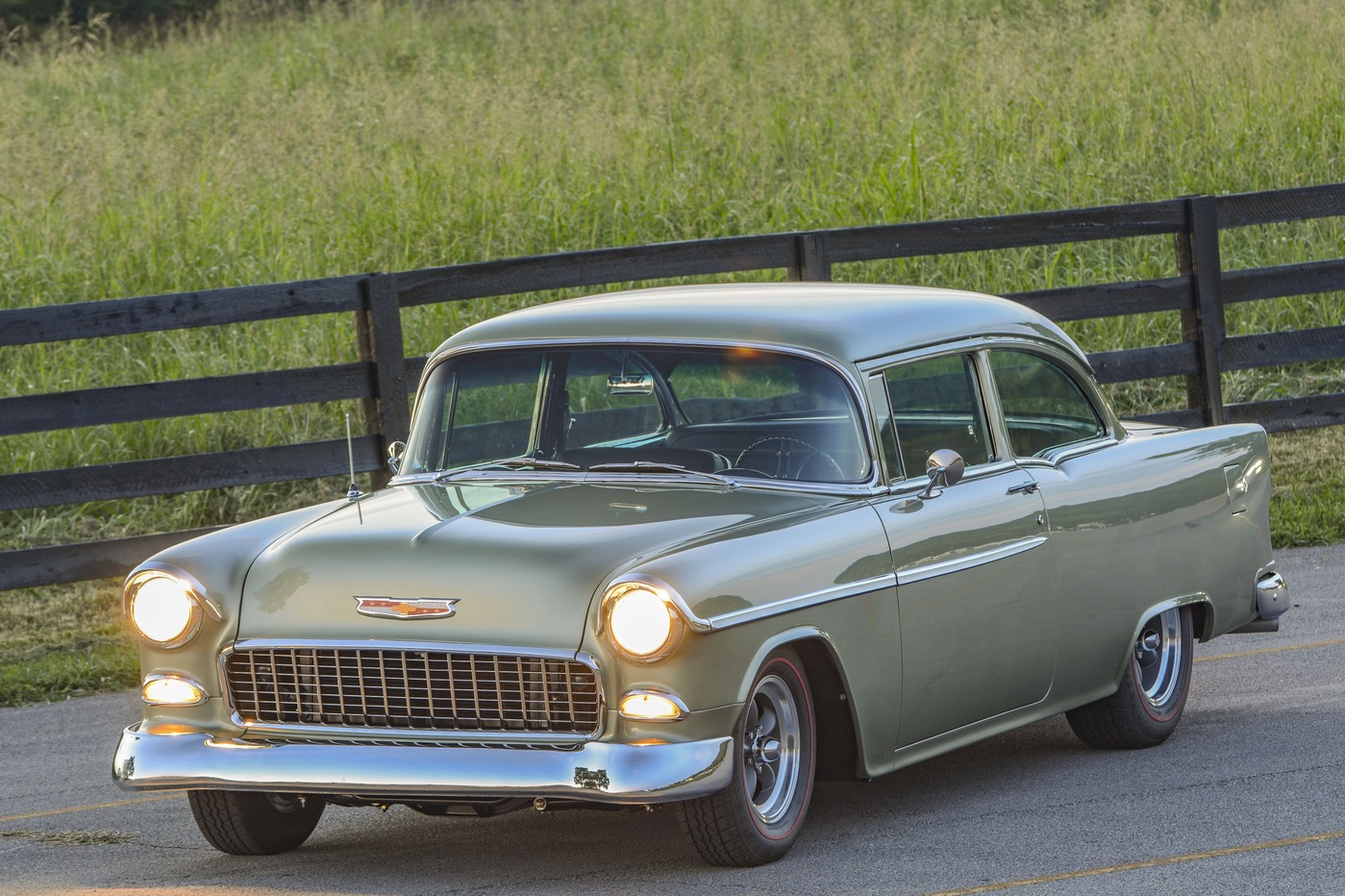 Once the rendering was finalized, the pile of parts began to grow at Woody's Hot Rodz. Sponsors jumped on board to provide the latest and greatest products and, of course, the Woody's staff stepped up to the plate with endless Tri-Five knowledge and experience. As the pieces came together, Brian Graber, Billy Wooten, Ian Bowman, and Dillon Drees went over every nut and bolt and tested this car to ensure it was ready for its new owner, who would be handed the keys on August 13, 2022, at the conclusion of the Danchuk Tri-Five Nationals.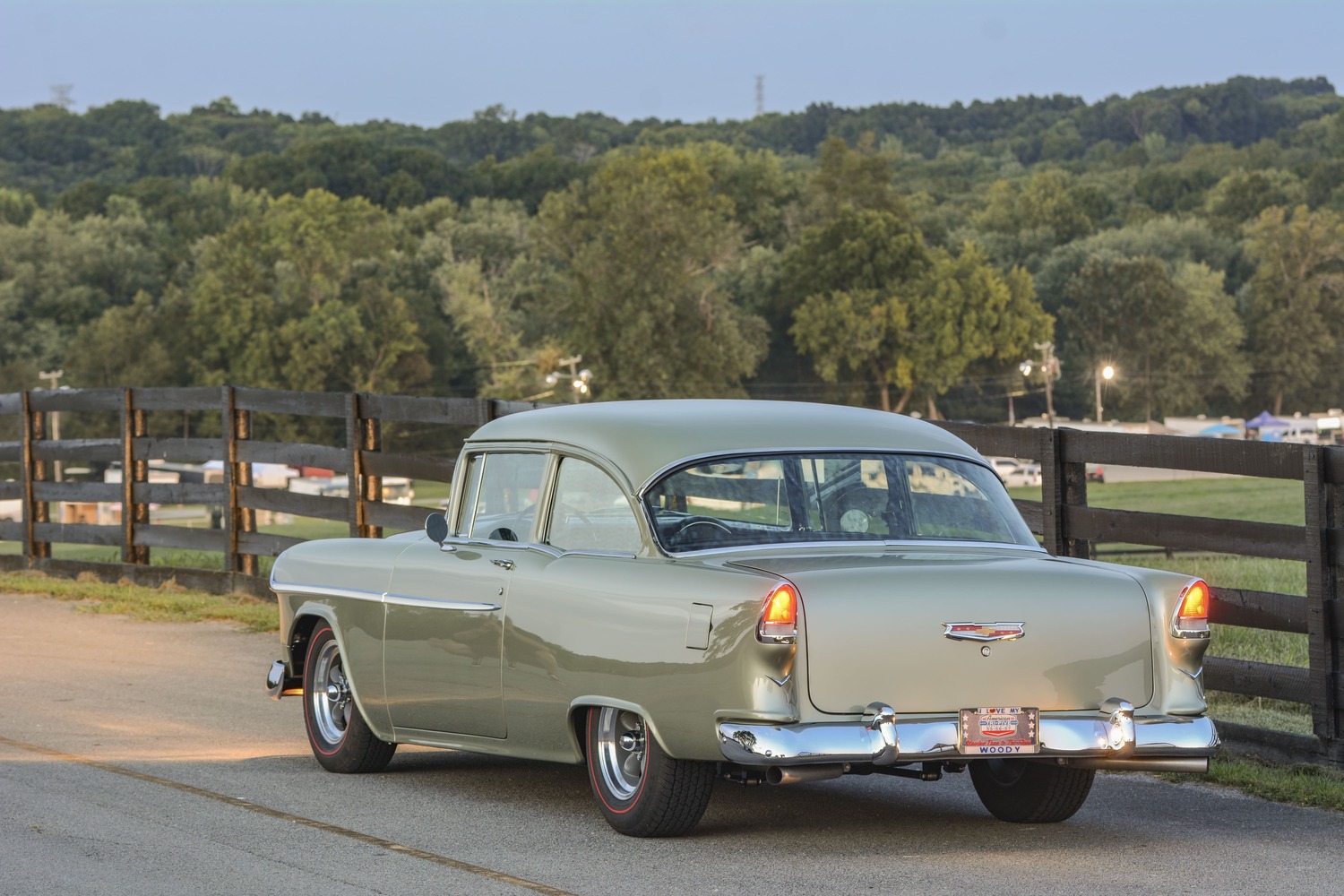 The build process started with a Woody's Hot Rodz chassis. The front suspension is upgraded with tubular control arms, coilovers, and a 1-inch sway bar, far exceeding the capability of original-style components. Classic Performance Products (CPP) provided the 500-series power steering box. Out back is a custom triangulated four-link system, fit with Viking coilovers, allowing for precise tuning of the ride height and handling. Braking power comes from a Wilwood disc brake system, which starts up top with a compact manual master cylinder and makes its way down to the corners with Classic Series Dynalite discs up front with 2-inch drop spindles and Forged Dynalite discs on the rear. A John's Industries 9-inch rearend features a US Gear 3.55:1 ring-and-pinion and 31-spline axles and fits perfectly under the '55 body, offering ample room for a traditional tire and wheel combination, compliments of JEGS. It consists of 15×6 and 15×7 American Racing Torq Thrust D wheels, wrapped in Coker Tire's redline radials, sized at 205/75R15 and 235/70R15, respectively.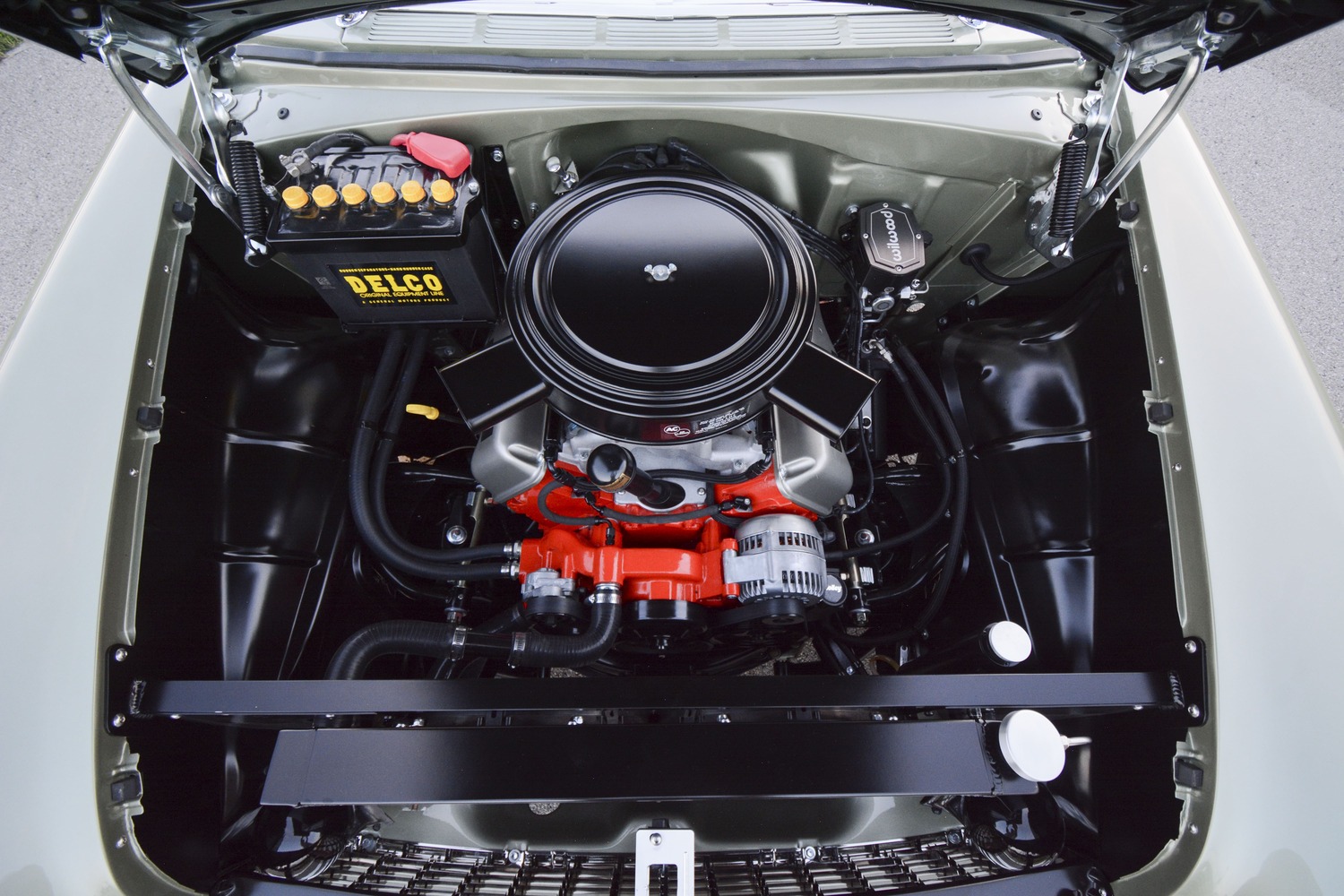 Although the car has a vintage theme, you'll find modern horsepower underhood, thanks to an LS3 from Ed Rinke Performance. Coming in at more than 450 hp, the 6.2L all-aluminum V-8 is painted Chevrolet Orange and equipped with Lokar's LS Classic Series 409 components, including the famous "W" valve covers and a dual-quad EFI intake. Additional LS Classic components include a faux distributor and oil fill tube. A factory-style Impala two-four, dual snorkel air cleaner rests atop the engine to finish off the old-school look. Holley's mid-mount accessory system simplifies the front drive system, while Mattson's components keep the engine and transmission cool.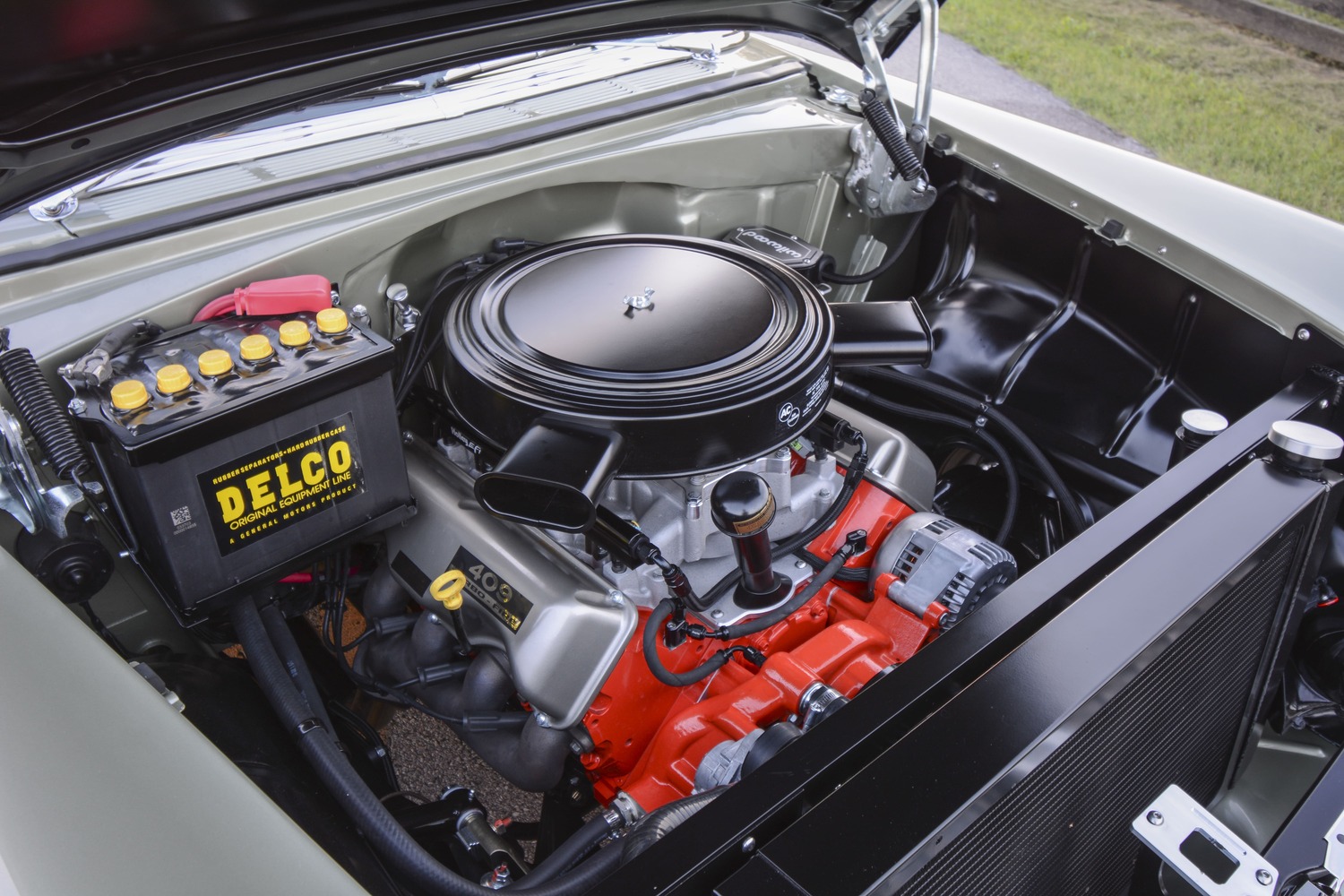 The fuel system consists of a 255-lph electric pump, mounted inside the Holley Sniper 16-gallon tank. Barry Bowman of West Harrison, Indiana, tuned the Holley Dominator system, which is tied into the Painless Performance Products wiring harness. A mellow tone comes from the exhaust system fabricated by Barry Bowman, using Hooker Turbo mufflers and 2.5-inch tubing to tie into the Hooker manifolds. The trick LS3 is backed by a GM 4L70E overdrive transmission, which features a 2,500-rpm stall converter. It's all tied together with a custom driveshaft from Cincinnati Driveline.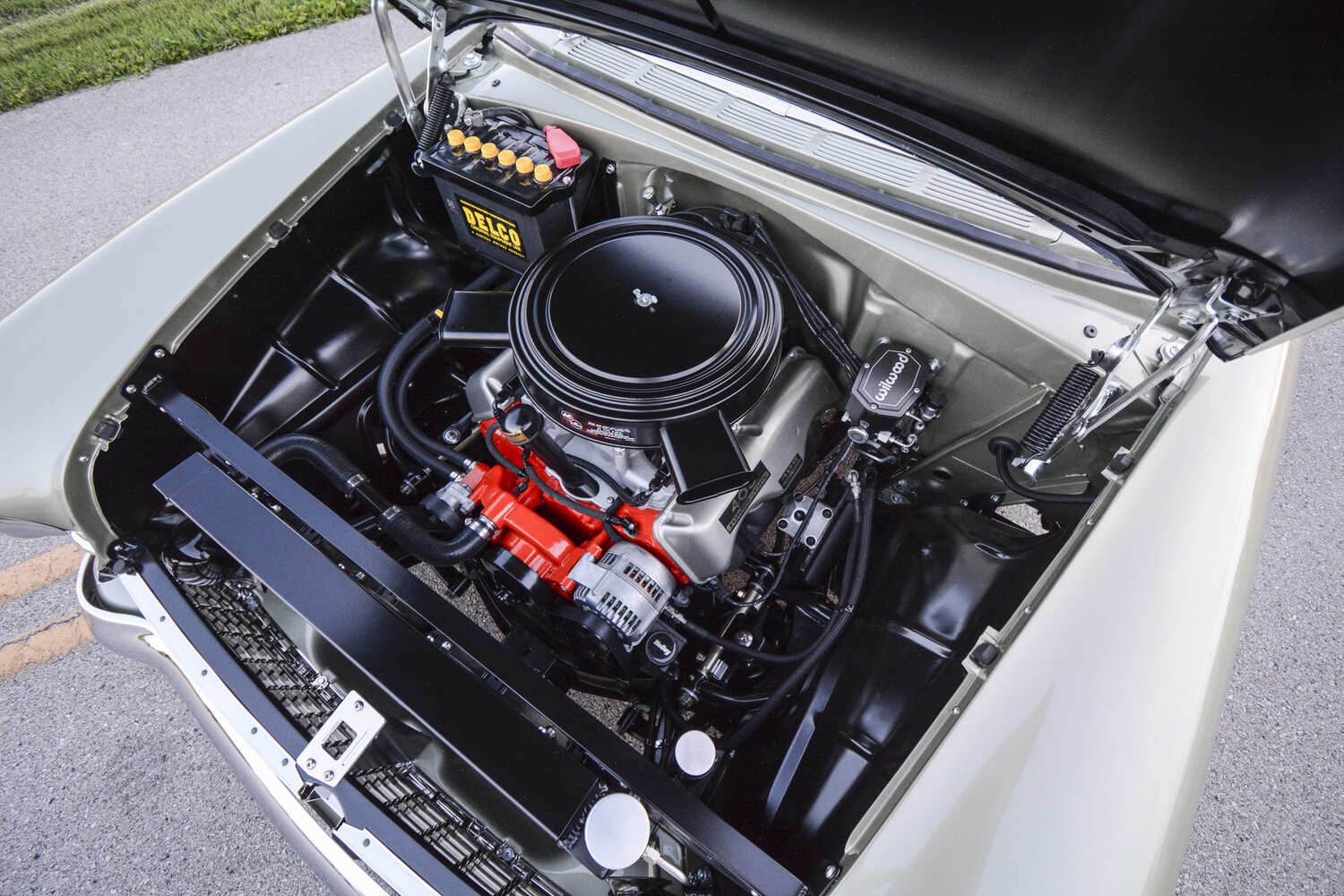 Exterior details are subtle and continue the '60s theme. The process started with a brand-new '55 Chevy two-door sedan body, which is assembled by Woody's Hot Rodz in Bright, Indiana, using Golden Star components. From the front to back, this body and all the trim are straight out of the catalog. The Nomad eyebrows and side trim are a nice touch and do a great job of displaying a new product offering from Golden Star, now available through Woody's Hot Rodz. A Golden Star Smoothie hood was added for a custom look. Graber at Woody's assembled the body and handled all the bodywork to make sure the panels are aligned and straightened to perfection. Once it met Graber's approval, he applied the Axalta paint materials, which features a light green hue, which is a factory GM color from 1968 called Mountain Green. Graber sanded and buffed the clearcoat to a beautiful finish and then started final assembly with Danchuk trim, bumpers, and lighting components throughout.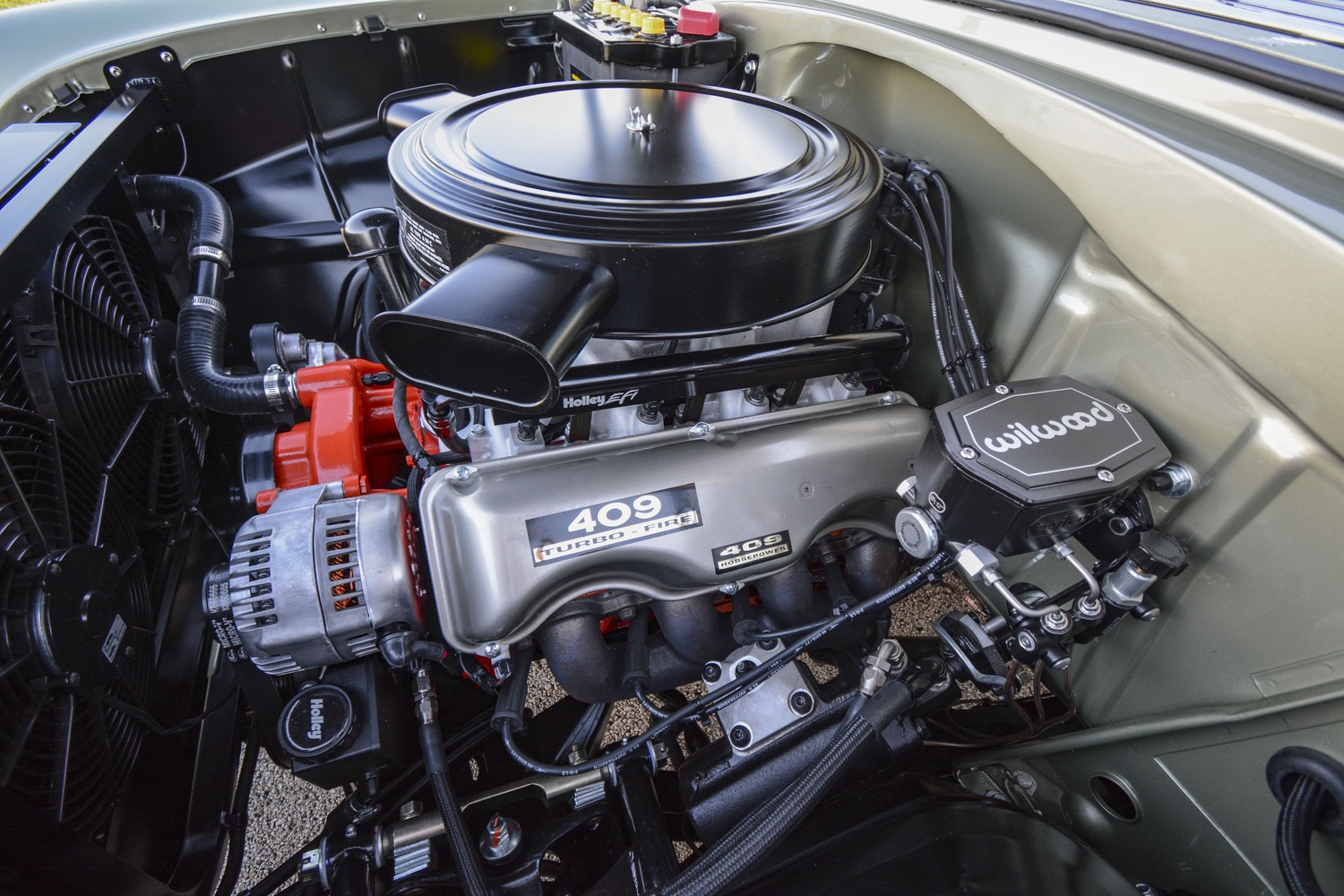 Inside is where the Woody's team really nailed the build theme. Instead of custom seat frames and sculpted foam, the car features authentic '63 Impala bucket seats, wrapped in original-style covers. Don's Auto Trim is responsible for the upholstery work, using factory-style material from Ciadella. Seatbelt Solutions three-point belts will keep the new owner safe. ACC black carpet is simple and clean, and the Impala Super Sport console is the icing on the cake. Advanced Plating handled all the chrome work on the interior, including the garnish moldings, console, and other interior trim pieces. The dash features a Dakota Digital RTX gauge system, while an ididit steering column positions the downsized American Retro '59 Impala steering wheel within comfortable reach. Out back, the smooth trunk pan is covered in a factory-style rubber mat.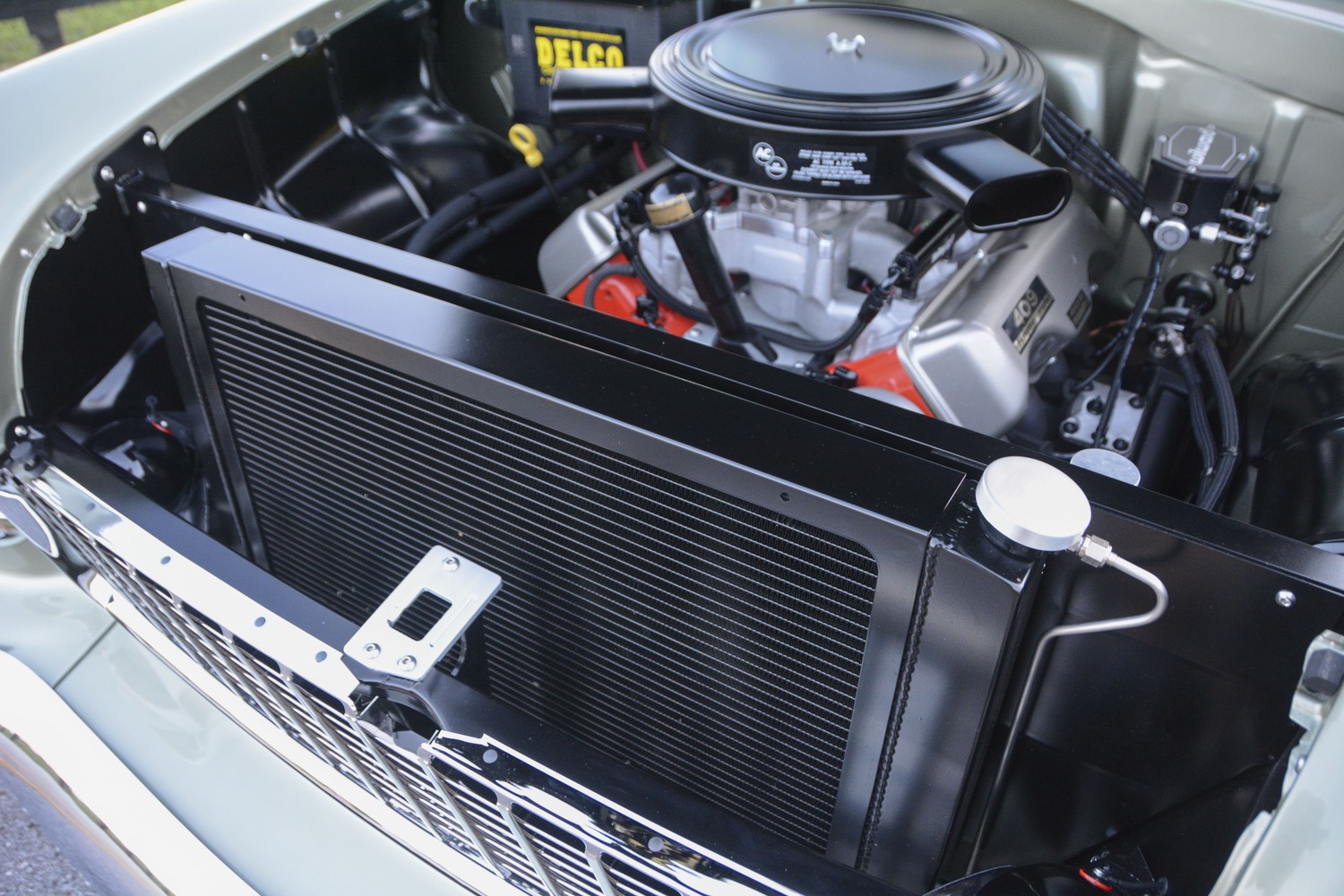 The combination of old-school style and modern componentry is something that took a great deal of planning to pull off. The car was very well-received at the 2022 Danchuk Tri-Five Nationals in Bowling Green, Kentucky, and the big moment came on Saturday, August 13 at 6 p.m., when one lucky participant's name was drawn. The crowd went silent when the name was called, waiting for someone to react. Finally, an excited voice was heard in the distance. It was Tim Boisture from Sacramento, Kentucky, who confirmed his identity with event staff and took ownership of the beautiful '55 Chevy. The crowd dispersed, the facility emptied, and another Danchuk Tri-Five Nationals was in the books. Tim Boisture accepted the grand prize, and nearly 2,500 other participants left the facility hoping for better luck next year.
Go ahead and mark your calendar for August 10-12, 2023, and check out americantrifive.com to register for next year's event and put your name in the hat to win next year's Golden Star Classic Auto Parts Giveaway Car. MR