Doug Klett's Purely Wicked 1956 Chevy 150
By Chuck Vranas   –   Photography by the Author
It doesn't matter how you cruise down the automotive highway, as there are plenty of exits leading to the core elements of our hobby to explore. Local cruise nights and car shows bring with them a high level of socialization opportunities for car owners to enjoy regardless of whether they're into hop-ups, restos, or something in between. There's nothing quite like walking a path through an event with endless brands and styles laid out in front of you while also meeting up with old friends and making new ones along the way.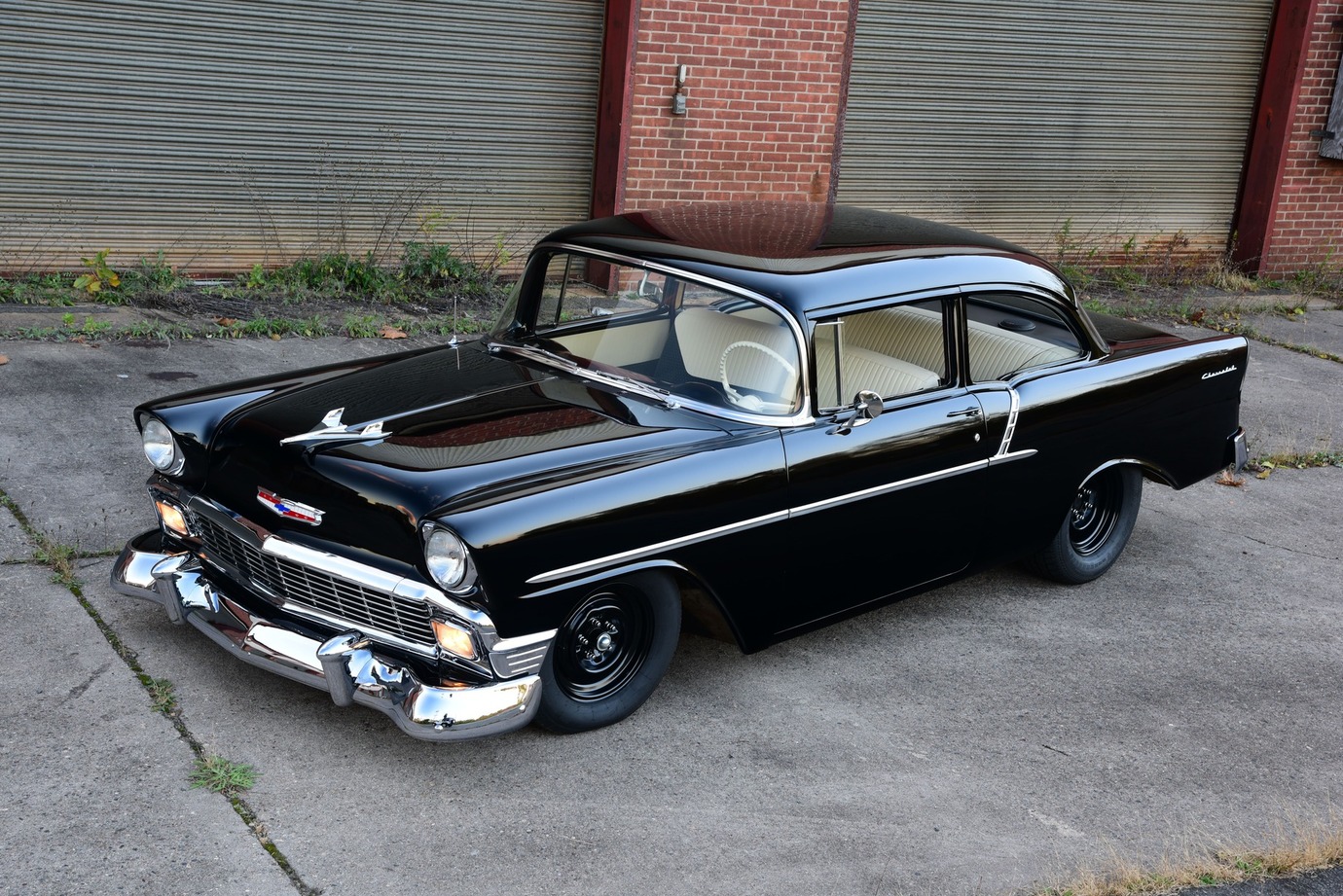 Doug Klett of Plainville, Connecticut, is a hard-core hot rodder who's had a number of memorable builds roll through the scene over the past few decades, each one packing his signature style of a wicked stance laced with just enough attitude. With each one sitting just right, thanks to a perfect fusion of wheels, tires, and suspension upgrades, they always make a statement, especially when cruising down the highway. It doesn't require a deep bank account to create a badass car with a killer vibe as evidenced by his latest creation: this 1956 Chevy 150.
Check this out: Butch Szollosy's 1961 Corvette Gasser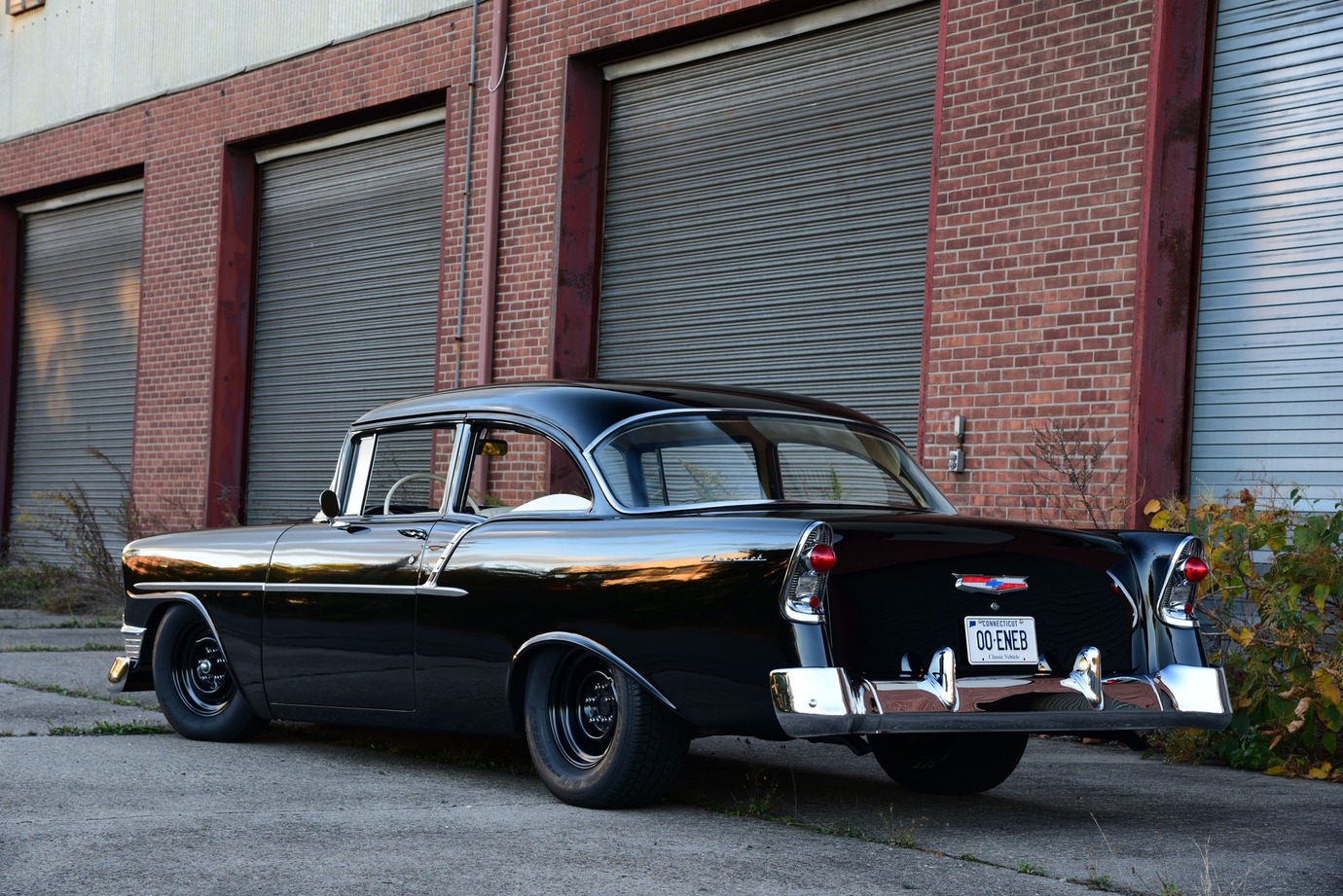 The car epitomizes what the 150 model stood for: basic fleet transportation marketed by Chevrolet as a no-frills car with limited trim options, solid colors, and basic heavy-duty upholstery. This made it attractive to police, state, and government agencies, small businesses, budget-minded individuals, and especially hot rodders. Of the few options available, buyers were offered a number of engine choices, including the venerable 235ci straight-six and three, 265ci V-8s, including a scorching dual-quad version, linked to either a three-speed manual or Powerglide automatic. It was the least-selling model, however, that year when compared to the 210 and Bel Air buyers who were hot for plenty of options and color combinations.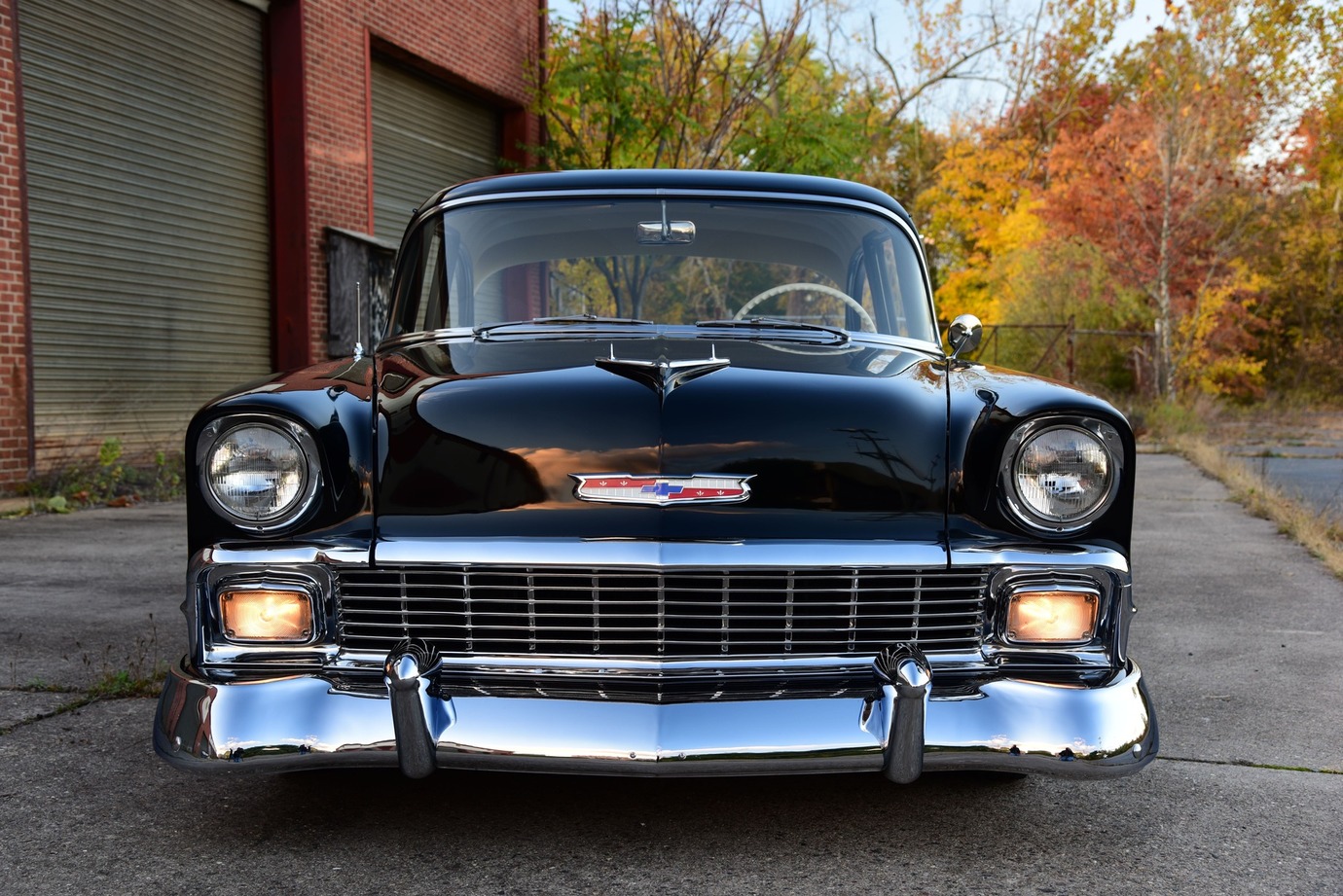 While attending a local car show in 2011, it was a stroke of luck for Doug when he crossed the show field and came face to face with a bare-bones, basic black, unmolested 1956 Chevy 150. The car was owned by Matt Wilk of Avon, who had recently restored it back to factory specs while also updating the original six to a 283ci V-8 for added power. There just so happened to be a For Sale sign in the window and Doug wasted no time writing down the number then calling to inquire. A follow-up with the owner revealed that he really wasn't up to parting with it yet but offered to keep Doug at the top of the list when he was ready. After exchanging calls for 10 years, a deal was made giving Doug the chance to be the next holder of the keys. Once home in his shop, memories came flooding back of how as a youngster he used to ride shotgun with his dad in a very similar Chevy. It was finally time to lay out the plans to give the car his signature style. Let's take a look at what makes this car so darn cool, between the original restoration and Doug's updates.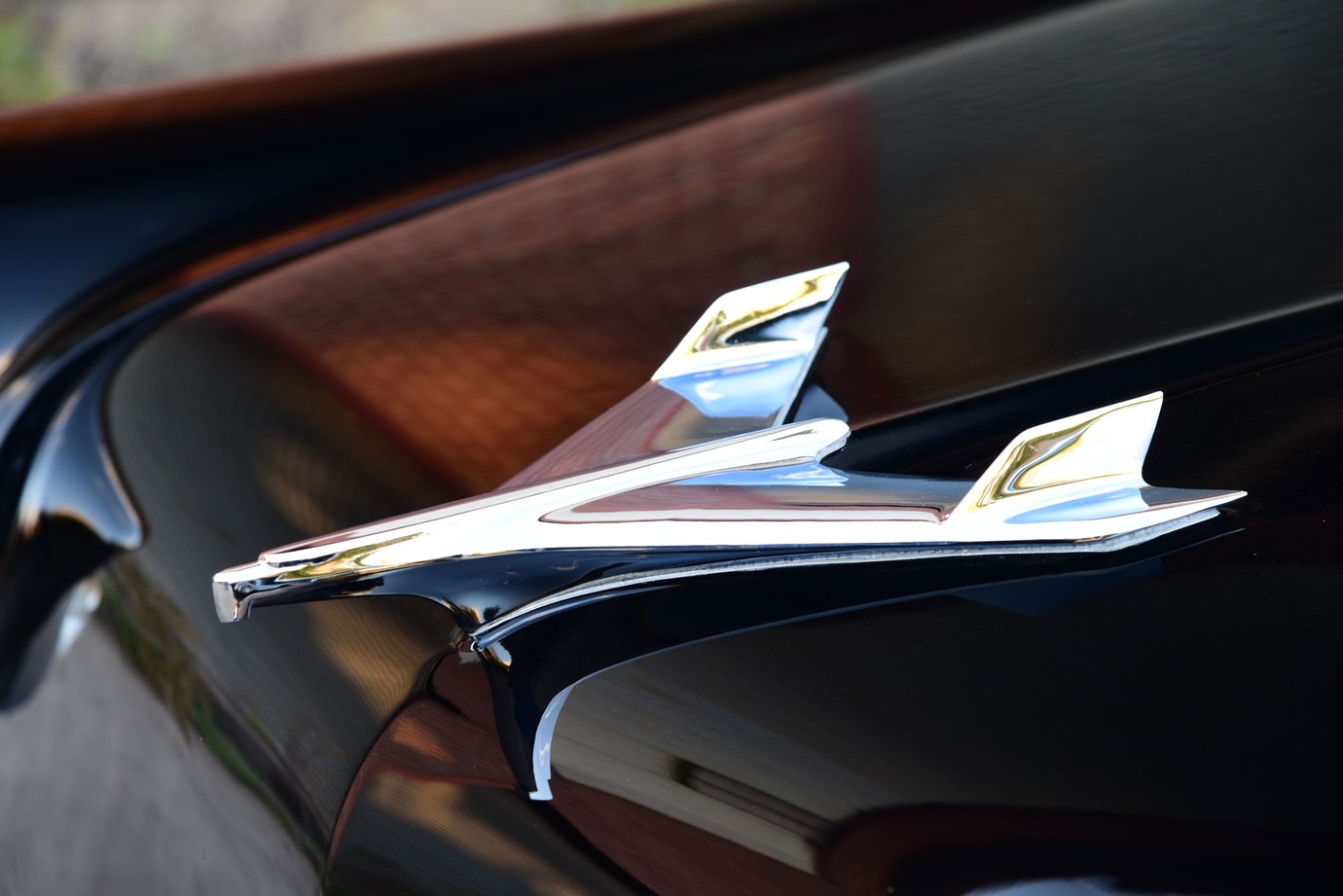 Seeing the original spine was in solid shape, it was blasted clean and treated to fresh gloss. Out back the stock rearend spins 3.36 gears and is suspended in place by leaf springs and Monroe tube shocks. Doug added Speedway Motors 1-inch lowering blocks to set the stance. Up front, the refreshed IFS was then upgraded to dial in the stance, including CPP 2-inch dropped spindles and 2-inch dropped coils as well as a matching 1-inch sway bar and Monroe shocks. When it comes time to slow down, a CPP dual master pushes fluid through steel lines to matching 12-inch front discs with factory drums out back. Linking it to the street, Doug went with a set of Wheelsmith Vintage 15×5 front and 15×7 rear steel wheels in gloss black wearing Mastercraft P205/75R15 front and Mastercraft Avenger GT P265/60R15 rear rubber, respectively.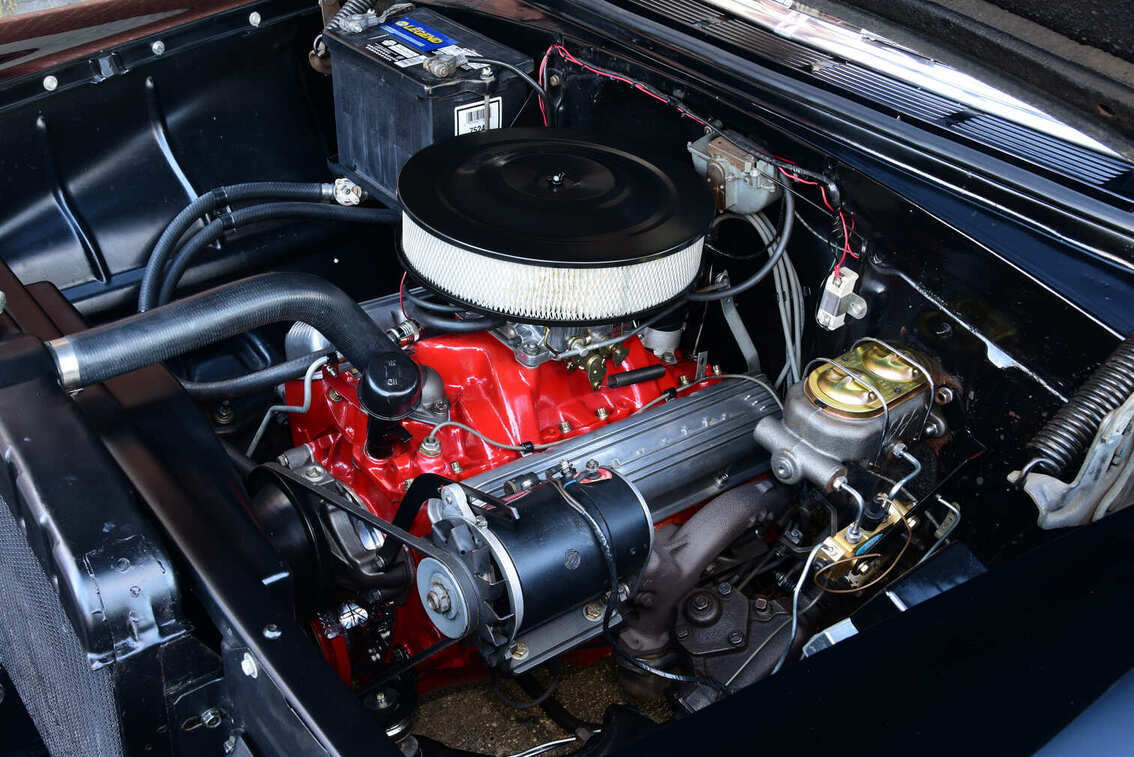 More Chevy Love: Tom Eckholdt's 1966 Nova Carries Some Old-School Innovation
With the car having been updated with a stock 283ci V-8 well over a decade ago, Doug decided to freshen it up, so a call was placed to Mike's Engine Stand in Naugatuck, Connecticut, to work their magic. The factory 1964 Chevy block was massaged to 287 ci and filled with a freshened factory crank and rods wearing Sealed Power 9.5:1 cast pistons getting bumped by a Comp Cams roller stick. A set of tweaked factory iron heads generate plenty of dependable power, especially when matched to an Edelbrock Performer intake breathing deep through a matching 600-cfm carb. A stock ignition packed with a PerTronix conversion lights the fire with exhaust moving through a set of Ram's Horn manifolds to a 2½-inch steel exhaust with Thrush turbo mufflers. Power moves through a Saginaw three-speed trans with a McLeod clutch, rebuilt by Jeff Pearl, to a factory driveshaft.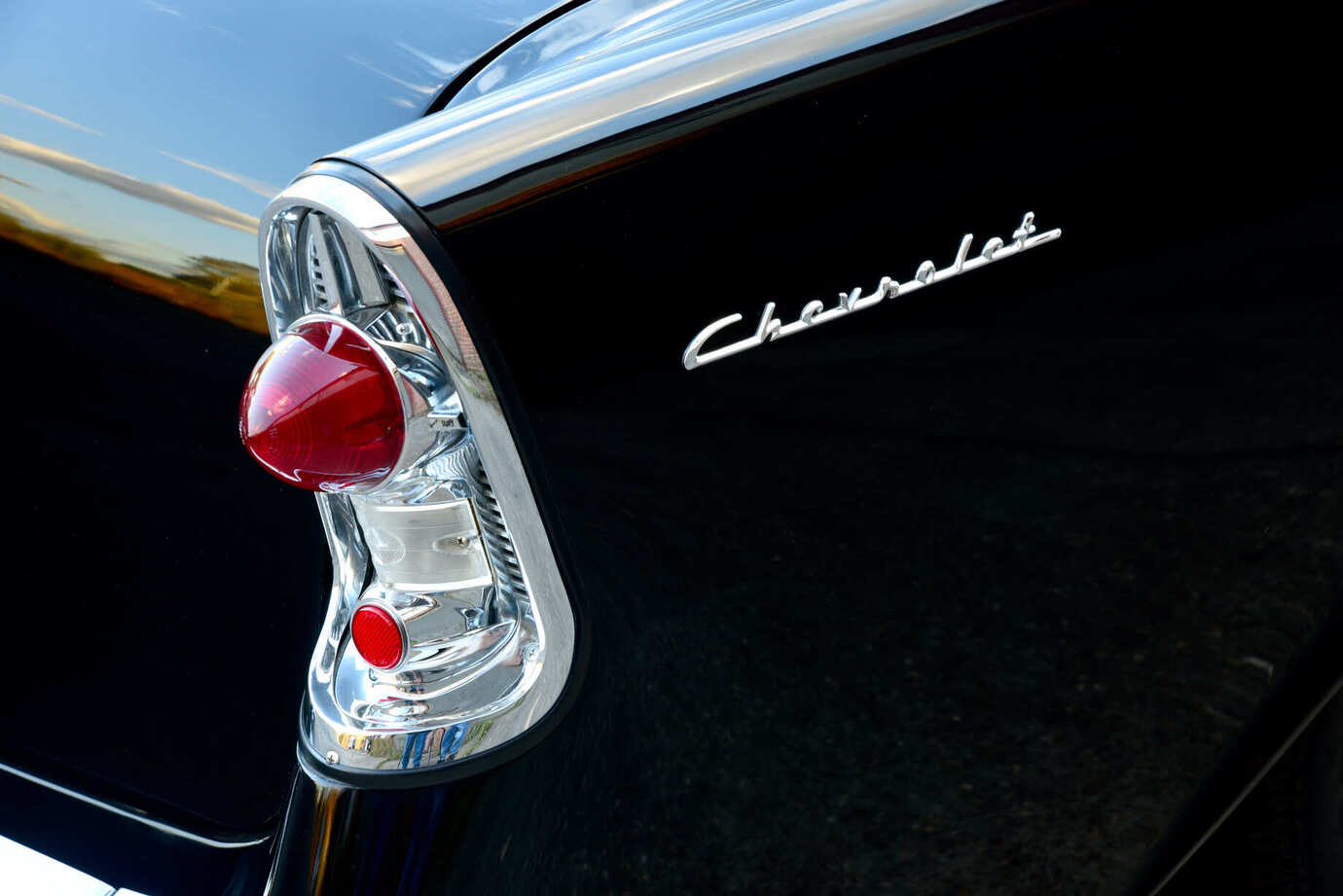 When it comes time to restoring factory sheetmetal, it's always beneficial to start with a nice original car. Fortunately for Wilk, the Chevy led a clean life on Long Island by the time he purchased it, making its restoration a less arduous journey. Once stripped to bare metal, any imperfections were tended to, and the body was made razor sharp with all gaps being perfectly set. From there, Wilk laid down a 10-mile-deep coating of PPG Black Onyx (the factory color) bringing it all back to life. On reassembly, fresh brightwork, including new bumpers, grille, and trim from Danchuk brought it to a level far exceeding the day that it rolled off the production line.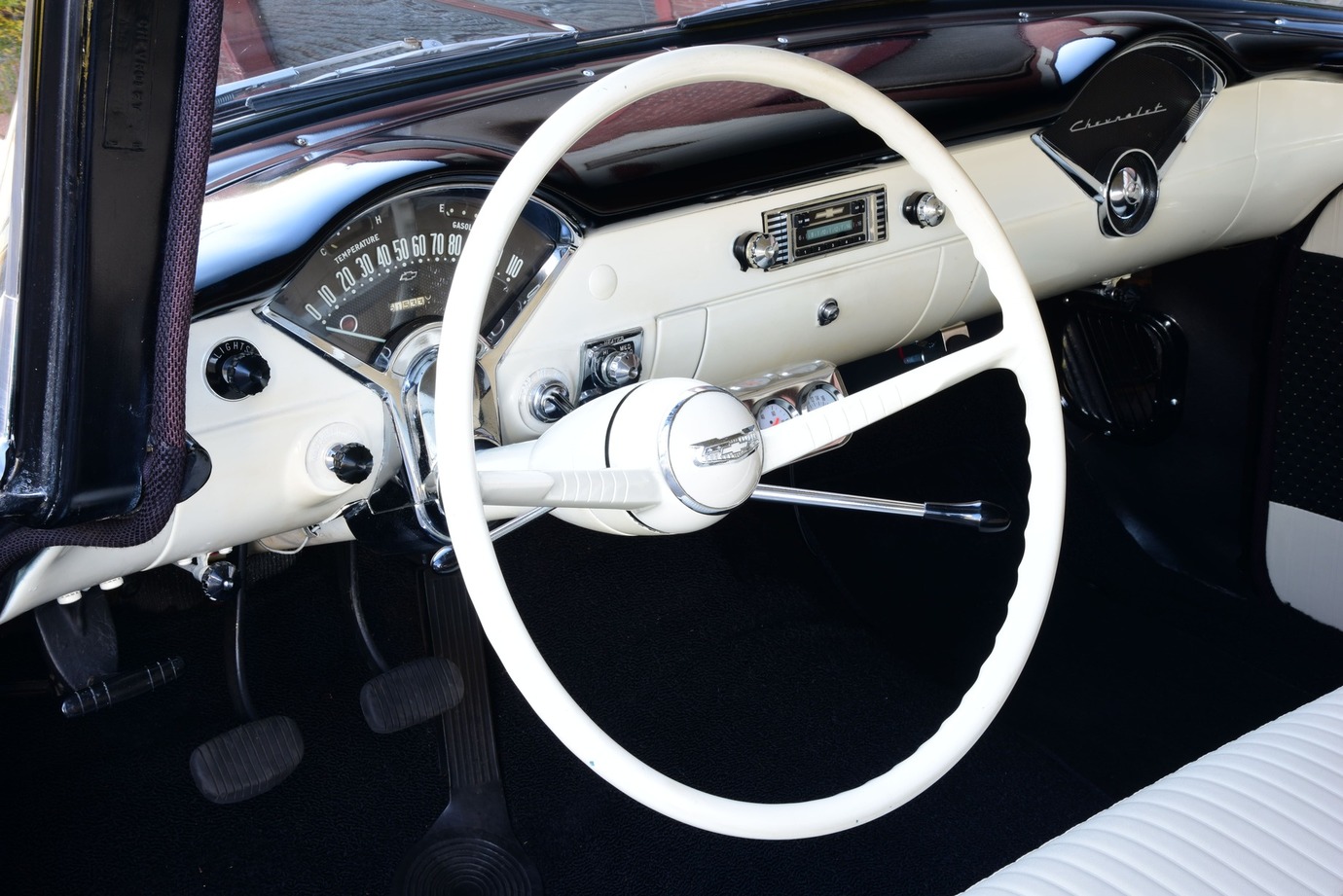 Inside, the factory dash was freshened up, complemented by restored original gauges to monitor the vitals accented by underdash dials from Sun Pro, while the factory steering wheel carves a course with shifts moving through the stock three on the tree. Honoring the basic theme of the 150, the seats were recovered in the original black pinpoint fabric and white pleated vinyl materials accented by a black loop carpet. Bringing the Chevy from bone stock to its current state proves that you can dial a car in with a defined plan, transforming it from mild to bitchin without having to start from square one, and to us that's the ultimate formula!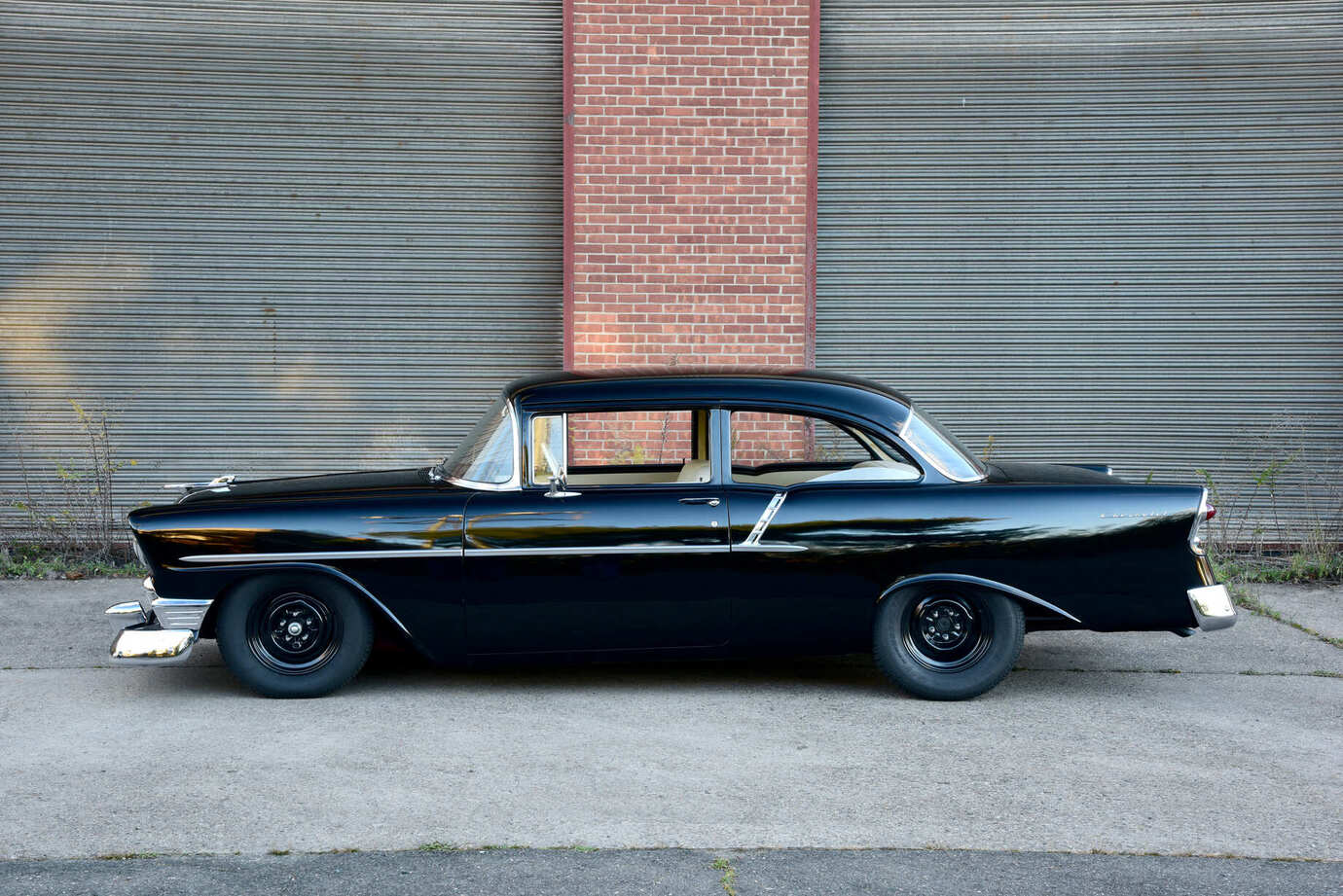 TECH CHECK
Owner:  Doug Klett, Plainville, Connecticut
Vehicle: 1956 Chevy 150
Engine
Type: 1964 Chevrolet V-8
Displacement 287 ci
Compression: 9.5:1
Bore: 0.030
Stroke: Stock
Cylinder Heads: Stock, massaged
Rotating Assembly: Refreshed stock crank, rods, Sealed Power cast pistons
Valvetrain: Comp Cams
Camshaft: Comp Cams, roller
Induction: Edelbrock Performer intake, Edelbrock 600-cfm four-barrel
Ignition: Stock, PerTronix conversion
Exhaust: Original Ram's Horn manifolds, 2½-inch steel exhaust, Thrush Turbo mufflers
Output: 275 hp
Drivetrain
Transmission: Saginaw three-speed
Rear Axle: Stock, 3.36:1 gears
Chassis
Steering: Stock
Front Suspension: Stock IFS, 2-inch dropped spindles and coils, Monroe shocks, 1-inch sway bar
Rear Suspension: Stock leaf springs, Speedway Motors 1-inch lowering blocks, Monroe shocks
Brakes: Front, CPP 12-inch discs; rear, 11-inch stock drum
Wheels & Tires
Wheels: Wheelsmith Vintage 15×5 front, 15×7 rear
Tires: Mastercraft P205/75R15 front, Mastercraft Avenger GT P265/60R15 rear
Interior
Seats: Stock bench
Upholstery: Stock
Gauges: Factory, Sunpro
Steering: Stock
Carpet: Stock
Shifter: Stock, column three-speed
Exterior
Paint: PPG Onyx Black
Remainder images on page and in gallery