Jeff Calley's ZZ4 Crate Engine Powered 1956 Chevy Nomad Packs a Punch
By Chuck Vranas   –   Photography & Videography by the Author
Exclusivity can create something very iconic. When GM's chief designer, Harley Earle, introduced the Nomad as one of his very special Dream Cars for the 1954 General Motors Motorama in New York, it created an incredible buzz among the public with its '53 Corvette nose artfully melded to a sleek sport wagon body capable of carrying six passengers.
Its success on the show circuit led to the design being massaged for introduction into the freshly revamped '55 Chevrolet passenger car lineup. The sleek '56 Chevy Nomad laid out across our pages belonging to Jeff Calley of Franklin, New Hampshire, has a perfect balance of performance and handling.
Read More: 1956 Chevy Nomad Rolls on Morrison Chassis with LS Power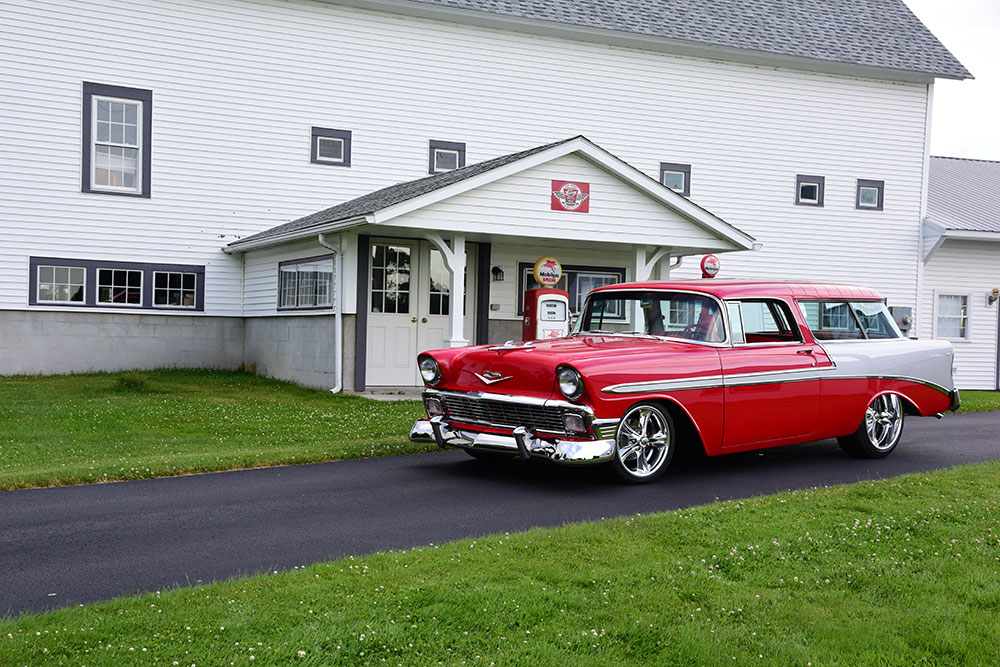 With the Nomad's style evoking that of a hardtop sedan rather than that of a standard station wagon, its two-door body featured a fold-down back seat offering an expansive cargo area as well as a split tailgate with the glass flipping up and a fold-down tailgate. Having 19 different models being produced by Chevrolet for the 1956 car lineup, there were only a little over 8,000 Nomads built that year. Considering that total production for the year was more than 1.62 million cars, the Nomad surely earned its place as a rare sight on the roads, especially with a three-year production run of around 22,000 units.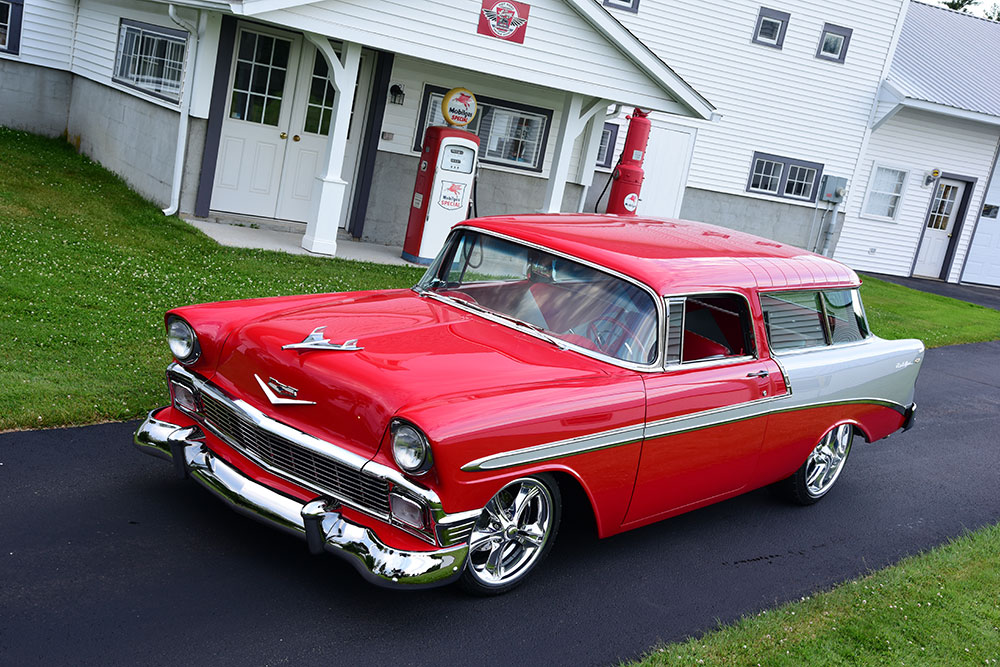 Many times, the influences of our younger years forever burn in our minds to adulthood, leading us down a very distinct path. For Jeff, growing up in a sleepy New Hampshire town made the perfect platform for when the muscle car era hit, bringing a steady stream of thundering factory hop-ups to the streets demanding his attention. Before long, he was fueling the fire by working alongside his neighborhood friends on anything mechanical, eventually leading to his first job at a local gas station.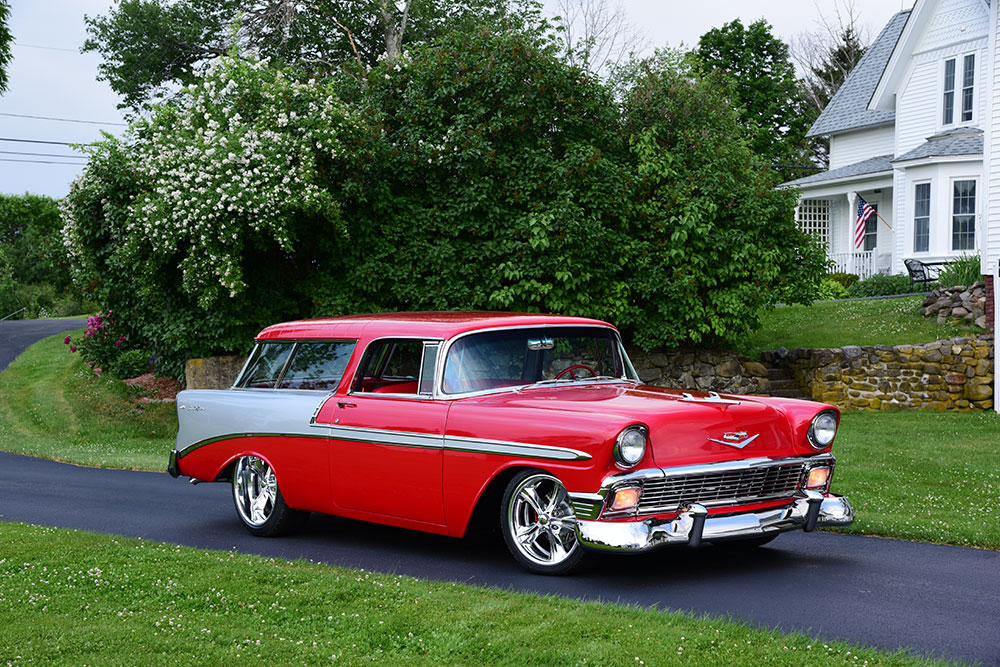 After saving plenty of greenbacks, he purchased a '66 Corvette, which was easily the coolest car in town. He followed with several other aggressive Chevys, including a '68 Camaro SS/RS, a '72 Nova, and a '72 Camaro SS. Remembering back through the years, there was one car that captured his interests amongst all the others: a '57 Chevy station wagon belonging to his uncle Bernard. The neat lines of the wagon eventually led to Jeff studying the design elements of the Nomad and it being the catalyst for his next build, envisioning razor-sharp handling fused with a modified V8 engine.
Enlisting help from old friend Steve Sawicki who he's turned wrenches with since their teen years, the pair checked out several projects until Sawicki located a locally offered '56 Nomad. The car was a non-runner with plenty of potential, although it had seen plenty of hard use through the decades. A deal was made swapping cash for keys and the wagon was hauled back to his home shop for evaluation.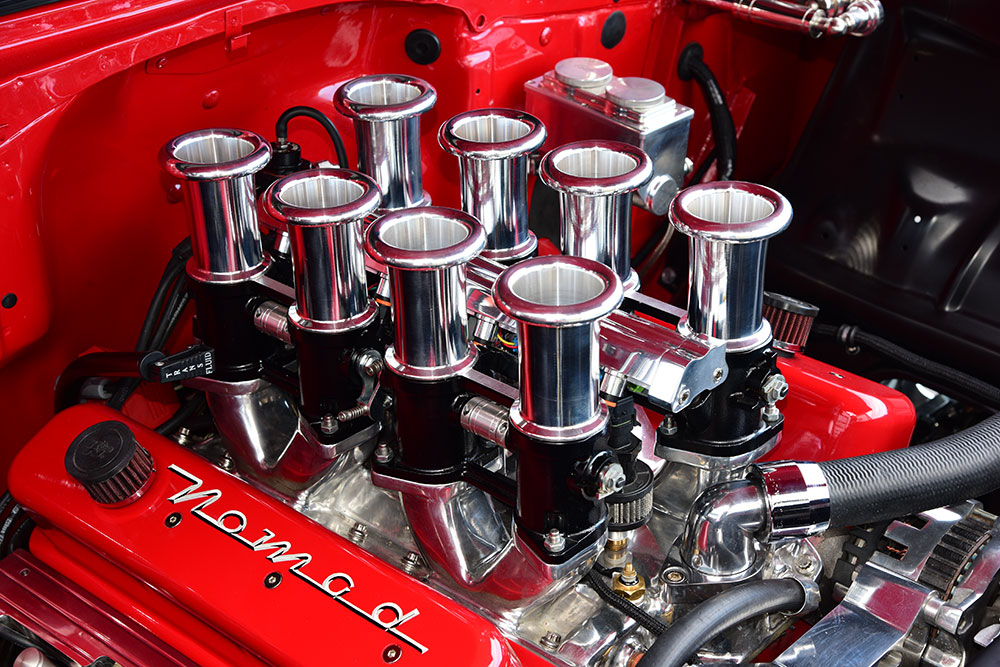 Sawicki followed by introducing Jeff to Jim Lowrey of Lowrey's Auto Restoration in Tilton, New Hampshire, to discuss the build. The pair shared many of the same ideas on what it would take to bring the car to the next level, and it wasn't long till the wagon was dropped off to start its journey. Since the original frame had seen better days, a call was placed to Roadster Shop for one of their industry-leading SPEC Series chassis to act as the perfect base for the Nomad. Their exclusive CNC laser-cut and contoured frame rails are stepped front and rear for an aggressive ride height and linked together with custom crossmembers and bracing.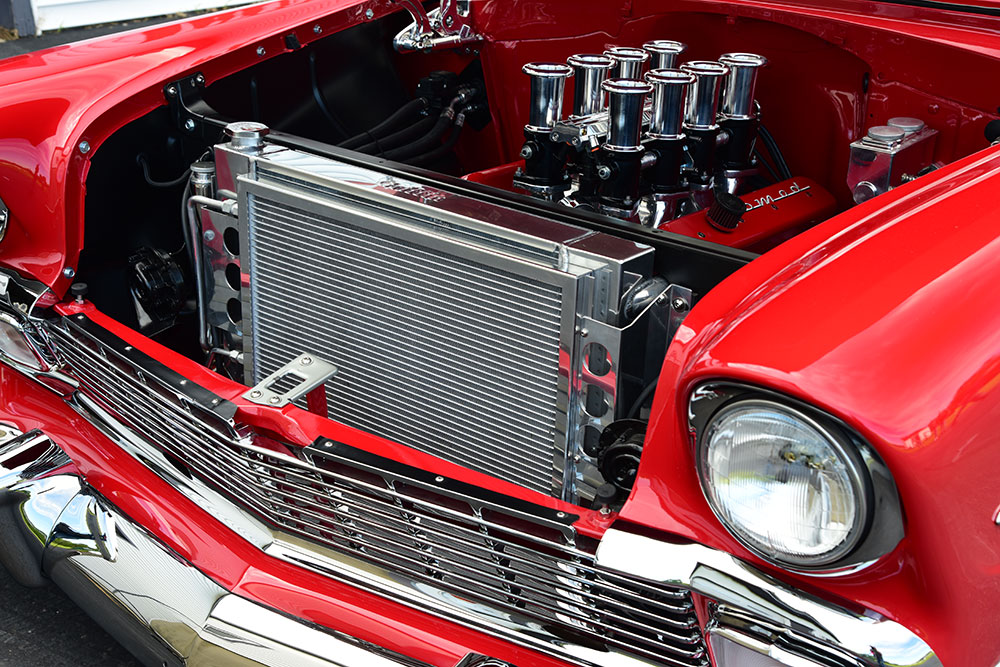 A Ford 9 inch rear end housing out back packing 31-spline axles linked to a Strange Engineering Pro-Series nodular iron third member spinning 3.70:1 gears matched to an Eaton Detroit Truetrac differential. It's all suspended in place by a stout Roadster Shop triangulated four-link combined with Roadster Shop SV and Fox coilover shocks. For the ultimate in handling, the Roadster Shop Independent Front Suspension features include boxed lower control arms matched to tubular uppers with a set of Wilwood Pro Spindle, Roadster Shop SV Fox coilover shocks, power rack-and-pinion steering, and heavy-duty sway bar.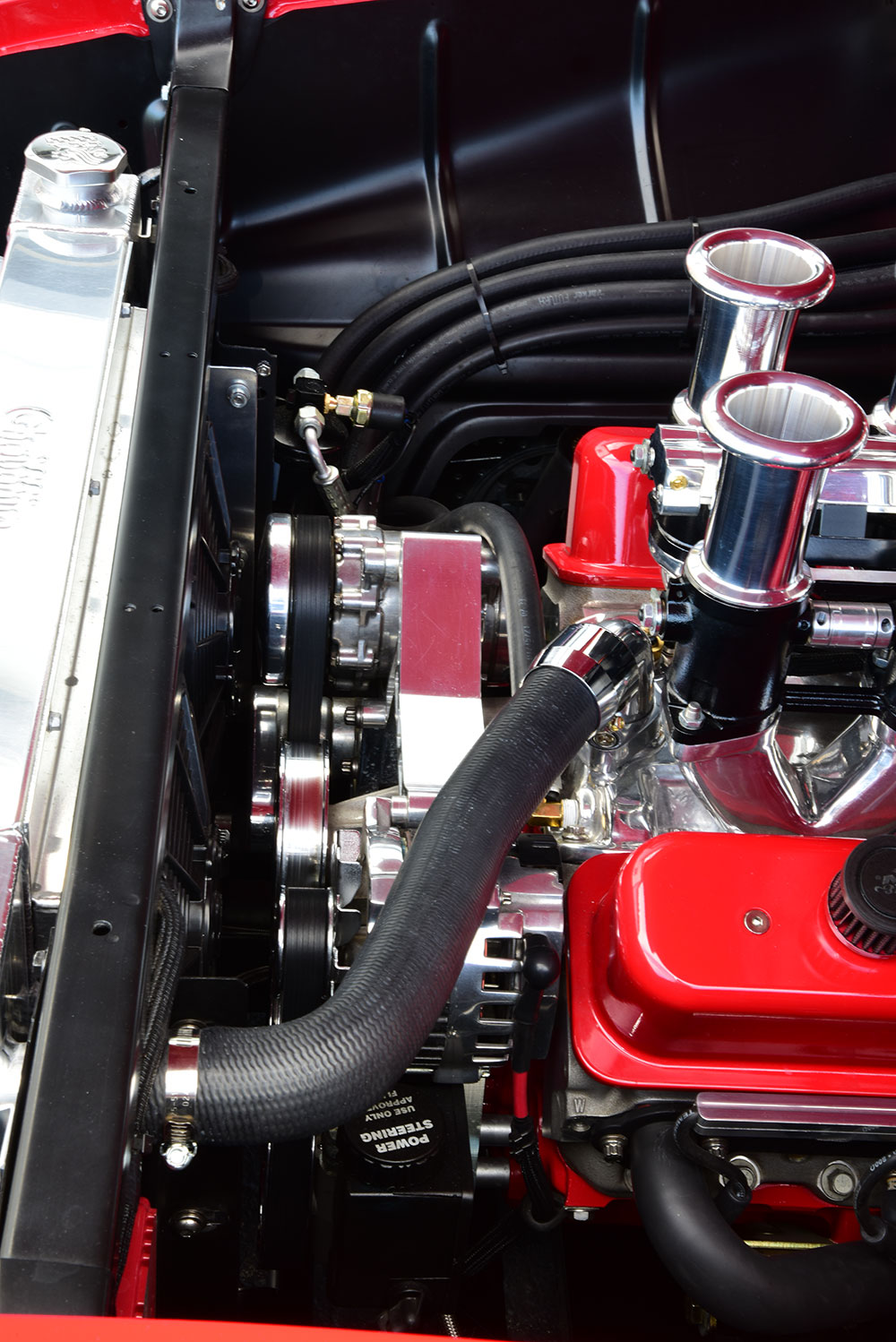 When it's time to hit the brakes, a Baer dual master cylinder moves fluid through stainless lines to Baer 11-inch drilled-and-slotted rotors with matching four-piston calipers mounted at each corner. Linking it to the street with plenty of style are a set of Pinnacle-Series Billet Specialties wheels, sized 18×8 front and 20×10 rear, capped with BFGoodrich g-Force Comp-2 rubber, sized P225/48/18 front and P245/45/20 rear, respectively.
Read More: Creating A Nimble Chevy Nomad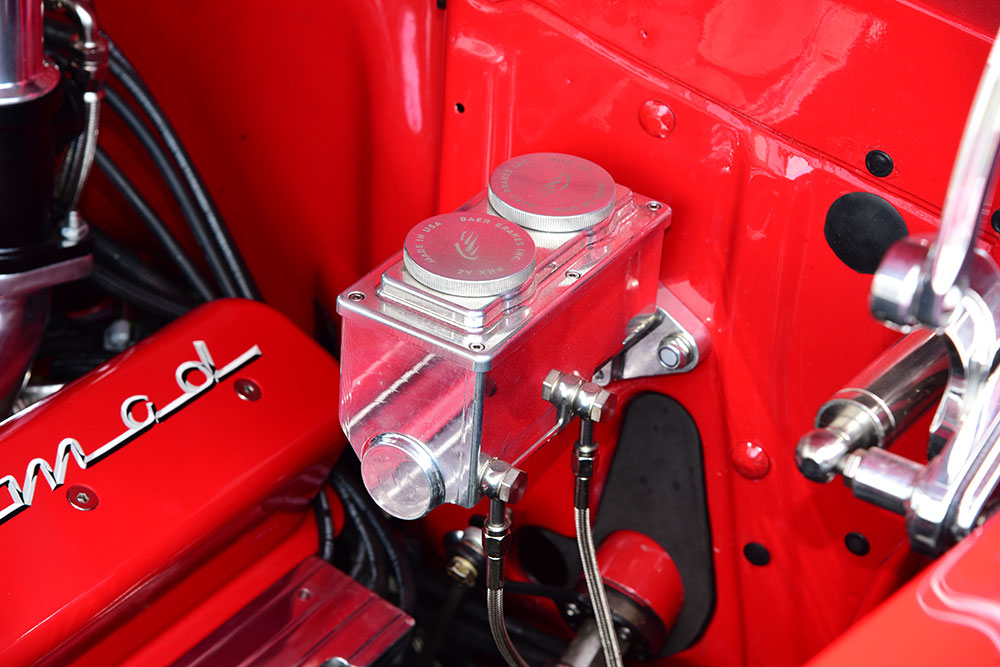 For just the right amount of punch, Jeff contacted Chevrolet Performance for one of their venerable ZZ4 350 small block V8 crate engines. Straight from the factory, the engine is packed with gusto, starting with an iron block with four-bolt mains filled with a forged steel crank linked to powdered steel rods capped by hypereutectic aluminum pistons getting bumped by a steel hydraulic roller cam. Up top, a set of aluminum cylinder heads with 58cc chambers and D-shaped exhaust ports make plenty of seamless power, especially when matched to a Borla Induction 8-Stack injection managed through a Holley Terminator system. It sparks to life through an MSD ignition system with exhaust roaring through a set of Sanderson headers to a custom 2-1/2-inch stainless exhaust with Flowmaster mufflers all by Lowrey's. To move the goods, Russell Auto of Manchester warmed up a GM 4L60E transmission, pushing the power through a new driveshaft from Gilbert Driveline of Manchester, New Hampshire.
Seeing the Chevy Nomad had spent the better part of its years on the East Coast, it was obvious once the body was stripped that it needed a full restoration. To get started, East Coast Chevy delivered a truckload of fresh sheet metal replacement parts to take on the job. The team, including Joe Medynski, Dave Smith, and Alan Paradis, got started adding a one-piece stamped floor pan followed by inner and outer rockers, quarter-panels, and rear tailpan.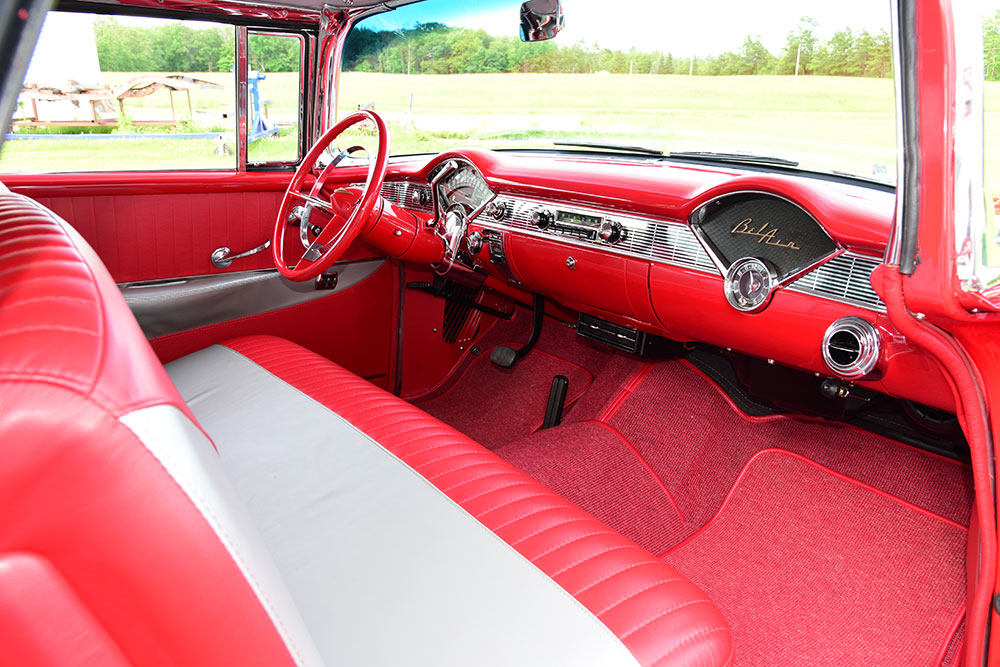 They continued with replacing the fenders, doors, and complete tailgate while also dialing in all the gaps and finessing the steel to perfection. Once ready, a decadent coating of Diamont-BASF Vermilion Red and Silver Ice metallic were laid down, bringing the project to life. Thankfully all the original bumpers and trim were in solid condition with Paul's Chrome Plating adding the perfect amount of dazzle to the mix along with all new glass from Auto City Classic.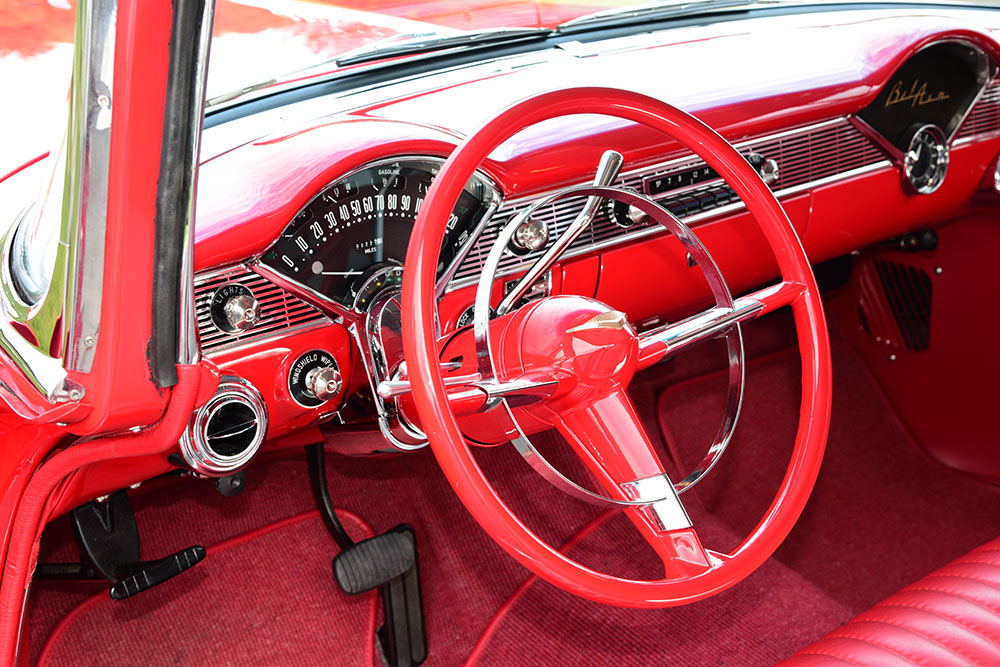 Inside, the factory dash was refreshed and packed with dials from Classic Instruments to monitor the vitals while a 15-inch factory-style American Retro steering wheel meets a tilt Flaming River steering column with shifter to carve a course. Vintage Air supplies a cool breeze, with everything coming together thanks to an American Autowire harness. For plenty of comfort, Ciadella Interiors recovered the factory seats in an elegant combination of red and silver leather, complemented by a silver headliner, matching side panels, and red German square-weave carpeting.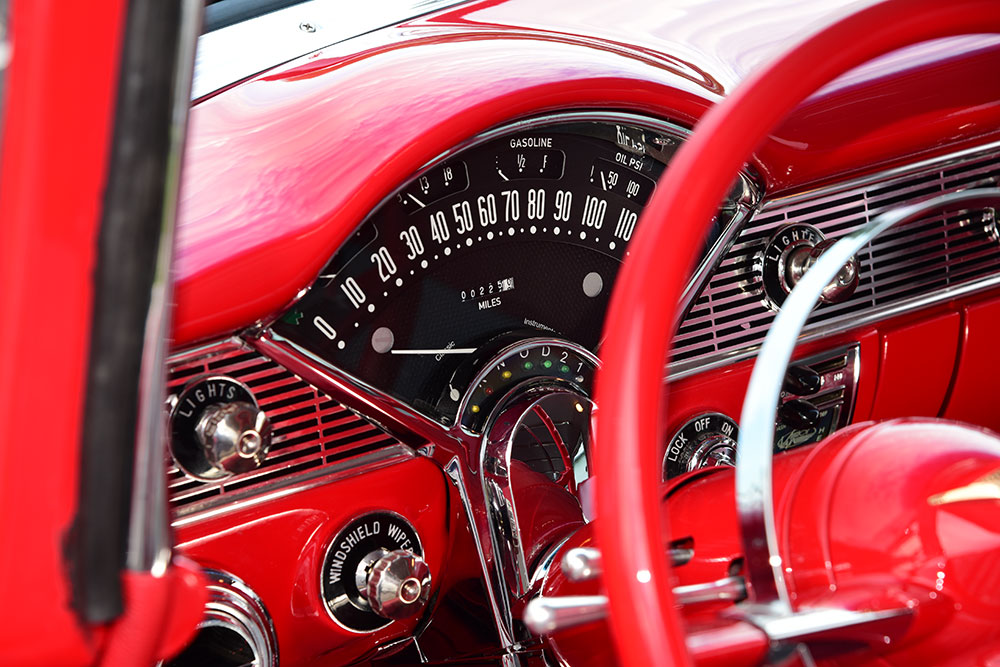 Read More: Chevy Concepts – 1955 NOMAD
The completed car is a perfect fusion of cutting-edge handling matched with a healthy injected small block Chevy and a perfectly restored exterior, making sure every mile is packed with performance as Jeff hits the streets; and to us, that's as good as it gets! MR