Built in the '70s and stored in a container
By "Rotten" Rodney Bauman – Photography by the Author
In Riverside, California, back in the middle of the '70s, my own favorite uncle, Gary Bauman, began collecting 1956 F-100s.  In those days, tired Effies (a nickname for Ford F-series trucks) were plentiful, and plenty affordable, too. To the best of my personal recollection, the first acquisition was a rolling hulk, less engine and trans but decent enough to build. As the collection of Ford F-series parts trucks grew, the best bits found their way to the 1956 Ford F-100 project truck.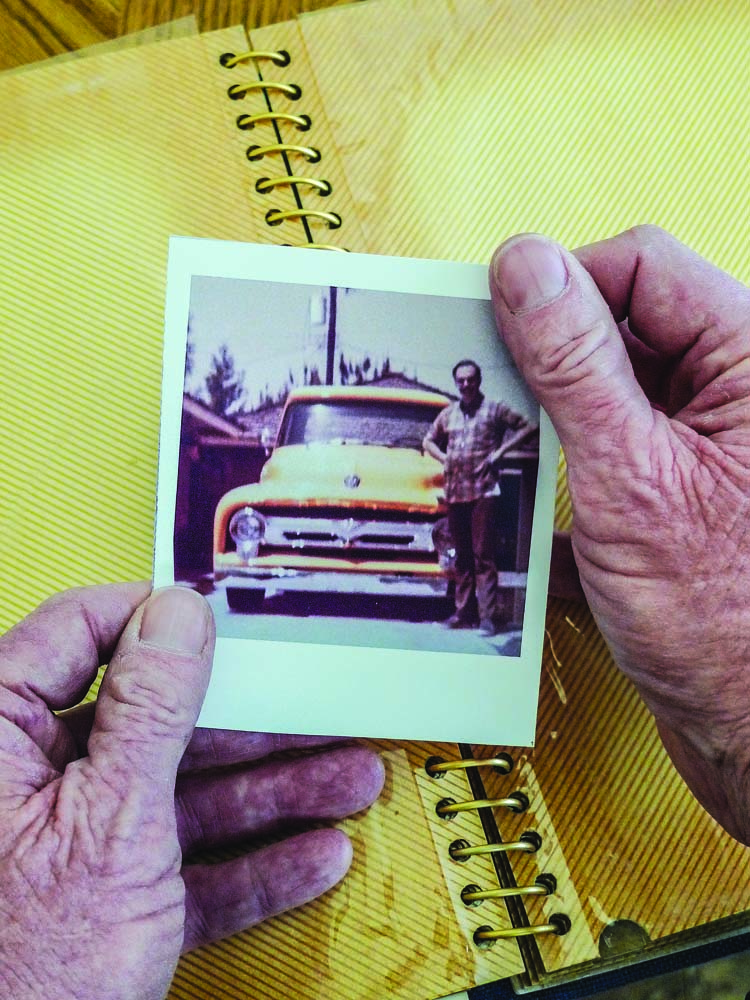 Since Uncle Gary worked as the "hard-parts" counterman at the old family business, Bauman's Auto Wrecking, parts possibilities were pert near endless. Even so, he stuck with the straightforward stuff.
Read More F100s: 1969 Ford F100 MII CS Spindle Install
A wrecked 1966 Chevy Bel Air donated its good, used 283 small block Chevy and Powerglide transmission. Although conversion mounts were available at that time, the project was towed to Baxter's Service on Highway 395 in nearby Edgemont. There, family friend Virgil Baxter fabricated front engine mounts using an engine crossmember from a mid-'60s Chevy van. Apart from the engine/trans swap, running gear, steering, suspension, and brakes remain stock to this day with one obvious stance-enhancement, which comes by way of a dropped axle.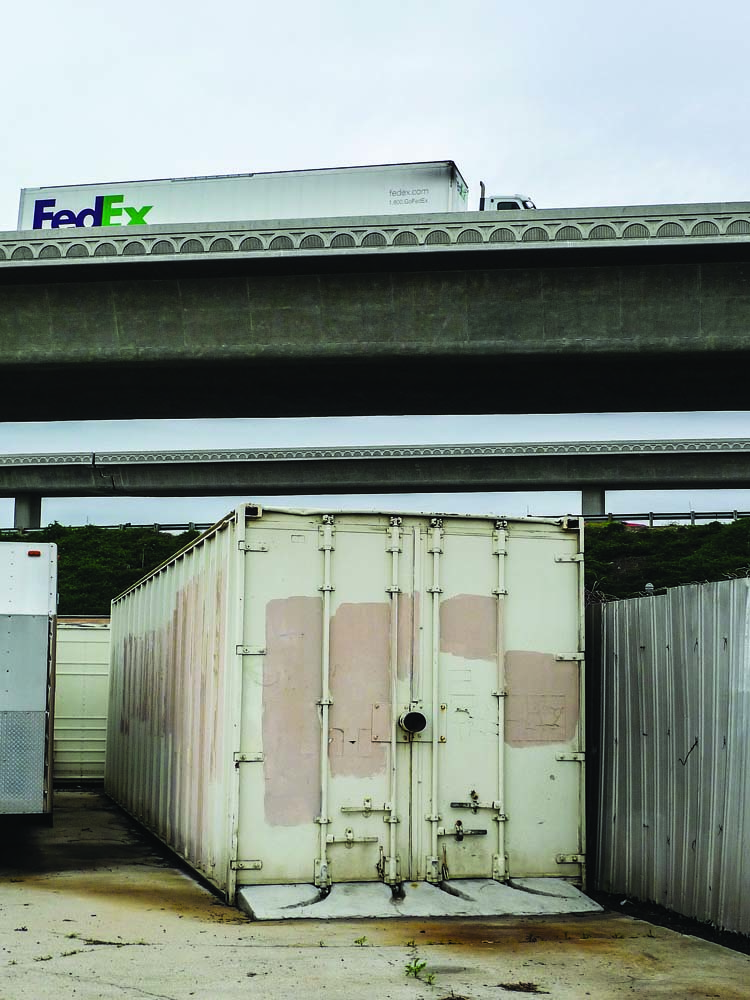 In Riverside today we have professional hot rod shops to turn to for assistance. That was not yet so back in the '70s. If by chance you didn't live it, the '70s were the tail end of a do-it-yourself era when friends with various skills would collaborate to keep their projects rolling. Muffler shops were hangouts for hot rodders, as were the wrecking yards in town at the time. We also had a good speed shop … but back to Uncle Gary. He built this one himself with help from helpful friends.
Necessary bodywork was handled as a side job by longtime family friend Andy Martinez, who worked as a bodyman at Boyer Motors, our town's Lincoln/Mercury dealership. Paintwork was a side job for another longtime family friend, Robbie Rash, who happened to be the service manager at the same dealership. A little later on when we open up the bright yellow truck's doors, you'll notice shiny black doorjambs. The dash and painted portions of the truck's interior are painted black as well. There's a reason for that.
Read More: Radio Restoration For 1964-1966 Chevy Trucks
Uncle Gary's initial color choice was 1969 Ford Meadowlark Yellow, which would have matched his 1969 Ranchero GT. On that fateful Sunday, in the spray booth of Boyer Motors, the Ditzler-brand acrylic enamel was running short. DeWitt's A-to-Z paint store was nearby but closed on Sundays. The situation required the use of compatible leftovers from jobs gone by. If it was yellow it went in the mix, along with a reckless dash of gold pearl. By the day's end the painter's good save rendered a vividly bright yellow, which unfortunately wouldn't be easily matched. Since the truck's interior and jambs were already painted in the previously chosen color, repainting those areas in black made the best sense.
Long story short, Uncle Gary's little old truck never got driven all that much. In fact, it's spent most of its finished life in storage—and it's been finished for close to 45 years. Now and then with years in between it would get dug out, freshened up, and driven just a little. Back in the late '80s the old Effie made a pitstop at Kuma Tire & Wheel. There it received a brand-new set of BFGoodrich radial T/A tires, which were quite a decent bargain at that time.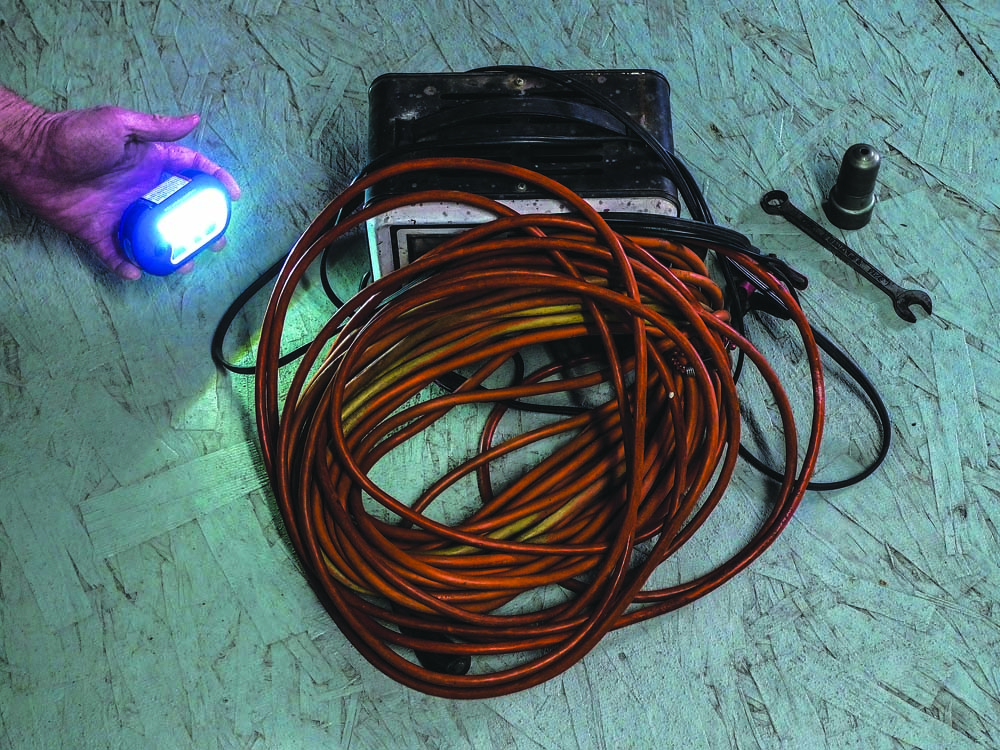 Read More: Preservation
As the years rolled by, Uncle Gary's little old truck languished in a couple of different shipping containers. The last time it was dug out it received some needed attention, as our friend, George Seth, replaced the gone-smoky 283 small block chevy with a fresher, used 305 small block chevy. At the same time the Powerglide transmission made way for a rebuilt TH350, courtesy of our friends at Budget Transmissions.
So, what do you suppose happened next? If you guessed the perfectly roadworthy '56 F100 went back into storage, you'd be quite right. In fact, it's been back in its container for going on three years. That's long enough for tires to go flat. That's long enough for gasoline to make a stink, too. Since we all share the same affinity for old trucks, we're all in this together, and we already know how one thing leads to another. Here, no doubt, this'll snowball into something. On that note, let's go ahead, turn the key, and open up an old shipping container. Here we go again.
Sources:
Harbor Freight Tools
(800) 423-2567
harborfreight.com
Optima Batteries
(888) 867-8462
optimabatteries.com