Danny Jones' Evil, Wicked, Mean, and Nasty 1961 Corvette
By Chuck Vranas   –   Photography by the Author
It doesn't matter what decade you grew up in as there's always been that particular moment in time sitting at your desk daydreaming about owning the most-wicked hop-up in town while the teacher rambled on about some mundane subject. A flash so real that you could smell the race fuel and burning tires mixed with adrenalin as you launched from the lights during a late-night street race till you got the proverbial tap on the shoulder to snap out of it. The '61 Corvette gasser laid out across our pages brings a high school flashback to life for Danny Jones of Joppa, Maryland, who dreamed of owning a hot Chevy with a nosebleed stance for an eternity.
Growing up in an automotive family since his dad sold Studebakers, it wasn't long till he graduated from building models at the kitchen table to his first go-kart while spending plenty of time frequenting the dealership. With the local streets packed with hot rods running built Flatheads and small-blocks vying for bragging rights, he also spent time at the regional dragstrip watching his racing heroes lay down blistering times in Funny Cars, 'rails, and gassers. By the time he was 15 years old, Danny was deep into rebuilding a friend's 292ci Ford V-8 while also cruising the strip in his personal '57 Austin-Healey 3000 stuffed with a race-prepped 327ci Chevy. Plenty of other cool rides followed, including a diverse grouping of hot rods, rare muscle cars, and restored antiques.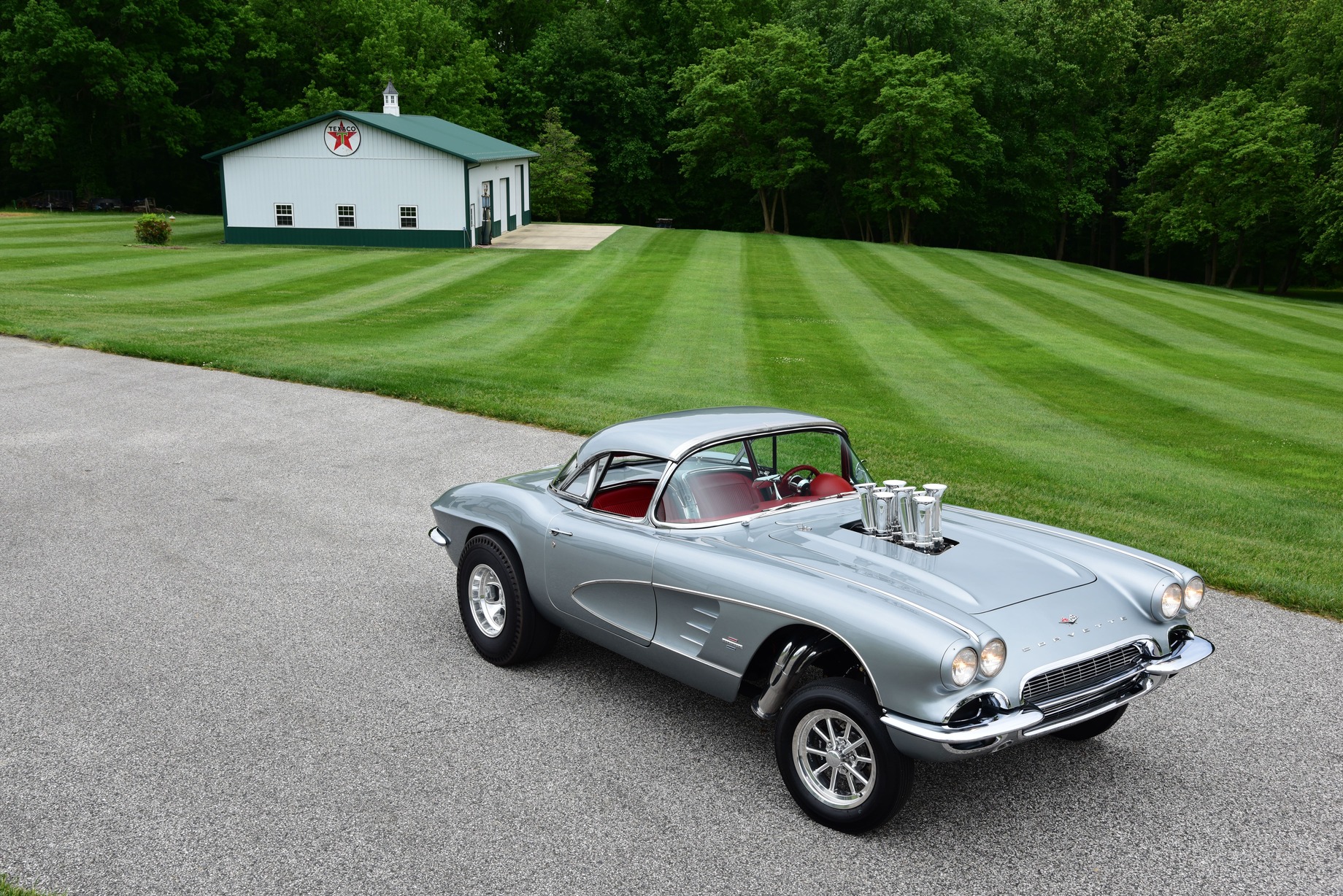 Somehow, though, there was still one particular vision haunting him from his high school days: that of a nasty C1 Corvette gasser laced with attitude and stuffed with an injected big-block mill lurking in the school parking lot surrounded by fellow classmates. It was this dream sequence that acted as a springboard to start a search for a suitable car to bring it all to life. Initially, the intent was to concentrate on sourcing a stalled project or a derelict roller, however this led to a dead end with the current upsurge in the Corvette restoration world. Further exploration led to researching local cars for sale while eventually making his way to local and national automotive auctions. The thought of purchasing a completed car now seemed to be a better value since it would only need a few upgrades to inject a fusion of power and stance to get it ready for the street. Eventually, Danny located a pristine, numbers-matching '61 Corvette that would act as the base for the build.
Having seen the amazing array of traditional gassers emerging from B'z Rods in Beach Park, Illinois, Danny contacted shop owner Brian Bell to discuss the build. The pair shared many of the same ideas on what it would take to create an ultimate Corvette gasser by fusing plenty of period-perfect updates to its restored platform, including many of B'z exclusive elements direct from their many years of research and development in building hot rods and race cars. The C1 was delivered to get the project started but the tale of simplicity in the conversion was about to take a very unexpected turn.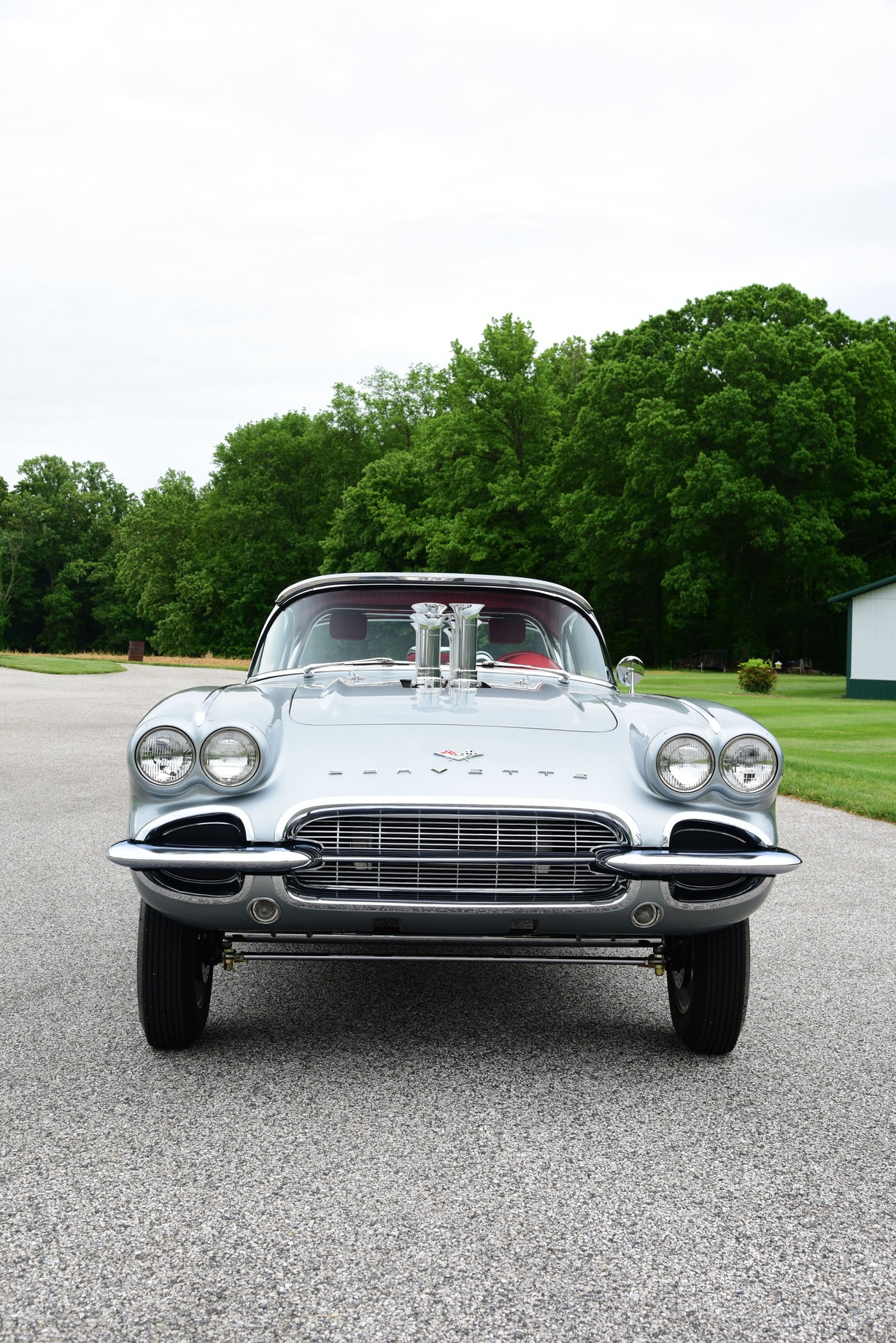 Check it out: Chevy Concepts – 1966 Chevrolet Corvette
Once the B'z team, including Brian, Pat Norton, Jon Quinn, and Joe Barczak removed the body to get started on the chassis, they noticed older hidden collision repairs to the original frame done with, of all things, diamond plate. It was found to be 4 ¼ inches out of square. Seeing this, a plan was set to incorporate as much of the original frame into the base as possible. Now settled in the frame jig, forward of the firewall a rectangular tube frame was crafted, which was blended into some of the stock frame with a custom, double-rail X-member tying it all together.
Out back, a Strange Engineering 9-inch rearend custom built by Chassis Service of Waukegan, Illinois, features a nodular iron centersection with Truetrac and 4.10 gears linked to Strange 31-spline axles. It's suspended in place by a combination of B'z Rods custom-adjustable 54-inch ladder bars with matching Panhard bar and double-adjustable Strange Engineering coilover shocks with Hyperco springs. Up front, a B'z Rods exclusive straight front axle wears custom forged spindles deftly matched to Posies Super Slide leaf springs and PRO tube shocks along with a Flaming River Vega-style steering box. To kill speed, a modified dual master pushes fluid through stainless lines to Wilwood Forged Dynalite Pro-Series 11-inch rotors with four-piston calipers anchored at each corner. Linking it all to the street you'll find 15×4.5 front Rocket Launcher wheels combined with 15×10 rear E-T Team III Five Windows capped with Pro-Trac/Coker 550-15 and Towel City Cheater Slicks, 29.5×10-15 respectively.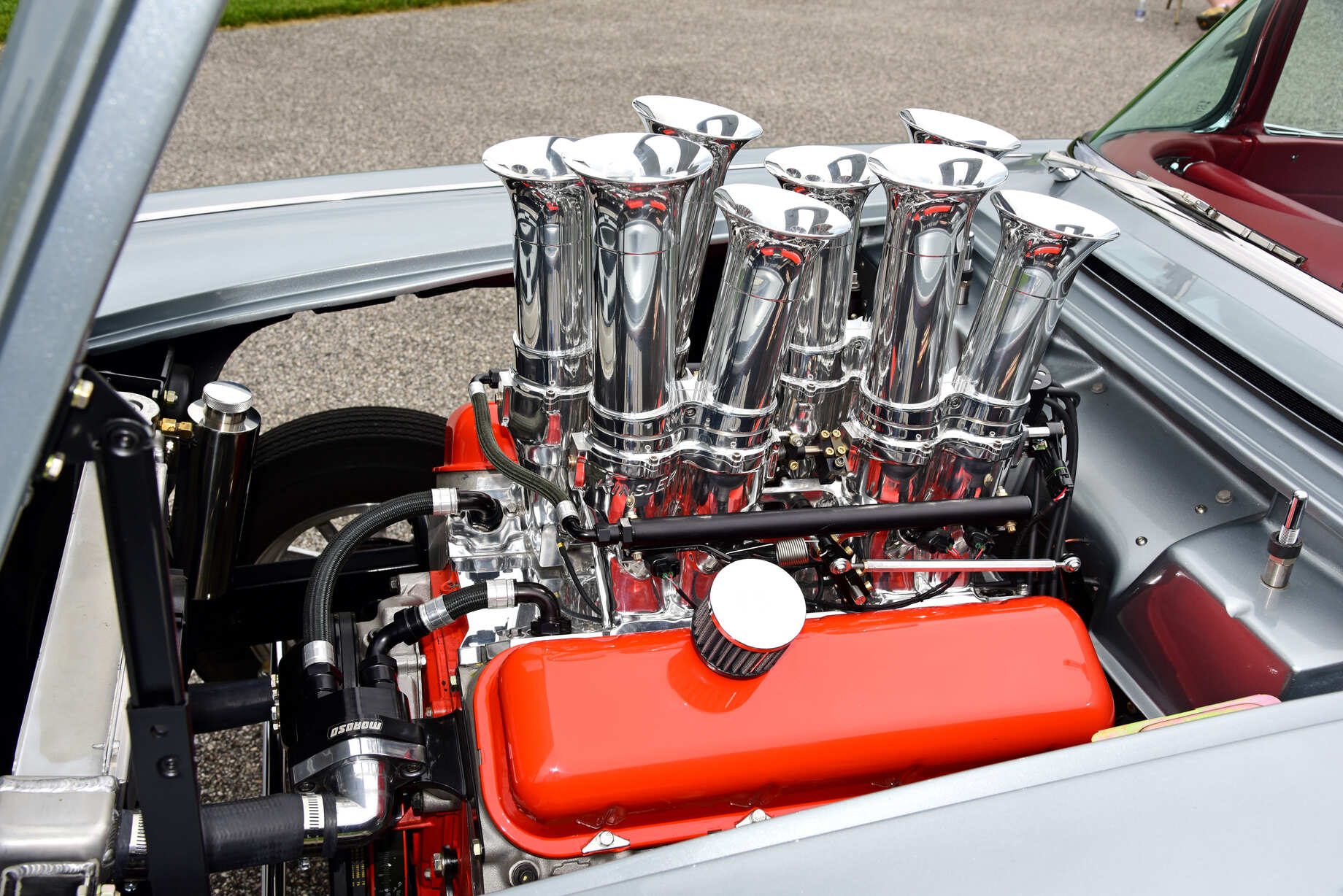 To give the Corvette plenty of gusto and dependability, Danny contacted Chevrolet Performance for one of their iconic ZZ427ci crate engines well known for packing plenty of robust power. Straight out of the crate, it's filled with a speed shop full of go-fast goods, starting with a cast-iron block with four-bolt main caps. Deep inside a forged steel crank with matching rods link to forged aluminum pistons getting bumped by a hydraulic roller cam. Up top, a set of aluminum oval port heads with 110cc runners generate plenty of seamless power, especially when matched to a Kinsler eight-stack injection from Alkydigger of Nashville, managed by a custom EFI system from Hyperaktive Performance Solutions of Fox Lake, Illinois. It barks to life with a modified Joe Hunt magneto and moves hot gases through a set of B'z Rods one-off fenderwell headers to a 2 ¼-inch stainless exhaust with Moroso mufflers. Three pedals move the goods with a Muncie M22 from Crash Enterprises packed with a Centerforce dual-friction clutch mated to a driveshaft from Chassis Service. It's all good for 467 rwhp.
While addressing the body, the team at Danny Ray's Custom Auto Body in Antioch, Illinois, confirmed that the shell was also 4 ¼ inches out of square due to the prior collision damage. Close inspection revealed repairs had been made with roofing shingles and asphalt to the inside of the passenger front fender, which is just plain crazy. The body was stripped clean and adjusted back to factory proportions and repairs, completed with N.O.S. factory parts.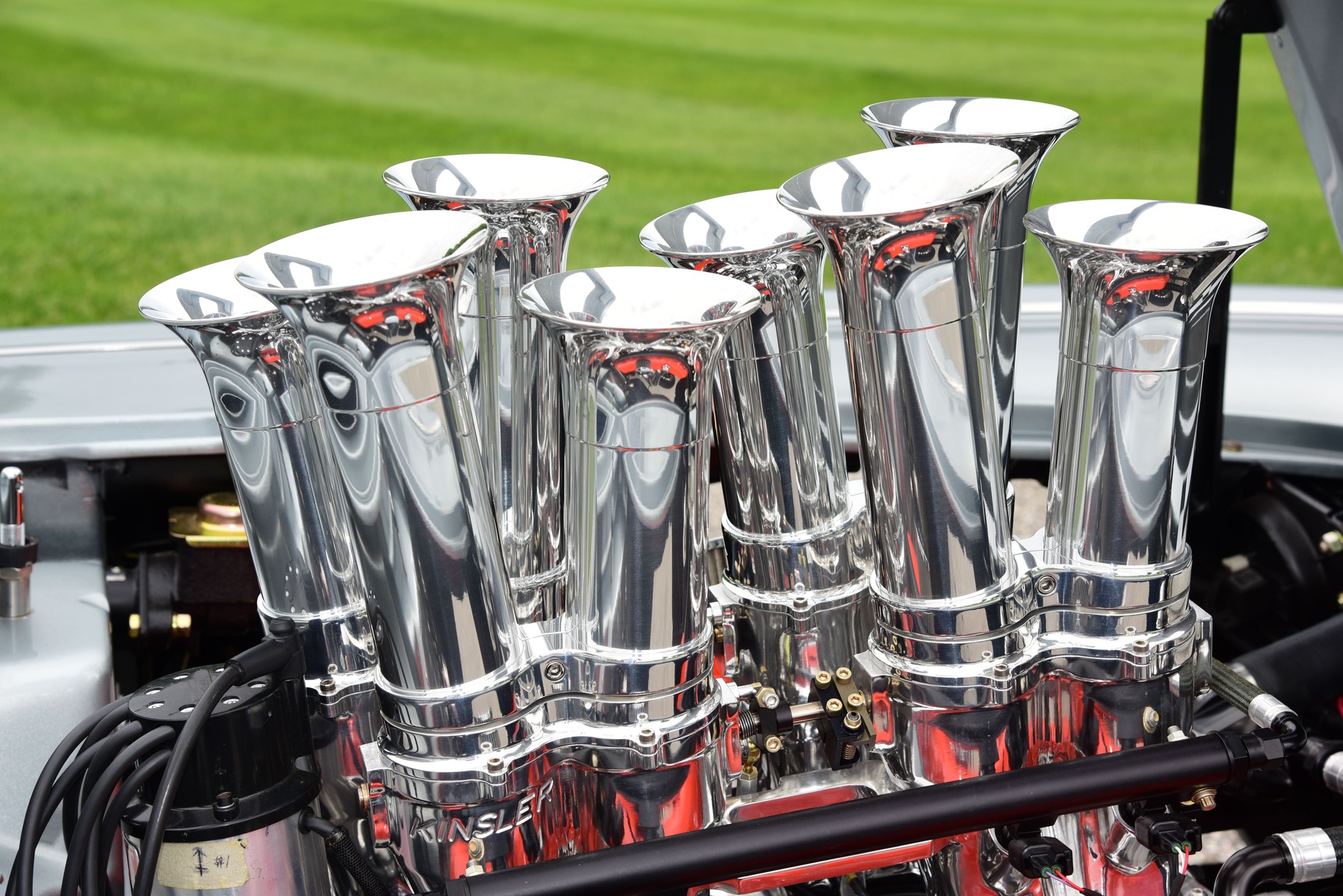 More Vette Love: Jim Reid Jr. Honors the Past With This '57 Corvette
To accommodate the eight-stack injection, the factory hood was properly vented and reinforced while the body was made razor sharp with all gaps massaged to perfection. A lustrous coating of PPG High Metallic Silver vibe was laid down, bringing the project to life. All factory original exterior moldings, handles, grille, and bumpers were re-plated and polished by the team at Global Chrome Finishes of Waukegan, Illinois, that also handled plating the new rollbar.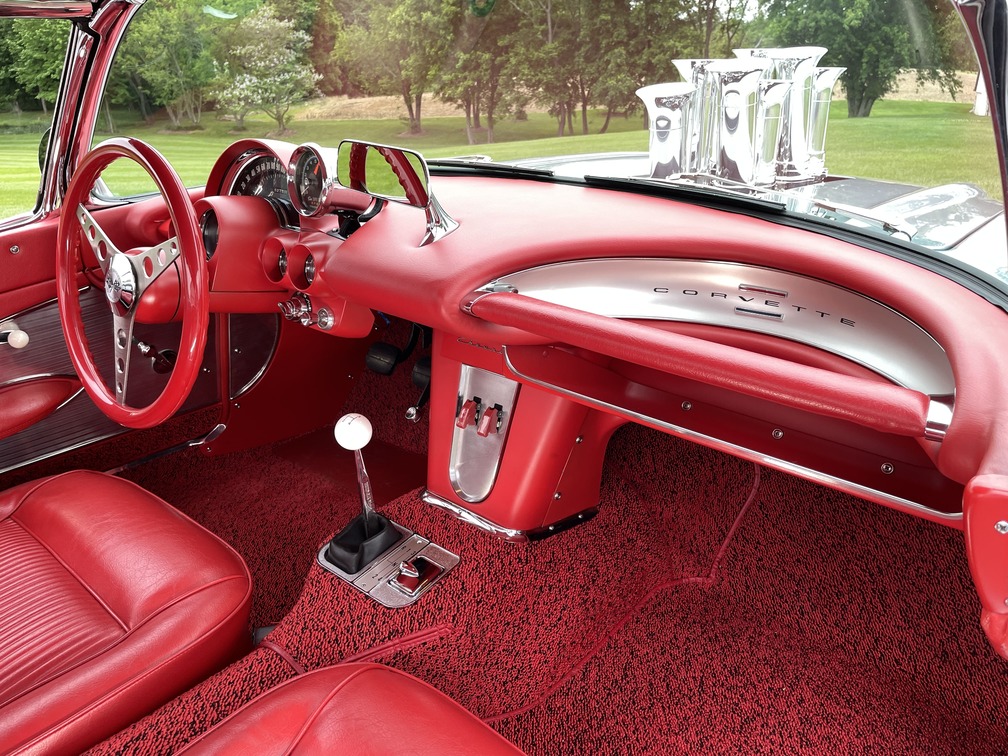 Inside is like stepping back in time with the restored factory dash and gauges accented by a dash-mounted Sun Super Tach while a massaged original column wears a 15-inch-diameter factory steering wheel. Shifts fly through a Hurst stick modified by Crash Enterprises, complemented by a B'z-fabbed rollbar. It all comes to life though a custom wiring harness by B'z and Hyperaktive Performance Solutions. Tom Spooner of Bitchin Stitchin in Antioch, Illinois, recovered the factory bucket seats in red vinyl complemented by matching side panels and Tuxedo Red carpeting.
This is one Corvette gasser that's laying down plenty of miles with Danny at the wheel, and to us that's as good as it gets!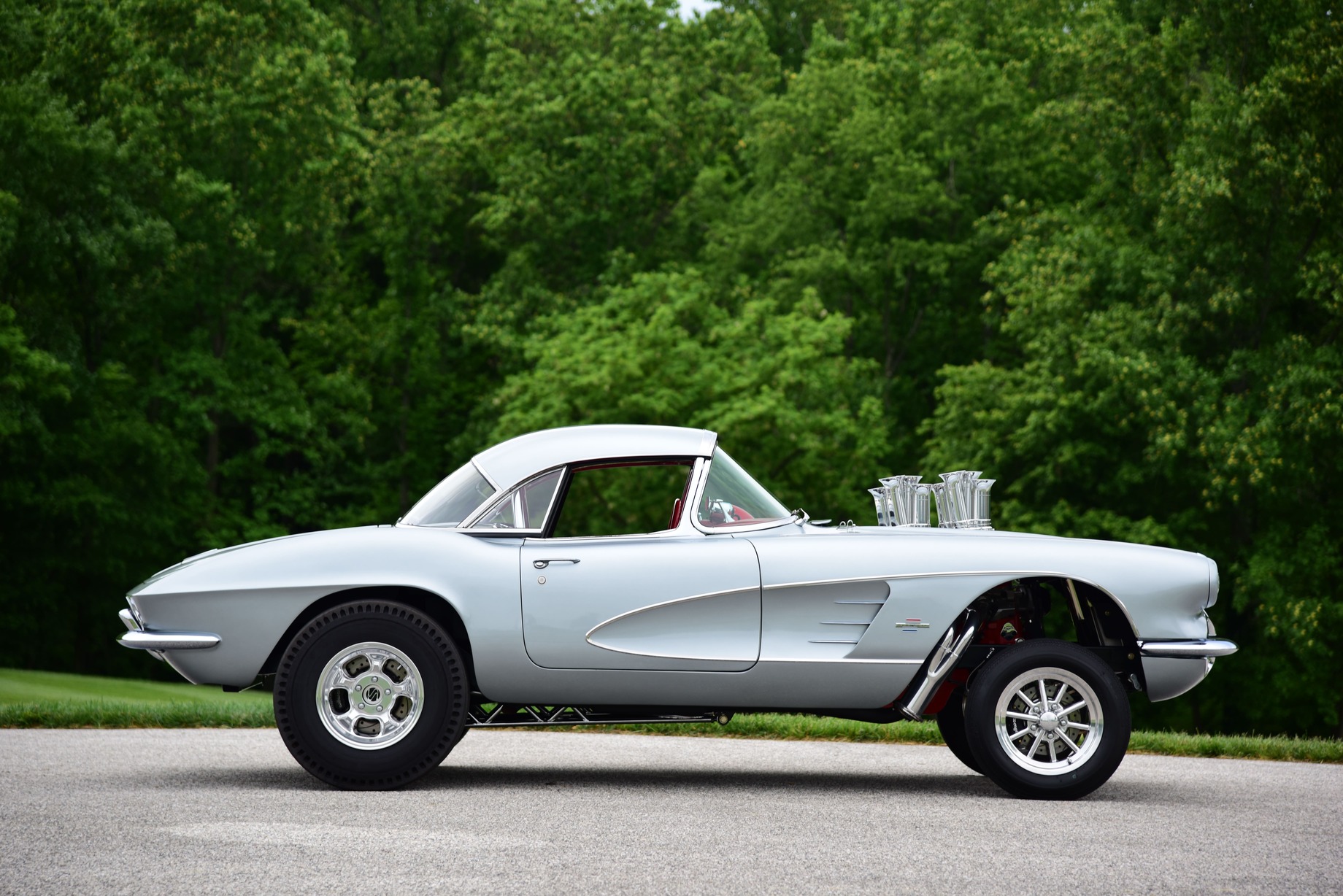 TECH CHECK
Owner: Danny Jones, Joppa, Maryland
Vehicle: 1961 Corvette
Engine
Type: Chevrolet big-block ZZ Crate
Displacement: 427 ci
Compression: 10.1:1
Bore: 4.250
Stroke: 3.750
Cylinder Heads: Aluminum oval port, 110cc chambers
Rotating Assembly: Forged steel crank and rods, forged aluminum pistons
Valvetrain: Aluminum roller-style
Camshaft: Hydraulic roller
Induction: Kinsler eight-stack injection by Alkydigger
Ignition: Joe Hunt, custom
Exhaust: B'z Rods custom fenderwell headers, 2 ¼ stainless exhaust, Moroso mufflers
Output: 467 rwhp at 5,700 rpm
Drivetrain
Transmission: Muncie M22, custom by Crash Enterprises
Rear Axle: Strange Engineering 9-inch, nodular iron center, 4.10 gears, 31-spline Super Street axles, Eaton Truetrac
Chassis
Chassis: Custom by B'z Rods
Steering: Flaming River Vega-style
Front Suspension: B'z Rods straight axle and spindles, Posies Super Slide leaf springs, PRO Shocks, tube
Rear Suspension: B'z Rods custom ladder bars, Panhard bar, PRO Shocks, coilover
Brakes: Wilwood Forged Dynalite Pro-Series11-inch drilled-and-slotted rotors, four-piston calipers
Wheels & Tires
Wheels: Front 15×4.5 Rocket Launcher, rear 15×10 E-T Team III Five Window
Tires: Front Pro-Trac/Coker 550-15, rear Towel City Cheater Slicks 29.5×10-15
Interior
Seats: Stock
Upholstery: Red vinyl
Gauges: Stock, Sun Super Tach, vintage
Steering: Stock-style 15-inch
Carpet: Stock, Tuxedo Red
Shifter: Hurst, custom by Crash
Exterior
Paint: PPG High Metallic Silver
Hood: Stock, modified
Grille: Stock