Joel Russell's 1966 Nova
By Nick Licata     –   Photography by Kevin DiOssi
As far as 1966-67 Novas go, we've recently seen these cars move up the ranks in the muscle car food chain, and this 1966 here, owned by Joel Russell of Longwood, Florida, tops in style and quality. It comes as no surprise, though, as this one was constructed by the talented fellas at Chassis Crafters in Daytona Beach, Florida. Ed Nash and Steve Ward have been wrenchin' and buildin' badass vintage muscle cars for quite a while and know what's what.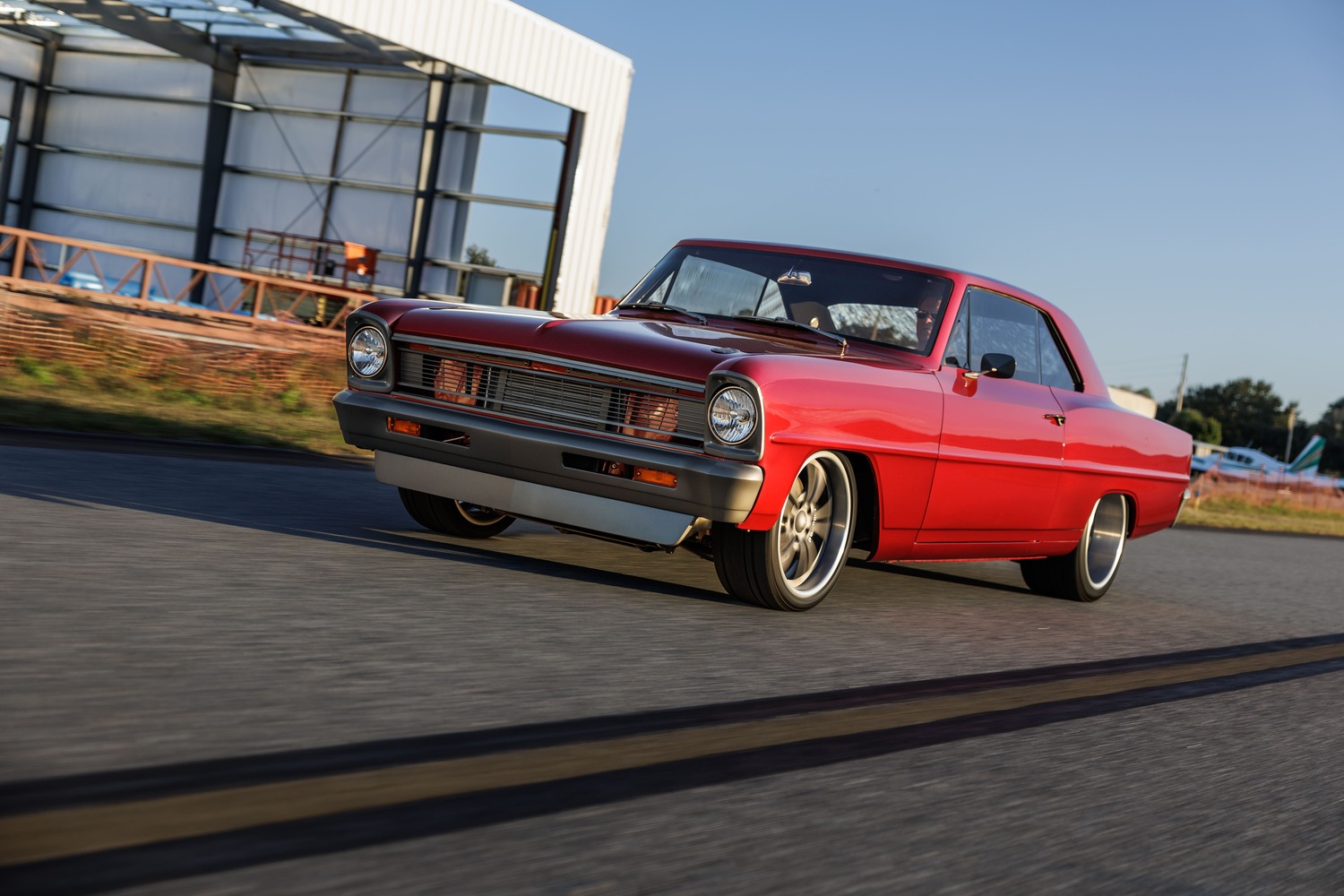 When Joel showed up at the shop he brought along a less-than-stellar Nova and a general idea of the direction he wanted to take the car, but ultimately, he let Nash and Ward have at it. He knows their work and is familiar with the quality of cars that come out of their shop. Nash's pretty much seen it all and Joel's Nova wasn't the worst but was far from the best. "The car was pretty much a basketcase when Joel brought it in," Nash says. "We saved what we could of the original body, but we ended up dialing in some fresh quarter-panels, fenders, and passenger side doorskin from Auto Metal Direct. Joel wanted his Nova to stand out from every other Chevy II on the road, so we turned up the wick on this one–we sliced, diced, and tucked everything we could to give it a one-off personality, and I think we accomplished just that without compromising the Nova's integrity."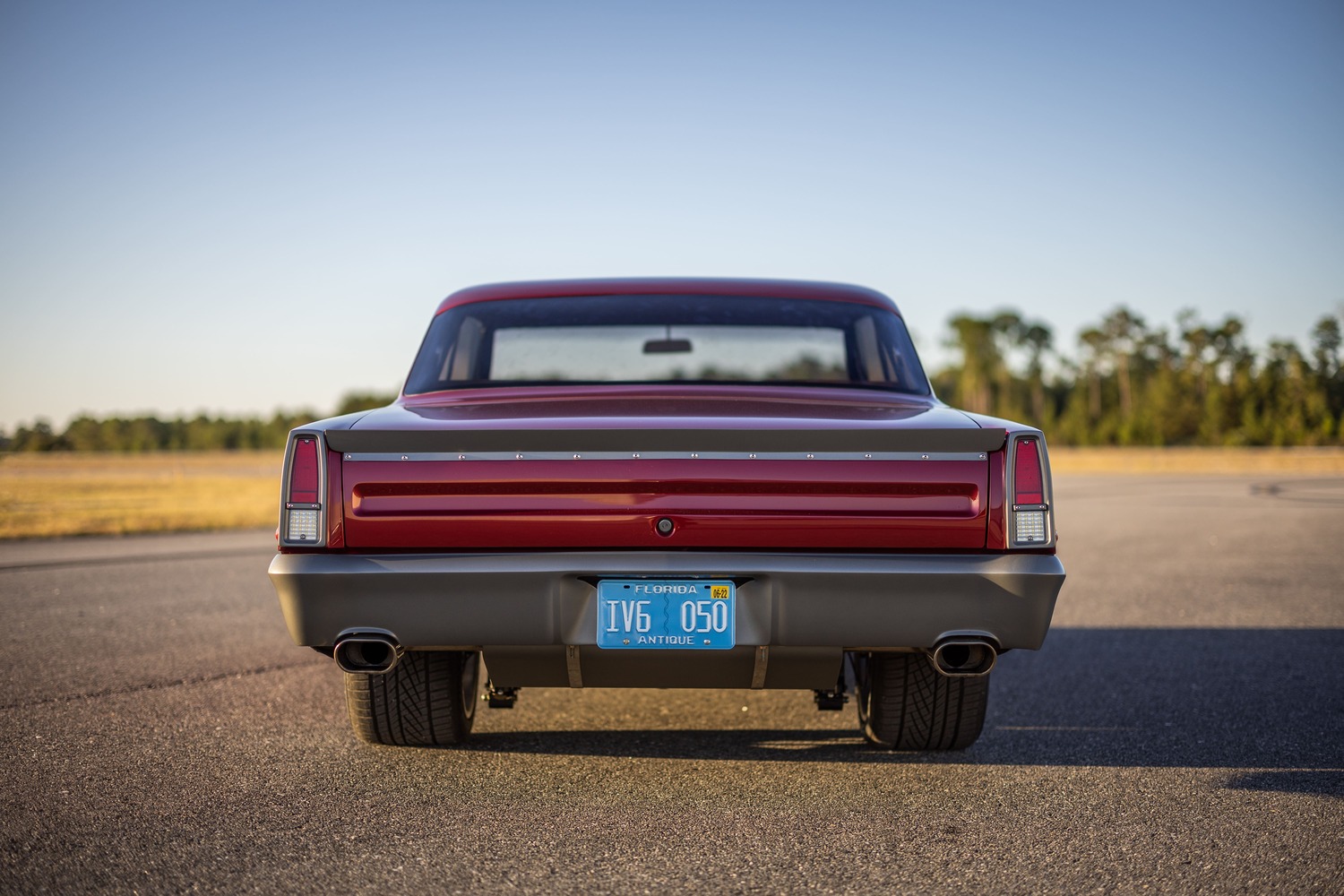 Check it out: Mark Dykeman's 1972 Chevy Camaro Packs a Punch
Besides attacking the basics—setting the gaps and smoothing the body to perfection—Nash deleted the driprails, designed and fabricated custom front and rear spoilers, tucked and molded the bumpers, and set in flush-mount glass. The rear bumper started out as a stock piece before being treated to custom-fabricated exhaust openings with just the right amount of panache. Some guys go too far—Nash doesn't—he knows when to say when.
What started out as Spies Hecker Ruby Red Pearl, Nash took liberty to mix his own custom variation then doused the car in the Chassis Crafters one-off tint. Once again, giving the car a character all its own.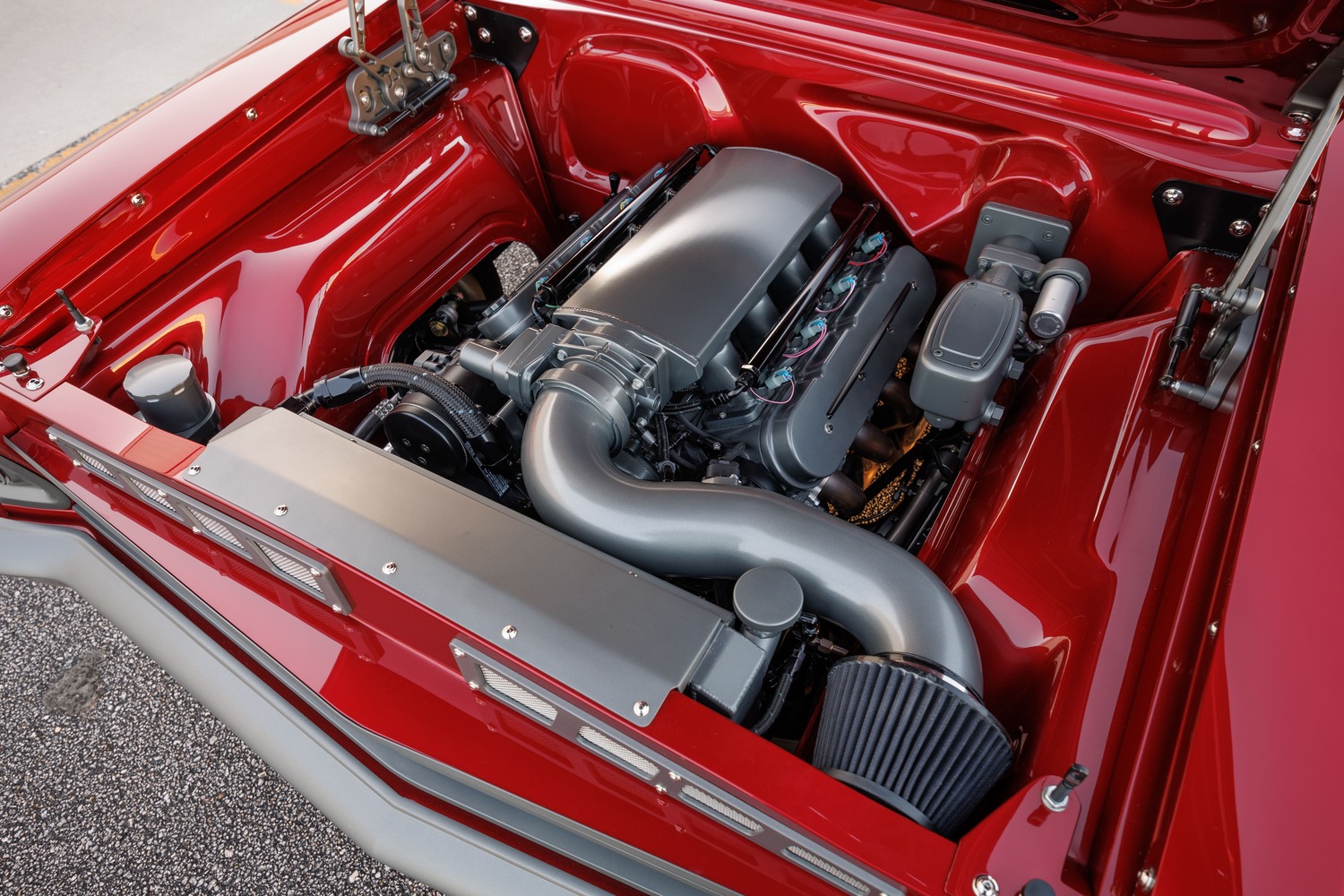 Joel is a hot rod guy–always has been. He's owned quite a few muscle cars over the years, and also has a 1955 Chevy taking up residence in his garage. Even though he's had a few more trips around the sun than your average millennial, Joel drives his cars like a fearless teenager who just discovered the excitement and power of a burly V-8 engine.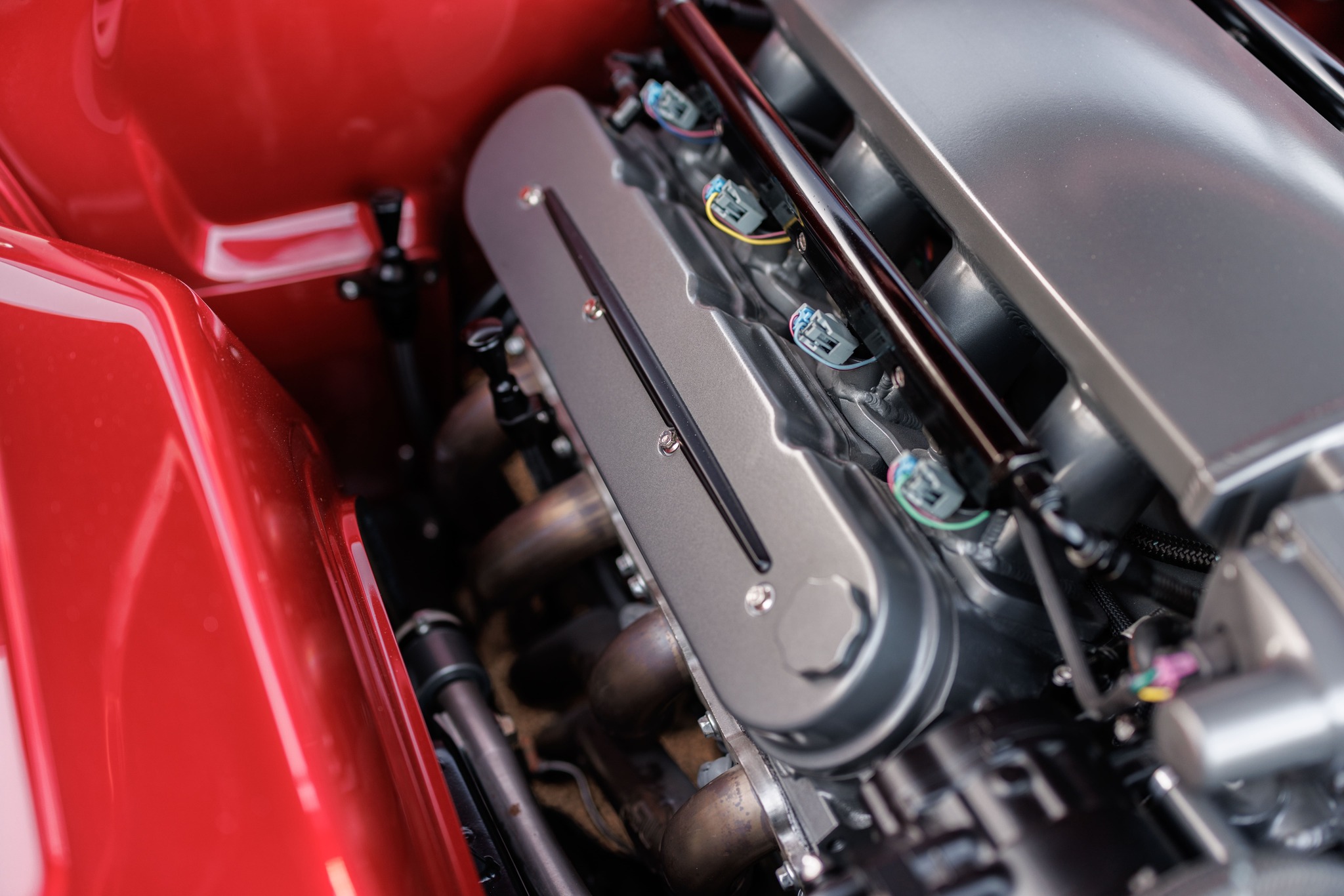 That excitement in Joel's Nova comes by way of a healthy 6.2L LS3. Although mostly stock beyond the Texas Speed Cam, the engine has plenty of power and is dressed to the nines with the help of the Billet Specialties valve covers, custom aluminum-fabricated intake manifold, and intake tube, done up in matching gray custom paint. A black-finish Vintage Air Front Runner accessory drive system fits the scene perfectly while Stainlessworks headers, custom-fabricated 2.5-inch exhaust, and MagnaFlow mufflers project a threatening tone and call attention to the little Chevy's aggressive demeanor. At 440 hp to the tires, Joel enjoys a good stab of the loud pedal and letting the Nova strut its stuff on lonesome highways.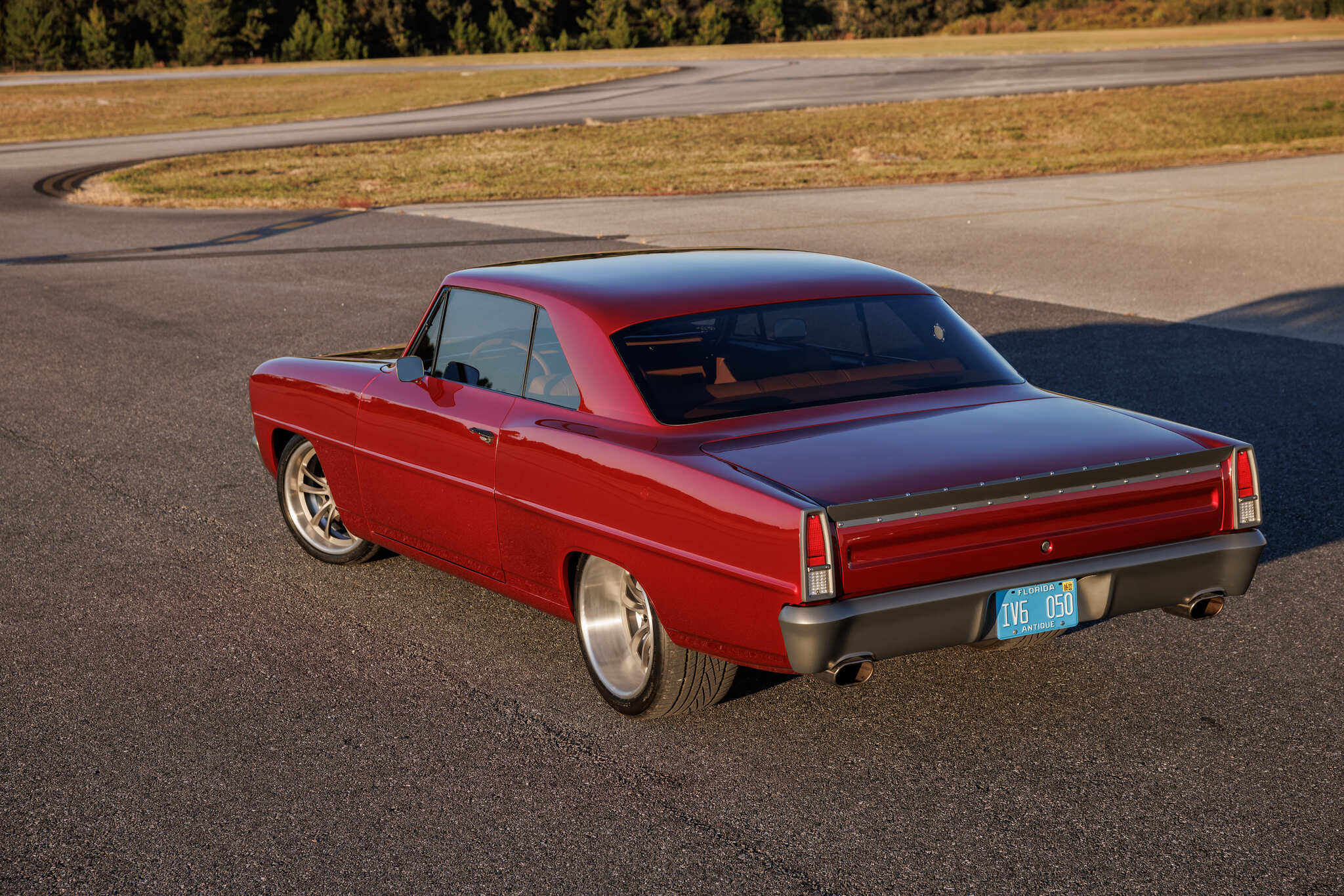 A 6L80E six-speed transmission sends power to a Detroit Speed 9-inch rearend packed with a limited slip, 3.25 gears, and Moser 31-spline axles. A Lokar shifter accompanied with a Tap Shifter controls seamless gear transitions.
Nash unleased a host of suspension goods to provide the Nova with top-notch handling capabilities and a low-slung stance. A Detroit Speed QUADRALink rearend and JRi double-adjustable shocks live out back while a Detroit Speed Hydroformed subframe complete with C6-style spindles and JRi double-adjustable shocks reside up front are tied together with DSE subframe connectors. Sway bars front and rear keep Joel's Nova on the level during hard cornering.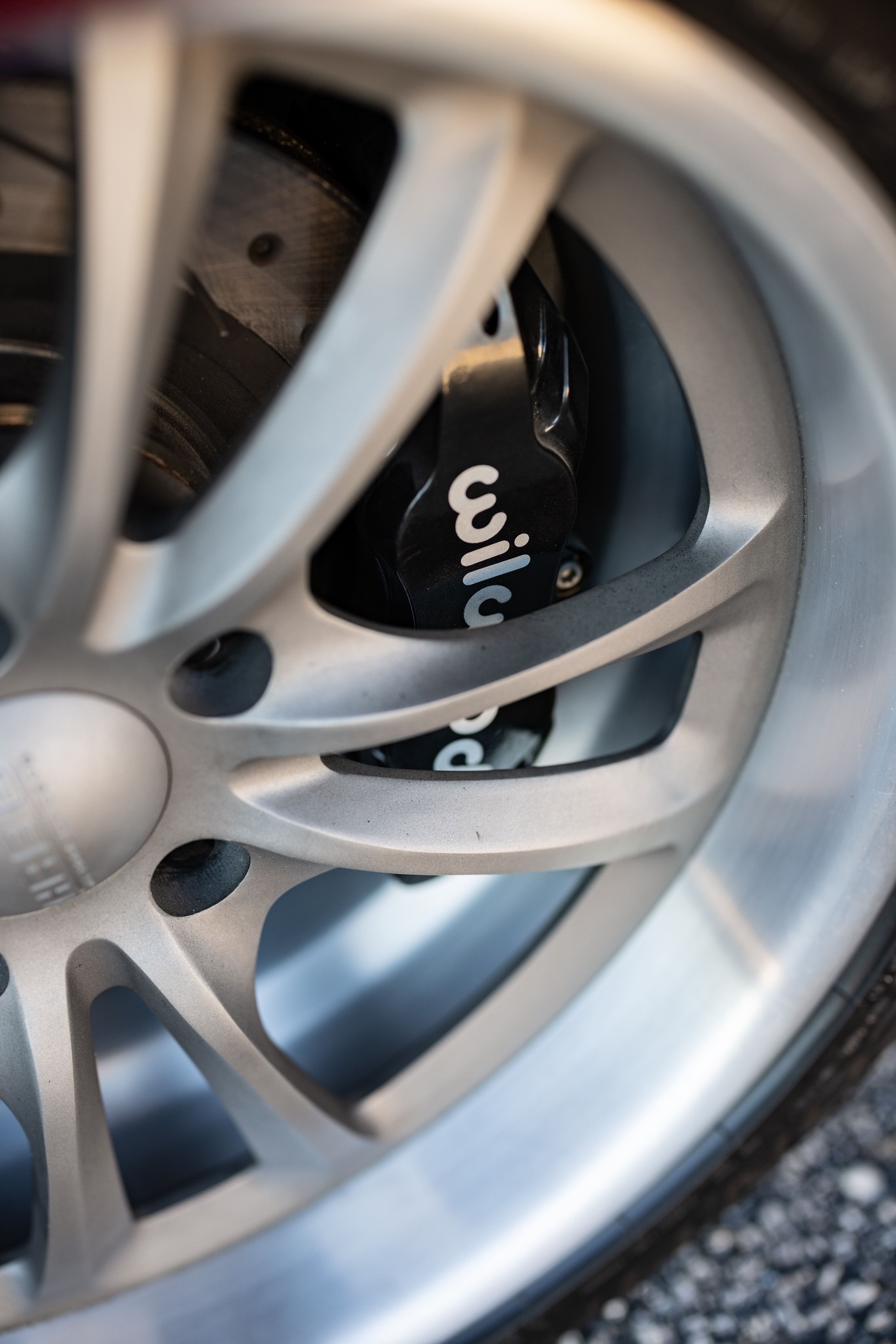 More Chevy Performance: 1967 Chevy Chevelle Goes From Drag Car To Street Beast
Wilwood disc brakes inhabit all four corners (14-inch rotors and six-piston calipers front, 13-incher rotors with four-piston calipers rear) and peer behind a set of Hot Rods By Boyd HR-99 wheels (18×9 front, 18×11 rear) with charcoal centers and polish outers. Joel keeps in tune with the pavement thanks to a set of Continental ExtremeContact DWS rubber (255/35R18 front, 295/35R18 rear).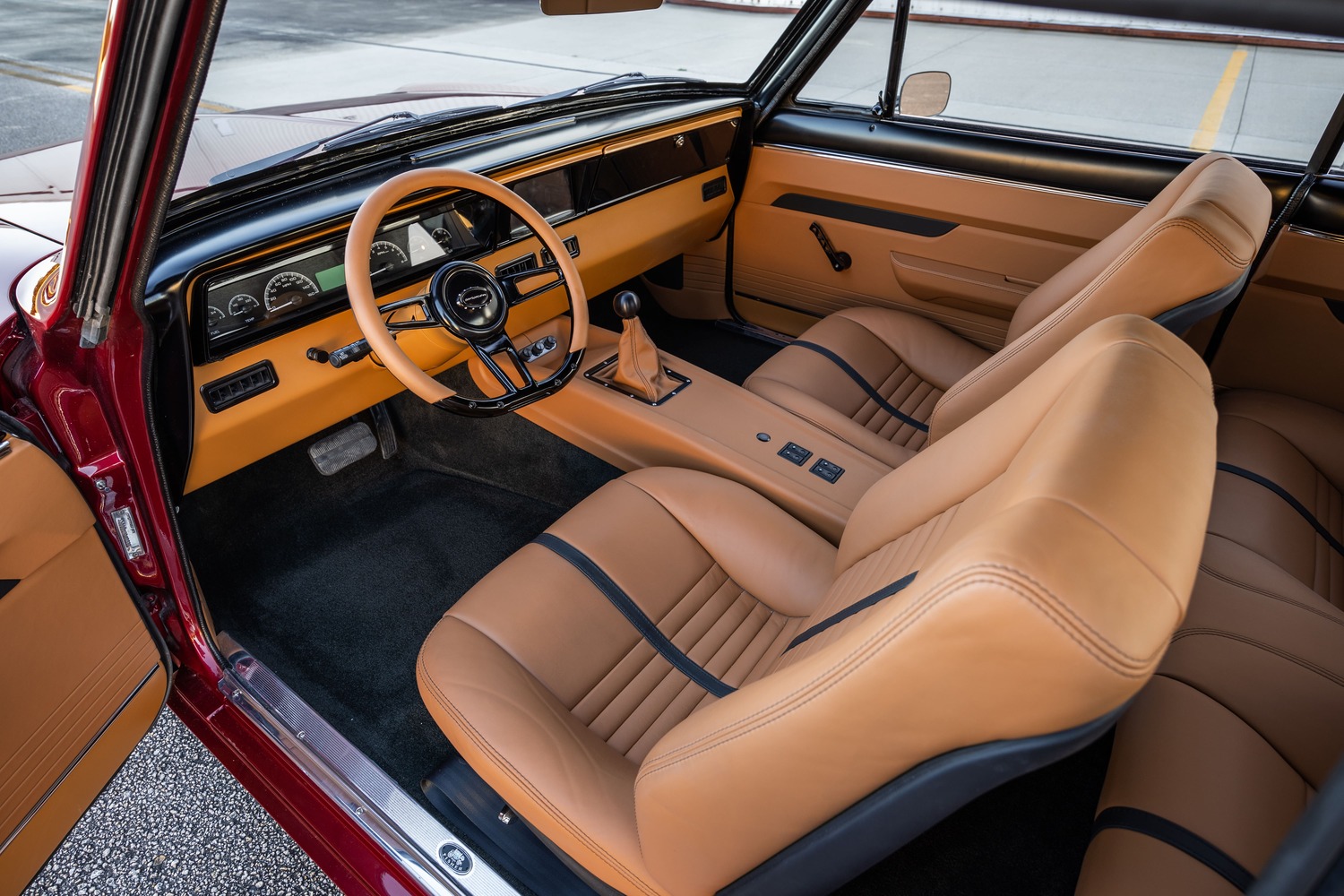 The interior is a stellar compilation of custom fabrication by Nahs and interior design by Built By Ricky (Alexander City, Alabama). Nash extended the bottom and sides of the dash for a more complete look and to hide the Vintage Air A/C system. Dakota Digital gauges look right at home in the custom dash insert. Ward dug in and supplied power with an American Autowire kit and tied in a Pioneer sound system featuring Digital Design and Triton Audio speakers.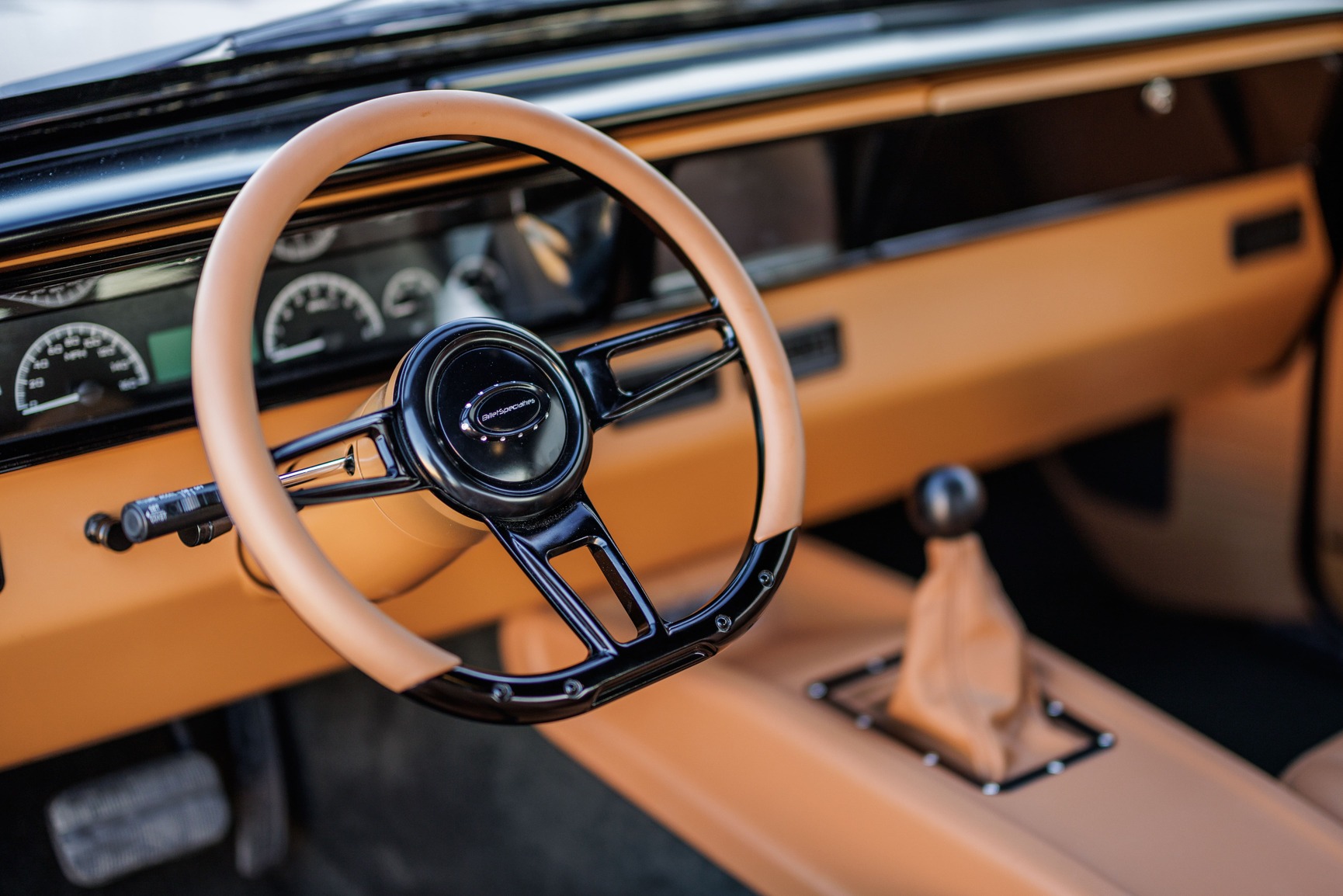 Ricky created the custom center console and door panels then covered the production in black and tan leather. The bucket seats receive the same treatment for a high-end look that jives perfectly with the performance-based theme.
Once again, Nash and Ward at Chassis Crafters poured their vast knowledge and fabrication skills into a car that easily could have been built with a routine theme, but that's not their style. These guys bent creative ideas in a direction that appear to be subtle, but in reality are intricate details that set this car on a path all its own while carefully maintaining its classic spirit.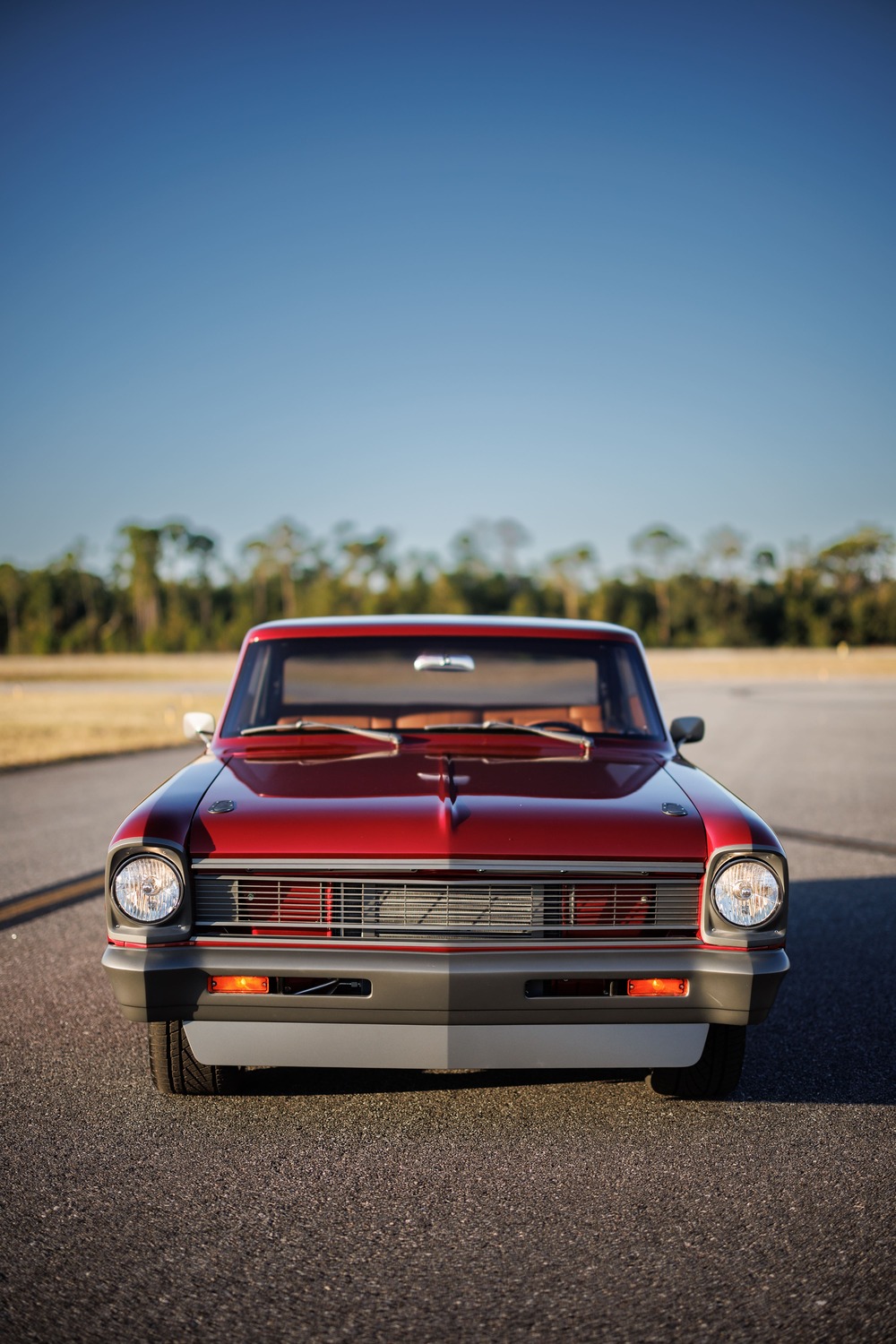 Joel echoes the statement. "I brought these guys a broken-down shell of a Nova and they turned it into a car far beyond my expectations. They were able to bring out the car's best assets and made them even better–something easier said than done."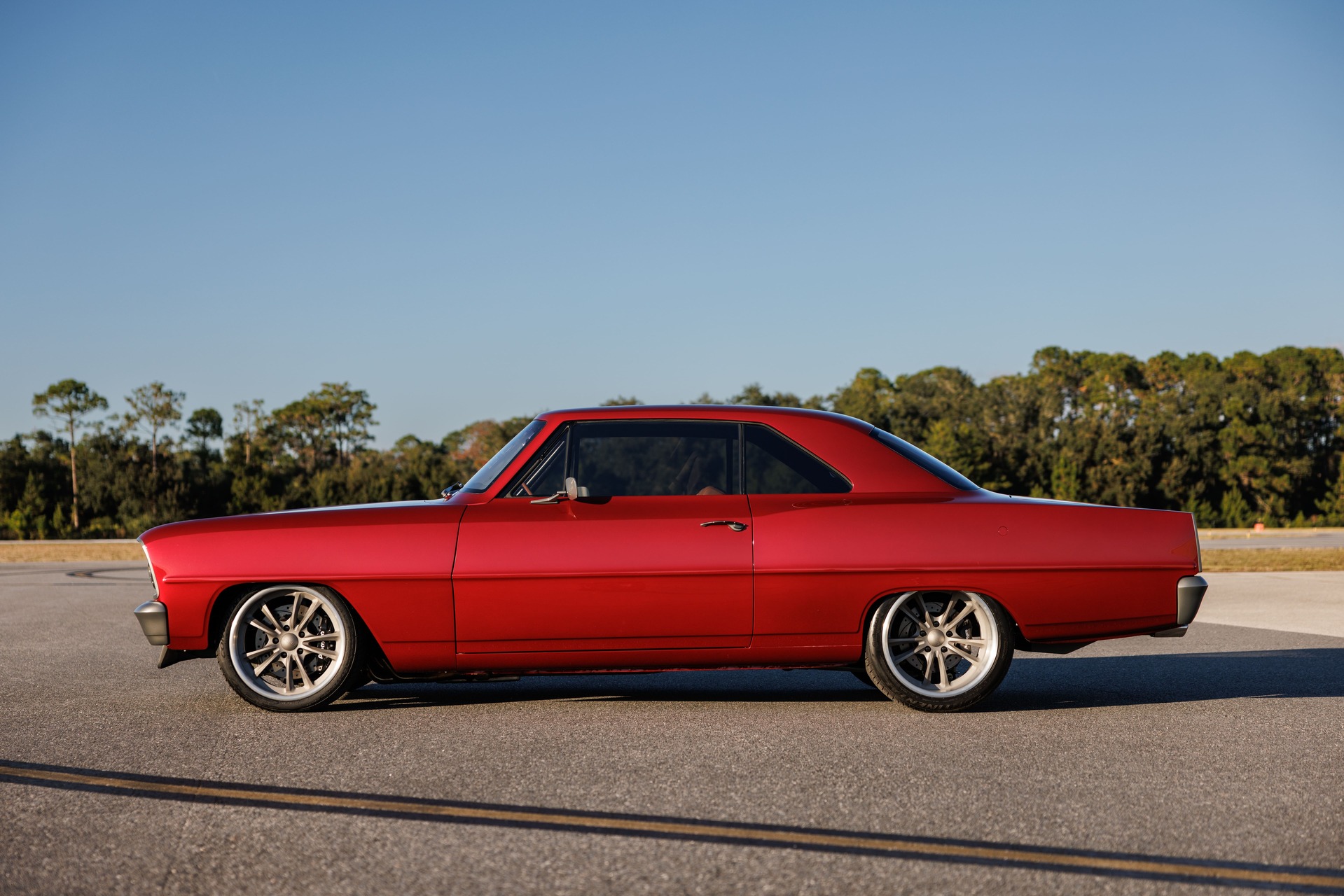 TECH CHECK
Owner: Joel Russell, Longwood, Florida
Vehicle: 1966 Chevy Nova
Engine
Type: LS3
Displacement: 6.2L (376 ci)
Compression Ratio: 10.7:1
Bore: 4.065 inches
Stroke: 6.622 inches
Cylinder Heads: Aluminum L92-style port
Rotating Assembly: Nodular iron crankshaft, Powdered metal rods, Hypereutectic aluminum
Camshaft: Texas Speed 0.600 lift, 224/228 at 0.050
Induction: Fabricated aluminum intake, Spectre cold-air intake kit
Exhaust: Stainless Works headers, 2.5-inch custom 304 stainless exhaust, MagnaFlow mufflers
Ancillaries: Vintage Air accessory drive kit, C&R aluminum radiator, SPAL electric fan, MSD Super Conductor wires, Billet Specialties valve covers, Ringbrothers hood hinges, Rick's Tanks stainless steel fuel tank
Output: 440 rwhp
Drivetrain
Transmission: GM 6L80E
Driveshaft: PST (Precision Shaft Technology)
Rear Axle: Detroit Speed 9-inch, Eaton Truetrac limited-slip differential, 3.25 gearset, Moser 31-spline axles
Chassis
Front Suspension: Detroit Speed hydroformed subframe, C6-style spindles, JRi double-adjustable shocks, 450-pound springs, 1-inch sway bar
Rear Suspension: Detroit Speed QUADRALink suspension, JRi double-adjustable shocks, 175-pound springs, 7/8-inch sway bar
Brakes: Wilwood 14-inch rotors, six-piston calipers front, 13-inch rotors, four-piston calipers rear
Wheels & Tires
Wheels: Hot Rods By Boyd HR-99 wheels (18×9 front, 18×11 rear)
Tires: Continental ExtremeContact DWS; 255/35R18 front, 295/35R18 rear
Interior
Upholstery: Built By Ricky (Alexander City, AL)
Door Panels and Center Console: Built By Ricky, custom black and tan leather
Seats: Stock buckets with black and tan leather
Steering: ididt steering column, Billet Specialties steering wheel
Shifter: Lokar with tap shift
Dash: Custom fabrication by Chassis Crafters
Interior Door Handles: Ringbrothers
Instrumentation: Dakota Digital
HVAC: Vintage Air
Wiring: American Autowire by Steve Ward
Head Unit: Pioneer AVIC-8200 NEX
Amplifiers: Digital Designs
Speakers: Triton Audio
Subwoofer: 10-inch Digital Designs
Exterior
Bodywork and Paint: Ed Nash at Chassis Crafters
Paint: Spies Hecker Ruby Red Pearl/Chassis Crafters custom mix
Mini-Tubs: Detroit Speed
Front and Rear Bumpers: Stock, cut, tucked, custom fabrication by Ed Nash
Door Handles: Ringbrothers
Quarter-panels: AMD
Fenders: AMD
Glass: Flush-mounted
Body Mods: Deleted driprails, custom-fabricated metal front and rear spoilers, flush fuel filler, Aerospace hood pins