Mark Dykeman's 1972 Chevy Camaro Packs a Punch
By Chuck Vranas   –   Photography & Video by the Author
Everyone involved in the performance automotive hobby lives with a level of passion that follows not only each and every build but also the excitement generated in the privilege of ownership. Regardless of whether you're into factory-perfect restorations, canyon-carving Pro Touring styles, or hard-core motorsports, the adrenalin rush is the common thread that pulls it all together. For Mark Dykeman of Tewksbury, Massachusetts, a lifelong involvement in drag racing has given him the ability to compete nationally while also building rewarding relationships from coast to coast. His latest Chevy, the 1972 Camaro, laid out across these pages personifies a level of performance that bridges the gap between the street and track. As owner of Dykeman Welding and Fabrication, specializing in structural steel and miscellaneous metals, he's been able to fuse his talents into every build passing through the shop.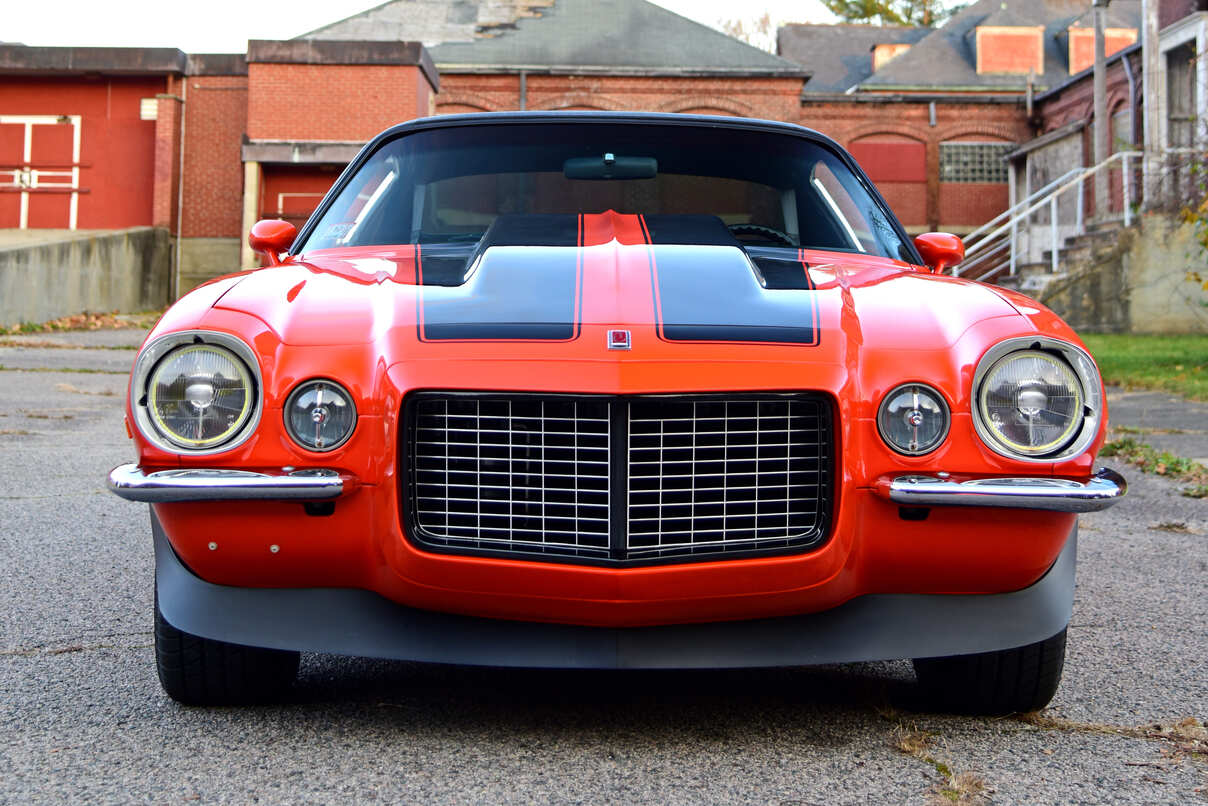 With a racing career that spans over the last two decades, Mark got started with an 1980 Camaro, which evolved into his first official drag car, eventually hustling into the low 5s in the eighth-mile. It's currently being redone in the home race shop alongside his son, Jack, who will soon take the wheel at the track. As the years progressed, Mark purchased the legendary X275 Class, Blue Goose 1972 Camaro, from Tommy Kirk of MAC FAB Beadlocks, taking delivery just in time for Lights Out 7 at South Georgia Motorsports Park. As you can imagine the level of exhilaration that followed on the dragstrip in a car capable of running in the 4.60s was nothing short of wicked, especially with it being his first time racing at the venue.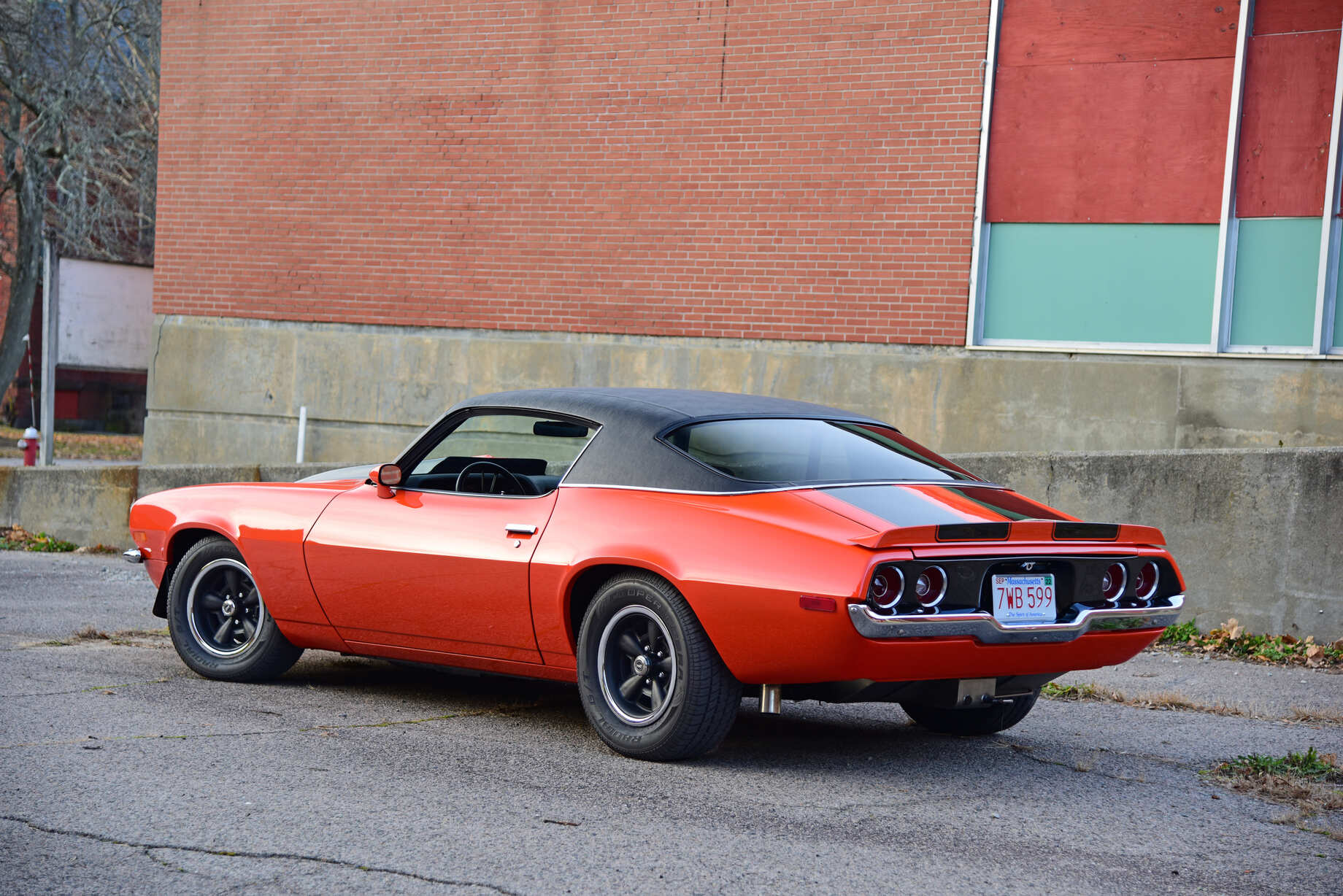 Check it out: One-of-a-Kind Missile, Piranha Green 1968 Camaro
When it came time to raise the bar, his current race car, a 2014 Camaro, was constructed by Dennis McPherson and the team at DMC Racing in Halifax. Mark tells it's a true game-changer as the X275 Class build showcases a DMC 25.3 spec chassis embodying everything state of the art in drag racing today while also showcasing a Harrell Engine & Dyno–built, all-billet 470ci LS capped by a ProCharger F-1X 106 supercharger with enough gusto to push the car into the 4.20s at 170 mph. While competing in the X275 Drag Radial Series on the eighth-mile at heads-up events, including Lights Out, No Mercy, and Yellow Bullet at tracks across the country, the experience has always been shared with his wife Alyson, son Jack, and daughters Ashlie, Brooke, and Maci. Even though drag racing is a main focus, he's never forgotten the thrill of running a hot combination on the street, which led to his latest build. Having followed the build of Editor Licata's "Project Orange Krate" Camaro, he was inspired to create his own low-slung second-gen with razor-sharp handling, scorching power, and an aggressive attitude.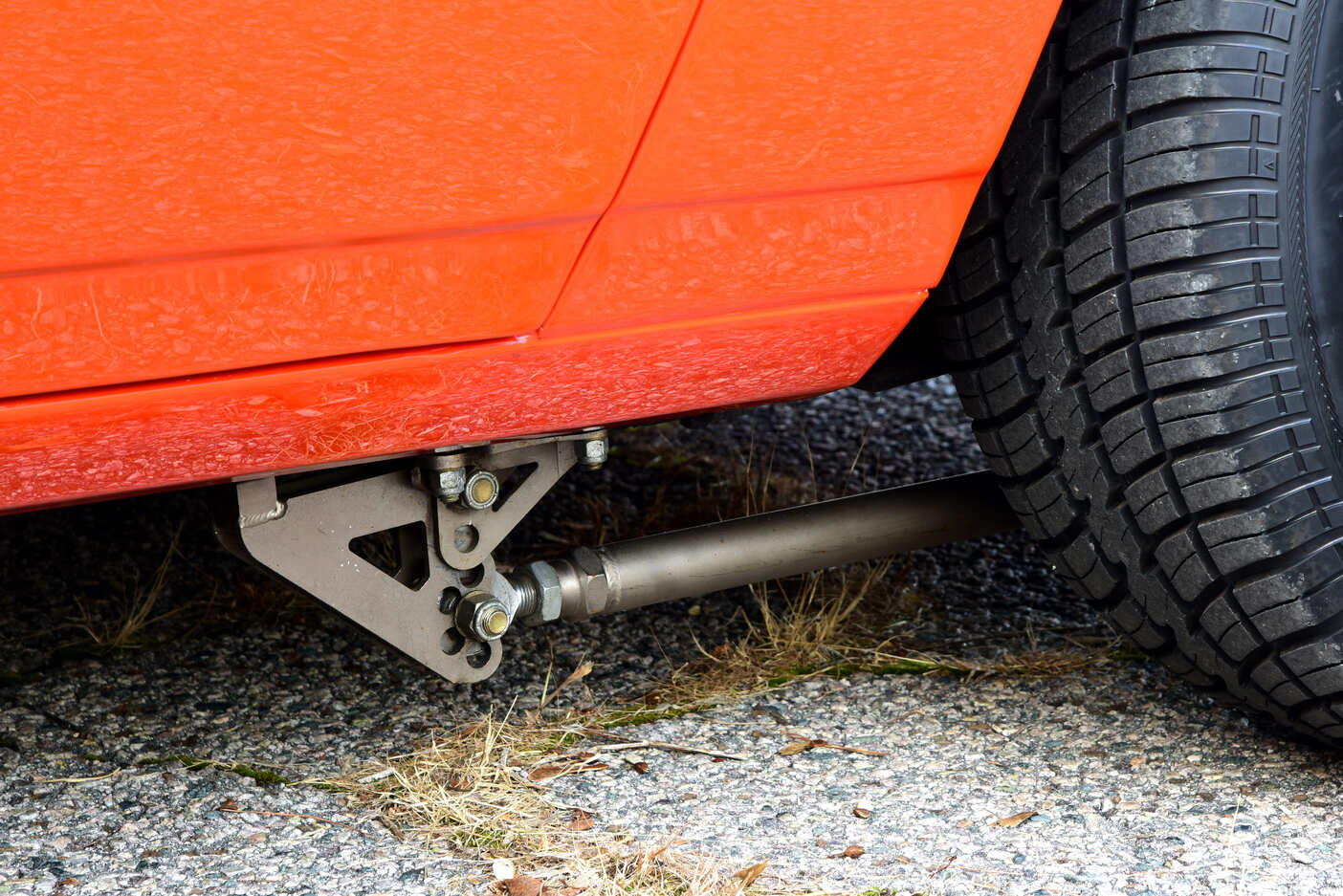 It wasn't long before his search brought him to good friend, Dave DeRose, who just so happened to have a 1972 RS for sale. The factory four-speed car was a perfect base to start with, so cash was swapped for keys. After running it as purchased for one season, he and Jack formulated a plan to bring the car to the next level by first addressing chassis dynamics, suspension, and braking. Knowing it would be getting a massive horsepower boost, out back a Moser Engineering 9-inch housing was packed with 3.90 gears spinning matching 35-spline axles. It's suspended in place by a combination of Calvert Racing leaf springs and nine-way adjustable shocks along with Smith Racecraft Assassin traction bars. To bring handling to the next level, a Heidts front suspension package was incorporated featuring their Pro-G subframe packed with all the right bits, including tubular upper and lower control arms, 2-inch dropped spindles, 1¼-inch splined sway bar, and QA1 single-adjustable coilover shocks. To tame the beast, a Wilwood dual-master pushes fluid through stainless lines to matching 12-inch Dynalite-Series rotors and four-piston calipers anchored at each corner. Linking it all to the street are a set of original Z28 wheels sized 15×7 front and 15×8 rear wearing Cooper Cobra Radial GT rubber.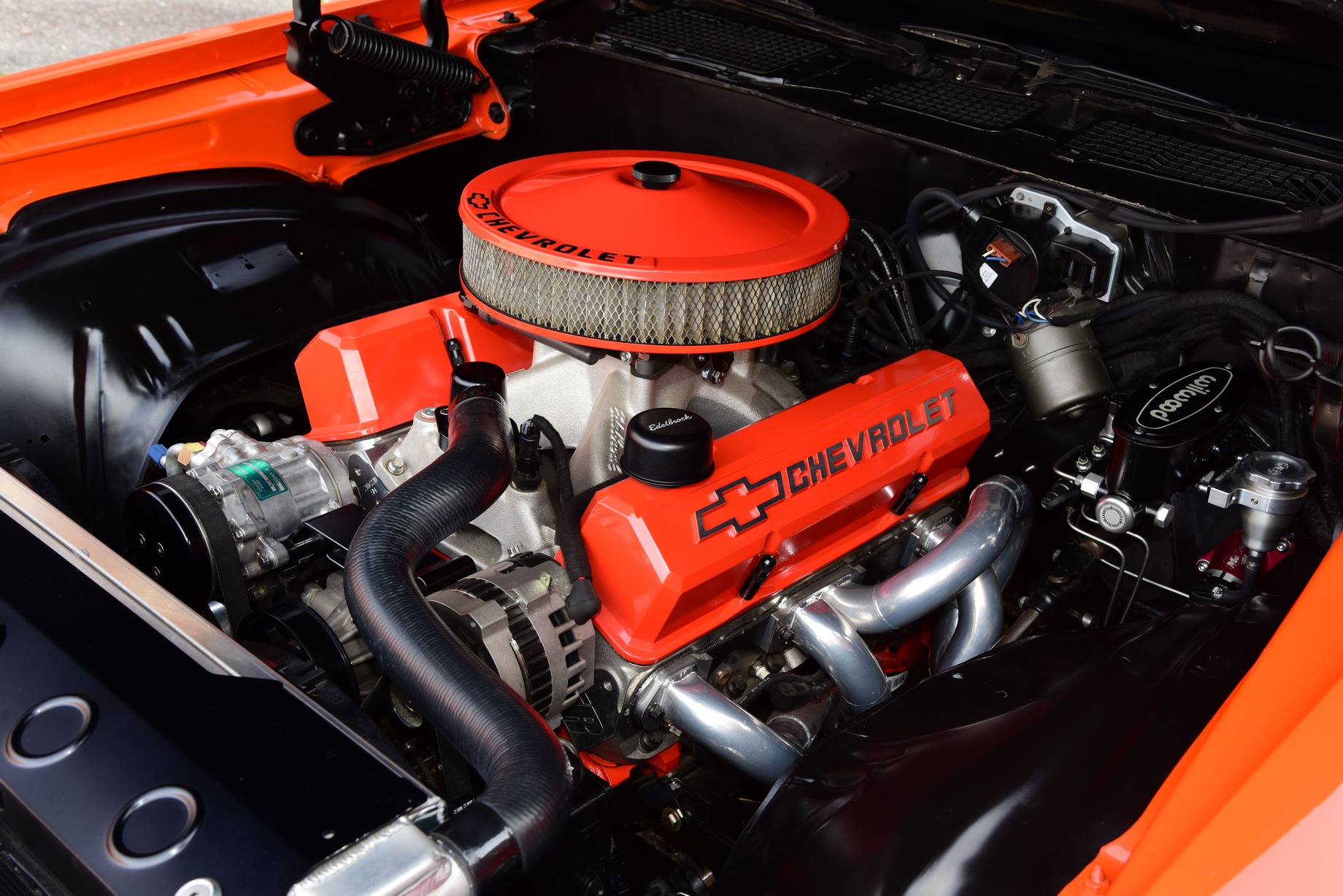 Underhood, Mark wanted to retain an LT1 V-8 amped up with plenty of go-fast goods. Golen Engine Service of Hudson, New Hampshire, started by machining a GM cast-iron, four-bolt main block to 396 and packed it with a Scat forged 4340 steel crank linked to matching 4340 steel H-beam rods capped with Mahle forged aluminum slugs getting bumped by a Comp Cams hydraulic roller. A set of AFR 210cc Eliminator heads bring the dynamite, especially when matched to an Edelbrock Super Victor intake wearing a Holley Terminator EFI system brought to life by a Holley Terminator management system. Added details include a Vintage Air Front Runner accessory drive system, Chevrolet Performance valve covers and air cleaner, as well as an Optima RedTop battery. It sparks to life through an MSD Pro-Billet ignition with exhaust moving through Lemons headers linked to a MagnaFlow 3-inch stainless exhaust with matching mufflers. It's all good for a solid 580 hp on the dyno when linked to an American Powertrain TREMEC T56 Magnum trans packing an Atomic twin-disc clutch and custom driveshaft. The flawless installation, all related plumbing, and exhaust were handled by Pat O'Brien of Procision Industries of Taunton, Massachusetts.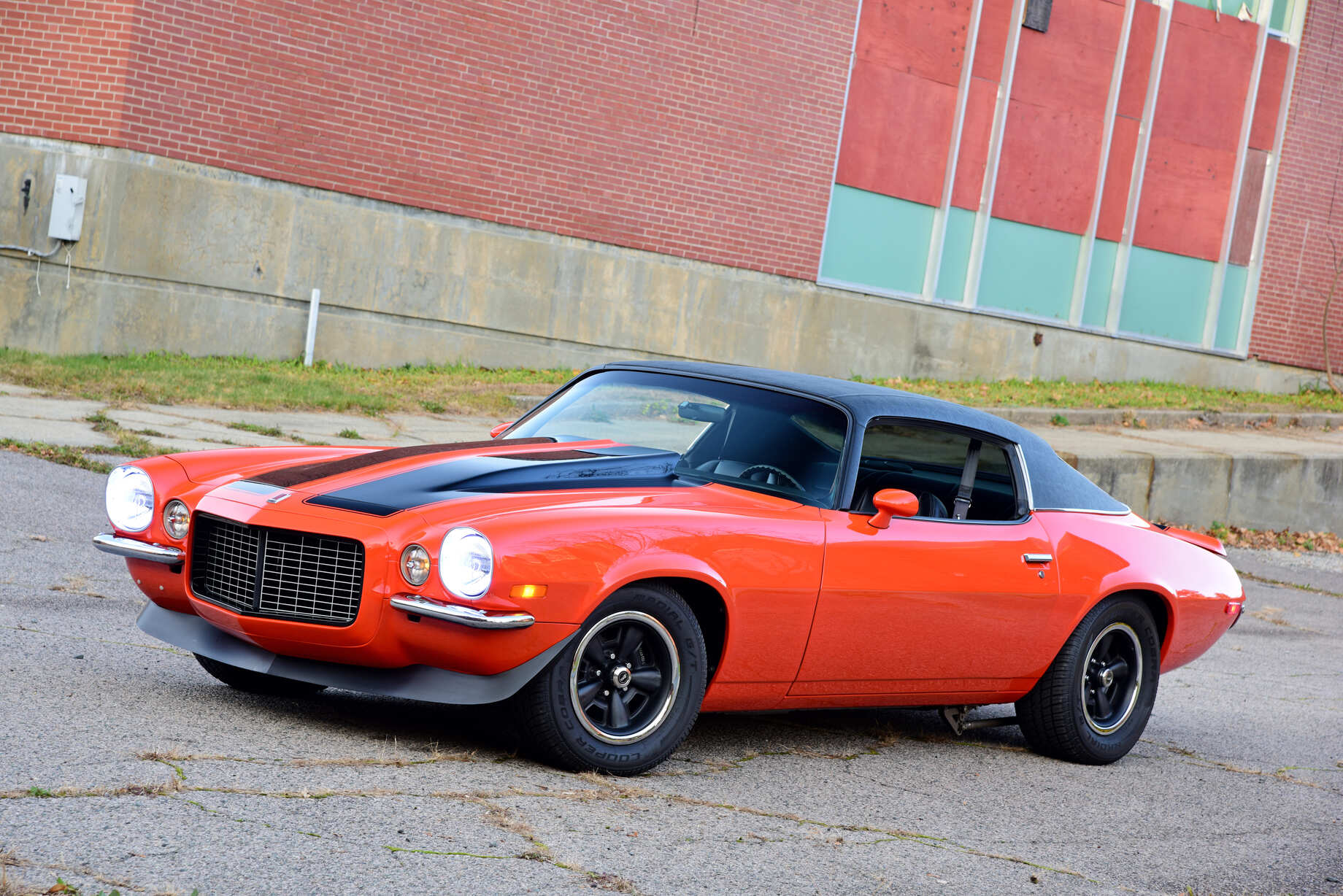 Stunning Design: Chevy Concepts – '67 Camaro
Wanting to bring the original sheetmetal back to factory-fresh standards, Mark Higgins of Tewksbury took on the task. Once the body was stripped bare, Higgins went to work by replacing the lower quarter-panels, doorskins, rear valance, and front fenders with fresh steel from Classic Industries followed by adding a steel cowl induction hood from Goodmark. Once everything was made mirror straight and the gaps set, Higgins then laid down a decadent coating of PPG custom-blended Hugger Orange accented by classic black stripes. Reassembly followed with O'Brien adding plenty of fine details thanks to fresh bumpers, trim, gaskets, grille, and spoiler from Classic Industries. Finally, updated LED lighting from Diode Dynamics (front) and Dakota Digital (rear) completes the look.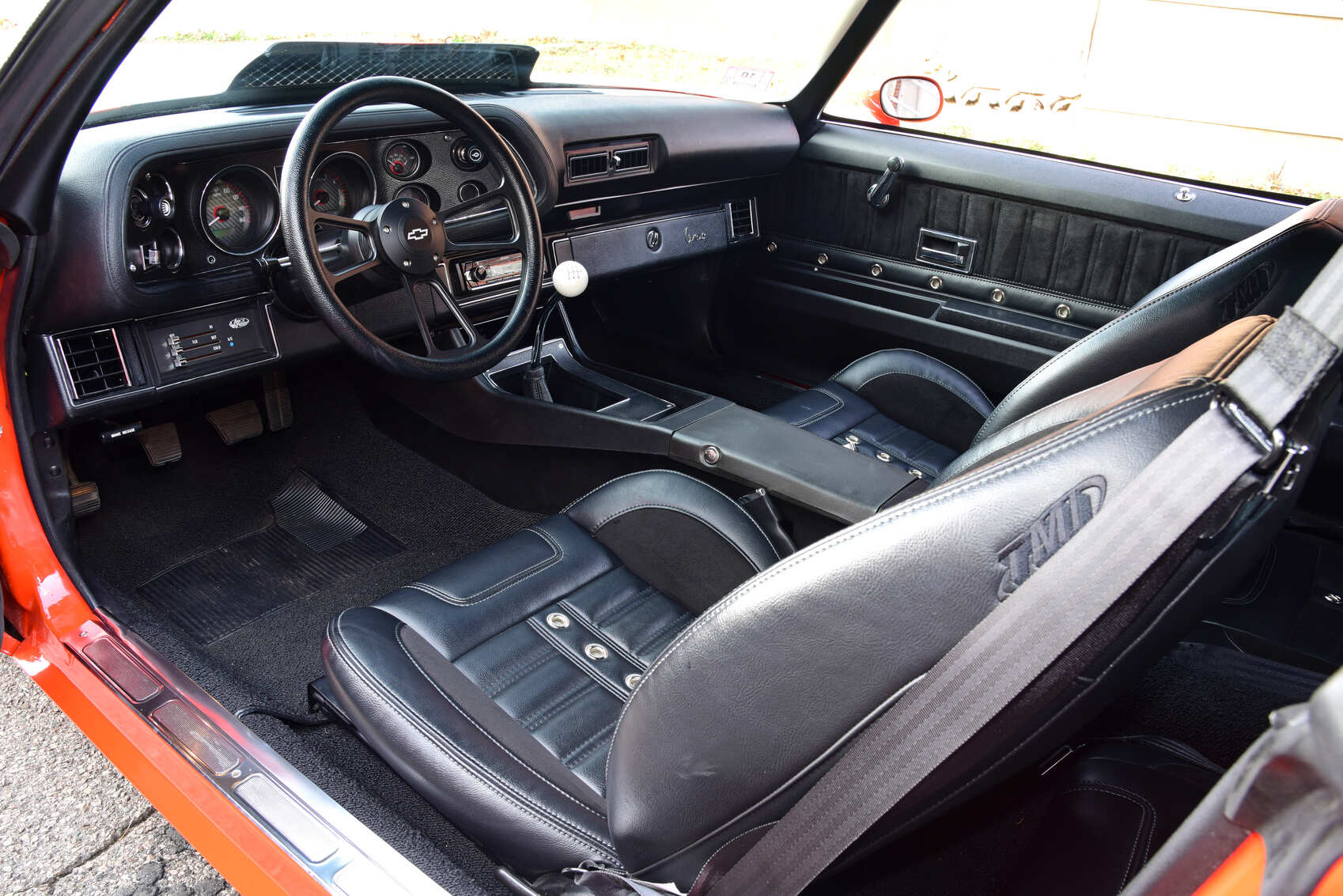 Inside, O'Brien installed an American Autowire Classic Update kit followed by filling a factory replacement dash from Classic Industries with Dakota Digital VHX carbon-fiber–faced dials to monitor the vitals. A Forever Sharp Muscle wheel mounts to an ididit tilt column to carve a course while shifts fly through an American Powertrain White Lightning stick complemented by cool breezes from Vintage Air. For comfort, TMI Pro-Classic Universal Sport XR seats in black leather and suede with matching back seat add just the right amount of luxury, especially when matched to black loop carpet, headliner, and seatbelts from Classic Industries. The completed car embodies a perfect combination of performance, stance, and attitude just as Mark had planned, and to us that's just plain bitchin!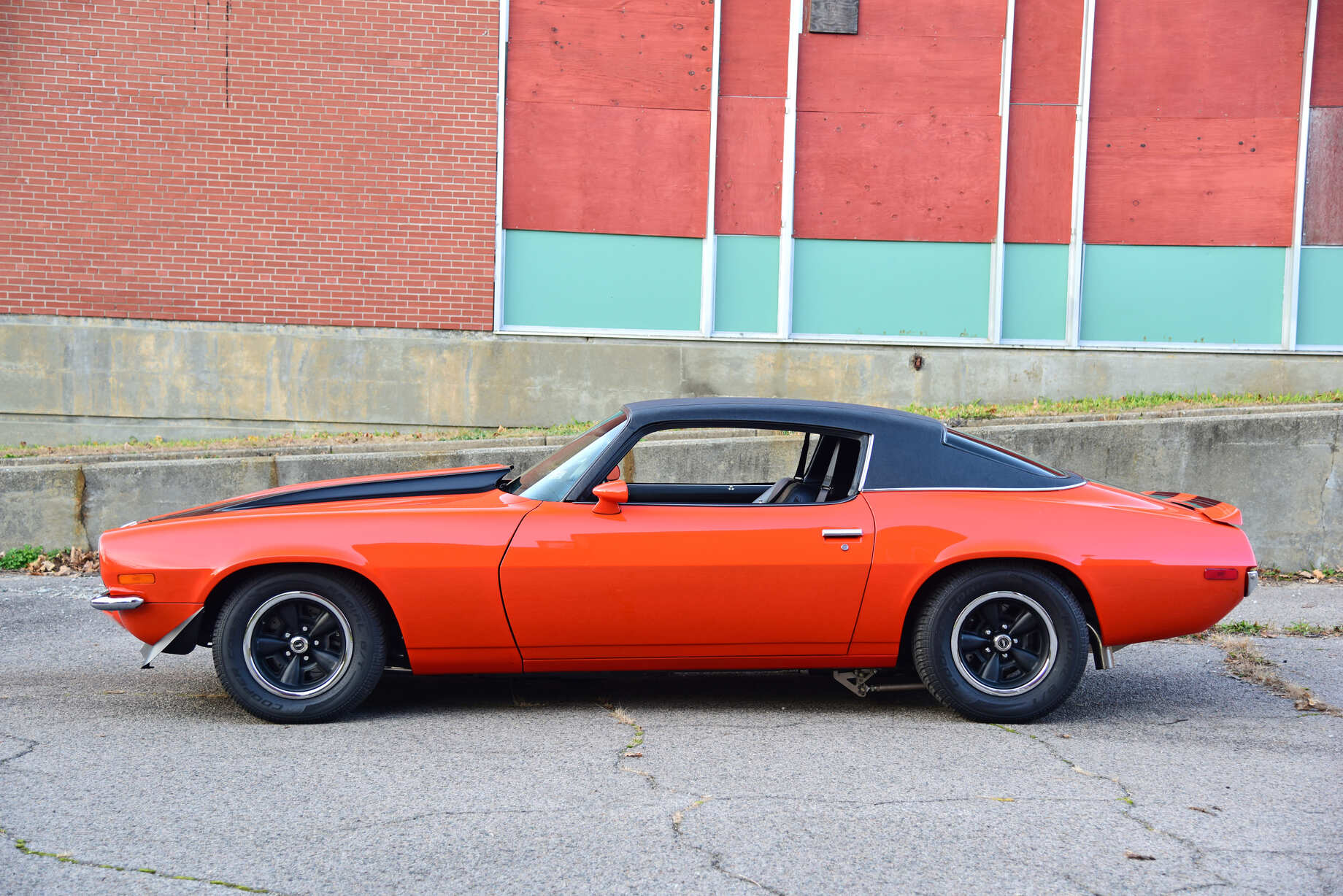 TECH CHECK
Owner: Mark Dykeman, Tewksbury, Massachusetts
Vehicle: 1972 Chevy Camaro
Engine
Type: Chevrolet LT1 V-8
Displacement: 396 ci
Compression: 10.5:1
Bore: 4.030
Stroke: 3.875
Cylinder Heads: AFR 210cc Eliminator, aluminum
Rotating Assembly: Scat forged 4340 steel crank, Scat 4340 forged steel H-beam rods, Mahle forged aluminum pistons
Valvetrain: Comp Cams Ultra Pro Magnum, Smith Bros. hardened pushrods
Camshaft: Comp Cams hydraulic roller
Induction: Edelbrock Super Victor intake, Holley Terminator EFI
Ignition: MSD Pro Billet
Exhaust: Lemons Headers, MagnaFlow Street-Series 3-inch stainless exhaust and mufflers
Output: 580 hp
Drivetrain
Transmission: American Powertrain TREMEC T56 Magnum speed
Rear Axle: Moser 9-inch, 35-spline axles, 3.90 gears
Chassis
Steering: Rack-and-pinion
Front Suspension: Heidts Pro-G Tubular upper and lower control arms, 2-inch dropped spindles, 1¼-inch splined sway bar, QA1 single-adjustable coilover shocks
Rear Suspension: Calvert Racing leaf springs, Calvert nine-way adjustable shocks, Smith Racecraft Assassin traction bars
Brakes: Wilwood dual master, 12-inch discs, matching four-piston calipers
Wheels & Tires
Wheels: Factory Z28, 15×7 front, 15×8 rear
Tires: Cooper Cobra Radial GT
Interior
Seats: TMI Pro-Classic Universal Sport XR
Upholstery: Black leather and suede
Gauges: Dakota Digital VHX
Steering: Forever Sharp Muscle steering wheel, iddit tilt column
Carpet: Classic Industries, black loop
Shifter: American Powertrain White Lightning
Wiring: American Autowire
Exterior
Paint: PPG Hugger Orange
Hood: Goodmark steel cowl induction-style
Grille: Stock
Headlights: Diode Dynamics LED
Taillights: Dakota Digital