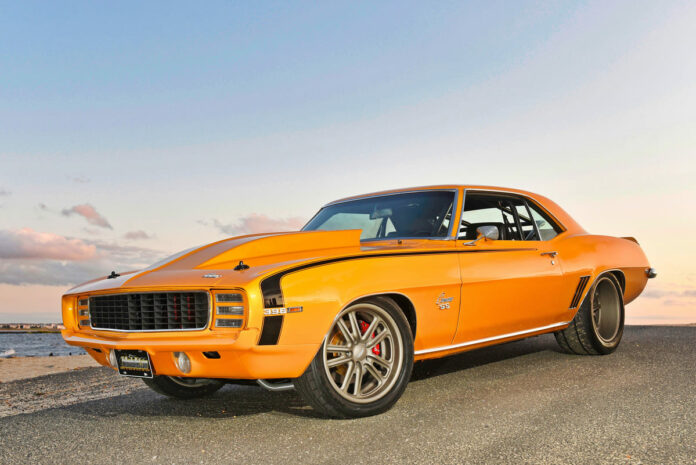 He Sold His Beloved 1969 Camaro, Then Built the Car of His Dreams
By Scotty Lachenauer   –   Photography by the Author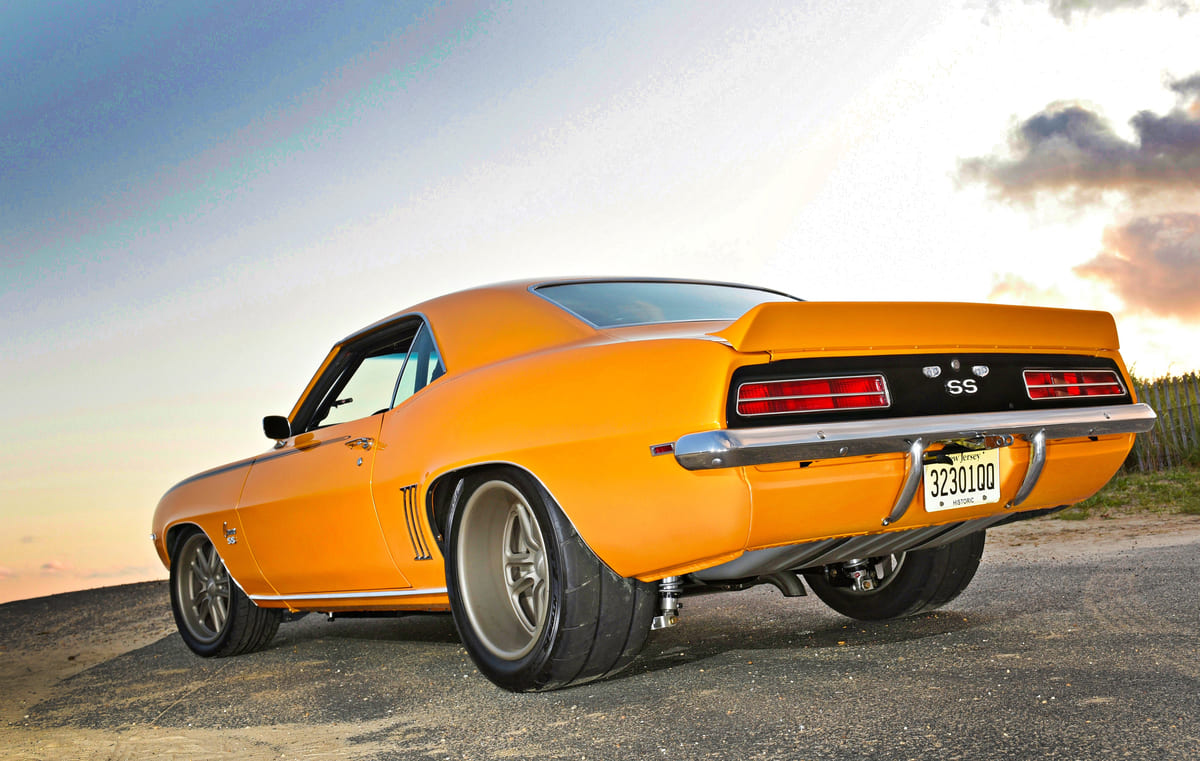 Owning and driving a top-notch Camaro can be downright addictive. Just ask Vinnie Rosato of Union Beach, New Jersey, and he will tell you the same. You see, Vinnie always had a thing for Camaros—especially the 1969 models. "I've always been a car lover, but the 1969 Camaro has been my favorite model by far," Vinnie says. He's obviously not alone in his thoughts, as the 1969 has become the most sought-after F-body design of all time.
So, when Vinnie got the urge to design himself a drag car to hit the local dragstrips there was no question which car would be the basis for his new racer. "I found a suitable 1969 Camaro and turned it into a track terror. I raced it through the '80s, '90s, and early '00s. By 2009 I didn't have time to race, so I sold what was now my Outlaw 105 racer to my good friend Larry Carpenter in Rockford, Illinois," Vinnie continues.
After a year of being Camaro-less, Vinnie once again got the urge to get behind the wheel of another early F-body. "I started looking for a solid 1969 to build, so I contacted Carpenter and asked if he knew of anything for sale. That's when this particular Camaro came into play," Vinnie says.  Carpenter knew the car well and figured it was worth looking into. Vinnie took Carpenter's word on the asking price and made an offer. A deal was done and the car was soon shipped back to Jersey, where it would soon make its transformation into the Camaro of Vinnie's hot-rodding dreams.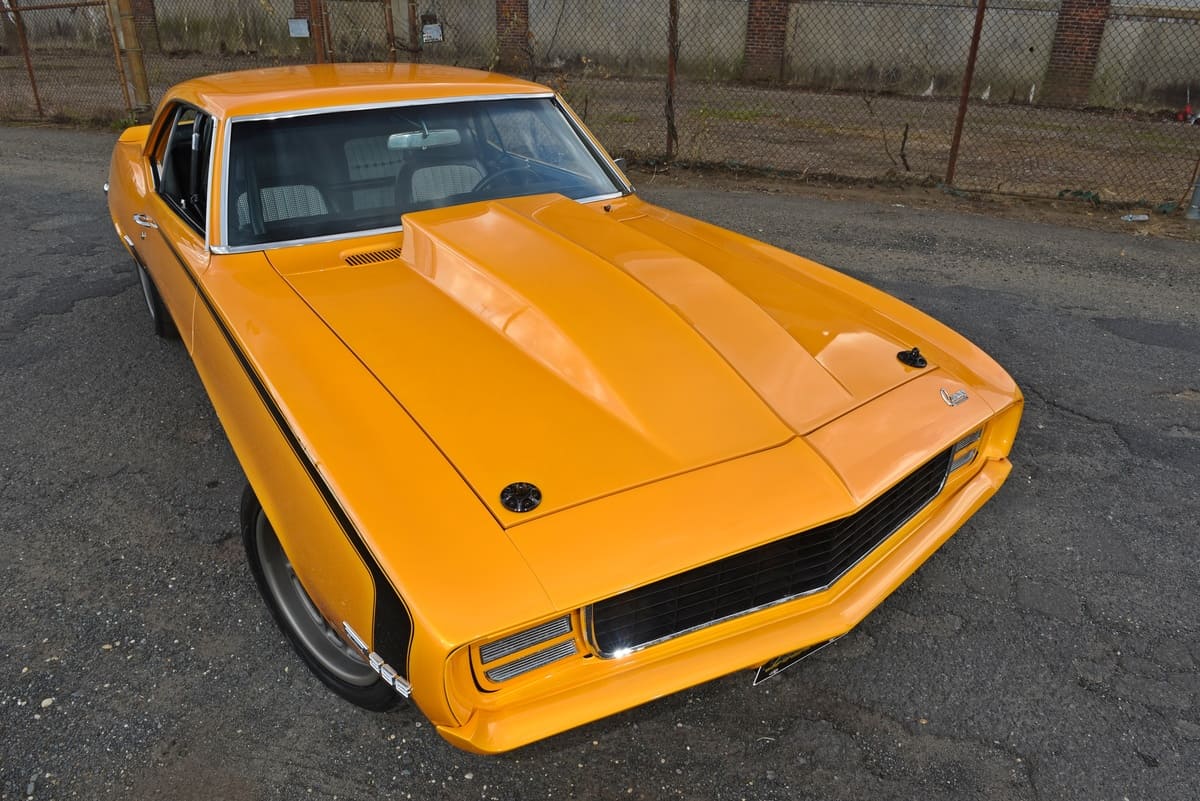 Now, this Camaro was no slouch in its present form, as it was built with a stout 1,000hp 632ci crate engine between the 'rails; a mill ready to do battle on both the street and the 'strip. However, Vinnie soon decided the Camaro needed to be more "user friendly." "After racing it and taking it to shows with my kids, it was too much horsepower to drive reliably as a street cruiser," Vinnie says. So, he decided to transform the car into a more dependable daily driver without skimping on the looks or the horsepower. Game on!
Vinnie understood an LS swap was the best choice for his particular situation. He shipped the car back out to Carpenter, the proprietor of Carpenter's Auto Repair in Rockford, to perform the LS conversion. The duo decided on a nasty, streetable LS3 to replace the 632ci mill. Rated at 625 hp, the 427ci blueprinted crate engine would be plenty-enough power to get this Camaro anywhere Vinnie needed to go. It was built with the factory EFI, a hydraulic cam, and LS3 aluminum heads.
A Be Cool radiator keeps this beast cool even on the hottest Jersey summer nights, and a MagnaFlow 3-inch exhaust system offers the low-end ruble of a true muscle ride. A TH400 built with an ATI converter gets the power to a 9-inch rearend stuffed with a Strange Pro Series aluminum center with 3.70 gears. Mark Williams axles gets twist to the rear meats.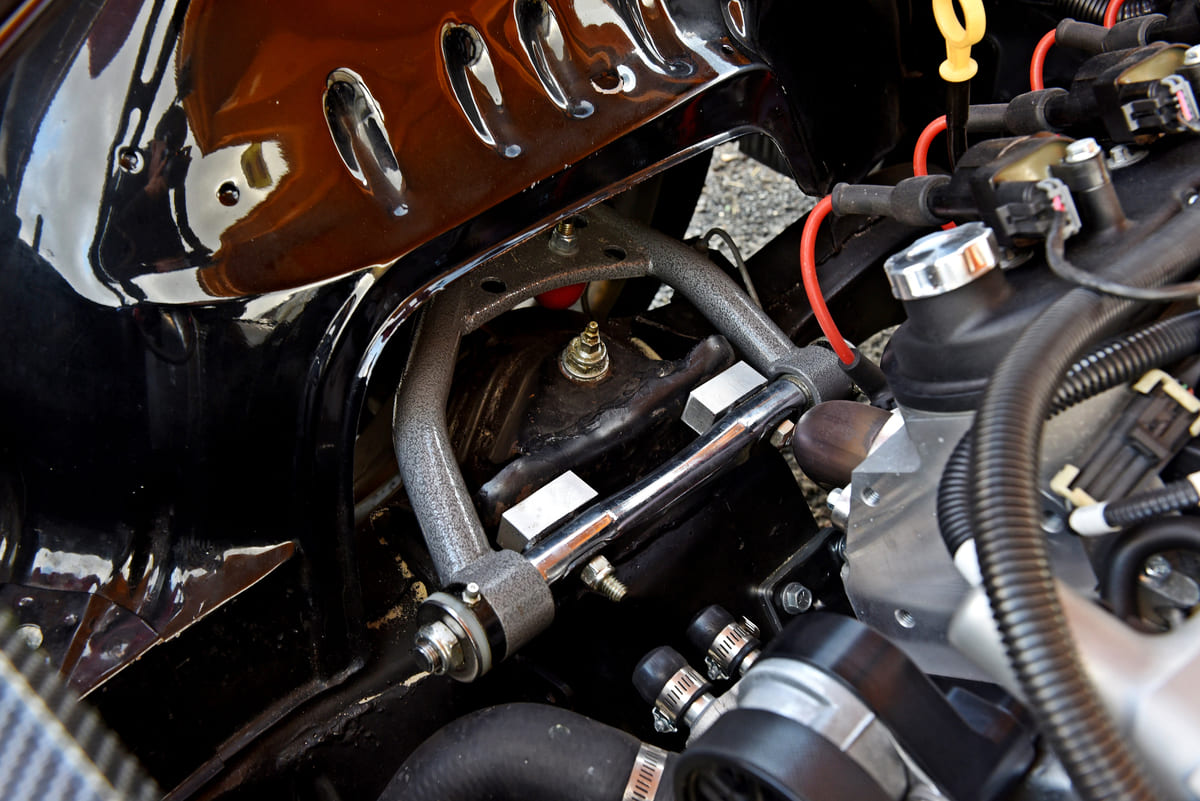 Vinnie went with a Chris Alston's Chassiworks (CAC) suspension system for handling duties. Up front, the G-Street coilover suspension kit went in with a set of VariShock coilover shocks and springs. Out back, he opted for the CAC-canted four-bar rear suspension setup to give him the stance he desired. Stopping power is supplied by Wilwood disc brakes all around. Joe Gambino Race Cars in Keyport, New Jersey, did all the fabrication and installation on this slick F-body.
The interior was kept with an original vibe, as Vinnie went for new houndstooth upholstery on the original bucket seats and a custom-made center console housing a TCI Outlaw shifter. Local guru, John Lee, handled all the upholstery work in the cockpit.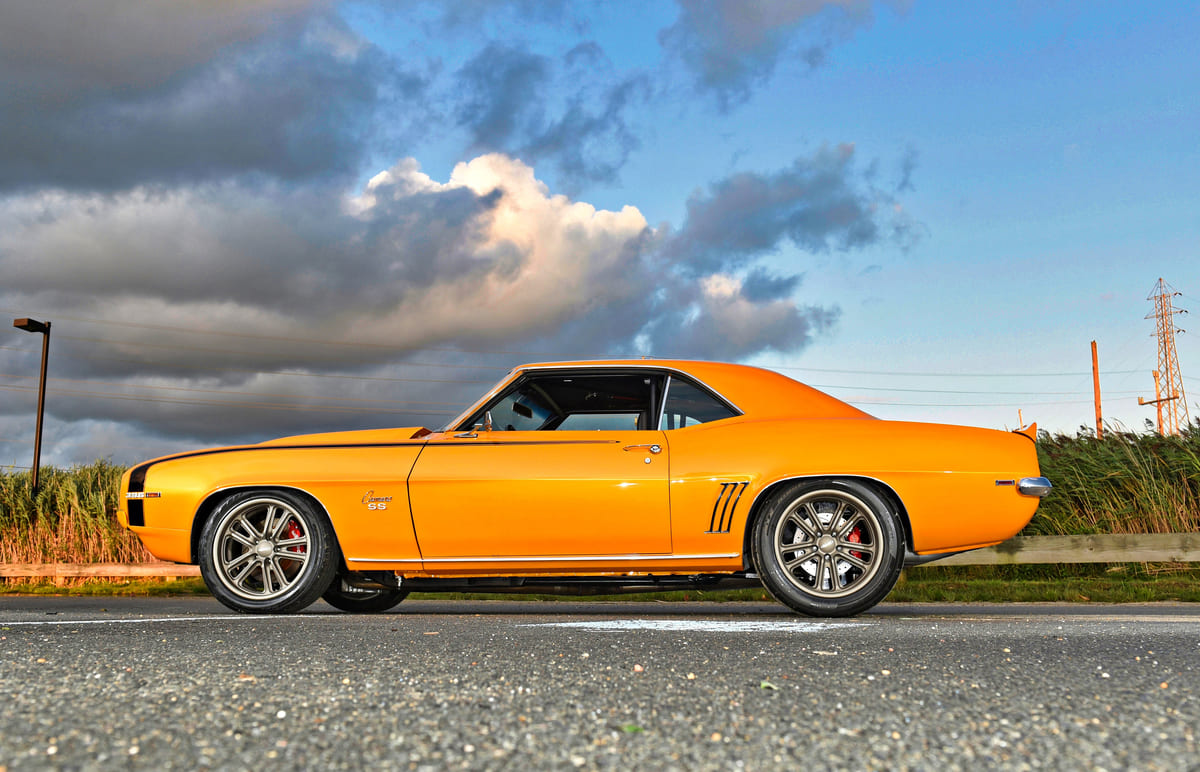 The stunning paint is House of Kolor's Sunrise Pearl in base/clearcoat. It was laid out to perfection by Mike and Linda Kucharski at Kolor Works in Asbury Park, New Jersey. Hockey stripes, 396 callouts up front, and SS emblems were added for an old-school look and feel. To get that Pro Touring vibe, Vinnie went with a quartet of Budnik Pivot wheels; 18×8 up front and 18×10 in the rear. They are shod in Michelin rubber; 245/45-R18 and 315/40-R18 respectively. A 10-point 'cage was installed should Vinnie feel the urge to hit the nearest track for a quarter-mile bust out.
Now finished, Vinnie hits the streets with a vengeance, rolling into the local meets and even some of the bigger regional car shows in New Jersey.
Vinnie proudly owns this car with his son Vinnie Rosato III, each of them taking turns stretching it out on the blacktop.
No telling what the future holds but Vinnie tells us a supercharger will be the next upgrade. We'll definitely be looking forward to seeing the blown version of this badass F-body out on the streets! ACP
TECH CHECK
Owner: Vinnie Rosato
Vehicle: 1969 Camaro
Engine
Type: Stroked LS3
Displacement: 427 ci
Compression Ratio: 11:1
Bore: 4.069 in.
Stroke: 4.125 in.
Cylinder Heads: Blueprinted Aluminum P58015 72cc chambers (2.165-inch intake/1.600 exhaust)
Rotating Assembly: Forged crank, forged 6.125-inch rods, forged pistons
Camshaft: Hydraulic roller 0.624 intake, 0.624 exhaust lift, 239 intake, 255 exhaust duration
Induction: LS3 intake, 90mm DBW throttle body, 42 lb-ft injectors, and returnless fuel rail
Ignition: GM
Exhaust: American Racing stainless headers, 3-inch MagnaFlow pipes and mufflers
Ancillaries: TCI trans cooler, Concept One Billet Pulley System
Output (at crank): 625 hp
Drivetrain
Transmission: TH400, ATI 10-inch 3,500 stall torque converter
Rear Axle: Narrowed 9-inch, 3.70 gears, Strange Pro Series Aluminum center
Chassis
Front Suspension: Chris Alston's Chassisworks subframe, G Street coilover kit (upper and lower control arms and VariShock coilovers), antisway bar
Rear Suspension: Chris Alston's Chassisworks canted four-bar rear suspension
Brakes: Wilwood master, four-piston front, six-piston rear calipers, and 12-inch rotors
Wheels
Wheels: Budnik Pivot wheels 18×8 front, 18×10 rear
Tires: Michelin; 245/45R18 front, 315/40R18 rear
Interior
Upholstery: John Lee
Material: Stock houndstooth vinyl
Seats: Stock
Steering: Grant wheel on stock column
Shifter: TCI Outlaw
Instrumentation: AutoMeter Ultra-Lite carbon-fiber gauges
HVAC: Stock
Exterior
Bodywork: Kolorworks (Asbury Park, NJ)
Paint By: Kolorworks
Paint: House of Kolor
Hood: Harwood 4-inch cowl hood
Grille: Stock
Bumpers: Stock
1969 Camaro Powered by a 625hp LS3