Dave Gagnon's Positively Wicked 1969 Chevelle
By Chuck Vranas   –   Photography by the Author
How many hot rodders can say they still have the keys to their past, owning the one sacred vehicle that sparked a magneto buried deep in their souls, causing a lifelong infatuation with Chevy muscle? For Dave Gagnon of Bristol, Connecticut, the journey started with his dad regularly reading from the book of Bowtie, letting him know that there was nothing finer than big-block Chevrolet power and that every other manufacturer followed their lead. The wicked 1969 Chevelle laid out across our pages showcases the latest iteration of a car that he's owned since he was 14 years old. To say that it's had a journey over the decades is an understatement and, rest assured, we'll let the history speak for itself.
As early as he can remember, Dave fondly recalls spending long days in the family driveway helping his dad, Darrell, with engine and transmission swaps to the family daily drivers, helping him build an interest in everything mechanical. At the same time, his path to school led him by a local garage where a 9-second Camaro would regularly be seen getting prepped for drag racing. This easily fueled inspiration on what could be accomplished with aftermarket parts and custom fabrication. Then a turning point came in 1979 when his dad paid $50 for a used 1969 Chevelle two-door hardtop packing a 307ci V-8 and Powerglide trans. The car proceeded to be family transportation until mechanical problems sidelined it after a couple of years. This led Dave to constantly inquire into its fate. Well, the 14-year-old's persistence finally won him the keys and a chance to begin its first resurrection, starting with pulling the driveline for his first backyard rebuild. A quickie paintjob soon followed with the car serving as the seat for his driver's test and gateway to high school.
Once in school, it wasn't long till the "need for speed" hit, leading to a number of low-buck changes to up the ante on the street, also leading to his first passes at the legendary Connecticut Dragway by the time he was 17. Eventually, he was able to source a fire-ravaged 1969 Chevelle SS to lay the building blocks for converting his car in its second rendition. Along with Dad's help, he added an infusion of 396ci power, TH400 trans, and 12-bolt rear. Plenty of time on the quarter-mile followed till the car was parked in favor of new builds. Soon after, a pair of '41 Willys coupes followed, along with a couple of '69 Camaros.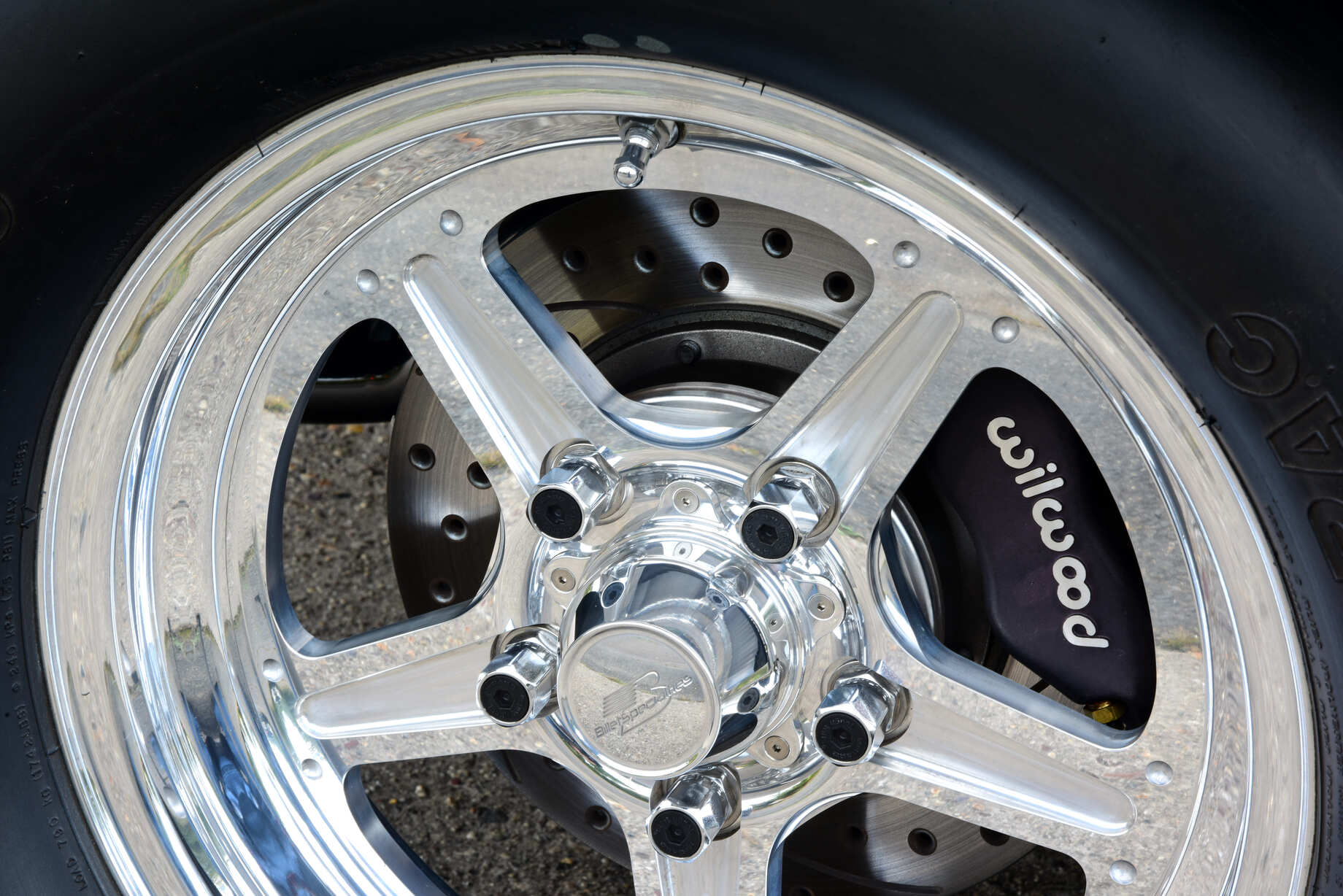 Read More: Joel Russell's 1966 Nova
It's funny how generational ties followed the car with Dave's son, Mitchell, now being the one to persuade him into pulling the car back out to get started on the current version. Third time's the charm, and before long the pair had the Chevelle totally stripped and ready to get started. The frame was blasted clean and powdercoated in satin black to start the journey. Out back a Chris Alston's Chassisworks Fab9 rear was filled with Strange Engineering 4.10 gears linked to matching 35-spline axles. It's suspended in place by a combination of Chris Alston's Chassisworks Pro-Power upper and lower tubular control arms, Competition Engineering adjustable drag shocks, and Moroso springs. For razor-sharp handling, Global West tubular control arms and sway bar meet stock spindles along with Competition Engineering adjustable drag shocks and Moroso springs. To shed speed, a Wilwood dual master moves fluid through stainless lines to matching 11-inch Dynalite Pro-series discs with four-piston billet calipers at each corner. Anchoring it all to the street are a set of Billet Specialties Comp 5 wheels, sized 15×4 front and 15×8 rear, wearing Pro-Trac front tires with Mickey Thompson ET Street rears, respectively.
Wanting to give the Chevelle plenty of gusto for both the street and strip Dave had the perfect formula in mind thanks to all of his past racing experience. He contacted Carlquist Competition Engines (CCE) of Oakville, Connecticut, to build the perfect beast, starting with a Dart Big M aluminum block massaged to 540 ci. It's filled with a Manley forged 4340 steel crank linked to matching forged 4340 steel H-beam rods capped with JE forged aluminum pistons getting bumped by a custom-ground solid roller cam. A set of Dart Pro-1 aluminum heads generate plenty of power, especially when matched to a Dart single-plane intake being topped by a Quick Fuel Q-Series 950-cfm carb fed by a Holley HP Billet mechanical fuel pump. An MSD ignition lights the fire while gases move through Stainless Works headers to a 3-inch stainless exhaust with Flowmaster mufflers. Linked to an Auto Gear Super Case M22 Muncie-style four-speed packing a McLeod dual-disc clutch with billet flywheel, it's all good for a street-pounding 720 hp on pump gas.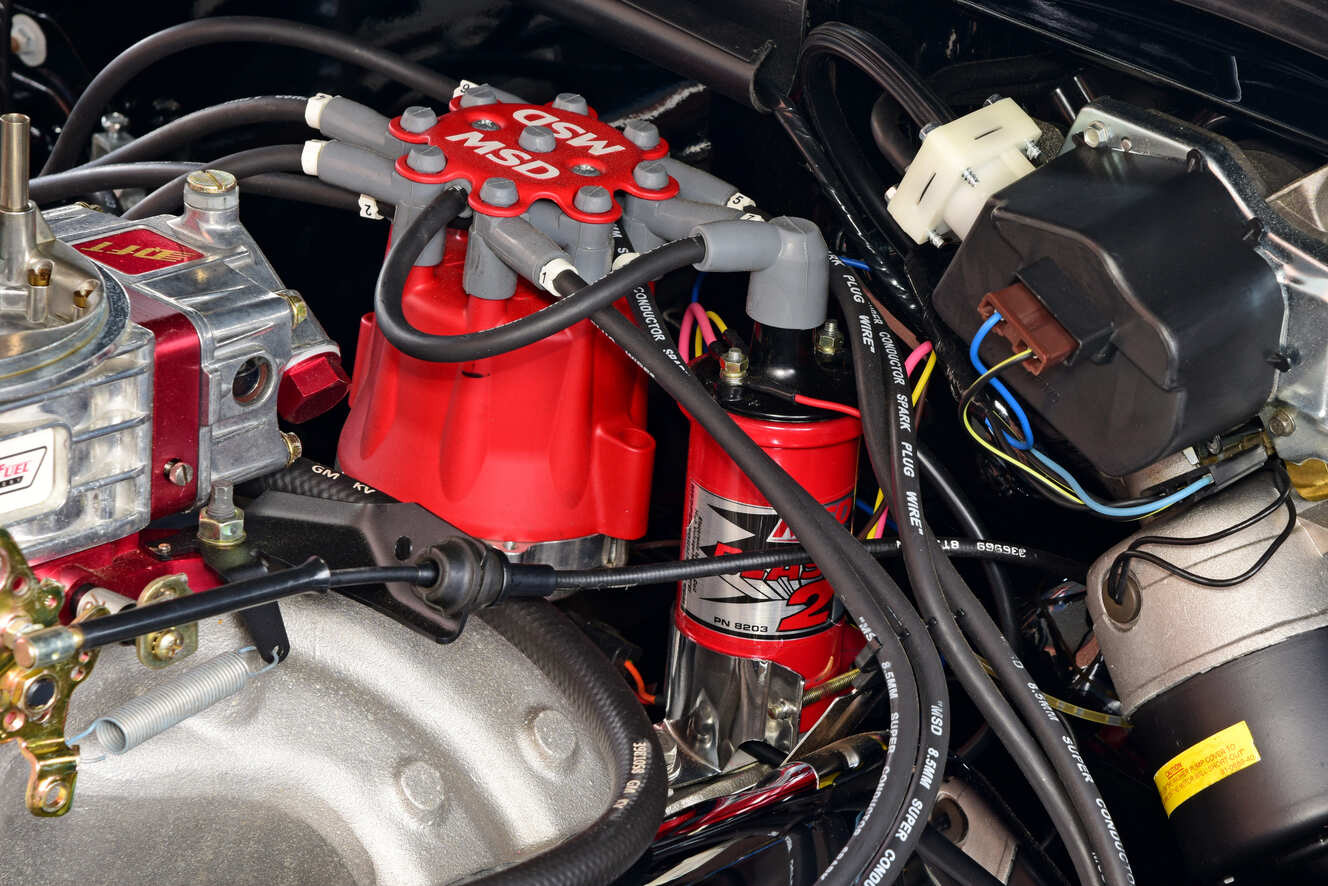 With a car that's served decades of hard use on both the street and strip, it was time to bring the body back to its original glory. Dave had gathered plenty of N.O.S. GM parts over the years in preparation of taking on the task. With the body stripped bare, a set of original quarter-panels were installed, along with fresh doors accented by a matching steel cowl-induction hood. The team at Ron's Auto Madness in Bristol, Connecticut, worked the sheetmetal to a level of excellence while also dialing in the gaps and pepping the body for paint. Ronnie Martin and Mike Dodge did the honors of laying down the vibe, filling their spray guns with R-M Diamont Glacier Blue, bringing it all back to life. Many of the cool bits on reassembly included an original GM grille and trim parts, stainless polishing by Reggie Leroux, and fresh plating to the bumpers.
Updating the business office started with the factory dash being filled with restored original dials along with a set of Stewart-Warner oil pressure and water temp gauges mounted under the dash. A factory rosewood steering wheel carves the course, mounted to the original tilt column, while gears fly through a Hurst Competition/Plus shifter with a Muncie shift arm. To refresh the interior, Dave's Auto Upholstery of Oakville recovered the original seats using a kit from PUI Interiors in the original black vinyl along with redoing the side panels, headliner, and carpeting. Finally, Dave handled rewiring the car with a kit from American Autowire.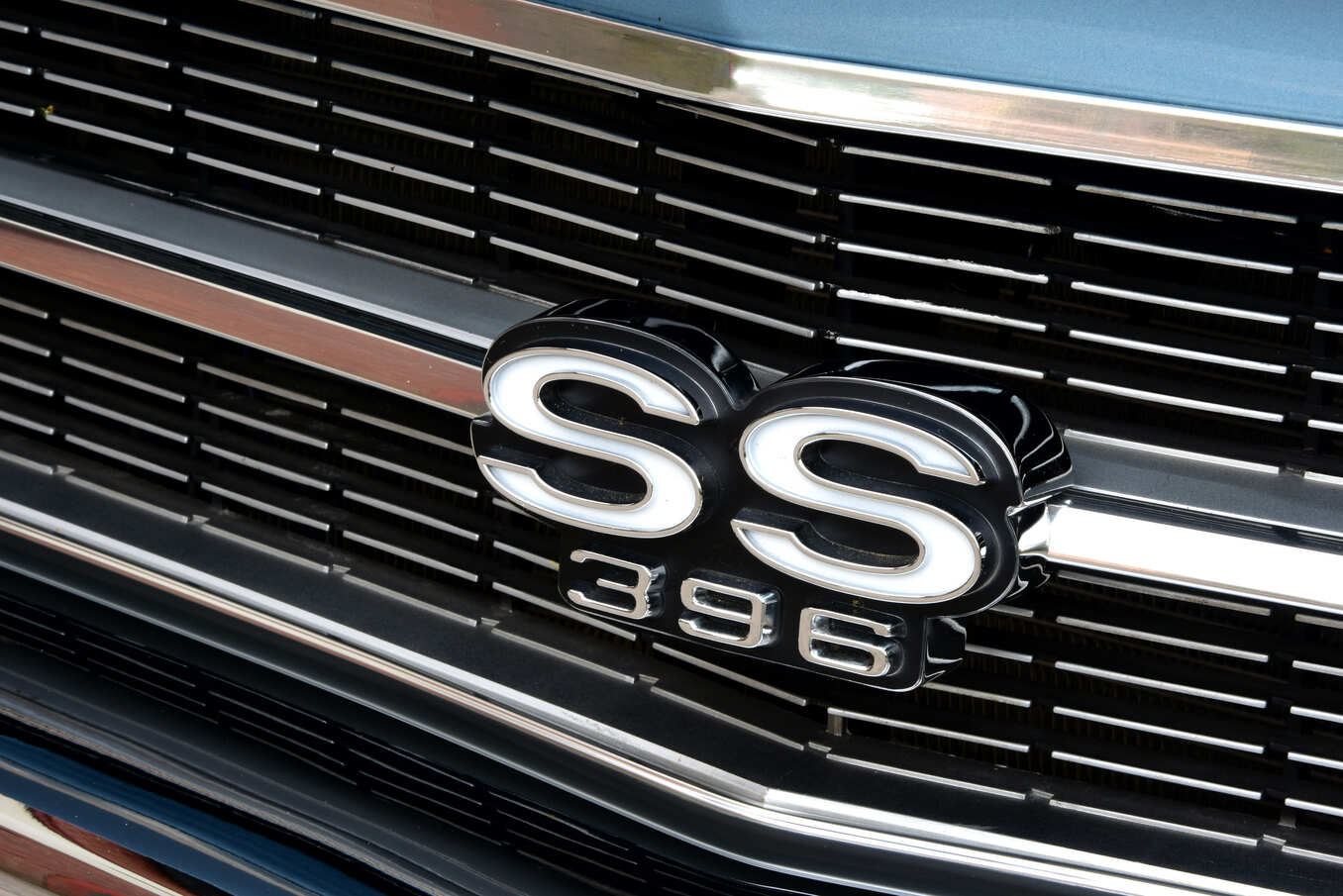 More Reading: 650HP LT4-Powered 1969 Chevy Chevelle
This is one Chevelle with an amazing history showcasing Dave's long-term affair with a car that's ready to see plenty of miles as the decades move ahead. To us that as cool as it gets!
TECH CHECK
Owner: David Gagnon, Bristol, Connecticut
Vehicle: 1969 Chevelle SS 396
Engine
Type: Dart big-block
Displacement: 540 ci
Compression: 10:1
Bore: 4.500
Stroke: 4.250
Cylinder Heads: Dart Pro-1 Aluminum
Rotating Assembly: Manley 4340 steel crank, Manley H-beam rods, JE forged aluminum pistons
Valvetrain: Jesel
Camshaft: Custom-grind
Induction: Dart single-plane aluminum intake, Quick Fuel Q-950 carburetor
Ignition: MSD
Exhaust: Stainless Works headers, 3-inch stainless exhaust, Flowmaster mufflers
Output: 720 hp
Drivetrain
Transmission: Auto Gear Super Case Muncie M22 four-speed
Rear Axle: Chris Alston's Chassisworks Fab9, Strange 4:10 gears, and 35-spline axles
Chassis: Stock, modified
Steering: Borgeson box
Front Suspension: Global West tubular control arms, sway bar, stock spindles, Competition Engineering adjustable drag shocks, Moroso drag springs
Rear Suspension: Chris Alston's Chassisworks Pro-Power tubular upper and lower control arms, Competition Engineering adjustable drag shocks, and Moroso drag springs
Brakes: Wilwood Dynalite Pro Series11-inch rotors, four-piston calipers, front and rear; Wilwood dual master
Wheels & Tires
Wheels: Billet Specialties Comp-5 Model, 15×4 front, 15×8 rear
Tires: Pro-Trac front, Mickey Thompson ET Street rear
Interior
Seats: Stock
Upholstery: Dave's Auto Upholstery (Oakville, CT)
Gauges: Factory plus Stewart-Warner oil pressure and water temp under dash
Steering: Factory rosewood
Carpet: Factory original style
Shifter: Hurst Competition-Plus, Muncie shift arm
Exterior
Paint: R-M Diamont Glacier Blue
Hood: Goodmark steel cowl-induction
Grille: Stock SS