This Family Insists on Keeping it an All-Chevy Crew
By Scotty Lachenauer   –   Photography by the Author
Nick Moscato of Rockville Centre, New York, has been drag racing in the greater New York metro area since he was a teenager. His first weapon of choice out on the blacktop was a brand-new 1965 Mustang coupe, built up with a four-speed and Hi-Po 289 underhood. "I saw the car premiere at the New York World's Fair in 1964. I knew right away I had to have one. It definitely had a lot of power for its time, and I lost very few races once I put it out on the street," Nick states.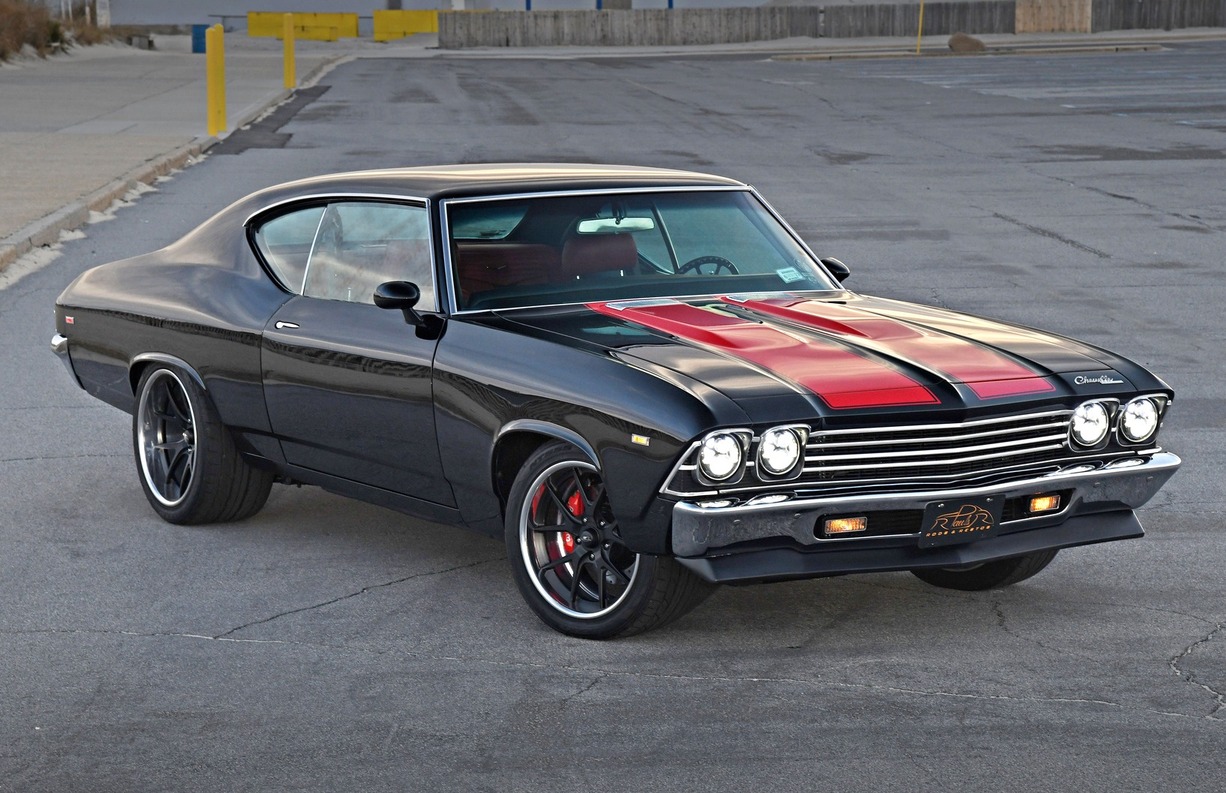 However, after a few years of racing everyone within driving distance of his Long Island home, he had a change of heart. "I went out and bought a 1969 L78 Fathom Green Chevelle off the showroom floor." The reason for his decision was simple: "My brother-in-law drove a nice 1964 Chevelle drop-top and he told me straight out one day that I couldn't buy another Ford. He said we are a Chevy family. Period. That hit a note with me, and I agreed."
The reason for purchasing the A-body Chevelle was simple. It was sporty and fast and was also large enough for raising a family. Well, at least it was better than a Corvette or Nova for certain. That thought alone was important to Nick. That extra room would soon come in handy when he welcomed new additions to his expanding family.
Check out this Chevelle: 1967 Chevy Chevelle Goes From Drag Car To Street Beast
A few years later he made friends with local hot rodder Frank Mungo who was proprietor of Venturi Automotive, an established repair shop in Baldwin, New York. "We soon became partners in a 1970 Chevelle convertible. When we cruised, I would drive my 1969 and Frank dove the 1970. From there my collection kept growing. At one point I had five classics, including a 1932 Ford, which I still have."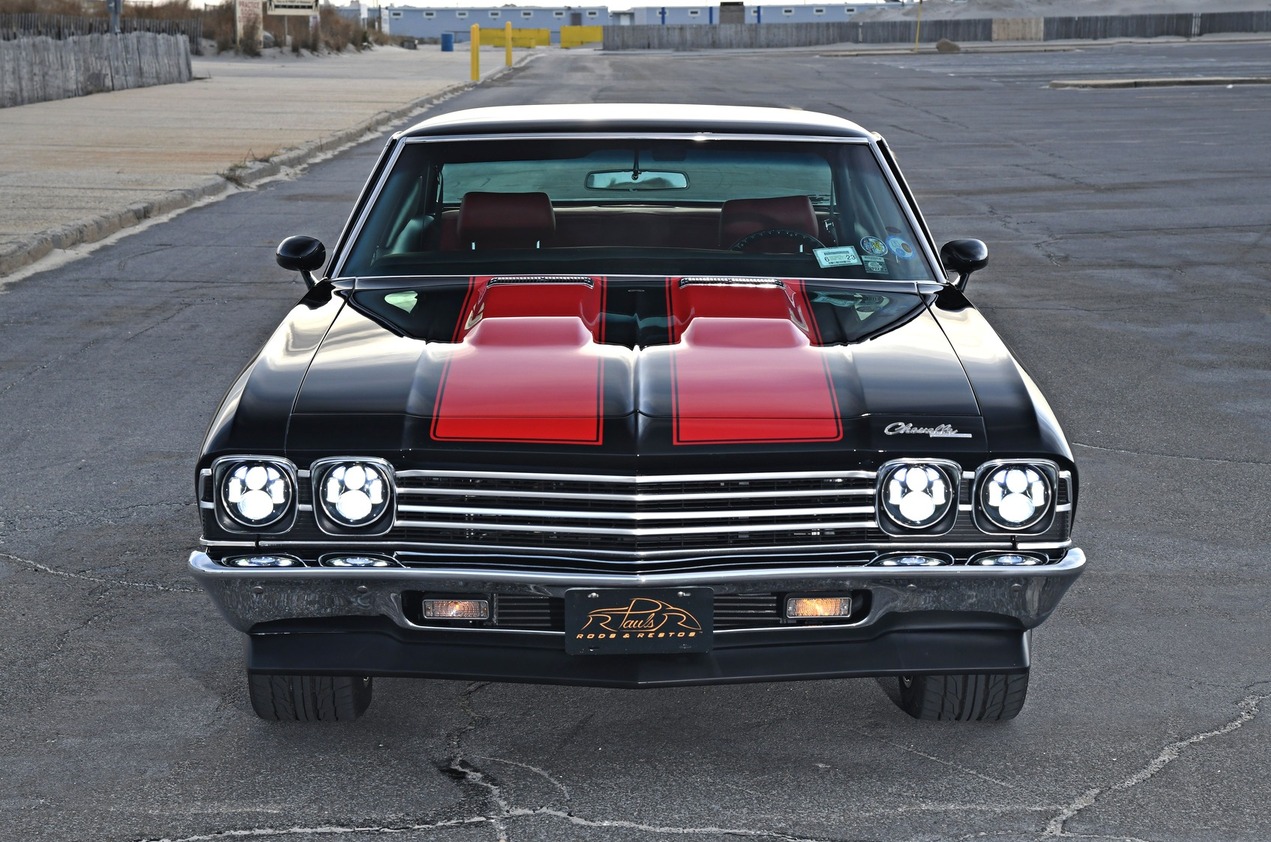 After years of reliable family service, the Chevelle was then retired. Other cars came and went, but for 30 years the Chevelle was kept under Nick's ownership. However, in 1999 Nick did the unthinkable. "I sold most of my collection, including the Chevelle. I regretted selling the Chevy the minute it was gone. Right away I decided to look for another. Just a clean one I could build into a Chevelle restomod. It took two years, but I scored a good straight builder on eBay," Nick states.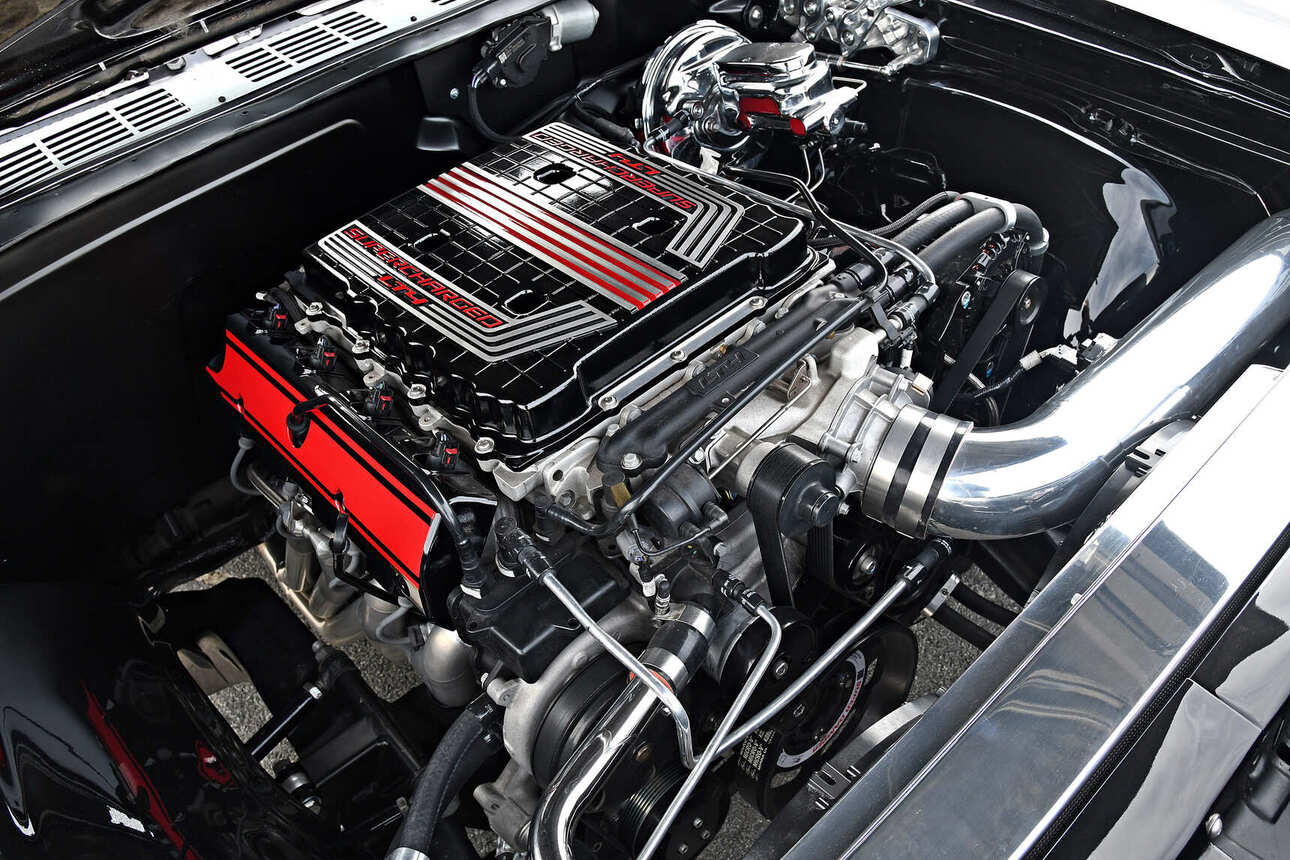 Nick already had a good game plan in place when he purchased his new toy. "When I bought the Chevelle I knew I was going to pull the 396ci engine and install a ZZ502 crate engine from Chevrolet Performance. In addition, I was going to get rid of the four-speed in favor of a TREMEC five-speed. So, I brought the car over to Bill from Cap-A-Radiator in Farmingdale, New York, to do the initial work. Not only did they do the drivetrain, they also replaced the floors and rewired the car to boot," Nick says.
After watching some of the shows appearing on Network TV, Nick started making phone calls to seasoned shops. From there the car went to FantomWorks in Norfolk, Virginia, where Dan Short took the helm of restoring the Chevelle. Plans changed over the course of time. "I was originally going to go with an LS3. In January 2016 [Short] told me about the new 650hp supercharged LT4 that was coming out. I agreed that I would be happier with the blown crate engine and we decided to install that along with a modified 4L85E transmission to get it through the gears."
900HP Chevy II!!!: Check it out here.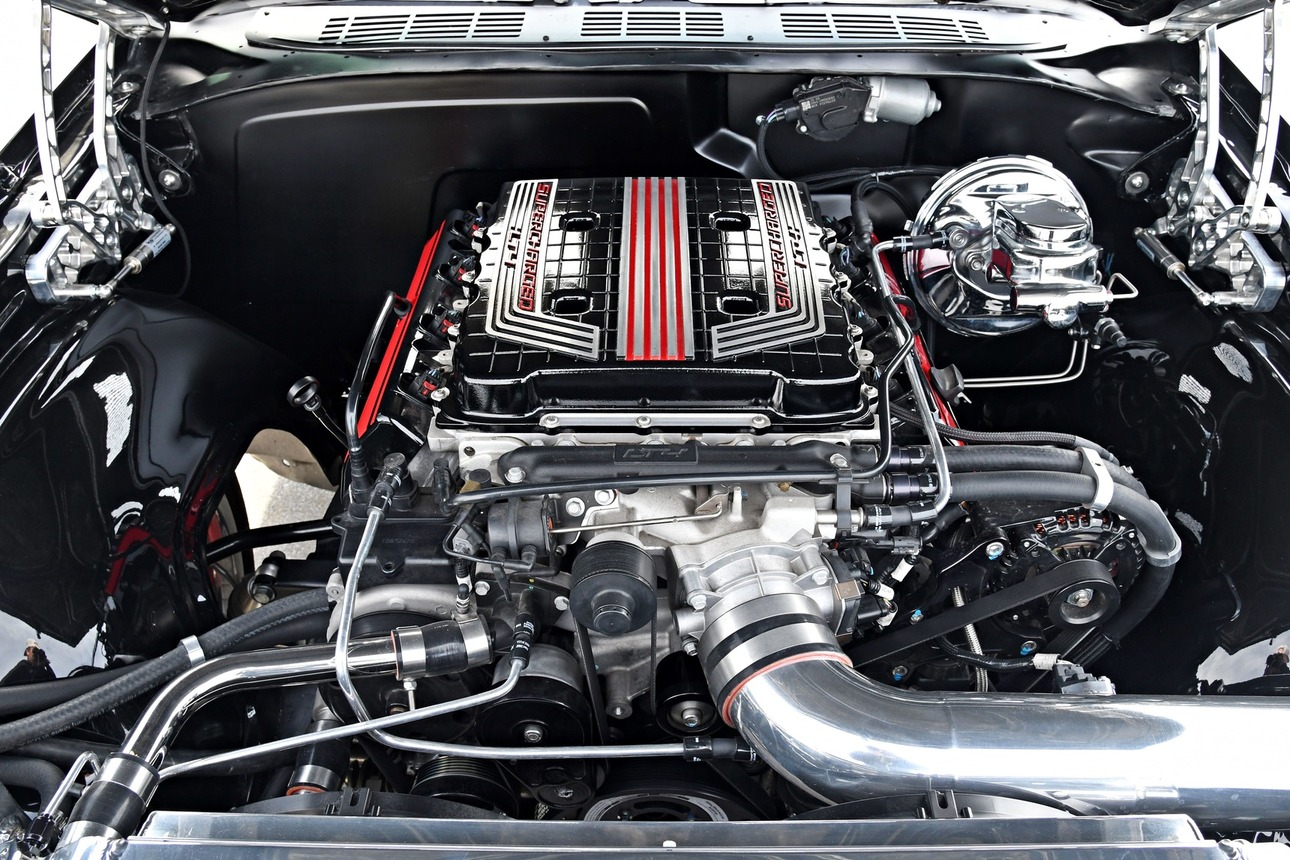 Shoehorning the broad mill into the Chevelle was the next issue. Modifications were needed up front to get the engine to sit properly in the bay. Once set in place, a custom independent front and rear suspension was designed and built for the Chevelle, using Heidts components to help handle the added horsepower. A carbon-fiber driveshaft sends the power out to a built Ford 9-inch rear stuffed with 3.73 gears.
Wilwood disc brakes, fore and aft bring this beast to a stop. Interestingly, Dan chose to go with inline brakes out back to increase braking power where needed. "Due to the design of the IRS, we didn't have much choice but are extremely happy with the results," Nick states.
The car appeared in two episodes of FantomWorks TV series on Velocity, "All Revved Up" and "Beast Mode," which aired in 2016. The finishwork and paint was done by Paul's Rods and Restos in Deer Park, New York. They did the paint, rewired the car, added LED lighting, and restored the firewall. They also dressed up the engine bay, modified the suspension, and made room for wider tires and wheels—Billet Specialties Prism in 18×10 up front and 19×12 out back. They also added a polished stainless steel exhaust, capping it off with a pair of MagnaFlow mufflers to get just the right tone.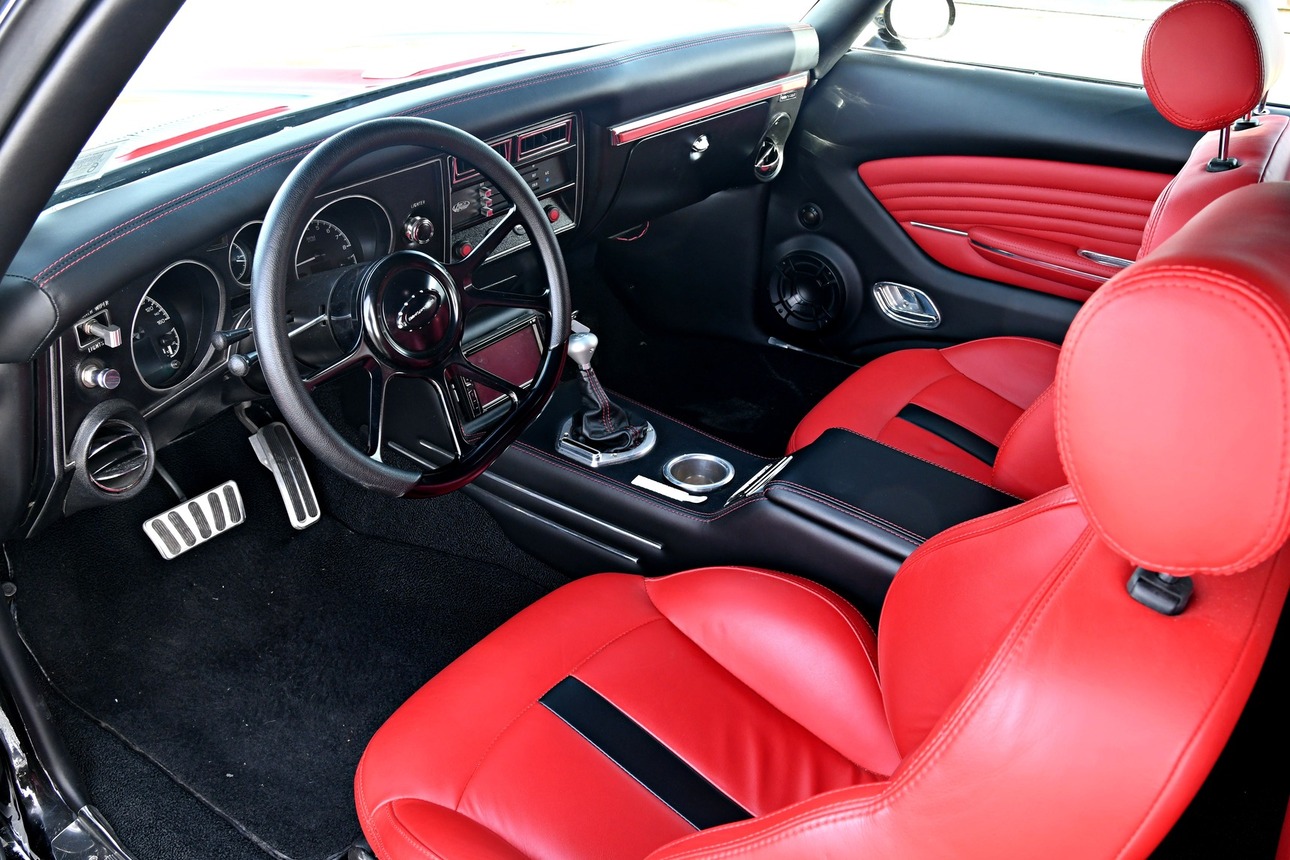 The interior also got some love. Paul's installed a new leather interior, Procar front seats, custom-made steel console, placed the window switches on the console to clean up the door panels, installed a Dakota Digital dash, redid the trunk, re-gapped the doors, hood, and trunklid, installed Kindig-it door handles, and added a steering wheel that matched the Prism wheels.
With the modern drivetrain and chassis components, this boosted Chevelle is a joy to drive… and a handful, to say the least. But Nick loves every minute behind the wheel. "When I get in and turn the key, I go from 79 years old to 18 years old in an instant." Nick excitedly admits.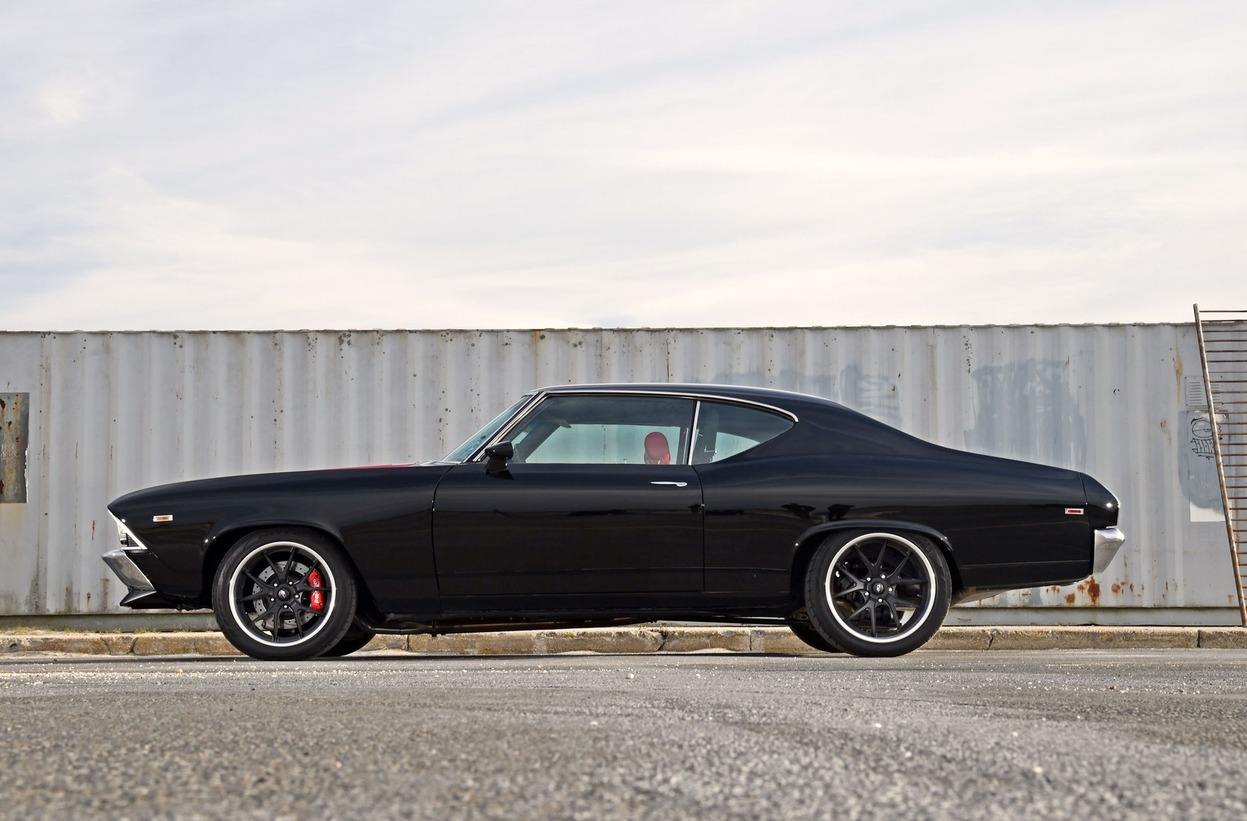 TECH CHECK
Owner: Nick Moscato, Rockville Centre, New York
Vehicle: 1969 Chevy Chevelle
Engine
Type: Gen V small-block V-8
Block: Aluminum
Displacement: 376 ci
Compression Ratio: 10:1
Bore: 4.065
Stroke: 3.622
Cylinder Heads: Roto cast A356T6 aluminum
Rotating Assembly: Forged steel crankshaft, Forged aluminum pistons, forged powder metal steel connecting rods
Valvetrain: Hydraulic Roller lifters, Beehive valvesprings, Die Cast Roller Fulcrum rocker arms
Camshaft: 12642245 Billet steel cam
Induction: 87mm throttle body, cast-aluminum intake manifold, 1.7L Eaton R1740 supercharger
Ignition:  LT4 engine controller
Exhaust: Stainless steel exhaust manifolds, stainless steel exhaust, MagnaFlow mufflers
Output (at crank): 650 hp
Drivetrain
Transmission: 4L85E
Rear Axle: Ford 9-inch with 3.73 gears
Chassis
Front Suspension: Heidts independent suspension, rack-and-pinion steering
Rear Suspension: Heidts custom independent rear suspension
Brakes: Wilwood 11.5-inch rotors and four-piston calipers front and rear; rear setup inline style
Wheels & Tires
Wheels: Billet Specialties Prism 18×10 front, 19×12 rear
Tires: Nitto 245/45R18 front, 305/35R19 rear
Interior
Upholstery: Custom
Material: Red/black vinyl/leather combination
Seats: Procar buckets in custom upholstery
Steering: Billet Specialties
Shifter: Lokar
Dash: Dakota Digital
HVAC: Vintage Air
Exterior
Bodywork and Paint: Paul's Rods and Restos (Deer Park, NY)
Paint: PPG GM black, GM red
Hood: Stock
Grille: Custom-modified Chevelle by Jimmy of Dunwell Auto Collision (Freeport, NY)
Bumpers: Stock