After Years of Imports, this Guy Builds a Brutal Chevy Nova
By Scotty Lachenauer – Photography by the Author
Joe Tavellas's story starts out like many of us in the automotive hobby. As he tells it: "My background on cars and fixing stuff goes back a long way. I've been working on my own projects since I was around 10 years old. Minibikes, dirt bikes, and quads were first on the list. A few years later, I was ready for my first car."
Of course, there was a major "influencer" in the house, and that was his father, Joe Sr; a jack-of-all-trades and an all-around car guy. "I learned a lot from my dad growing up and was always interested in what he was working on at the time. And it was usually a Chevy," Joe states.
However, as he got into his teens, his preferences changed. "Oddly enough, at the age of 16, the craze with my generation was the Honda Civic Bubble Hatchback. I remember telling my father I wanted one. He said 'no way …' but if you want a hatchback, you should get a VW Golf. Long story short, we got a VW for $800, and that's where it started for me."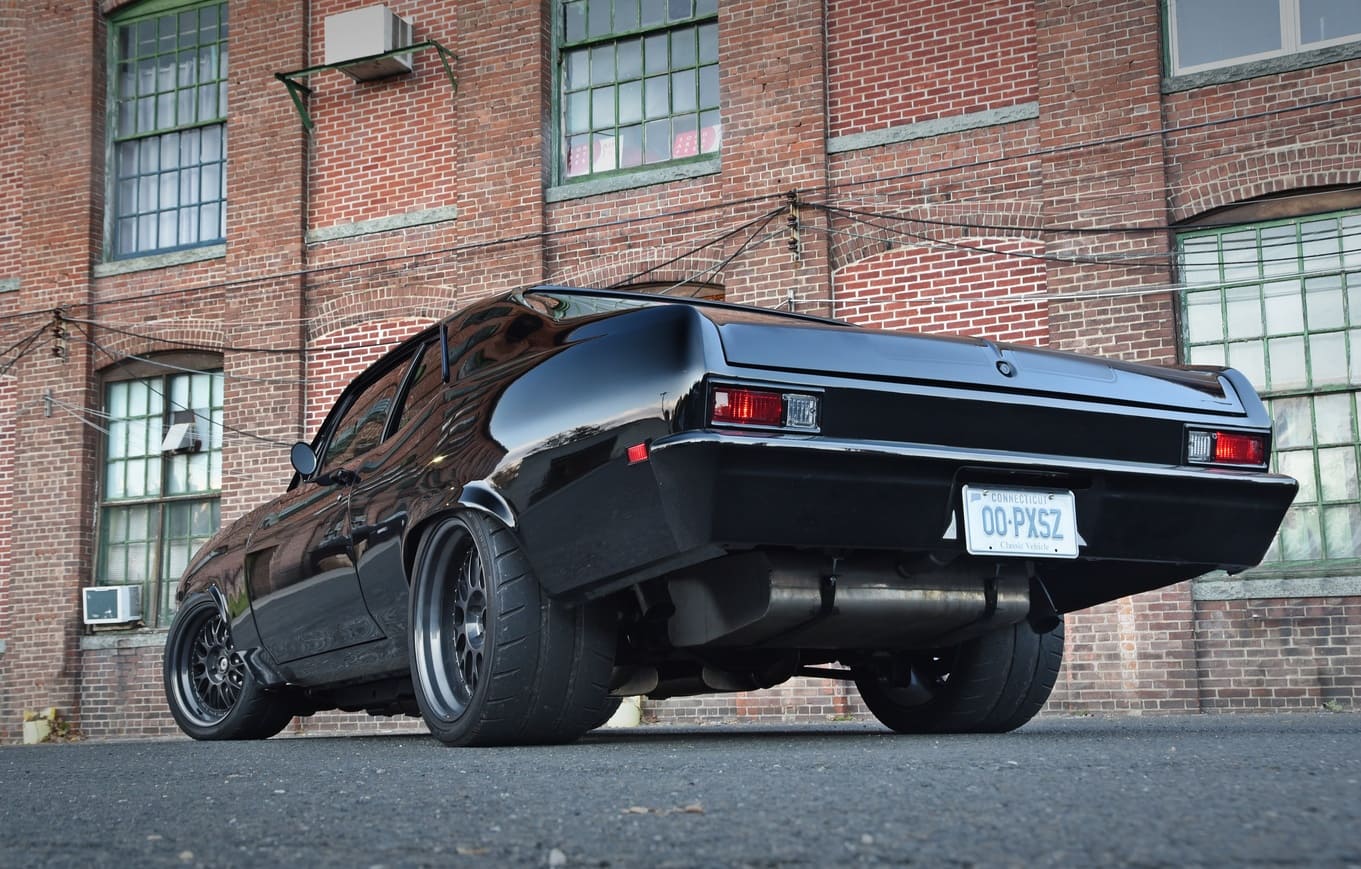 Over the years and through hard work, Joe developed the skills needed to take on automotive projects by himself. He started out by working in several different shops, learning the ins and outs of the body and paint trade. Though he enjoyed his employment and his superiors, he never stayed at one shop too long. "I wanted to better myself and felt I might max out at one place and not advance," Joe says. "Even though I decided to move on, I always parted ways on good terms with my bosses."
Over the years, Joe put his new skills to good use building some interesting VWs, which garnered acclaim Online and in print. "My dad and I built a huge garage in the backyard," Joe explains. "That's when all my side work, afterhours work, and custom work started to come into play. I was ready to expand."
After years in the import scene, Joe had a change of heart. "The VW scene got a little boring for me and like my dad says, 'you can only play the same song so many times,' so, I decided to change it up a bit," Joe remembers. "I went back to the family brand and started looking for a Chevy to build."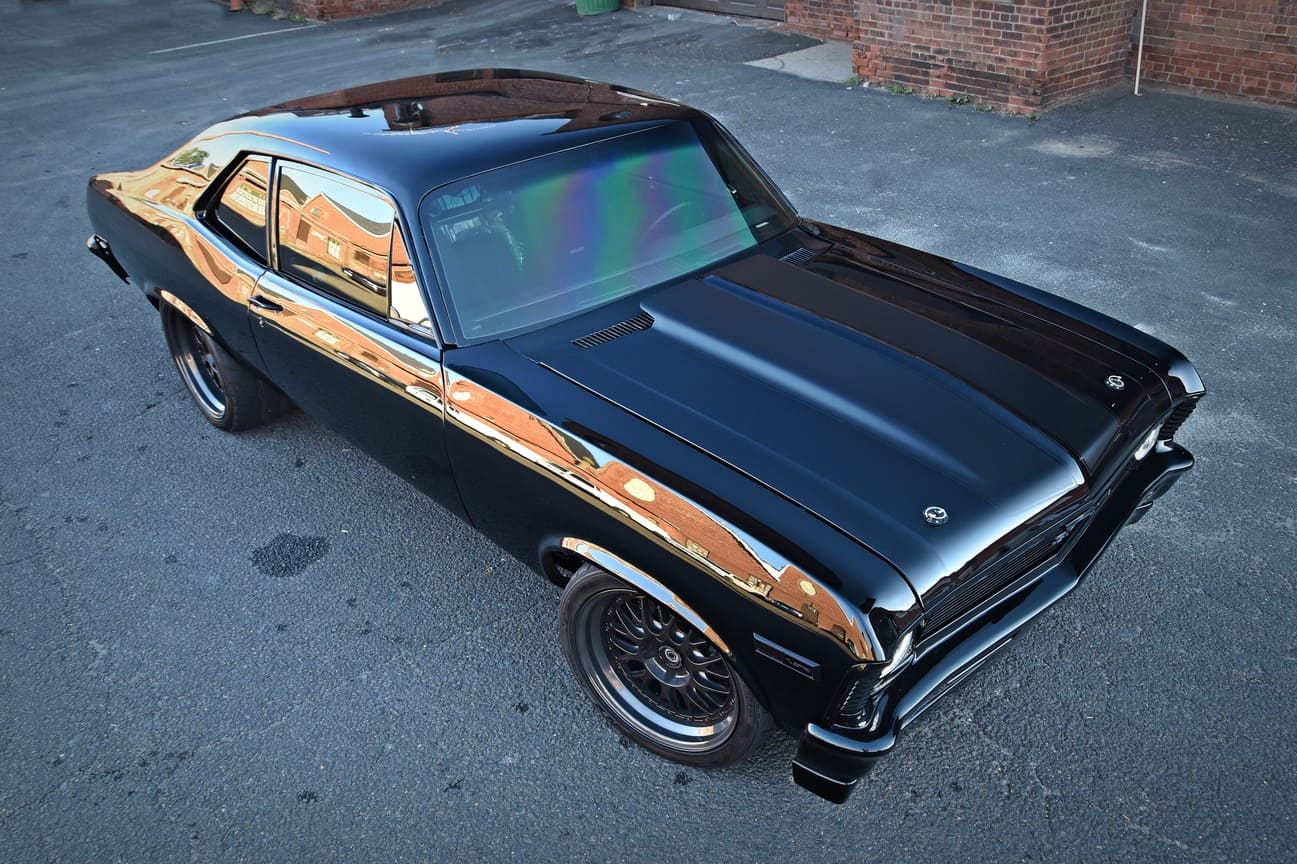 Becoming the owner of this stunning 1969 Nova came indirectly through another project. "I was doing a paintjob on a 240SX for a customer. It just so happens his brother was also looking for some paintwork on his Nova. It was a solid-looking SS 396," Joe states. "I gave the Chevy's owner an estimate on the work and he told me if he decided not to have it painted, he was going to sell it."
The following week the owner told Joe the Nova was for sale. Knowing that his brother owed Joe $7,500 for work he performed on the 240SX, the owner offered the car up to Joe to pay off his sibling's bill. "The next day I brought my dad down to see the car. He was impressed and we quickly sealed the deal and brought it to our freshly built shop. I was ready to roll on this project," Joe excitedly states.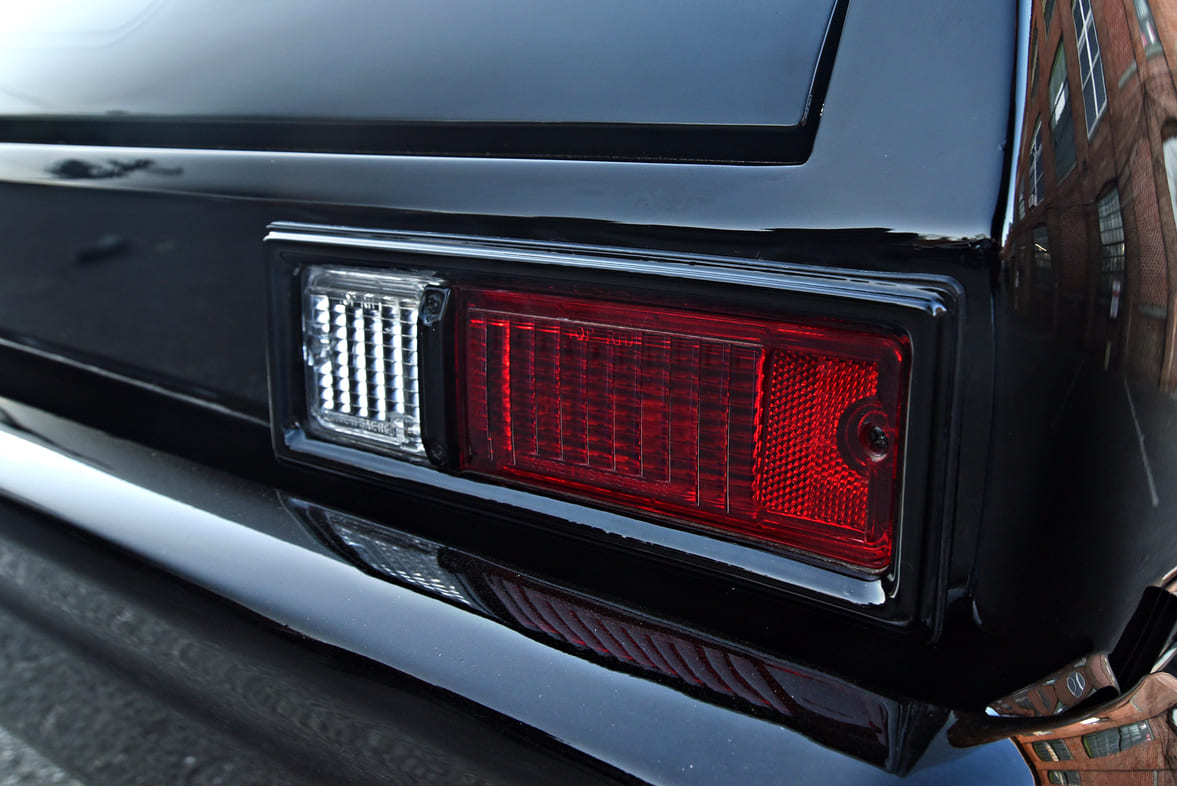 First obstacle Joe hit was right after teardown. "We sandblasted the car and found someone welded the quarters on with way too much heat and warped them beyond repair," Joe says. "So, we bought a new set and welded them on properly. Then they deemed the doors unusable and just ended up buying all-new sheetmetal, including fenders, doors, and a tail panel.
The hardest part of the build might come as a surprise as Joe really wanted an LS between the 'rails. "Getting my dad to come to grips with my vision was a big challenge," Joe states. "However, he soon gave in and agreed on the modern mill, so the non numbers-matching drivetrain the Nova came with was sold to make room for the new powerplant.
That money helped purchase the current engine. "I ended up purchasing a 6.0 LS off eBay for our transplant. It was then fully built up to my specifications." Joe goes on, "After that we decided it still didn't have enough power, so we ended up buying a ProCharger supercharger." A T56 was added to run this nasty Nova through the gears. It feeds a Strange 9-inch rear out back, stuffed with 3.89 gears.
The twosome spent some late nights ogling the Detroit Speed website shopping for some top-notch suspension parts. First up was their QUADRALink setup, followed by subframe connectors, mini-tubs, and more odds and ends.
The final stages of the build included mocking up the back end to stuff a set of 335s on a 19×12.5 wheel. They then cleared a set of 255/40s up front on an 18-inch wheel to get the look they were going for.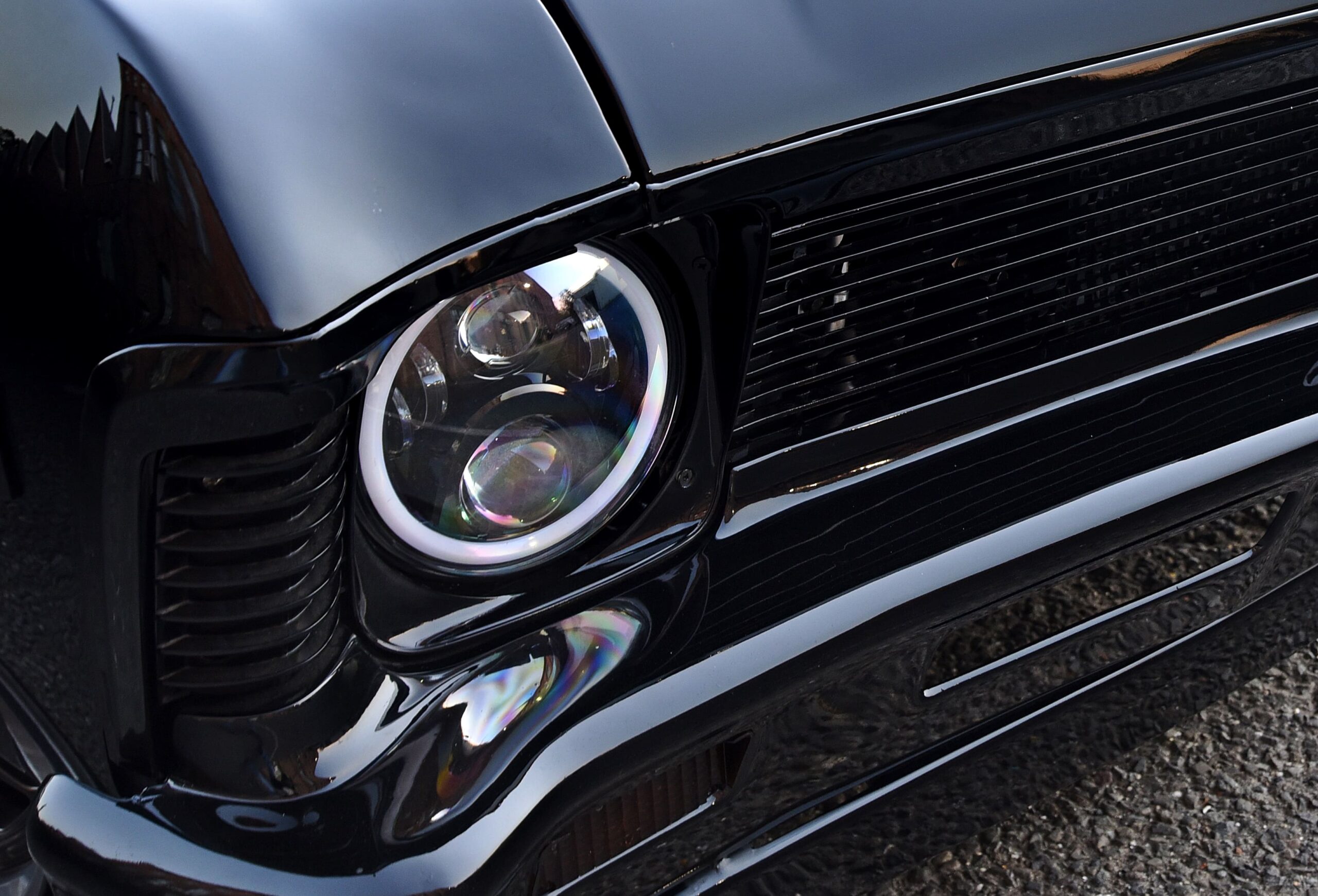 Finishing off the Nova is a stunning black paintjob that took all of Joe's skills to pull off. "We painted the car and it's straight as an arrow." Joe said. "It really pays off taking your time when you're doing black paint." Seamless windows add to the overall look and complement the flawless, smooth-as-glass paintjob.
Once on the street, the Nova did not disappoint. "It handles like a modern car but has plenty of power on hand to do anything I want. It's just an amazing ride," Joe says.
We asked Joe if he has any future plans for the Nova. "I'm definitely going to try and squeeze some more horsepower out of it. First thing will be to switch out to a smaller pulley to add a little more boost to the LS, then we'll go from there!"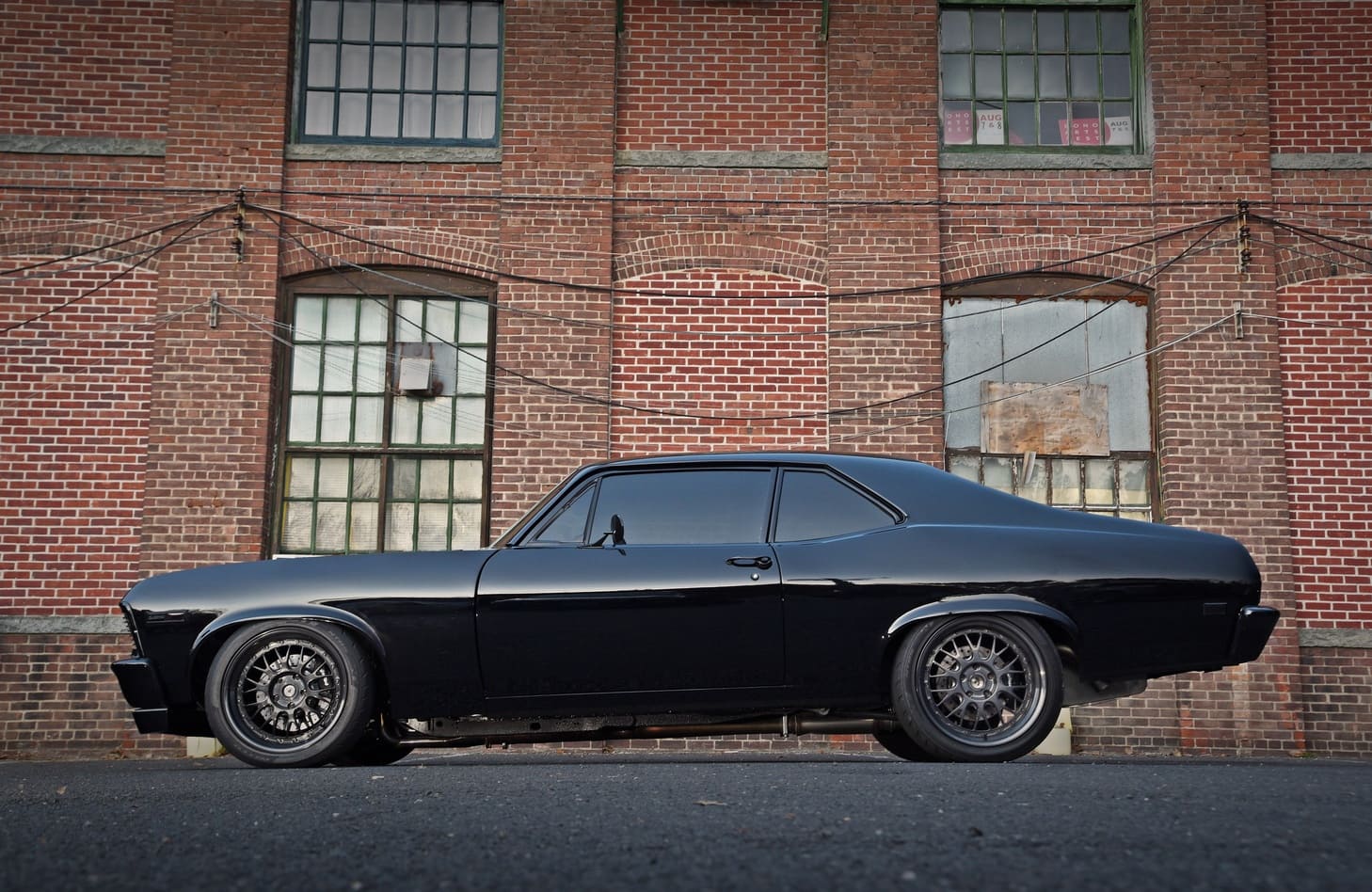 TECH CHECK
Owner: Joe Tavella, Norwalk, Connecticut
Vehicle: 1969 Chevy Nova
Engine
Type: LS2
Displacement: 6.0L
Compression Ratio: 10.9:1
Bore: 4.00
Stroke: 3.62
Cylinder Heads: Laser-ported 243 heads
Rotating Assembly: Wiseco pistons, Eagle rods, stock balanced steel crank
Valvetrain: Brian Tooley BTR Trunnion Rocker Arm Upgrade
Camshaft: Brian Tooley Supercharged Cam
Induction: Sharp high-rise intake, 102mm throttle body
Engine Management: Megasquirt MS3Pro
Exhaust: Custom Pypes stainless steel exhaust
Ancillaries: ProCharger supercharger kit
Output (at crank): 650 hp
Drivetrain
Transmission: TREMEC T56
Rear Axle: Strange 9-inch 3.89 gears
Chassis
Front Suspension: Detroit Speed control arms, sway bars, drop spindles QA1 coilovers
Rear Suspension: Detroit Speed QUADRALink, rear sway bars and rear crossmember
Brakes: Wilwood Big Brake kit
Wheels & Tires
Wheels: Custom Fifteen52 three-piece forged
19×12.5 rear 18×9 front
Tires: Nitto 335/30R19 rear, 275/35R18 front
Interior
Upholstery: New stock carpet and door panels
Material: Vinyl
Seats: Recaro Trophy
Steering: Rack-and-pinion power steering
Shifter: Stock T56
Dash: Stock
Instrumentation: Dakota Digital
Audio: RetroSound head unit, Rockford speakers
HVAC: Vintage Air
Exterior
Bodywork: New floors, quarter-panels, doors, fenders, stretched rear wheel arches
Work by: Owner
Paint by: Pito Pagon
Paint: Spies Hecker
Hood: 2-inch cowl hood
Grille: Stock, blacked out
Bumpers: Fiberglass front bumper rear shaved color-matched metal bumper