A 200mph, 1,200-plus horsepower twin-turbo 482-inch Pontiac 1969 Firebird
By Brian Brennan   –   Photography By John Jackson
Artwork By Victor Fulton Designs
If you grew up near a dragstrip you always dreamed of having a dual-threat hot rod. You know your dream ride, one that would get you back and forth from school in "kool" style and one that was quick enough to have fun on the weekends. Brad Sather has such a hot rod. His '69 Pontiac Firebird can be driven on the street, but its goal is a bit loftier than a dragstrip. You see, his '69 Firebird is very capable of registering speeds into the triple digits. To be exact, the Firebird has seen 199.027 mph (203 mph past the traps) at the "flying mile" Harvest 2022 event hosted by ECTA Motorsports.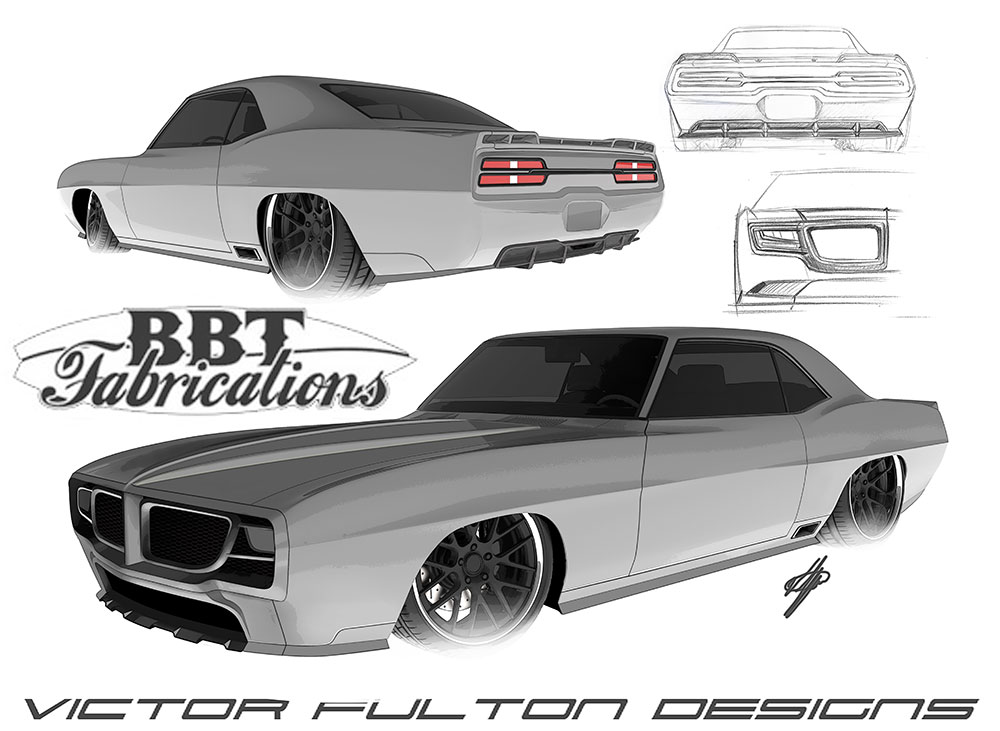 There are plenty of street-quick Firebirds, but we doubt there are many, if any, that are as proficient as Brad's Pontiac. Not only is it capable of 200 mph and can be street driven, but it too is a truly amazing build and is a champion on the street, under the lights, and the track. You see, it is a multiple-award-winning ride. The Firebird has captured a Top 10 at SEMA's Battle of the Builders, PPG Street Machine of the Year at Goodguys, the Triple Crown of Rodding's Best Street Machine, and most recently, it won the 2023 Barrett-Jackson Cup.
Read More coverage of the Barrett-Jackson Cup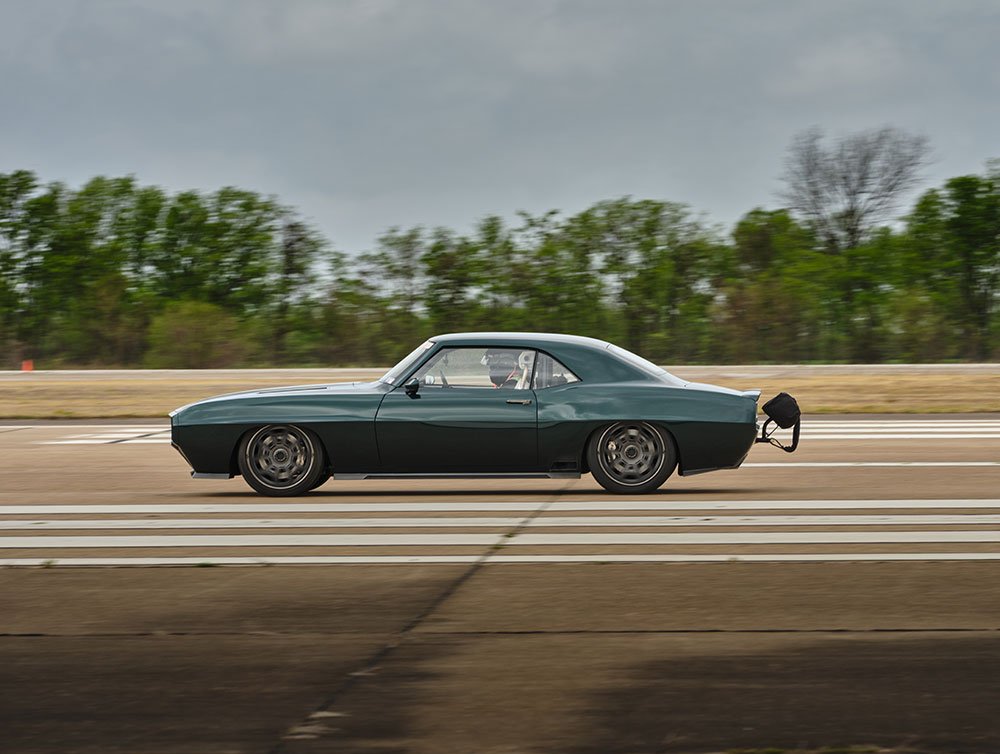 So, what did it take to get our '69 Firebird this far? How about a "mere" 8,000-plus hours under the guidance of Troy Gudgel and the crew at BBT Fabrications in Mahomet, Illinois. Of course, for the true hot rodder, the fact that 1,000-plus Cleco fasteners were used during the build is even more fascinating (to me!).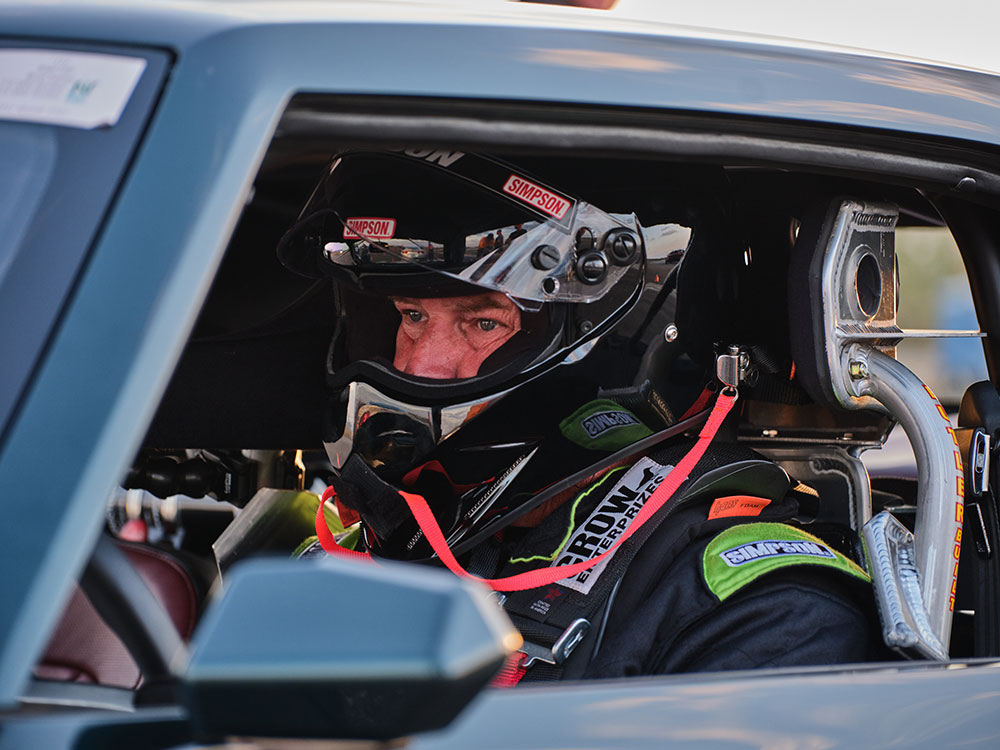 Since we've made a "big deal" out of the performance aspect, let's begin with the V8 engine. Butler Performance has an extensive history of building potent Pontiac V8s. The big-block sitting under the hood and between the Roadster Shop frame rails is a 1,200-plus horsepower twin-turbo 482-inch Pontiac. Butler Performance used its 1AII aluminum block (all 138 pounds) and topped it with more aluminum via Edelbrock cylinder heads. (The Butler block in its stock configuration comes with a standard deck height, lifter bores, cam bore, and features a 4.245-inch bore, maximum 4.350-inch bore. The block can handle upwards of a 4.750-inch stroke. For the "dream wheel fans this block could see 564 inches.)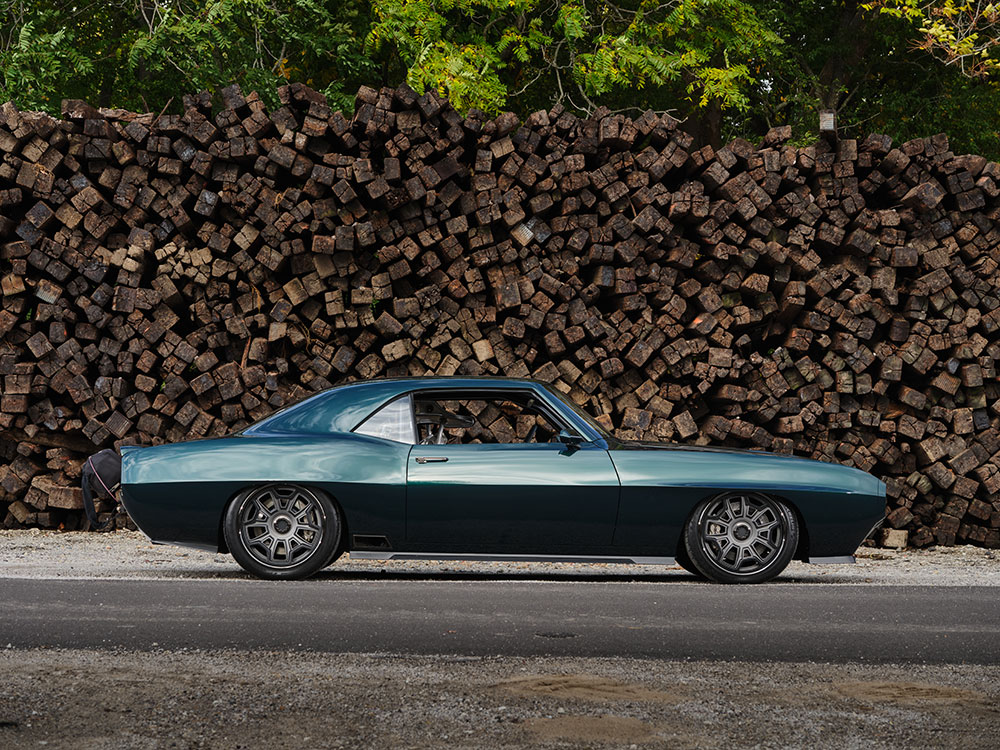 You can always count on turbocharging to bring about mammoth horsepower. In our case, there are a pair of Twin Precision Turbo and Engine 6870 turbos (68mm) managed by a Holley Dominator ECU and tuned by Carma Performance, yielding the 1,200 hp. Inside the reverse dome Ross pistons (-33.75-inch dish) are a custom-ground LSM billet cam and plenty of ARP hardware holding matters together. Getting the spent gasses out falls to the custom exhaust system by BBT Fabrications. BBT worked the Vibrant Performance stainless steel tubing, bends, and accessories to match up to a pair of Borla ProXS mufflers.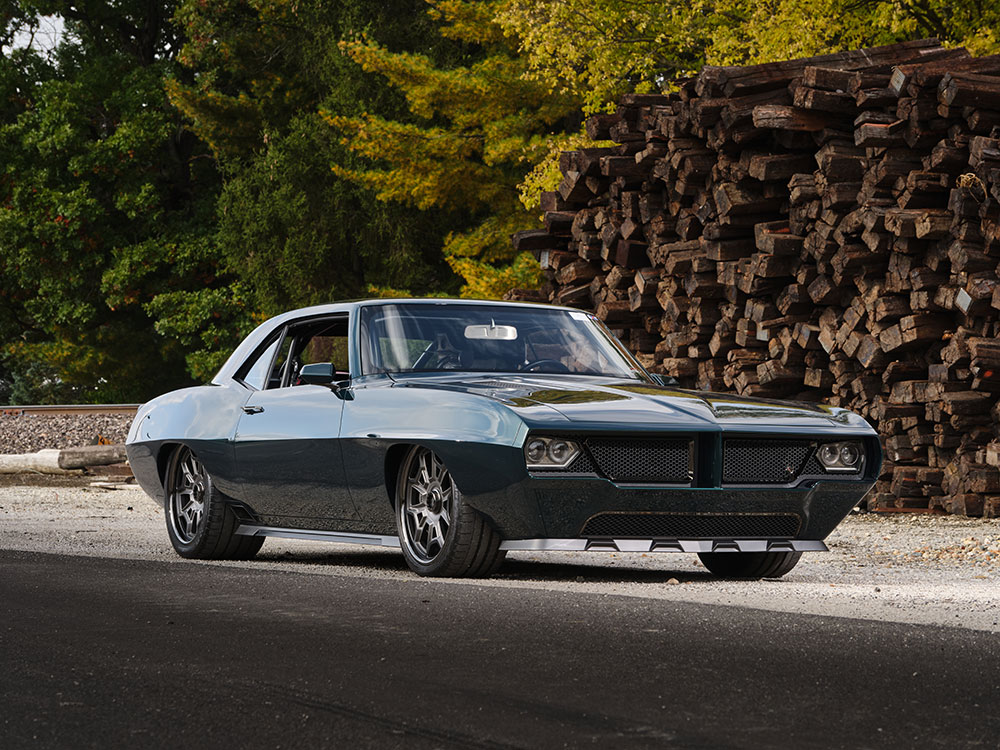 Visible to all are the BBT custom unique valve covers along with the BBT-designed intake that was machined by EVOD Industries. To this a Holley EFI along with a K&N air filter package is added. From here an 7AL-2 Plus MSD ignition control box (features a built-in two-step rev control), an MSD HVC-2 coil, MSD spark plug wires, and an Interstate AGM battery. Other engine accessories include an Edelbrock water pump, a Ron Davis radiator, a Billet Specialties serpentine belt system, a 13-inch SPAL electric fan, a Powermaster alternator, and a Tuff Stuff starter along with a Derale oil cooler.
Read More: Barrett-Jackson Cup 2023 Top 5 From 2023 Scottsdale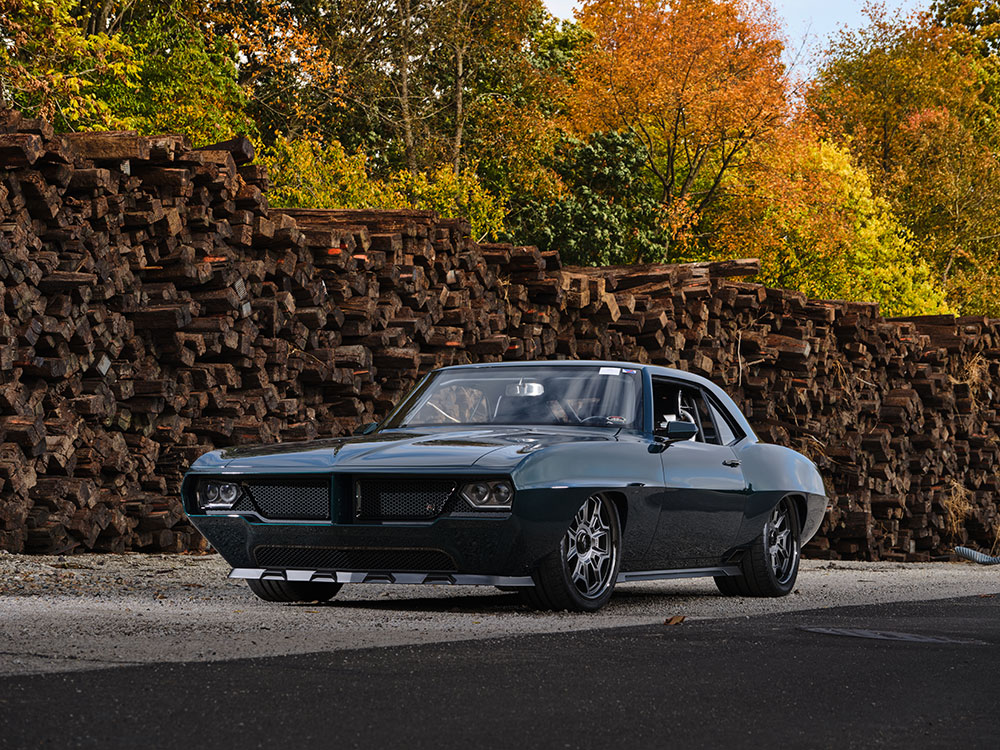 The power is then moved rearward through a Bowler Performance Transmissions–modified six speed T56 transmission, Mcleod Racing RTX twin-disc clutch kit and pressure plate, and then onto an Inland Empire Driveline driveshaft. From here the Roadster Shop independent 9 inch rear end employs Moser 35 spline axles and a set of 3.08 gears. Wilwood can be seen in the rear with 14-inch rotors and four-piston calipers operated by a Tilton 76 series master assembly and a Tilton 600 series under foot pedal assembly. More Penske coilover shocks are used in the rear. The powertrain rests within a FastTrack Roadster Shop chassis that is outfitted with Corvette C6 front spindles, Penske coilover shocks, Roadster Shop 1-1/4-inch sway bar, and Wilwood 14-inch rotors with six-piston calipers. Steering comes by way of a Roadster Shop rack-and-pinion that is wheedled into service through an ididit steering column. More corner appointments include the EVOD Industries unique wheels and the Michelin Pilot Super Sport rubber. The 19-inch (9.5 and 12 inches wide) wheels are wrapped with 265/35R19 and 345/30R19 super performance tires.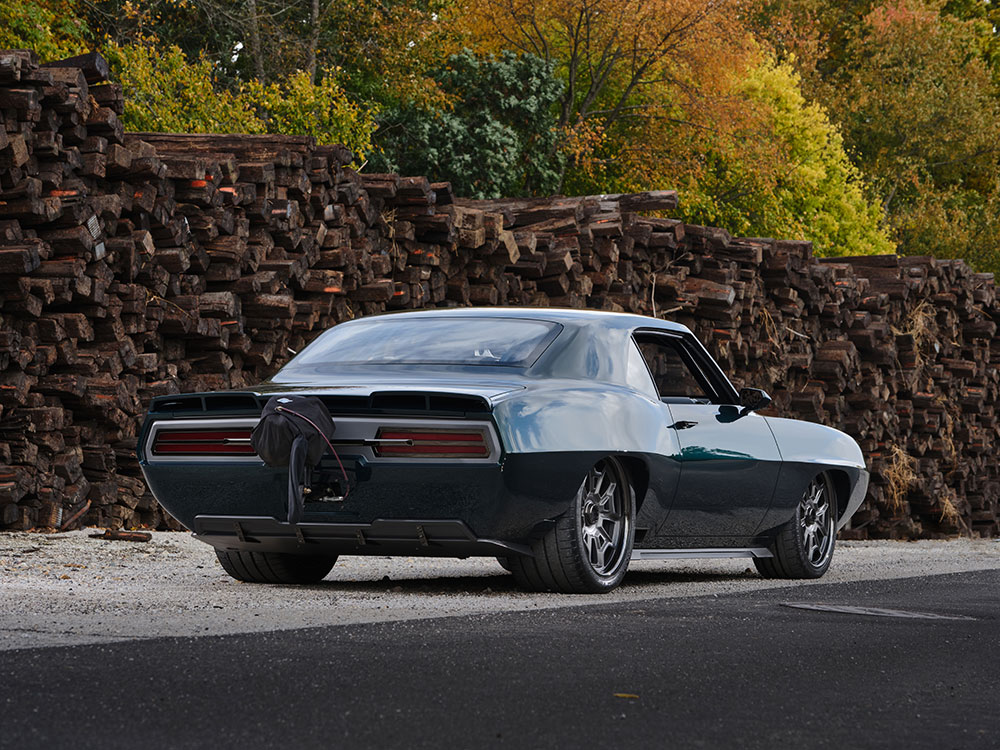 The sheetmetal on this '69 Firebird did receive a thorough going over by the gang from BBT. Immediately you can see that the body has undergone widened fenders (1-1/2 inches each), freshly fabricated rockers, and a custom aluminum hood with vents. More mods include modified quarter-panel body lines, a custom grille, a one-off rear spoiler, and front and rear air diffusers along with a full belly pan. These are modifications we would expect on a car that is easily capable of 200 mph. Another popular modification to cars of this era is the flush mount front and rear glass. BBT was also responsible for crafting the door handles and side mirrors.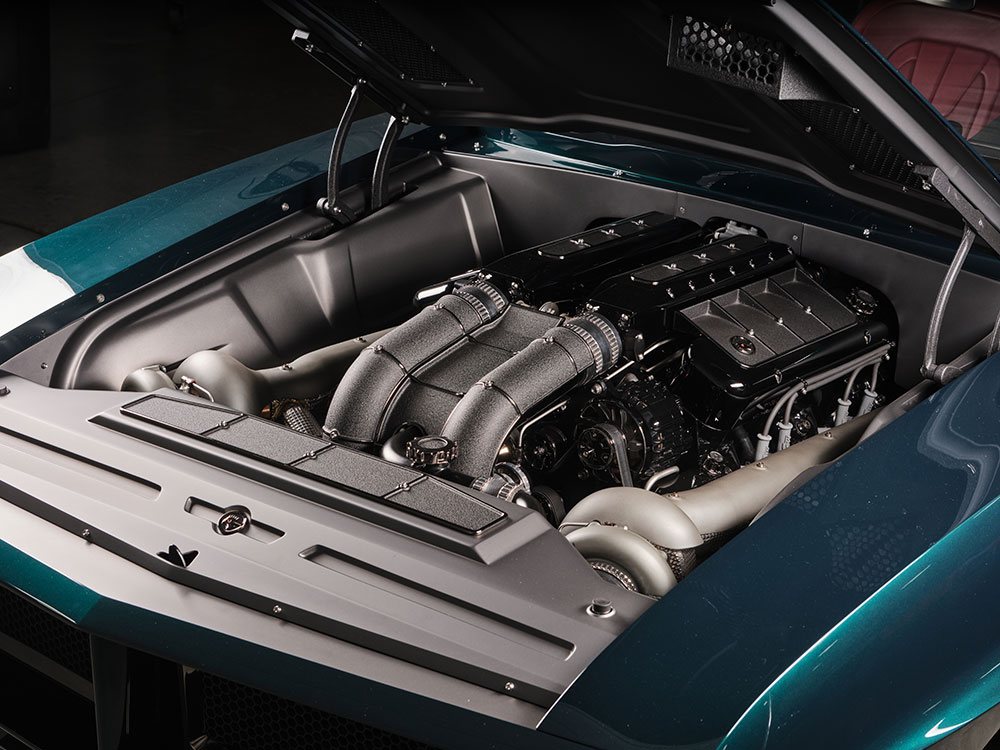 Once the body mods were completed then it was off to spend numerous hours in the BBT body shop working and reworking the sheet metal until it was flawless. From here it was then delivered to Mitch Mumbower of Relic Restomods so that he could apply the PPG McLaren Racing Green. Once painted it was then up to Advanced Plating to add their subtle touch.
Inside rests more amazing artistry designed and built for its dual purpose—ideal for the street and the showroom, but also dialed in for those 200-mph blasts. Starting with the BBT custom-fabricated aluminum dash it is outfitted with Dakota Digital HDX gauges and custom air registers to handle the cool and hot air from the Vintage Air system. BBT and ESP Spares are responsible for the custom-machined gauge cluster trim and the stereo speaker grilles, accompanying AC registers, and the pedals. Wiring the interior as well as the remainder of this hot rod falls to the use of a Coach Controls system wired into use by the BBT staff. From here the dash is fitted with an ididit steering column and a Sparc Industries billet steering wheel. The headliner (more BBT handiwork) consists of aluminum panels that are wrapped in black Alcantara. (Alcantara is a combination of synthetic materials that is well known for its ease of maintenance.) The seating consists of a pair of bucket seats that were made and covered by Cato's Custom Upholstery and swathed in Moore & Giles fine leathers. Cato's also handled the black carpeting throughout. When making those high-speed runs there is a custom racing seat insert that rests in place, allowing Brad to spend time "at the office." BBT then built the rear portion of the passenger compartment with a "rear seat delete" in keeping with the hot rod's performance purpose.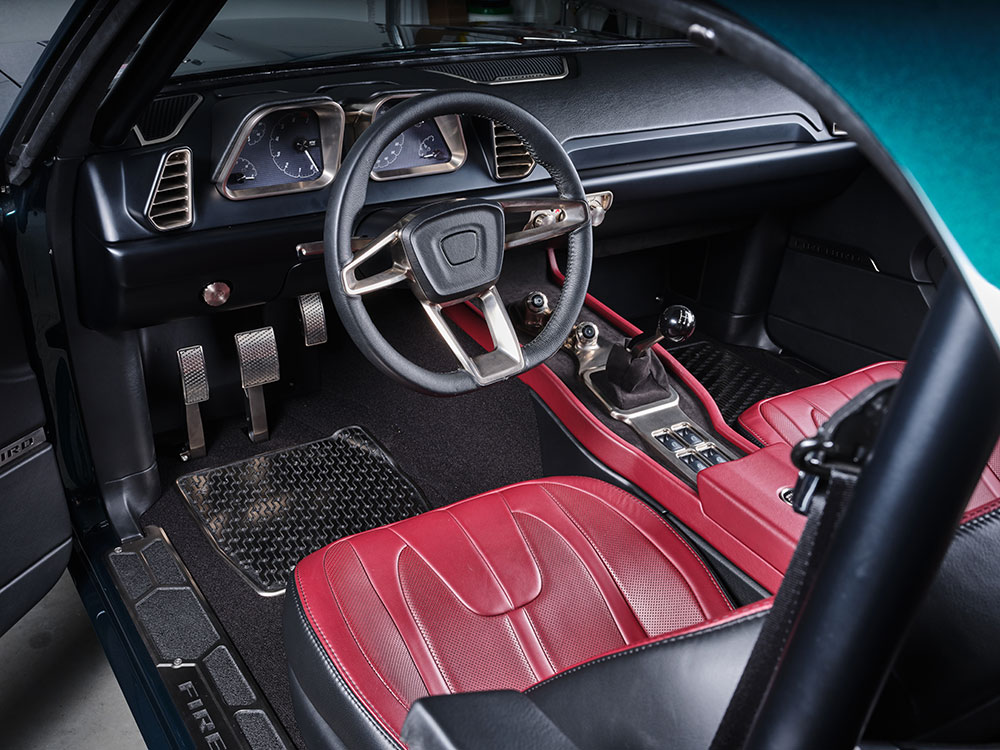 When it comes to having the ideal hot rod, it doesn't get better than this triple-threat '69 Pontiac Firebird. It is a winner on the street, under the lights, and at the flying mile. MR
Be sure to attend this year's Triple Crown of Rodding event (September 8-9, 2023) at the Nashville Superspeedway (triplecrownofrodding.com).