Tony DeLuca's Big-Block 1970 Chevelle
By Nick Licata   –   Photography by Wes Allison
Some might say 1970 was a monumental year for rock music, and much of it not all good. Janis Joplin and Jimi Hendrix both died at the age of 27, and the Beatles called it quits due to musical differences between Paul McCartney and John Lennon. Both continued on a musical path to highly successfully solo careers. Joplin and Hendrix–not so much. With the two most famous Beatles going their separate ways, their fans followed suite; some took the Lennon train, while others aligned with McCartney.
Muscle car fans may not have given the music industry much thought at the time, nor did GM have a clue about an upcoming oil crisis that was a mere three years away, so the '70 Chevelle came off the assembly line flexing every bit of its muscle-bound demeanor. Although on the same chassis as the '69, the sheetmetal and exterior features were revised with new design elements to give it a more powerful posture. That attitude also carried on into the interior, which possessed a no-nonsense sporty theme. As usual, various engine combinations were available, including the beefy 454ci mill rated at 360 hp.
Check it out: Dave Gagnon's Positively Wicked 720 HP 1969 Chevelle
Tony DeLuca wasn't old enough to drive '70 Chevelle when it rolled off the assembly line, but he had always dreamed of owning one since childhood. It was years down the road before the dream became reality when Tony spotted this totally stock Chevelle on eBay a few years back.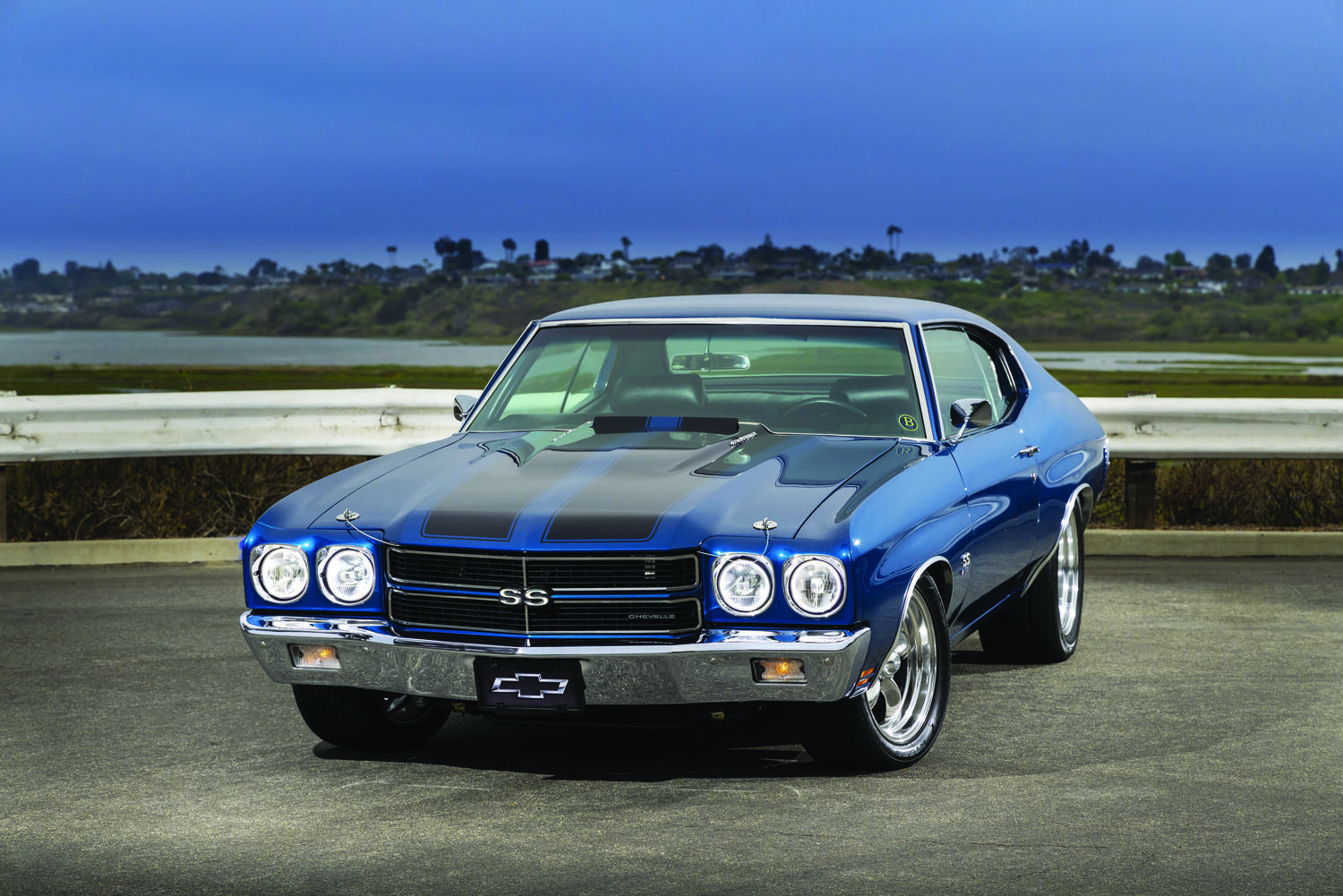 With all the horror stories that tend to follow cars purchased via online auctions, Tony found an exceptional stock example in Houston, but that didn't stop him from tearing the car down and putting his own touch on it. "I've always had a vision of building a car with a somewhat stock appearance and a ton of horsepower," Tony confesses.
That power comes by way of a Chevrolet Performance ZZ572 big-block, which Tony sent to Hayden Autoworks in Fallbrook, California, for a good poking and stroking to the tune of 632 ci, delivering a skosh over 900 hp. The car came with a stock 454, but Tony had much higher aspirations–he wanted to make a statement. Mission accomplished. Not done, the Hayden crew dazzled up the portly mill with etched custom aluminum black valve covers and Rab Performance Parts front drive system. "The engine and engine bay are not overdone, which is what I was shooting for," Tony says. "I wanted it to look badass while still retaining a good amount of that old-school vibe."
A Holley 1,150-cfm Gen 3 Dominator carburetor feeds the polished Edelbrock intake while a custom set of Muffler Man headers encourage greenhouse through a 3-inch stainless exhaust and Muffler Man mufflers. Take it from this here writer, the sound of this beast is something to behold–it's an absolute attention-grabber.
A Hughes Transmissions 4L80E rated at 1,500 hp easily handles the excessive power and is backed up with a Hughes multi-disc lockup converter. A 3-inch steel driveshaft sends twist to a Currie 9-inch rearend stuffed with a limited-slip posi, 3.89 Richmond gears, and Strange Engineering 35-spine axles. A Shift Works shifter and a CompuShift controller manage gear changes to keep the rpm right in the pocket.
More Reading: 650HP LT-4 69 Chevelle
The rear suspension consists of QA1 coilover shocks and 150-pound springs. Up front a pair of QA1 coilover shocks and 300-pound springs mate to the stock control arms. Wilwood 13-inch rotors and four-piston calipers were assigned stopping duties on all four corners and a Wilwood master cylinder and Hydro-Boost system issue smooth pedal performance.
American Racing Torq Thrust wheels fall in line with the Chevelle's vintage '70s vibe and keep Tony's time capsule in the preferred decade. A slight departure from the smaller 15s, a set of 17×8 wheels reside up front sheathed in 255/45R17 Nittos, while out back a set of 18x10s are wrapped in 305/45R18 Nitto rubber.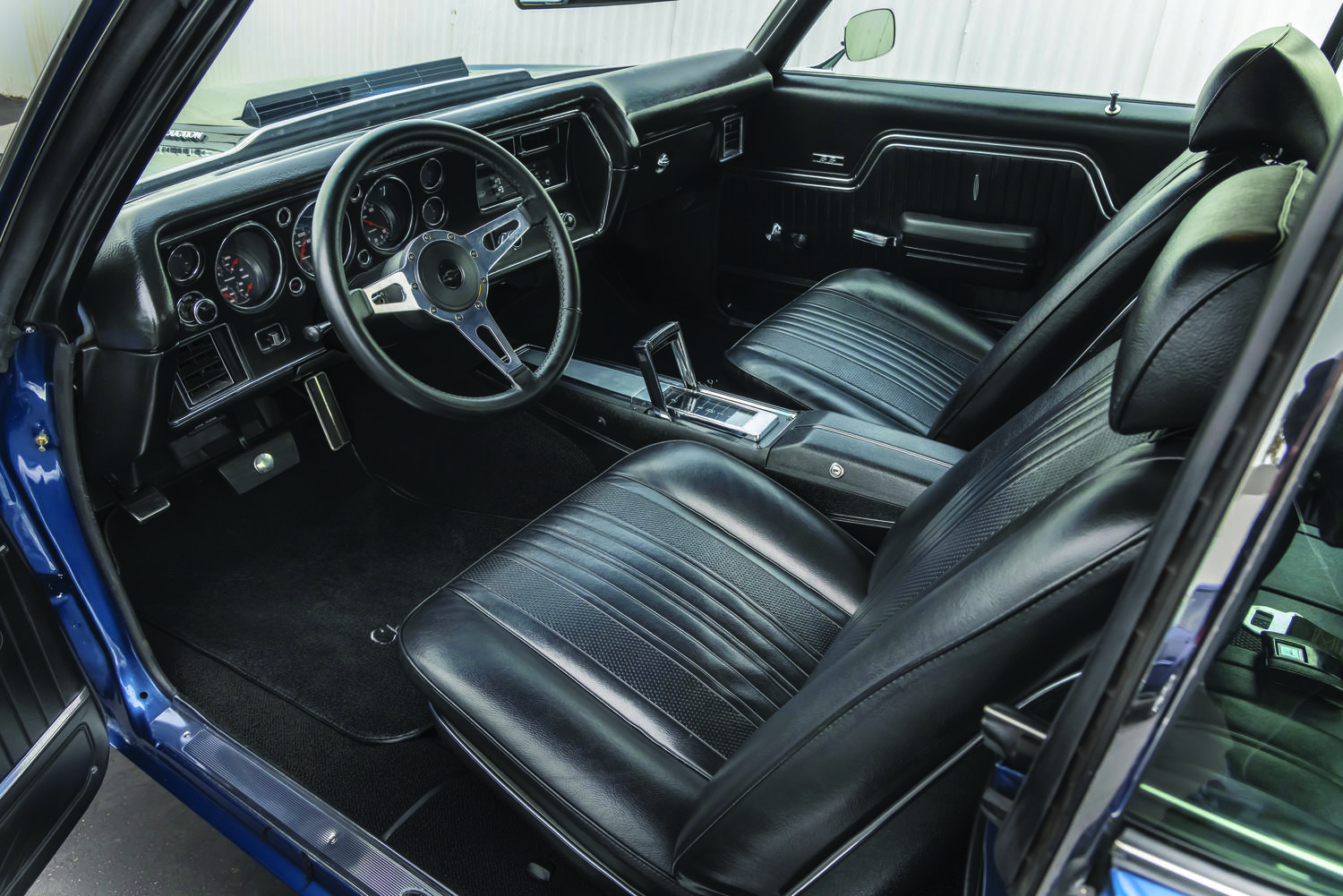 The interior scene is as basic as it gets–mostly stock bits throughout, which was part of Tony's plan. Beyond the Classic Instruments Velocity gauges, Vintage Air HVAC system, and aftermarket steering wheel, the cockpit embodies an accurate representation of how the Chevelle looked new in 1970. We especially dig the horseshoe shift handle and can't help but imagine an underdash eight-track player going along for the ride.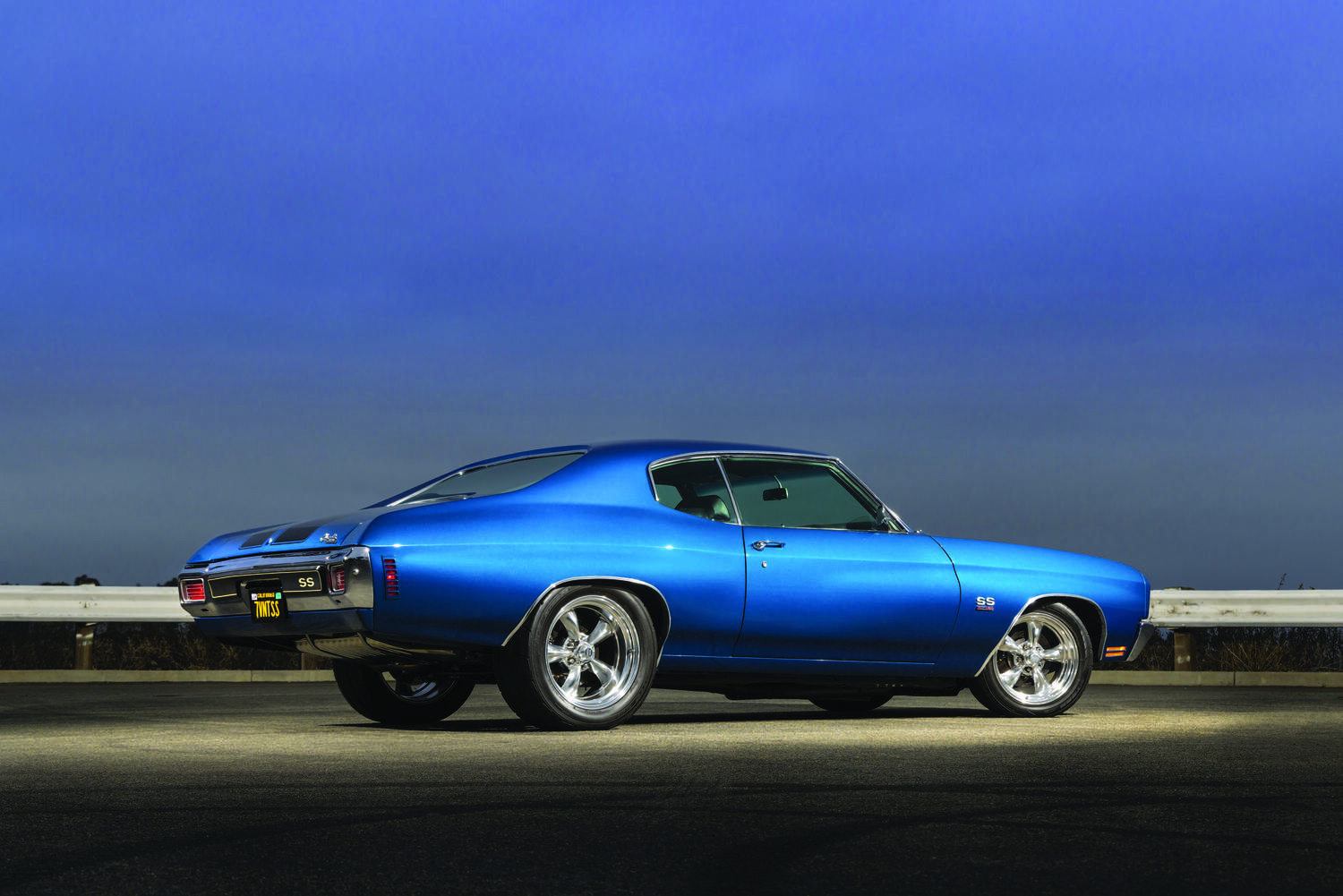 When it came time for a paint and body refresher, Tony sent the car off to Kenny Pfitzer at Kenny Pfitzer Designs in nearby Corona, California. Pfitzer massaged the sheetmetal to a smooth foundation prior to applying multi layers of PPG Fathom Blue paint and deep clearcoat.
Due to Tony's appreciation for the Chevelle's original ingredients, he kept with the factory mirrors, trim, and bumpers. "I'm just not into all the fancy modern-looking stuff, as to me it only takes away from Chevelle's already-perfect look," Tony conveys. "Besides adding more power and dialing in a '70s muscle car stance, I love everything about the car's funsamental style."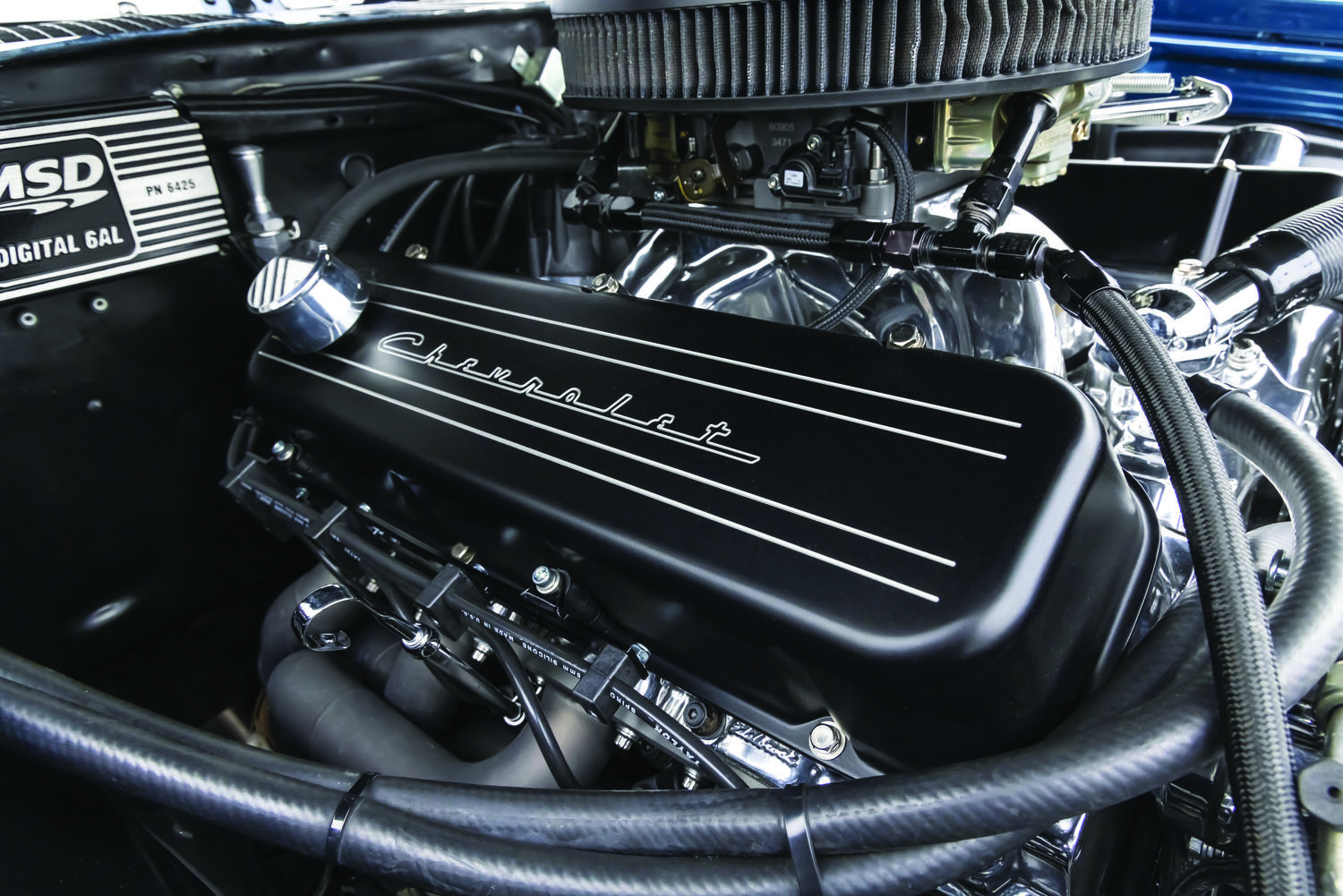 "Running a big-block is one of my favorite aspects of the car. It confirms its original spirit," Tony says. "I could have gone with an LS engine and gotten better gas mileage, but this car feeds off the looks and sound of a burley big-block. Besides, the neck-snapping torque makes this thing a blast to drive."
And drive it he does. Tony is a staple at SoCal's Quarantine Cruise, where his killer Chevelle always draws a crowd. "It's great to be one of the original crew, and because of that event and this car, I've made a lot of new gearhead friends," Tony mentions.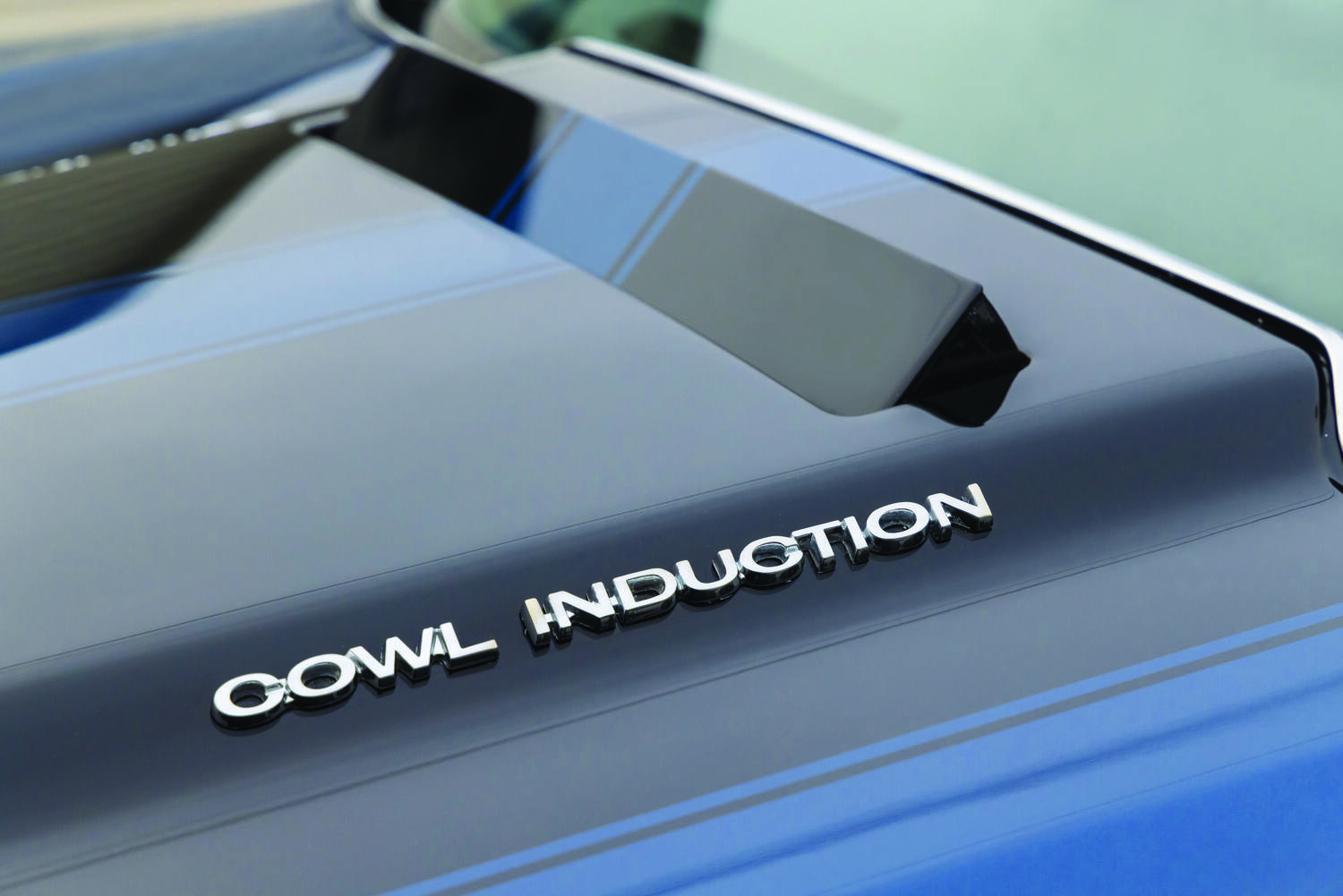 The project was a two-year on-and-off gestation that, according to Tony, would still be ongoing without the help of Kenny Pfitzer and Mike Hayden at Hayden Motor Sports in Fallbrook. "I can't thank those guys enough for stepping up to help get this project on the road," Tony relays.
The oil crisis of 1973 had a huge impact on the price of gas and the muscle car industry overall, but we have a feeling Tony would have drove this thing right through the rough times and hammered the pedal all the way–open headers, windows down, and a Panasonic eight-track player blasting Led Zeppelin II through a fresh set of Pioneer TS two-way 6x9s. Yeah, he'd have done it just like that.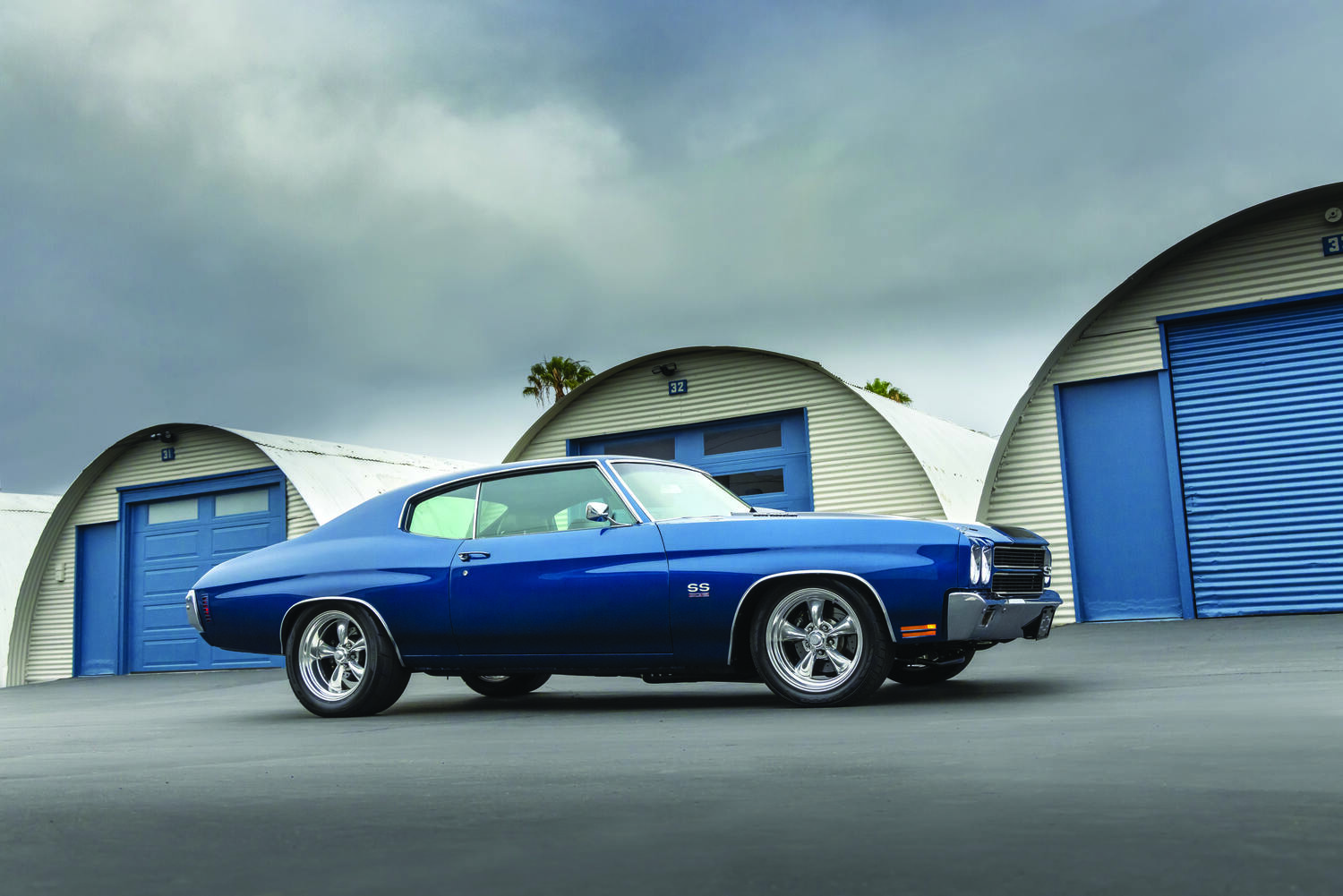 TECH CHECK
Owner: Tony DeLuca, Las Vegas, Nevada
Vehicle: '70 Chevy Chevelle
 Engine
Type: Chevrolet Performance ZZ454
Displacement: 632 ci
Compression Ratio: 11.5:1
Bore: 4.60 inches
Stroke: 4.70inches
Machinework and Assembly: Hayden Autoworks (Fallbrok, CA)
Cylinder Heads: Edelbrock aluminum Musi 377cc heads
Rotating Assembly: Forged crankshaft, Oliver billet rods, Manley pistons, Clevite bearings, Total Seal rings
Valvetrain: Manley valves, Crower Rockers
Camshaft: Comp Cams Hydraulic roller
Induction: Edelbrock intake, Holley HP 1150 Dominator Carburetor, custom air cleaner
Exhaust: Muffler Man (Placentia, CA) custom-built headers, 3-inch custom exhaust, Flowmaster mufflers
Ancillaries: Rab Performance accessory drive system, Powermaster alternator, Meziere water pump, MSD ignition, Taylor 8mm wires, Eddie Motorsports hood hinges, Matson radiator
Output: 910 hp at 6,200 rpm; 830 lb-ft at 4,800 rpm
 Drivetrain
Transmission: Hughes Performance 4L80E
Rear Axle: Currie 9-inch, Eaton Truetrac limited-slip differential, Richmond Gears 3.89 gearset, Strange 35-spline axles
 Chassis
Front Suspension: Stock frame, QA1 double-adjustable shocks, QA1 300-pound springs, 1 ¼-inch sway bar
Rear Suspension: QA1 double-adjustable shocks, QA1 150-pound springs, 1 1/16-inch sway bar
Brakes: Wilwood 13-inch rotors, four-piston calipers front and rear, Wilwood master cylinder, Wilwood proportion valve, Hydra-boost
 Wheels & Tires
Wheels: American Racing Torq Thrust (17×8 front, 18×10 rear)
Tires: Nitto NT555; 255/45R17 front, 305/45R18 rear
 Interior
Upholstery: Stock
Seats: Factory buckets
Steering: Stock
Shifter: Shiftworks shifter, CompuShift transmission controller
Dash: Stock
Instrumentation: Classic Instruments Velocity
HVAC: Vintage Air
 Exterior
Bodywork and Paint: Kenny Pfitzer at Kenny Pfitzer Designs
Paint: PPG Fathom Blue, PPG Black stripes
Hood: Cowl Induction
Grille: Stock
Bumpers: Stock