Vernon Ward's 1971 Camaro Z28
By John Machaqueiro   –   Photography by the Author
Finding an unmolested muscle car can be, in many ways, like searching for a unicorn. Over the decades some weathered the ravages of time quite well, some didn't, and many are no longer with us. In 1975, when Vernon Ward spotted his '71 Camaro Z28 sitting in a shopping center parking lot with a For Sale sign on it, he could tell that it wasn't as it rolled off the showroom floor. From a distance he saw the obligatory Cragar S/S wheels.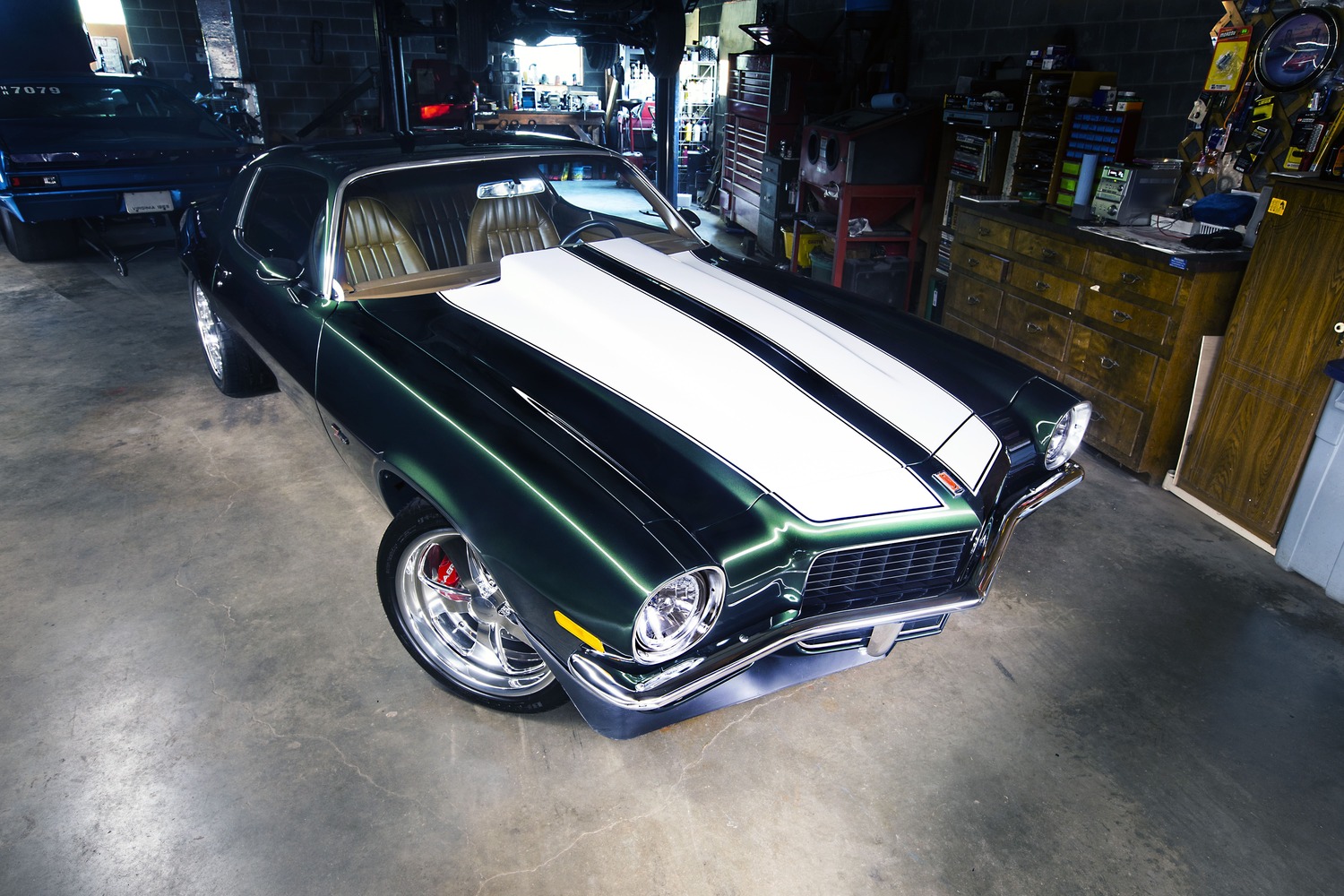 When he popped the hood, the LT-1 350 small-block was gone and in its place was a 400ci small-block capped off with a two-barrel carburetor—this on a car that was barely 4 years old with less than 40,000 on the odometer. None of that mattered to Vernon. "I've always liked Camaros, especially the Z28," Vernon explains. "I liked the way the car looked and that stripe on the hood really stood out." He further adds, "Engines got blown up back then. People didn't think anything of it and didn't really care about a car being numbers matching. If an engine blew up, they just threw it away and put something else in its place and moved on." What he saw was spot-on, and it was realistically priced by '70s standards, so it went home with him.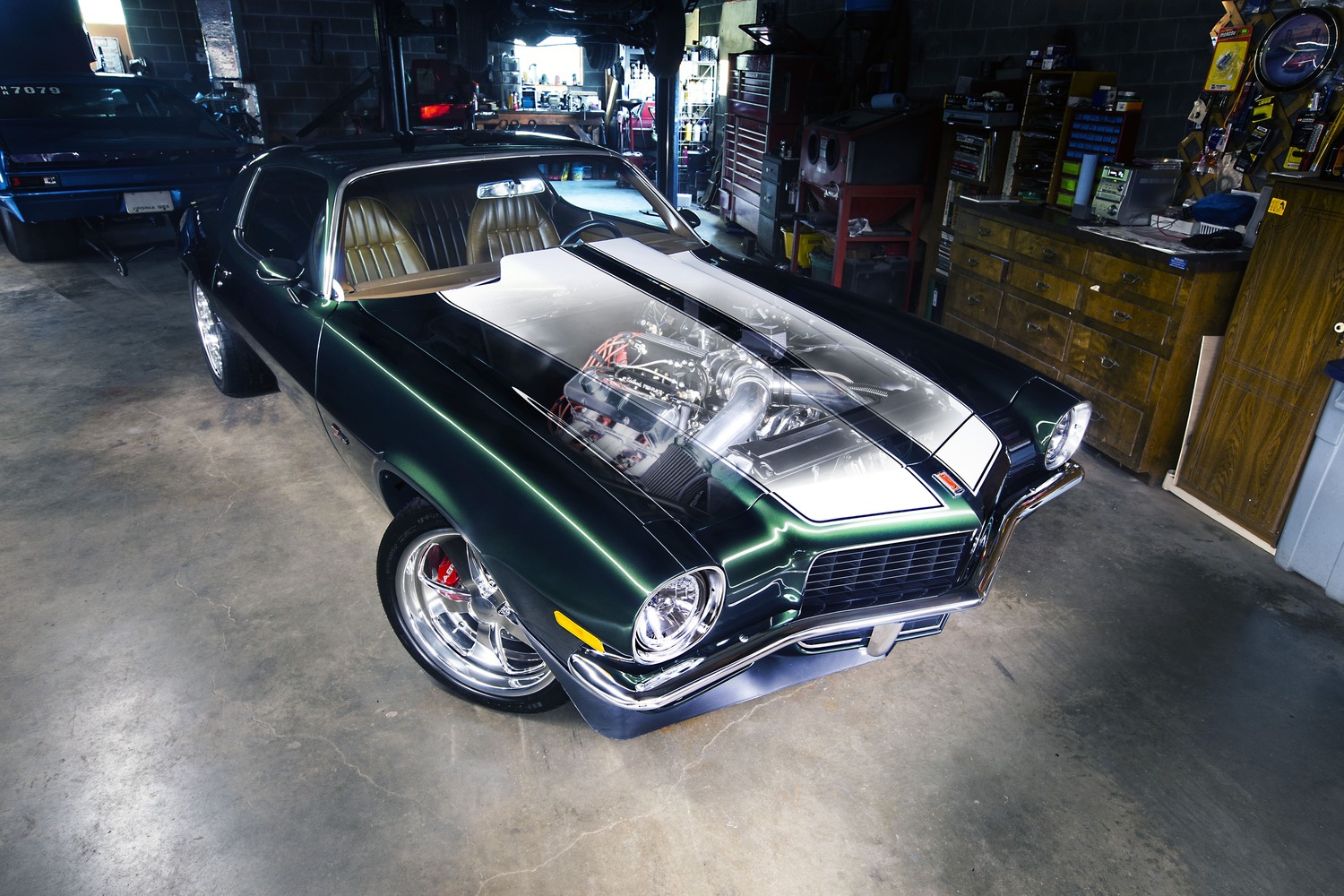 Check it out: A Malibu Made to Deceive
Two years after making the purchase he decided to give the car a repaint. Vernon wasn't fond of the antique green the Camaro was wearing and it was so flat he went up a year and had it painted in Sequoia Green, a '72 color. Between 1975 and 1979 the Camaro saw seasonal use. It was a weekend driver between April and September. As with many car owners, sometimes automobiles end up being just that, while other priorities in life take center stage. That's exactly what Vernon faced, so at that fork in the road he decided to park the Camaro. "I really didn't want to sell the car," he states. "I had other cars that I ended up selling, but I wanted to keep the Camaro." Some hibernations last longer than others, and in Vernon's case it lasted until 2011 when it once again saw the light of day.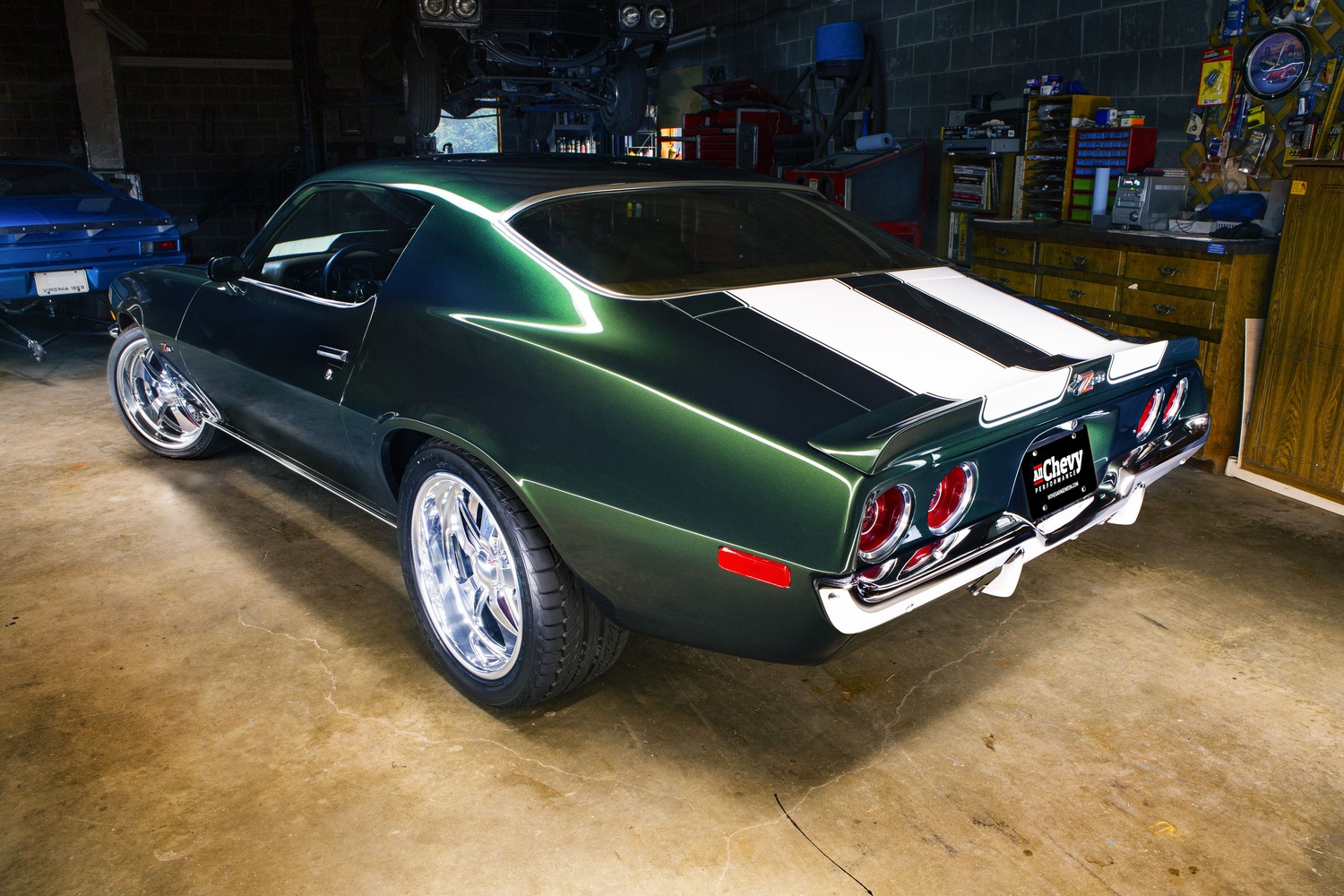 Upon the Camaro's reemergence, Vernon had some ideas on what he wanted to do. While he was content with the car's overall demeanor prior to parking it, two decades in gave him plenty of time to consider some modern upgrades. Finding a trustworthy individual or shop to work on your car is often the biggest hurdle, but in this case, he didn't have to look far. A phone call to John Bowles resolved that issue. Bowles and Vernon have been the best of friends for decades and you can't ask for more than that.
When they initially set out on the makeover, the foundation they had to work with was pretty solid. The car was still wearing its original rust-free sheetmetal and the 400 ran well. Bowles assumed the responsibility for all the mechanical work and the project was officially started.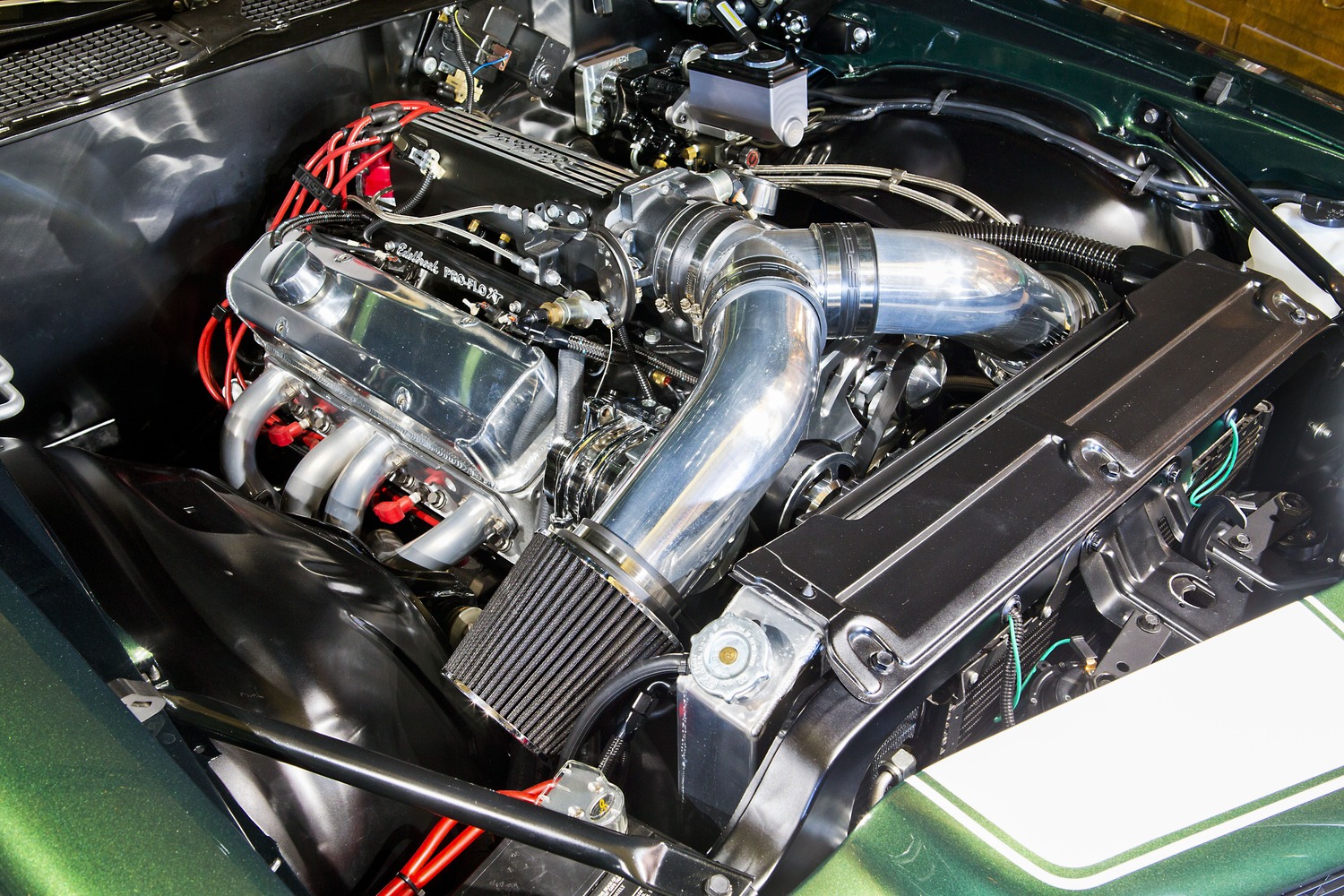 Vernon wanted to upgrade to fuel injection and also improve the car's handling and braking, so the first thing they addressed was the 400. The decision was made to give it a complete rebuild and punch it out to 406 ci with all-new hardware, which included a set of Edelbrock Performer aluminum heads, Sealed Power aluminum pistons, and a Comp Cams hydraulic roller camshaft. The carburetor was swapped in favor of an Edelbrock
Pro-Flo XT EFI and intake combination, and the M22 four-speed was replaced with a 700-R4. The exhaust was also replaced with Hooker headers and Flowmaster hardware. When it came to handling, up front Bowles retained the stock spindles and installed Hotchkis springs and sway bar and a set of Gabriel gas shocks. At the rear, a set of Hotchkis 2-inch drop springs were installed with Gabriel gas shocks. On the braking end, Baer six-piston calipers riding on 13-inch rotors were added up front, while at the rear Baer four-piston calipers with 12-inch rotors replaced the factory drum brakes.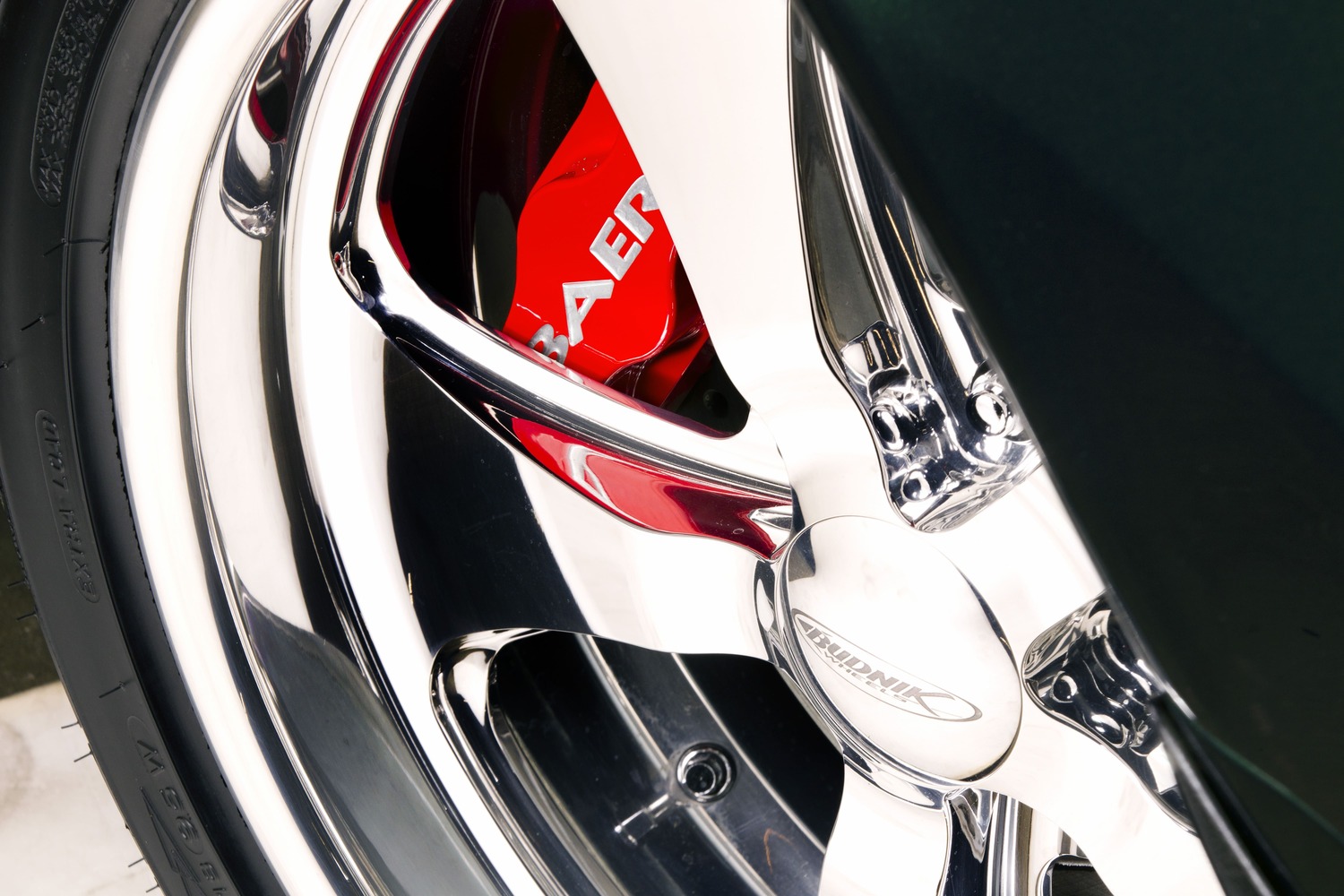 Wheels and tires were also on the list. While many like the nostalgic look of the Cragars, Vernon wasn't having any part of that rewind. Budnik X-Series Fontana wheels wrapped in BFGoodrich g-Force Sport rubber checked both the visual and performance boxes.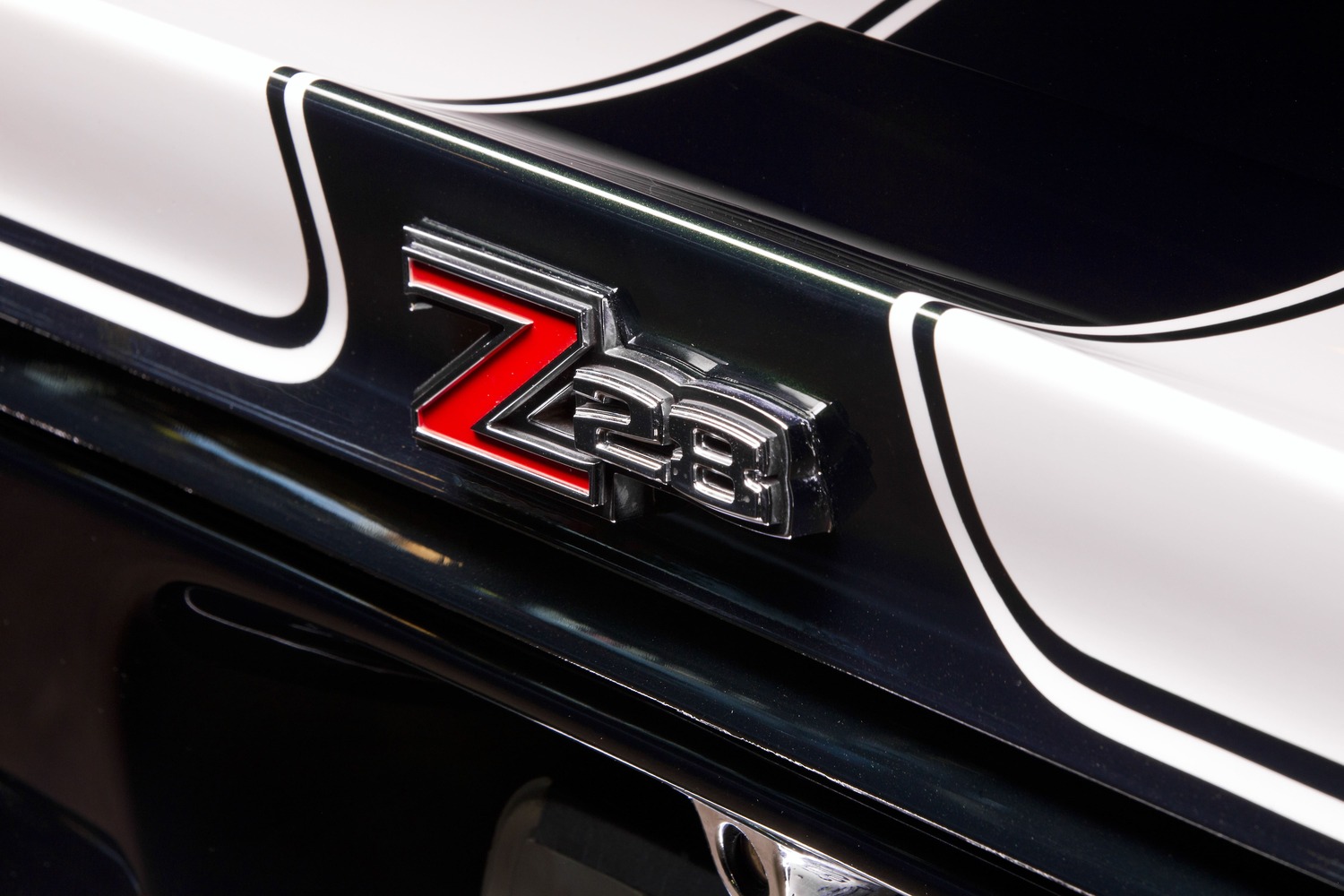 While Bowles tackled all the mechanicals, he also lined up other shops to handle the rest of the car's needs. The paint was next on their list. It was once again in need of another repaint in Sequoia Green and the white stripes that Vernon was so fond of. His search led to Matt Lamb. Working from a home shop, he not only handled the paint but also the bodywork.
With the car in excellent condition and carrying original sheetmetal, the only change was the addition of an aftermarket cowl induction hood. Once he had the body ready for paint, the Axalta basecoat/clearcoat was applied with the addition of some pearl on the stripes.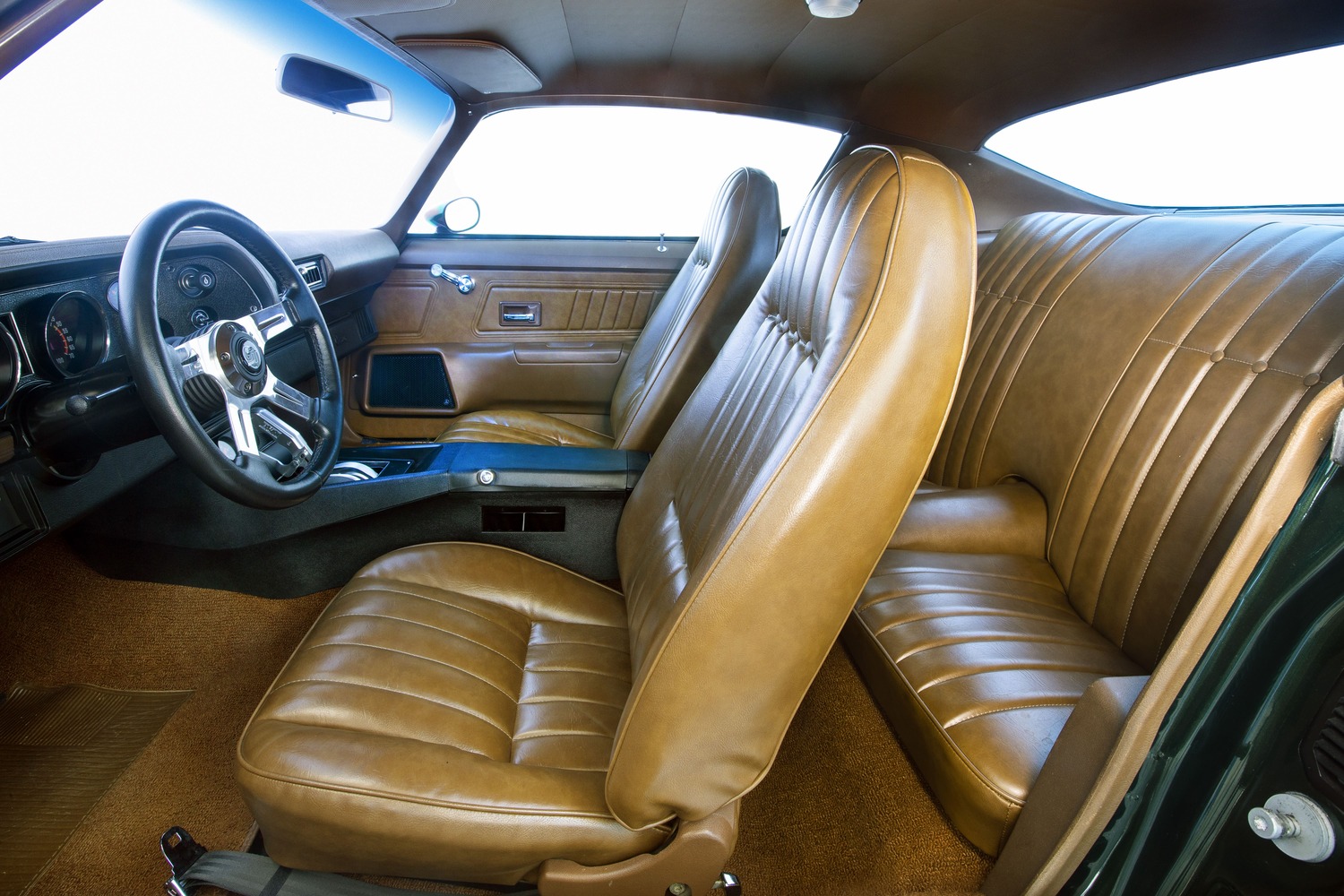 More Chevy Awesomeness: Rich Ambler's Pro Street 1979 El Camino
As that was wrapped up, Vernon shifted his focus to the Saddle interior, which he was looking to retain. Having purchased a factory-correct replacement from Legendary Auto Interiors, he had the guys at King's Auto Upholstery in Roanoke, Virginia, handle the install.
Also high up on the wish list was a killer stereo system. For that piece of the puzzle, he took the Z28 to Extreme Audio in Mechanicsville, Virginia. They created custom door speaker housings, a custom rear parcel shelf, and a one-off trunk enclosure that visually borrows from interior and exterior elements.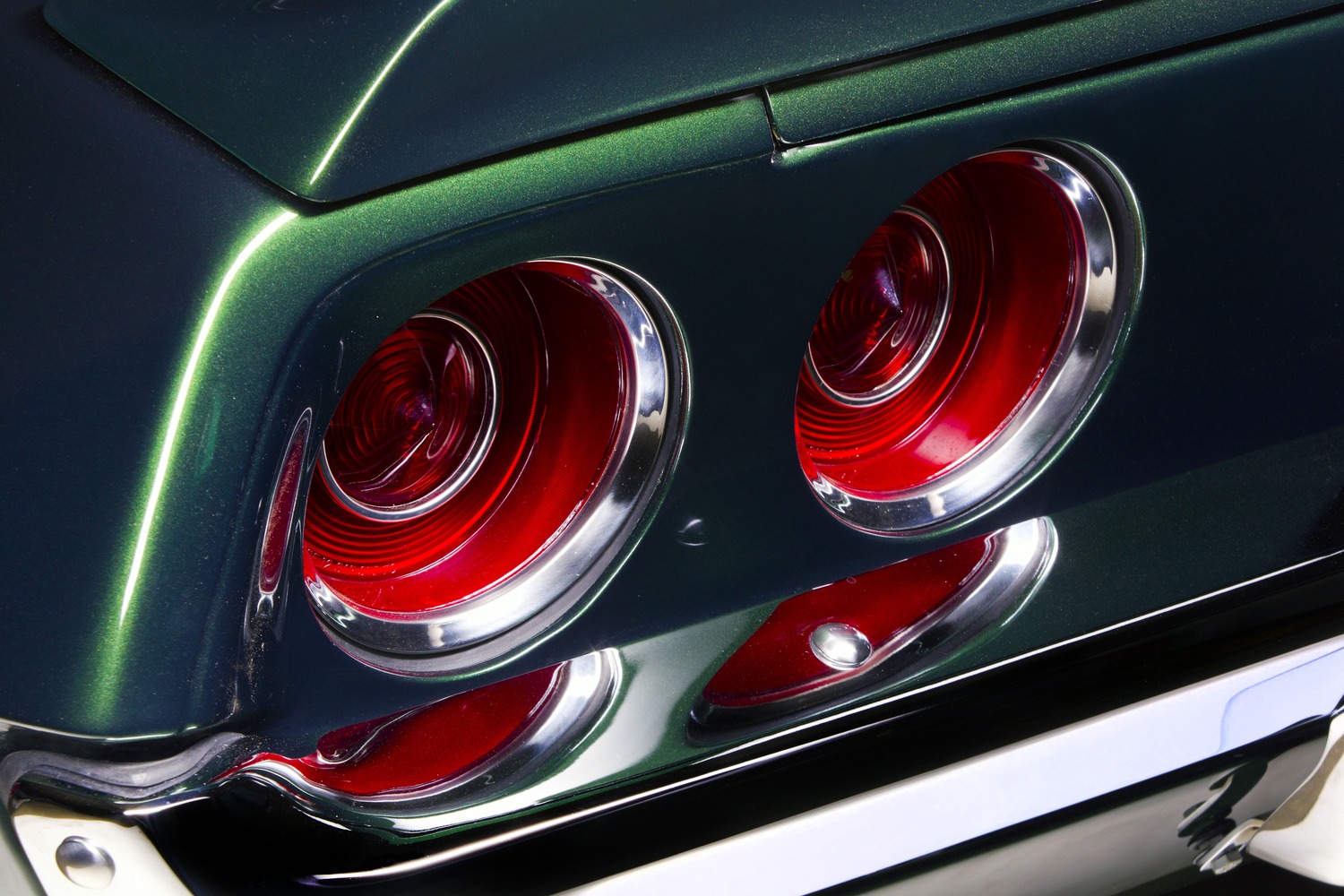 When asked if there was anything that he would do differently to the four-year effort, Vernon states, "I made a few mistakes along the way and I was able to correct some of them—and some of them I didn't. A lot of people started going with the LS engines. If I had to do it all over again that's the way I would go." He also points out, "I have to thank John Bowles for all the hard work, long hours, and great ideas. He would let me know what would work and what wouldn't, and he found the best people for the various jobs. It's always a plus to have good friends who take care of you and look out for your best interest. The car was great back in 1975 and, thanks to these guys, it's even better today.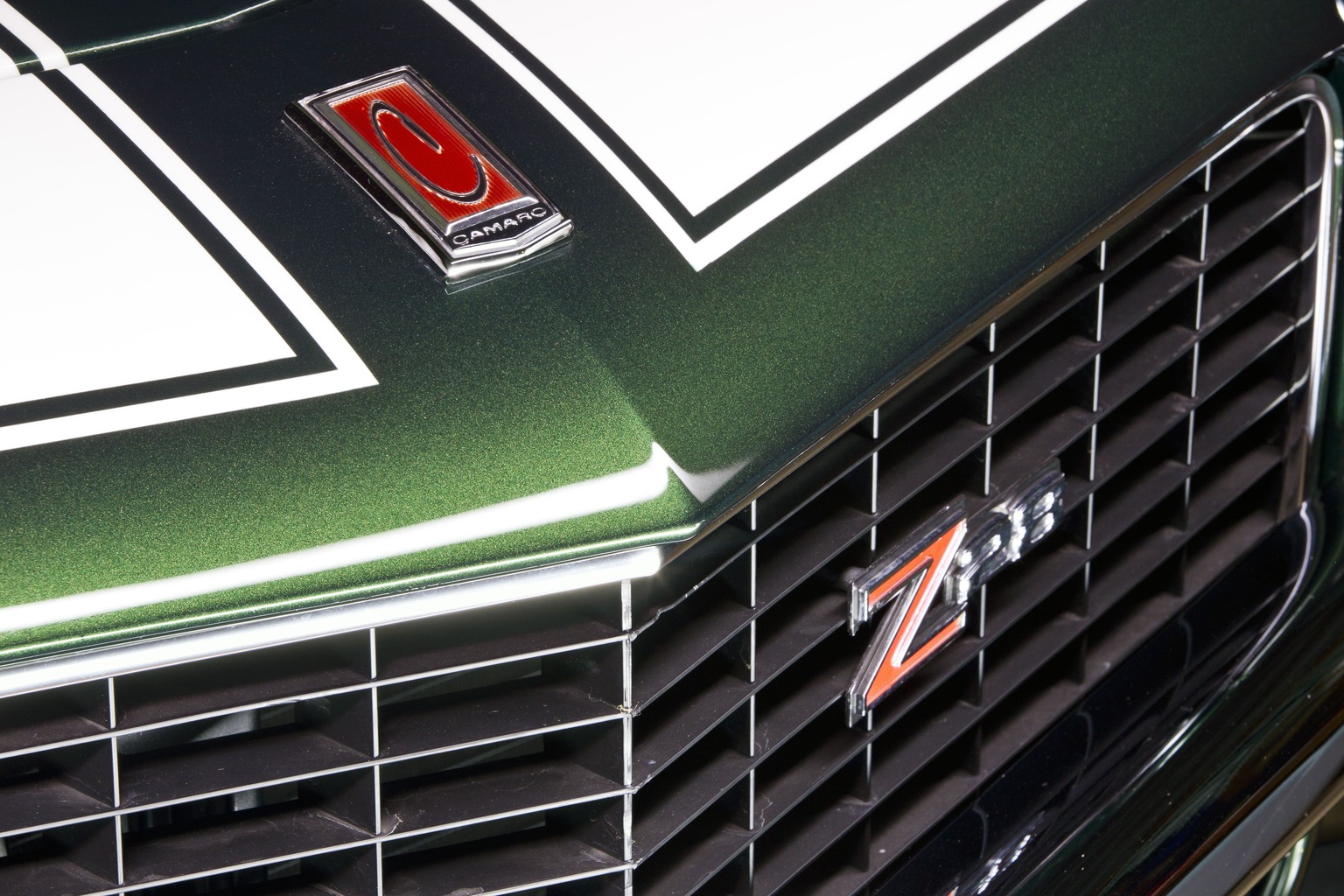 TECH CHECK
Owner: Vernon Ward, Madison County, Virginia
Vehicle: '71 Chevrolet Camaro Z28
Engine
Type: GM cast-iron small-block
Displacement: 406 ci
Compression: 8.5:1
Bore: 4.155
Stroke: 3.750
Cylinder Heads: Edelbrock Performer aluminum
Rotating Assembly: GM forged crank, Sealed Power pistons, GM connecting rods
Camshaft: Comp Cams Thumpr hydraulic roller camshaft
Induction: Edelbrock Pro-Flo XT EFI, Edelbrock aluminum intake, Delphi electric fuel pump
Ignition: Mallory, March 110-amp alternator
Exhaust: Hooker Headers, Flowmaster stainless steel 2.5-inch tubes, 2.5-inch Flowmaster 80 series crossflow mufflers
Ancillaries: Wizard three-row aluminum radiator and fans, Vintage Air A/C, March accessory drive system
Built by: John Bowles, JRA Motorsports (North Garden, VA)
Drivetrain
Transmission: GM 700-R4, 2,200-stall converter
Built by: Weavers Automotive (Madison, VA)
Rear Axle: GM 10-bolt, 3.42:1 gear ratio
Driveshaft: GM shortened 3 inches
Chassis
Front Suspension: Stock spindles, stock A-arms, Hotchkis 2-inch drop springs, Gabriel gas shocks, Hotchkis sway bar
Rear Suspension: Hotchkis 2-inch lowering springs, Gabriel gas shocks, stock GM sway bar
Brakes: Baer 13-inch rotors, six-piston calipers front, Baer 12-inch rotors, four-piston calipers rear
Wheels & Tires
Wheels: Budnik X-series Fontana, 18×8 front, 18×9.5 rear
Tires: BFGoodrich g-Force Sport 225/45R18 front, BFGoodrich g-Force Sport 275/40R18 rear
Interior
Seats: GM factory
Upholstery: Legendary Auto Interiors Saddle vinyl
Carpet: Legendary Auto Interiors Saddle loop
Gauges: Stock GM with Auto Meter Auxiliary gauges
Steering Wheel: Grant GT
Shifter: B&M Magnum Grip Pro Stick
Console: Stock GM
Head Unit: Alpine
Amplifier: Arc Audio 2300
Speakers: JL Audio 6.5 front, JL Audio 6×9 rear, (2) JL Audio W6 12-inch subwoofers
Interior Installation: King's Auto Upholstery (Roanoke, VA)
Stereo Installation: Extreme Audio (Mechanicsville, VA)
Exterior
Paint: Axalta '72 Sequoia Green basecoat/clearcoat
Bodywork and Paint: Matt Lamb
Hood: Reflexxion cowl induction
Grille: Stock
Bumpers: Stock
Plating: Advanced Plating