Rich Ambler's Pro Street 1979 El Camino
By Nick Licata   –   Photography by Wes Allison
G-bodies are becoming quite popular within the muscle car world–and compared to a '60s-era muscle car they are relatively affordable. But if you have a hankerin' to get into one of these boxy late-'70s to mid-'80s Malibus and El Caminos, it's best to make a move soon as they are starting to spike in value. Typically, they were born with a 231ci V-6 and 305 and 350ci V-8s–all of which perform better as paperweights than powerplants by today's standards. The good news is these cars readily accept a robust small-block or LS engine for a wake-up call. Now that these once-ignored family commuters are gaining popularity within the muscle car world, the aftermarket has begun stepping up their G-body game.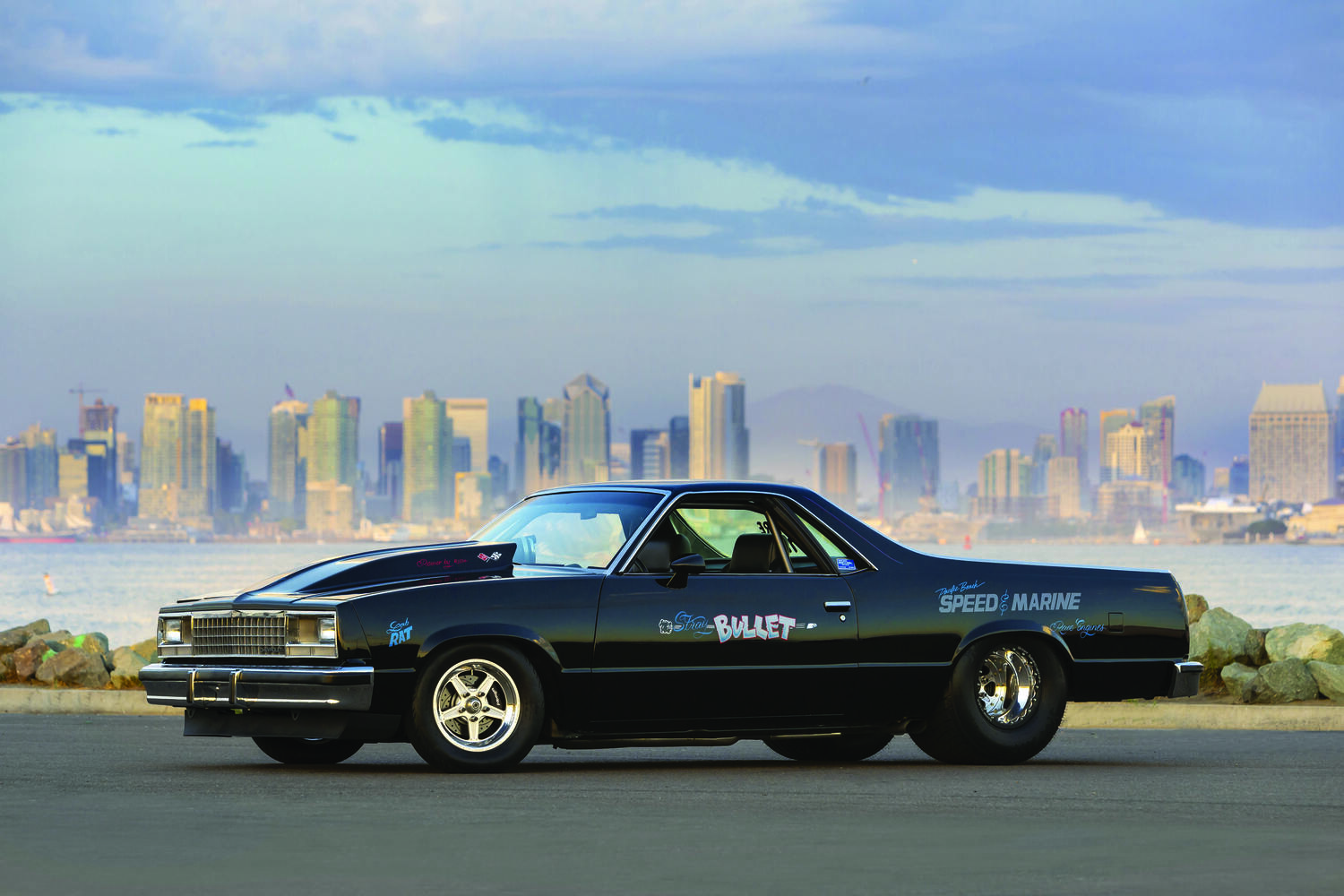 G-body fans have a few choices to go with: a "Malibu pickup" (El Camino), Malibu two-door sport coupe, four-door sedan, and, the ultimate sleeper build, a Malibu four-door station wagon. This editor's previous rides included an '82 wagon and an '82 El Camino, both upgraded with aftermarket suspension and brakes for improved driving performance. Unfortunately, both inherited the gutless 305ci engines. Another benefit is that these cars really light up with aftermarket wheels and a lower stance.
Rich Ambler was attracted to GM's '79 square-body El Camino so much so he purchased one brand new off the lot near his home in Pacific Beach, California. "I liked the idea of having a pickup to haul stuff around and use as a daily driver since these El Caminos work like a truck with the feel of a car," Rich states.
The car did daily duty for a few years, but Rich is a hot rodder; he's been one for 63 years, so he turned the Elco into a drag car/street beast. Out went the anemic 305 and in went a 454, turbo 400, and 4.11 gears. Great idea? Not so much. "I broke the car early on and with just 12,000 miles on the car, so it sat in my hanger from 1985-2010," Rich states.
It was in 2010 when Rich got the itch to get the car back on track and enlisted Ron Lummus to back-halve the car so it could handle the big-block power. The transformation was successful, but not long after Rich's focus waivered, so the car once again sat. In 2016 Rich got motivated and brought the car to Al Verschave and his crew at AVS Motorsports in Oceanside, California, to tidy up some loose ends and to get the car running up to snuff. That little "tidying up" snowballed into a total overhaul.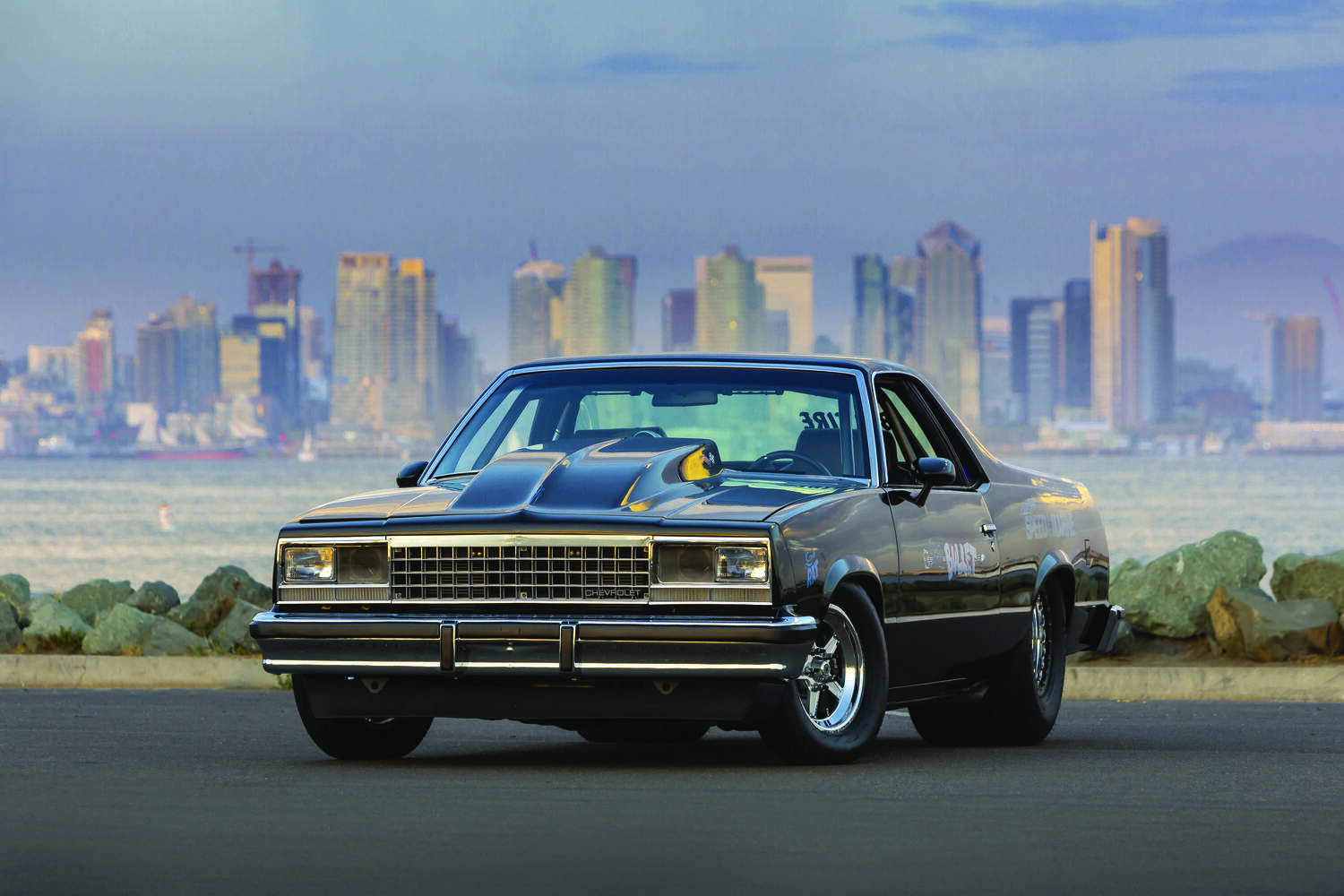 The Green Monster: Pete Dayotas Jr.'s 1965 El Camino
Rich was impressed with Verschave's ability and taste in building hot rods—he couldn't help but notice the quality of cars coming out of his shop, so he changed course and committed to upping the car's game to the next level.
"When I got the car it had tags from 1985," Verschave laughs. "A lot of the work was done back in the '90s, and not that it was done incorrectly but we had to do some finish work to get the car updated in the looks and functioning department.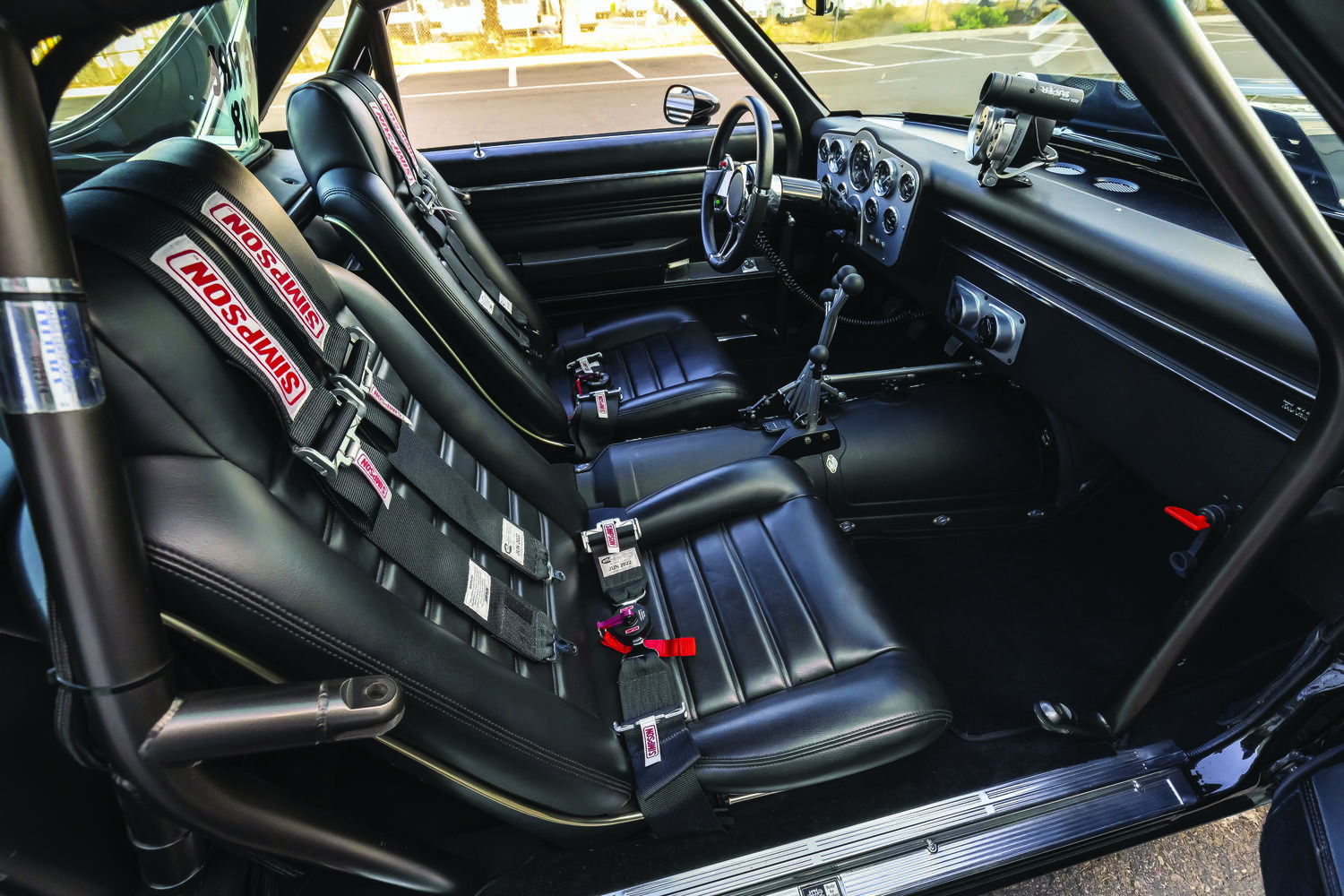 Al has mad fab skills and set his sights on transforming the G-body into a badass performer with a host of custom fabrication parts throughout. Moving into the cabin, Verschave finished the 1 5/8-inch chromoly 'cage that was started in the '90s and got it up to current NHRA-legal specs then built a trans tunnel designed to fit the Lenco ST-1206 five-speed transmission and shift levers. Verschave gave the interior a brilliant and detailed treatment of custom AVS one-off bits, including a custom aluminum dash that hosts a custom insert fed with a plethora of Auto Meter informants to keep Rich on top of the engine's vitals. An Auto Meter tach and shift light sit eye level and a Flaming River steering wheel rests on top of an ididit steering column.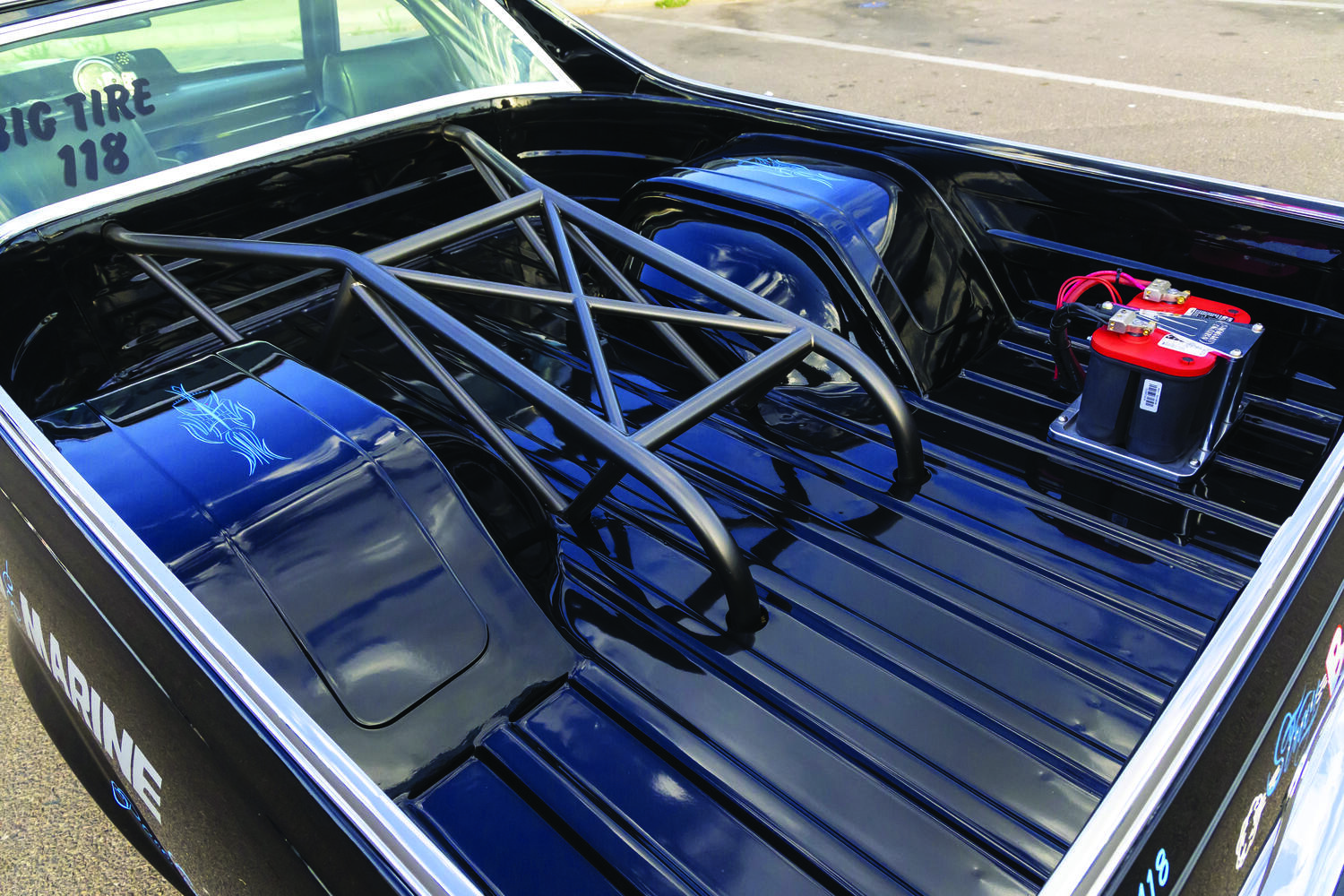 Mark Luhr (Mark Luhr's Custom Upholstery) installed the black loop carpet and factory-style door panels, then covered the stock seats in black leather to retain some of the car's original character and that good, old '70s Malibu vibe.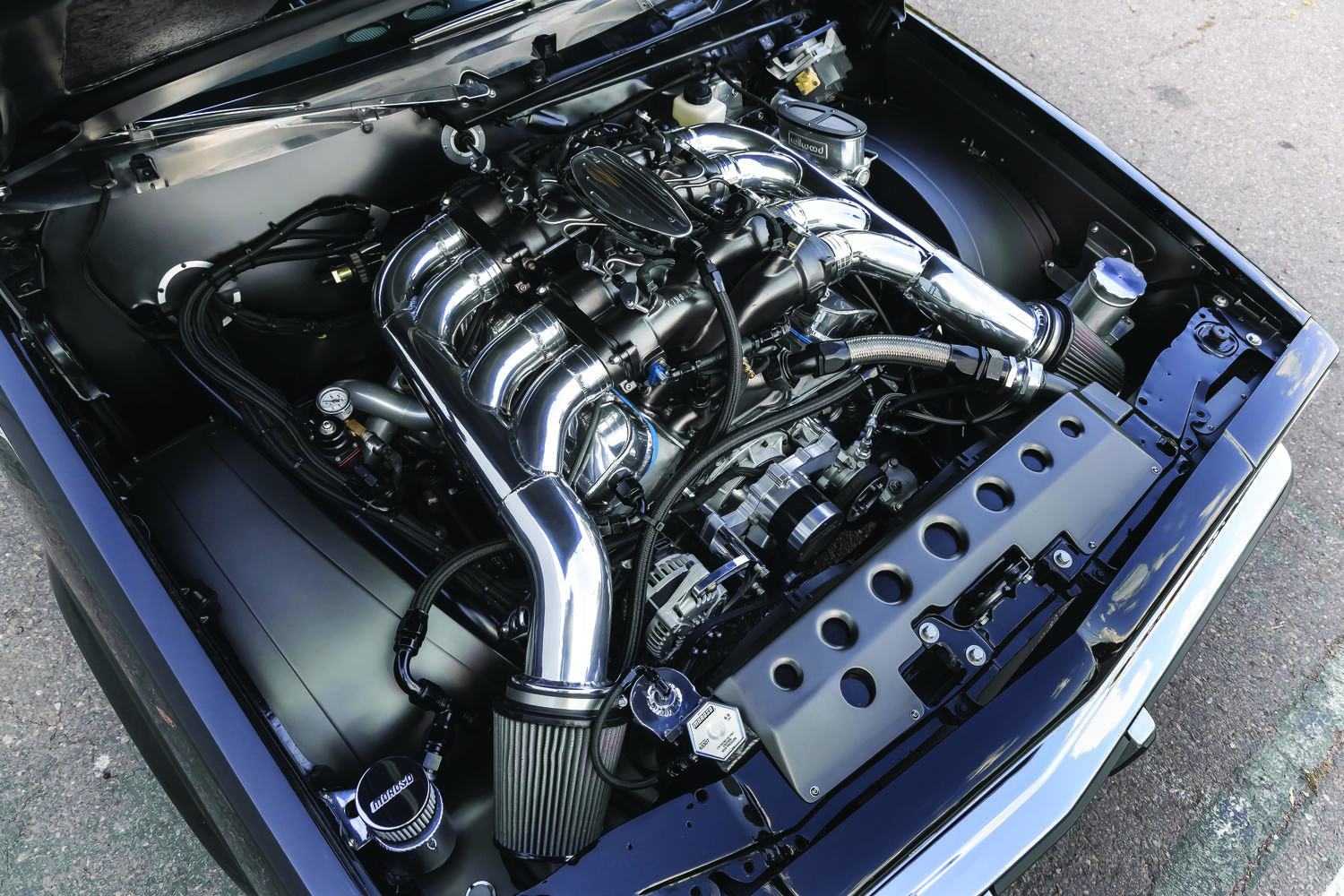 A 557ci Donovan big-block Chevy from Shaver Racing Engines not only brings the heat with 860 hp at the ready but the powerful mill is the perfect backdrop for Verschave to showcase the artistic and stunning assemblage of custom intake tubes coming off the Kinsler cross-ram intake manifold. Verschave then fabbed up a set of one-off headers that conform with the limited space then flow to a custom 4-inch exhaust slightly suppressed by a pair of Spintech mufflers. The smoothed firewall, hand-fabricated valve covers, and custom inner fenders add to the alluring scene. "The engine is a work of art," Rich says. "It's absolutely amazing and like nothing I've ever seen before."
Out back a Chris Alston's Chassisworks Fab9 rearend plays home to 3.25:1 gears, Lenco Billet Detroit Locker, and Strange 35-spline axles suspend by a Chassisworks' four-link. QA1 coilover shocks and springs dampen the ride, and a Rick Jones antiroll bar denies the G-body excessive chassis twist at launch time. Global West upper and lower control arms take the place of the stock offerings with a QA1 coilover shock conversion kit up front.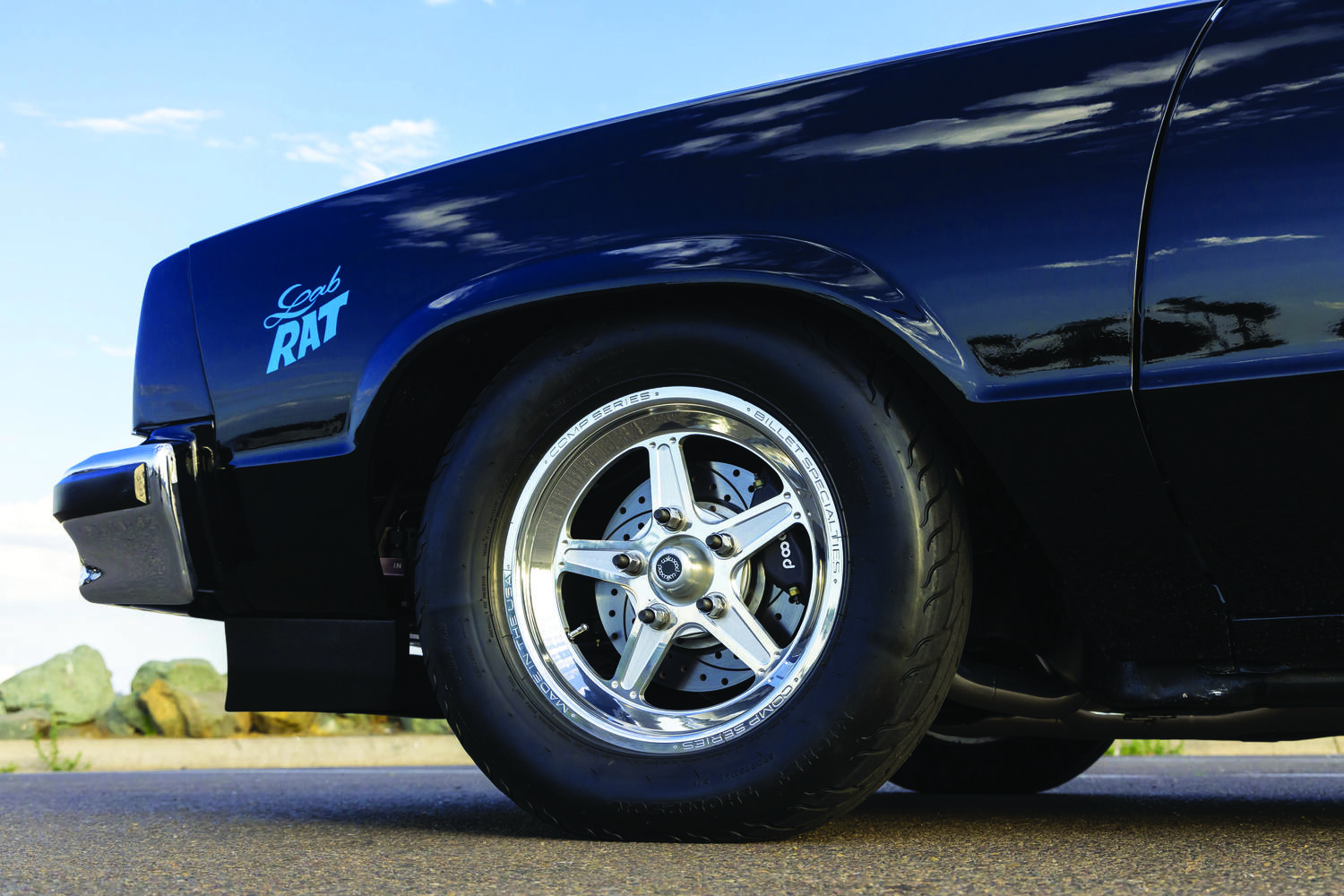 A set of Wilwood binders reside on all four corners and peek behind a set of polished 15-inch Billet Specialties Pro Comp wheels dressed in Hoosier rubber. A Wilwood master cylinder and hydro-boost system ensure an efficient braking ensemble to scrub speed quick-like. Rich upgraded the stock steering box with a Lee's 12:1 power steering unit.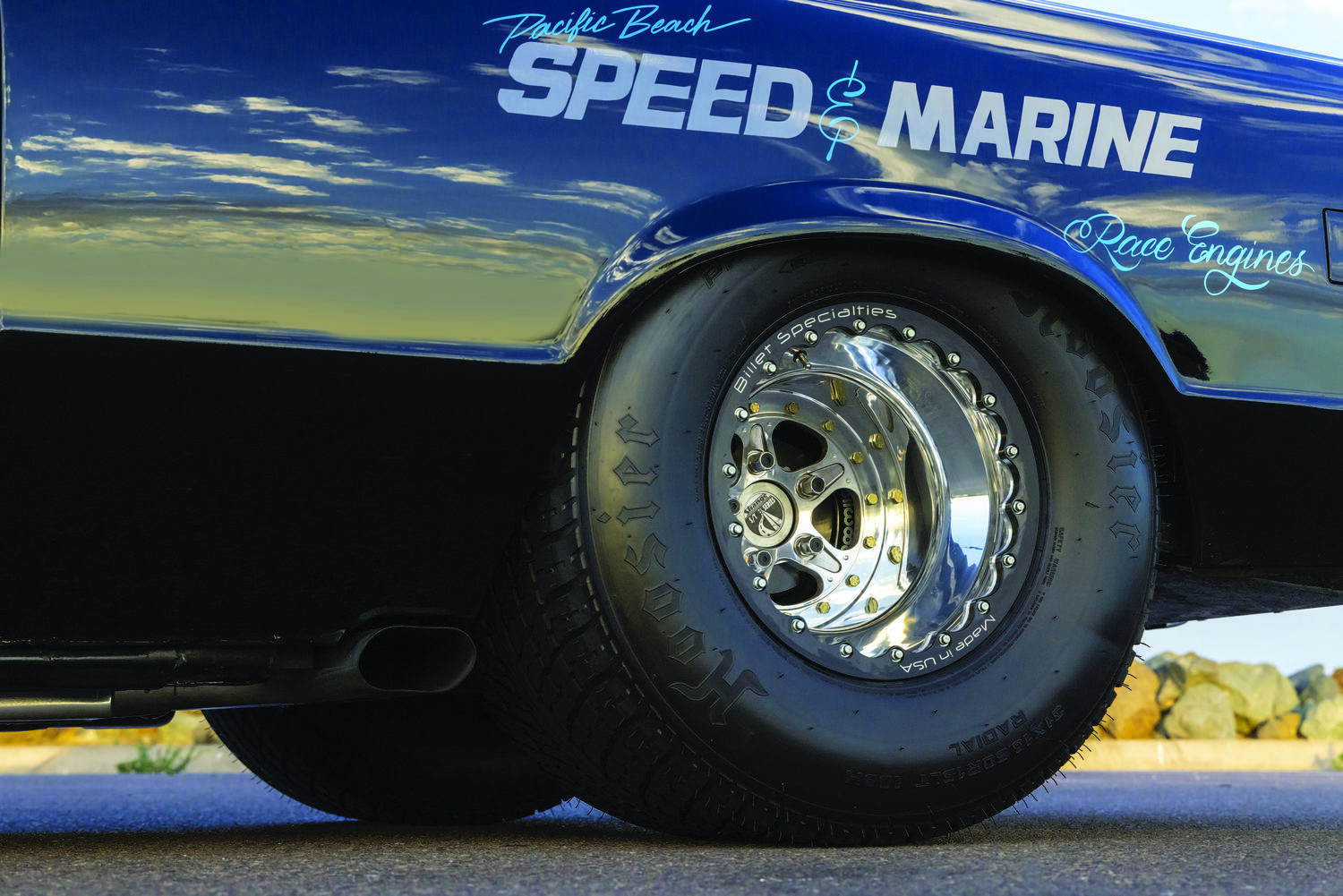 627HP 1970 Chevy El Camino SS: Dana Pruhs' 1970 El Camino
AVS widened the lower section of the rear wheel openings to accommodate the bulbus rear Hoosier drag radials–a fitting Pro Street accouterment. Post-surgery, El Cajun Collision took over for some minor body prep and a good dousing of PPG Onyx Black. Danny Alvarado finished up with some appropriate lettering and graphics to break up the sea of black pigment. With only about 12,000 miles on the ticker, the well-preserved G-body carries mostly stock bits beyond a fiberglass hood, and the deleted inner headlights, which supply additional atmosphere to the filter elements and the engine bay.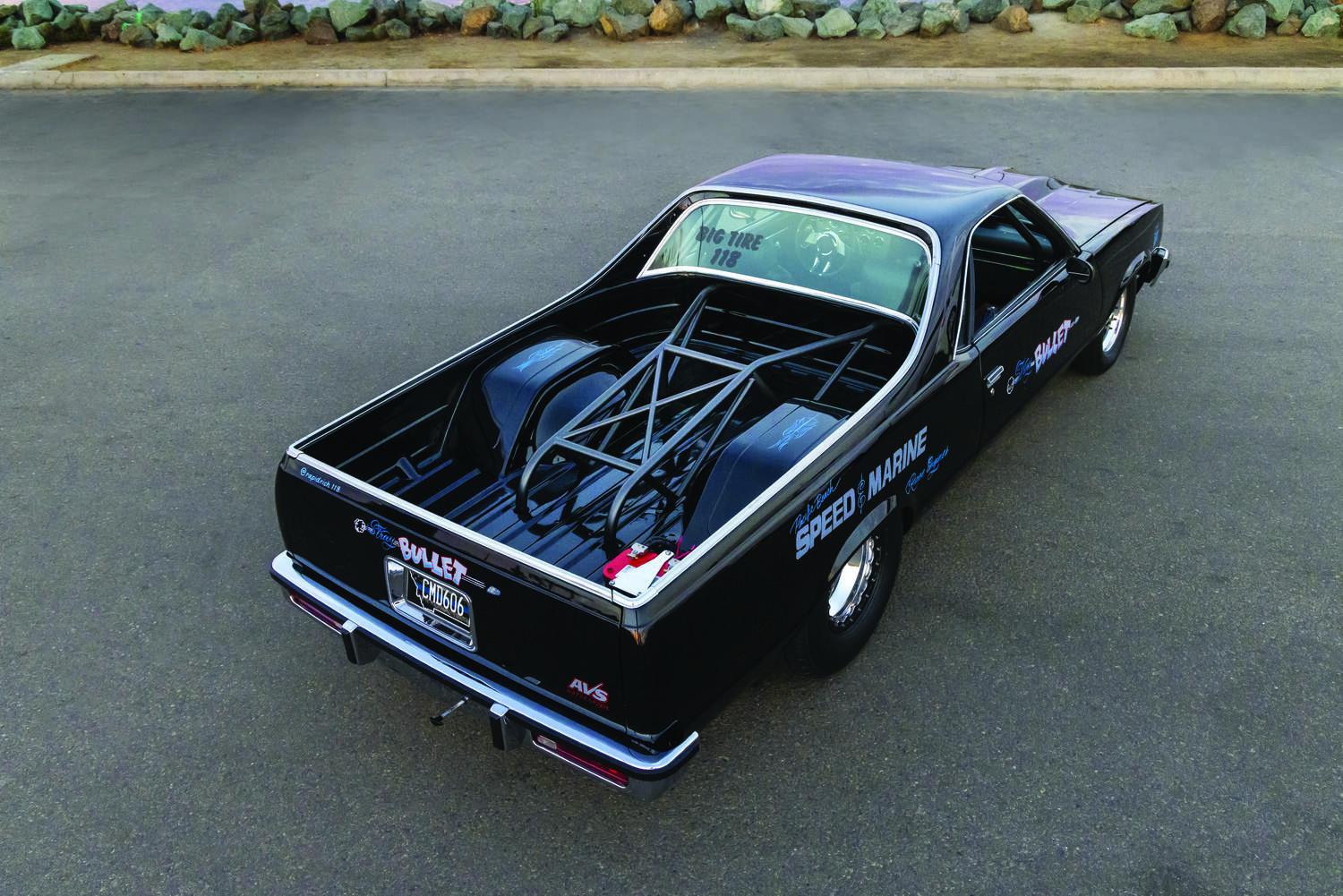 We asked Rich what he'd do different if he had to do it all over again. His half-joking response… "Not use a G-body. It's a unique car that required a lot of one-off parts to get it to look and perform the way I want. I'm still working out the bugs and have yet to make a full pass down the dragstrip, but that will happen soon."
In the meantime, Rich tells us the most memorable time he's had with the car thus far was using it to tow his boat to Bass Lake and Lake Havasu.
Wait! What? We've never heard of a Pro Streeter tripling down as a drag car, daily driver, and a boat tow vehicle. That's next-level functionality and proof this El Camino does it all, furthering our take that this is the coolest "Malibu pickup" on the planet.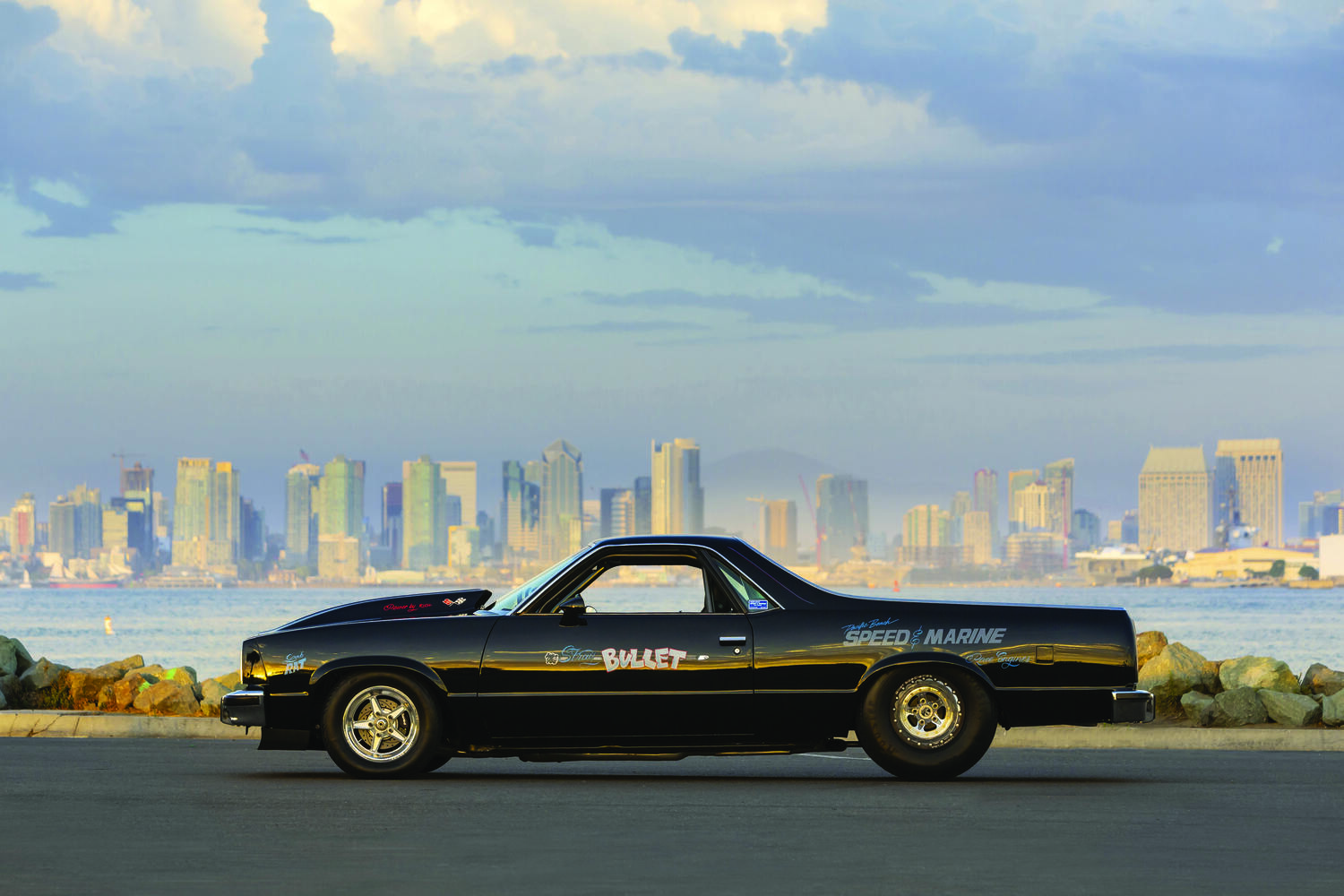 TECH CHECK
Owner: Rich Ambler
Vehicle: 1979 Chevy El Camino
 Engine
Type: Donovan big-block
Displacement: 557 ci
Compression Ratio: 10.5:1
Bore: 4.500 inches
Stroke: 4.375 inches
Cylinder Heads: Dart Race Series aluminum
Rotating Assembly: Scat Ultralite crankshaft, Scat H-beam rods, CP pistons
Valvetrian: PAC valvesprings, Crower shaft-mounted 1.8 ratio rockers
Camshaft: Bullet (0.774-inch lift, 258/269 duration at 0.050)
Induction: Kinsler cross-ram manifold, Kinsler fuel injection, AVS Motorsports custom fuel injection lid, AVS custom intake tubes, K&N filters
Machine Work: Shaver Racing Engines (Torrance, CA)
Assembly: Rich at Pacific Beach Speed & Marine (Pacific Beach, CA)
Exhaust: AVS Custom headers, AVS 4-inch exhaust, Spintech Mufflers
Ancillaries: Jones Serpentine drive system, Jones alternator, Moroso water pump, Spal modified dual fans, Mattson aluminum radiator, MSD ignition, Moroso plug wires
Output: 860 hp at 6,200 rpm and 790 lb-ft at 5,000
 Drivetrain
Transmission: Lenco ST-1206 five-speed transmission
Clutch: McLeod twin disc
Shifters: Lenco
Rear Axle: Chris Alston's Chassisworks Fab9, Lenco billet Detroit Locker, 3.25:1 gears, Strange 35-spline axles
 Chassis
Frame: Stock
Front Suspension: Global upper and lower control arms, QA1 double-adjustable coilover shocks, 400-pound springs, Lee's 12:1 steering box
Rear Suspension: Chris Alston's Chassisworks four-link suspension system, QA1 double-adjustable socks, 175-pound springs, Rick Jones antiroll bar
Brakes: Wilwood 12-inch rotors, four-piston calipers front, Wilwood 11-inch rotors, four-piston calipers rear, Wilwood master cylinder, Hydroboost
 Wheels & Tires
Wheels: Billet Specialties Pro Comp wheels (15×4 front, 15×15 rear)
Tires: Hoosier 23.0X 5.0-15 front, 31×18.50×15 rear
 Interior
Upholstery: OPGI Stock Replacement black loop carpet, factory door panels
Seats: Stock with black leather cover
Installed by: Mark Luhr's Custom Upholstery (El Cajon, CA)
Rollcage: 1 5/8-inch chromoly 12-point by Ron Lummus
Steering: ididit steering column, Flaming River steering wheel
Shifter: Lenco levers
Dash: Custom by AVS Motorsports
Dash Insert: Custom by AVS Motorsports
Instrumentation: Auto Meter
HVAC: None
Entertainment System: Right pedal hammered, clutch out
 Exterior
Bodywork and Paint: El Cajon Collision (El Cajon, CA)
Paint: PPG Onyx Black
Graphics: Danny Alvarado (Monrovia, CA)
Hood: Harwood Fiberglass 4-inch cowl
Rear Wheel Openings Widened: AVS Motorsports
Grille: Stock modified for air intake
Trim: OPGI
Bumpers: Stock