This 1988 Camaro IROC-Z is a Pro Touring Masterpiece
By Tommy Lee Byrd   –   Photography by the Author
Every car enthusiast has a bit of nostalgia flowing through their veins. It has taken a while, but we're starting to see a great deal of '80s cars coming onto the Pro Touring scene. Part of the reason is that they're still somewhat affordable compared to cars from the muscle car era. And the most encouraging part is that people are investing money in these cars to make them handle and perform better than they could've ever imagined. If you remember when these cars hit the showroom floor, there were very few American cars that could outperform the coveted IROC-Z. Even the base model third-generation Camaros were a drastic jump in suspension technology, compared to the tried-and-true second-generation cars. Strut front suspension and torque arm rear suspension made for quite the combination when the appropriate spring rates were achieved, and the IROC-Z really hit the sweet spot. No matter your experience with these cars back in the day, the Wolf Gray example shown here is an entirely different animal.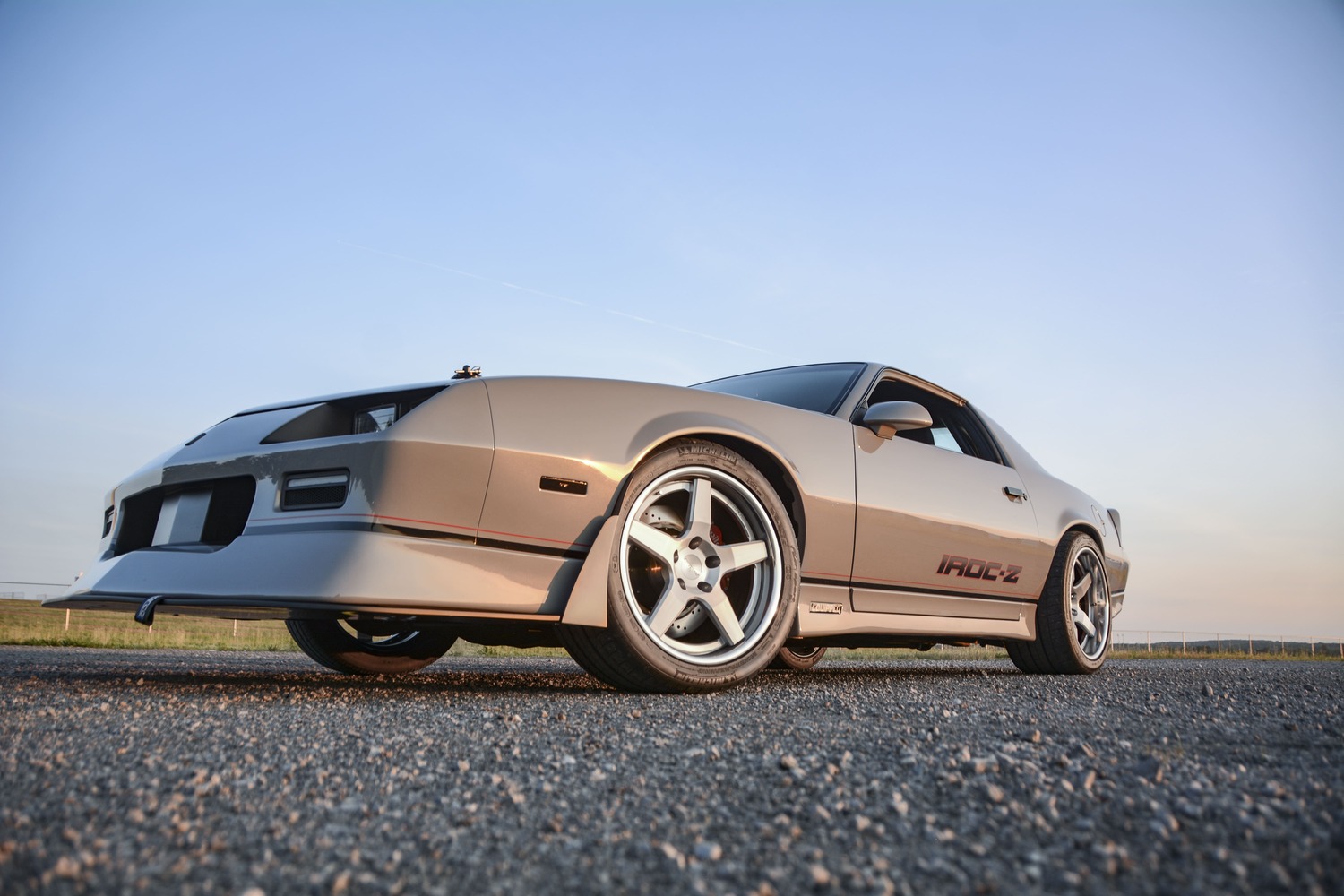 Read More: Douglas Cooper's 1969 Camaro is Pro Touring Perfection
Francisco Murillo built this as a shop car for his custom shop called Metal Brothers Hot Rods in Theodore, Alabama. Metal Brothers handles all types of fabrication, suspension work, engine work, paintwork, and final assembly, and threw the gauntlet at this killer third-gen. The idea for the build came when Francisco bought a '92 Camaro that had an LS3 swapped in place of the original 305. He got caught in a rainstorm and wrecked the car, but the seed was already planted. The balance was good, the horsepower was great, and he knew he could improve the whole package with a clean slate. So, he found a buildable '88 Camaro and set forth on a complete Pro Touring build.
After stripping the car down to the bare bones, Francisco and crew laid out plans for the full Detroit Speed treatment underneath. The front suspension includes tubular control arms, adjustable struts, and a bigger sway bar. Another upgrade is the Detroit Speed caster/camber plate kit, a bolt-on part that allows a wide range of adjustability. Out back, the Detroit Speed QUADRALink system offers JRi shocks, custom springs, and another big sway bar. All this is mounted to a 9-inch rearend with GearFX internals, 3.50:1 gears, and Moser axles. As Francisco prepared the car for the new components, he also tied the chassis together with Detroit Speed subframe connectors and a four-point rollbar that he built in-house.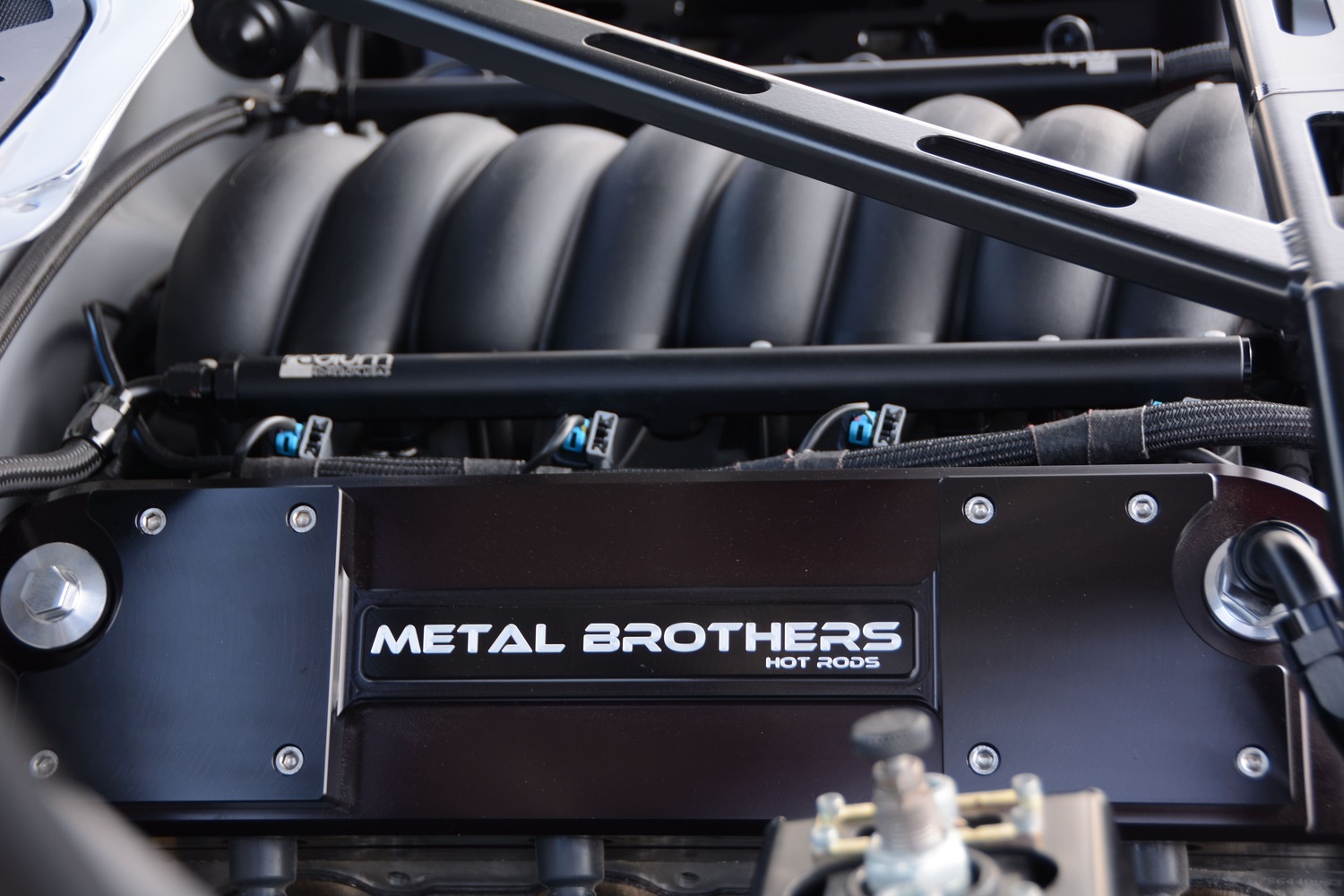 A big portion of the fabrication work came when the decision was made to move the engine back 5 inches. This modification provides even better weight balance than the original but it created a snowball effect, as the transmission and associated crossmembers had to move accordingly. Fitting the Bowler Transmissions–prepared T56 Magnum was a challenge, but Francisco was able to position the shifter in the appropriate spot in the original console. A QuickTime bell housing and McLeod dual clutch rides between the six-speed manual transmission and the stroker LS engine.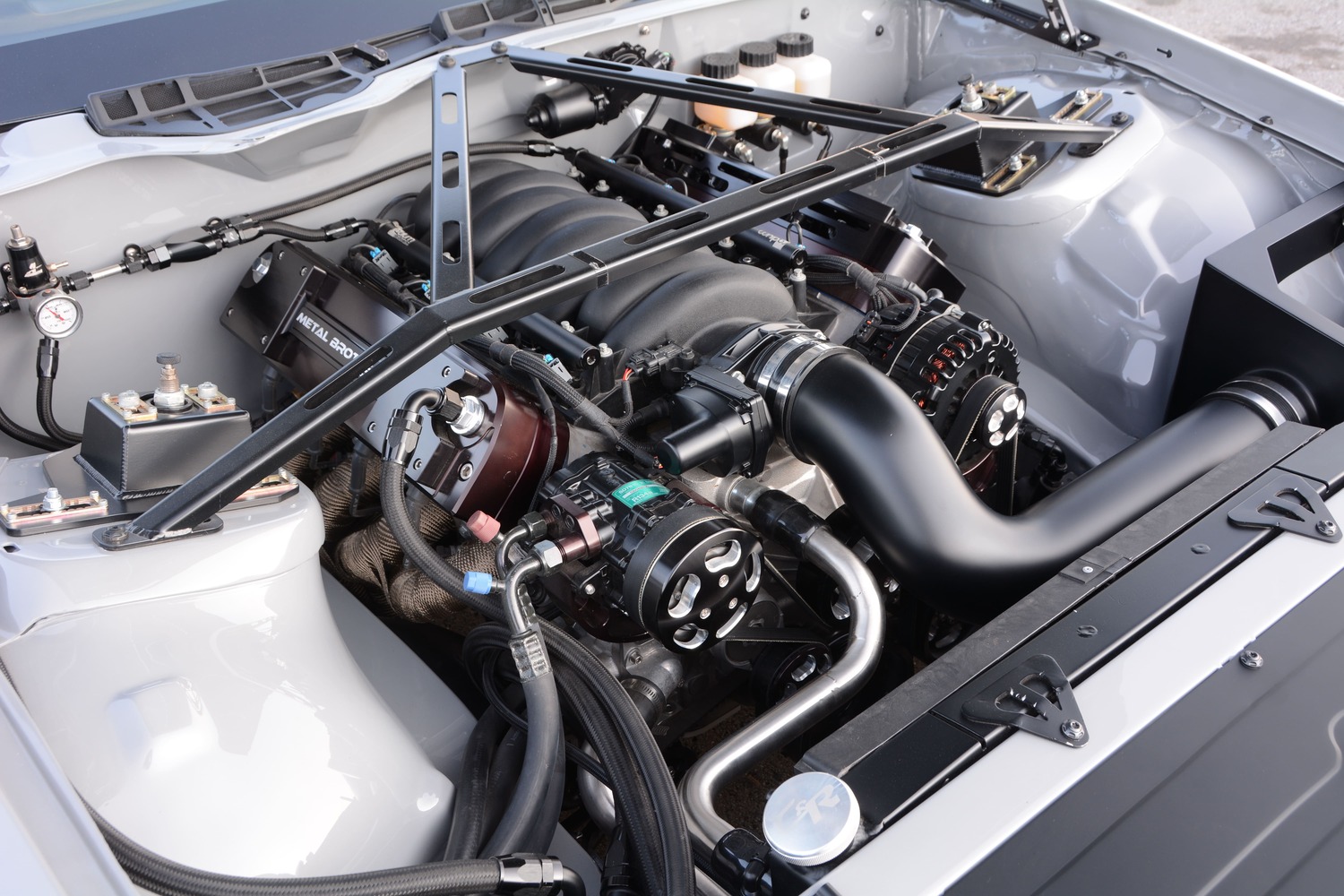 Francisco started his horsepower journey with a Chevrolet Performance crate engine; an LS376-525 to be exact. The engine served as a great starting point, but Francisco and crew took it to the next level with a Callies stroker crankshaft and I-beam connecting rods. They also converted the engine to dry sump with a Dailey Engineering oil system. The 416ci stroker is fed by an Aeromotive fuel system, which is plumbed into a modified original gas tank. The Hooker Blackheart stainless steel headers lead into a custom 3-inch stainless exhaust system with Stainless Works chambered mufflers.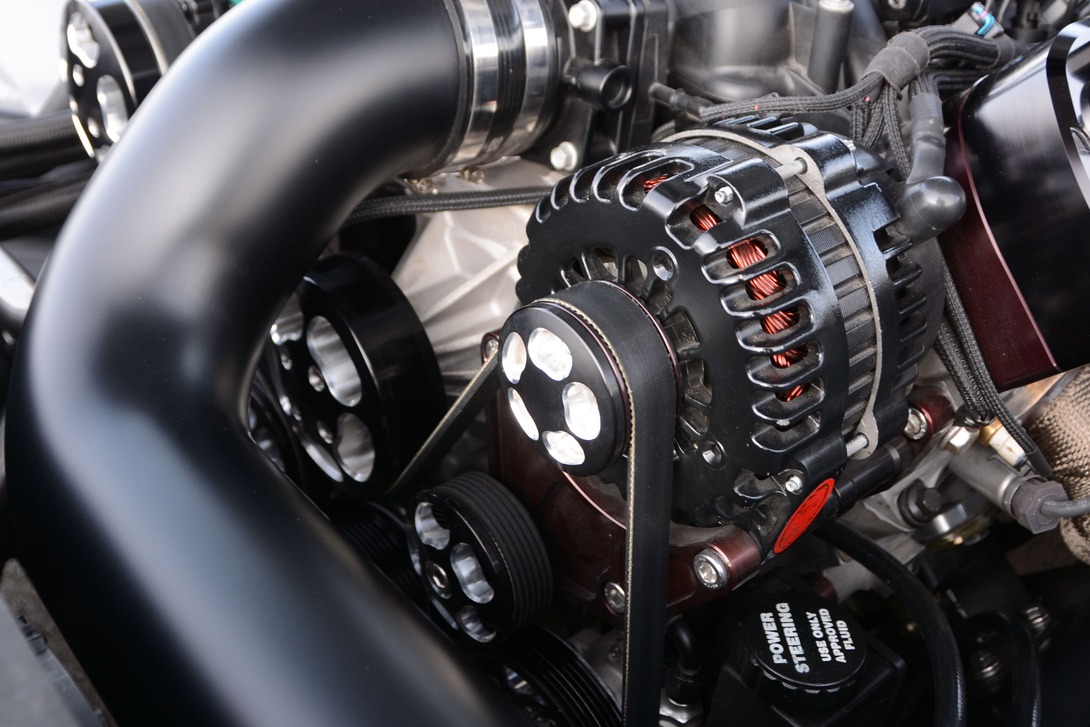 More Camaro Love: Mark Dykeman's 1972 Chevy Camaro Packs a Punch
Francisco and the crew at Metal Brothers finished off the engine bay with smoothed inner fenders and firewall, as well as a great mixture of finishes and textures. The slick gray paint is super clean and offers excellent contrast to the black Wegner accessory drive and dark finishes on the custom coil covers. The cooling system consists of a C&R aluminum radiator with dual electric fans, and is plumbed with custom steel coolant hoses. Custom close-out panels offer a slick alternative to the original plastics. Other engine bay details include Ringbrothers hood hinges and a custom air intake system.
The slick finish continues outside, with a beautiful coat of Axalta Wolf Gray paint with factory-style black and red lower body stripes. Metal Brothers Hot Rods replaced one quarter-panel and a section of floorpan to eliminate damaged areas and moved forward with bodywork and panel alignment. The front nose piece is extended and features a custom front splitter. Modern lighting is hidden behind smoked lenses and the finishing touch is the custom IROC-Z door decals with Metal Brothers Hot Rods printed inside the red-outlined letters.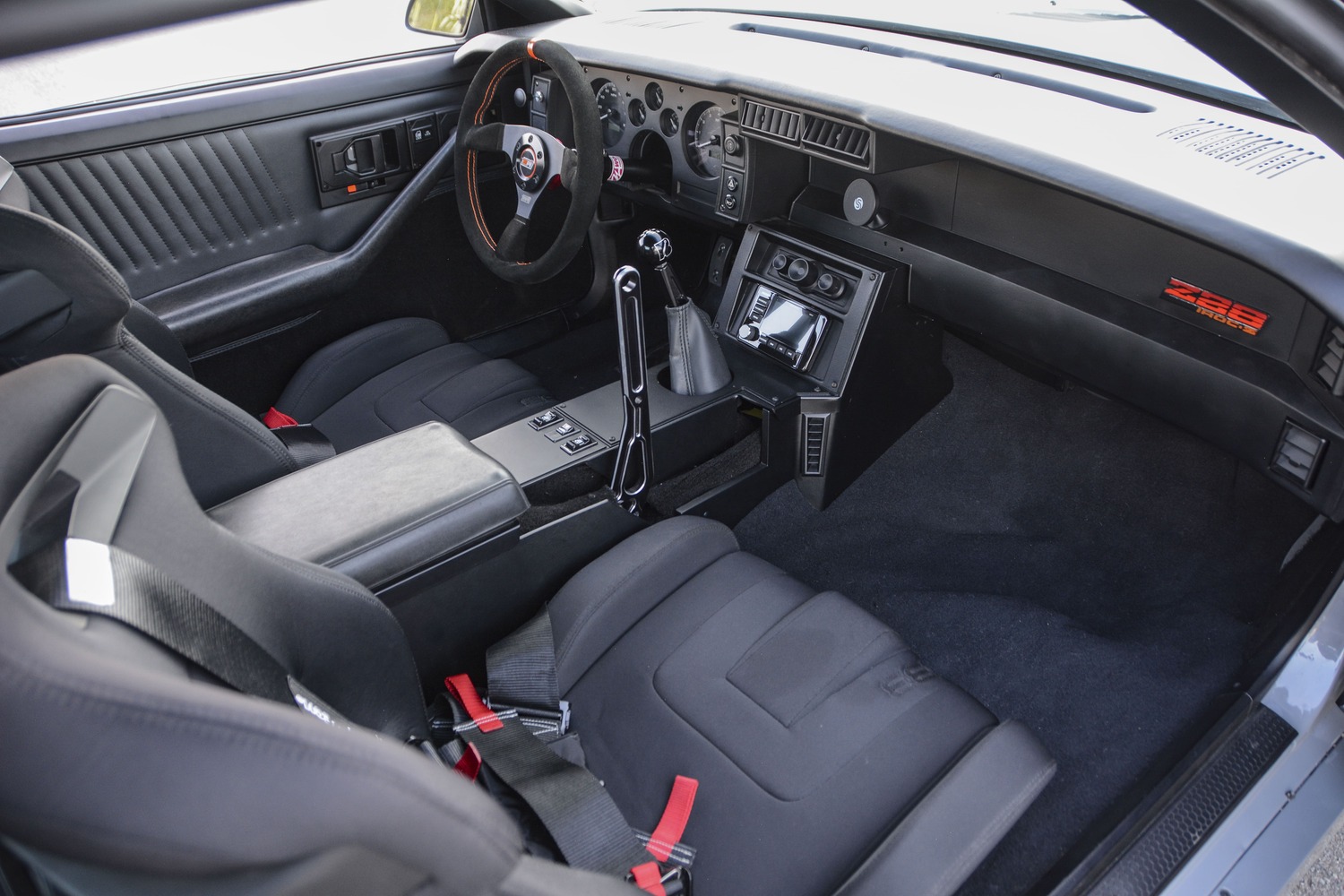 Inside, you'll find a mostly stock-appearing interior, with upgraded seating and instrumentation. Even though the Sparco buckets and Teamtech harnesses grip tighter than the original seats, sliding behind the wheel of this car still sends you back in time. Francisco eliminated the chunky original steering column with a Woodward racing column and a Max Papis Innovations steering wheel. Tilton racing pedals and master cylinders offer race-ready performance and reliability. When asked about the handbrake, Francisco said "it's just for fun," which truly sums up the purpose behind this incredible build. It's a fun throwback to the '80s, except this car makes three times the horsepower, has twice as much tire underneath it, and has details that '80s GM engineers could only dream about. Francisco has been working the bugs out of his Pro Touring masterpiece and plans to autocross it on a regular basis. He had a lot of support along the way, and the finished product speaks volumes of the quality of work that comes out of the Metal Brothers Hot Rods shop. Now, it's time to tune the Kicker audio system to some '80s rock and hit the highway with this showstopping IROC-Z.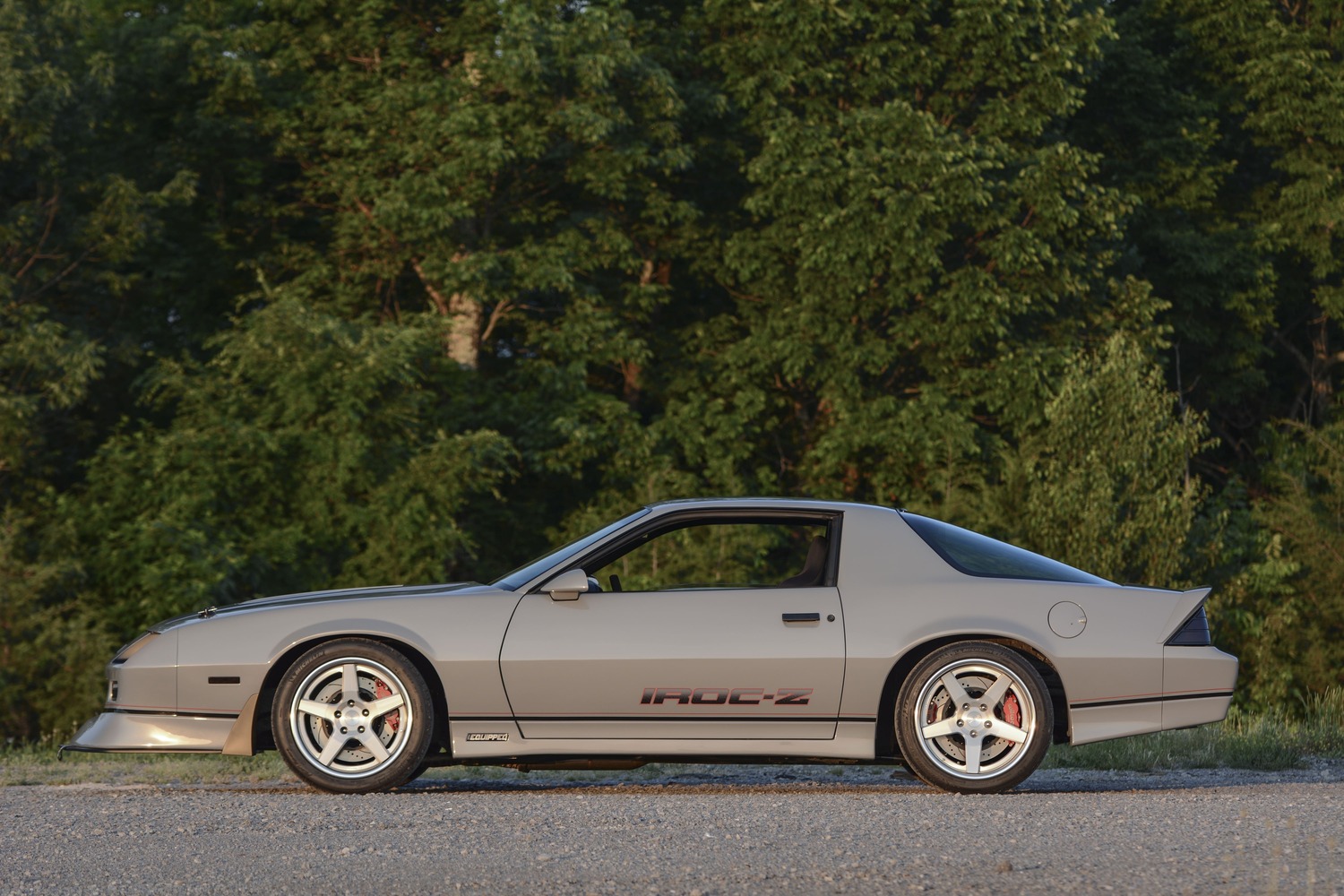 TECH CHECK
Owner: Francisco Murillo
Vehicle: 1988 Camaro IROC-Z
Engine
Type: Gen 4 LS
Displacement: 416 ci
Compression Ratio: 10.5:1
Bore: 4.070 inches
Stroke: 4 inches
Cylinder Heads: GM L92, 2.165-inch intake valves, 1.590-inch exhaust valves
Rotating Assembly: Callies crankshaft and rods, CP pistons
Valvetrain: 1.7:1 rocker arms
Camshaft: GM Hydraulic Roller, 226/236 duration at 0.050-inch lift, 0.525-inch lift
Induction: LS3 manifold with custom cold air box
Ignition: GM coil-on-plug
Exhaust: Hooker stainless headers, Stainless Works chambered mufflers
Ancillaries: Custom coolant hoses, custom valve covers, Wegner accessory drive
Output (at flywheel): 633.50hp/536.55 lb-ft
Drivetrain
Transmission: T56 six-speed, Bowler Transmissions, McLeod dual-disc clutch
Rear Axle: 9-inch, GearFX differential, 3.50:1 gears, Moser axles
Chassis
Front Suspension: Detroit Speed, tubular control arms, sway bar, adjustable struts
Rear Suspension: Detroit Speed QUADRALink, sway bar, JRi shocks,
Brakes: Wilwood 14-inch rotors, six-piston (front), four-piston (rear), Tilton master cylinder
Wheels & Tires
Wheels: Forgeline AL300, 18×10 front, 18×11 rear
Tires: Michelin Pilot Super Sport 295/35R18 front, 315/30R18 rear
Interior
Upholstery: Original-style interior
Material: Original
Seats: Sparco
Steering Wheel: Max Papis Innovations
Shifter: Bowler
Dash: Original
Instrumentation: Dakota Digital
Audio: Kicker
HVAC: Restomod Air
Exterior
Bodywork: Metal Brothers Hot Rods
Paint By: Francisco Murillo
Paint: Axalta Cromax XP, Wolf Gray
Hood: Stock
Grille: Stock
Bumpers: Custom splitter