Douglas Cooper's 1969 Camaro is Pro Touring Perfection
By Tommy Lee Byrd   –   Photography by the Author
Over the years, we've watched build standards for Pro Touring vehicles accelerate well beyond the concept of simply building a muscle car that handles like a modern sports car. In the case of Douglas Cooper's immaculate Pro Touring machine, you'll find that functionality is blended with high-end details all wrapped up in the skin of a 1969 Camaro. Douglas is no stranger to first-generation Camaros, and he bought this one several years ago at Barrett-Jackson's West Palm Beach auction. It was a well-built COPO clone but left a lot to be desired when it came to handling and performance. Since it didn't have true COPO history, Douglas didn't hesitate to go the distance with a full Pro Touring build.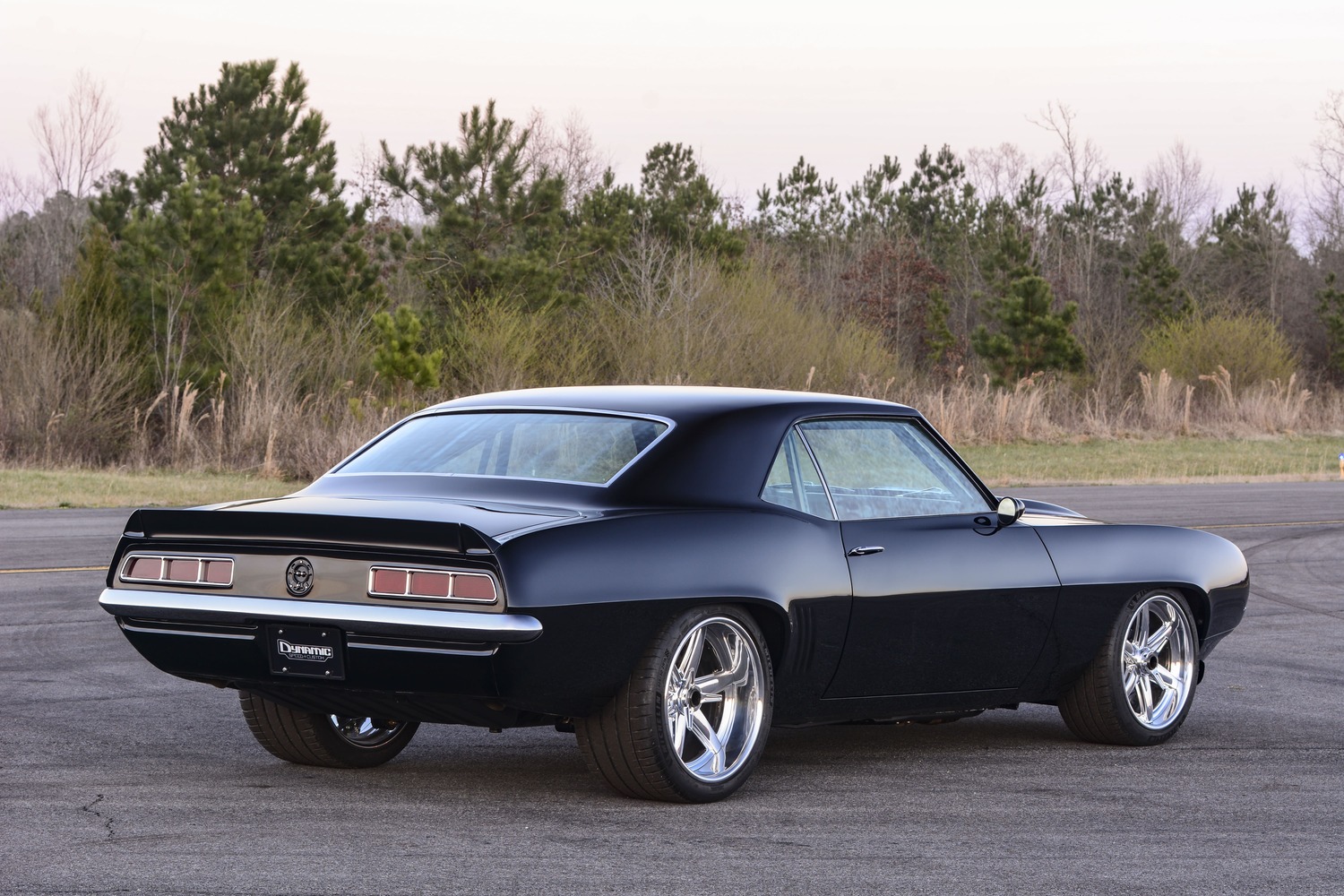 The car was stripped down to the bare bones and received an eight-point rollcage, subframe connectors, and mini-tubs, all fabricated and installed by Super Pro Performance in Bayshore, New York. From there, the body was shipped down to Dynamic Speed & Custom in Gadsden, Alabama, where it received thousands of hours of fabrication, bodywork, paint, and final assembly. Barry Alford and Kyle Kirkman spent a great deal of time tastefully modifying the Camaro and finishing it out with a great selection of components. To say that Douglas is detail-oriented would be an understatement, so he was intensely involved in the build process, even though the car was 1,000 miles away from his home in New York.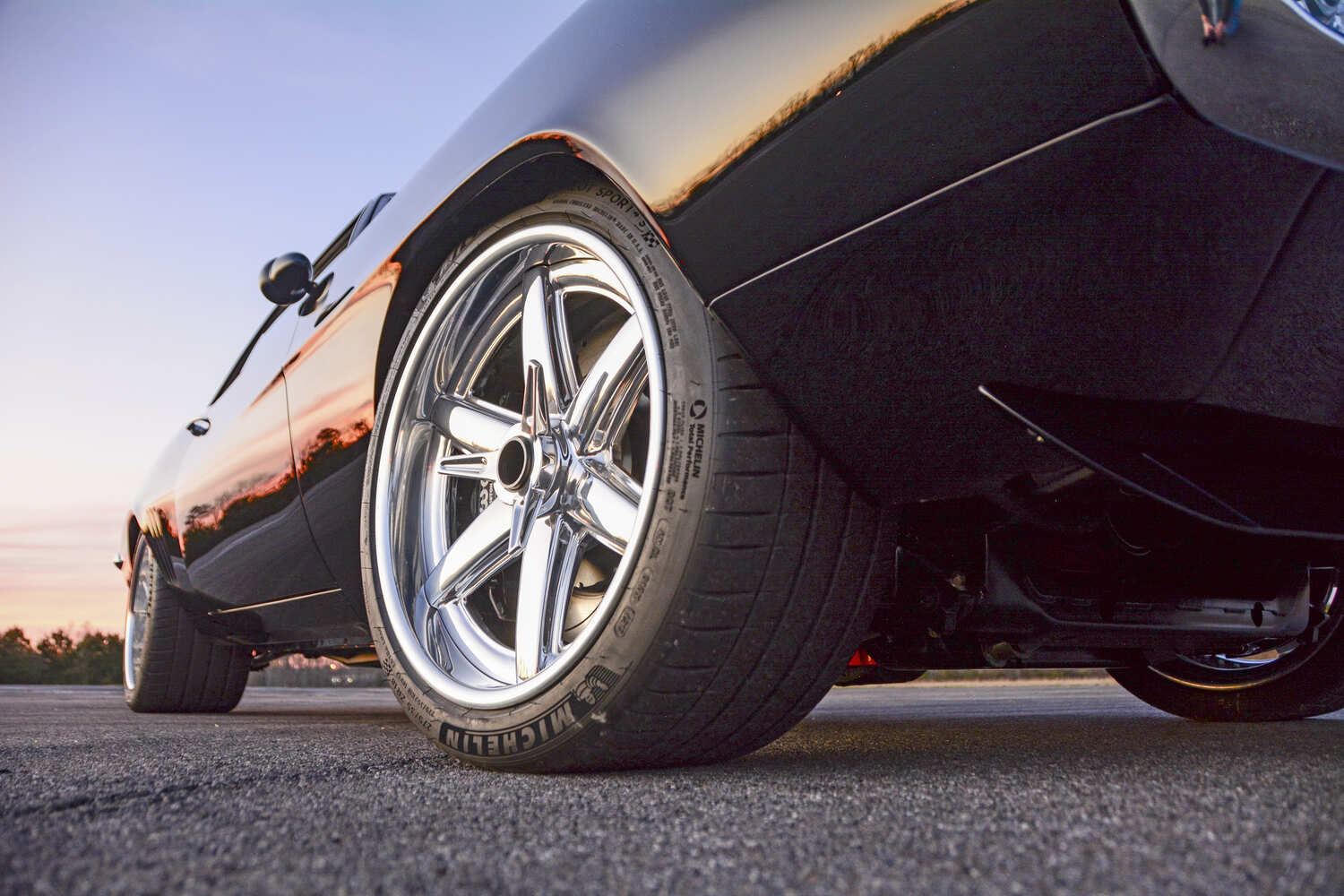 Underneath the Camaro is a Detroit Speed hydroformed subframe outfitted with tubular control arms, triple-adjustable Ridetech coilovers, and rack-and-pinion steering. A Detroit Speed QUADRALink rear suspension eliminates the leaf springs and the narrowed 9-inch rearend and mini-tubs provide ample room for the 325/30R19 rear tires. Braking power comes from giant Wilwood discs, while traction comes by way of Michelin rubber. One-off 18×10 and 19×12 wheels from Curtis Speed are an awesome throwback to vintage magnesium racing wheels, but they're milled from aluminum and feature custom knock-off hubs.
Purpose Built: Mark Dykeman's 1972 Chevy Camaro Packs a Punch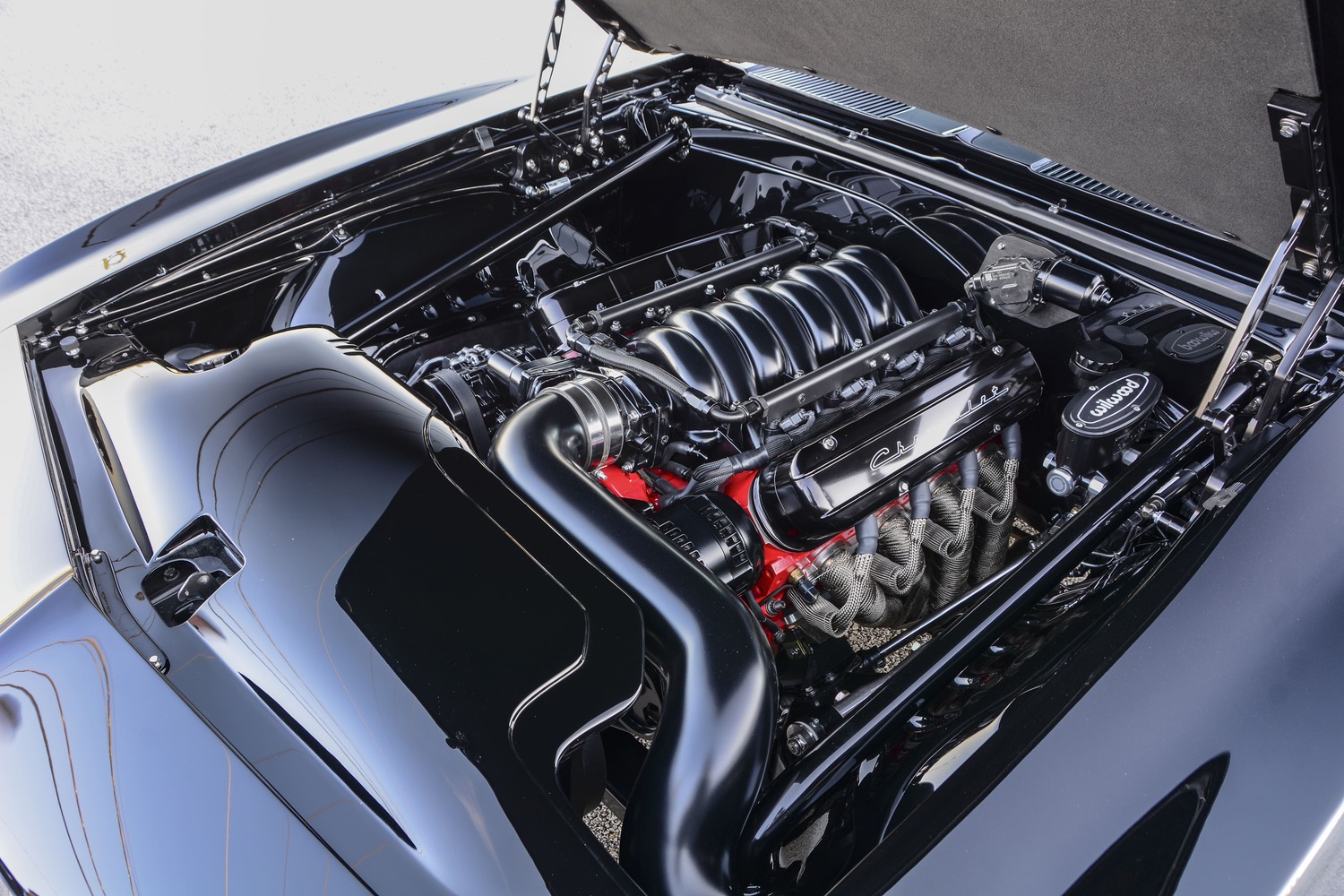 Horsepower comes from an LS3-based combination from Turn Key Engines, which has been opened up to 427 ci with a forged rotating assembly. A Comp Cams hydraulic roller offers an aggressive exhaust note at idle, especially with the combination of Kooks stainless headers and mufflers, tied together by a custom 3-inch exhaust built by Dynamic Speed & Custom. Aesthetically, the LS engine is as clean as they come, with custom Billet Specialties valve covers, which also cover the coils. Behind the well-dressed LS engine is a T56 six-speed transmission, prepared by Bowler Transmissions.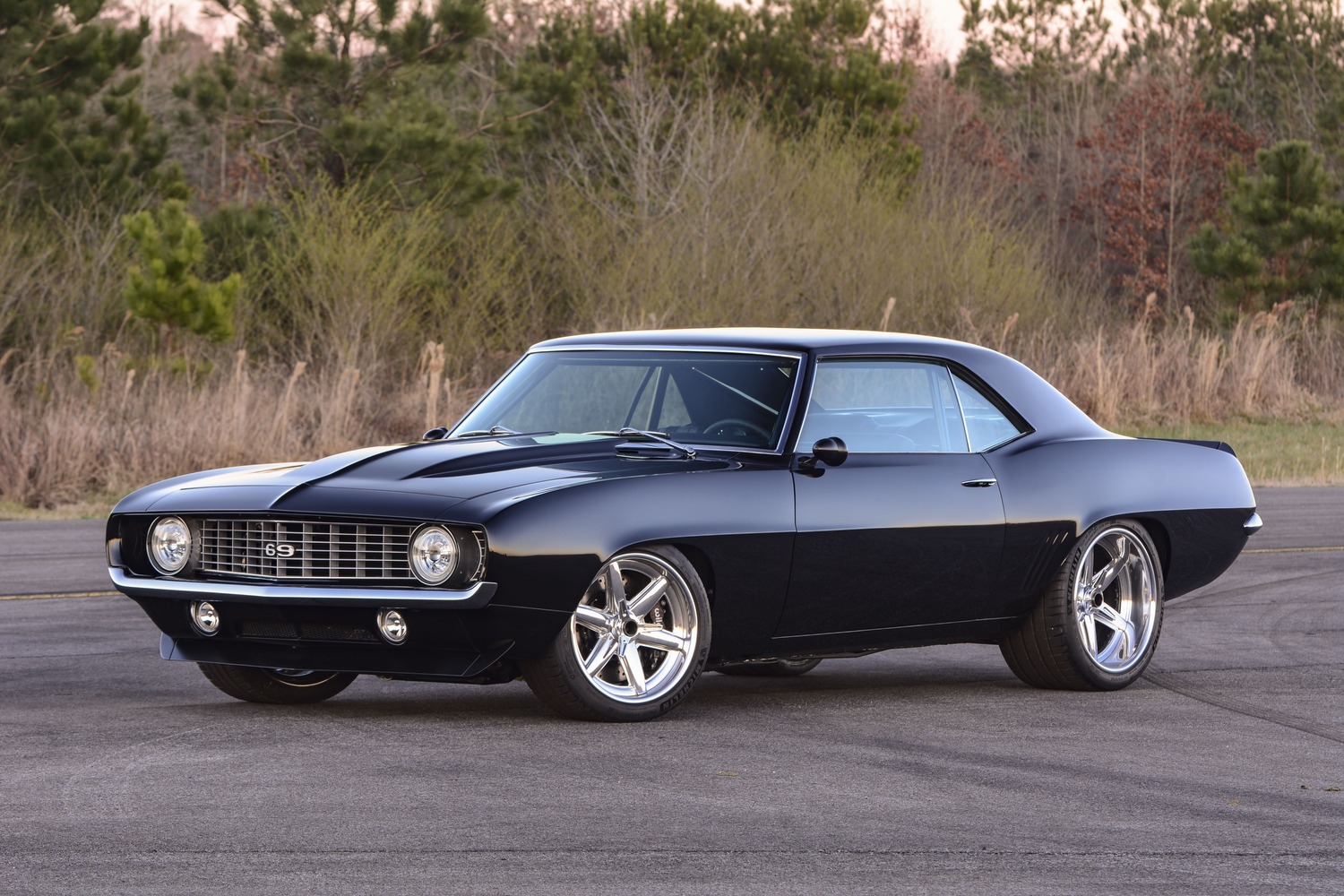 When it comes to the exterior, the car still carries on the Camaro legacy, but subtle details improve the proportions and add to the car's long list of custom details. Barry Alford at Dynamic Speed & Custom handled the body modifications, which includes tucked front and rear bumpers, one-off door handles with C6 Corvette electric latches, custom front and rear spoilers, and much more. Alford also perfected the panel gaps and straightened the body in preparation for BASF Glasurit black paint. Every square inch of the car was sanded, buffed, and polished to perfection, and carefully reassembled with beautifully finished trim from Jon Wright's CustomChrome Plating. Dapper Lighting headlights and Marquez taillights provide modern looks and functionality.
Chip Foose stepped into the picture to help Douglas visualize the custom interior. Dynamic Speed & Custom fabricated the door panels and many other interior panels. M&M Hot Rod Interiors handled the stitchwork and covered the custom components in black leather with suede inserts and red stitching. Dynamat was applied to insulate the cabin before M&M installed the custom carpet. The center console started as a 135-pound block of aluminum and now weighs 6 pounds after Valley Tooling and Machine built it to Douglas' specifications. Kyle Kirkman at Dynamic Speed & Custom installed the Clarion stereo system and hid the head unit inside the glovebox. An American Autowire harness feeds power to the car's plentiful accessories.
Sunset '69: Hot Rods By Dean's Latest Camaro Creation
When the dust settled from this extensive build the result is an incredible mixture of subtle details and timeless style. Ultimately, Douglas and his tendency to be hyper critical paid off, as the car truly showcases the talents of everyone involved. Although Douglas rarely considers a car to be "finished," he's ready to start putting some miles on this meticulously detailed Camaro.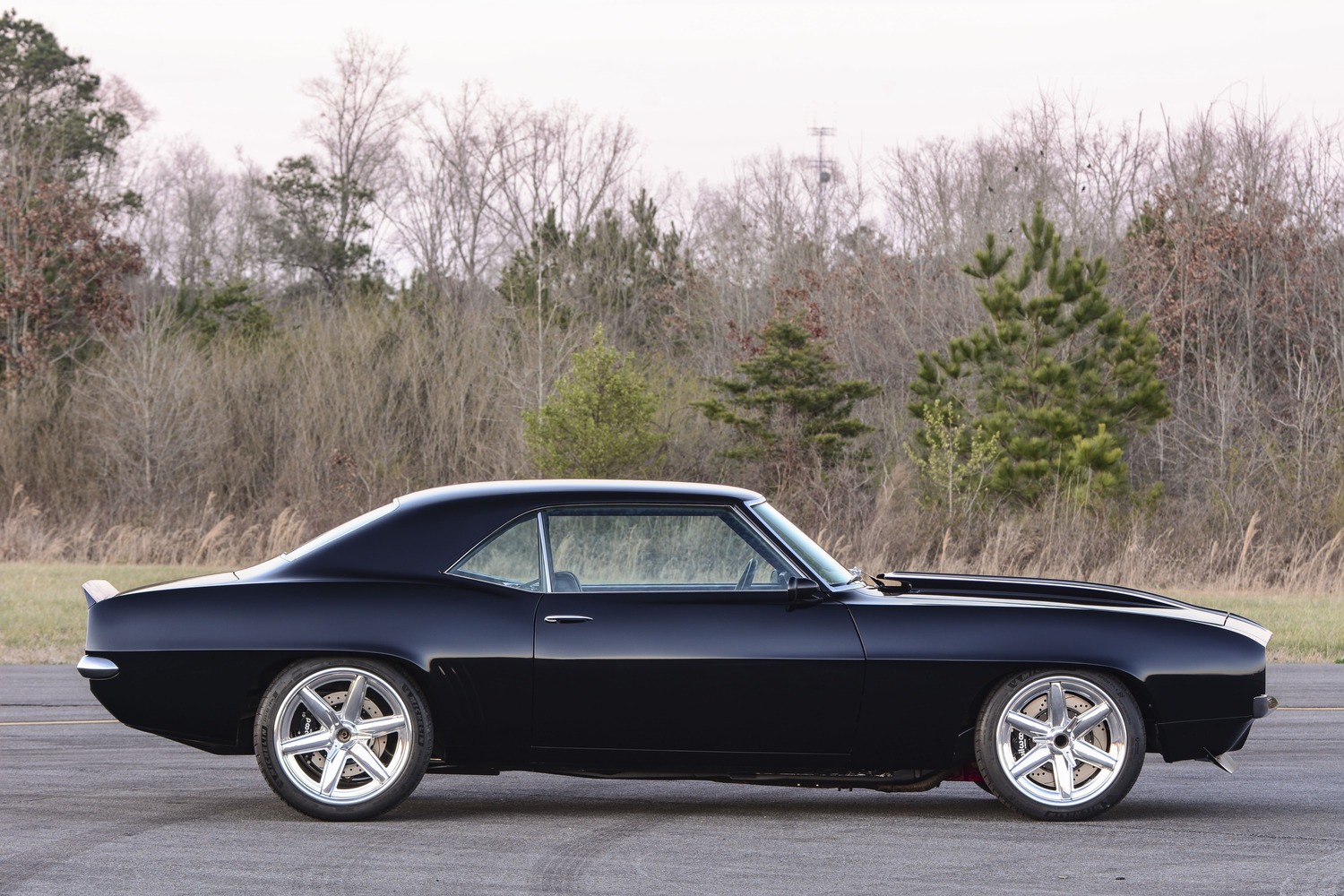 TECH CHECK
Owner: Douglas Cooper, Oyster Bay, New York
Vehicle: 1969 Camaro
Engine
Type: LS3 based
Displacement: 427 ci
Compression Ratio: 11.0:1
Bore: 4.065 inches
Stroke: 4.125 inches
Cylinder Heads: LS3 "0821" castings, 2.160, 1.590 valves
Rotating Assembly: Scat 4340 forged crankshaft, Scat H-beam rods, Mahle pistons
Valvetrain: Chromoly pushrods, 1.7:1 rockers
Camshaft: Comp hydraulic roller, 0.625-inch lift
Induction: GM intake manifold, smoothed by Dynamic Speed & Custom
Ignition: GM coil-on-plug with DEI plug wire insulators
Exhaust: Kooks stainless headers with DEI wrap, 3-inch with X-pipe and Kooks mufflers
Ancillaries: Vintage Air LS Front Runner pulley system, Billet Specialties valve covers, Brice Thomas radiator, Ring Brothers hood hinges
Output (at crank): 600 hp at 6,000 rpm and 620 lb-ft of torque at 4,200 rpm
Drivetrain
Transmission: Bowler T56 six-speed
Rear Axle: GearFX 9-inch, 3.50:1 gears, Moser 31-spline axles
Chassis
Front Suspension: Detroit Speed Hydroformed subframe, tubular control arms, Ridetech coilovers, rack-and-pinion, splined sway bar
Rear Suspension: Detroit Speed QUADRALink with Ridetech coilovers
Brakes: Wilwood, 14.5-inch front, 14.25-inch rear, six-piston calipers
Wheels & Tires
Wheels: One-off by Curtis Speed, 18×10 front and 19×12 rear
Tires: Michelin Pilot Sport, 275/35R18 and 325/30R19
Interior
Upholstery: M&M Hot Rod Interiors (Holly Pond, AL)
Material: Black leather with red stitching
Seats: Custom by M&M Hot Rod Interiors, custom seatbelts by Seat Belt Planet
Steering: Billet Specialties steering wheel and ididit column
Shifter: Bowler
Dash: Custom by Dynamic Speed & Custom and M&M Hot Rod Interiors
Instrumentation: Classic Instruments
Audio: Clarion head unit hidden in glovebox, Clarion amplifiers and speakers
HVAC: Vintage Air
Exterior
Bodywork: Dynamic Speed & Custom
Paint By: Dynamic Speed & Custom
Paint: BASF black
Hood: GM cowl hood
Grille: Reproduction with custom "69" emblem
Bumpers: Tucked by Dynamic Speed & Custom, chrome plated by Jon Wright's CustomChrome Plating