Doug Renner's 1,300hp '69 Camaro SS
By Nick Licata – Photography by Wes Allison
"Since the eighth grade when my Pop's business partner rolled up to their tire store in a dark blue with white stripes '69 Z/28 Camaro, the thought of owning a car just like that became my dream–more like an obsession," Doug Renner vividly remembers. "That car was the catalyst to how this whole thing started with my '69 SS."
Like many of us who grew up in the '70s, playing with toy and model cars were the gateway to one day having the real thing. "As a kid, I loved playing Hot Wheels with all the neighborhood kids and my two brothers," Doug recalls. "We'd play with those cars all day long."
That passion was confirmed when Doug took on an after-school gig at his dad's shop as an environmental presentation engineer (floor sweeper), which meant his duties consisted of making sure the shop appeared in tip-top shape. "All of the mechanics who worked there had muscle cars–borderline race cars, actually. There were two '66 fastback Mustangs, a big-block Vega, which had one of the first NOS kits, and, of course, the '69 Z/28 Camaro with a 13:1 compression small-block and a four speed–that's the one that did me in," Doug confesses.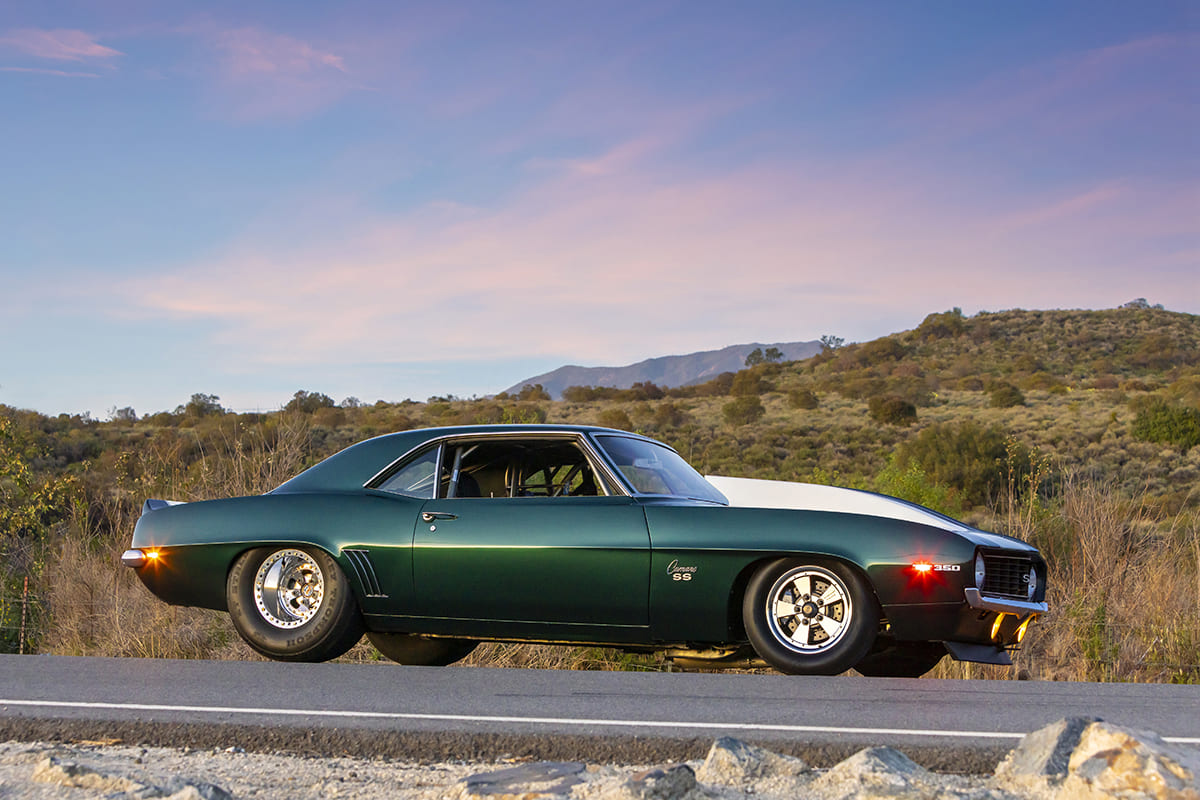 "At that time my dad owned an El Camino with a 350 small-block and he'd do epic burnouts in it. The best part of the day was getting off work and hitching a ride home from my dad or one of the mechanics in their cool cars. They'd blaze the rear tires getting on the freeway onramp and row through the gears shifting at about 7,000 rpm. The sound of a V-8 revving that high with an 8-track tape of Bob Seger and The Silver Bullet Band cranking through a set of 5-inch coaxial door speakers are etched in my brain. It's those memories that set the stage for me seeking out a '69 Camaro of my own."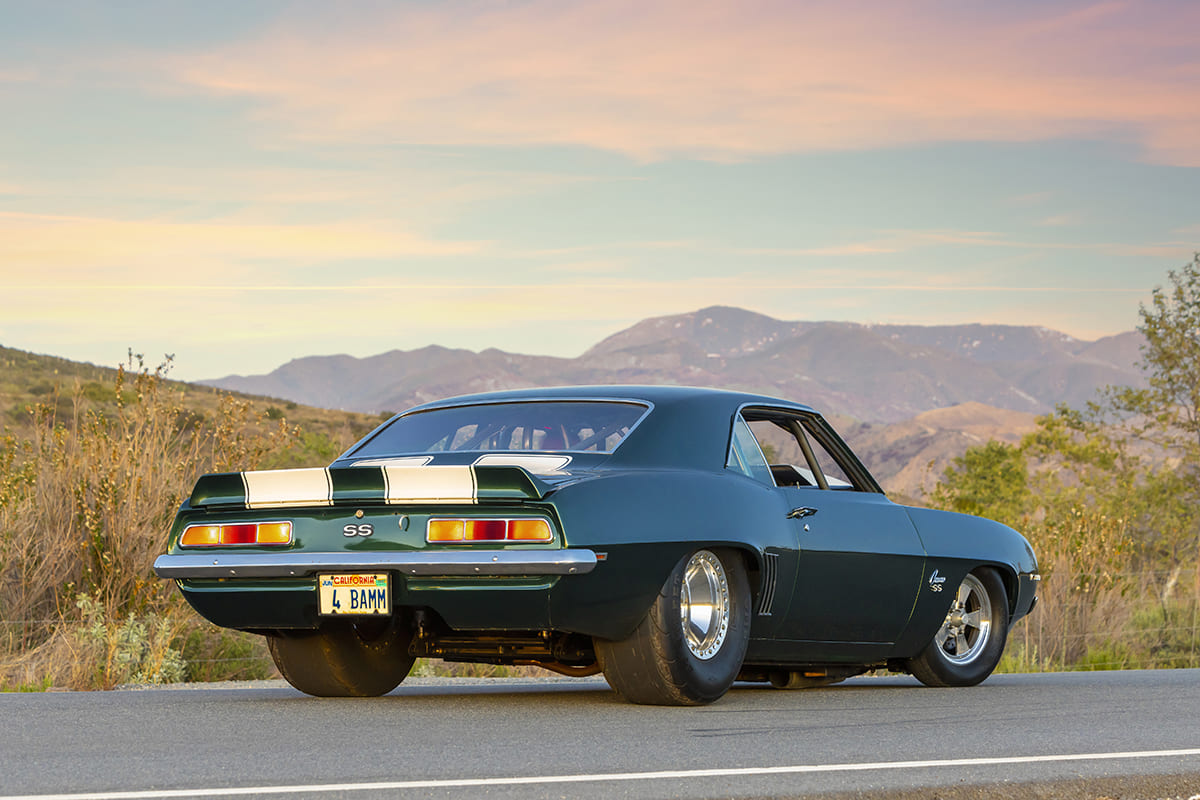 With his sights firmly set, Doug was lucky enough to have an understanding mom—an enabler of sorts. Actually, she was a full-on co-conspirator in Doug's quest to find a Camaro. "My mom would shuttle us around and whenever I saw a '69 Camaro in a parking lot she would pull over for me while I'd try to hunt down the owner to dig up information and ask if the car was for sale," Doug tells. "The result was me having a lot of names and inventory of potential cars for sale in my town. I was clearly a car stalker before that was a term.
"On a random trip around town, I spotted this '69 in the parking lot of a hair cutting shop. I spoke with the lady who worked there and found out she was the owner of the car and said she and her husband had just been talking about selling the car the night before. The Camaro had just been painted dark green with white stripes and had a stock 350, headers, and a 12-bolt rearend. Fortunately, I was able to strike a deal with them on the car, then I talked my parents into paying half and I the other. I finally had the car of my dreams."
Not quite 16 years old, Doug had many sleepless nights thinking about the day he'd be able to drive the car to school. That day finally came and it was a memorable one as he'll never forget the looks he got pulling into the school parking lot. Part of the deal he made with his dad was to keep the car stock, or at least leave as purchased. "Clearly that promise has been slightly violated," Doug says with a smirk. "but my dad is OK with it."
The modifications started out small and innocent—innocent to Doug, at least. He replaced a leaky thermostat at about six months in, then he and his high school buds installed a cam and an Edelbrock Torquer manifold with an adaptor to run a Quadrajet carburetor along with a Pete Jackson geardrive. Not long after, a Hurst Lightning Rods shifter made its way in the car. "A few months later I was running mid 13s at 106 mph at the strip. That setup got me major 'street cred' in my small NorCal town as I was beating alleged 10-second muscle cars by two to three car lengths." It wasn't long after that at least six other local cars were running geardrives, some with Lightning Rods.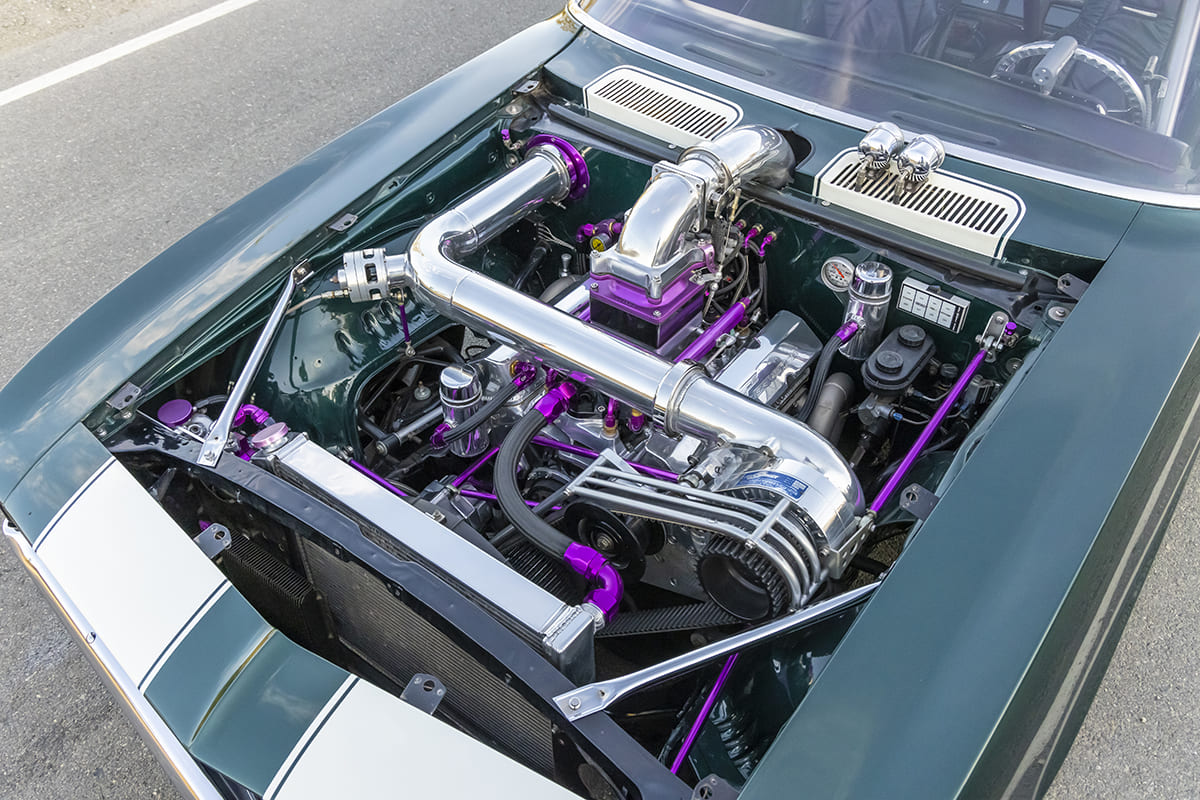 Having owned the SS since 1983, the car has gone through numerous changes and upgrades. Some worked and some didn't. There were also plenty of stop-and-start build situations over the years. In its current state the car is licensed and street legal but the reality is that it's dedicated for the strip. That's all due to the radical supercharged 434ci Katec Bowtie Raceshop small-block built by Craig Reeds High Performance in Fullerton, California, that belts out 1,320 hp to the tires. Fun on the street? Yes, but not for long, and absolutely not in any sort of traffic.
Doug confirms the car's current engine combination lacks streetability, so he's setting aside funds for a blown-and-injected Tom Nelson "Imposter" big-block. It sounds like a monster, which it is, but that engine has the capability to be street driven–something Doug has wanted for a long time.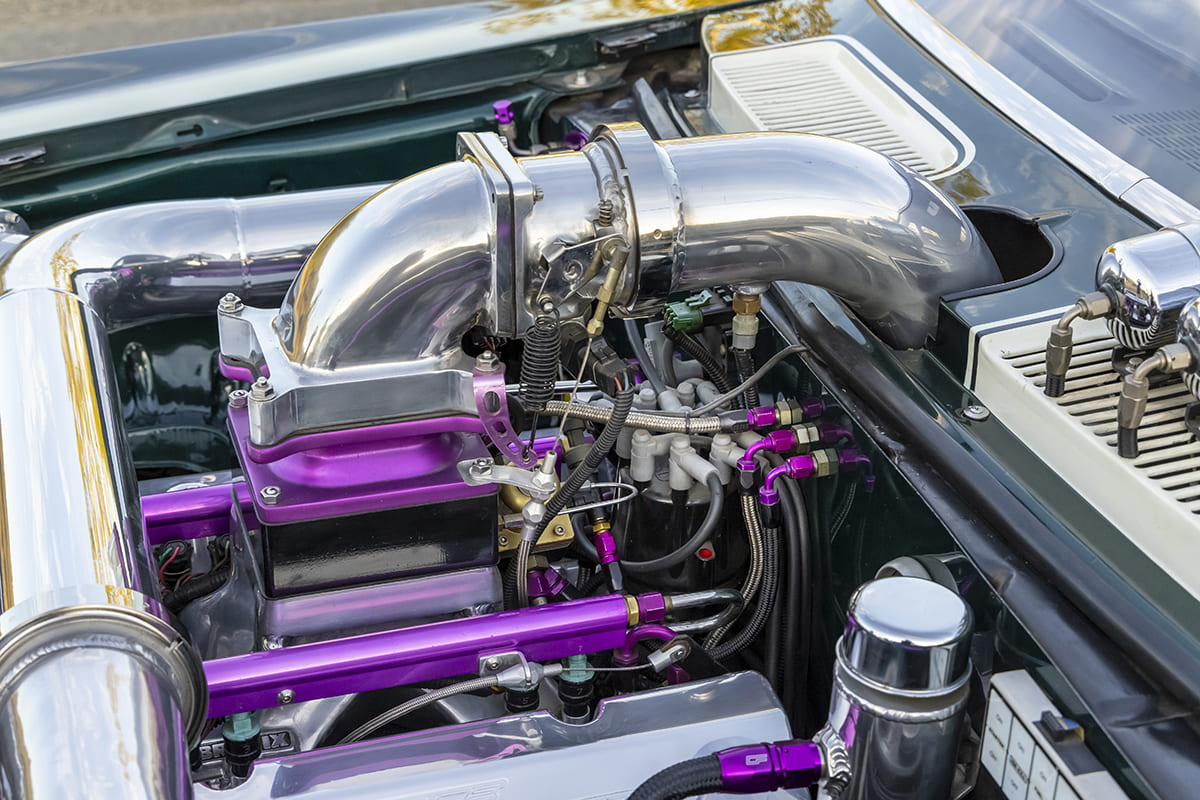 That '69 SS with a stock 350 and headers is a distant memory, but Doug as had some great times with the car over the years racing and hanging out at NorCal cruise nights with his buddies. Today he's still having a good time wrenching and showing what he calls his "favorite" Camaro is all about, and he's looking forward to getting that new mill between the 'rails so he can spend more time behind the wheel. "This car will still be a beast and I have no plans to retire it from drag racing, it will just be a little more street friendly so I can also take it on local cruises without stressing out."
Doug mentioned this being his favorite '69 Camaro, so does that mean he has another? Yep, he's got a Pro Touring '69 Camaro in the works that's just about ready to hit the streets, so we're going to assume that one is his second favorite, but we're sure he spends an equal amount of time with both.
ACP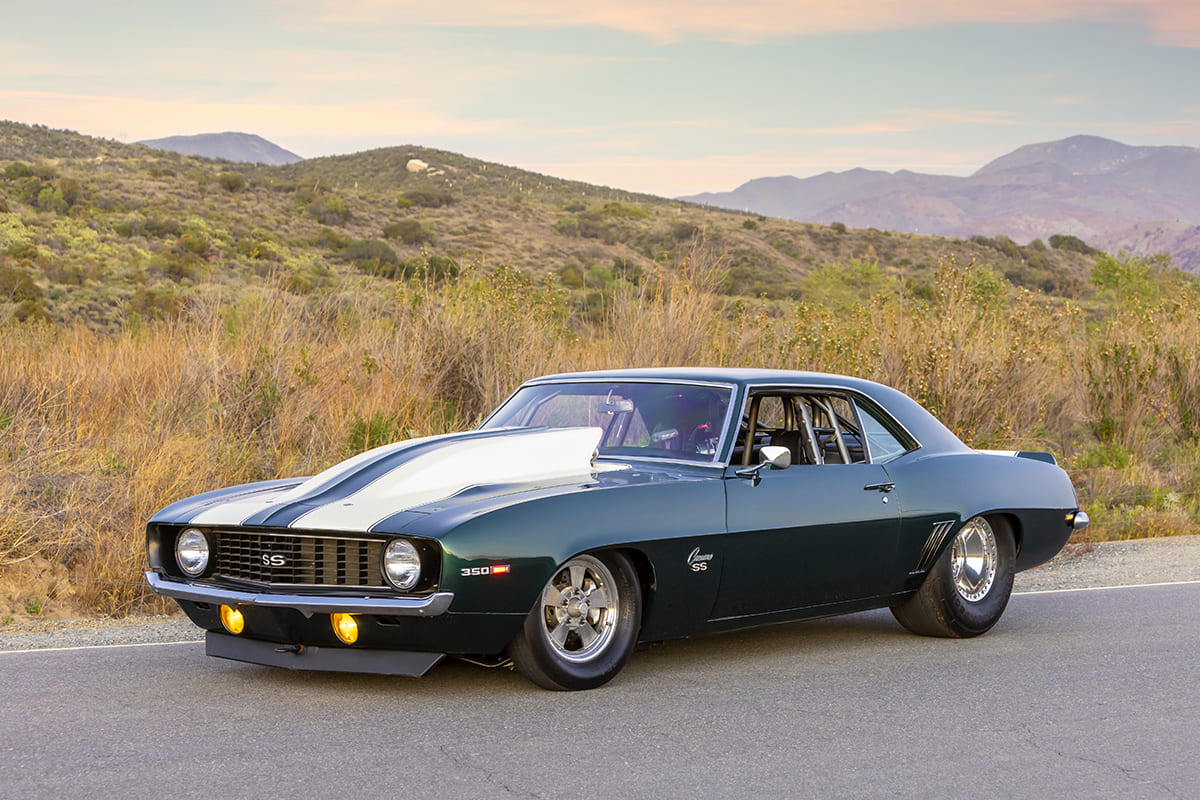 TECH CHECK
Owner: Doug Renner, Lake Forest, California
Vehicle: '69 Chevy Camaro SS
Engine
Type: Katec Bowtie Raceshop small-block
Displacement: 434 ci
Compression Ratio: 9.25:1
Bore: 4.155 inches
Stroke: 4.00 inches
Cylinder Heads: AFR
Rotating Assembly: LA Enterprises Kryptonite crankshaft, Manley connecting rods, and Wiseco pistons
Camshaft: Cam Motion (specs proprietary)
Induction: Edelbrock Victor Series manifold, Accufab 102mm throttle body, ProCharger F3 supercharger
Beltdrive: ProCharger carbon fiber
Assembly: Craig Reeds High Performance (Fullerton CA)
Exhaust: Lemons custom step headers, 2½- to 2¾- to 4-inch collectors-inch headers, Dynomax Bullet mufflers
Ancillaries: CSI remote-mount water pump, Be Cool aluminum radiator, Powermaster alternator, custom 7-gallon fuel cel, Custom Force Fed Performance valve covers, Product Engineering fuel system
Output: 1,320 rwhp at 7,400 rpm
Drivetrain
Transmission: Turbo 400 assembled by Craig Reeds High Performance (Fullerton), custom-built manual 210 low First gear, Hurst Lightning Rods shifter
Driveshaft: American Driveline chromoly
Rear Axle: Custom-fabricated 9-inch rearend, 3.90 gears, Currie 40-spline axles, Mark Williams Spool
Chassis
Front Suspension: Stock front subframe with TRZ upper and lower control arms
Spindles: Classic Performance Products 2-inch drop
Shocks: Koni front and rear
Steering: Flaming River rack-and-pinion
Rear Suspension: Back half with four-link
Brakes: Lamb components 12-inch rotors front, Aerospace Components 11-inch rotors rear
Brake Master: Wilwood
Wheels and Tires
Wheels: American Racing Pro Series 15×3 front, 15×12 rear
Tires: Mickey Thompson ET 25×4.5R15 front, Mickey Thompson ET Drag Radials 315/60R15 rear
Interior
Upholstery: Black loop carpet, factory door panels
Seats: Kirkey
Harness: Five-point Sparco
Steering Wheel: Budnik
Shifter: Hurst Lightning Rods
Dash: Carbon fiber
Instrumentation: Racepak, Stewart-Warner Ultra-Shift light, Auto Meter fuel pressure and oil pressure gauges
HVAC: Nope
Rollcage: Nates Race Cars chromoly certified to 6.50 e.t.'s 
Exterior
Paint: Dark green with white stripes
Hood: Glastek 6-inch cowl
Taillights: Marquez
Bumpers: Factory