The 1958 Chevy Impala was a Custom From the Factory but This One was Taken Further
By Dale M. Moreau – Photography By the Author
After the Tri-Five Chevy's run, GM led the era into the use of fins. There is a longtime rumor that the now '58 style was marked for 1957, but it was not ready for production in time. So, in their infinite wisdom, they dolled up the '56 and sent that to market instead. Looks like accidental success. Sounds like smoke and mirrors, but who are we to complain? Out of the box, the '58 Impala was a customizer's dream. It was huge in comparison to the '57 with a new powerplant to make up for it. Ray and Carol Hamness '58 Impala Convertible is a rare one indeed.
Read More: 1961 Chevy Impala Good Looks & Better Performance
Ray had wanted a '58 Impala since it was new on the showroom floor. As a kid he would ride his bike to the local dealer showroom and check out their parking lot of new Chevys. After a few moons had passed, he was still looking for that elusive '58 Impala Convertible. A longtime friend said he heard of one in Deer Park, Washington. Further investigation and a day's trip proved the rumor to be correct. The car was in a very unusual place. It was in a rundown garage in the middle of a corn field. Getting access to it meant actually breaking the door down and digging it out. Finally, they hooked up a tractor and pulled it from the tomb-like building. It was a foot thick with dust and dirt that had drifted in through dried-up boards for who knows how long. Ray rented a U-Haul trailer and towed it home. Not without a bit of a problem of losing the clutch in his pickup along the way. He did a little tune-up and cleaning and the car turned out to be quite solid. Time does take its toll and it was pretty evident that the car needed some help.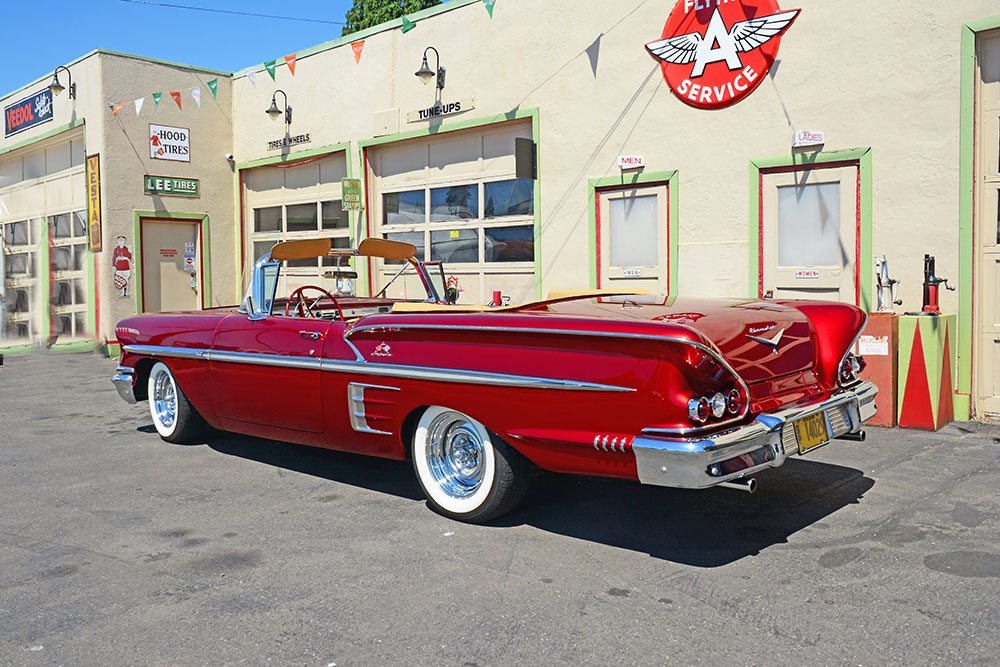 Fortunately, the '58 Impala had all its original drivetrain and parts intact. With the help of machinist Ken Beko, the stock 348 Chevy engine was treated to a complete engine rebuild, including a mild RV camshaft and new 409 cylinder heads. Three factory Rochester carbs completed the original Tri-Power carbs on the factory intake manifold. Taking the power to the stock rear axle is a GM Turbo 400 transmission. Stopping the huge car was greatly improved by the addition of power disc brakes.
Read More: This 1958 Chevy Impala Blends the Lines Between Cruiser and Performer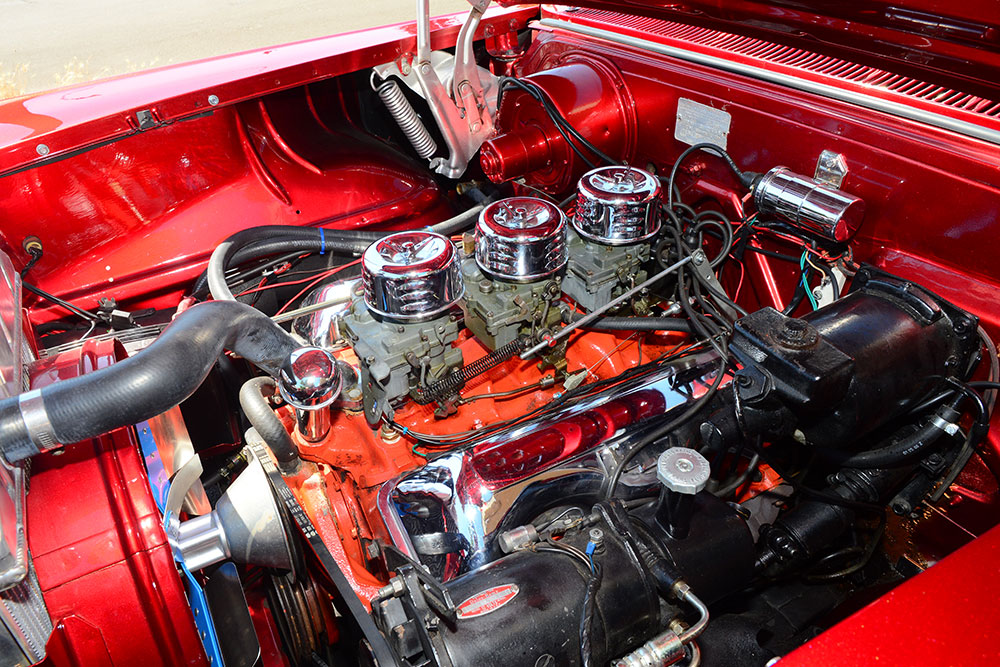 The completed chassis rides on 15-inch chrome wheels with radial wide white tires. Meanwhile the body was treated to a louvered hood, a nose and deck job—meaning removing the chrome and filling the holes—and a sunken antenna. Then a special deal was made with a local Maaco paint shop to bathe the ragtop in awesome Candy Metallic paint. Ray then wired the whole car himself before turning it over to Bob's Upholstery in Oregon. Tan leather and brown buckskin–colored deep pile carpet complete the now very classy restoration.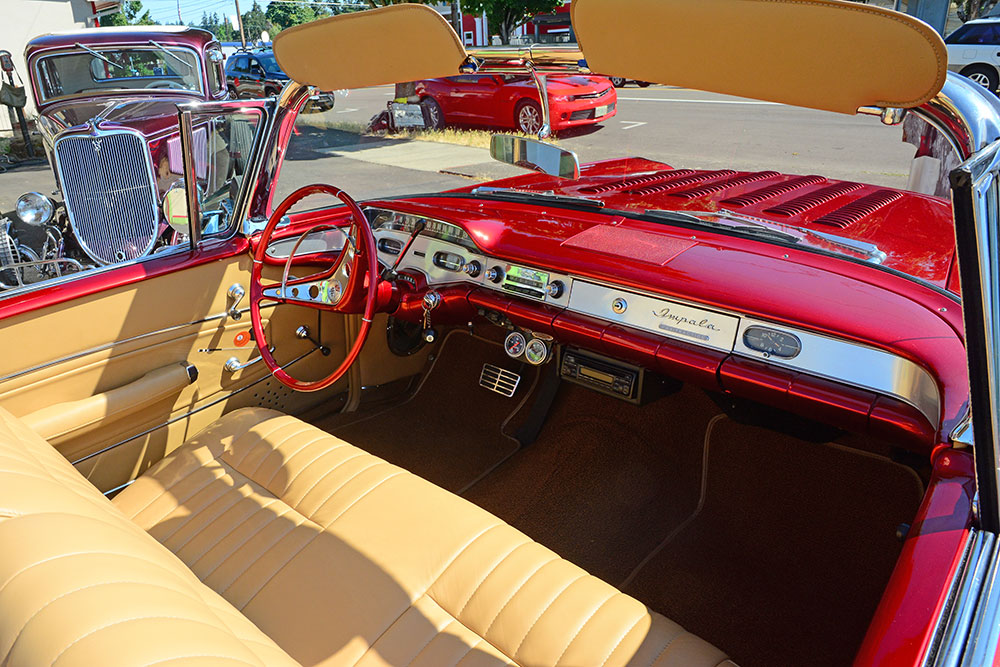 Like many builds, it was a long and sometimes trying job to bring back to life such an iconic automobile. Ray and Carol have two sons, they and a friend, who is practically a third son, all have '58 Chevys. So, the love of the marque runs deep in the family. MR