By Brian Brennan – Photography by John Jackson
In 1958 General Motors celebrated its 50th year of production and in so doing introduced anniversary models for each of its brands. Founded on this one-of-a-kind occurrence, the 1958 Chevrolet models were longer, lower, and wider than its predecessors.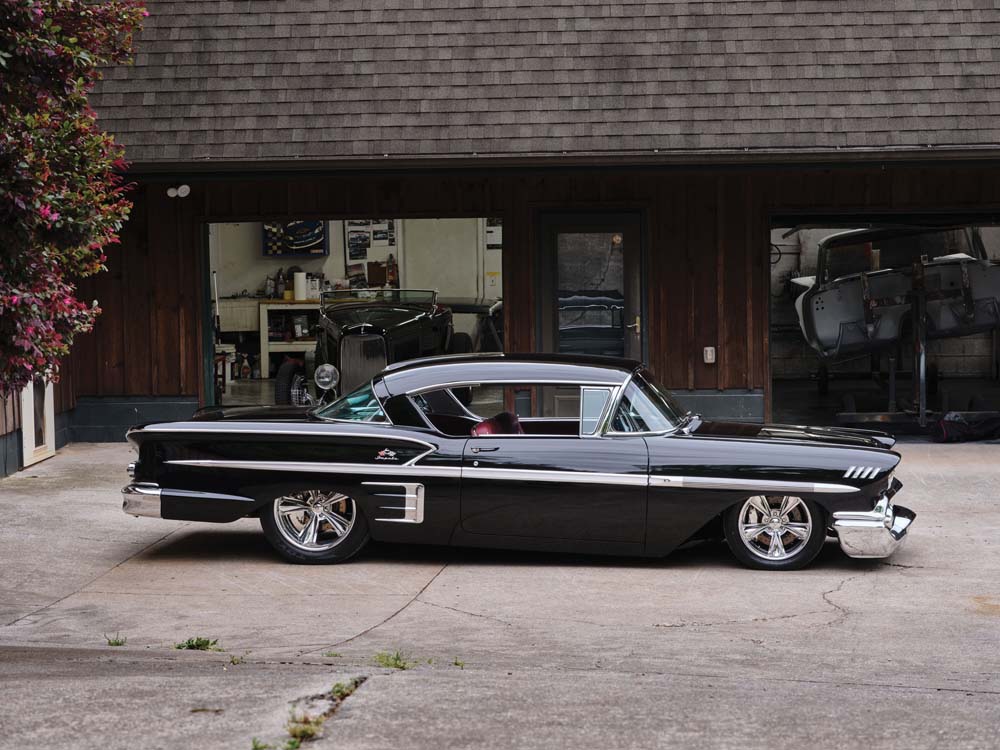 The 1958 Chevy Impala was the first with dual headlamps and the tailfins that grew wildly through 1957 were replaced by deeply sculptured rear fenders. Another key design element of the 1958 Chevy Impala were the three taillights per side. Lesser models that year had two and the wagons a single taillight per side. More design elements intended for the Impala were the crossed-flag insignias above the side moldings, as well as bright rocker moldings and dummy rear-fender scoops.
Read More: How To Build Exhaust For Your Classic Ford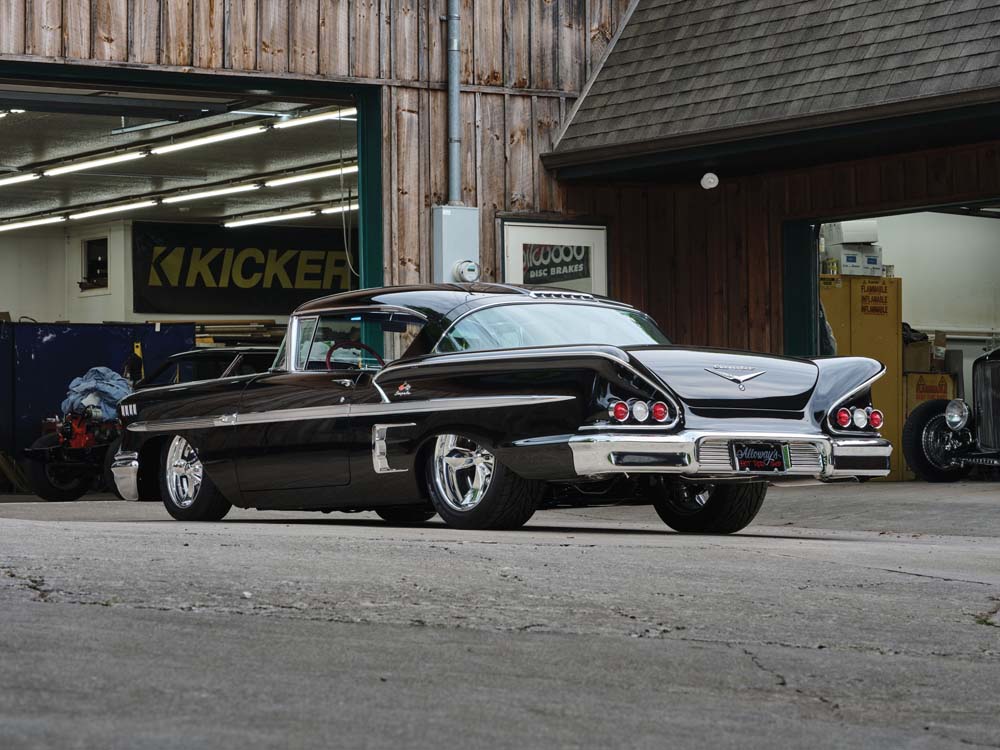 The Impala nameplate was first seen on the 1956 General Motors Motorama show car that was more Corvette than passenger car. The name Impala was taken from the African antelope because of its smooth flowing lines and graceful movements. The "antelope" became the car's logo. The 1958 Chevy Impala has long been recognized as a prime candidate to build as a custom—or in today's vernacular, a Street Cruiser.
Heading for the hills of South Dakota is Larry Olson's immaculate looking and performing 1958 Chevy Impala as it rolls out and from beneath the doors for the first time at Alloway's Hot Rod Shop in Louisville, Tennessee, under the watchful eye of Bobby Alloway. He's long been recognized for his "mile-deep" PPG black paint covered in 2002 clear, signature wheels, and hot rod stance. This Chevy Impala is the only 1958 Alloway's Hot Rod Shop built and it may be one of the finest of any of the shop's builds.
Read More: Making a 1965 Mustang Fastback into a Daily Drive
In 1958 the standard perimeter-type frame of the day was abandoned and replaced by a pair of 'rails that were laid out with an elongated "X" in the middle. According to Chevrolet the frame produced increased torsional rigidity and allowed proper positioning of the passengers within. Additionally, a coil spring suspension replaced the previous year's rear leaf spring setup and there was even an optional air-ride system. But that was then and this is now.
Residing under the artfully restyled and crafted 1958 Chevy Impala sheet metal are Art Morrison Enterprises (AME) mandrel-bent 2×4 0.180-inch profile frame rails with their Sport IFS (includes upper and lower control arms) and triangulated rear four-bar suspension utilizing Johnny Joints. Maintaining the factory 117-1/2-inch wheelbase, the finished ride height is 4 inches at the frame in the front and 6-1/2 inches at the frame in the rear.
The tire and wheel combo is based on Billet Specialties–built Alloway proprietary five-spoke wheels measuring 17×7 in front and 20×10 in back (both enlisting a 4-1/2-inch backspace) all wrapped with Toyo Proxes rubber measuring 225/50R17 and 295/45R17. It's this combination of frame ride height and the rubber rake that gives this 1958 Chevy Impala its both artful and aggressive stance—an Alloway trademark. It should be noted in order to get the massive rear wheel and tire under the sheetmetal the Currie 9-inch rearend housing measures 51-1/8 inches. The rearend also features Currie 31-spline axles, a Strange Engineering S-Series pumpkin with limited-slip 4.30 gears (yep, this big ol' cruiser can get up and move!), large Torino bearings, and 2-inch-long wheel studs (1/2-20).
Located around the chassis you will find a full complement of Wilwood components that include their 2-inch drop Pro Spindles fitted with six-piston calipers and 13-inch rotors as well as a Wilwood master cylinder all operated by the factory pedal assembly. To this there are Strange aluminum single adjustable coilover shocks with 650-pound coilover springs in front and 300-pound coilover springs in the rear. The forward sway bar measures 1-1/8 inch along with the rear Panhard bar as both are Art Morrison Enterprises items.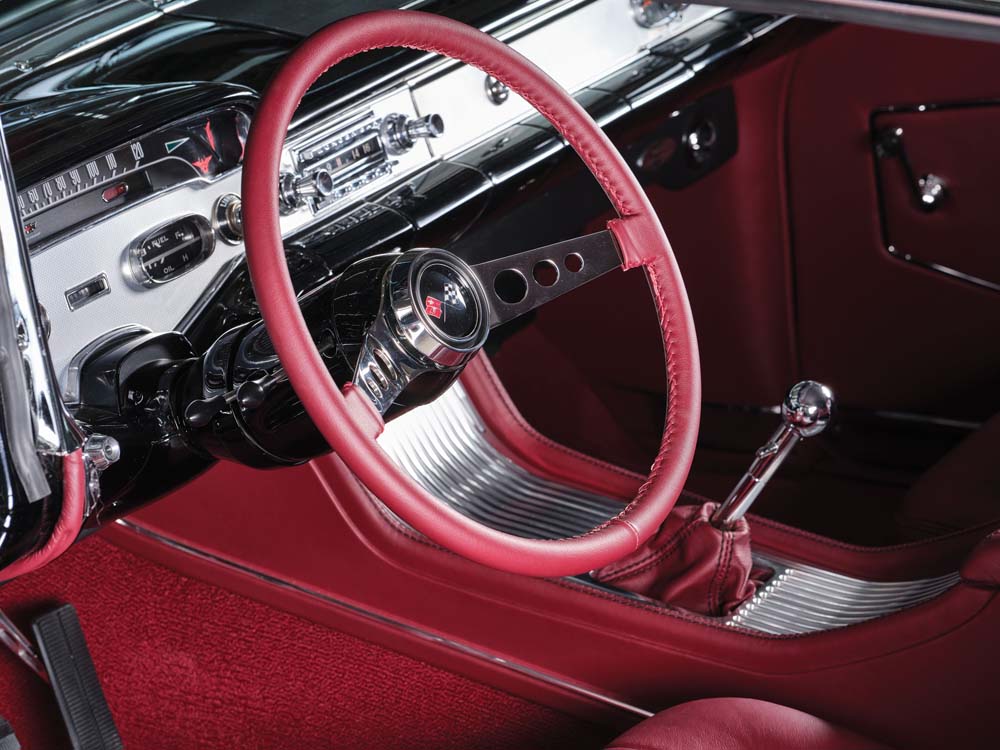 Steering also comes from Art Morrison Enterprises through the use of a Detroit Speed 20:1 power steering rack and pinion twisted into use by an ididit column topped with a Lecarra steering wheel.
There's a lot of chassis so you would expect a lot of engine? You would be correct. Back in the day the 1958 Chevy Impala came standard with a 283 V-8 rated at 185 hp or optional 230 hp. There was another option, and a rare one indeed, in the Rochester Ramjet fuel injection that was rated at 250 hp. But the pièce de résistance was the 348 W-motor with a single four-barrel producing 250 hp or with the hot rodder's dream of three two-barrel carbs rated at 280 hp. (These W-motors, the 348 and later the 409, were called a "big-block" but technically they weren't as they were not built on the same architecture that would later be used on the 396-427-454 big-blocks to come later.)
The W-motor in this 1958 Chevy Impala is the original 250hp V-8. From here Alloway's Hot Rod Shop sent it to Jeff Taylor Performance where they worked their magic turning the 63-year-old motor around to where it pumps out 750 hp—a long way from 250! Now it sports 440 big block, is topped with an Edelbrock dual-four intake and a pair of Holley 750-cfm four-barrel, a polished Edelbrock water pump, sports vintage Offenhauser finned valve covers, an Alloway's Hot Rod Shop custom air cleaner, and it's all held together with polished ARP hardware. Ignition on the 409-plus W-motor comes by way of an MSD distributor, power box, coil, and Taylor primary wires and all of this comes to life via an Optima battery.
Making sure what does go in can get back out is a pair of stainless headers made by Barillaro Speed that matches up to the custom stainless dual exhaust also by Barillaro Speed that flows through a pair of Borla Pro XS mufflers. From here the 409 is backed up to a TREMEC TKO five-speed from American Powertrain that utilizes a Centerforce clutch, pressure plate, and flywheel.
Continue Reading: Hellcat Swapped 1970 Plymouth Sport Satellite From The Dufords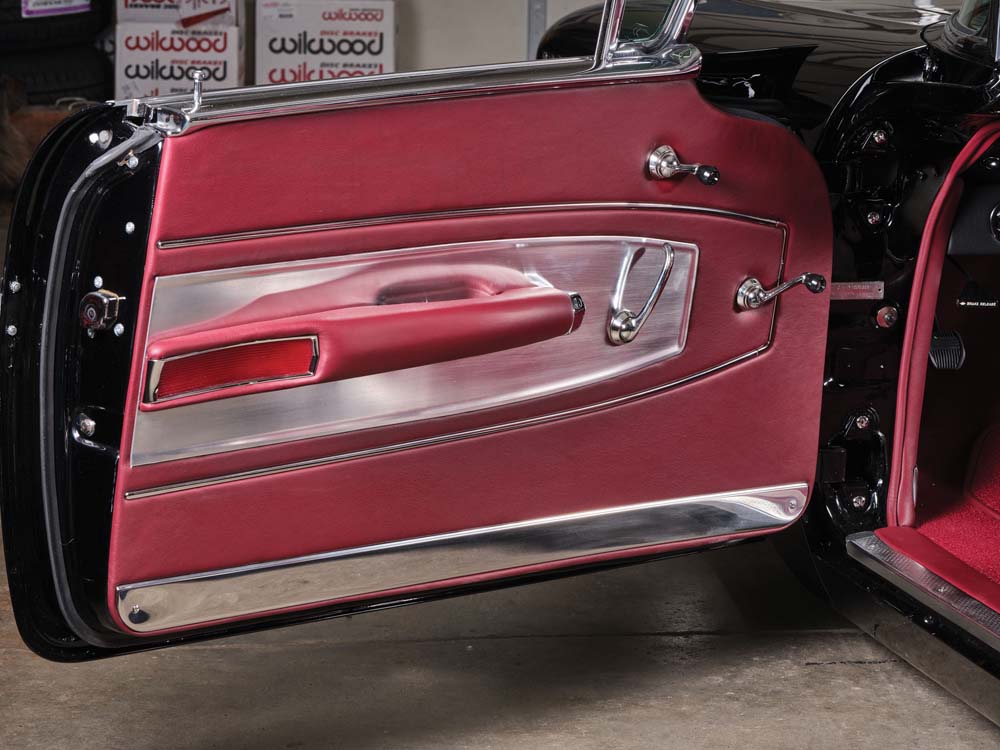 As you stare longingly at the 1958 Chevy Impala you can't help but wonder what, if any, sheetmetal modifications have occurred. It's pretty much all stock with the usual cut and tuck of both bumpers. Exterior trim and chrome (such as those massive front and rear bumpers) are stock but they have undergone refreshening at the hands of Dan's Polishing who handled all of the stainless and chrome work on this Impala.
Under the skin you will find big, really big, rear wheeltubs that also makes it possible for the large rubber/wheel combo to fit within the confines of the body. The body itself is painted in (what else?) PPG 9700 Deltron Alloway black, which is a traditional basecoat followed by a clearcoat paint. Of course, all of the body- and paintwork was handled in-house at Alloway's Hot Rod Shop.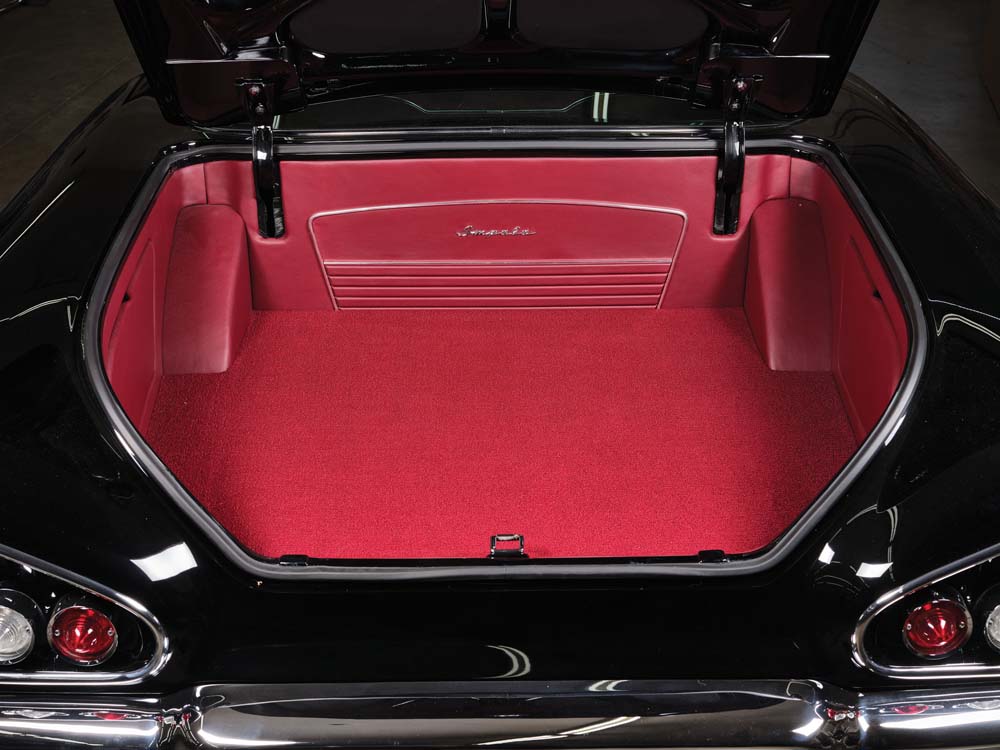 Inside there's a lot to look at and it all starts at the front with the 1958 Impala factory dashboard outfitted with custom gauges set into the stock panel, all from Classic Instruments. Further dash accents include the ididit steering column, a leather-wrapped Lecarra steering wheel, refurbished factory Wonder Bar radio, Vintage Air AC and heat, and nestled in the center console is a 1967 Corvette shifter that operates the five-speed. (More on the Wonder Bar radio: It is a GM brand introduced by Chevrolet in 1957 as the first automatic "station-seeking" radio tuner. You would set the signal strength desired and once you pushed the button the Wonder Bar radio would scan AM/FM radio frequencies until it found a strong station.)
Check Out: Installing a Lokar Floor Mount Shifter & E-brake
The Moore & Giles Mulberry–colored leather was stitched over the 1966 Thunderbird buckets in front and stock bucket/bench in the rear by Steve Holcomb of Steve Holcomb Pro Auto Interiors. The same leather is used on the Holcomb-built center console with matching Daytona weave carpeting while black headliner material was used above. The focal point of the center console is the machined plate that was fabricated at Scott's Hotrods 'N Customs from a neighboring town.
We've come a long way since and while this 1958 Chevy Impala showcases the best of decades past, it will "hang" with the best of today. MR