John Wilson's 1970 Chevy Chevelle is Big-Block Chevy Powered & Always in the Family
By Brian Brennan – Photography by Grant Cox
The best hot rods are the ones you have the most history with. Such is the case for John Wilson from Missouri and his '70 Chevy Chevelle complete with 604 inches of big-block power.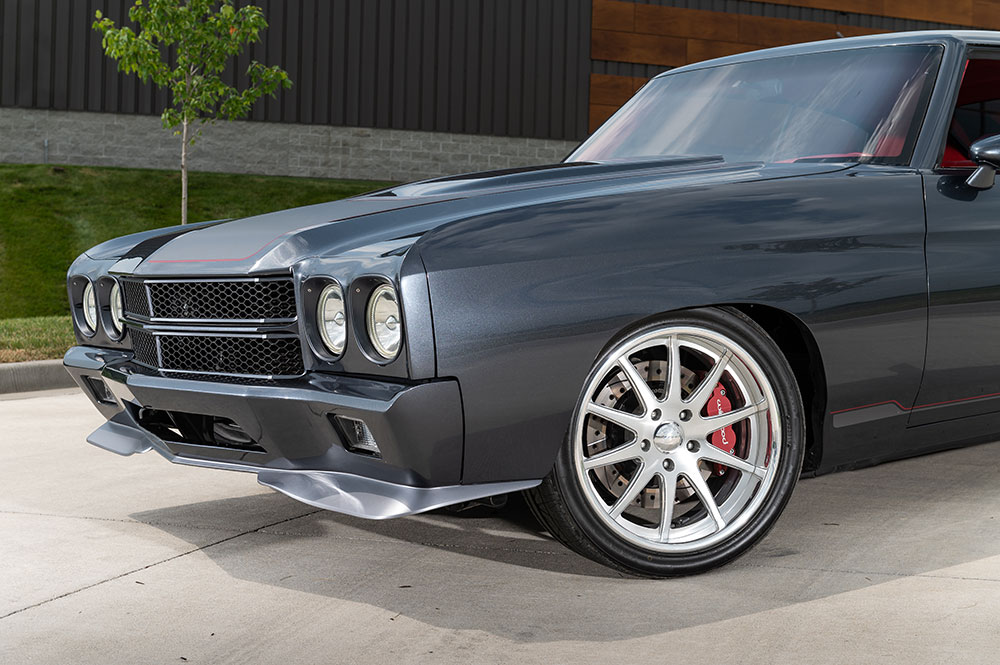 Originally, his mom, Carrie, purchased the '70 Chevelle for him to drive throughout high school back in 1976. Once John finished high school life took over and the Chevelle was garaged for some 18-20 years. (How about a "shout-out" for a very cool mom!) The Chevelle's life as a high school parking lot cruiser was about to be reborn. This time John's son would drive the Chevelle throughout his high school career. And, once again when this high school cycle was complete it was back into storage for another 15 years.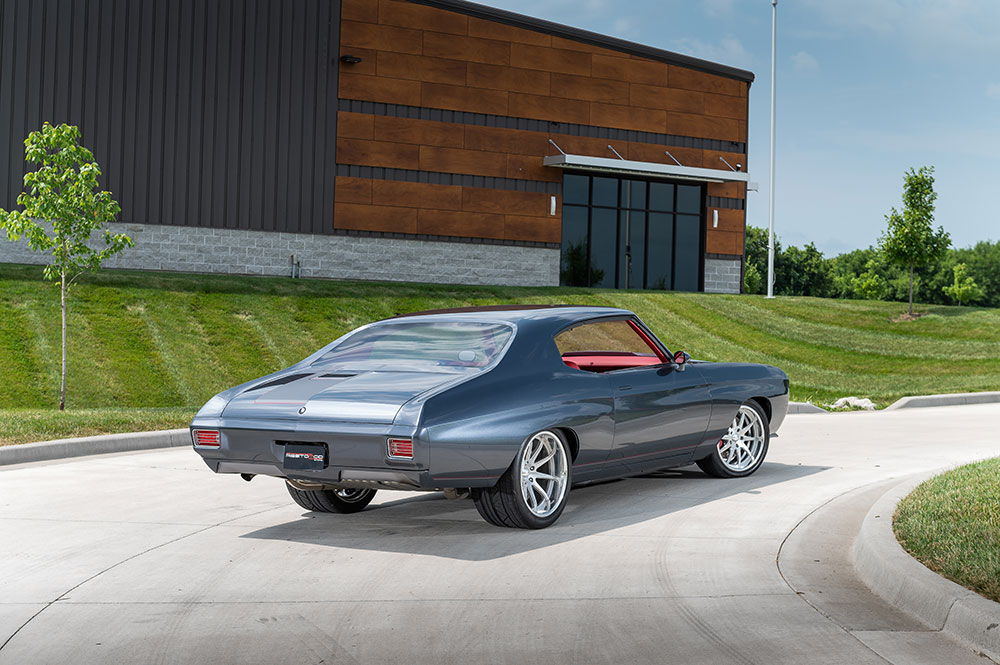 Around about 2015 John thought it best to bring the '70 Chevelle out once more, but this time update it and make it the hot rod he always wanted. John began with a modern drivetrain and then sent the Chevelle over to Mike McLin Jr. at the RestoMod Store and it was here the build was completed, which included buttoning up the drivetrain and lots of body- and paintwork as well as the interior. Although a fresh build this year it has enjoyed success on the indoor car show circuit, having taken home Outstanding Interior/Custom, Outstanding Engine/Street Machine while attending the 2021 Kansas City World of Wheels.
Read More: Less is More: LS Swapped 1967 Chevelle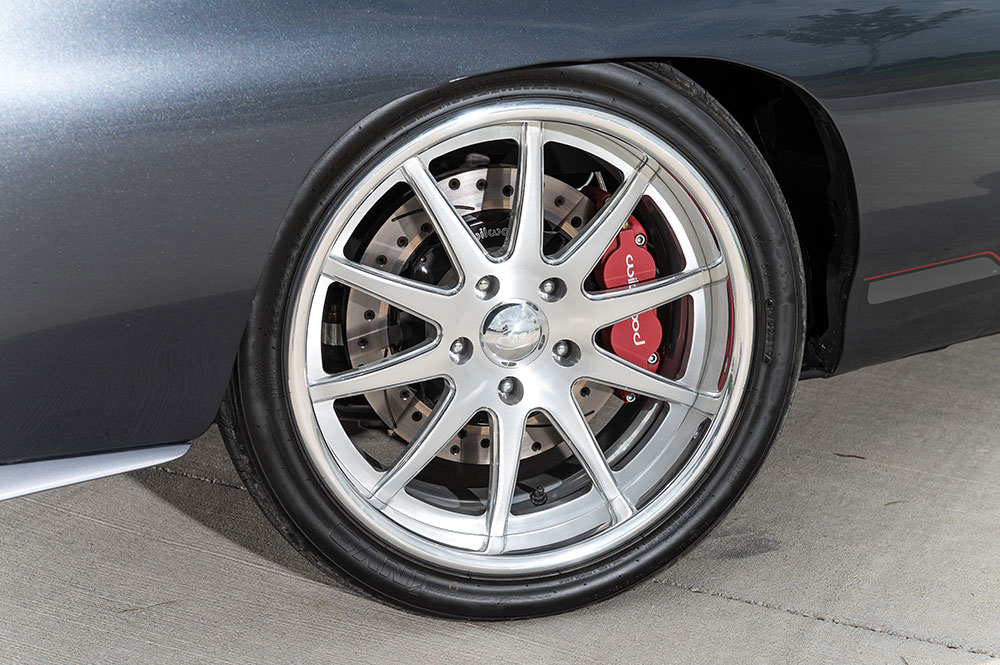 Since the basis for any good hot rod lies under the hood, let's start with the powerplant. It is a big-block Chevy and we mean big-block at 604 ci with an output of 725 hp and 700 lb-ft of torque, topped with Brodix aluminum big block heads and stuffed with a very "healthy" cam. The V8 is painted in a flat red color and you will note there's also a Brodix intake with a Holley Dominator 4-barrel carburetor. Everything is held in position by plenty of ARP bolts, including the use of ARP head studs. Hidden behind the custom air cleaner is the conventional MSD ignition system complete with coil and plug wires. Juice comes by way of a trunk-mounted battery. Exiting the spent gasses, a set of custom headers comes into play with 3-inch stainless tubing running back to a pair of Flowmaster Super 44 mufflers known for their more "aggressive bite" to its sound. All of this power eventually makes its way back to the Currie 12-bolt rear end equipped with 3.55 gears via a Clayton Machine Works shifter–equipped TREMEC T56 manual transmission through the custom driveshaft from Inland Driveshaft. The big-block engine also features a Billet Specialties Tru Trac serpentine belt system.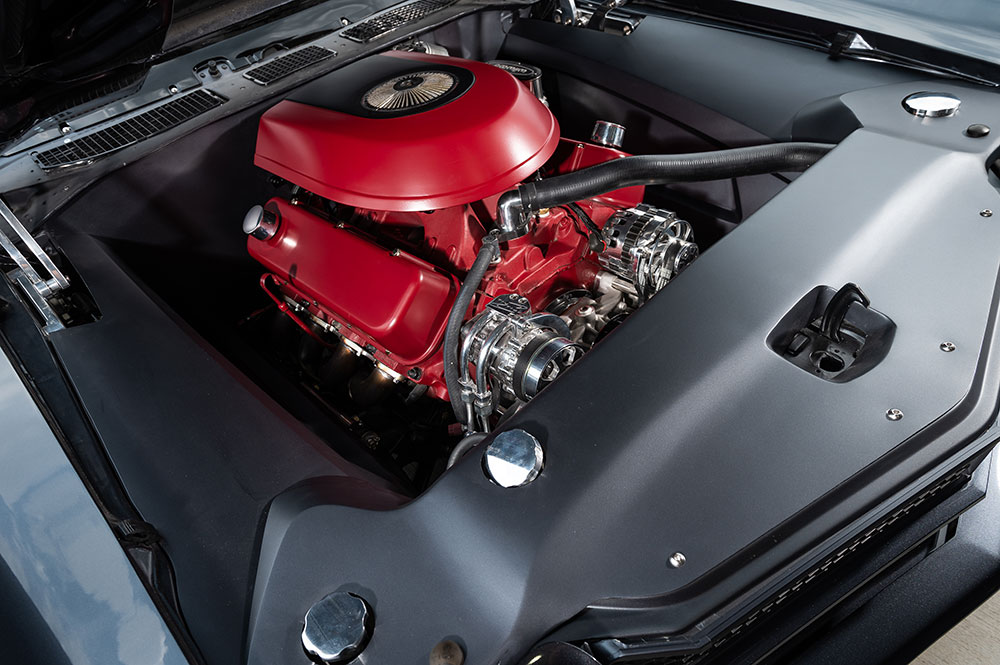 Corralling all of this power, especially lots of torque, the Chevelle is fitted with a Speedtech Performance A-body frame brace kit. The frame was then boxed where applicable and in front more Speedtech can be seen in the form of tubular A-arms. Additional Speedtech items include the coilovers, front and rear sway bar, and the use of AFX drop spindles. The Unisteer rack-and-pinion steering eventually links up to an ididit steering column. Braking is all Wilwood with 14-inch drilled-and-slotted rotors in front with 6-piston calipers and 12-inch drilled-and-slotted rotors in back with 4-piston calipers, all the while a polished billet Wilwood master cylinder is used and is pressed into service by a set of Clayton Machine Works pedals. Shielding the Wilwood brake kit are Boze Alloys Traction model wheels, measuring 18×8 in front and 19×12 in back. They are wrapped with Nitto Invo 255/25R18 in front and 345/30R19 in back.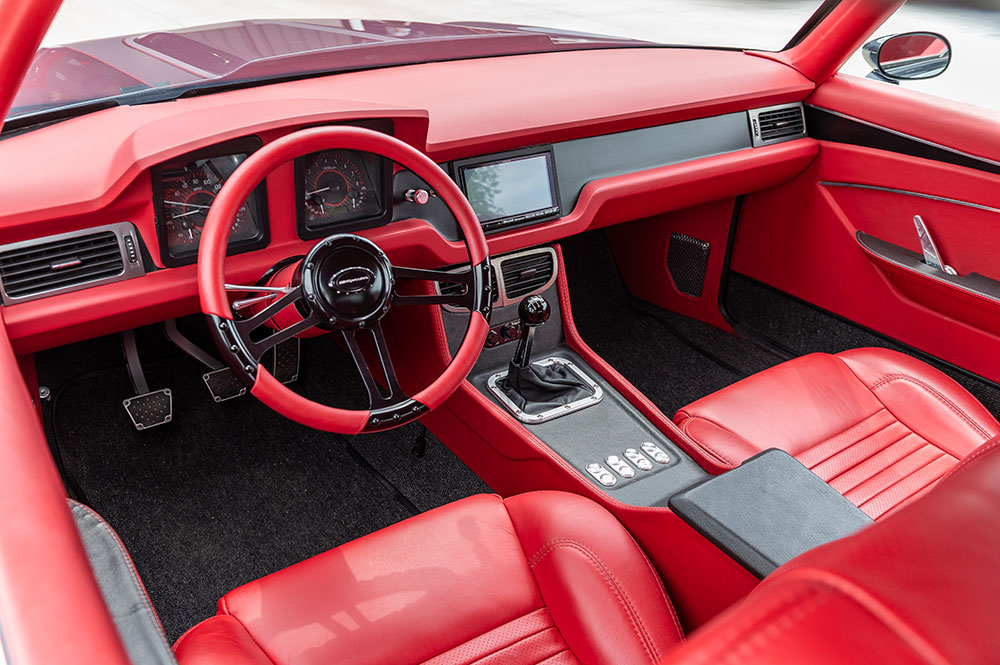 First look at the sheetmetal it "almost" appears stock but upon closer inspection reveals there are a handful of tasteful body modifications made before the Axalta custom-mix urethane gray pearl was applied by The RestoMod Store. Next up were the custom stripes applied in a matte silver and red also by The RestoMod Store wrapping up the paint scheme on the all-steel '70 Chevelle. Some of the noted sheet metal mods include shaved drip rails, flush-mounted glass (this is always a good-looking and highly functional modification), tucked front and rear bumpers, custom front and rear valance panels, the installation of Kindig-It Design (bar "Straight" style) flush mount door handles, and, lastly, a custom grille. The hood is the always popular Chevy cowl induction model.
Watch More: 1967 Chevelle Vintage Air Install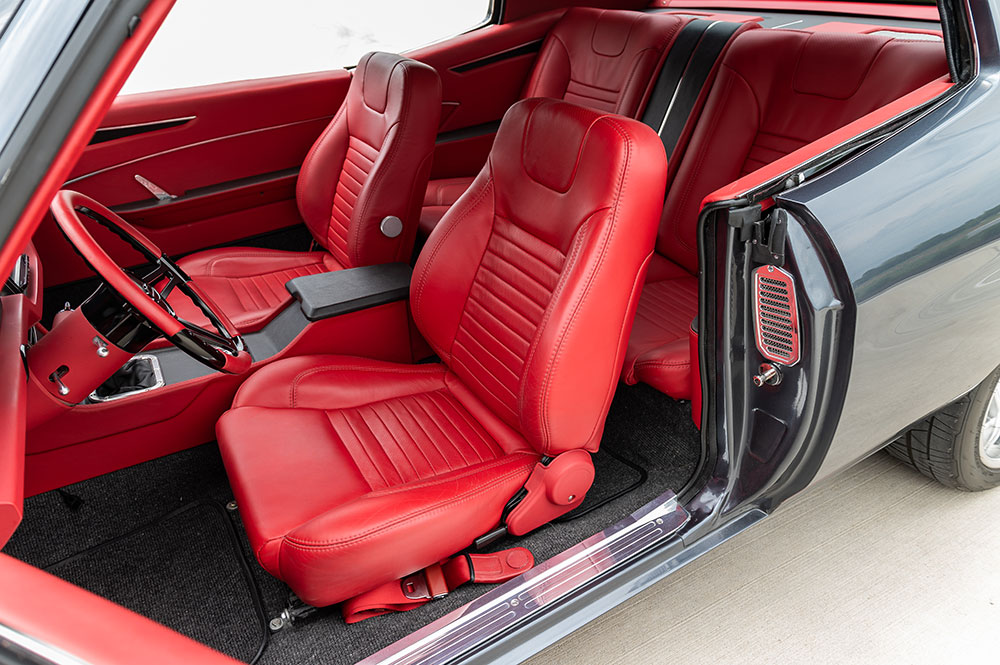 Inside the custom-made dash shows off the Dakota Digital '69 Camaro gauges. These popular VHX Instruments feature fully lit needles, backlit faces, and a highly visible LCD message center. Other interior appointments include the Vintage Air Gen IV AC system, ididit steering column with a Billet Specialties matching red leather–wrapped steering wheel while the wiring is handled through a Painless Performance Products wiring kit all connected in place by staff at The RestoMod Store. The front seats are based on Procar by Scat Elite Series 1100 buckets that feature a lumbar support, adjustable headrests, and covered in a custom red vinyl by Karen Ethridge of The RestoMod Store. Ethridge also covered the custom rear seating that features a waterfall console splitting the bench into a pair of buckets. The headliner is a red vinyl while the carpeting is a dark gray German weave.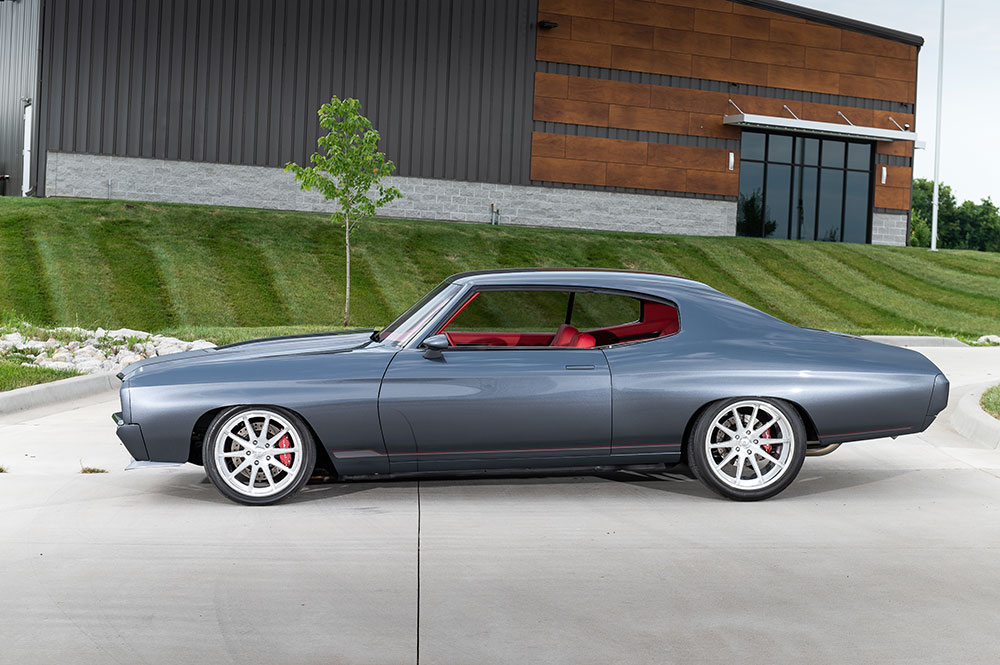 This '70 Chevelle has been in the family since 1976 and it's a good bet it will be there for many more years to come. MR