Just Because You Can Doesn't Mean You Should
By Brian Brennan – Photography by John Jackson
How many times have you wandered the grounds of a small or even a national event and zeroed in on a car that you like but after looking you come to realize it was overdone. This happens more times than one might expect. The old adage comes to mind, "Just because you can doesn't mean you should."  Well, I'm here to report that before you is a great example of letting the styling of decades past continue to live through with just enough of today's influence to really make this '67 Chevy Chevelle better!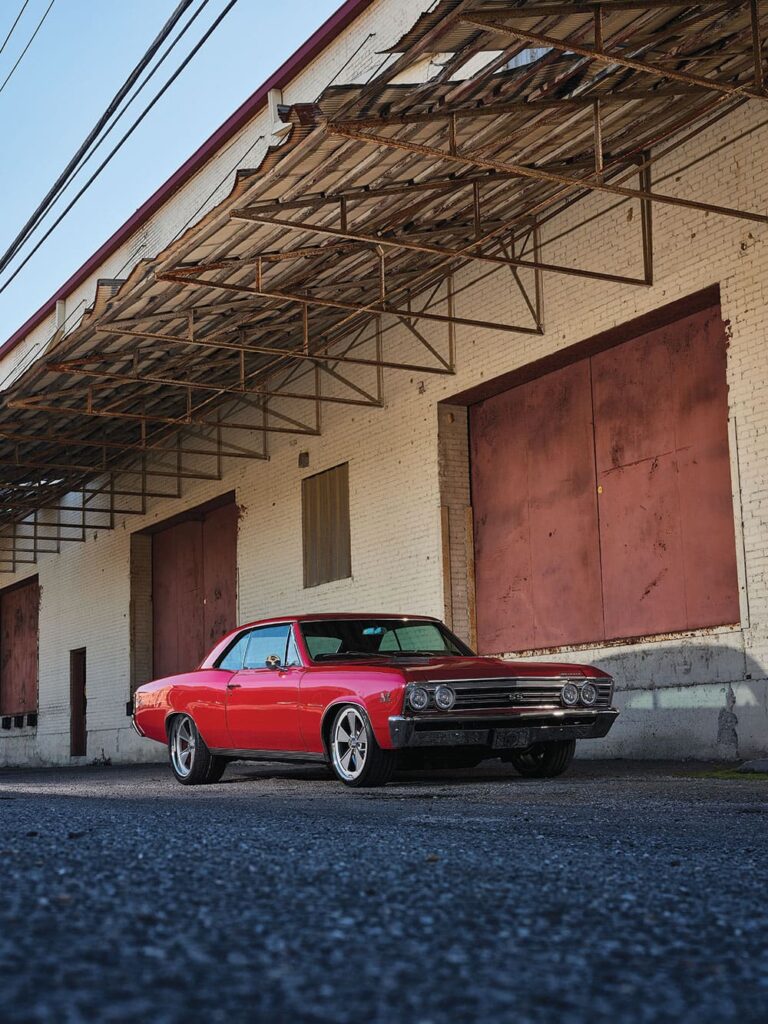 Terry Kervin from Georgia owns this great-looking Chevelle. But for a time he just wasn't happy with the way it performed. There were a few bugaboos that needed attention. What started out as addressing an engine oil leak in the big-block Chevy (surprise!) turned into a little more attention being paid to the build, and here lies the end result. Basically, an engine swap, some paintwork, an amazing interior, and a one-off-wheel change helped modernize the '67 Chevy Chevelle at the capable hands of Jesse Greening of Greening Auto Company (GAC).
Read More: Rob Ninkovich's Simply Wicked LS3 powered 1969 Buick Skylark Sport Coupe
This project began its redo with an engine swap. Out came the big-block Chevy and in went an LS2; a 6.2L motor sporting 376 ci. The all-aluminum LS2 was then fitted with a Holley Terminator EFI throttle body setup drawing air through a custom K&N air filter. Removing the spent gases is a pair of Holley headers with fabricated 2-1/2-inch mandrel-bent custom exhaust run through a pair of MagnaFlow mufflers. Other engine accessories include a polished Holley water pump and alternator in conjunction with a Holley serpentine belt system, SPAL electric fan, Don Hardy plug wires, and big-block Chevy valve cover adapters, and a GM starter. The LS2 pumps out a respectable 480 hp and 460 lb-ft of torque. Making sure all of this usable power gets to the Strange Engineering 9-inch rear end with 3.73 gears and 31-spline axles is a custom driveshaft that links the engine and rearend through a 4L60E transmission. The overdrive is then fitted with a custom shift linkage that hooks up to the stock shifter, which pokes up through the floor, surrounded by a custom center console.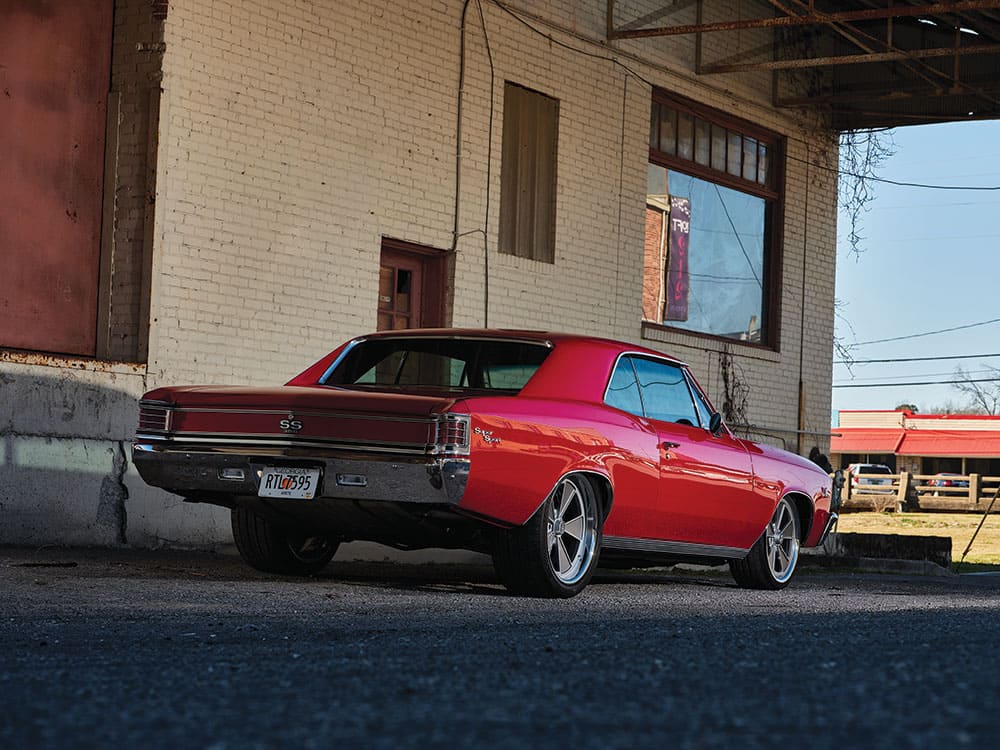 The chassis is based on a stock 1967 Chevy Chevelle frame with suspension upgrades from the likes of Classic Performance Products (CPP) through upper and lower control arms, CPP rear links and Panhard bar, stock spindles, QA1 coilover shocks, and Wilwood 13-inch rotors and calipers front and rear, along with a CPP chrome dual reservoir power master cylinder setup and Eddie Motorsports hood hinges. The modified chassis rolls down the highway on Khumo rubber (235/35ZR19 and 285/40R20) on Greening Auto Company one-off custom machined aluminum wheels measuring 19×8 and 20×11.
The sheetmetal is stock on this '67 Chevy Chevelle but it does feature a Glasurit Porsche Red that really makes it pop. But it's what's inside the passenger compartment that tickles the eyes of the beholder. MTI Automotive Design and Upholstery received the nod for the full custom treatment but still keeping the original Chevelle influence. MTI designed and built the custom dash with center-mounted Classic Instruments custom gauge cluster allowing for a three-way set of component speakers to be hidden behind the grilles that flank the cluster. The dash, center console, kick and door panels, and all seating is wrapped in Relicate leather. (Relicate works with a myriad of builders in many fields supplying custom-made and in-stock leather hides.) The color foundation for the leather components is based on Distressed Brown coupled with a black Mercedes carpet. (The extensive interior work also continues into the truck area.)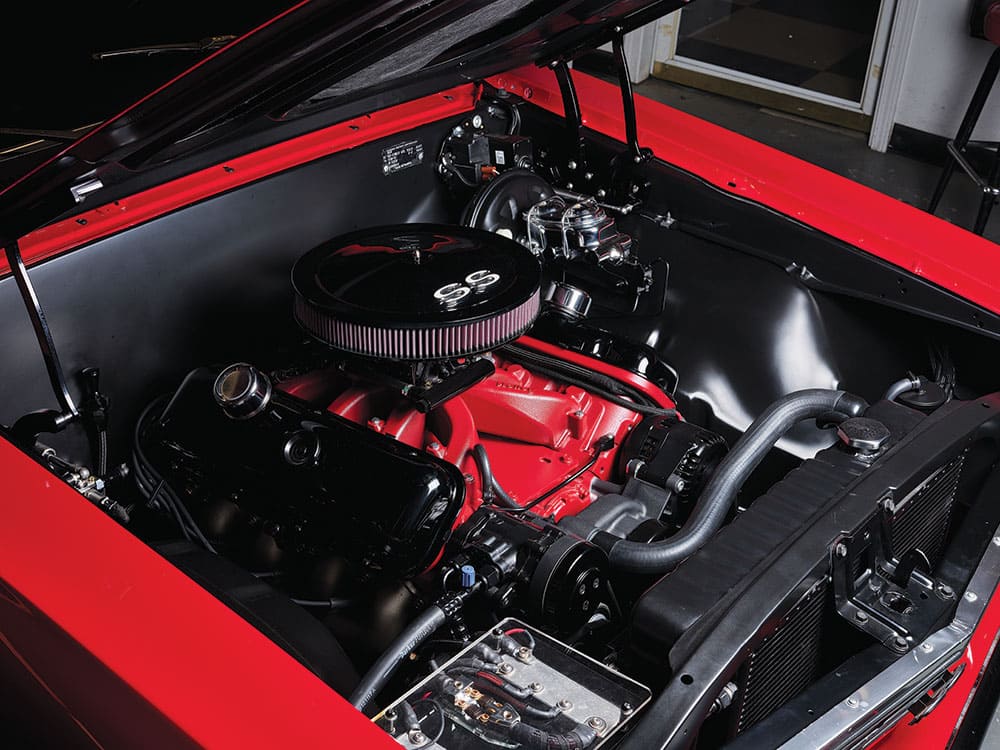 Read More: Big Block Bruiser: Firecracker Red 1969 Camaro
MTI also routed the wiring using an American Autowire harness that links the Classic Instruments gauges, a Vintage Air AC system, and all other wiring leads. The Vintage Air AC controls are found in the center console along with the four-window controls, audio power, and electronically-controlled exhaust cutouts. The stock steering column is topped with a Billet Specialties wheel featuring the MTI logo on the horn button. The interior seating is comprised of four bucket seats all fabricated and stitched by MTI. Note the center console that starts in front and flows rearward, between the rear buckets (housing a pair of cup holders) then ending in a "waterfall" appearance separating the rear seating. Although not readily visible, there are custom lap belts all the way around.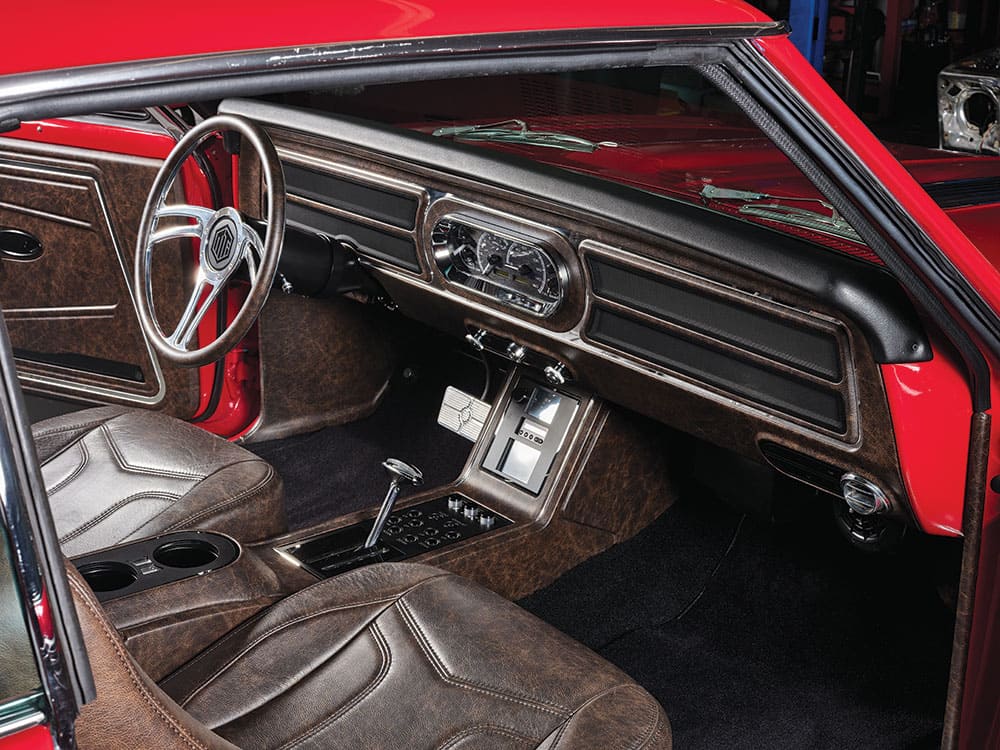 Well, there you have it. A great-looking Chevelle that carefully has its past beauty blended with today's fashion. MR