Big-Block Power was the Only Choice for Brian Furness' Badass 1970 Camaro
By Barry Kluczyk   –   Photography by the Author
Division seems to pervade our world these days. No matter the topic, from the most contentious political issue to which fast food chain has the best chicken sandwich, everything seems to be framed for us in either/or propositions—right or wrong, black or white.
It doesn't have to be that way. Life is truly about shades of gray. Just because you prefer a cold Miller on a hot summer's day doesn't mean you have to reject a microbrewery's hoppy IPA on your next night on the town. Each brings something different to the table and there's room for both.
It's the same with powering a project car. Small-blocks, big-blocks, and LS/LT engines bring different performance dynamics, and the choice one makes involves many different factors. Often, it boils down to personal preference.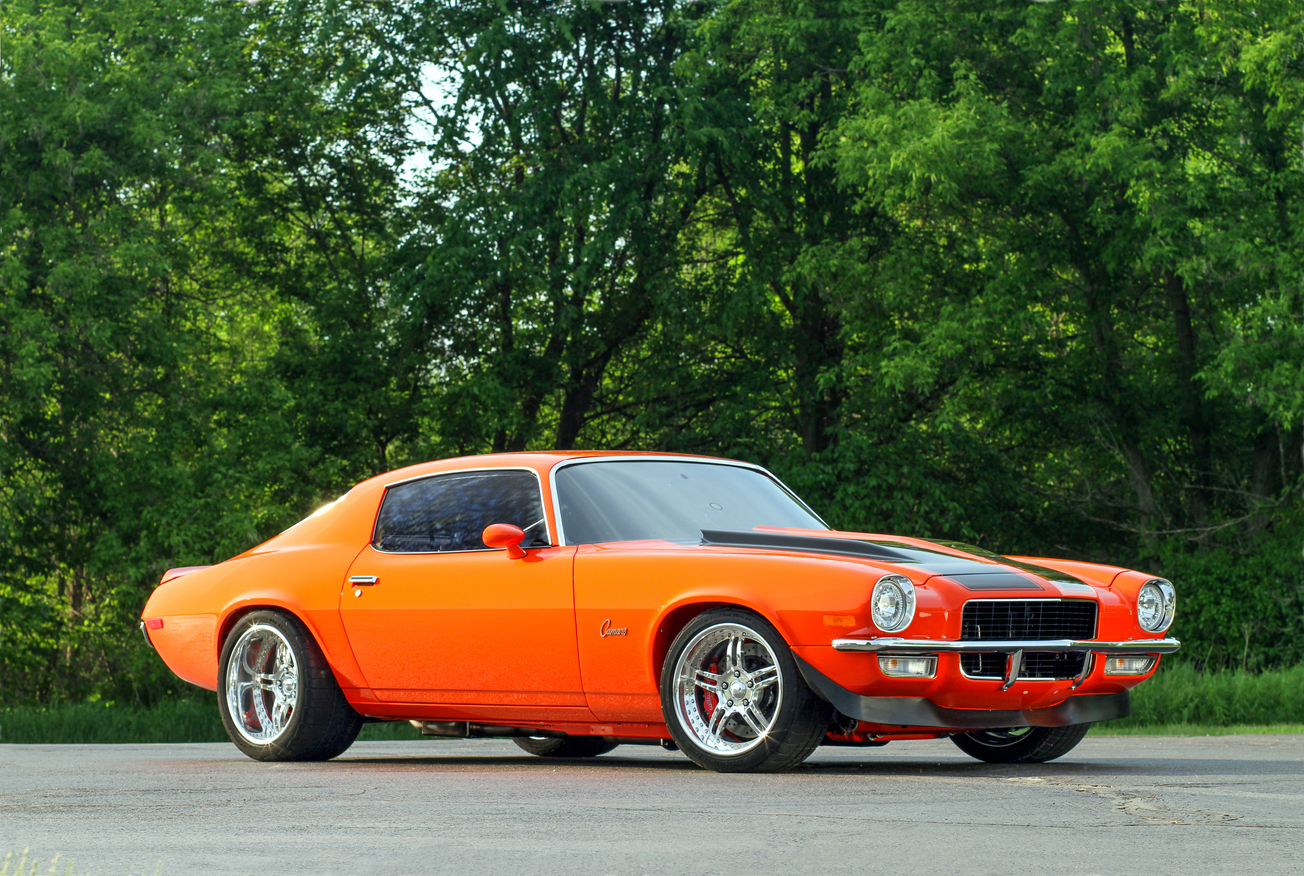 Check it out: Ken Johnson's 1971 Supercharged Nova
That was the case with Brian Furness when it came to big-block power for his restomod '70 Camaro.
It wasn't a dig at the trendy LS swaps of recent years. Not at all. He simply wanted that incomparable low-end grunt that only a big-block can deliver.
"There simply is nothing like the instant gratification of a big-block," Brian says. "Sure, an LS engine is lighter and has great high-rpm power, but with the big-block, it's the tremendous feeling of immediate power and torque that just can't be duplicated in other engine families."
There's little to argue with that. Brian was also unwavering in the envelope he wanted to stuff with 540 ci of never-ending torque: It had to be an early second-gen Camaro.
"My first car was a 1976 Camaro," the 56-year-old enthusiast says. "I always preferred the look of the 1970-73 models, but when I was in high school they were already pretty hard to find."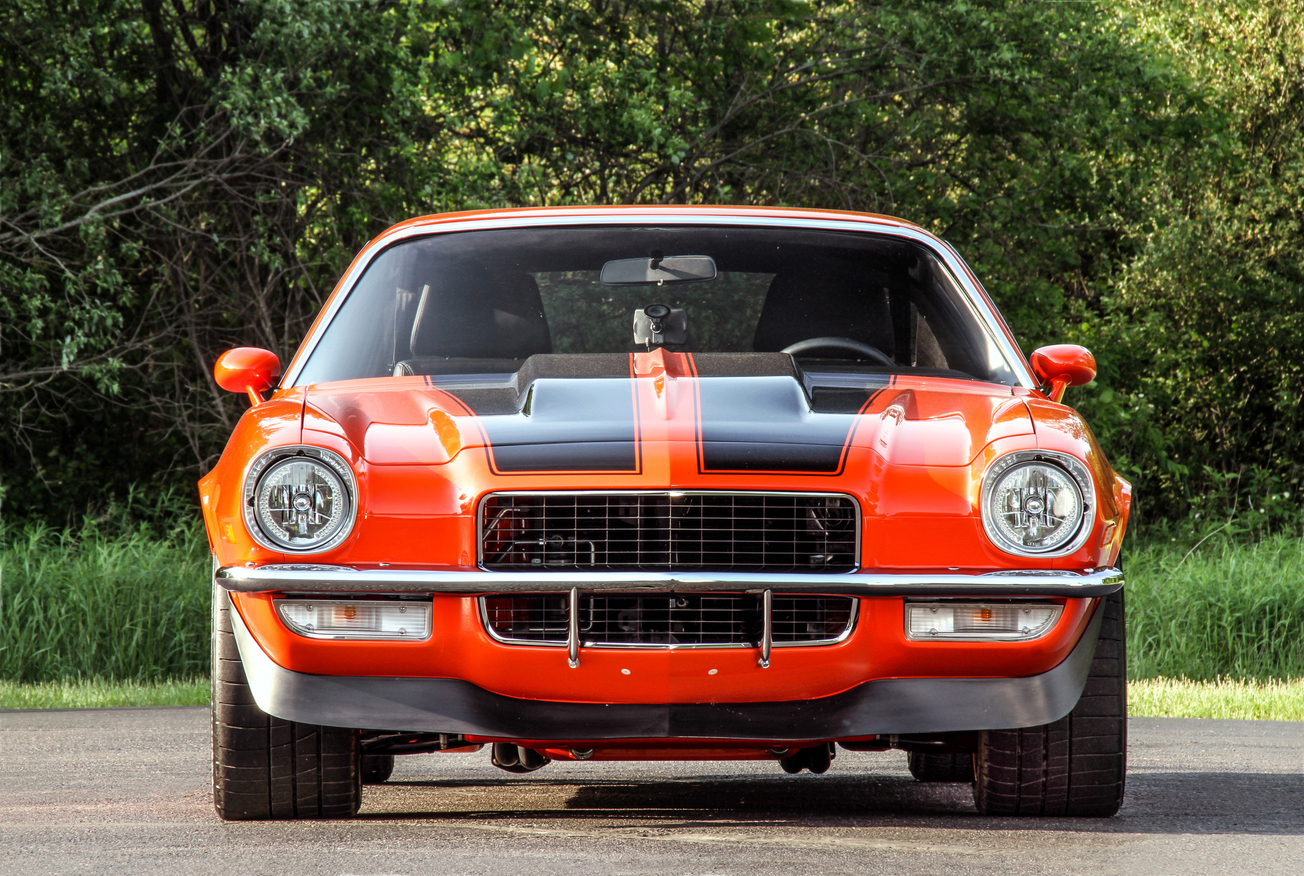 When the time and resources finally availed themselves, Brian found a 1970 Camaro about six years ago and linked up with builder Corey Wegrzyn, at Corey's Hot Rods, about a half-hour east of Flint, Michigan. And while the car was located in the notoriously rot-prone Wolverine State, it was originally from Alabama, and it was hoped that fact would have helped preserve the sheetmetal.
No such luck.
"At first, it looked encouraging," Wegrzyn says. "All of the factory pinch welds still had the factory spot welds, so the car at least appeared to be mostly original. And it looked pretty good."
That was before the car returned from the media blaster. In fact, it's more accurate to say only about half of the car returned. The other half vaporized into a cloud of rust dust.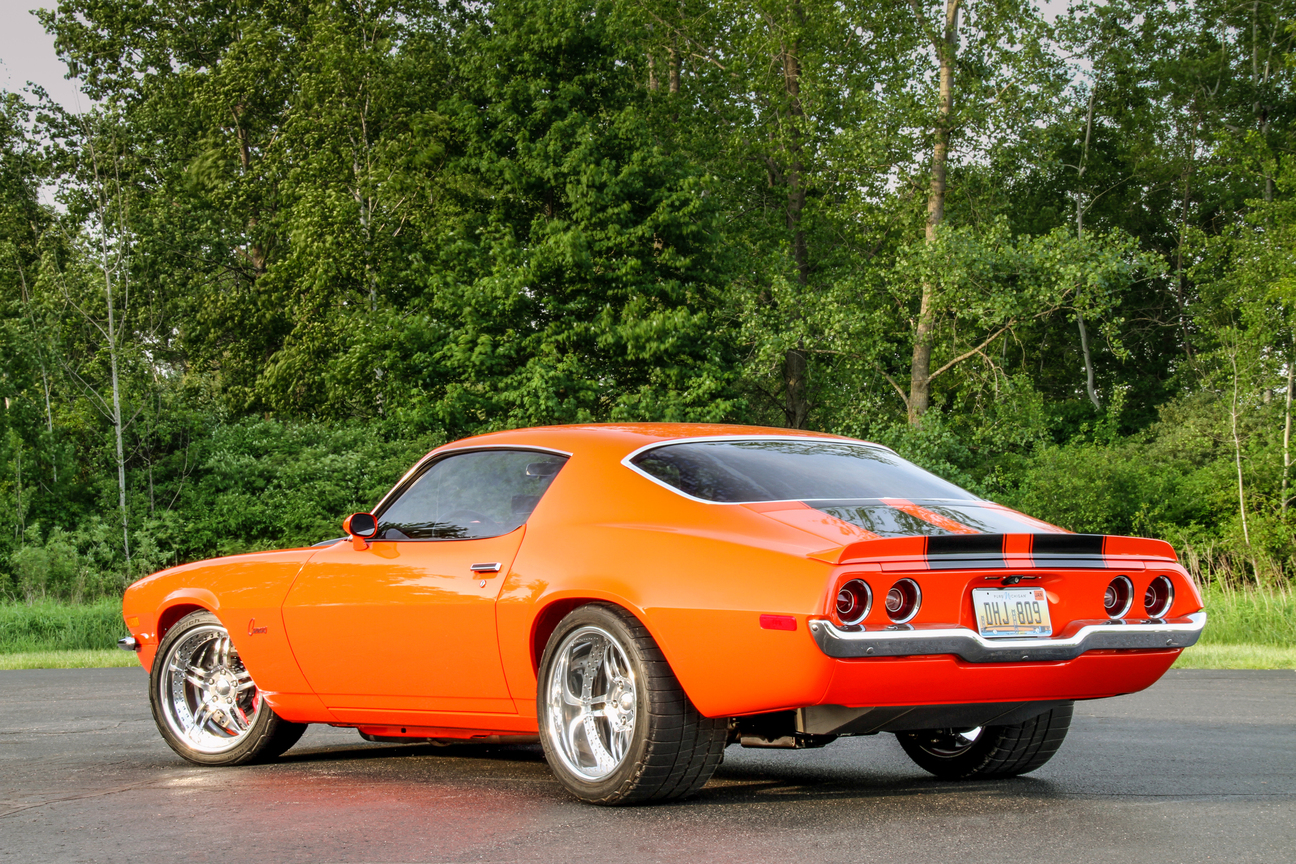 "There wasn't much left of the body at all," Wegrzyn says. "It was amazing because along with the rotted cowl, firewall, and more, there were 6 inches of the inner roof skin that had disappeared. I'd never seen anything like it before."
That's saying something because Wegrzyn was no stranger to restoration and fabrication work, and says he's been building cars "forever"—dating back, at least, to a blown '68 Camaro RS/SS that beat every other contender in a class of more than 90 vehicles at the 1987 Detroit Autorama.
It would be easy to say the Camaro's shell was a shadow of its former self, but something solid would have been required to cast a shadow in the first place. Nevertheless, Brian and Wegrzyn doubled down and proceeded with the rust-ravaged F-body.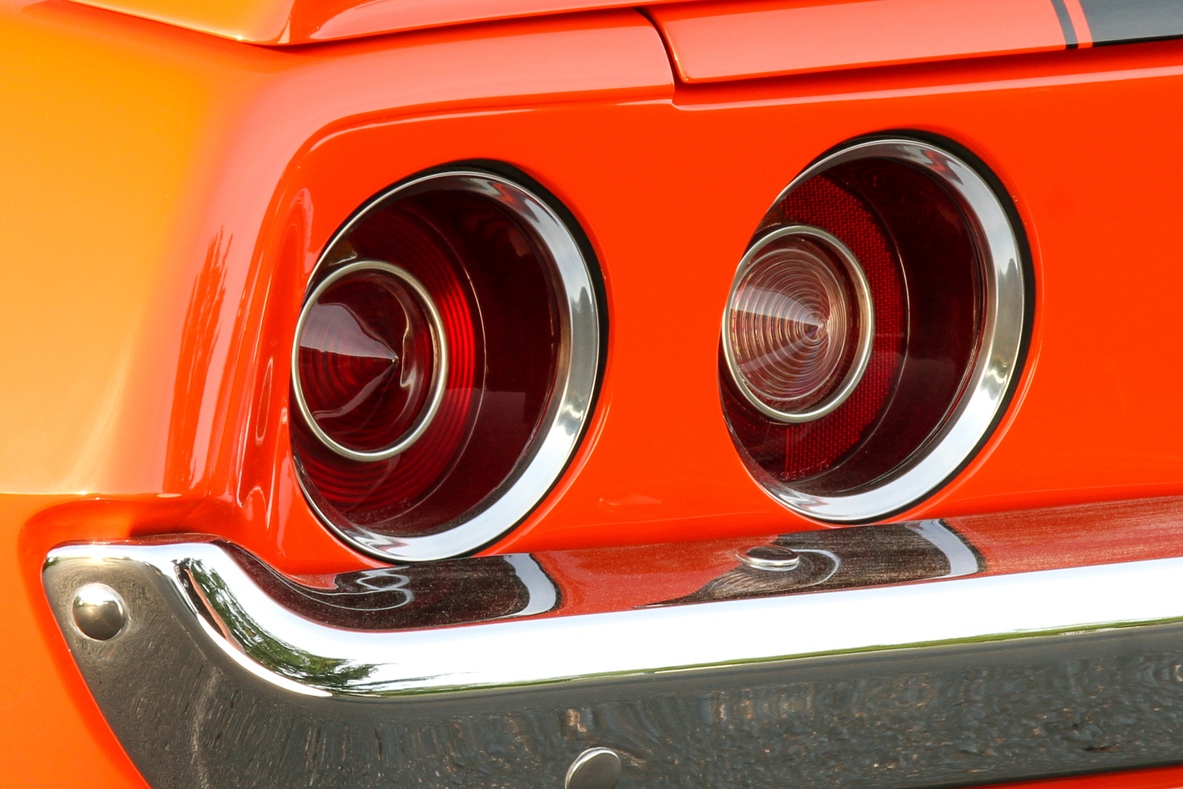 Time Machine: This 1988 Camaro IROC-Z is a Pro Touring Masterpiece
The body was essentially remade from the ground up, starting with all-new rockers and careful bracing to ensure the structure remained true in all dimensions. Additionally, Wegrzyn built in the accommodations for chassis and suspension upgrades that included a Detroit Speed hydroformed front subframe fitted with coilovers and rack-and-pinion steering, along with Detroit Speed's QUADRALink rear suspension and mini-tubs. There's a Detroit Speed–supplied 9-inch axle housing in there, too.
Linking the front and rear chassis/suspension upgrades and stiffening the body structure is a set of scratch-built subframe connectors that cut through the floor to maximize strength and maintain adequate ground clearance for the car's low-slung stance.
That stance is augmented beautifully with a set of wide, 335-series rubber in the rear and 275-series tires up front.
"The car just sits right," Brian says. "From every angle, it looks ready to attack the pavement." And from every angle, the body looks arrow-straight; with such smooth, flat, and rich-looking Hugger Orange paintwork, it still looks wet. It was the result of two coats of white sealer, seven coats of color, and six coats of clear, all wet-sanded to perfection.
All of the chassis and engine compartment components were painted, too, and the engine compartment itself features a number of custom touches, not the least of which was a custom firewall that's pushed back an inch to accommodate the 1-inch setback of the engine. While Wegrzyn was fabricating it, Brian focused his attention on procuring the big-cube powerplant. It was built by South Dakota–based CNC Motorsports and is based on a Dart block with Brodix heads. It's topped with a FAST port fuel injection system and dyno'd at 718 naturally aspirated horsepower and 667 lb-ft of neck-tugging, grin-inducing torque.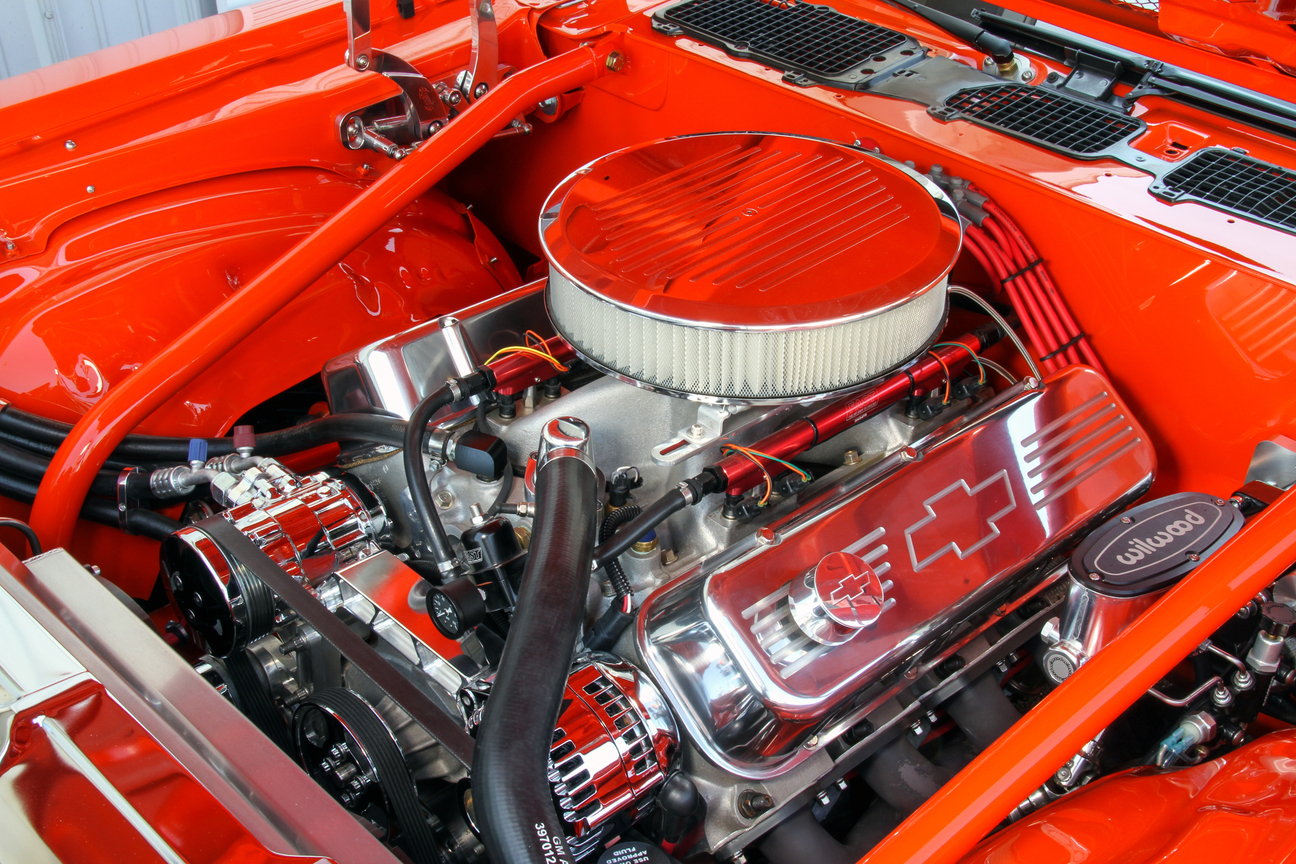 After dropping the big-inch big-block into the car, Wegrzyn worked diligently to hide as many of the associated hoses and lines as possible, including even relocating to the coil beneath the cowl, where it's out of sight but also receives cool air on the highway. It's one of the countless details that contributed to an estimated 2,300 hours of labor in the project.
"Nothing was left alone on the car," Wegrzyn says. "It's an all-new car in just about every regard. There is very little left that's original."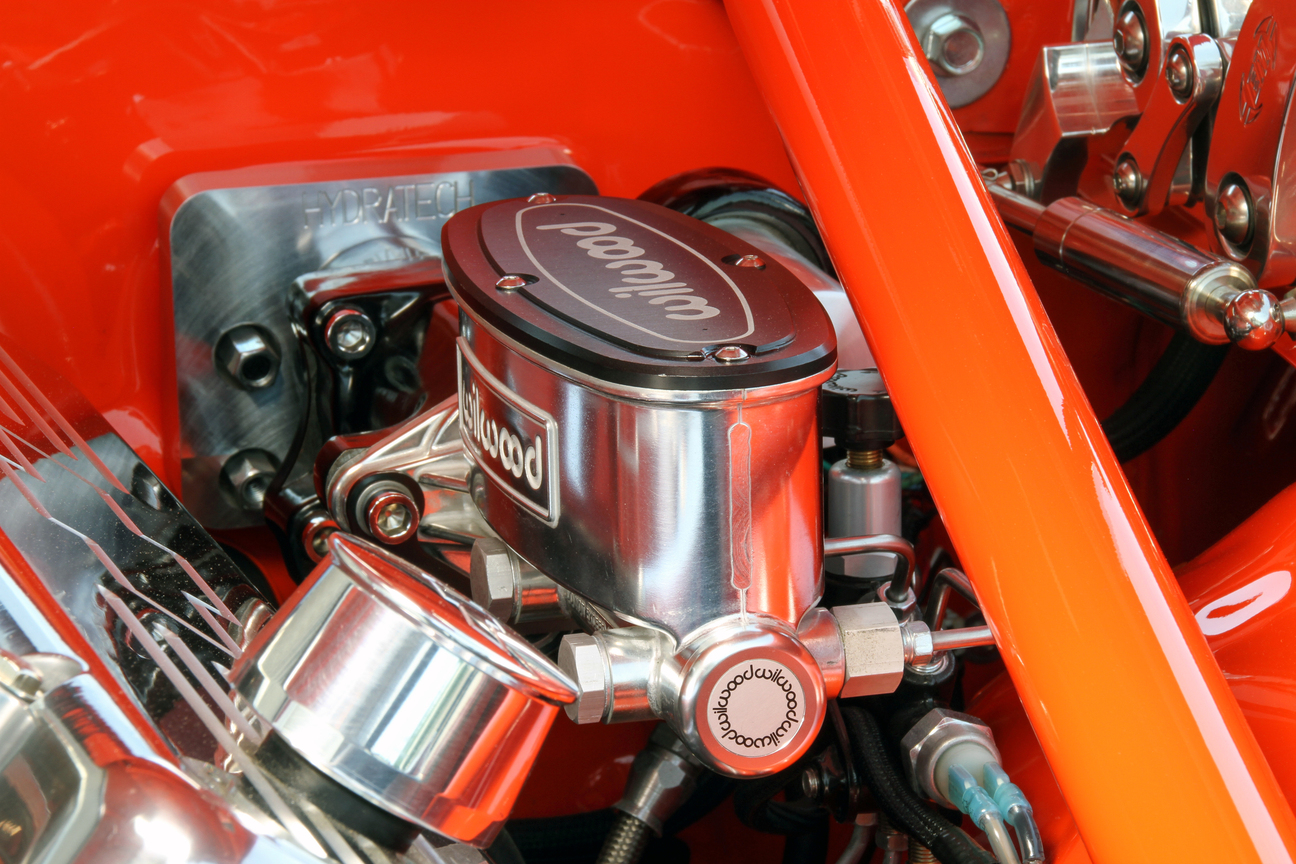 The rest of the drivetrain details include Wilwood discs with hydroboost, and a strengthened Turbo 400 transmission that's complemented with a Gear Vendors overdrive unit that drops 60-mph cruising speed by about 500 rpm, with the car's 3.70-geared, Detroit Truetrac-equipped rear axle.
"That puts the cruising rpm at about 2,500 rpm at 60 mph and about 3,000 rpm at 70 mph," Brian says. "It makes a huge difference in the driveability of the car."
The overdrive is controlled via a switch on a custom-built center console that incorporates an original-style horseshoe shifter from Shiftworks, which not only still looks stylish more than 50 years later but lends a more original look to the cabin.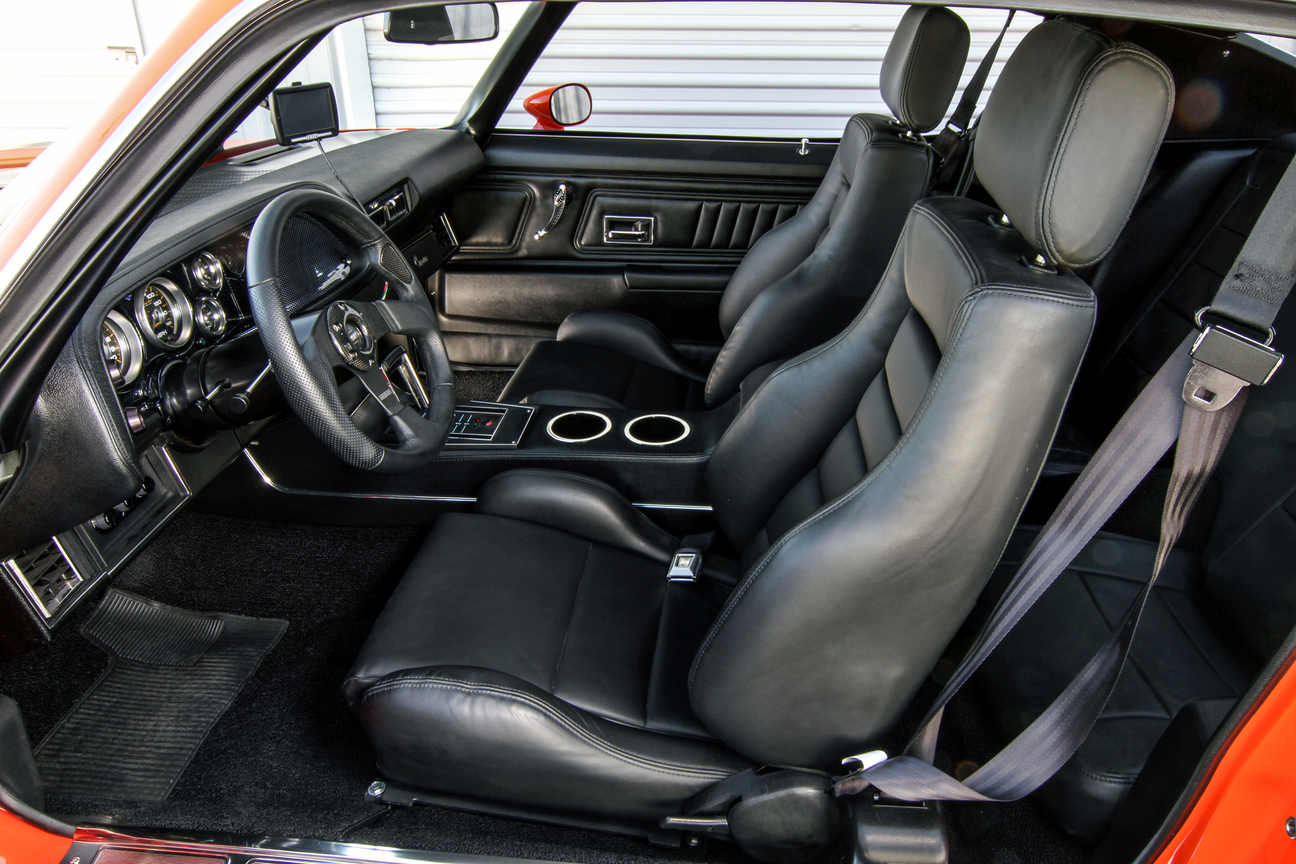 Like the rest of the car, however, there's little of the original interior that remains. The instrument panel has been replaced with a full complement of Auto Meter gauges set in a carbon-fiber housing. There's also a MOMO steering wheel and leather-trimmed Corbeau seats. The rear seat was narrowed by 4 inches, too, to accommodate the wheeltubs, and it was re-trimmed with material that matches the front seats.
More of Wegrzyn's fanatical attention to detail includes custom extensions of the interior A-pillar trim that serve as reinforcements for the dashpad. Longtime second-generation owners can attest to the squeaks and rattles that emanate from the dash, and the carbon-fiber gauge insert used on this car exacerbated the condition because it eliminated one of the pad's attachment points.
"It's rock-solid now," Wegrzyn says. "No squeaks and no rattles."
Indeed, "rock solid" is how Brian describes the entire driving experience of this reborn F-body.
"Make no mistake, it's very firm, with chassis and suspension components designed to shine on a track," he says. "But it's a good, comfortable ride, with stunning acceleration, cornering, and braking. You'd better be holding on when the power comes on—and even more so with the brakes. The car stops right now."
Despite the show-worthy appearance of this comprehensively reconstructed Camaro, Brian isn't shy about racking up the miles on it.
"Yes, it was a significant investment, and many people would be worried about rock chips, etcetera," he says. "But I had this car built to drive. It's the car I always wanted and I'm really enjoying finally behind the wheel."
It was personal preference that drove Brian Furness' big-block decision, not the politics of modern performance. In a world with so many great performance choices, one's preference is just that, and not an indictment of the choices he didn't make.
It's the sort of outlook we need to push into everything else. Cars will show the way!
But when it comes to chicken sandwiches, there's no debate: Wendy's Spicy Chicken is the clear winner.
TECH CHECK
Owner: Brian Furness, Almont, Michigan
Vehicle: '70 Chevy Camaro
Engine
Type: Chevrolet Mark IV big-block (with Dart block)
Displacement: 540 ci
Compression Ratio: 10.5:1
Bore: 4.500 inches
Stroke: 4.250 inches
Cylinder Heads: AFR CNC-ported aluminum
Rotating Assembly: Callies forged crankshaft, Carrillo connecting rods, and Diamond forged pistons
Valvetrain: Roller-type with aluminum roller rockers and dual-coil valvesprings
Camshaft: Comp Cams hydraulic roller (0.658/0.660-inch lift, 274/303 degree duration at 0.050, 112-degree lobe separation angle)
Induction: Natural aspiration with FAST port fuel injection mounted on an aluminum intake manifold
Exhaust: Hooker BlackHeart 1 7/8-inch headers and custom 3-inch exhaust system with SpinTech mufflers
Ancillaries: Vintage Air front runner accessory drive with power steering pump and Vintage Air A/C pump, Earl's Performance hoses, Wizard Cooling engine radiator with dual electric fans
Output: 718 hp at 6,300 rpm, 667 lb-ft at 5,000 rpm
Drivetrain
Transmission: General Motors Turbo 400 three-speed automatic, built by Hughes with 3,500-stall converter and Gear Vendors overdrive
Rear Axle: Detroit Speed 9-inch with Eaton Detroit Truetrac limited-slip differential, 3.70 gear ratio, and Strange 31-spline axles
Chassis
Front Suspension: Detroit Speed coilover conversion (on Detroit Speed subframe), JRi double-adjustable dampers, stabilizer bar
Rear Suspension: Detroit Speed QUADRALink with Panhard bar, JRi adjustable dampers, stabilizer bar
Brakes: Wilwood four-wheel disc; 14-inch slotted, two-piece front rotors with six-piston calipers; 12.88-inch slotted, two-piece rear rotors with four-piston calipers
Wheels & Tires
Wheels: Boze Alloys Lateral G-series forged aluminum; 18×10.3 front, 18×12 rear
Tires: BFGoodrich gForce Rival; 275/35R18 front, 335/30R18 rear
Interior
Upholstery: Black loop carpet
Seats: Corbeau front buckets with black leather trim, narrowed stock rear seat
Steering: ididit tilting steering column with MOMO steering wheel
Shifter: Horseshoe shifter from Shiftworks
Dash: Carbon-fiber dash insert and additional carbon-fiber trim
Instrumentation: Auto Meter carbon-fiber Ultra-Lite
HVAC: Vintage Air
Exterior
Bodywork and Paint: Corey's Hot Rods
Paint: Hugger Orange with black stripes (Axalta basecoat and clearcoat)
Additional Details: Steel cowl-induction hood, "low" rear spoiler, Custom "Camaro" fender badges, sequential LED taillights, LED headlamps with integrated corner lamps/turn signals