Ken Johnson's 1971 Supercharged Nova
By Nick Licata   –   Photography by Wes Allison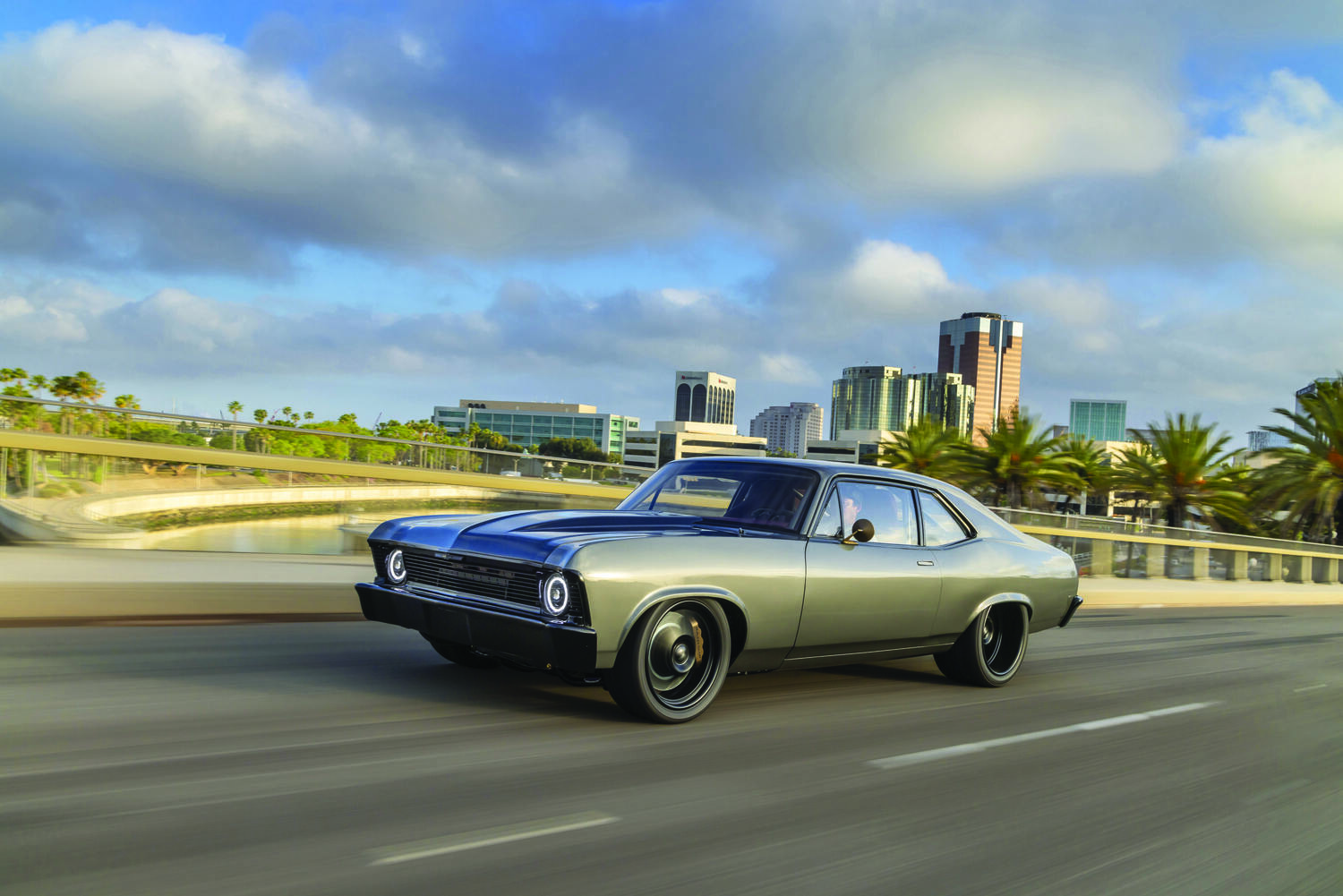 Being surrounded by horsepower, regardless of the application, it's the thunder exuded by a monstrous V-8 that pulls you in like an addictive drug—one that's impossible to kick. Such was the case with Ken Johnson of Wildomar, California. Dude was subjected to the muscle car scene pretty much his entire life. It started with his uncle Pete who had a bright red Pro Street 1967 Camaro. "That thing was a complete badass," Ken recalls. "I was pretty young at the time, and I'm not even sure what engine it had. All I know is it sounded and looked mean as hell."
With Uncle Pete planting the seed, Ken gravitated toward the gearheads while in high school. Even though he was more into motocross and the dirt scene, Ken hung out with a crew where a 1968 Mustang, a 1970 Chevelle, and a few other muscle cars were part of the herd.
Ken's involvement in the motocross world led him to a position working for the Lucas Oil Off Road Racing Series, which subjected him to a plethora of 900hp race trucks, UTVs, and other dirt-associated vehicles. During that time Ken owned a 1971 Chevelle—a cruiser of sorts—but being in an industry where vehicles get driven hard, he offed the Chevelle to make room for a 1971 Nova with more bite.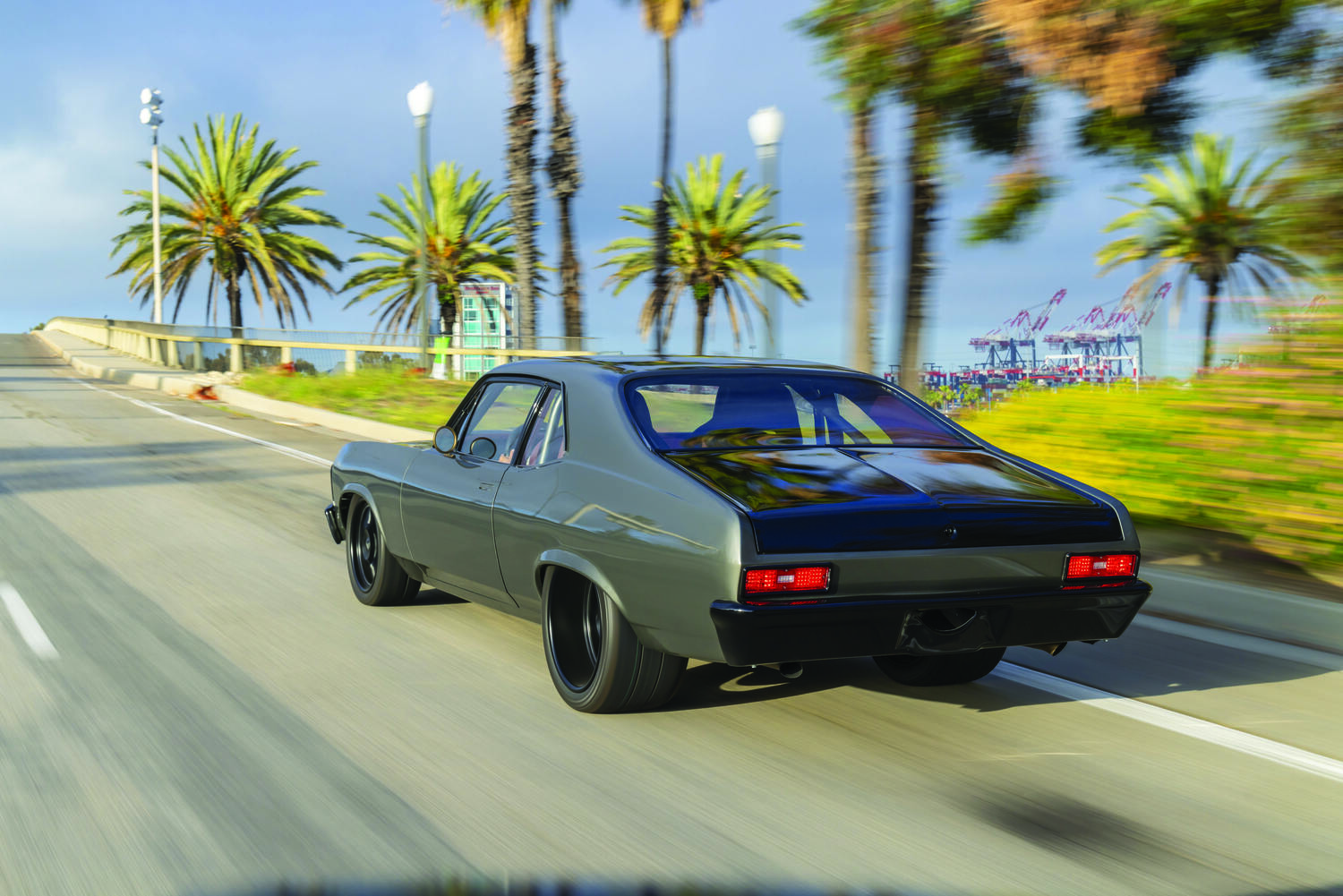 We'll step aside and let Ken give us the lowdown: "The Nova started off as a SEMA build project for a local high school, which sat in a warehouse for years. I kept threatening to buy it from the owner, but space and funds were an issue at the time. My Lucas Oil counterpart, Robert Wilson, was in a position to scoop it up. He washed it and sold it to another friend, Jerry Ziden. [Ziden] took it to his shop and did a few upgrades and his focus wandered, so the opportunity presented itself and [Ziden] offered it to me. Without hesitation, I took the car off his hands and the Nova was finally mine."
Check it out: Chris Shallcross' 1970 Pro Touring Camaro RS
Ken drove it for a few months as-is but wanted to give it a more Pro Touring treatment, so he put together a plan with Rob Lindsay and his able crew at RJ Fabrication in Hesperia, California. "I met [Lindsay] through the Off Road Series and knew he had mad fabrication skills. Always knowing some sort of supercharger would be involved, Ken used the moniker Boosted Nova, and the transition began.
Starting with the suspension, Ken had a Detroit Speed Kit 3 in the garage that was to go in his old Chevelle, which he was able to swap in favor of a kit designed to fit the Nova. "Alex Stivaletti and the team at Detroit Speed were very accommodating and allowed me to return the Chevelle suspension for a new one designed for the Nova," Ken says.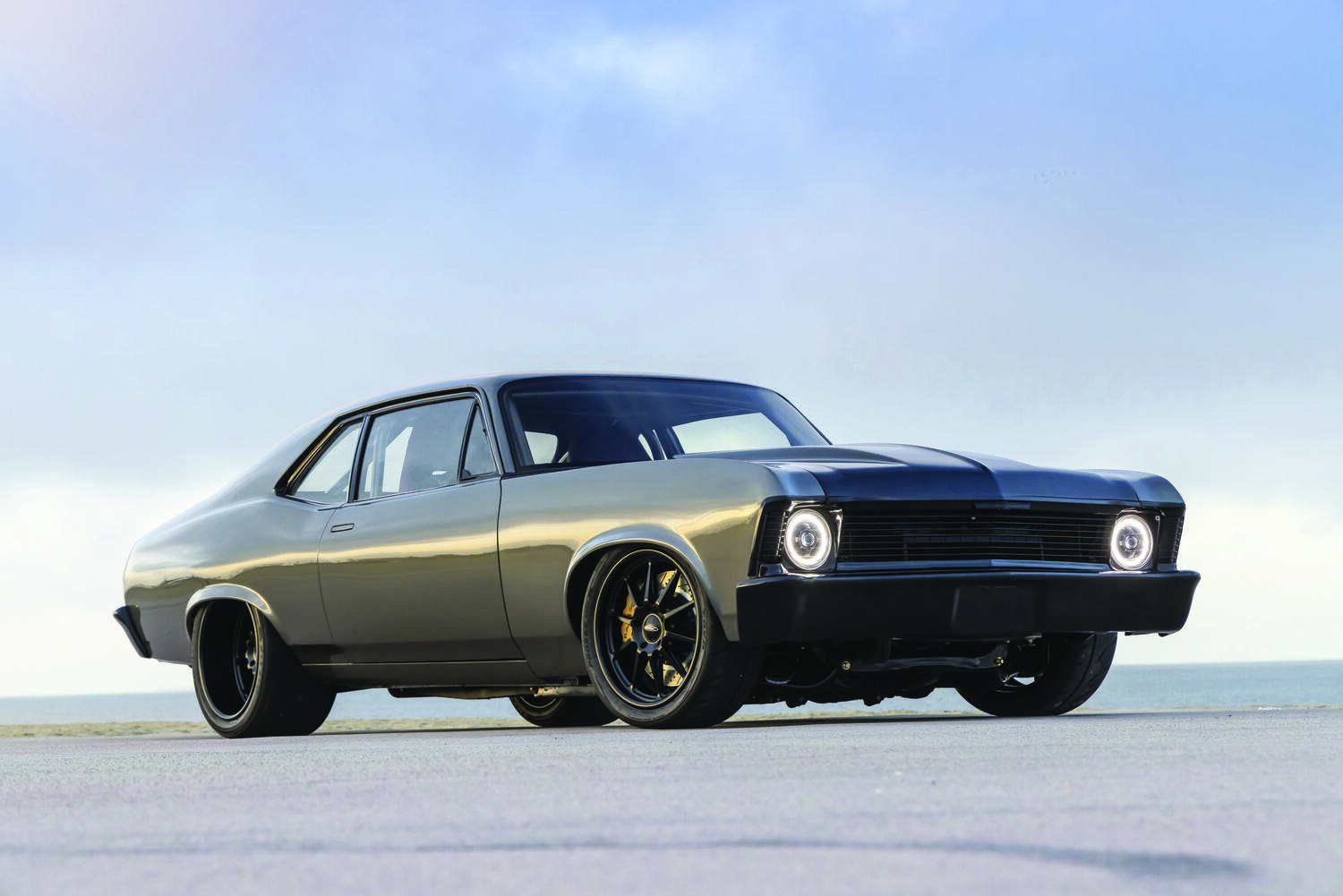 Starting from the ground up, Lindsay got his fab skills running in high gear and moved the framerails in 3 inches per side in preparation for the bigger wheels and rubber that will reside up front. He also fabricated a set of one-off full tubs as massive rubber will take residence out back and join a Detroit Speed QUADRALink suspension system armed with JRi double-adjustable shocks, ¾-inch sway bar, and Panhard bar. Up front, the manipulated frame plays home to forged Detroit Speed spindles, tubular control arms, JRi shocks, and splined 1 3/8-inch sway bar.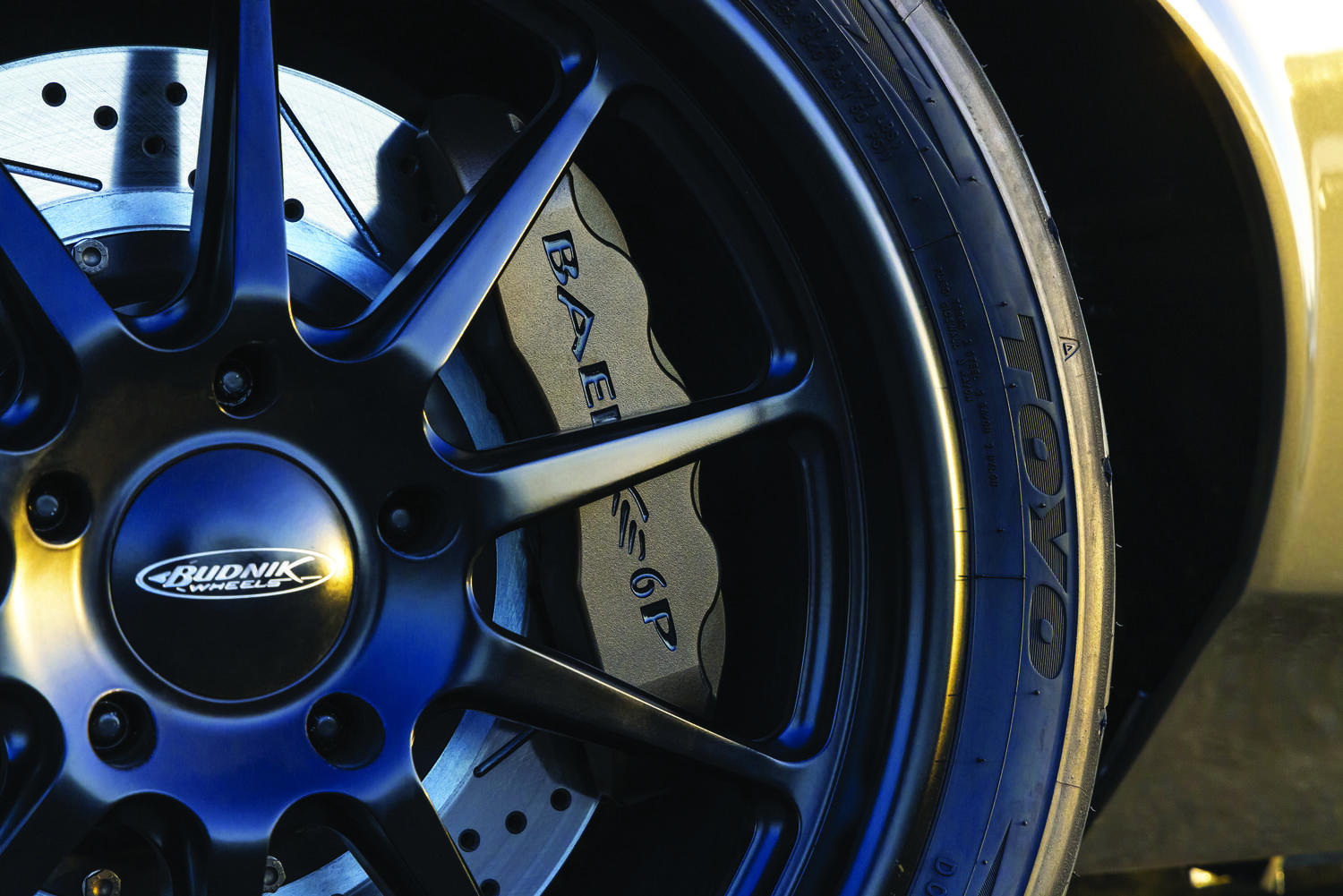 Baer Brakes 14-inch rotors and Burnt Bronze color-matched six-piston calipers live on all four corners and take orders from a Baer Remaster master cylinder while a Baer proportion valve divides attention fore and aft.
Budnik got the call for rolling stock as a set of black Vapor wheels (18×8 front, 19×12 rear) comply with the intimidation factor. Grippy Toyo R888 rubber ensure the capable suspension bits work to their maximum ability.
Surrounded by an industry of serious performance, Ken knew his Nova had to kick ass in the horsepower department, so he went to Moruzzi Race Motors in Banning, California, for one of their no-nonsense LS3 powerplants. The Moruzzi bullet comes in at 418 ci with a 4-inch stroke and 4.080-inch bore. DSS Racing forged pistons and Callies forged crankshaft and H-beam rods are also part of the performance recipe. Moruzzi ported the GM LS3's aluminum heads to bring more power to the party. Moruzzi enlisted a Cam Motion cam that plays well with the Maguson TVS2300 blower coated by Cerakote 21. A K&N element gulps air just beyond the custom inner fender panel while the Stainless Works 1 7/8-inch headers shove spent fuel through the RJ Fabrication 3-inch stainless exhaust system and Black Widow Venom 250 mufflers. The ensemble rings the bell at 754 hp and 630 lb-ft.
All that power makes its way through a 4L80E automatic transmission and onto a Hi Desert 3.5-inch driveshaft, which sends all that commotion to a Currie Turn9 rearened outfitted with a Strange S Track limited slip diff and Currie 35-spline axles.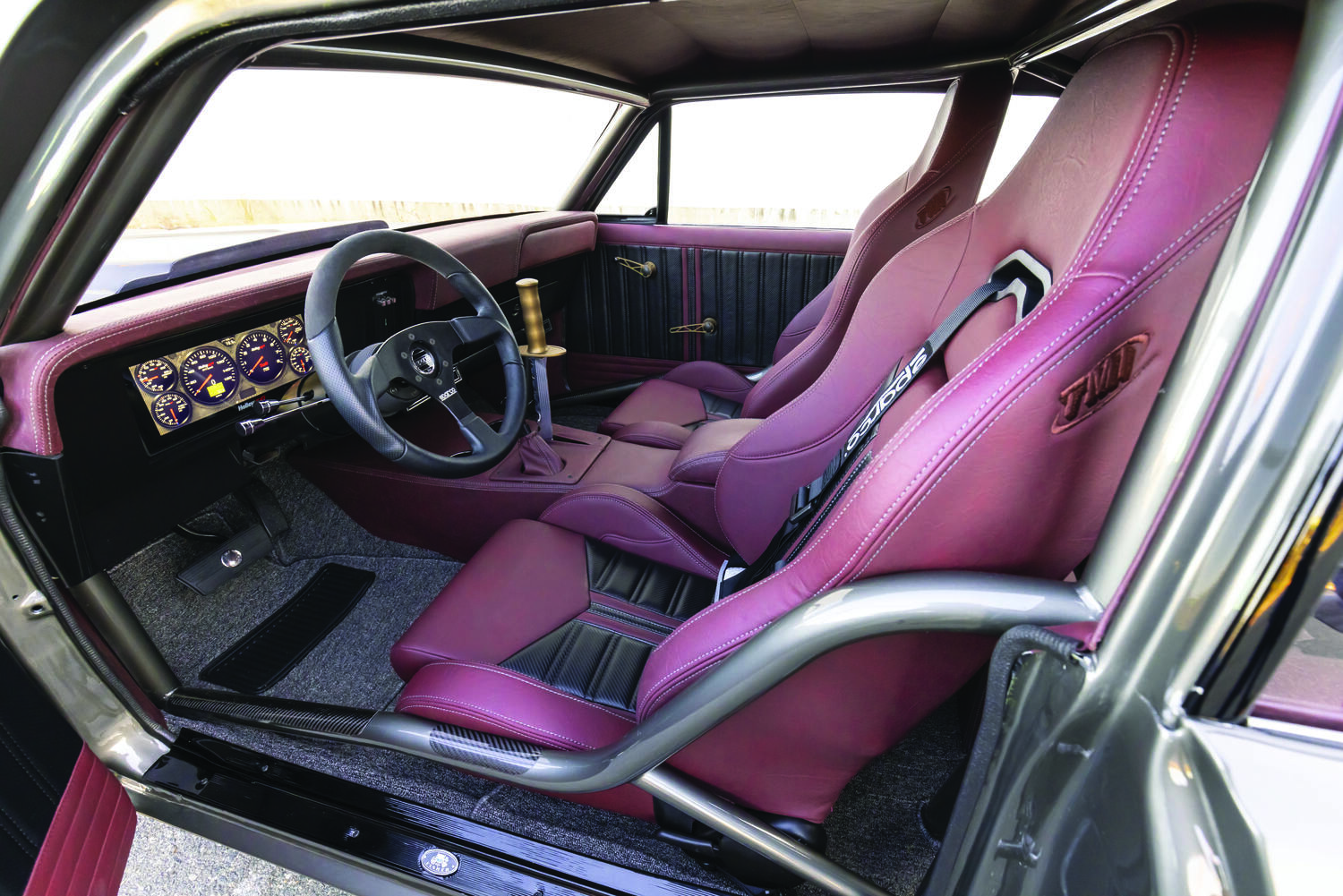 A visit inside reveals a no-nonsense business center highlighted by the RJ Fabrication fabricated carbon-fiber dash by Kenny Pfitzer Designs that houses a Holley 12.3 Pro Dash. The distressed blood red and black carbon weave synthetic leather on the TMI door panels and Pro Chicane II seats present an impactful color scheme. "I have to give props to TMI's Ross Berlanga, for coming up with the color and material choice while a couple other TMI guys, Teo and Duan, helped with the design and installation," Ken says. Lindsay fabbed up a full 'cage that ties into the scene while the Sparco five-point harness ensures Ken stays safe and sound should things get hairy. The carpet and custom console also came from TMI, and, yes, that's a Deberti Katana Sword brake handle because Ken wanted to pay tribute to his Japanese heritage; besides, you never know when a drifting situation might come up.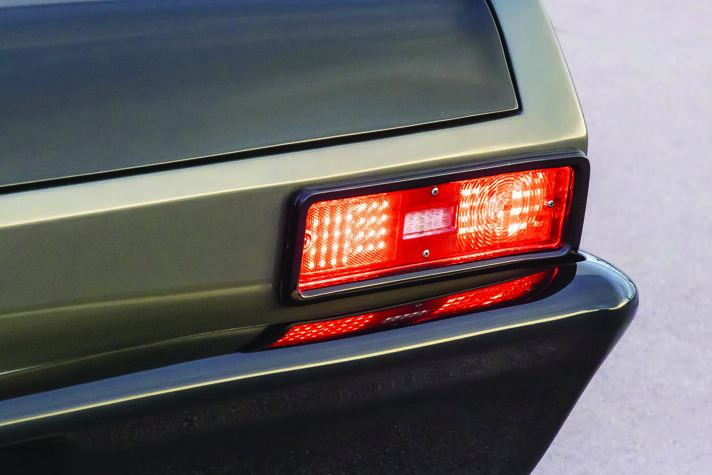 More Chevy Love: Dave Gagnon's Positively Wicked 1969 Chevelle
After Lindsay and his crew at RJ Fabrication set the stage, Ricardo Lopez at Customs by Lopez fine-tuned the gaps, smoothed the body to perfection, then Juan Sandoval Lopes sprayed the Nova in BASF Anthracite Metallic and doused a layer of black pigment on the Auto Metal Direct aluminum hood and Harwood fiberglass bumpers. The color scheme is a mischievous combination that creates a dark, street beast mentality—exactly what Ken was going for.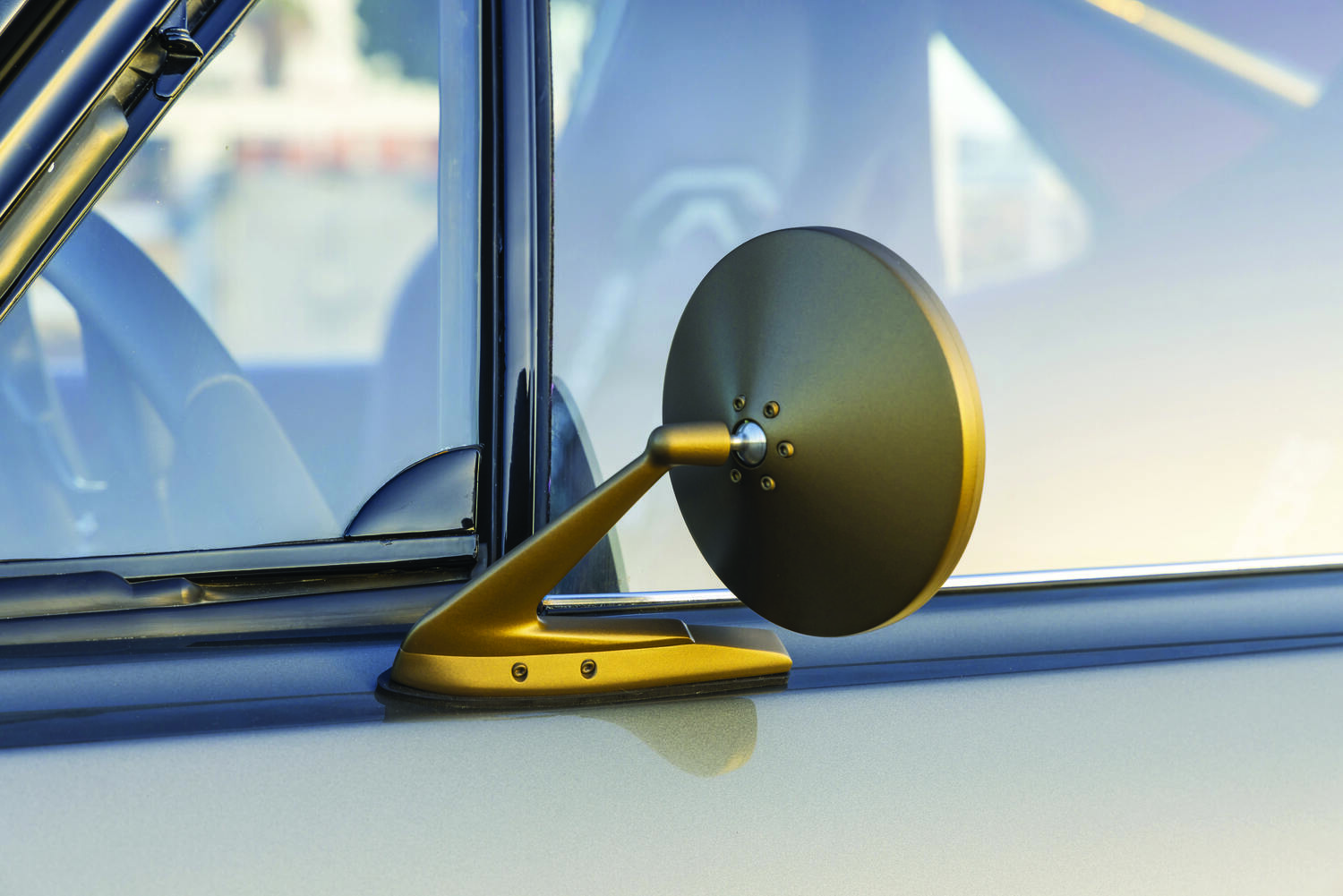 "I'm still in shock and can't believe this amazing car is mine. I have to thank so many important people who helped make it happen. Rob Lindsay was the brains of the build and is responsible for all the amazing fabwork. Ricardo Lopez and his crew at Customs by Lopez killed it on the bodywork and paint that give this car amazing eye appeal. I also have to thank Alex Stivaletti of Holley and Detroit Speed, Jason Scudellari at In The Garage Media, Ross Berlanga, Patrick Wagenbrenner, and my amazing wife for being so patient with me throughout the whole build process."
Performance vehicles come in many different forms, and although Ken spent many years getting dirty, he's happy cruising his clean, kick-ass 1971 Nova on the street, but pushing it on the autocross is what this car was built to do—and, man, it does it well.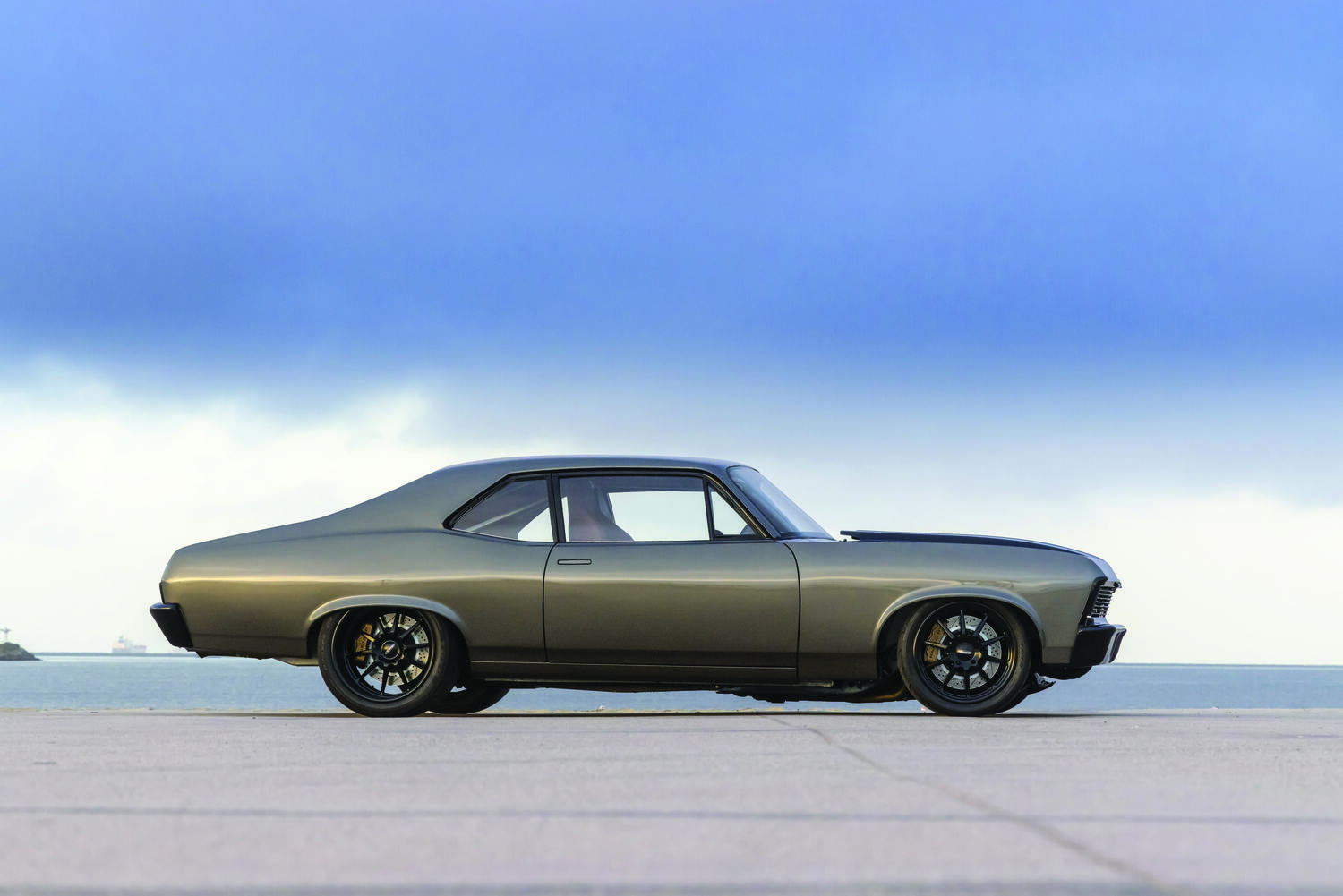 TECH CHECK
Owner: Ken Johnson
Vehicle: 1971 Chevy Nova
Engine
Type: GM LS3
Displacement: 418 ci
Compression Ratio: 9.8:1
Bore: 4.080 inches
Stroke: 4.0 inches
Cylinder Heads: LS3 ported
Rotating Assembly: Callies Forged crankshaft, Callies Forged H-beam rods, DSS forged pistons
Valvetrain: Ferrea stainless valves, Smith Bros. springs, Smith Bros Rockers
Camshaft: Cam Motion Moruzzi Race Motors custom spec
Induction: Magnuson TVS2300 Supercharger, K&N air cleaner
Fuel Injection: Holley Dominator EFI
Machine Work and Assembly: Moruzzi Race Motors
Exhaust: Stainless Works 1 7/8 primary, 3-inch collectors, RJ Fabrication custom 3-inch stainless exhaust, Black Widow Venom 250 mufflers
Ancillaries: Granatelli ignition and wires, Eddie Motorsports accessory drive system, Eddie Motorsports hood hinges, CBR Performance radiator, RJ Fabrication custom 30-gallon fuel cell
Custom Coating: Cerakote 21 (Murrieta, CA)
Output: 754 hp and 630 lb-ft to the tires
Drivetrain
Transmission: GM 4L80E
Rear Axle: Currie Turn9, Strange S-Trac limited-slip differential, 3.73:1 gears, 35-spline Currie axles
Chassis & Brakes
Front Suspension: Detroit Speed Kit 3, Detroit Speed spindles JRi double-adjustable shocks, Detroit Speed sway bar, Unisteer Performance rack-and-pinion
Rear Suspension: Detroit Speed QUADRALink, JRi double-adjustable shocks, Detroit Speed Panhard bar, Detroit Speed sway bar
Brakes: Baer 14-inch rotors, six-piston calipers front and rear, Baer Remaster master cylinder
Wheels & Tires
Wheels: Budnik Vapor (18×10 front, 19×12 rear)
Tires: Toyo R888; 255/35R18 front, 345/30R19 rear
Interior
Upholstery: TMI Gray loop carpet, TMI Distressed Blood Red Black Carbon Weave synthetic leather seat covers, door panels, dash, and center console
Seats: TMI Chicane, Sparco five-point harness
Steering: ididt column, Sparco steering wheel
Wiring Kit: American Autowire Highway 22 installed by Jason Scudellari
Shifter: Lokar
Dash: Custom by RJ Fabrication, mold by Kenny Pfitzer Designs
Material: Carbon fiber
Instrumentation: Holley12.3 Pro Dash
Door Handles: Clayton Machine Works
HVAC: Vintage Air
Rollcage: Custom by RJ Fabrication
Exterior
Bodywork Fabrication: RJ Fabrication
Bodywork and Paint: Customs by Lopez (Compton, CA)
Paint: BASF Anthracite Metallic, black hood and bumpers
Hood: Autometal Direct Aluminum
Grille: Stock painted black
Side Mirrors: Lokar
Bumpers: Harwood Fiberglass
Door Handles: Kindig-It