Danny Hyde's Years of Experience Created This Stunning Custom Ragtop
By Brian Brennan   –  Photography By Wes Allison
It is amazing that every year the list of homebuilt hot rods that turn out for competition for the America's Most Beautiful Roadster award grows. This past year was no exception. One of the favorites in the highly competitive field was a 1936 Ford Roadster belonging to Danny Hyde of So Cal Speed Shop. He's my neighbor, well, he lives a few miles down the road, but the fact is for the past eight years I wasn't aware such a build was going on. But there is plenty more to this story.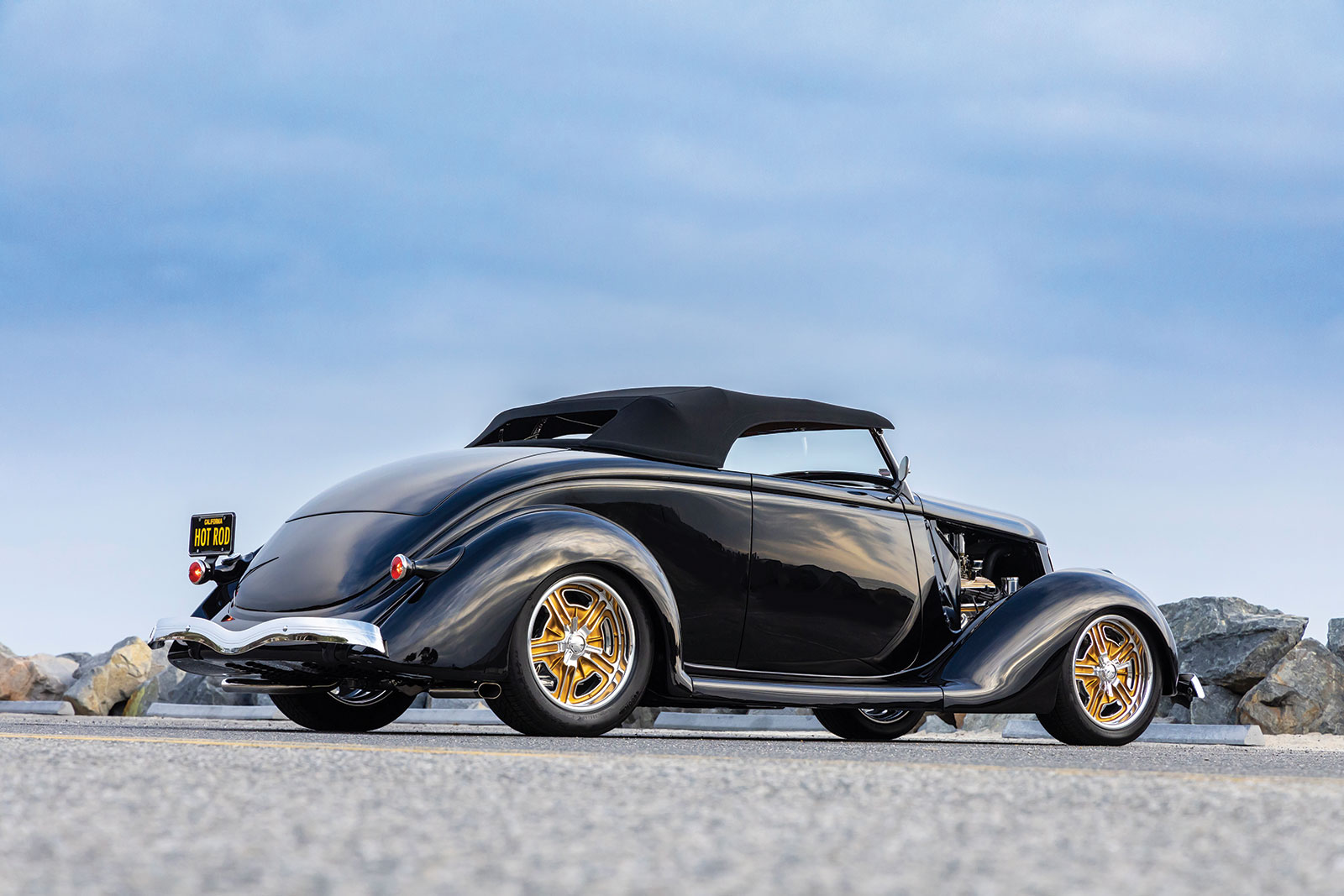 Let's go back up to about 1984 when Danny decided it was time and moved from Connecticut to the Orange County suburbs in Southern California. So far so good. But this 1936 Ford was a Five Window Coupe and not a roadster. You see living on the East Coast dictated that a roof and side glass be part of any practical hot rod. In fact, Danny and his then '36 coupe made the drives to the NSRA Street Rod Nationals in Columbus (Ohio), St. Paul (Minnesota), Memphis (Tennessee), and Louisville (Kentucky). Oh, did I mention that he also made trips to a number of Goodguys events on the West Coast, including Merced and Bakersfield, California, and a trip to Bonneville. We aren't sure how many miles that is but we do know it would take a calculator to figure it out. Now you are beginning to think that this was Danny's one and only ride. Well, it wasn't. As it turns out he had the time to build a barn full of Fords beginning with a 1929 Ford Roadster and an extended cab pickup, a 1931 Roadster, a 1932 Roadster, 1937 and 1938 Tudor coupes, and a 1941 Coupe. That's the early Fords, then there were three 1950 Ford convertibles, a 1954 coupe, a 1954 Mercury hardtop, and a 1951 Mercury. Oh, did we mention he also built a 1975 Ford Ranchero.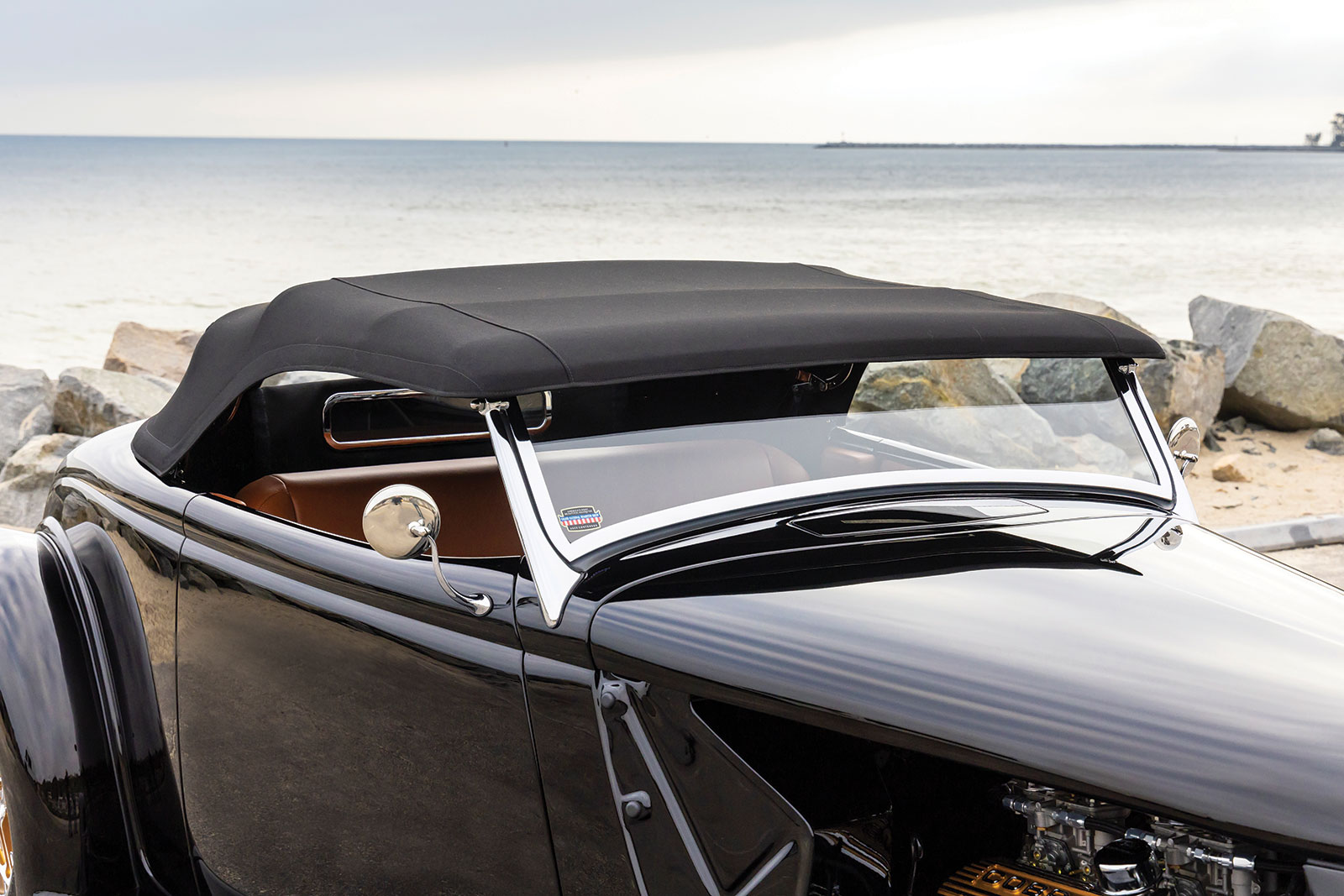 Read More: '60 Impala With Impeccable Style & Performance
Once he moved to the SoCal Speed Shop the game changed. No doubt he would now need a roadster to avail himself of the Southern California vibe. As life has a way of altering our expectations, it was suddenly 2015 and he hadn't begun his coupe-to-roadster transformation. This herculean feat was made even more remarkable by the fact he was 80 years old when he began and 88 years old when he unveiled the roadster at the Grand National Roadster Show —and he did much of the work himself. For anyone wanting to take on the task of converting a coupe to a roadster you are undertaking a massive amount of metalwork. This didn't faze Danny as he dug out the cutting torch, various saws, the welding equipment, lots of accessible metal, cardboard for patterns, and on and on … until he had a 1936 Ford Roadster. It should also be mentioned that he did spend his lifelong career, now retired, as an auto body tech. In doing so he is extremely familiar with the ins and outs of working metal as well as fabricating from scratch. As is always the case, every hot rodder has friends who if it weren't for them the job wouldn't ever get handled.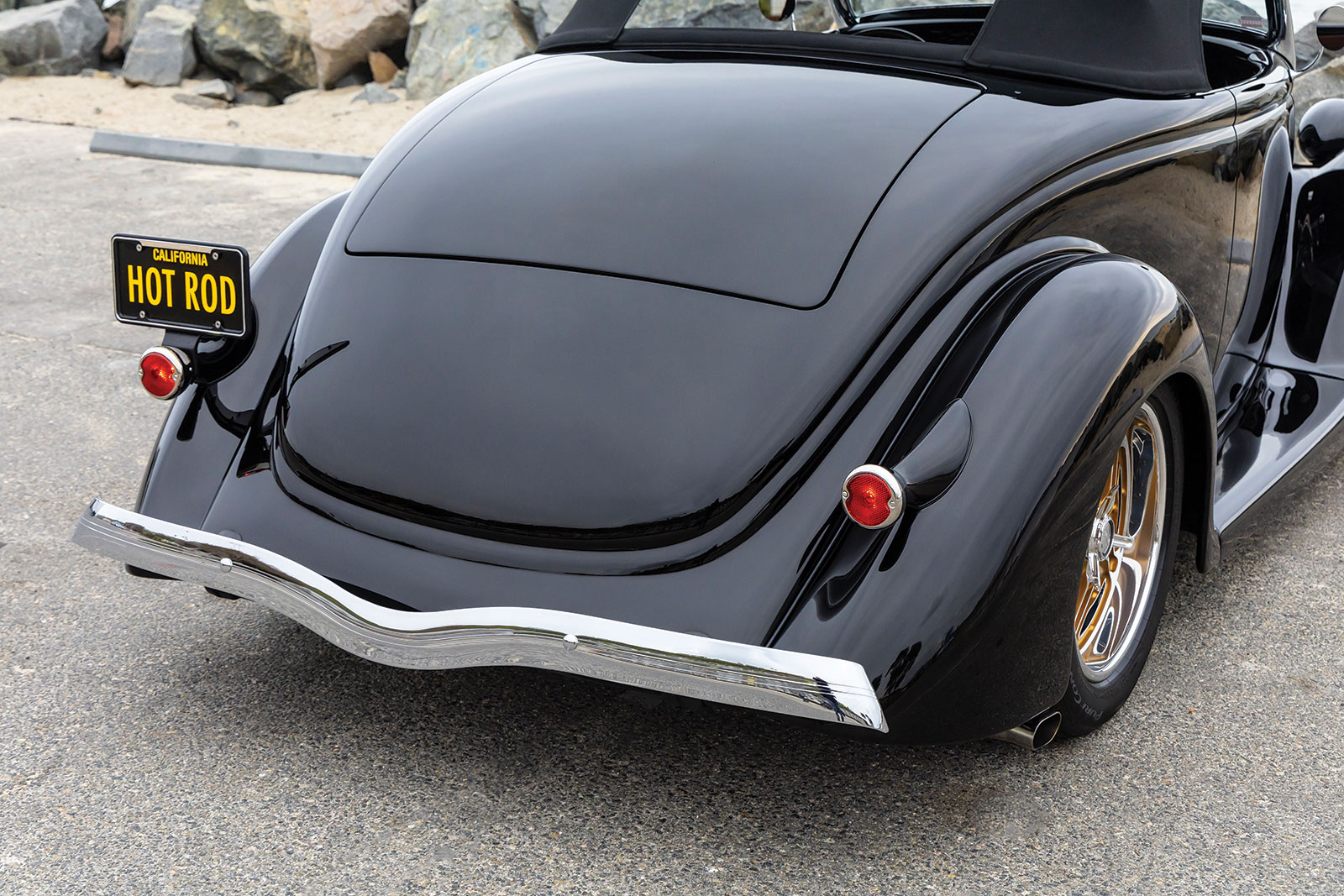 In Danny's case, the likes of longtime friend Bob Mariani came from the East Coast to the West Coast on multiple occasions. When it came crunch time Mariani was there burning the midnight oil on several occasions getting the 1936 ready for the Grand National Roadster Show. Along with Mariani more friends kicked in time and effort, such as Lon Phillips, Rod Sexton, Harley Brooks, Ron Mangus, and Allen Budnik, all waiting in the wings to help where they could. Some of these names probably sound familiar. Keep reading and you will see where everyone fits into this puzzle of a coupe turned into a roadster.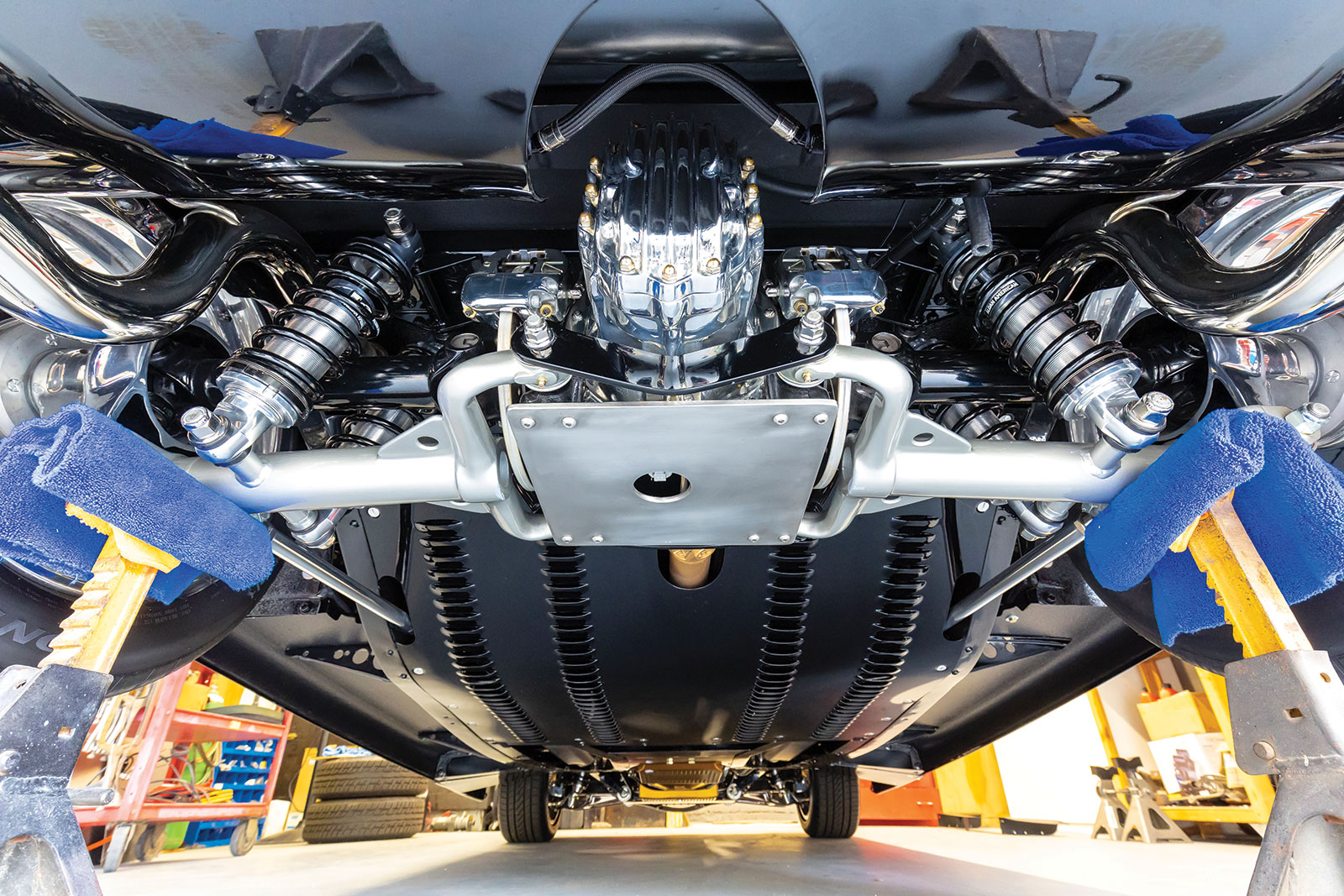 Danny began with a "footprint" to build his 1936 Ford Roadster upon … the reworked 1936 Ford chassis. He began by shortening the now-boxed frame some 7 inches and fabricating all the custom crossmembers. In the process he moved the newly fabricated front crossmember forward 3 inches while moving the rear crossmember (and subsequently the rear end) forward 6 inches, holding at a 108-inch wheelbase down from the 112-inch stock wheelbase. It should be noted that while the front crossmember was moved forward 3 inches, by the time the proper caster was dialed in for the C4 Independent Front Suspension it brought back the effective front axle point an inch. Also, in the process he managed to retain the stock 14-gallon gas tank.
There is nothing old school about the underpinnings on this hot rod. The fully independent suspension is based on a C4 Corvette (1984 to 1996) with Aldan coilovers shocks yet utilizing the Corvette spindles and front sway bar. Steering now falls to a Unisteer rack that receives its commands from the LimeWorks Speed Shop steering column. In back Danny went "early days" resurrecting a narrowed XJ-6 Jaguar Independent Rear Suspension (3.50 gears) that manages four adjustable Aldan American coilover shocks. The axles are a pair of custom half shafts made by another early name in Jag rearends, Curt Hamilton. Hamilton also narrowed the Independent Rear Suspension from 61 to 57 inches, keeping in line with what a hot rod needs. Braking is based on a Kugel Komponents 90-degree pedal setup with a dual reservoir small-bore master cylinder as Danny didn't use a power booster. This combination operates through the Kugel Komponents pedals, the Corvette front brakes and Wilwood brakes out back consisting of a pair of polished rear calipers along with a set of drilled-and-slotted rotors. Wrapped around the disc brakes is a full complement of billet Budnik wheels with polished and painted centers that measure 17s in front and 18s in back shod with high-inflation Continental 205/50R17s forward and 235/55R18s rearward. One friend to another, Budnik spent several nights before the show helping Danny out with getting the wheels just right.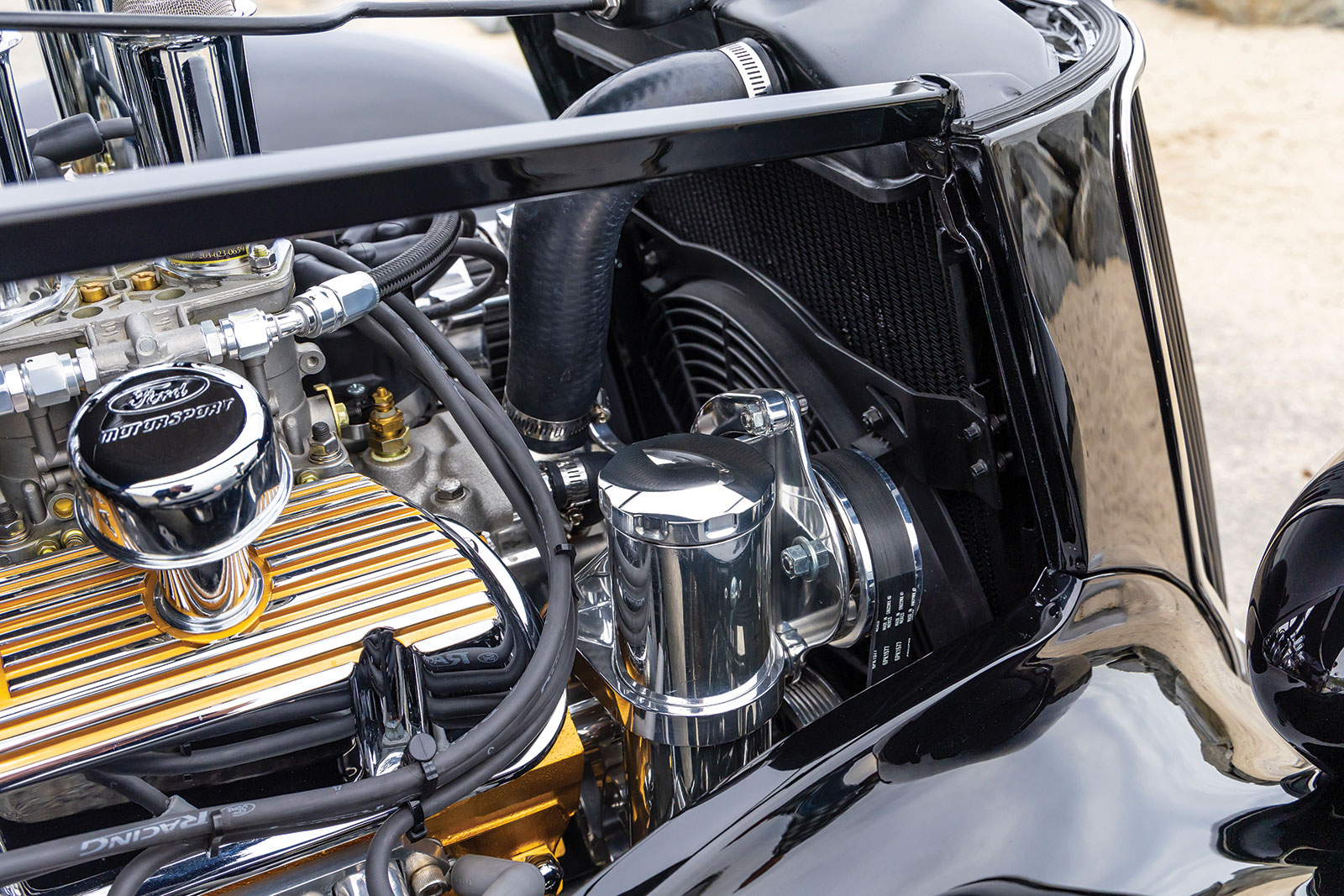 Read More: How To Install Coilovers On Your 1963-65 Buick Riviera
This loaded chassis was built for the intended powerplant that is a small block Ford hi-po 302ci (nowadays we would call that a 5.0L) iron block and heads held together with ARP hardware. Specific machine work was done by Van Heskett to accommodate one of his custom roller camshafts. Clearly the "eye candy" intake topped with the Jim Inglese Weber 44 downdraft carburetion is an attention grabber. Yep, old-timey carbs with no EFI here. Air cleaners are the simple "bubbletop" screens with a Holley fuel pump supplying the go-juice. The potent small block V8 is linked to a Ford AOD transmission that is run through the gears via a Lokar Performance shifter, cooled by a Moroso transmission oil cooler and an Inland Empire Driveline driveshaft. The primary cooling chores fall to a US Radiator made in the old standby configuration of copper and brass with a Derale electric fan, Moroso oil cooler, and a Ford Performance water pump. Dressing up the potent V8 is a Ford Performance pair of chromed Cobra valve covers and a large-capacity polished Cobra racing oil pan that came from Shelby's original mold along with a Billet Specialties serpentine belt system minus the AC compressor and brackets.
Getting the fuel fired falls to an MSD distributor and coil managed in conjunction with a set of Ford Performance spark plug wires all beginning with the trunk-mounted Optima battery then feeding the Powermaster duo of polished starter and alternator. Getting the fired gasses out of the cylinder heads falls to a pair of 1-1/2-inch heat coated primary tube Sanderson headers. From here they hook up and flow through the fully polished stainless steel exhaust tubing fabricated by Rod Sexton (a master in exhaust fabrication). Lastly, the Sexton exhaust system links to a pair of MagnaFlow mufflers that then exit the vapors via twin oval tailpipes.
Let's remember we are talking about a 1936 Ford five-window coupe that has transitioned into a 1936 Ford Roadster. It took Danny countless hours, untold patience, some creative thinking, and a lifetime of skills to pull off this maneuver. He has shown us all what can be accomplished and done to such a high state of clarity as to make us think we mere mortals could pull this off. Few can!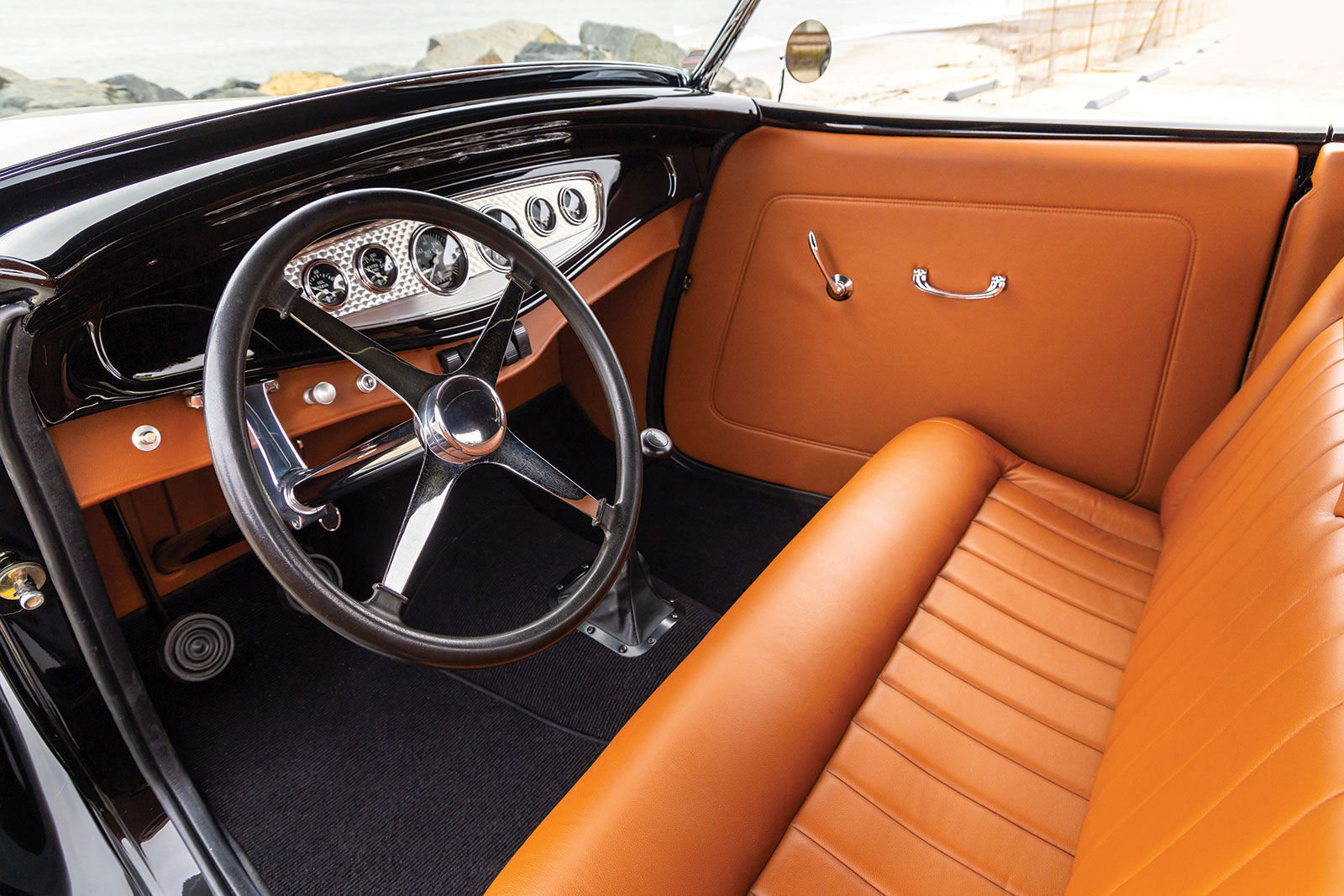 Basically, Danny took the 1936 Ford Coupe body and shortened and narrowed it, then performed a wedge cut, turned the doors around, and laid back the grille and cowl. Here are some specifics on how and where the sheet metal is cut or lengthened. The doors, aside from being turned around into "suicide" (opening in front rather than at the back of the door) operation, were lengthened 4 inches. From here there were an additional 6 inches cut out of the rear portion of the frame and flooring. There was an additional 1 inch out of the back of the frame and sheet metal.
With this accomplished he then altered the body reveal, made a full belly pan, and he performed the ultimate chop—he removed the entire five-window top. With the top removed it came time to chop the windshield 3-1/2 inches, make top bows (well a soft top does come in handy), and he shortened the quarter-panels some 10 inches. Danny did all the bodywork, and this included making the narrowed and lead-filled steel hood. There are no side panels as time ran out on Danny as he readied for the Grand National Roadster Show. We are guessing given a few years to catch his breath we might just see him dial up a set of hood side panels.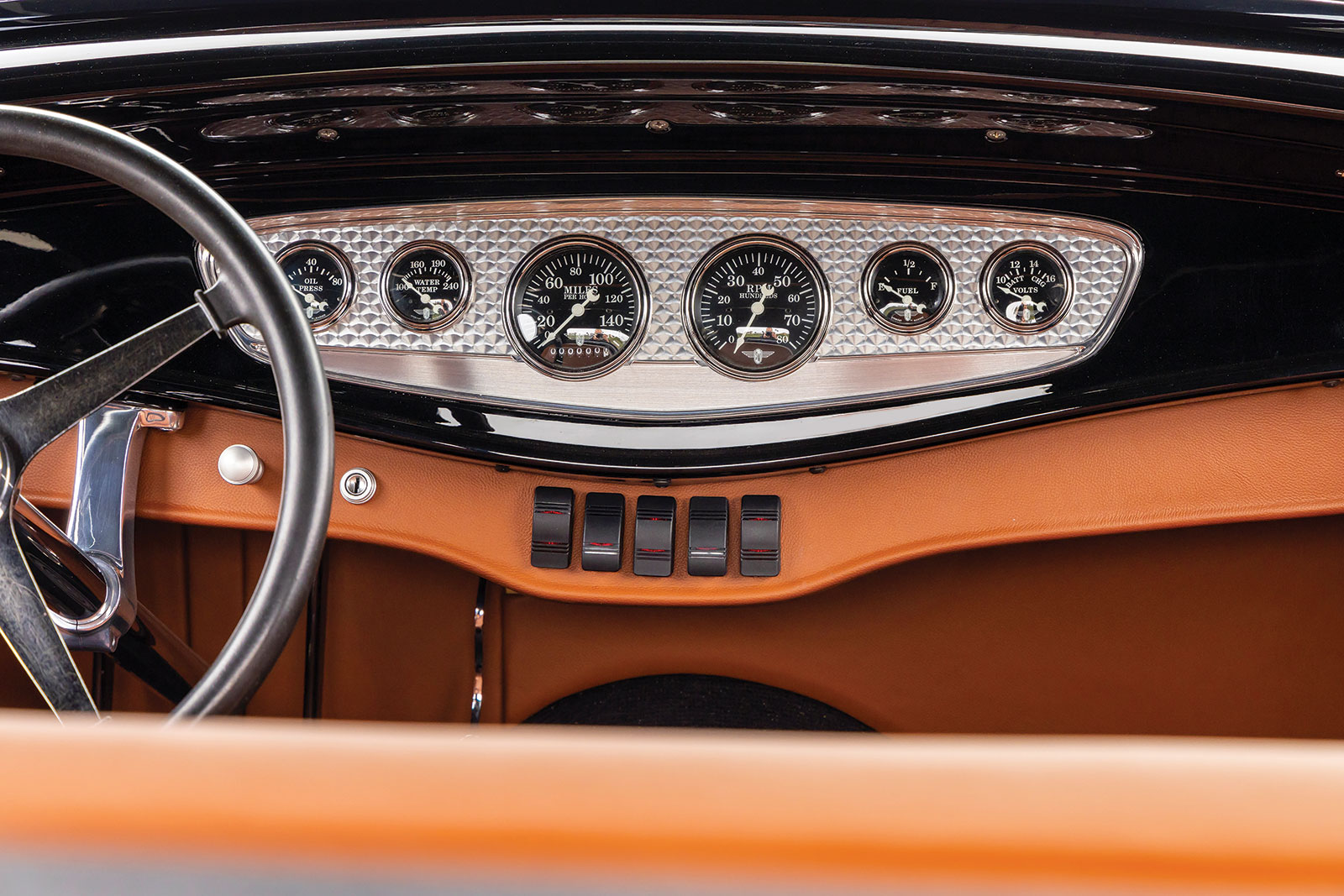 Read More: 57th Annual L.A. Roadsters Show & Swap
Danny is very proud of the fact that he continually massaged the sheetmetal to the point there is no body filler, just good ol' metal finish. From here he finalized the bodywork so that his friend Harley Brooks could spray on the single-stage PPG Ultra-Black paint.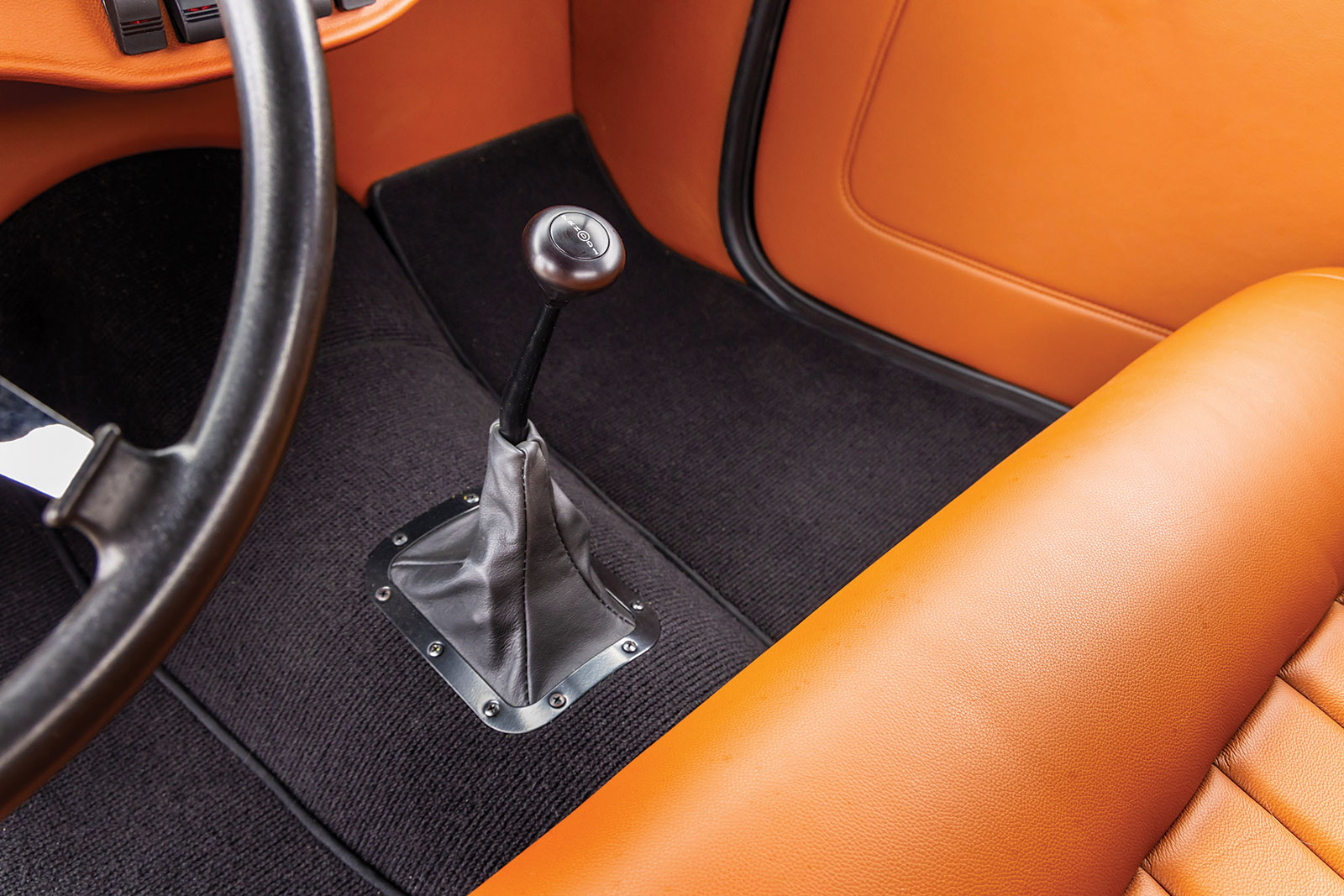 Inside Danny used a Speed33 metal dash with one of their engine-turned inserts that he then recessed into the metal dash. The new dash is now the home for a full set of six Stewart-Warner gauges brought to life through a Painless Performance Products wiring system that another friend Lon Phillips made all the connections. We mentioned earlier that a LimeWorks column is used but we should note there is a custom drop and resting on top of the column is a 45-plus-year-old vintage four-spoke Bell steering wheel. You may have noticed there are three pedals yet it's an automatic! So, what's the "third" pedal for? Danny, being an ex-racer, grew accustomed to braking with his left foot. So, he tied the two pedals together allowing the roadster to stop using either pedal. The pedals have early Ford foot pads with Kugel Komponents arms while the throttle is a Lokar spoon-style that's used along with the Lokar floor-mounted shifter. Note below the custom dash is an upholstered lower panel that houses the headlight, horn button, and ignition switches along with five center-mounted rocker switches. These five rocker switches control (left to right) the turn signals, electric fan, high/low beam, a pair of cooling fans that reside under the car to blow out high temps trapped by the belly pan, and the under-dashboard lights. The flawless stitchwork comes from Ron Mangus of Ron Mangus Hot Rod Interiors that includes the seating, carpeting, and the roadster top. The single-bench seat comes by way of Tea's Design that is now covered in a light brown leather while the carpeting is done in black German square weave with Juliano's seat belts (not shown).
All of this was done to give a five-window coupe a makeover so that you will look at it as a roadster. We have to say that we believe it is a job well done, very well done. MR