This SaltWorks Fabrication Built Bubbletop Impala is a Blast to Drive
By Brian Brennan   –   Photography By John Jackson
There are two for sure iconic Chevy body styles: the "bat wing" cars of 1959 and 1960 and the "bubbletop" cars introduced in 1961. In fact, at first glance, one might think a '60 Chevy might be the revered bubbletop but, alas, it isn't. The '59 and '60 body will continue to be one of the most sought-after body styles in our world of hot rodding. Dave Jacobsen of Naples, Florida, is one such hot rodder who truly is keen on the '60 Chevy Impala and he shows us just what can be done (not overdone) to a '60 Chevy Impala and come away with an amazing-looking hot rod.
In an interesting twist of "how did you come by your project?", Dave found the '60 Chevy Impala he thought would make a good starting point after stopping by a Mecum Auction. From here he brought home a pristine '60 Chevy Impala and turned it over to Thom Speed at SaltWorks Fabrication in Sarasota, Florida.
Read More: If at First You Don't Succeed
The iconic looks of the '60 Chevy were retained during the redo, while a custom steel hood was made at SaltWorks accommodating the all-aluminum Chevy LT5 engine. A little on the 2019 LT5 engine. One of the highpoints of the LT5 engine is that Lotus Engineering (GM owned at the time) designed it.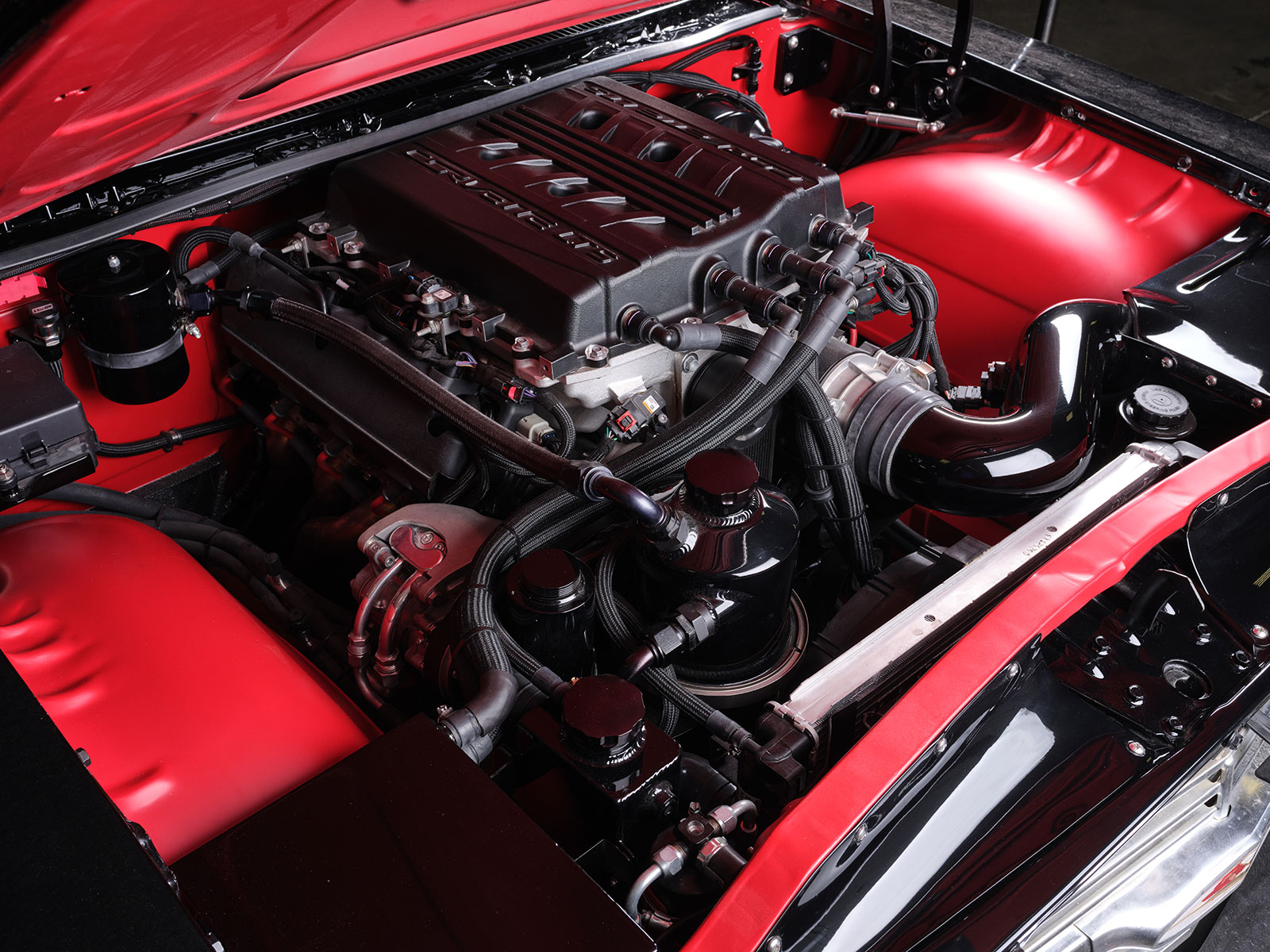 The 6.2L LT5 engine appeared only in the 2019 Corvette ZR1 but was offered as a Chevrolet Performance crate engine in 2018. (Today Chevrolet Performance offers an LT1, LT4, and an L8T, none of which have the output of the LT5 engine.) The LT5 is the most potent V8 offered in a Chevy production vehicle (at the time), producing a whopping 755 hp and 715 lb-ft of torque. Built with a forged steel crankshaft, 14-psi maximum boost to the R2650 supercharger makes for a potent power plant. A set of 1-3/4-inch primary tubes from Ultimate Headers are used along with a full stainless steel exhaust system that runs through a pair of stainless Borla mufflers. Forward on the V8 engine is a serpentine belt system that is a compilation of parts that SaltWorks engineered. From here the LT5 engine is matched to a GM 8 speed transmission to really improve performance and highway cruise capabilities.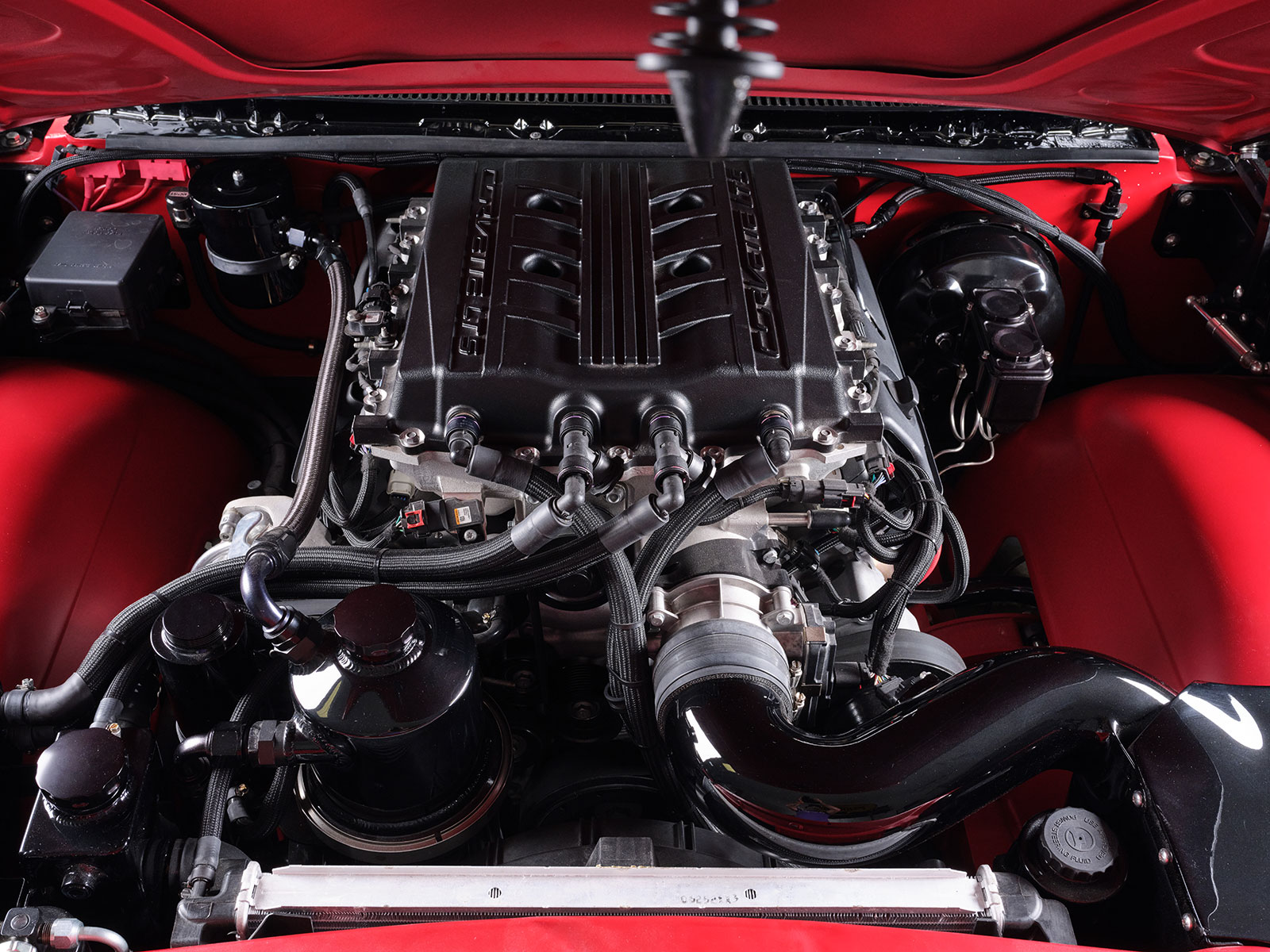 The powertrain is nestled between the 'rails of a Roadster Shop chassis that's painted in a Velvet Red by SaltWorks. From here the Roadster Shop chassis features their Independent Front Suspension and works back to a Ford 9 inch rear end outfitted with 31-spline axles, a limited-slip differential that's spinning 3.73 gears. The Roadster Shop chassis also includes the use of coilovers and Baer brakes. The braking system is based on Baer 14-inch rotors in front and back with six-piston calipers forward and four-piston calipers in the rear along with a Master Power Brakes Billet X master cylinder. Getting the rubber on the road falls to a set of 20×9 and 20×12 Raceline billet wheels all wrapped with Michelin tires measuring 235/50R20 in front and 335/50R20s in back.
Read More: From Gasser To Show Car: A Candy Apple Red '41 Willys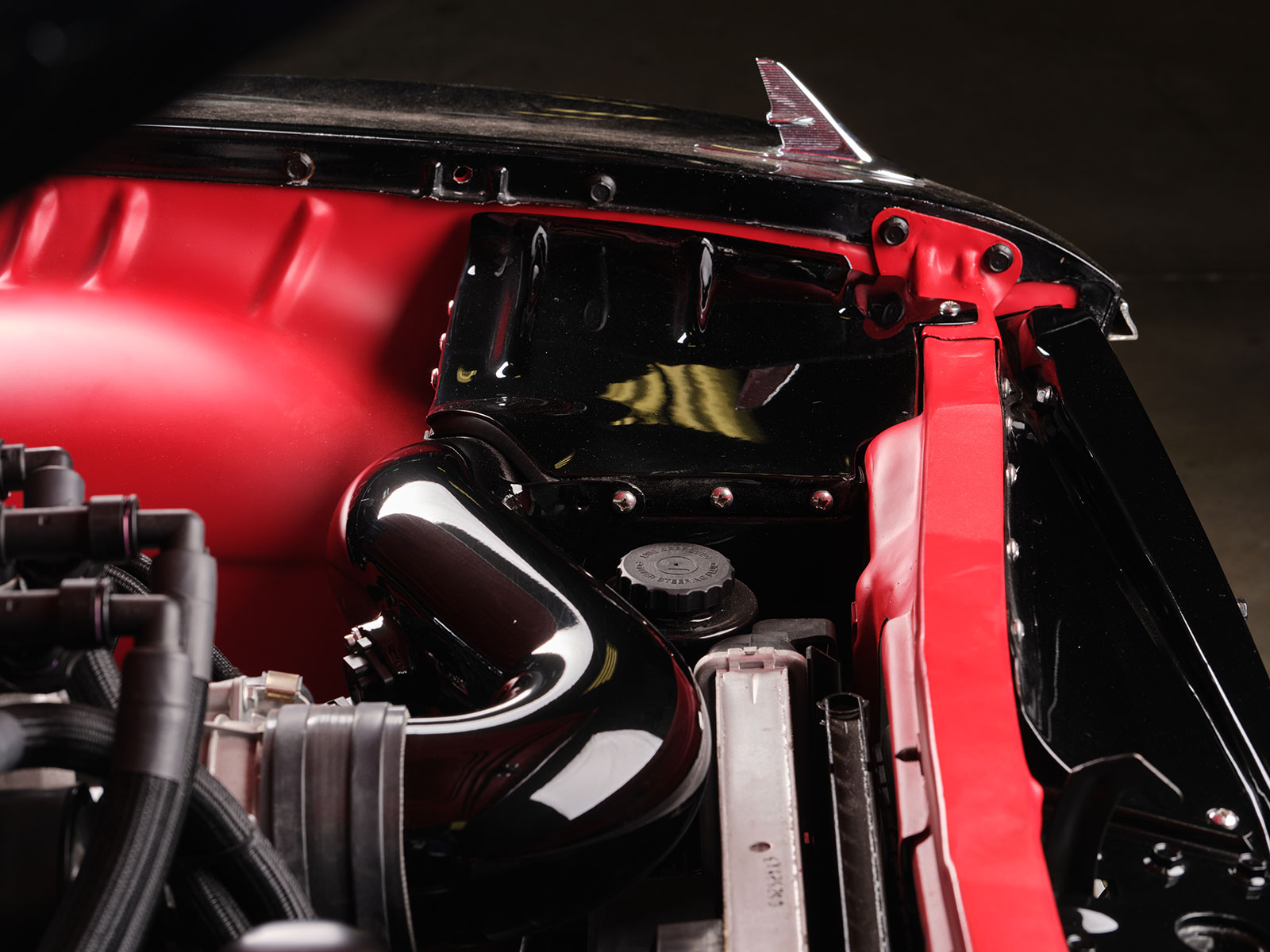 The body is essentially stock except for the SaltWorks custom hood. During the Impala's stay at SaltWorks all the body- and paintwork was handled sourcing PPG black. Note the distinctive red accent paint between the stainless spear trim mounted on the rear quarter-panel. We did say the bodywork is basically stock, but it should be noted that SaltWorks conjured up a set of 4-inch-wider rear tubs to handle the massive rubber.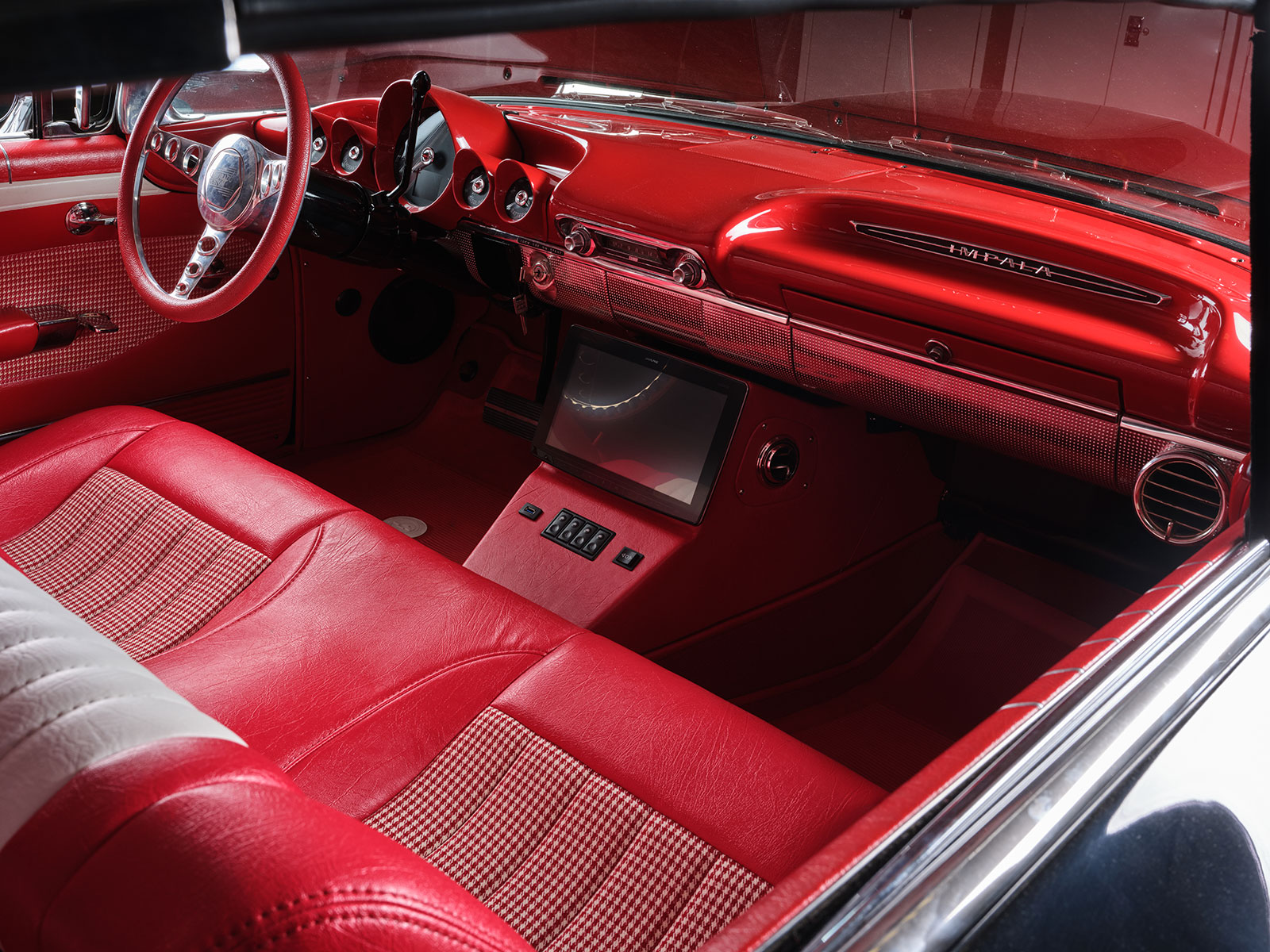 Inside, the factory dashboard, painted in a brilliant lipstick red, is now equipped with Dakota Digital RTX instruments along with Coach Controls Coach-1 wiring kit handling the juice from the trunk-mounted Interstate battery with remote shutoff. This wiring kit features modern amenities such as automatic headlights, one-touch power windows, lane-changing signaling, delayed headlight turn-off, and dimming dome light. The wiring showcases more of the skill sets offered at SaltWorks. A tilt ididit steering column with a drilled three-spoke billet and leather-wrapped Colorado Custom steering wheel. The custom front and rear (with distinctive center-mounted speaker grille) seating gives the appearance of bench seats but with more of a bucket set function and comfort. They, and the door and kick panels, are covered in combination of vinyl with cloth inserts by Hot Rod Interiors by Chuck while the red carpeting comes by way of Douglas Aircraft material. There is a custom center console that holds a pair of Vintage Air AC registers (complementing the Vintage Air AC system). Also visible are the electric window controls, a USB port, and a center-mounted Alpine digital screen that handles the radio, navigation, and backup camera all through Apple CarPlay. The backup camera is positioned in the factory trunk keyhole while there is a lever behind the rear bumper that opens the trunk.
Read More: How To Install Coilovers On Your 1963-65 Buick Riviera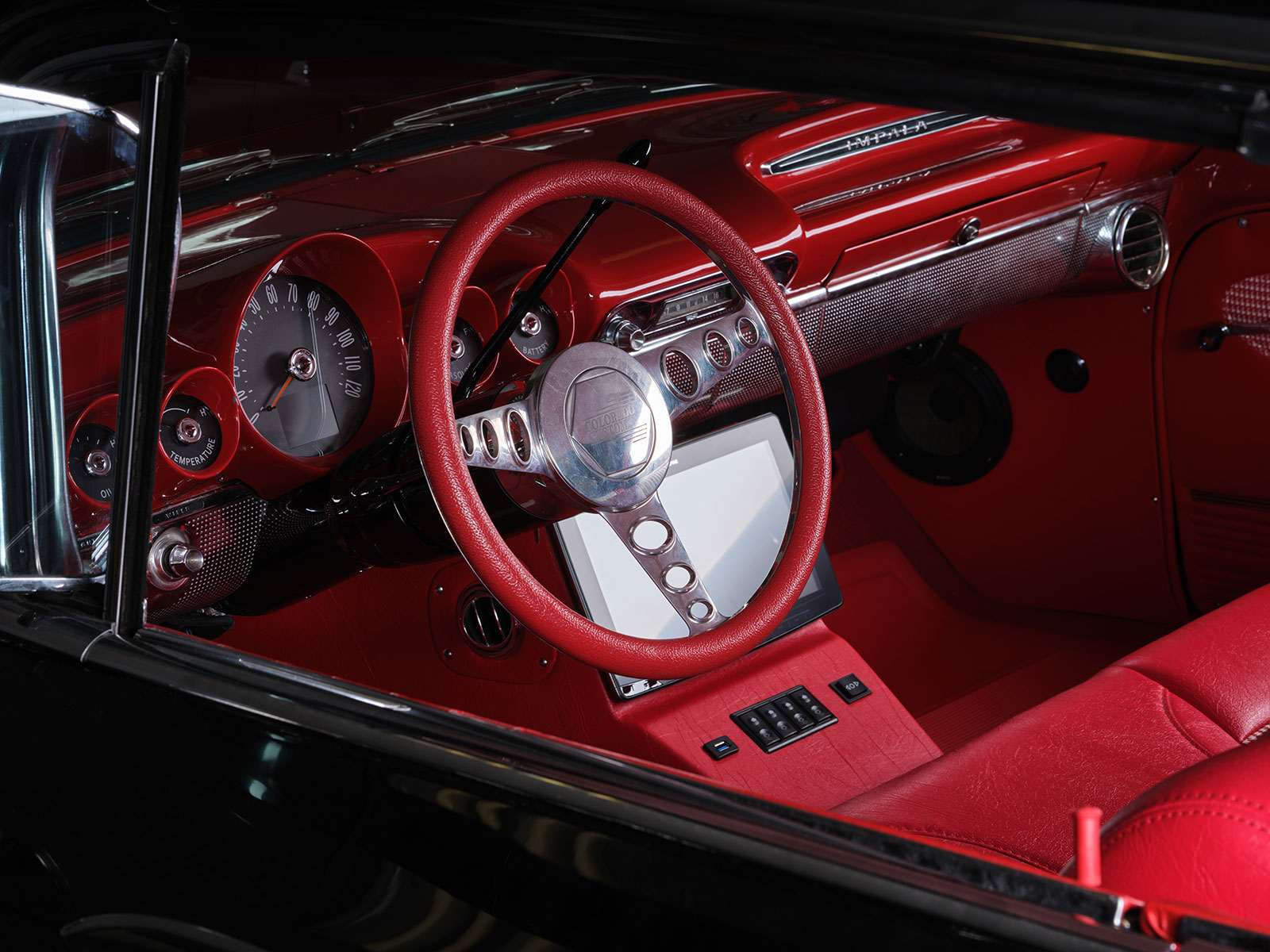 It was Dave's goal all along to come up with a hot rod that is a pleasure to drive and enjoy. From what we can see we would have to say he has met his goals … and then some. MR