Shawn Brereton's 1955 Chevy 150 Sedan
By Shawn Brereton   –   Photography by the Author
"One day, I devised myself a plan
That should be the envy of most any man
I'd sneak it out of there in a lunchbox in my hand
Now gettin' caught meant gettin' fired
But I figured I'd have it all by the time I retired
I'd have me a car worth at least a hundred grand"
—Johnny Cash, "One Piece At A Time"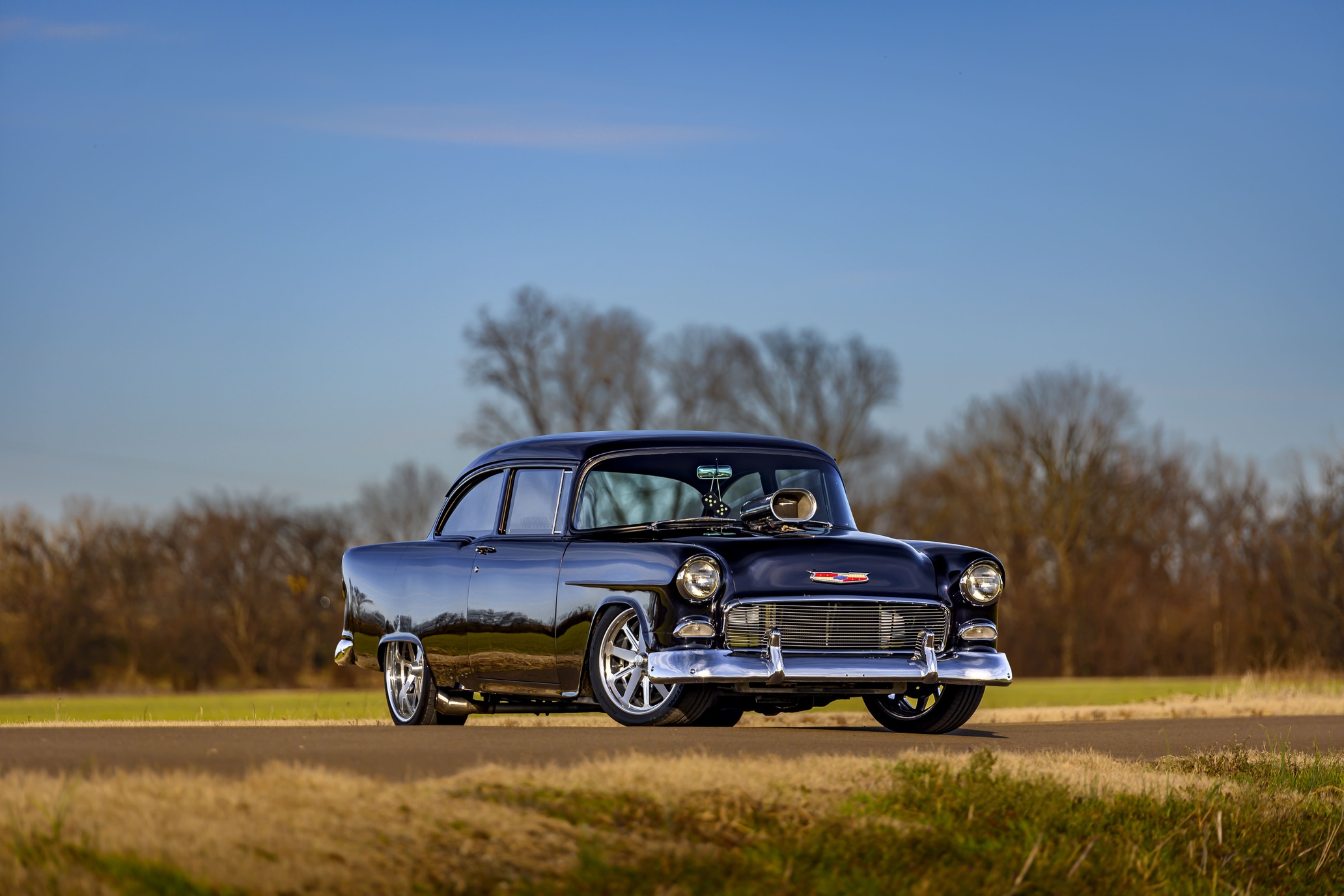 Johnny Cash's iconic song "One Piece At A Time" is about a Cadillac built from parts he smuggled out in his lunchbox from a Detroit GM assembly line until one day he'd have his $100,000 dream car. Though the final version wasn't quite what the man in black envisioned, it meant so much more because he assembled it himself. While Memphis, Tennessee's Shawn Brereton didn't steal the parts for his dream car, he's managed to build his '55 Chevrolet 150 sedan one piece at a time over the 36 years he has owned it. There were mistakes along the way but those make up the car's history, and he wouldn't have it any other way.
As a kid, Shawn fell in love with Tri-Five Chevys while attending shows with his dad, Dick, who made a deal with him. If he kept good grades and got a job to pay for gas and insurance, Dick would buy him a project so he could teach him how to turn a wrench. Shawn got a job sacking groceries and found an oxidized baby blue '55 Chevy 150 in Auto Trader magazine, so the two went to take a look.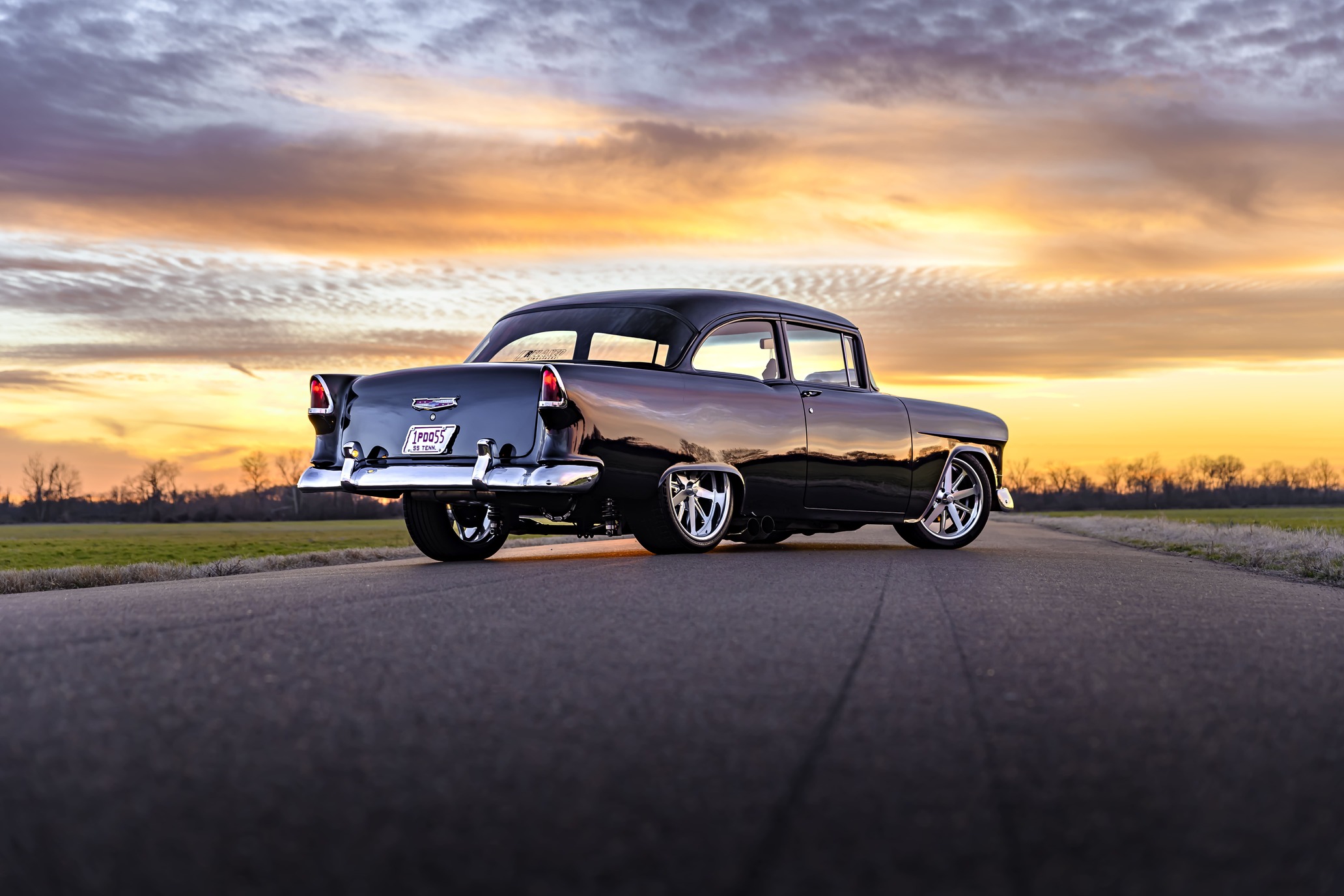 Check it out: Doug Klett's Purely Wicked 1956 Chevy 150
Despite a rubber floormat screwed down over a gaping hole in the floorboard, the Chevy had potential. It had a running six-cylinder, three-on-the-tree, bias-ply tires, and only one big dent on the trunklid. Shawn got a crash course in shifting on the column that night as the two tested it around the block. The man signed over the title for just $1,500 and they drove it home. That night, Shawn's mom bought the dice, which still hang from the mirror. "My mom [died] in 1997, so those dice are the most sentimental piece to me. I'll never take them down or replace them no matter how dirty or faded they get," he says.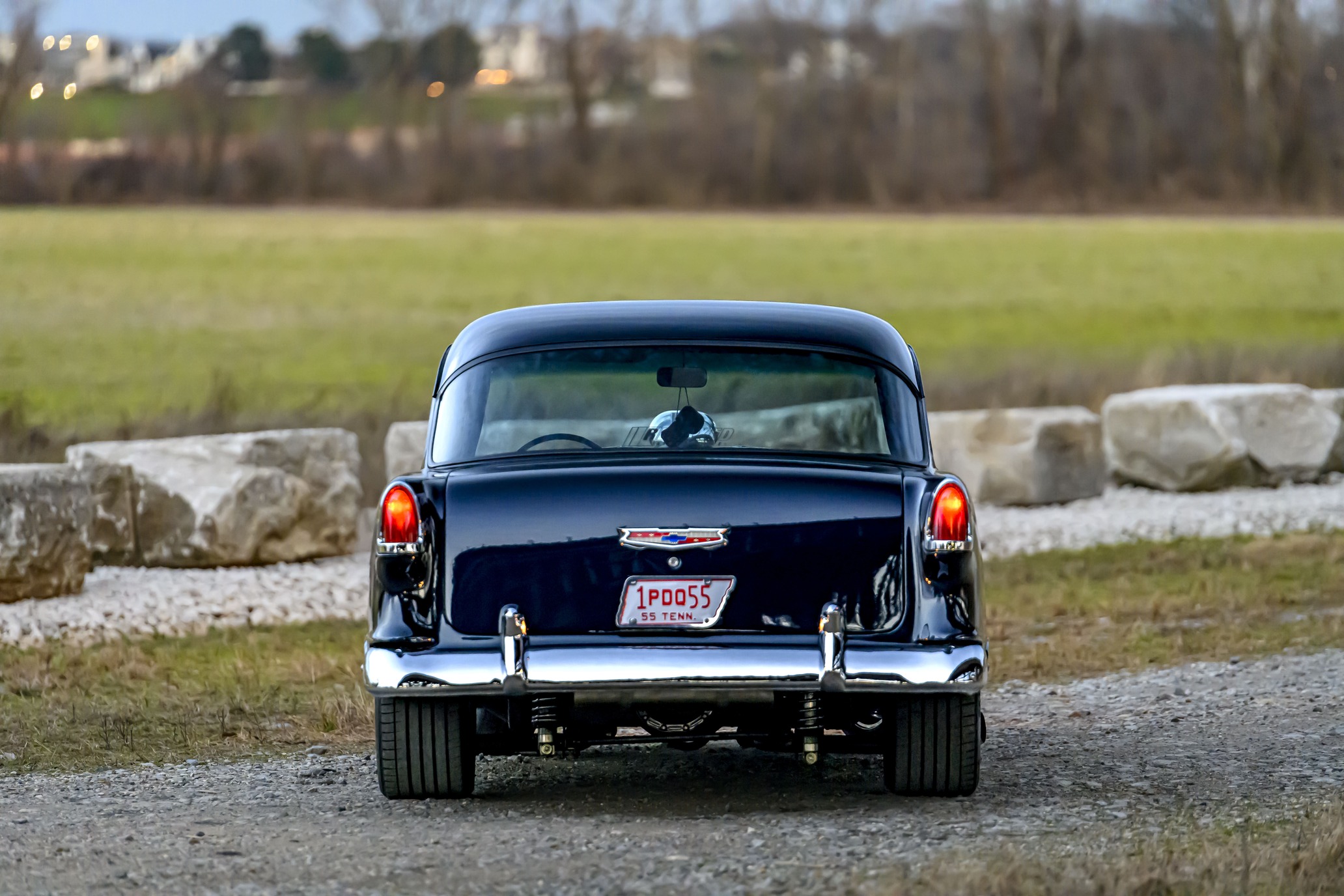 Dick and Shawn got to work turning it into a hot rod one piece at a time while he drove it to high school. In 1986, at the first Super Chevy Show at Memphis Motorsports Park (now Memphis International Raceway), they picked up a Muncie M22 four-speed and a 12-bolt from a '69 Camaro with 4.56 gears. They moved the rear springs inboard, which afforded enough room to fit some new brushed-aluminum Centerline wheels with 295/50 BFGoodrich radials. The six-cylinder didn't last long with that combo, giving up the ghost shortly after. A 350ci RHS Magnum crate engine took its place. He spent Friday and Saturday nights cruising or racing, some legal, some not.
The next significant step was to get rid of the baby blue paint and worn-out interior in 1987. Milton Hall took the car down to bare metal and painted it black with blue pearl for just $1,500. Mount Moriah Interiors stitched the black cloth and vinyl (which is still in it today) for a mere $1,000, and a street machine was born (no longer a daily driver). After graduating high school in 1988, Shawn's dad dangled another carrot for him to chase—"graduate college and we'll drop a blower motor in it!"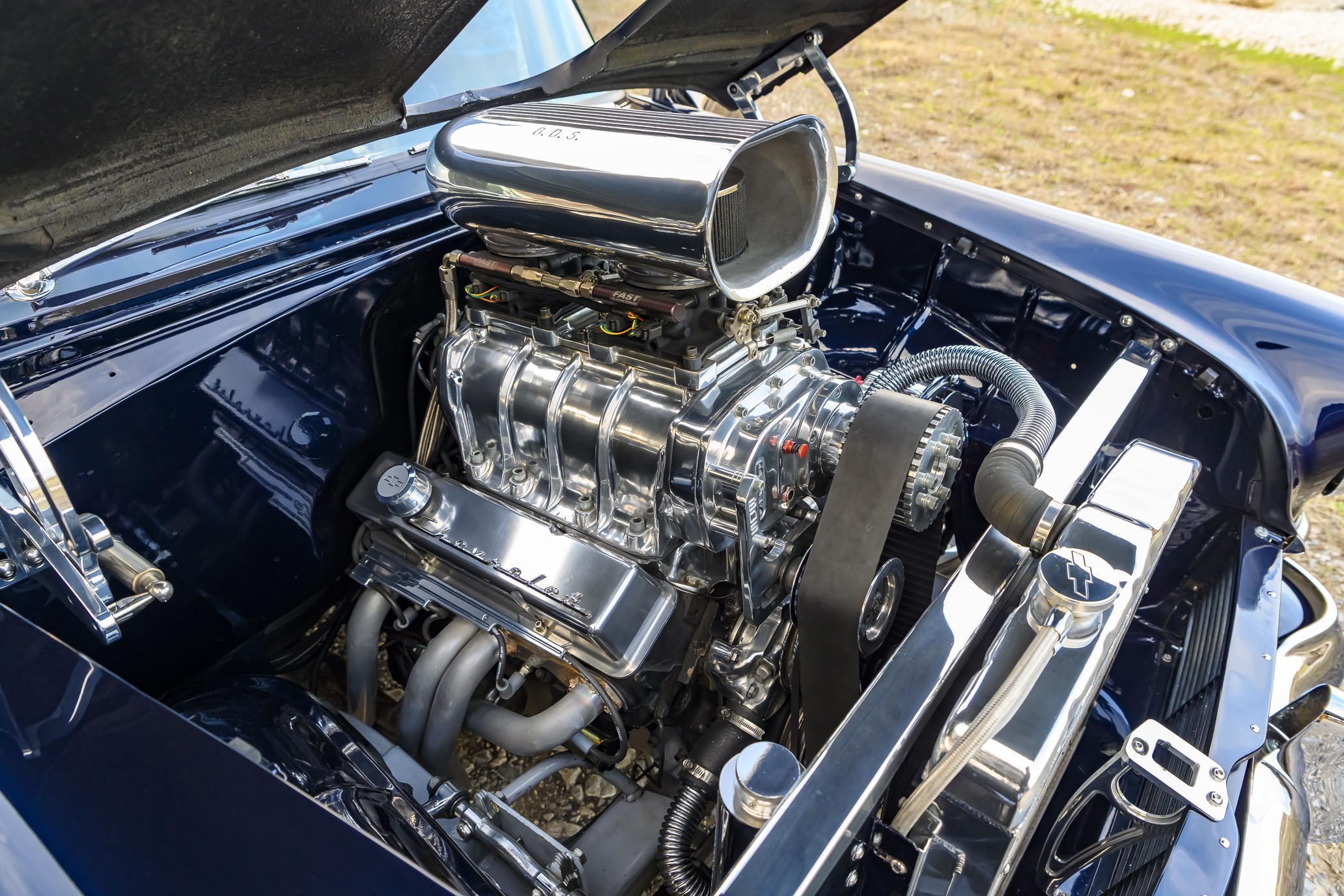 After his parents moved to Maryland, Shawn didn't drive the car much in college. However, Dick was true to his word in 1992, placing another call to RHS to order a 355ci engine with internals from Comp Cams topped with a 6-71 BDS supercharger and two 650-cfm Holley double-pumpers. Over spring break, Shawn and a buddy flew up to install it along with a new Richmond six-speed. He got to drive it for one day before flying home. Unfortunately, the movers damaged the paint during the move, so more changes were afoot.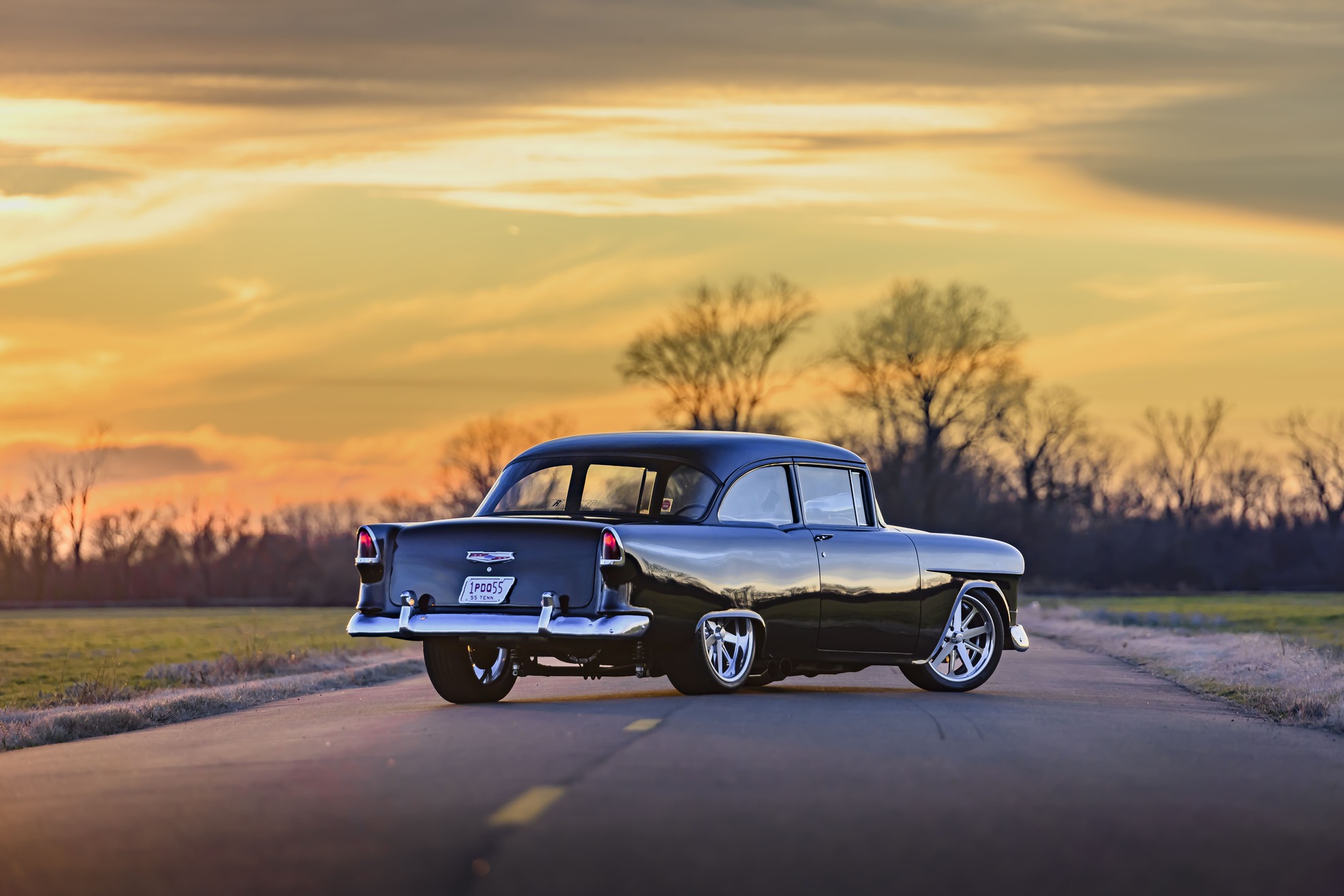 It was the mid '90s before he could address the paint. Wild colors were all the rage, and he felt the pressure to go crazy, deciding on a yellow, teal, and purple scheme. "Everything about that paintjob was a mistake," he says. "My dad had to 'steal' the car from the guy's shop who was supposed to paint it. A forklift driver at his warehouse ended up spraying it while my dad did the tape work. It was nothing like the design I had in mind." He was stuck with that paintjob until 2003 when a broken body mount and small underdash fire rendered driving unsafe. The '55 sat dormant until 2007, when they began a two-year frame-off restoration.
More Chevy Love: Jim Reid Jr. Honors the Past With This '57 Corvette
Now living in South Carolina, Dick did most of the heavy lifting as he was semi-retired and near a shop that could do the bodywork. He welded in a Fatman rack-and-pinion front clip and parallel link linked the rearend. He added QA1 single-adjustable coilovers and Wilwood Dynalite disc brakes all the way around. Meanwhile, the shop reworked the hood opening, moved the brake master cylinder under the dash, and smoothed the firewall before applying the custom-mixed black with blue pearl PPG paint. Shawn says the color didn't turn out quite how he wished, but it grew on him and is the number one thing people ask about on the car. It is black but flips to blue when the light hits it right.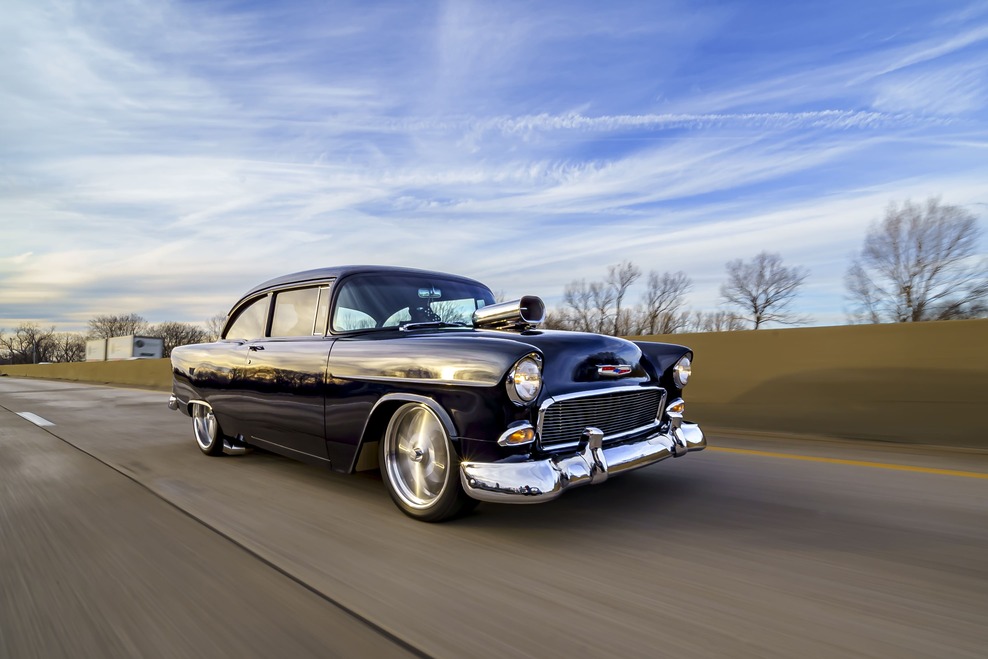 When Shawn got the car back to Memphis, it was pretty much a painted shell. On March 8, 2009, the engine refired for the first time in six years. He worked feverishly to get it back together for the Super Chevy show. Unfortunately, a violent backfire while adjusting the timing blew the balancer off the crankshaft two days before its scheduled debut. He was devastated. Its first big show was the Goodguys Nashville Nationals where he took home a Rodder's Rep pick.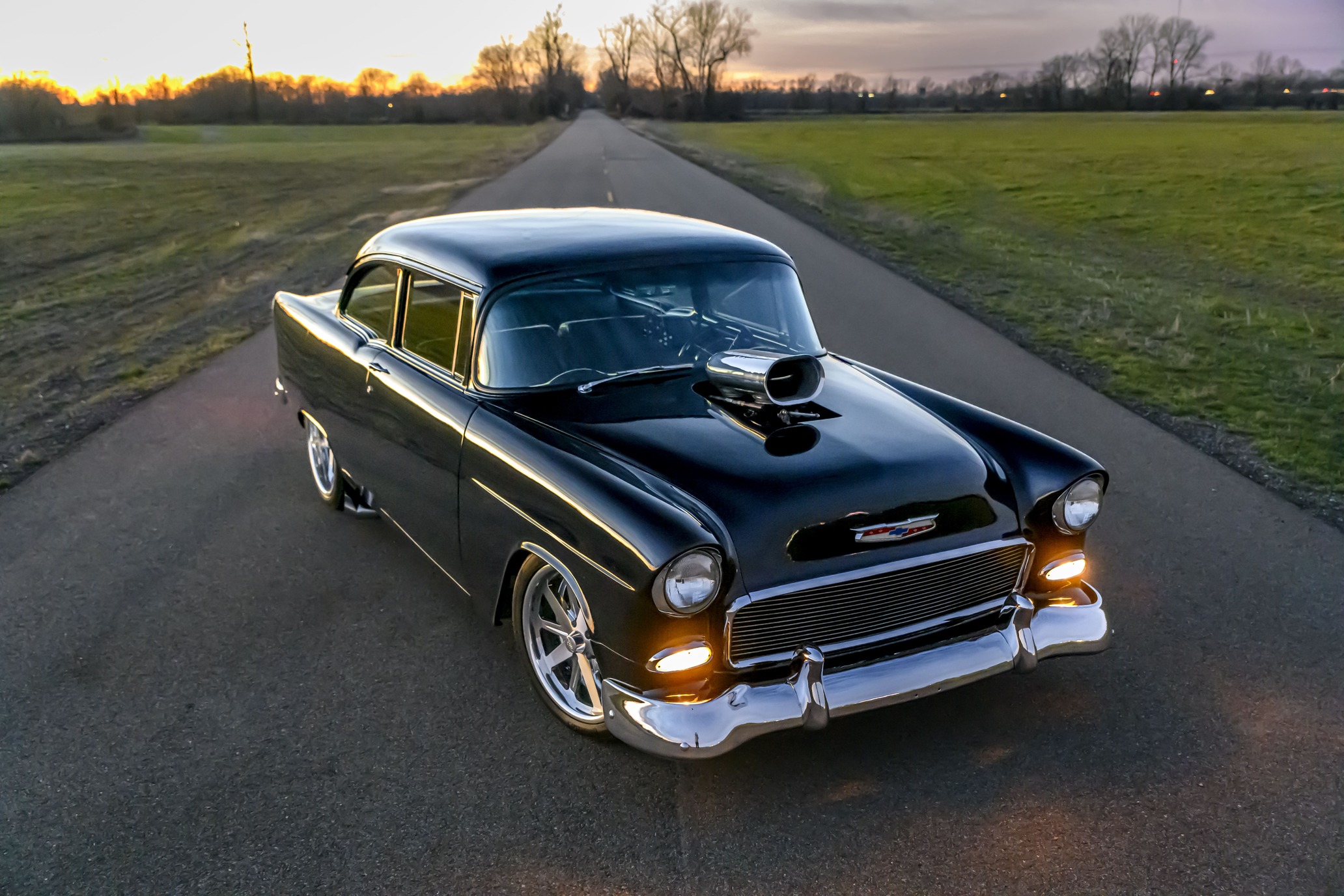 Shawn's Chevy is constantly evolving, and he has crafted some things people may not notice. The stainless panels on either side of the radiator and splash guards were cut from a laundromat washing machine and hand polished. He also created carpeted trunk panels to showcase the custom "mini-hood" battery box featuring the original hood bird.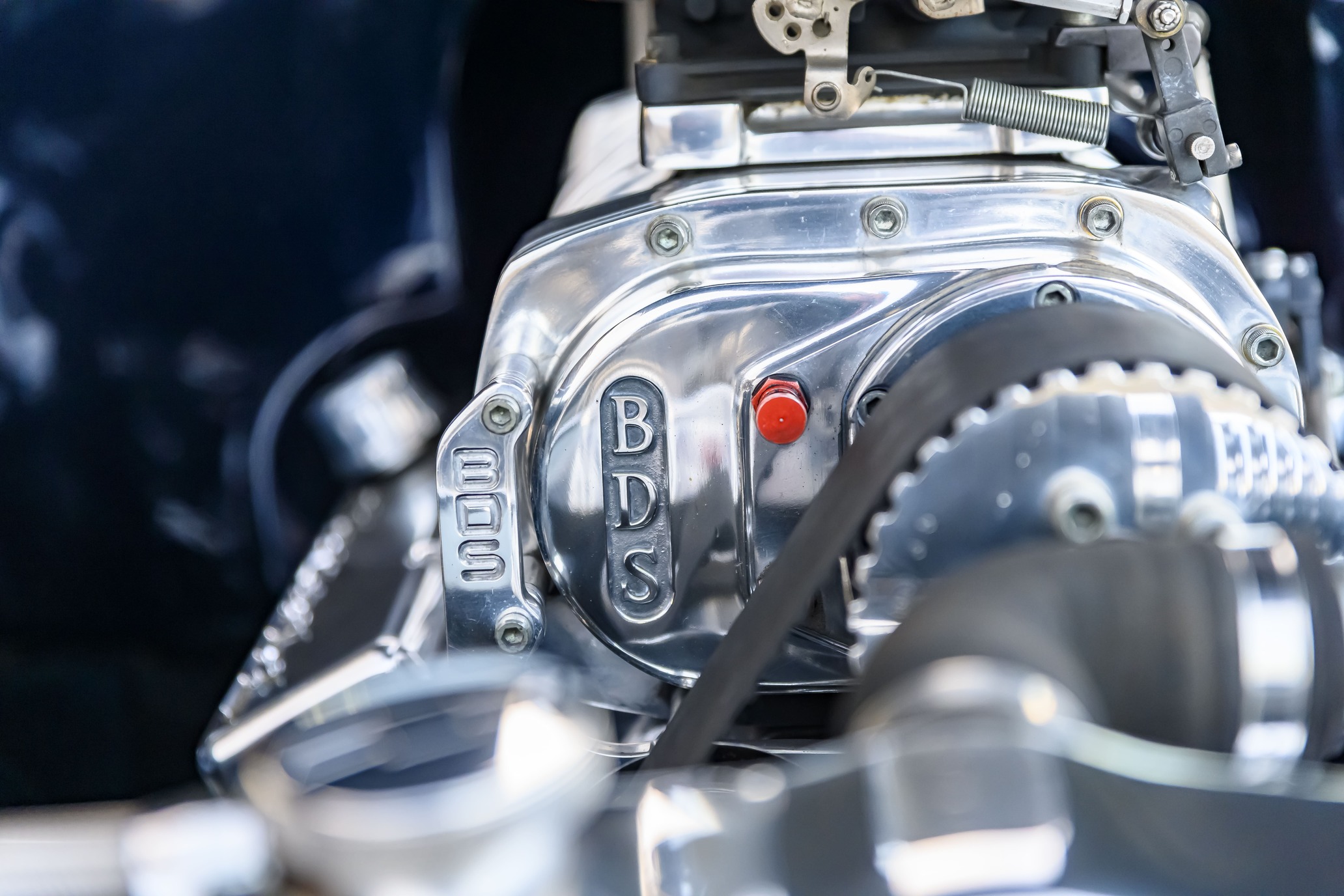 The engine is still the blown 355, but he added a FAST XFI electronic fuel injection system—his favorite change to date. Feeding the EFI 93-octane is an Aeromotive Phantom pump inside a Rick's stainless tank. He replaced the Richmond six-speed with a wide-ratio (0.50 overdrive) TREMEC T56 Magnum and White Lightning shifter from American Powertrain. Love them or hate them, 20- and 19-inch Intro Magnum wheels provide an updated look. Inside, he's upgraded to an ididit polished tilt column with a 15-inch Bel Air steering wheel painted to match. The dash received Back Roads Fabrications machine-turned trim and Classic Instruments speedo and multi-gauge cluster.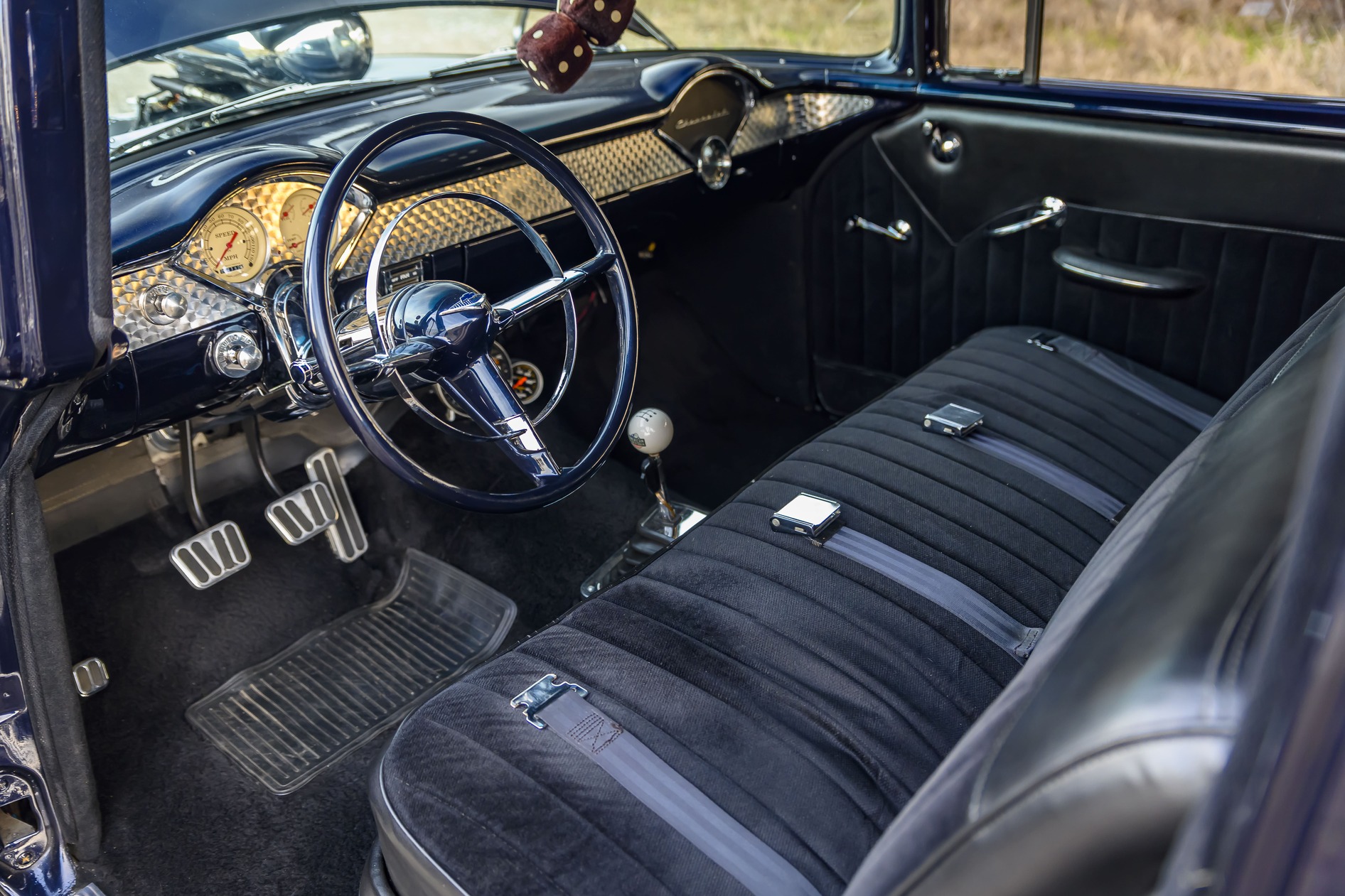 Shawn's '55 Chevy isn't the most pristine, highest-end build out there, but he believes in driving and enjoying it. He lives by the words his friend, Bruce Gustafson, once told him: "You buy a car at a 2, build it to a 10, and drive it back to a 2." Since the rebirth, he's put north of 30,000 miles on the car and regularly drives it to shows less than three hours away. Slowly on its way back to a 2, Shawn's considering mini-tubs, a triangulated 9-inch, an expanded tunnel for the Magnum to fit properly, a repaint, and a new interior to get it back to a 10. But for now, he's just enjoying his time meeting new people through the cars he owns and his job as a freelance writer and photographer.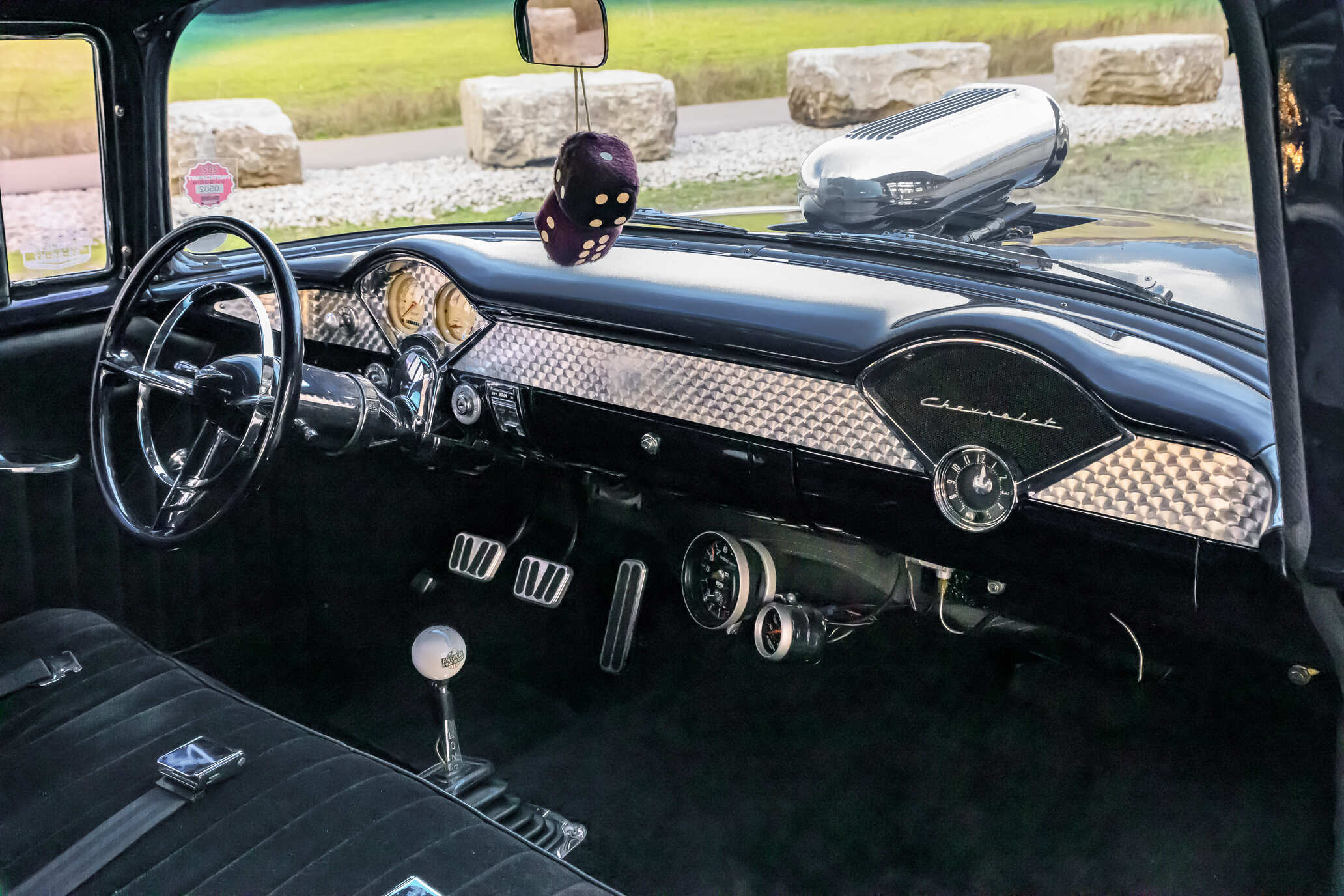 Shawn would like to thank his dad (of course) for all the love, money, and sweat he's put into the '55 through the years; his wife, Jennifer, for putting up with his obsession, and his network of friends he's met along the way. Also, he would like to give a special mention to his photographer friends who helped him with this shoot: Ian Stinson (rollers), Brian Beers, Rob Wilkins, and Josh Gilmore (video).
"I got it one piece at a time, and it didn't cost me a dime
You'll know it's me when I come through your town
I'm gonna ride around in style, I'm gonna drive everybody wild
'Cause I'll have the only one there is around."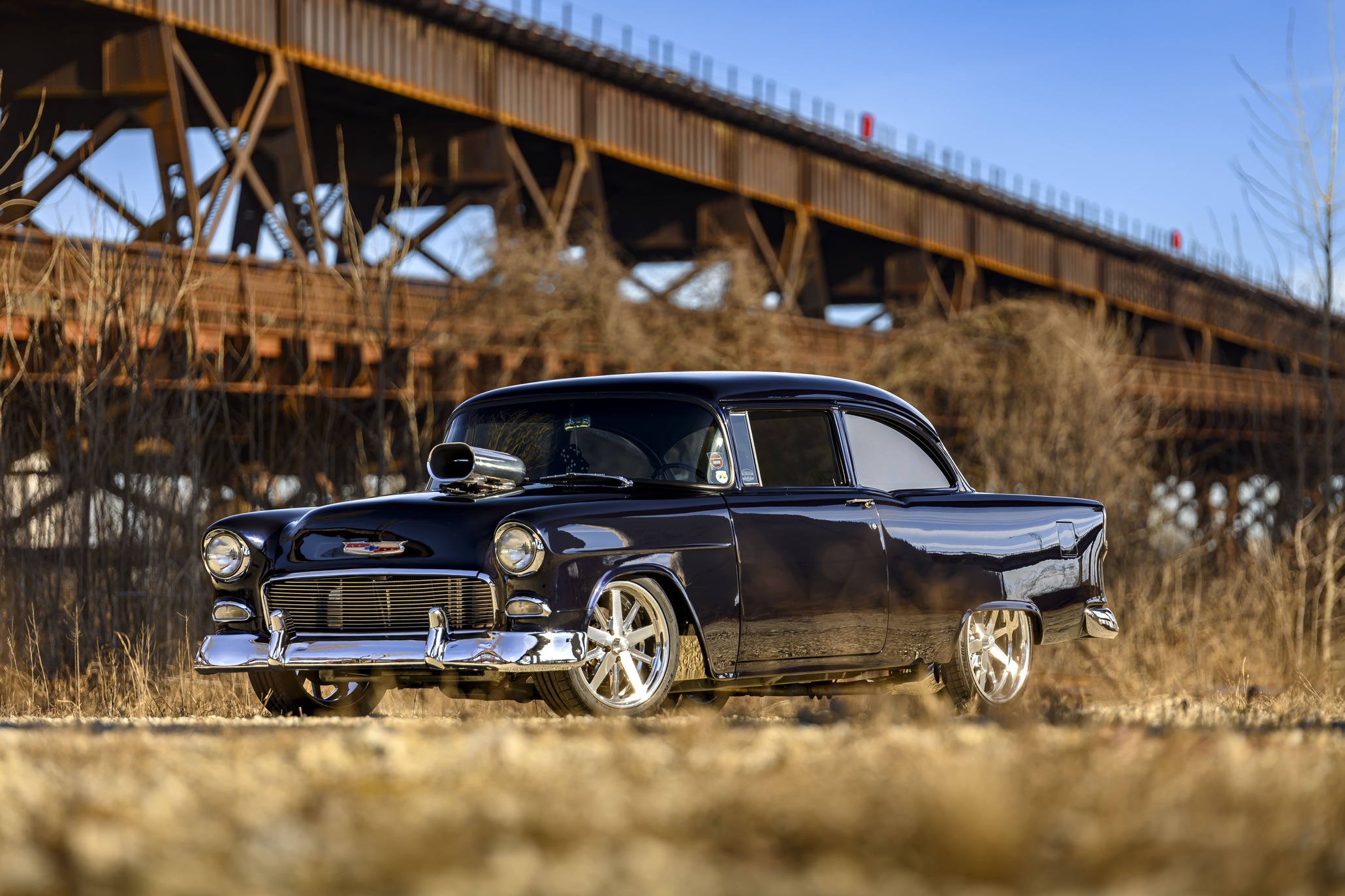 TECH CHECK
Owner: Shawn Brereton, Memphis, Tennessee
Vehicle: 1955 Chevrolet 150 Two-Door Sedan
Engine
Type: RHS small-block Chevrolet, angled four-bolt main
Displacement: 355 ci
Compression Ratio: 9:1
Bore: 4.03 inches
Stroke: 3.48 inches
Cylinder Heads: Dart 72cc cast-iron CNC-ported
Rotating Assembly: Callies Steel crankshaft, Childs & Albert connecting rods, and TRW forged turbo pistons
Valvetrain: Comp Cams Solid Roller
Camshaft: Comp Cams solid roller (0.550/0.575-inch lift, 244/255 deg. duration at 0.050, 110-deg LSA)
Induction: Blower Drive Service 6-71 supercharger, FAST XFI EFI fuel system
Assembly: Racing Head Service
Exhaust: Doug's 1 3/4-inch headers, 3-inch stainless pipe, Stainless Specialties mufflers
Ancillaries: Stef's aluminum oil pan, PerTronix starter, Powermaster alternator, Tuff Stuff water pump, Eddie Motorpsorts P/S reservoir, Griffin radiator, J&J Hi-Performance hoses and fittings, FAST distributor and wires, MSD 6AL ignition, American Autowire wiring, Aeromotive Phantom fuel pump, 160-gallon Rick's Tanks gas tank
Output: 516 rwhp at 6,200 rpm, 476.8 lb-ft at 4,700 rpm
Drivetrain
Transmission: TREMEC Magnum T56 wide-ratio six-speed manual prepared by American Powertrain
Rear Axle: 12-bolt positraction with 3.73:1 gear ratio
Chassis
Front Suspension: Fatman Fabrications GTECH Mustang II front clip with tubular A-arms and QA1 single-adjustable coilovers
Rear Suspension: Fatman Fabrications/Ridetech parallel four-link with Panhard bar, QA1 single-adjustable coilovers
Brakes: Wilwood Dynalite four-piston disc, drilled-and-slotted rotors
Wheels & Tires
Wheels: Intro Magnum 19×8.5 (4.5-inch backspace) front, 20×10 (5.5-inch backspace) rear
Tires: Continental Extreme D/W; 245/40R19 front, 275/35R20 rear
Interior
Upholstery: Black loop carpet
Seats: Original reupholstered
Steering: ididit polished aluminum column with Flaming River R&P; 15-inch Bel Air repop wheel
Shifter: White Lightning Shifter with Long handle
Dash: Back Roads Fabrications machine-turned aluminum inserts
Instrumentation: Classic Instruments/Autometer
HVAC: None
Exterior
Bodywork and Paint: Troy Masters Auto Body
Paint: PPG Deltron Black with Blue Pearl
Hood: Stock steel fabbed by Master
Grille: Billet Aluminum
Bumpers: Original rechromed by Memphis Plating Works