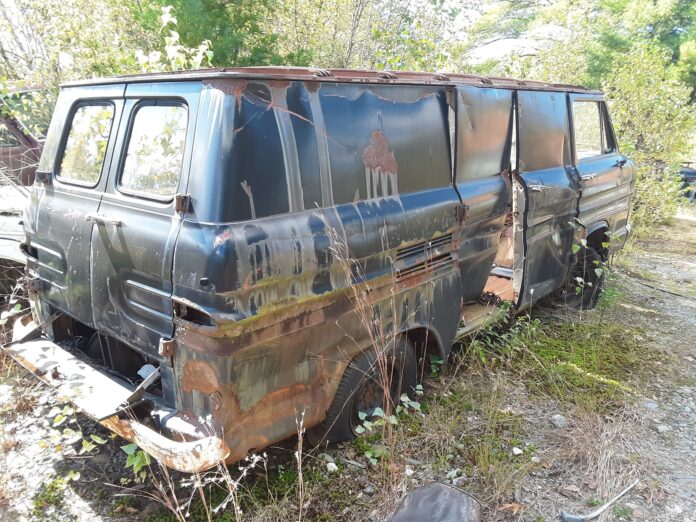 The Van-Tastics: A Peek at Some Oddball, Chevy Cargo Carriers
By Steve Magnante – Photography by the Author
If you were alive in the '70s, you'll remember the so-called "van craze." Around 1974 former hot rodders, car magazine editors, and car people in general realized that Detroit was having an identity crisis over the combined threats of an energy crisis and an upswing in sales of fuel-efficient foreign and domestic compact and sub-compact cars.
Though traditional hot rodding carried on, those interested in obtaining pre-assembled factory hot rods had little to choose from. Understanding that eye appeal was just as important to these folks as brute power, vans started to look pretty good as a "vehicle" for self-expression. And thus, folks embraced domestic vans as their blank canvasses upon which to strut their stuff.
More Bowtie Boneyard:  Bowtie Boneyard – Wagoons!
The main features of this new show were custom murals, (usually) fake side pipes, jacked-up rear axles, skylights, fender flares, wide "boots" (we call them tires again today), and add-on plastic bubble side windows shaped like teardrops, domes, diamonds, half-moons, and you-name-it designs.
Inside, frustrated interior decorators did their best to make a van a home. Chandeliers, disco balls, plush beds, cocktail tables, shag carpeting, and mirrors. Oh yes, lots of mirrors. All of this masked the virtual nothingness done to the engine compartment and drivetrain. But it was "the '70s, Man!"
In this episode of Bowtie Boneyard, let's peek at a couple of vintage Chevy vans that were overlooked by the Van Craze. These relics were/are too odd for consideration by the van set of four decades past. Today they languish at Bernardston Auto Wrecking in (where else?) Bernardston, Massachusetts (413-648-9300). Just remember; "if the van is a-rockin', don't come a-knockin'." OK, we won't.
More Bowtie Boneyard:  IROC and I Roll Over 5.0 Mustangs
Consumer advocate Ralph Nader took advantage of the 1960-64 Corvair's tail-happy "Quadri-Flex" suspension in his Nov. 1965 book Unsafe at Any Speed, making the van version an outcast among van crazies of the '70s. This 1961 features the extremely rare EIGHT DOOR body. That's right, there are loading doors on both sides of the body! By the way, GM redesigned the 1965-69 Corvair with Corvette-like articulated rear-axle half-shafts that improved handling, but the damage to Corvair's image was done and we've never seen a customized example.
This view through the passenger side front door shows the driver side cargo doors in the distance and the edge of the passenger side cargo doors on the left margin. The bonus of the resulting "eight-door" body is the ability to load and unload from either side of the van body as well as the rear.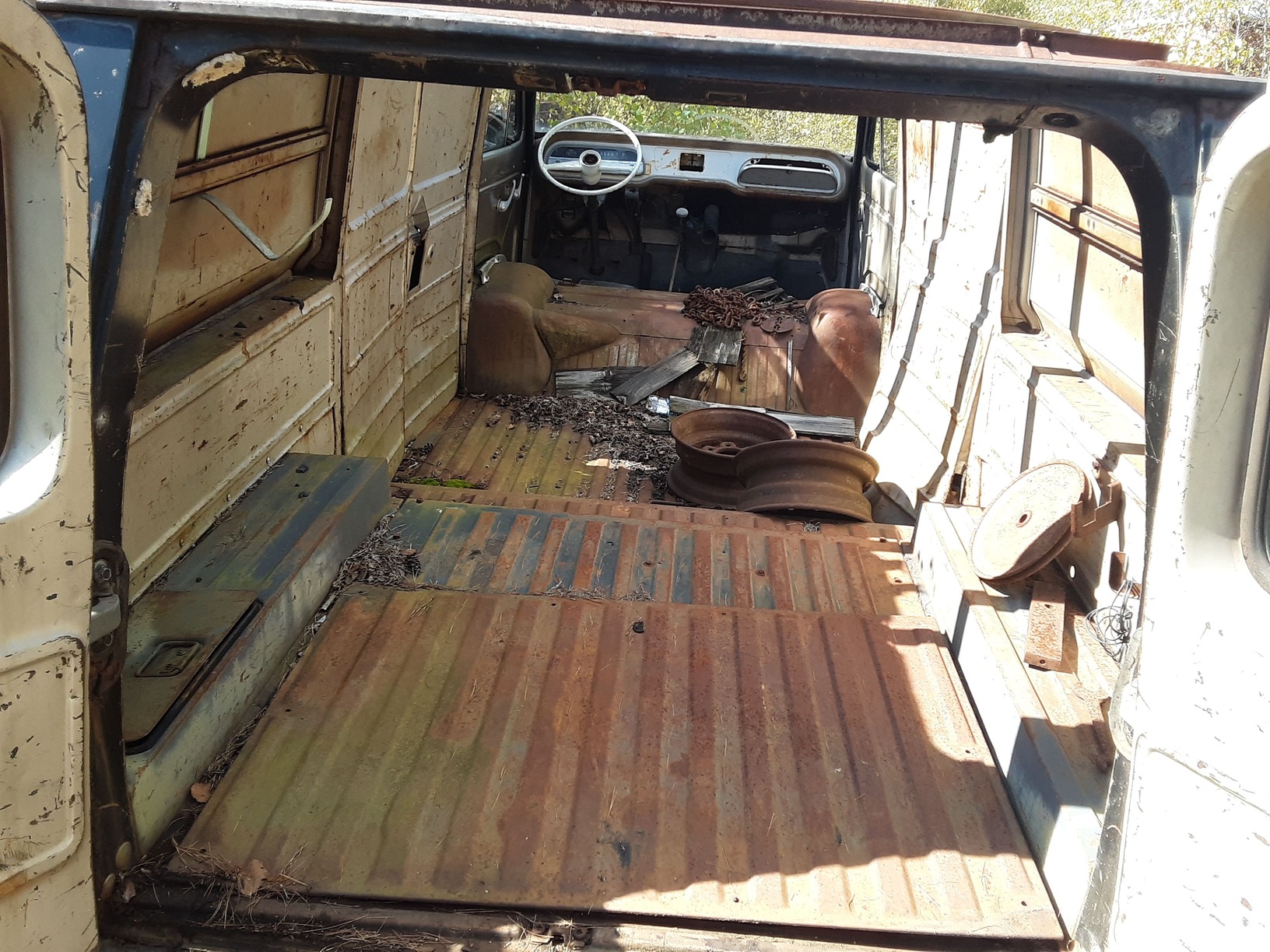 The rear load floor is raised to clear the rear-mounted engine. Though some cargo capacity is sacrificed, the elevated load floor is a back-saver. Chevy marketed these vans (plus station wagon and pickup variants) as the Corvair 95 Series due to the 95-inch wheelbase. Corvair passenger cars rode on a longer 108-inch wheelbase. They all shared engines, transmissions, and major suspension components—with minor variations.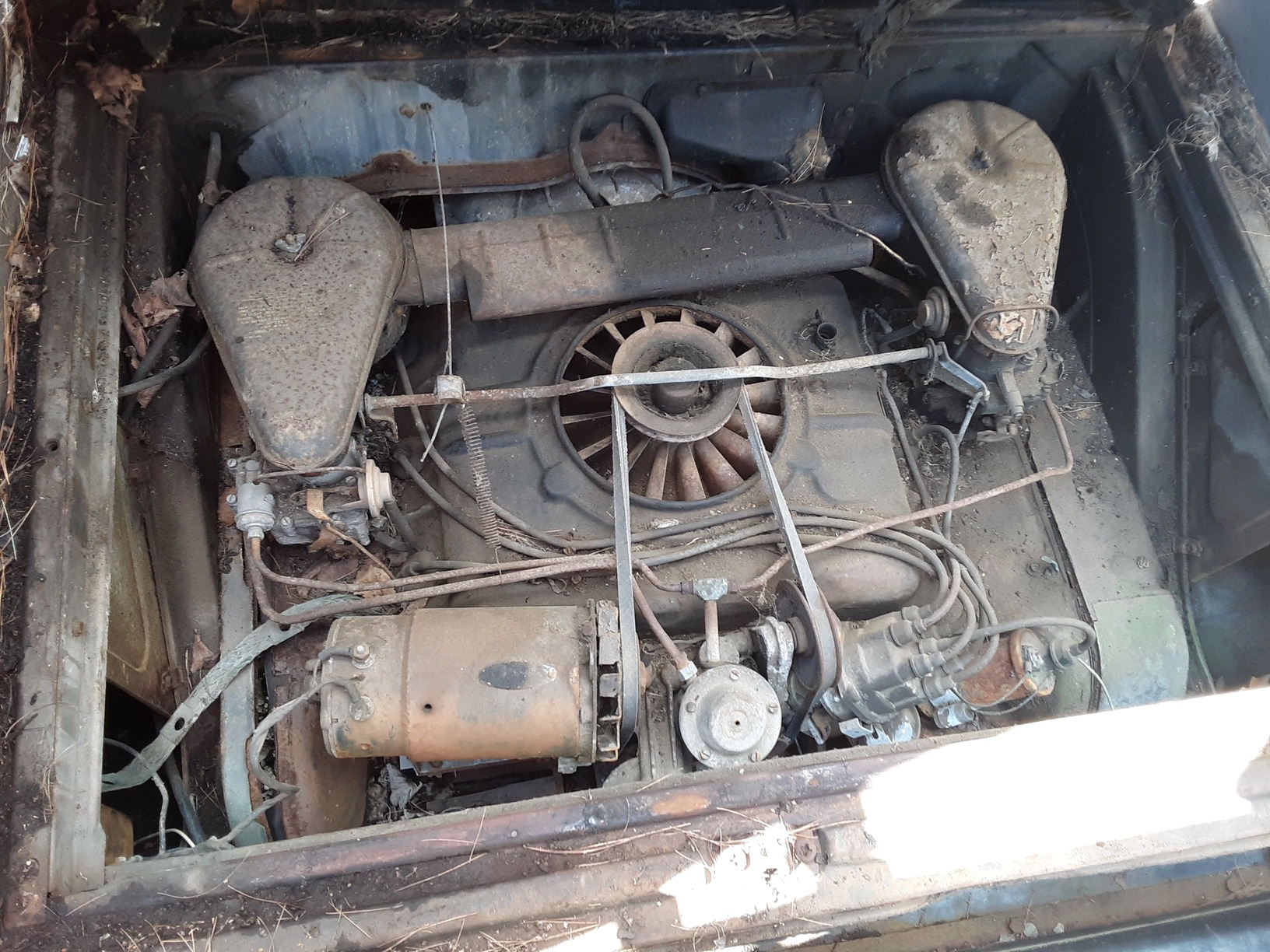 Series 95 vans and pickups used the same 144ci flat-six as Corvair passenger cars but with durability features like better valves and bearings. The sexy Corsa four-carburetor induction and turbocharger systems were strictly off limits. The twisting, turning rubber belt drives the central cooling fan, putting the "air" in Corvair. Fans were made of pressed steel (here), one-piece magnesium castings, and molded plastic depending on year and application.
The 1951 Volkswagen Transporter/Microbus brought the utility and maneuverability of the forward driving position and inspired American interpretations like the 1962-67 Ford Falcon Econoline, 1964-71 Dodge A100/A108, 1961-64 Corvair 95, and 1965-70 Chevy van. Corvair 95 transmission choices included Powerglide automatic and three- or four-speed manuals. This one is a base-level three-speed.
After the failure of the 1961-64 Corvair van platform (internally designated as the R-Series), Chevy launched the more conventional G-Series van family. This 1968 Chevy Sportvan 108 Deluxe still has two strikes against it for ideal Van Craze appeal. The windows reduce the "blank canvas" factor for custom graphics, and the lanky 108-inch wheelbase is a full 18 inches longer than the standard 90-inch van platform. But there's a hidden surprise within.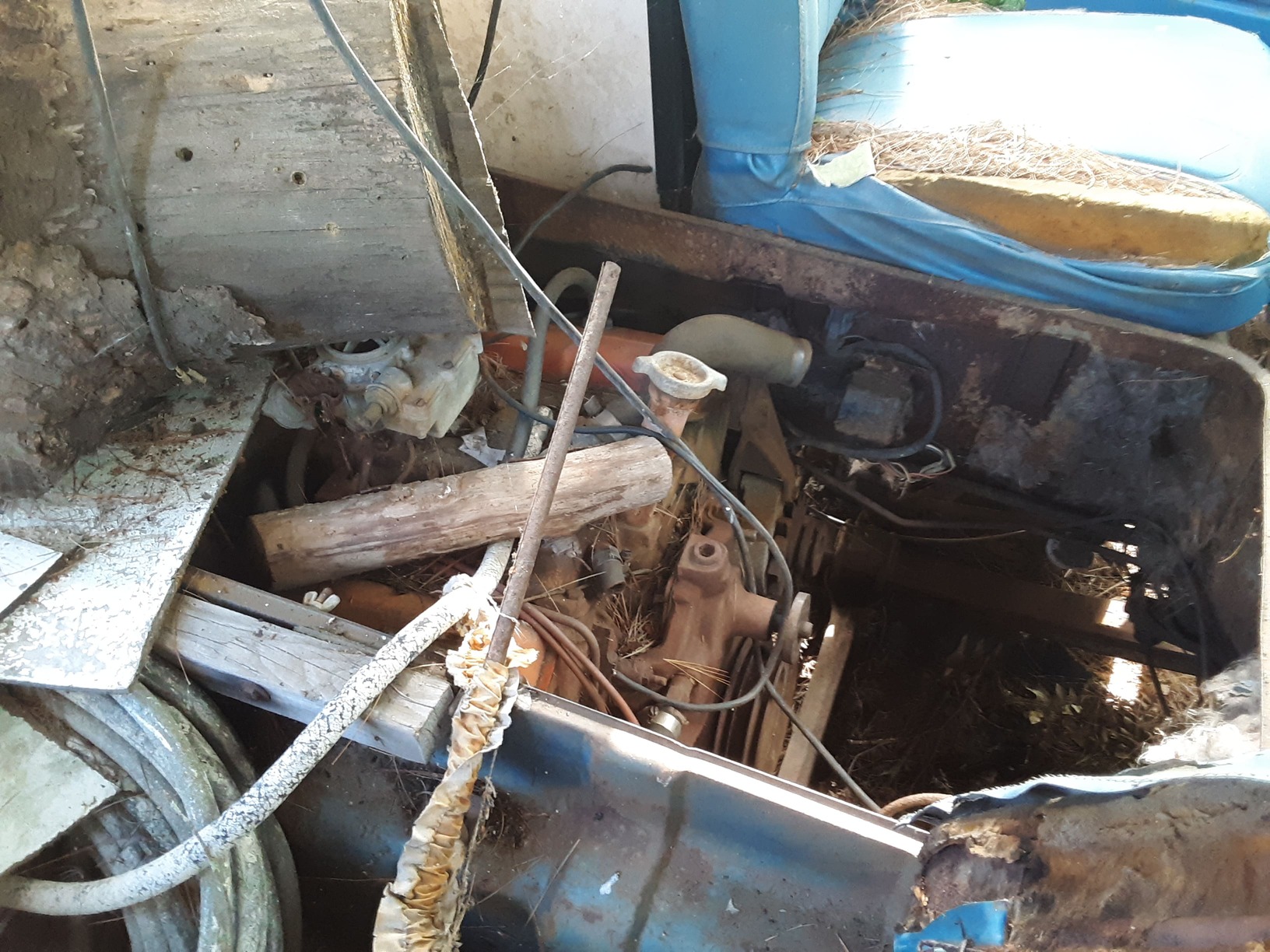 While the first-generation 1965-66 G-Series vans (flat windshield) were only offered with four- and six-cylinder engines, V-8s arrived with the second-generation in 1967-70 vans, along with curved windshield glass and rectangular side marker lamps (except for 1967 when no markers were used). This 1968 packs the 307 V-8 and automatic transmission. A rare treat was the 1970-only 350 four-barrel with 255 hp. In a nose-heavy, short-wheelbase G10 van, it must have been a tire fryer.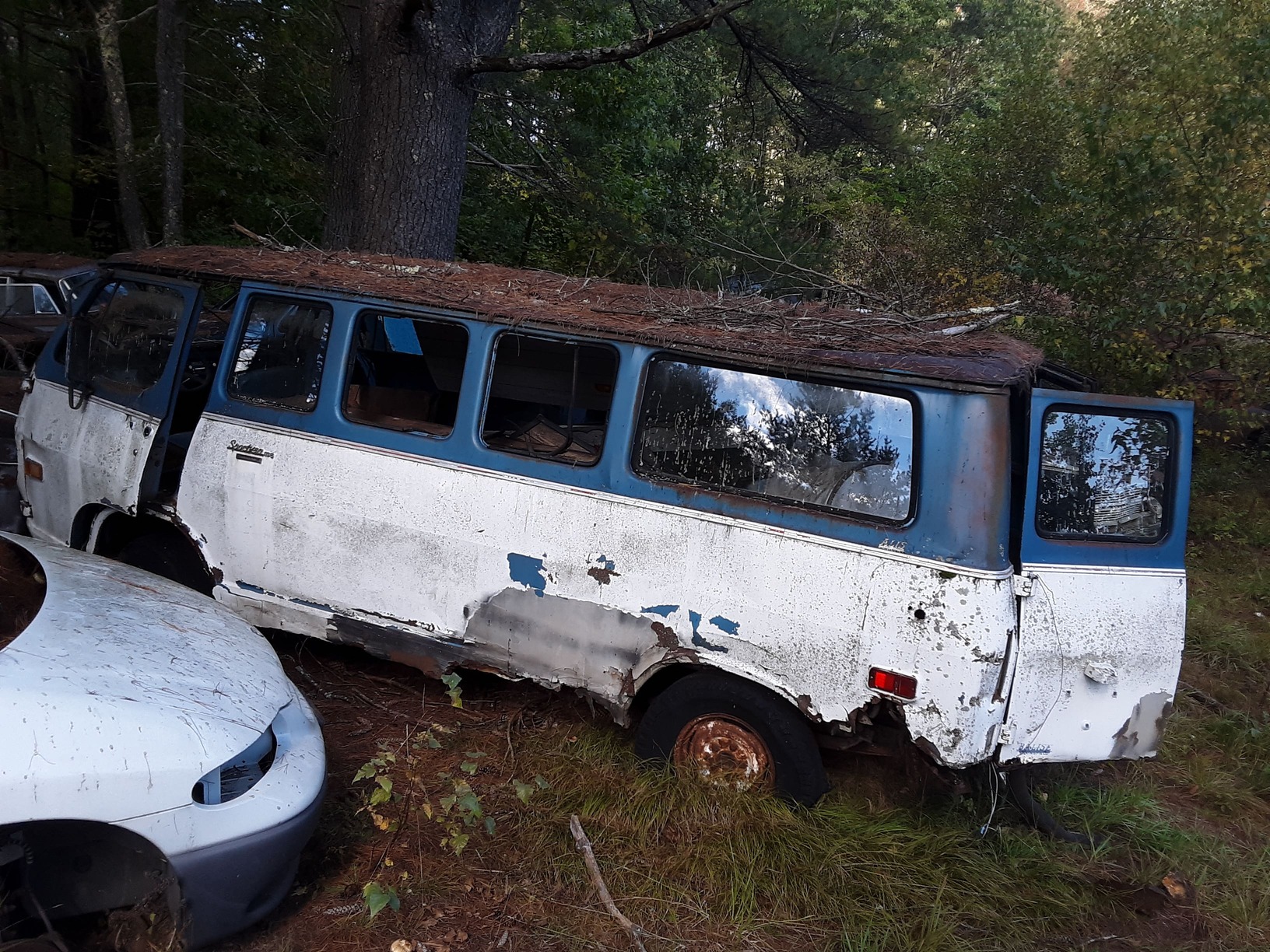 The longer 108-inch wheelbase boosted payload space from 209 to 256 cubic feet versus the standard 90-inch platform, though this Sportvan window van is more about hauling passengers on its three rows of seats. Records show that Chevrolet built 24,369 long-wheelbase G-Series vans in 1968, of them 1,681 were Deluxe Sportvans like this. The most common configuration was the no-windows panel van—with 17,569 built—proof most folks see these machines as workhorses.
The nifty color-coded interior may seem as bare as a prison cell to modern drivers used to steering wheels with integral airbags and soft-touch surfaces everywhere. Designed long before passenger safety mandates, seatbelts are of the lap-belt variety and lack the shoulder harness provision so important to avoiding the dreaded "spinal cord separation." Ironically, Ralph Nader's book (Unsafe at Any Speed) was a major force in triggering government safety oversight committees that forced automakers to build more safety into their cars.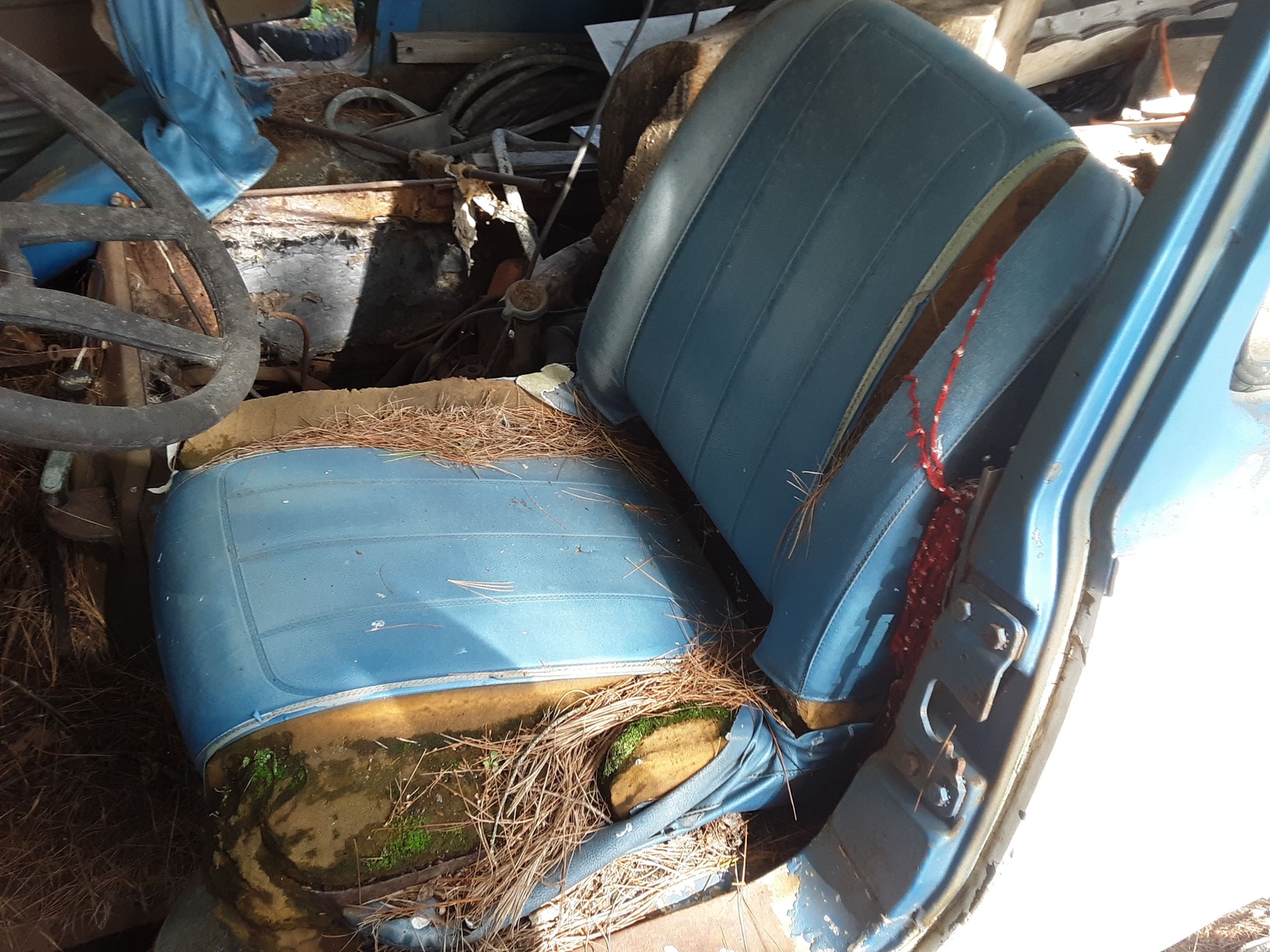 The Bostrom Thin Line seats were also used in same-year Dodge A100 vans and Jeep CJs–with differing upholstery patterns. Bostrom Industries is based in Piedmont, Alabama, and has supplied seating for trucks and commercial vehicles since 1935. Rebuild and fresh upholstery kits for vintage Bostrom seats are available from numerous sources as are similar replicas from outfits like ProCar by Scat.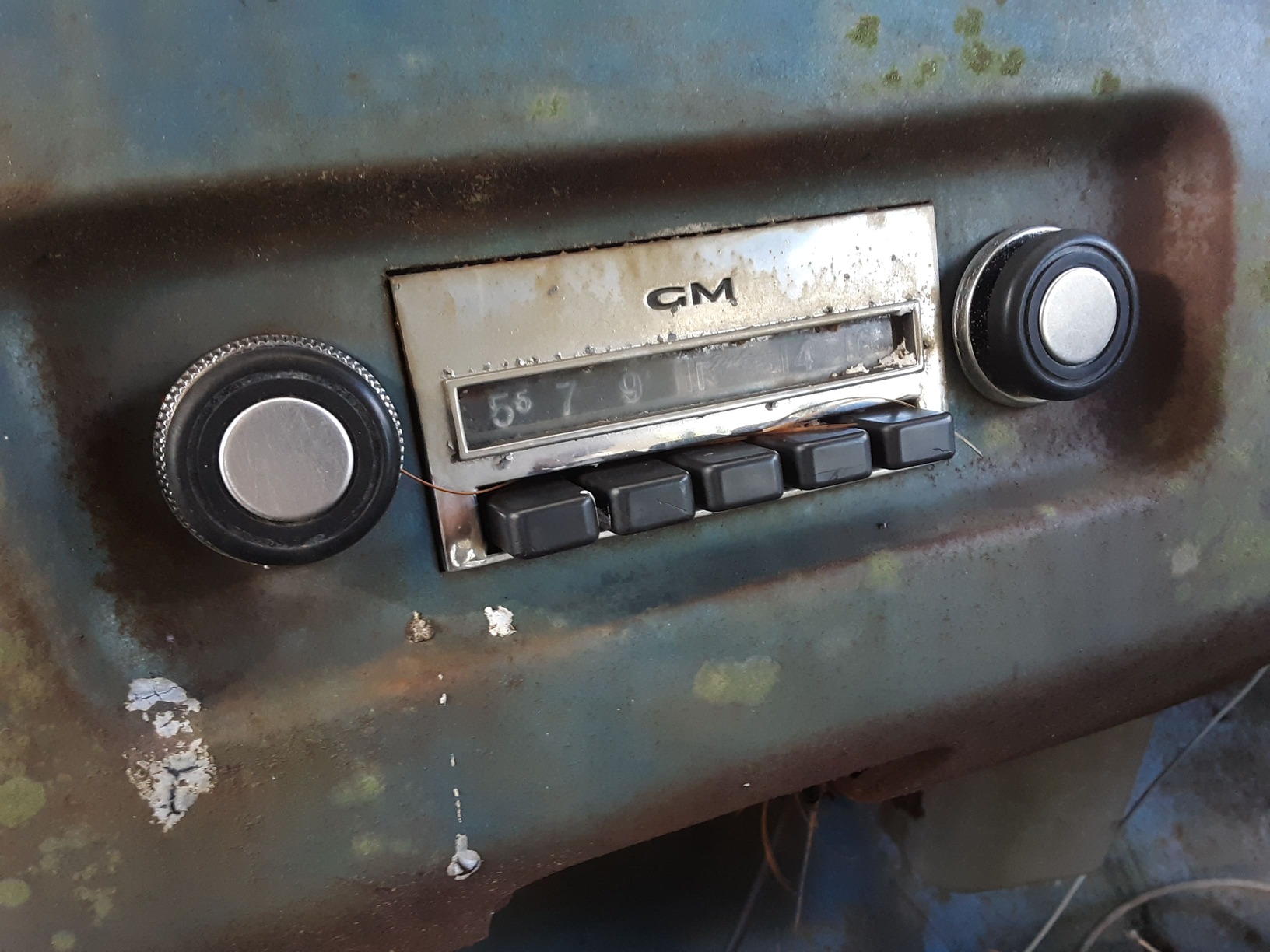 A far cry from today's world of OnStar, Bluetooth, and WiFi technology, this factory AM radio added $69.95 to the tab and triggered the installation of an antenna mast to the driver side front corner of the cab; a simple relic from simpler times.
Looking like an afterthought, the heater, defrost, and air circulation controls are cable-operated via knobs attached to the steering column brace. The resulting bundle of cables create something of an eyesore beneath the instrument panel. The totally redesigned '71 vans did a much better job of incorporating these bits unseen.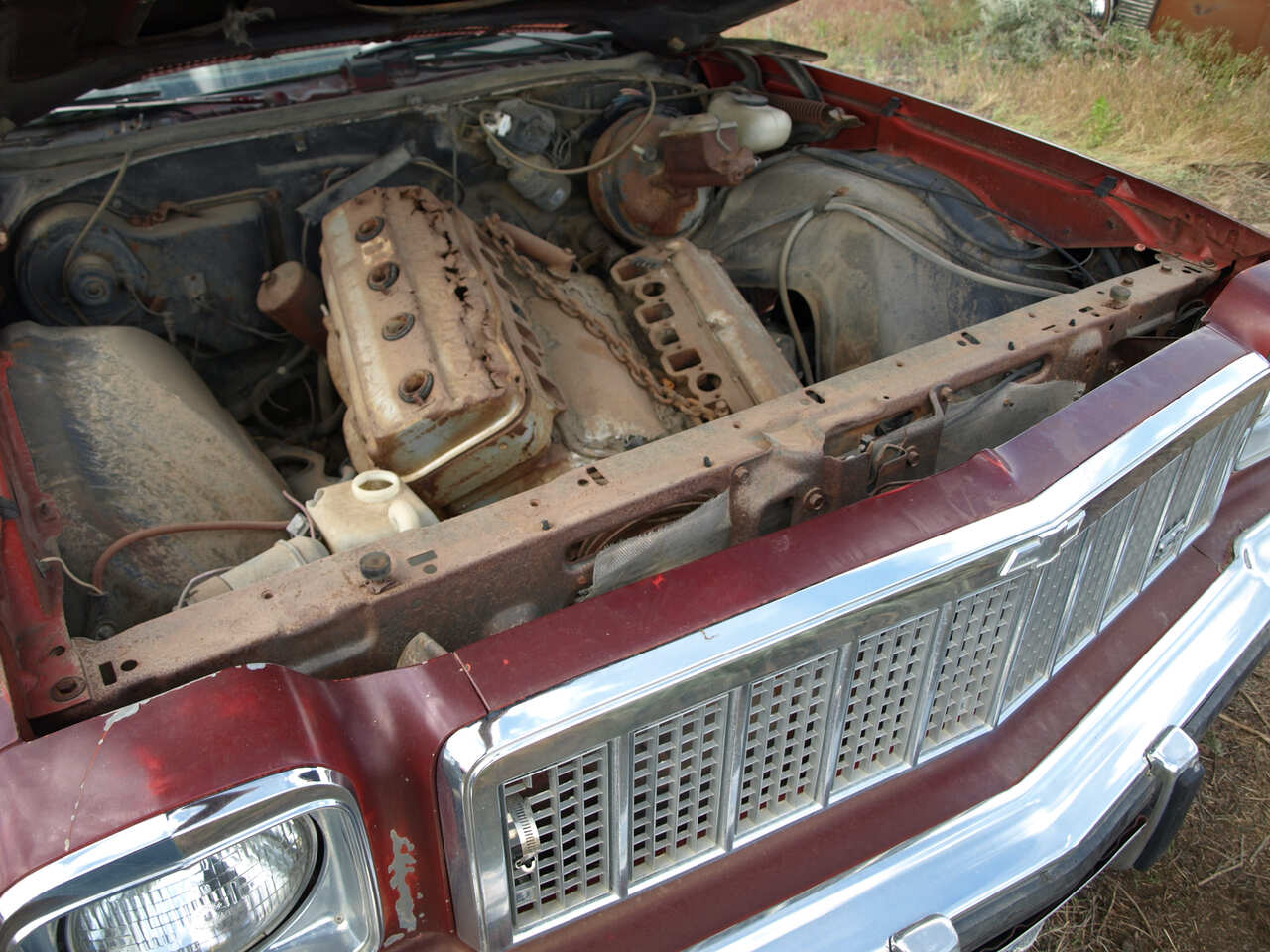 And finally there is this. Spotted at L&L Classic Auto in Wendell, Idaho (208-536-6606), this 1975 El Camino may not be a van but it sure is an oddity. How and why this ancient whale motor ended up here is a mystery.
Check Out All Our Bowtie Boneyards Here!