By Tommy Lee Byrd – Photography by the Author
Utilitarian by nature, trucks were originally designed as workhorses. Through the years, we've seen the number of classic truck enthusiasts grow by the thousands, as old trucks are plentiful and relatively affordable. The downside of low cost of entry is that they usually have rust issues in the cab, beat-up beds and essentially useless suspension. Charlie Simpson, a resident of Chattanooga, Tennessee found this 1957 Chevy 3100 pickup through a friend in Nashville, and embarked on a two-year journey to scratch-build a killer truck with an intense level of detail.
The truck was mostly original, but a previous owner had painted it bright yellow, which didn't suit Charlie's taste. He stripped the truck down to the bare bones and started with the chassis. He boxed the framerails and fabricated several custom crossmembers to provide mounting points for the Mustang II-style front suspension and triangulated four-link rear suspension. He also fabricated mounts and brackets for the Slam Specialties air bags, which are operated by an AccuAir eLevel system with twin tanks and compressors.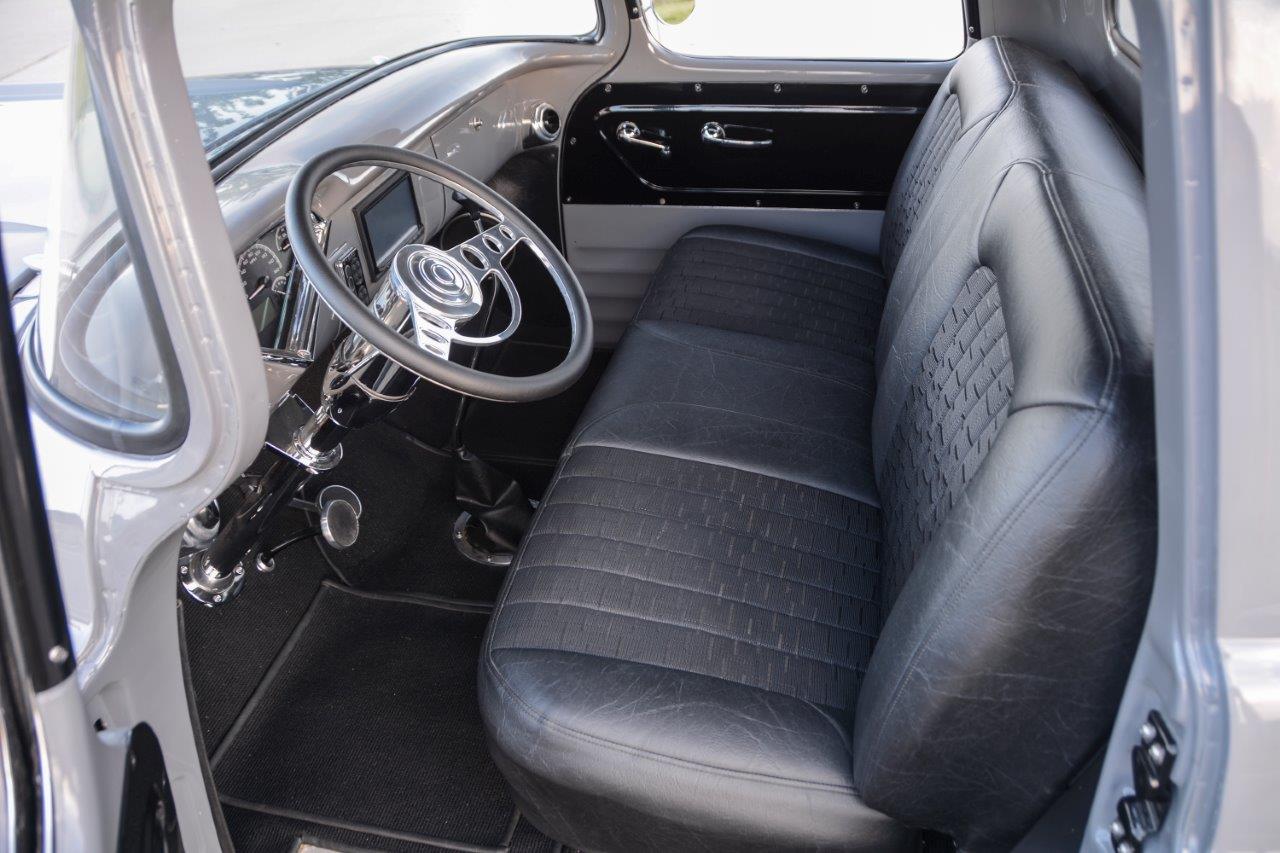 After lots of research, he found that a 10-bolt rearend from a 2001 Chevy Blazer 4×4 would fit the truck without having it narrowed. There was still quite a bit of fabrication work on his to-do list, as he stripped the rearend of its original brackets, and added new mounts for the air bags, shocks, four-link bars and brake calipers. He also upgraded the inside of the rearend with a Yukon differential and 3.73:1 gears. Wilwood 12-inch, drilled and slotted rotors and four-piston calipers are hidden by 20×8-inch Detroit Steel wheels, which feature black powder coating, thin trim rings and bullet center caps.
The dark wheels offer a sinister look to go along with the gray exterior color. After Charlie stripped off the yellow paint, he realized just how many hours he'd have tied up in restoring the body. He welded in new rocker panels, cab corners, inner and outer door patch panels and portions of the floor. After he repaired the rust, he enlisted the help of Justin Armstrong to finish the bodywork and apply the Nason (by Axalta) base/clear paint materials. Charlie said he picked the plain gray color out of a DuPont paint color book, and it certainly fits this truck well, especially after sanding, buffing, and polishing.
From there, Charlie installed new windows, including one-piece door glass, from Brothers Trucks. He upgraded to LED headlights and taillights, and then reassembled the truck using new trim parts and components from Brothers. Out back, he built a custom frame to enclose the wooden bed floor and then fabricated a hinge system and mounts for linear actuators, so the entire bed floor could raise and lower. Due to the truck's chassis modifications and air ride system, Charlie raised the bed floor to keep it all hidden. The wood bed floor kit came from Classic Parts of America, and Charlie stained it with black automotive paint and then cleared it for a distinct look to match the rest of the truck's black trim work. Most of the black items on the truck were powder coated by Jason Williams at Top Notch Customs in Flintstone, Georgia.
Worm's Upholstery in Rock Springs, Georgia handled the custom stitchwork inside Charlie's pickup. German square-weave carpet adds a touch of class to the sanitary interior. Charlie grips a downsized classic steering wheel, which is attached to a chrome tilt-steering column. The smoothed dash features a Dakota Digital gauge cluster, vents for Vintage Air and a Kenwood touch-screen head unit. A custom enclosure holds two Kenwood 10-inch subs and a 1,000-watt amplifier. Charlie built custom kick panels and a custom headliner to incorporate additional speakers. Charlie assembled a custom wiring harness to power the truck's accessories and power train.
Horsepower comes from a 383ci small-block Chevy, built by Farrow Performance in Chattanooga. It features Edelbrock Performer RPM cylinder heads, a rowdy camshaft from Comp and additional valvetrain goodies to support it. Up top is a polished Pro Comp aluminum intake manifold and Holley 770 cfm Street Avenger carburetor. A GM HEI distributor lights the fire. The exhaust system consists of ceramic-coated block hugger headers, and 2-1/2-inch stainless steel exhaust with SpinTech mufflers. Charlie kept it simple and clean under the hood, with finned valve covers and matching air cleaner, and also installed a March serpentine front drive system. He smoothed the firewall and inner fenders for an extra-clean engine bay. Behind the healthy small-block is a TH350 automatic transmission with a 3,800-rpm stall converter.
After 2 years of steady work and a bunch of painful credit card bills, Charlie has a truck that he can truly enjoy. The slammed stance, immaculate detail work and creative color usage completes this attention-getting package, and he's finally ready to hit the road with his custom pickup. CTP