1955 Chevy With Vintage Looks Belies Potent Power and Handling
By Brian Brennan – Photography by Grant Cox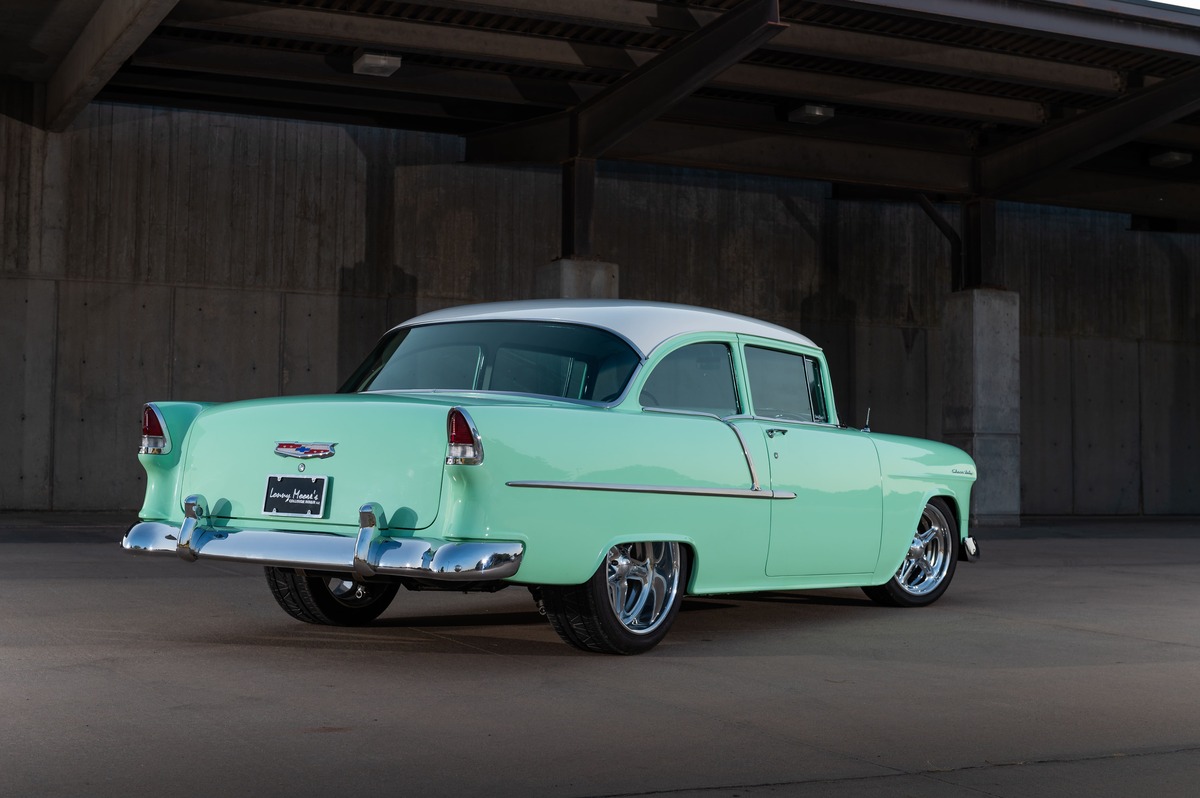 Lonny Moore is no stranger to hot rods, having grown up in a car family. Add to this the building of a number of his own rides and then throw in many more for clients through his shop, Lonny Moore's Collision Repair, located in Wichita, Kansas, and there's a world of experience and passion. His latest build is a 1955 Chevy 210 "post" car, a lifelong favorite being a Tri-Five fan.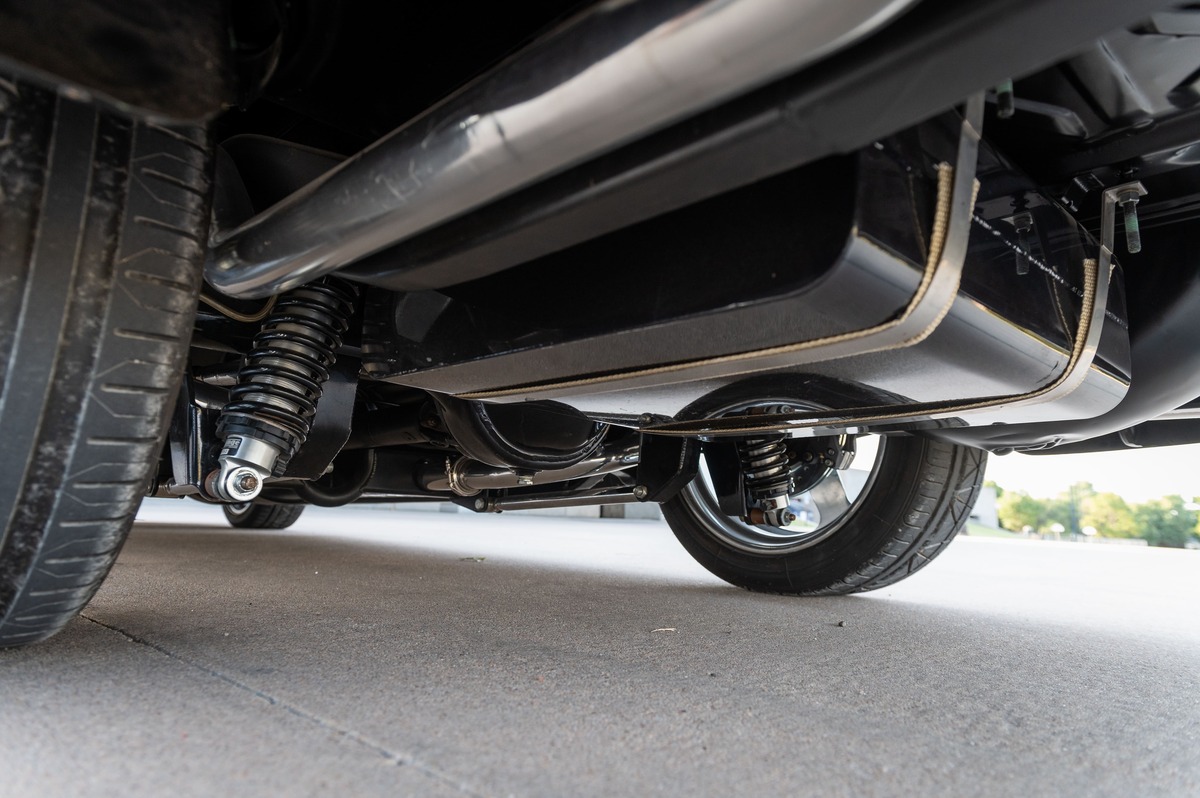 The foundation for this 1955 Chevy 210 sedan is an Art Morrison Enterprises (AME) GT Sport chassis (number 117) with a 1-inch sway bar in front and a larger bar in back, an AGR rack-and-pinion steering functioning through an ididit steering column, Strange Engineering rearend and adjustable coilover shocks, and chrome IFS A-arms. By utilizing the GT55 chassis, the Tri-Five will rest approximately 3-4 inches lower than stock. According to AME, to make a Tri-Five sit lower they recommend the Wilwood dropped ProSpindle available through AME. Speaking of Wilwood, the front brakes are based on drilled-and-slotted 15-inch rotors with black anodized calipers pressed into service via a Wilwood master cylinder.
The rear suspension is centered on a triangulated four-bar with Strange Engineering adjustable coilover shocks, a Currie 9-inch centersection, more Wilwood braking with 13-inch drilled-and-slotted rotors in addition to black anodized calipers. The wheel and tire combo is centered on Budnik Illusion wheels with Nitto rubber. Sizing for the front measures 18×9 and 20×11.5 in the rear, cloaked with 225/35R18 and 305/35R20 rubber.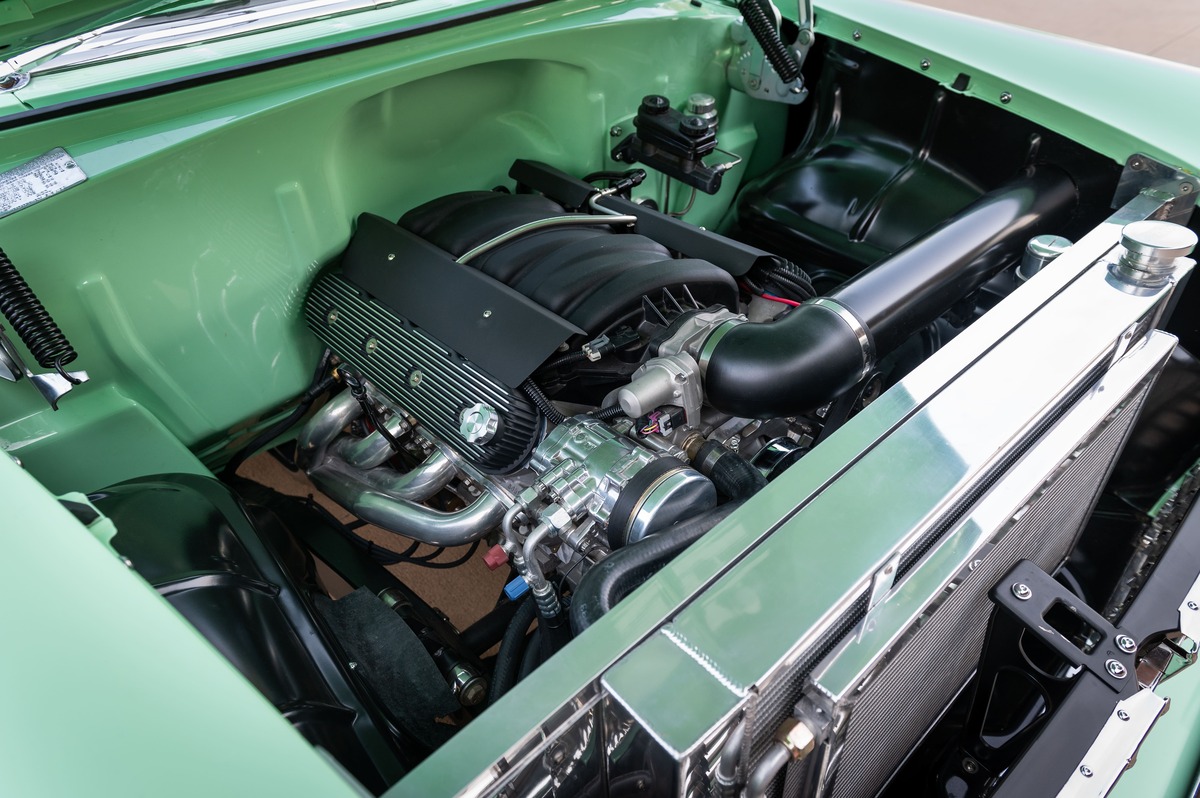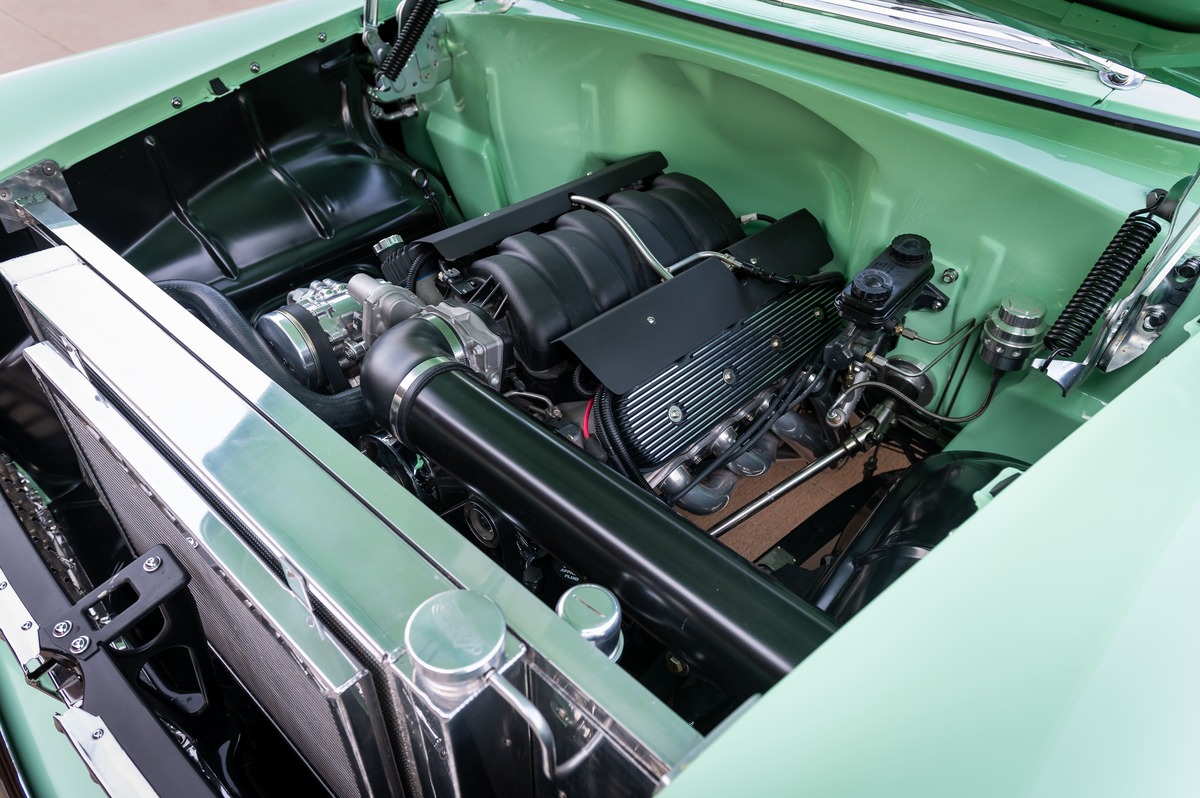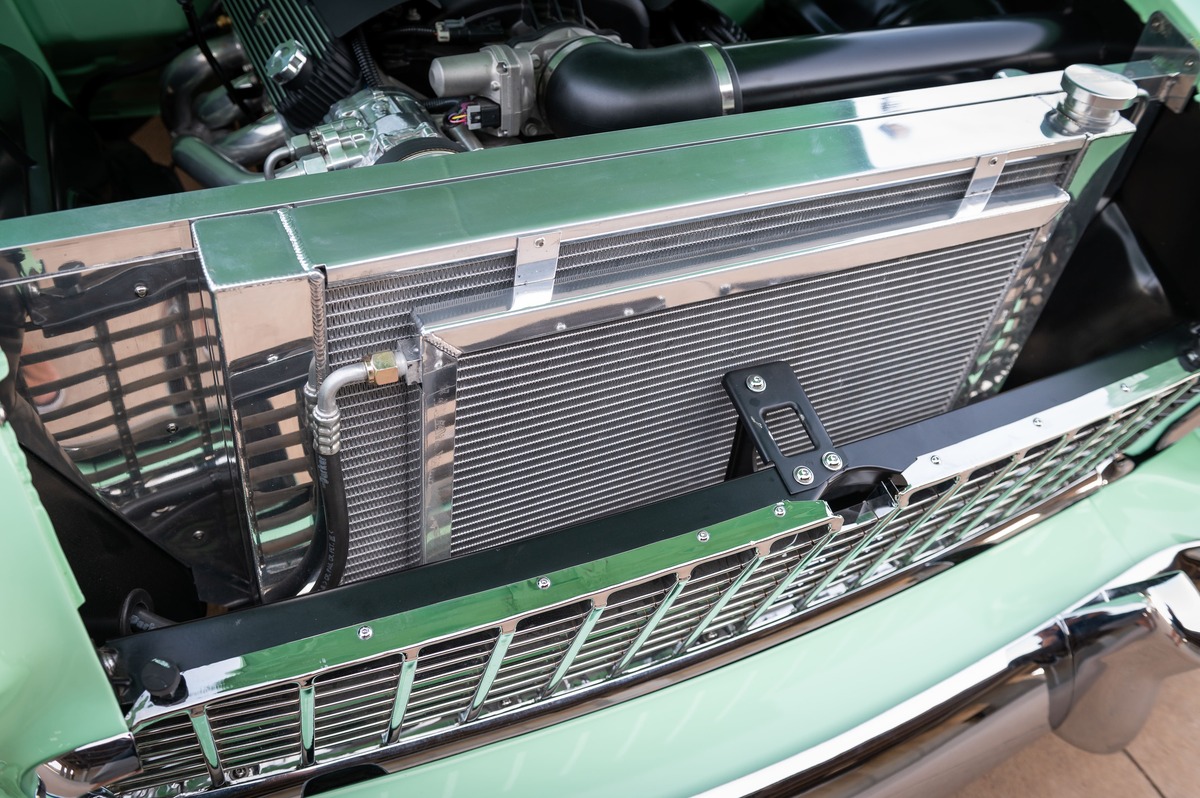 Power comes by way of a Chevrolet Performance LS7 crate motor pumping out 525 hp and 475 lb-ft of torque. The OE EFI is supported by an MSD Pro Series electric fuel pump, a K&N air cleaner, Street & Performance headers with exhaust system fabricated by Larry Moore (Lonny's brother), SpinTech mufflers, and covered in high-performance coatings. Ushering the power rearward is a TREMEC five-speed operated by a B&M shifter, cooled by a Speedway Motors tranny cooler. A Power Drive aluminum driveshaft ties in with the Currie rearend all resting in front of the stainless steel Rock Valley gas tank.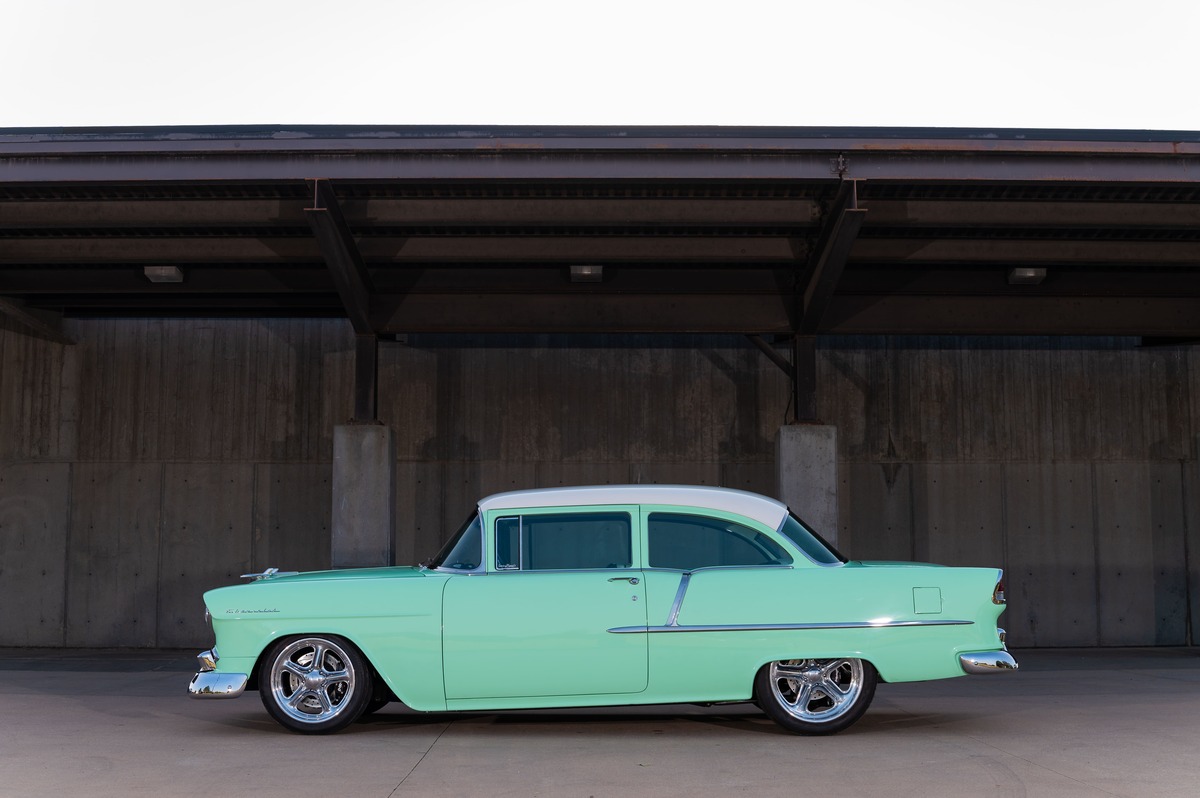 The 1955 Chevy 210 sedan body sports all of its original trim and was found in rust-free condition as the project began. The body- and paintwork was achieved at Lonny Moore's Collision Repair, where it was covered in Axalta ChromaBase with ChromaPremier clearoat over the Sea Foam Green sprayed on by Joe Dela Rosa (who knows his way around a spray gun, having been with Lonny for 18 years as his painter).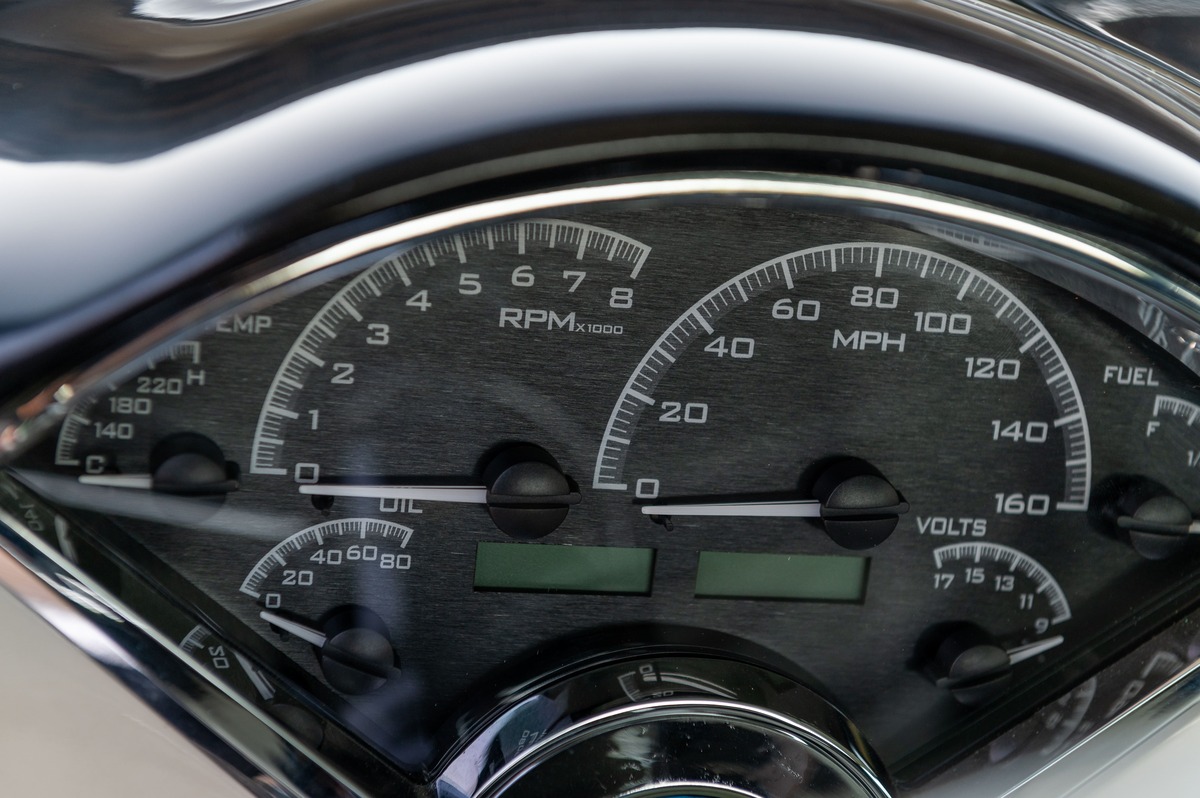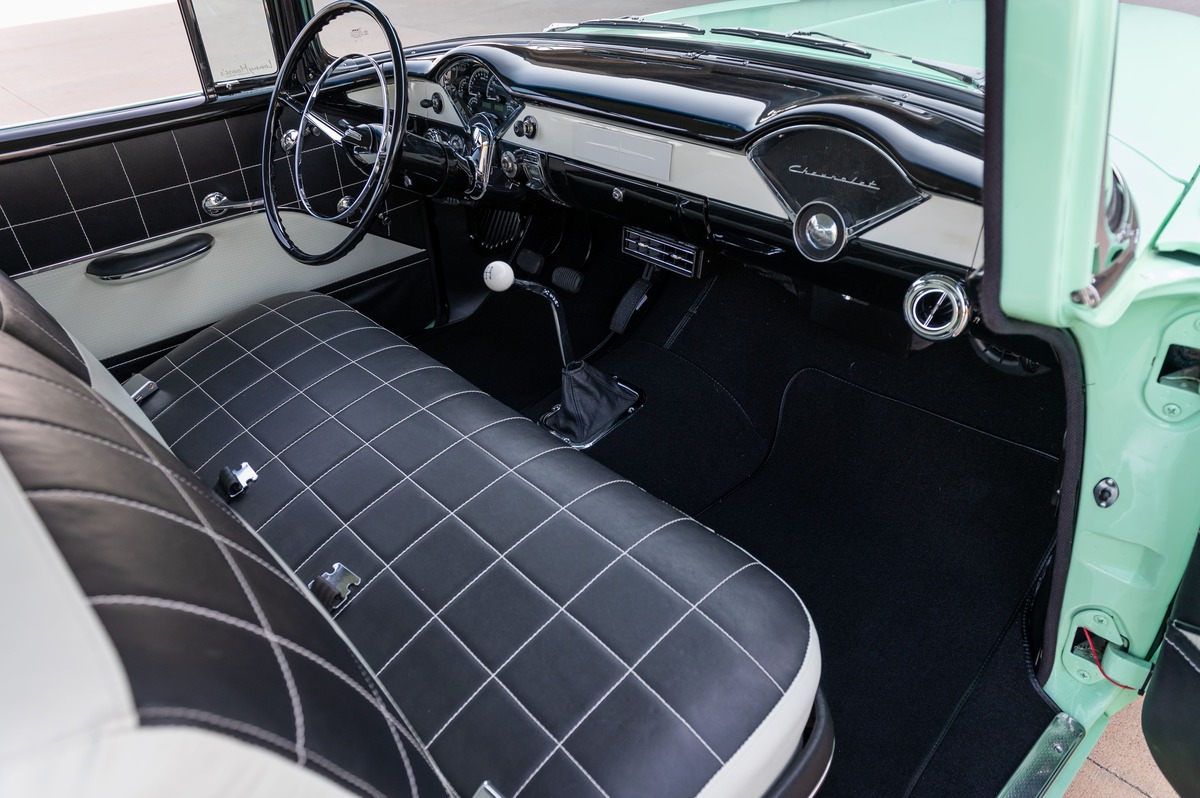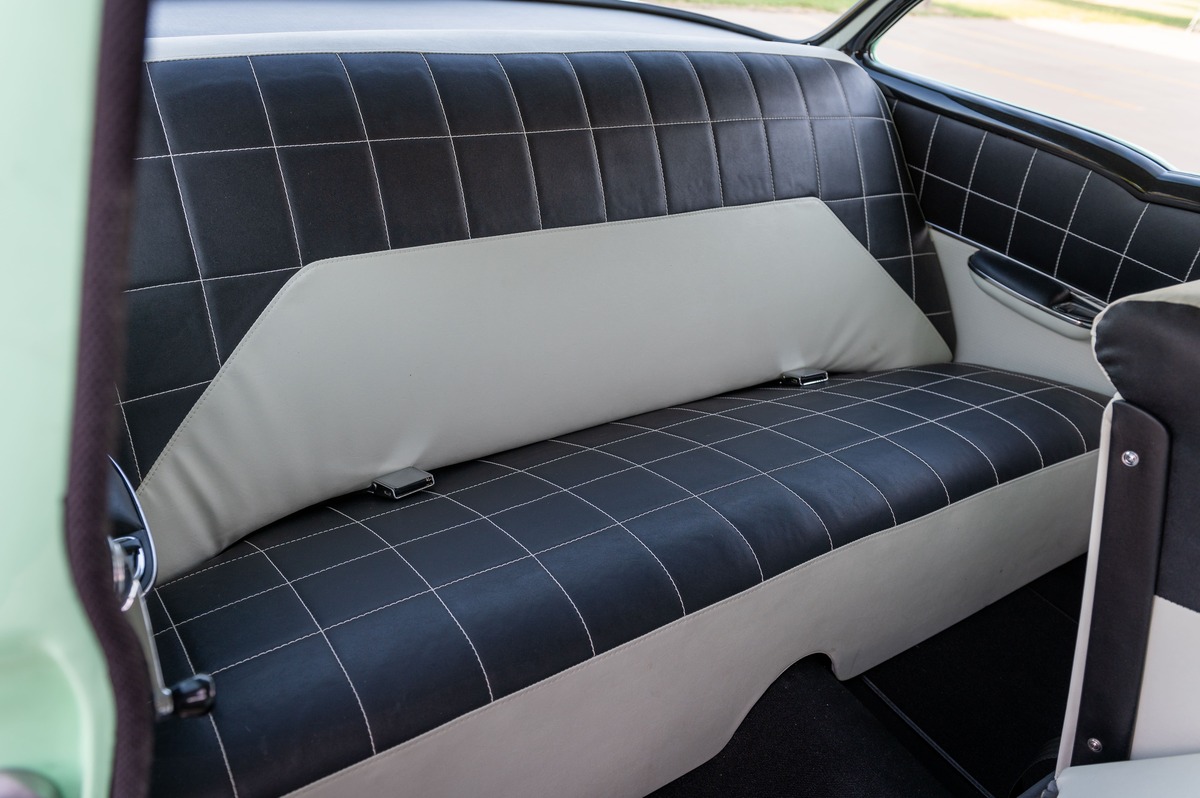 Residing within the copious amounts of body- and paintwork is a stock-appearing Chevy 210 interior all fashioned on stock front and rear bench seating. Scott Downey handled the stitchwork, concealing the seating in white leather with solid back inset panels accented in white stitching forming a square block pattern. Juliano's received the nod for the all-black seatbelts while the ivory headliner was positioned by H&H Classics. The radio-delete dash is equipped with Dakota Digital gauges and Vintage Air A/C and heat, featuring in-dash and below dash air ducts, and an ididit steering column topped with a Classic wheel. All of the prerequisite wiring was handled by Bret Loibl using an American Autowire system receiving its juice from an Optima battery (trunk mounted and held in place by a Speedway Motors holder).
There's no denying that the Tri-Five, and possibly the 1955 Chevy 210 post, is the quintessential post-1948 hot rod. It's to this era of hot rods what the 1932 Ford, expressly the highboy roadster, is to the pre-1949 crowd. Classic looks with modern power and handling, it truly doesn't get any better. MR