Alan Johnson Builds Today's Version of the 1957 Ford F-100 for George Poteet
By Rob Fortier – Photography by John Jackson
Some of you might think it would be a difficult task for a "GM guy" to write about Ford trucks. Well, let the record state: That could not be further from the truth … especially when said FoMoCo haulers are LS powered! (Just kidding!)
To be completely honest, I love writing about any well-built, well-storied, and/or just plain cool old cars and trucks. But when it comes to practically anything that Alan Johnson lays his hands on, well, it could literally be pretty much any make/model and there's no doubt it'll fit in all three abovementioned categories. In the case of George Poteet's 1957 Ford F-100, however, there needs to be a fourth category added: Insane!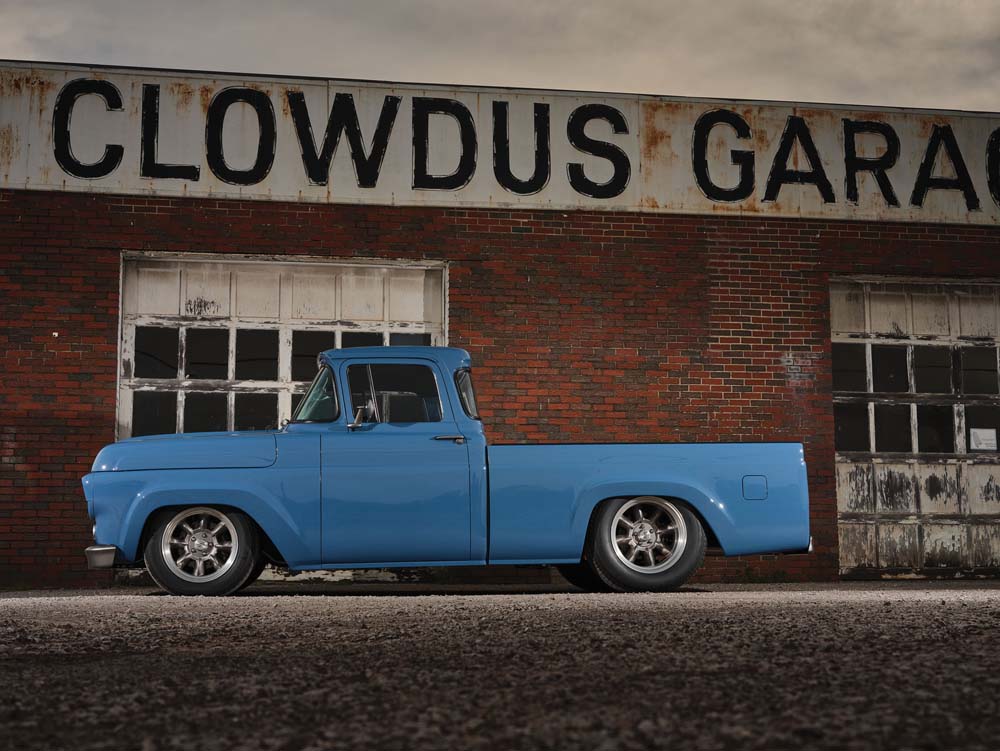 First and foremost I went directly to the man himself, Alan Johnson, and asked the proverbial "Why?" Here's what he had to say, in a nutshell: "What started out as a handyman's work truck has been reshaped into the 1957 Ford F-100 you see before you today. The truck's ideals come from a time when handmade craftsmanship was formed and finished with pride. The truck's innovation draws from the early road racing days of when Ford factory teams like Holman Moody battled it out on the track forged together with today's modern technology."
But Alan neglected to mention one very important detail: the truck's insane attention to practically every single detail … and then some. So much so, as a matter of fact, I don't even know where to start! Literally from the tailgate to the grille, this seemingly mild-mannered Effie is anything but.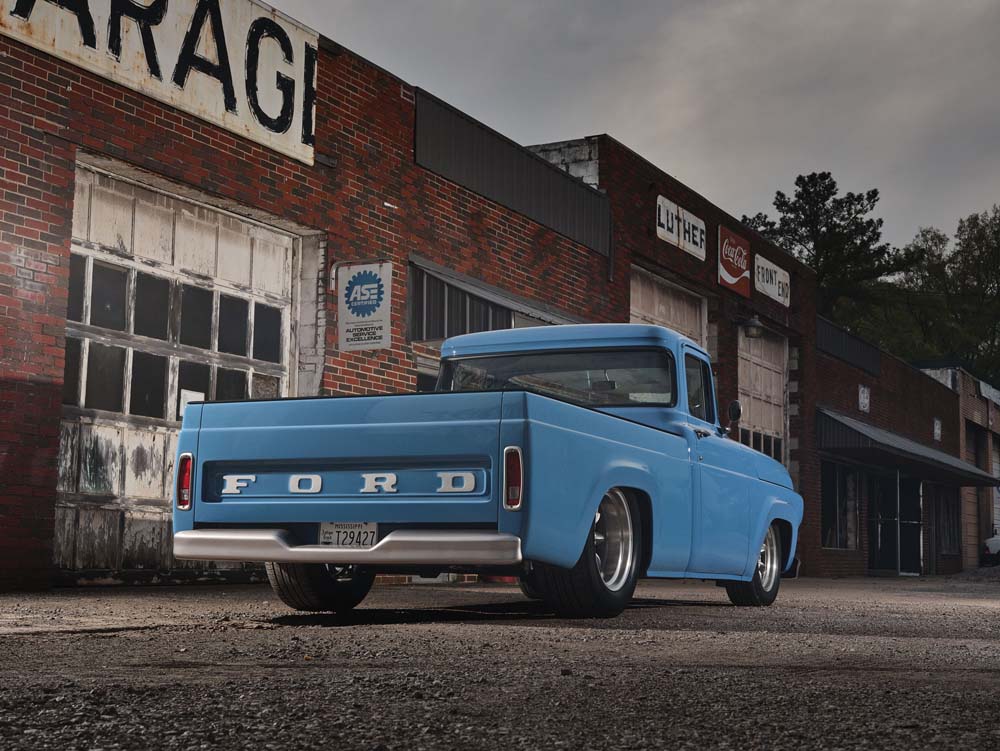 Before I delve into the multitudes of modifications, let's begin with the foundation, shall we? To get Poteet's truck sitting absolutely perfect—with a performance level to match—Johnson's Hot Rod Shop (JHRS) enlisted the chassis-building experts, Roadster Shop, to do their thing—which they indeed did. With a Fast Track IFS and four-linked Strange Engineering 9-inch, all equipped with RideTech Coilovers and Wilwood Disc Brakes, the F-100 handles nothing like your grandpa's old truck! What definitely sets this chassis apart from pretty much all the rest are the custom-made Minilite aluminum wheels with one-off machined Holman Moody caps. That is until you fully realize what lies between those Roadster Shop tubular control arms and is responsible for powering the Poteet pickup.
To the dismay of some dyed-in-the-wool Ford purists (sorry, no apologies), what Johnson and his crew at JHRS did with the F-100's LS3 (backed by a Bowler 4L60E) is, to say the least, the cleverest of engine camouflage jobs I've ever seen. While the Holman Moody cast aluminum valve covers (with crossover breath setup) and cowl-induction air cleaner do an excellent job of initially confusing the casual onlooker, what really does the trick of emulating an actual H-M 427 FE is the faux valley pan beneath the Holley intake that incorporates the faux distributor (the LS coil mounts are hidden in the air filter housing, which is part of a kit that JHRS now offers). Furthermore, the zinc-plated Holley Terminator Stealth throttle body looks for all intents and purposes as a period-correct double-pumper; the Holley cast exhaust manifolds (feeding a Borla stainless steel exhaust kit fabbed by JHRS) do their part; and the Vintage Air Front Runner serpentine and ARP hardware are discrete enough not to distract from the mid-'60s vibe.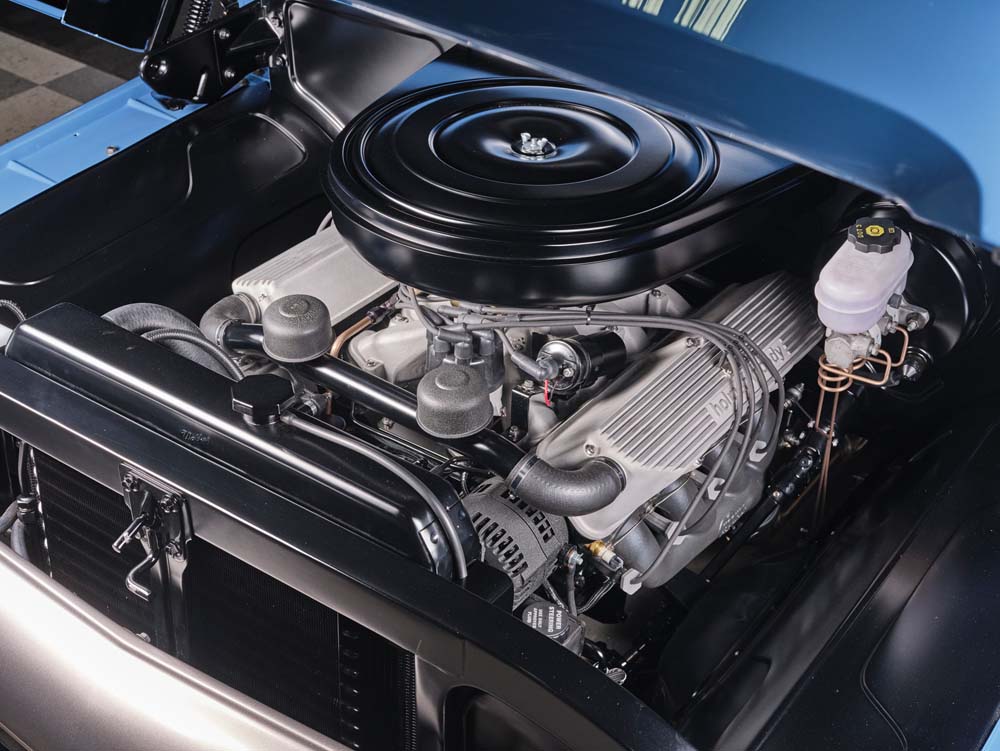 As for the F-100's exterior, if at first glance you don't notice a whole lot of non-stock going on, JHRS (that being Johnson, Jonathan Barefoot, Jonathan Fisher, and Maria Garcia) did their job! Upon closer examination, you may notice numerous subtle changes, such as leading edge of the bedside panels moved forward and re-radiused to match the contour of the cab, as well as being widened to better flow with stock the bodylines; wheel well openings moved to center the wheels and the bodylines reshaped; rocker panels reworked and bodyline wrapped around back side of cab; tops of doors radiused; bumpers narrowed and tucked with license recess removed and filled; later-model F-100 taillights fitted alongside a hybrid-modified 1964-1972 tailgate skin that conceals a new-model GMC "soft-close" gate assembly. The bed itself received a ton of additional modifications (beyond the custom flush-fit aluminum tonneau), such as all-new inner bedside structures, widened inner wheel wells fabricated, and the rear bedside corners reshaped with seams removed. Additionally, underhood new inner fender wells were fabbed and a custom-built firewall integrated and moved forward 4 1/2 inches for added legroom inside the cab.
When the time came for body and paint, Greg Chalcraft and Scott Falotico handled that aptly. The final color of choice is 1957 Ford Dresden Blue custom mixed by Axalta Automotive Refinish, with a cast metal gray used for contrasting accents on the 17- and 18-inch wheels, bumpers, door handles, raised tailgate letters, and so on.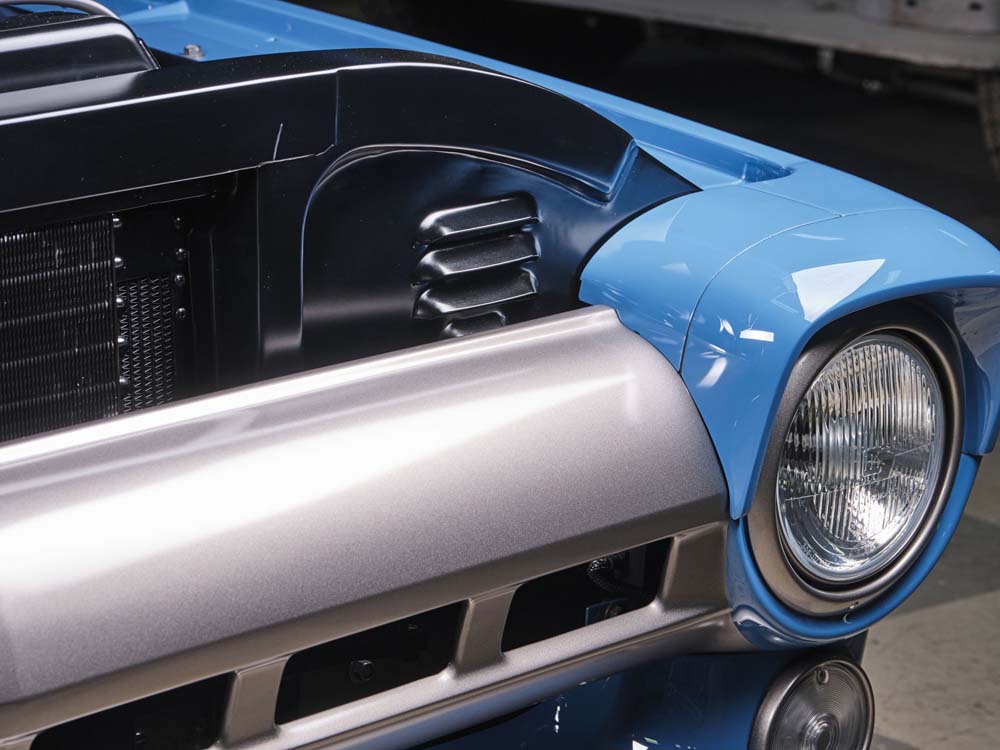 Wrapping things up, the interior of Poteet's F-100 received further metal modifications by JHRS, such as the dash accent line being carried around and onto the doors before the shop's in-house seamstress, Maria Garcia, did her thing with brown Garrett leather and plaid cloth inserts (complemented by satin blue–painted metal surroundings). Classic Instruments custom built the truck's Holman Moody gauges, which are inset in a custom engine-turned insert with custom-machined bezels by JHRS. The steering column is an ididit, with a custom two-tone/two-spoke wheel by CON2R; wiring facilitated by an American Autowire harness; and the climate kept under control via a Vintage Air A/C system with DEI sound deadening.
When asked what the most challenging aspect of the build was, Johnson says, "… doing all the body modifications as if Ford had done it back in 1957 and that's how it rolled off the assembly line." Had the Ford Motor Company put that level of coachbuilding into their line of pickups in the late '50s, well, let's just say there'd be a lot more Chevy truck lovers with a secret passion for 1957-1960 F-100s … like me!