Brad Mrstik's 1957 Chevy 150
By Nick Licata   –   Photography by John Jackson
Tri-Fives are cool. The '55,'56, and '57 Chevys have remained popular for various reasons, but we'll give a good amount of credit to the vintage body style that looks just as sexy today as it did in Chevrolet showrooms nearly 70 years ago.
Brad Mrstik first took notice of a '57 210 parked in a driveway just a few doors down from his house. It was owned by a couple high-school age brothers who seemed to have their heads under the hood more often than their butts in the seats. At only 6 years of age the image and shape of that '57 somehow became emblazed in Brad's young mind and played a big part on which model cars to build a few years later.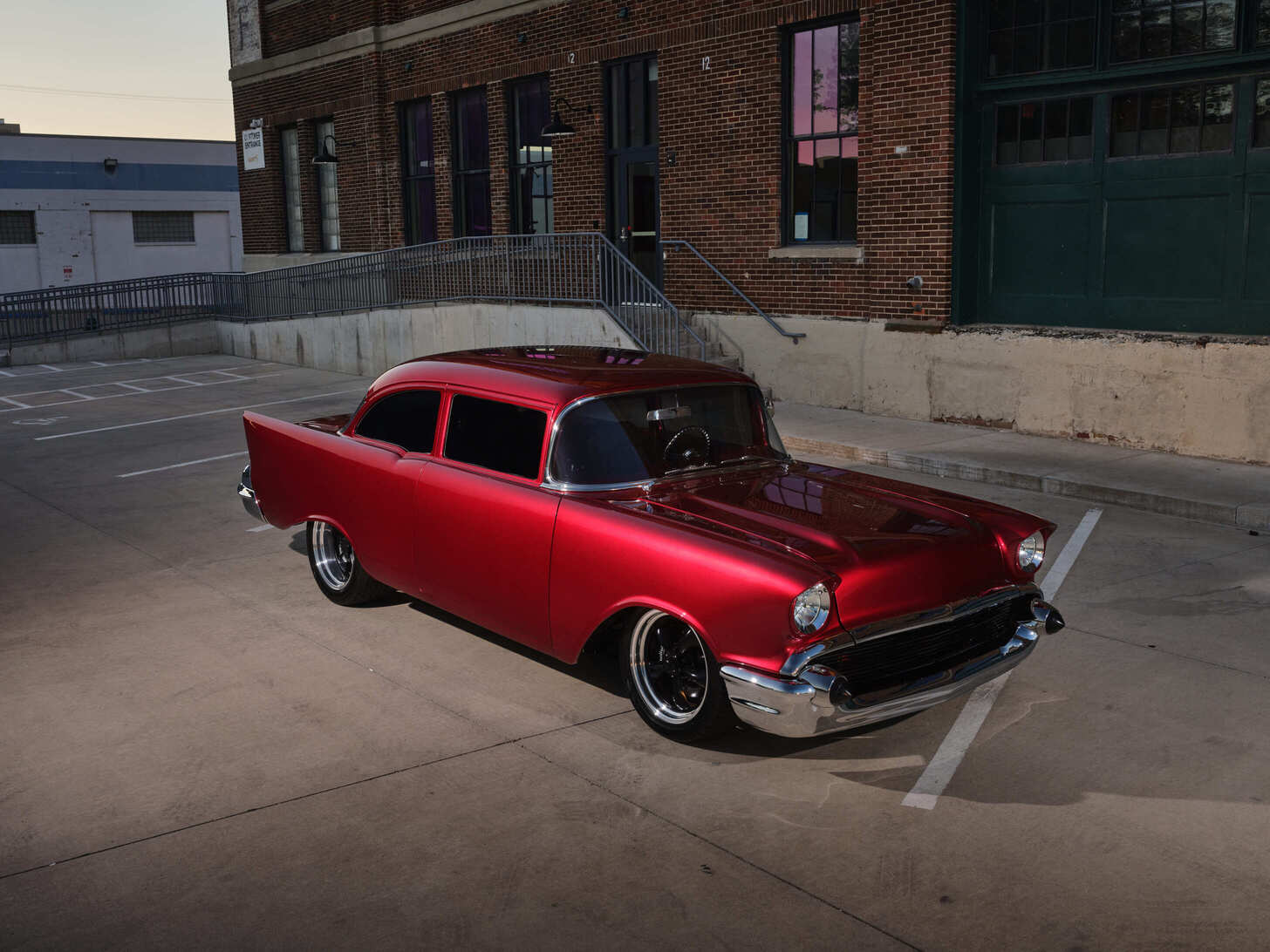 In his teenage years Brad's stepdad encouraged him to learn the basic automotive maintenance skills, which also included washing and detailing cars. That was the catalyst to owing what he describes as a "cherry '64 Impala" in his high school days back in the mid '70s. "From there it was Popular Hot Rodding magazine's 'Project X' and seeing that car in the movie The Hollywood Knights that kept my interest in '57 Chevys going," Brad recalls. "But it was the Hot Rod magazine project car—'Son of a Green Machine'—that influenced me to buy my first '57 Chevy Bel Air, which I owned for six years before selling it to buy the 150 I have now."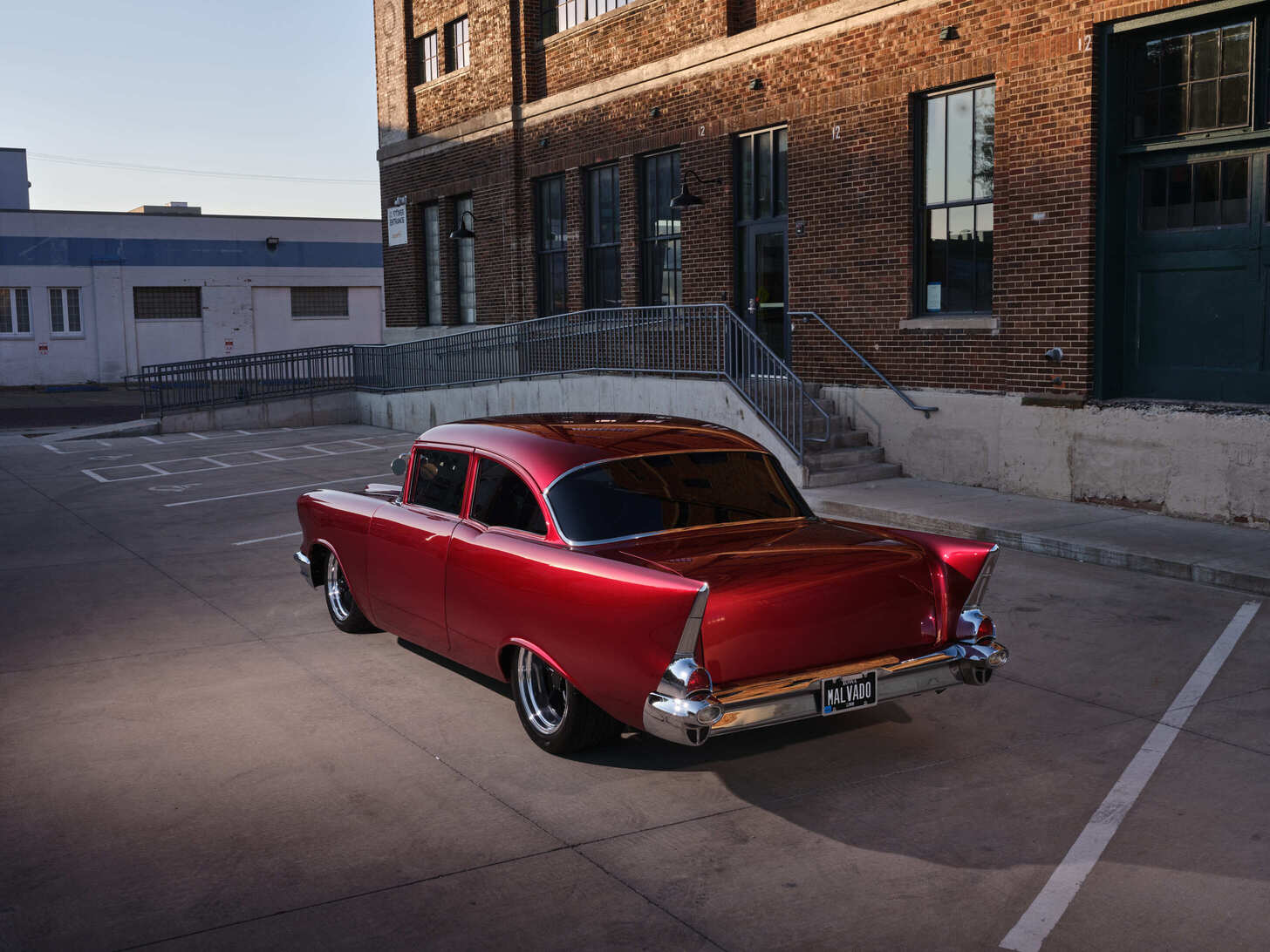 In March 2001 Brad found the car in an online search at a small dealership in Rochester, Minnesota. It appeared to be in good shape and had a punched-out 350ci engine with a dual quad setup and a Muncie four-speed transmission. It also had 12-bolt rearend and a set of traction bars, which led the notion the previous owner dabbled in some local drag racing.
"I drove the car and did minor fixes and upgrades for a few years, but life stepped in and I focused on raising two boys. Being a single dad left me limited time to focus on the car so it sat stagnant for many years," Brad says. "But I wouldn't change it for the world, as I enjoyed coaching my boys in baseball and just doing dad stuff."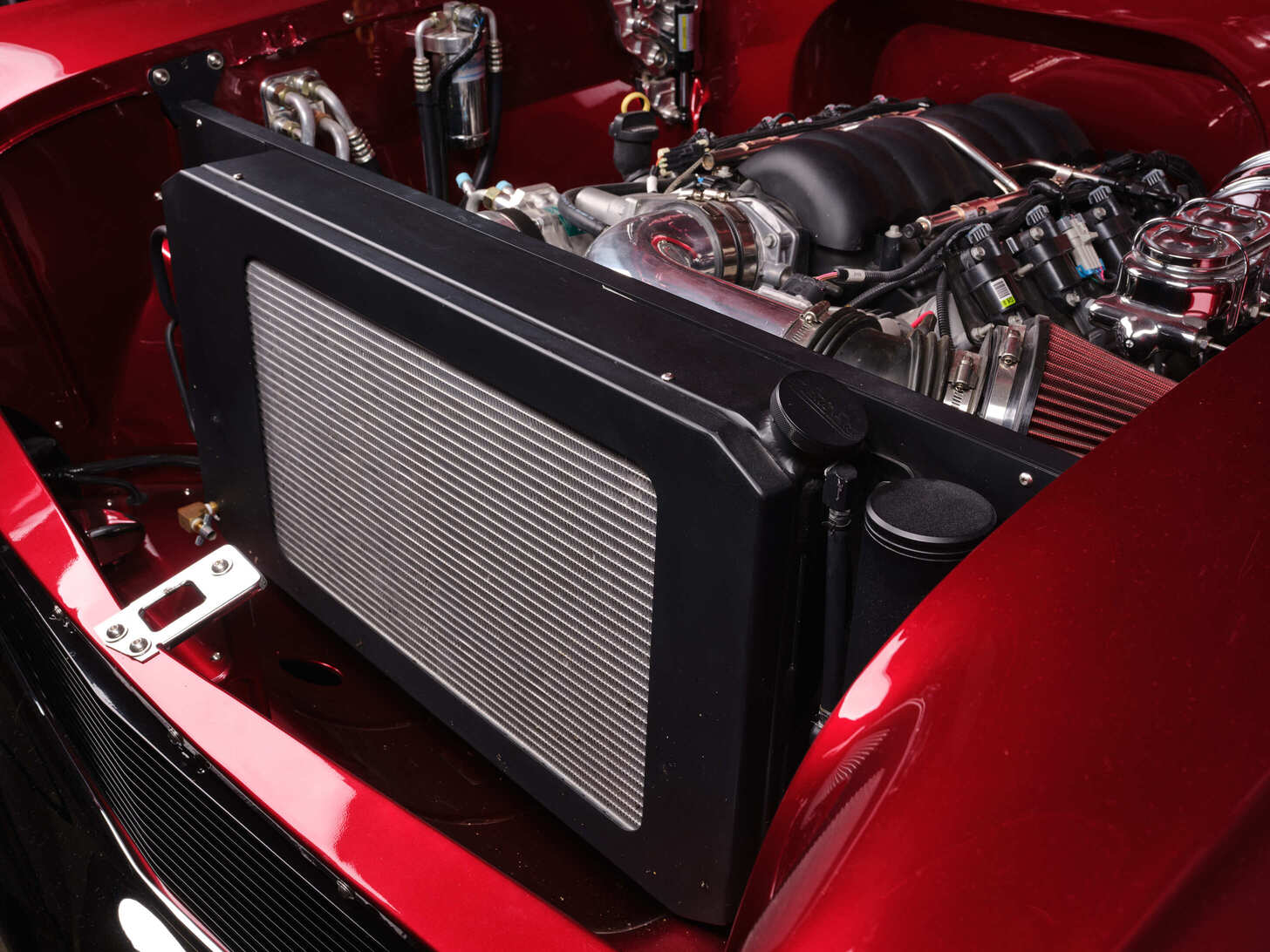 Check it out: This Naturally Aspirated 1956 Chevy 150 is a 9-Second Street Car
Once the boys got older, Brad once again set focus on his hot rod. He'd always had a vision of a '57 150 done without all the stainless trim–a totally smooth car. He went so far as to have some digital renditions created to get an idea of how it would look. Now it was just a matter of saving money and finding the right shop to take his vision to reality.
It was September 6, 2018 when he drove the car to Valley Rod & Custom in North English, Iowa, for the transition. Owner Brad Miller understood what was cooking in Brad's head regarding a smooth-bodied '57. Miller took the quarterback position on the build and the Valley crew got busy shaving the hood, trunk, fenders, door panels, fin trim, and quarter-panels. The menu also included frenched headlights, a Carriage Works black powedercoated custom grille with hidden turn signals, and J&P Cycles 7-inch motorcycle headlights.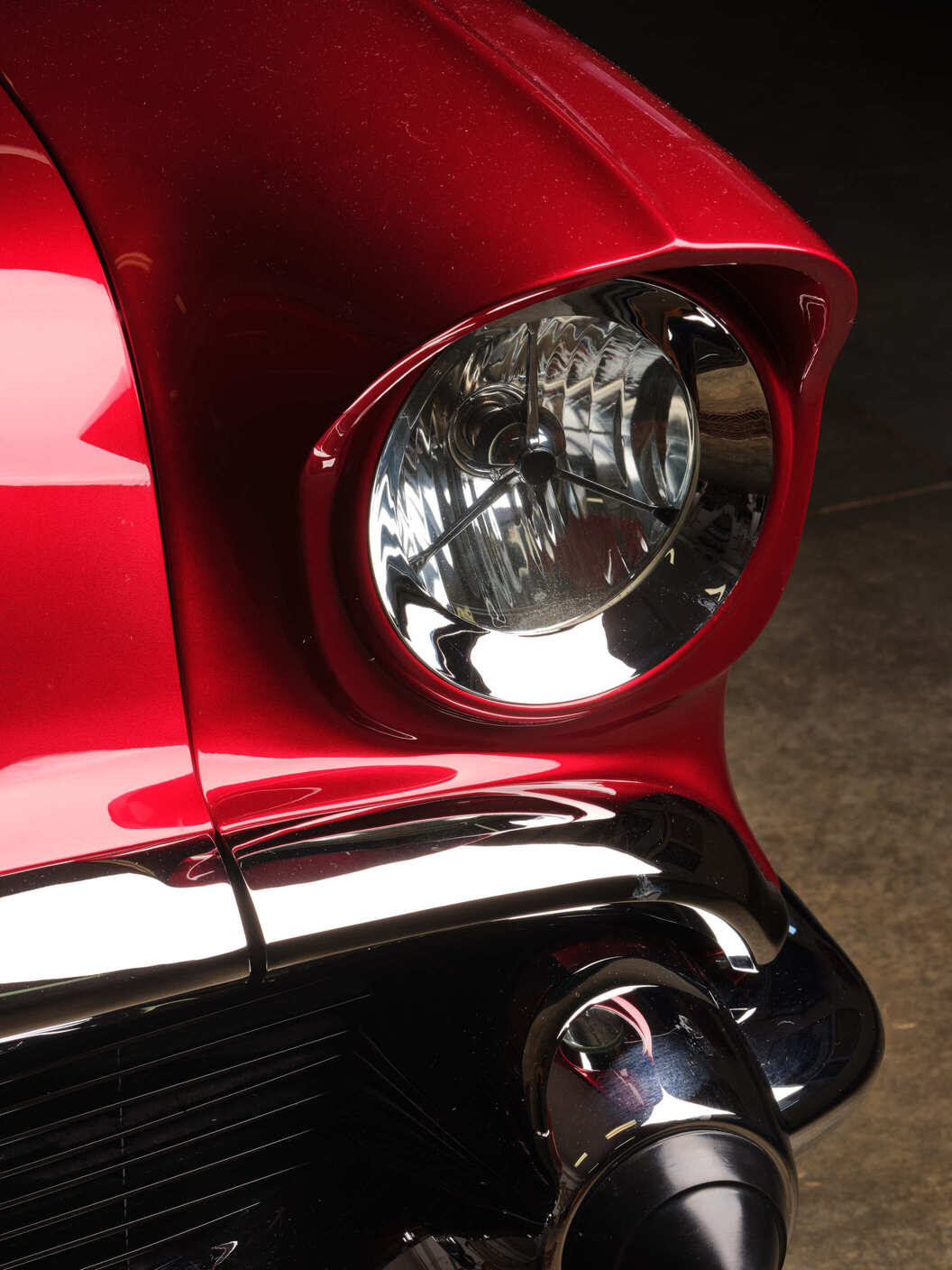 The Valley gang invested long hours smoothing, prepping, and performing precise body gapping prior to laying down the Axalta custom metallic, kandy, pearl mix. The color has no real name, so Brad smirkingly refers to it as "Red." With the lack of trim pieces, every wobble, ripple, or trace of orange peel in the paint becomes magnified, leaving no room for error. Miller and his crew stepped up to the challenge, laid down multiple layers of clear, then sanded, sanded some more, then wet-sanded and buffed the sheetmetal to a flawless finish.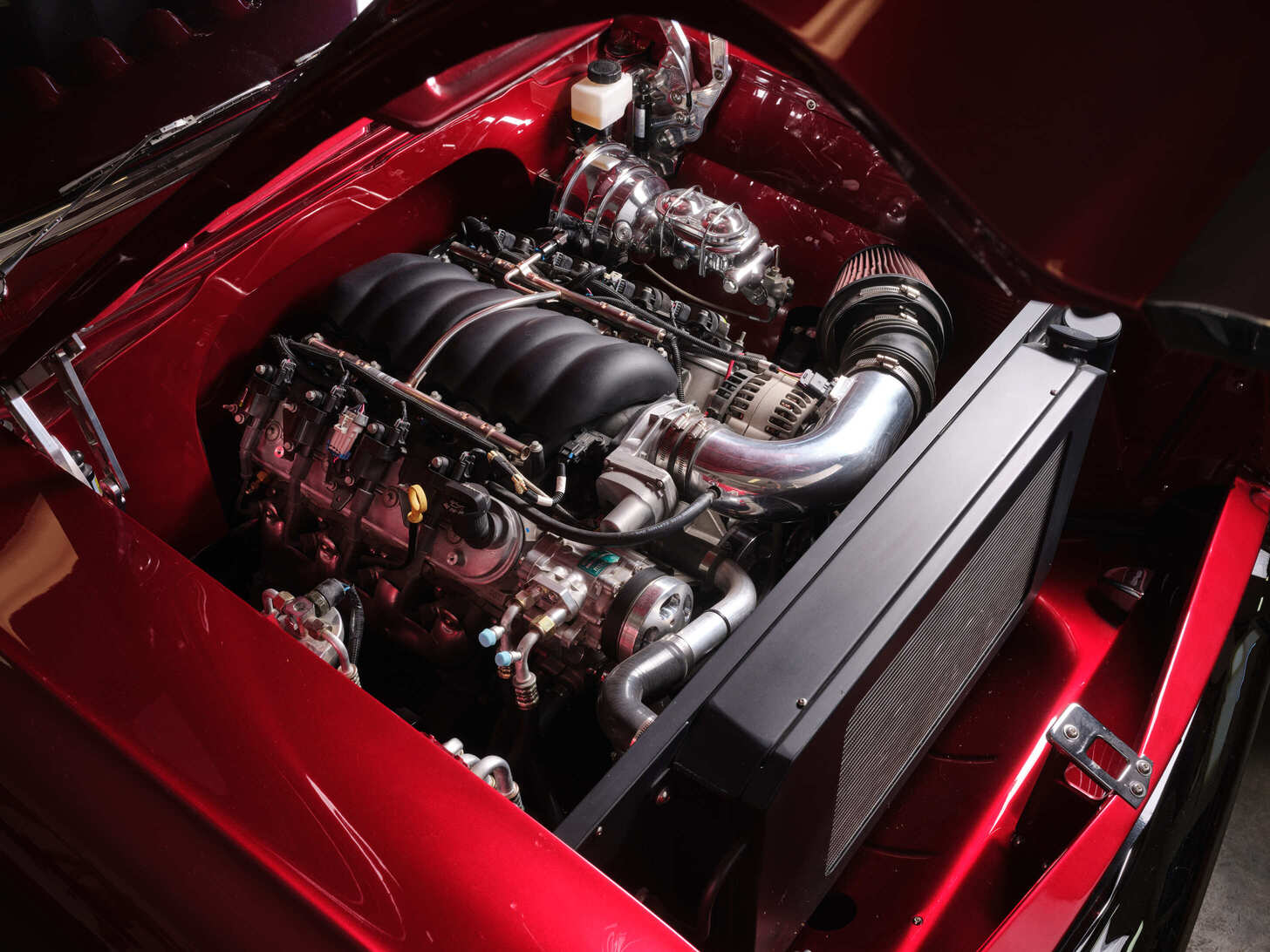 Miller recessed and smoothed the firewall, fabricated custom inner fenders, then sprayed matching paint prior to bolting in the mostly stock LS3. "I'm embracing the boring LS3 look for now," Brad laughs, "but I'm looking forward to topping the engine with a Borla eight-stack fuel injection system very soon." As of now the engine features a polished GM accessory drive system and inhales through a custom intake tube topped with a K&N element and exhales through ceramic-coated LS3 manifolds and a 3-inch custom exhaust with an X-pipe by Ross Michaelis and Craig Haker that stealthily dumps at the rear corners seeking little attention.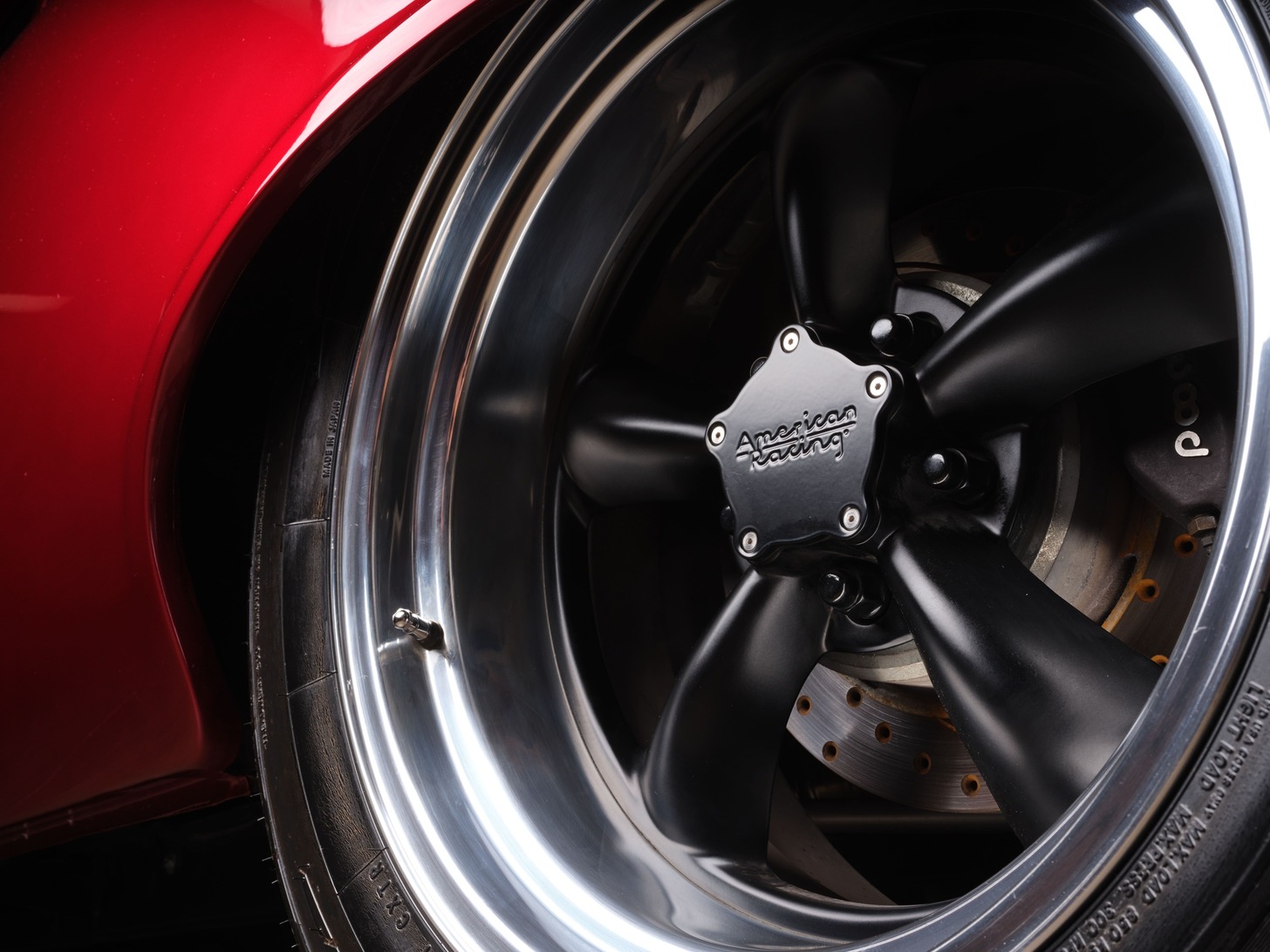 Rear tubs were installed to accept the fat wheels and tires, then the body was dropped on a fully powdercoated Schwartz Performance G-Machine chassis that features a triangulated four-link out back with Ridetech single-adjustable shocks on all four corners along with splined sway bars front and rear. That rack-and-pinion steering comes in handy when Brad hits the corners with conviction. Wilwood disc brakes take orders from the Summit Racing master cylinder and booster for excellent stopping prowess.
Many Tri-Five purists insist only vintage wheels be used on this sacred body, and although Brad complied, he forwent the 15-inchers of the day and bolted on a set of 18-inch American Racing Torq Thrust wheels appropriately sized to clear the larger-than-stock brakes.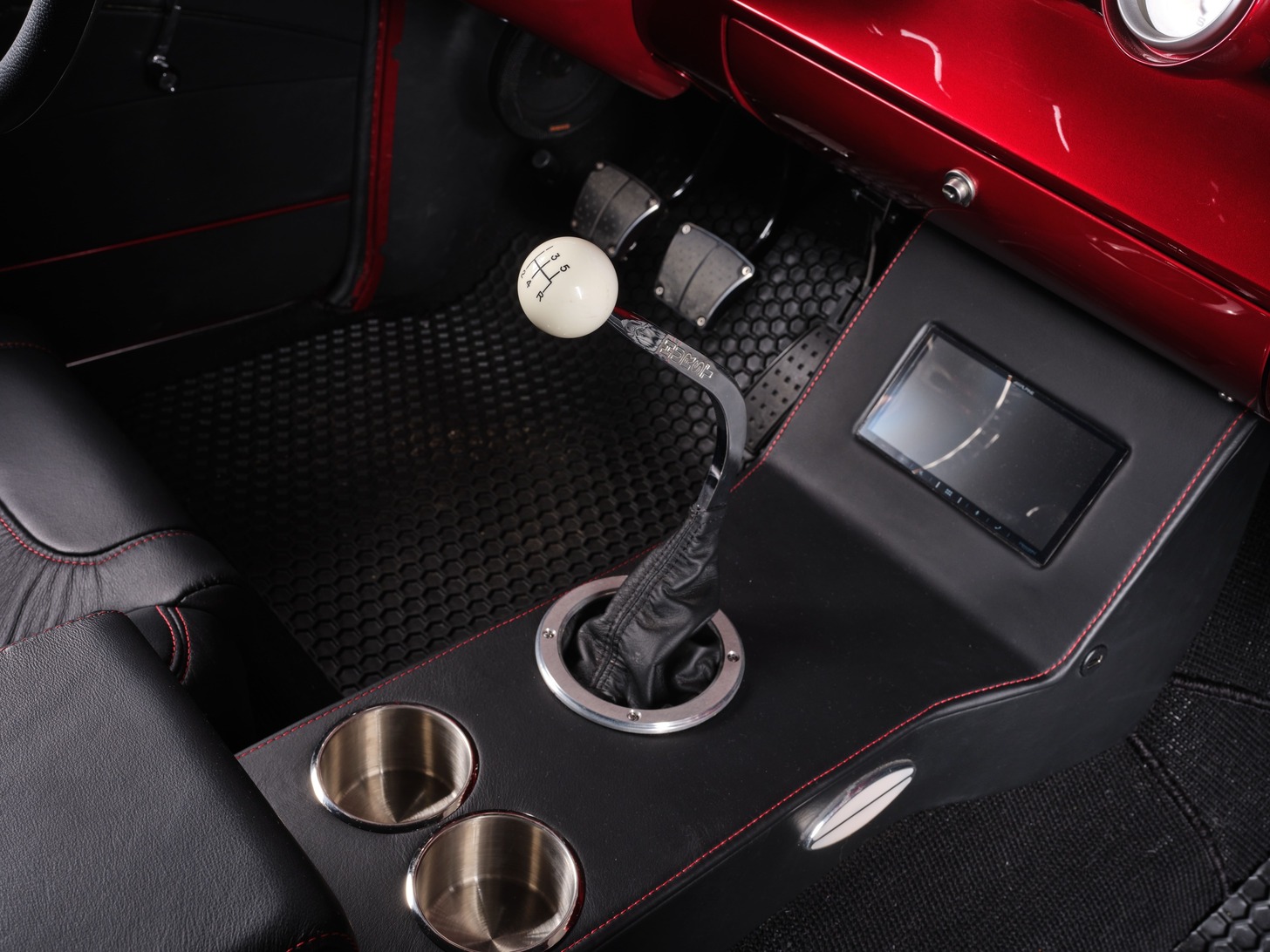 Power makes its way to a TREMEC TKO 500 five-speed transmission, Centerforce clutch, and on to a 9-inch rearend stuffed with a limited-slip posi, 3.36 gears, and 31-spline axles. The combination allows Brad a low-rpm, high-quality driving experience especially when he lets that LS3 sing on the highway.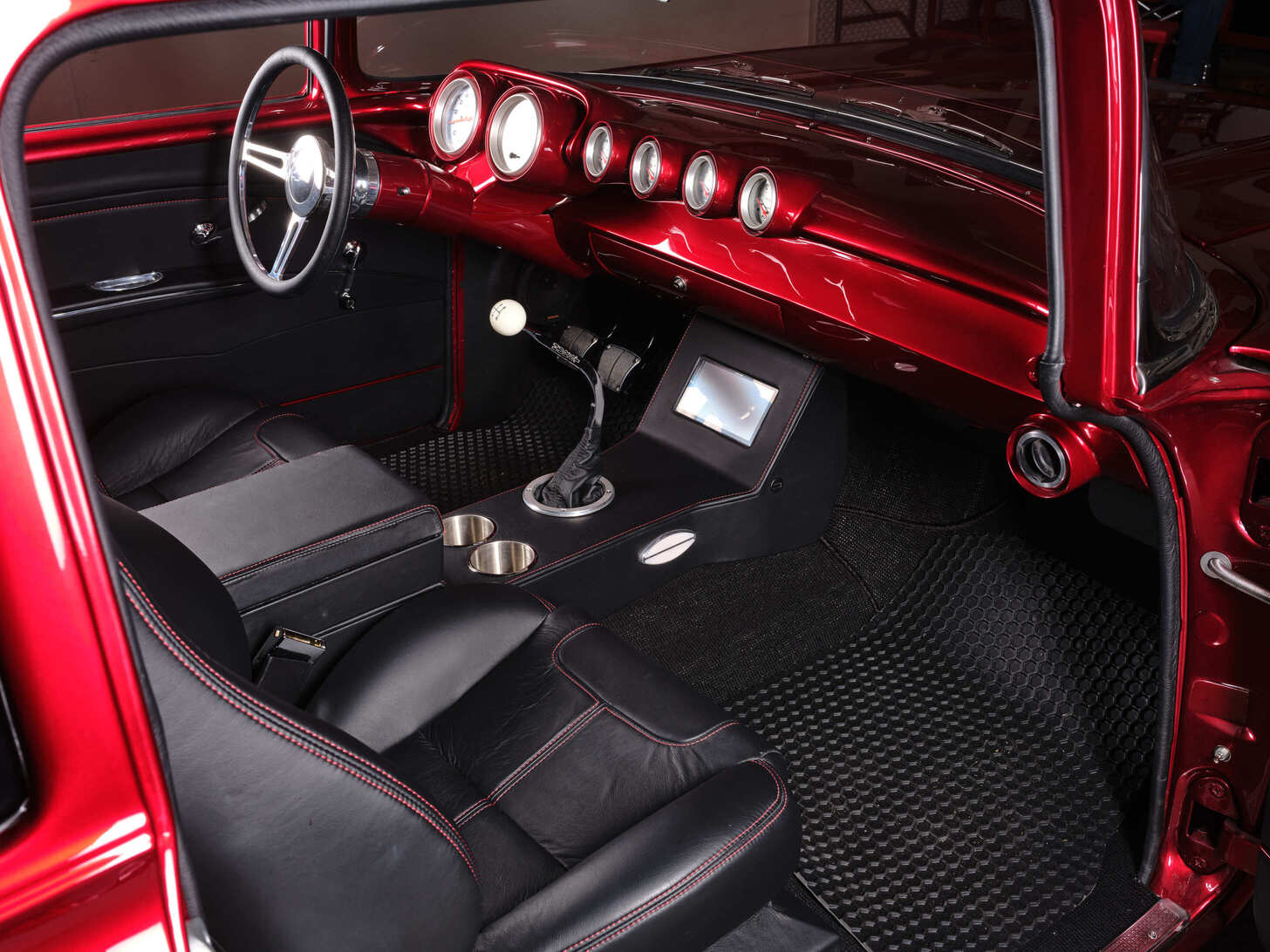 More Chevy's From the 50's: Old School Gaser Style 1955 Chevy Hot Rod
The interior is a fusion of old-school custom meets modern function. In an early incarnation of the car, Mike Frieden of Champion Chassis in Cedar Rapids, Iowa, collaborated with Brad and the custom-fabricated dash that echoes the work of customizing legends Darryl Starbird and Gene Winfield. Populated with Auto Meter informants, the dash artfully presents the modern gauges. Diving in further reveals classic black carpet with black leather custom interior accented with red stitching by Back Roads Interiors out of Washington, Iowa. The Classic Trucks Consoles center console gives off a bit of modern flair, and because Starbucks ain't cheap, aluminum cup holders thwart unwanted spillage. The Procar by Scat seats provide a combination of comfort and security while fitting in with the performance theme carried on by the Billet Specialties steering wheel and Hurst shifter appropriately topped with the classic white ball.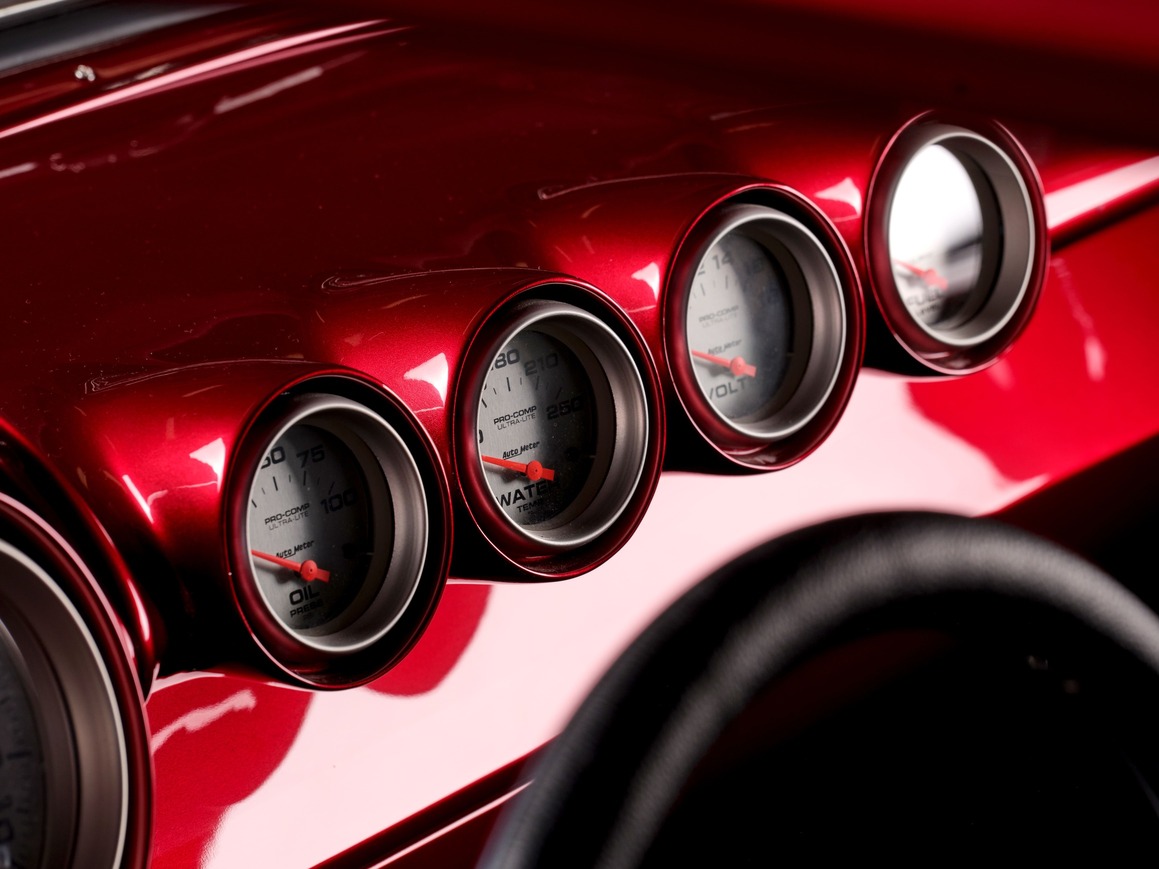 A Vintage Air A/C system provides an ideal climate, while the Alpine sound system is backed up by an army of Kicker amps and speakers creating a next-level driving experience. It's that old-school metal that inspires Brad to turn it up a notch or three and push the loud pedal to the floor.
"After 1,284 days (yes, I was counting) I took home one of the coolest '57 Chey 150s on the planet and couldn't be more impressed with how the car came out," Brad says. "The tireless and amazing work of Brad Miller and his talented crew at Valley Rod & Custom are the rock stars who made it happen. And without the help of my good friend Dave Balik early on, this car would not be where it is today. I also want to thank Hector at Rick's Tanks for telling me to 'just go for it' when it came to the chassis and suspension.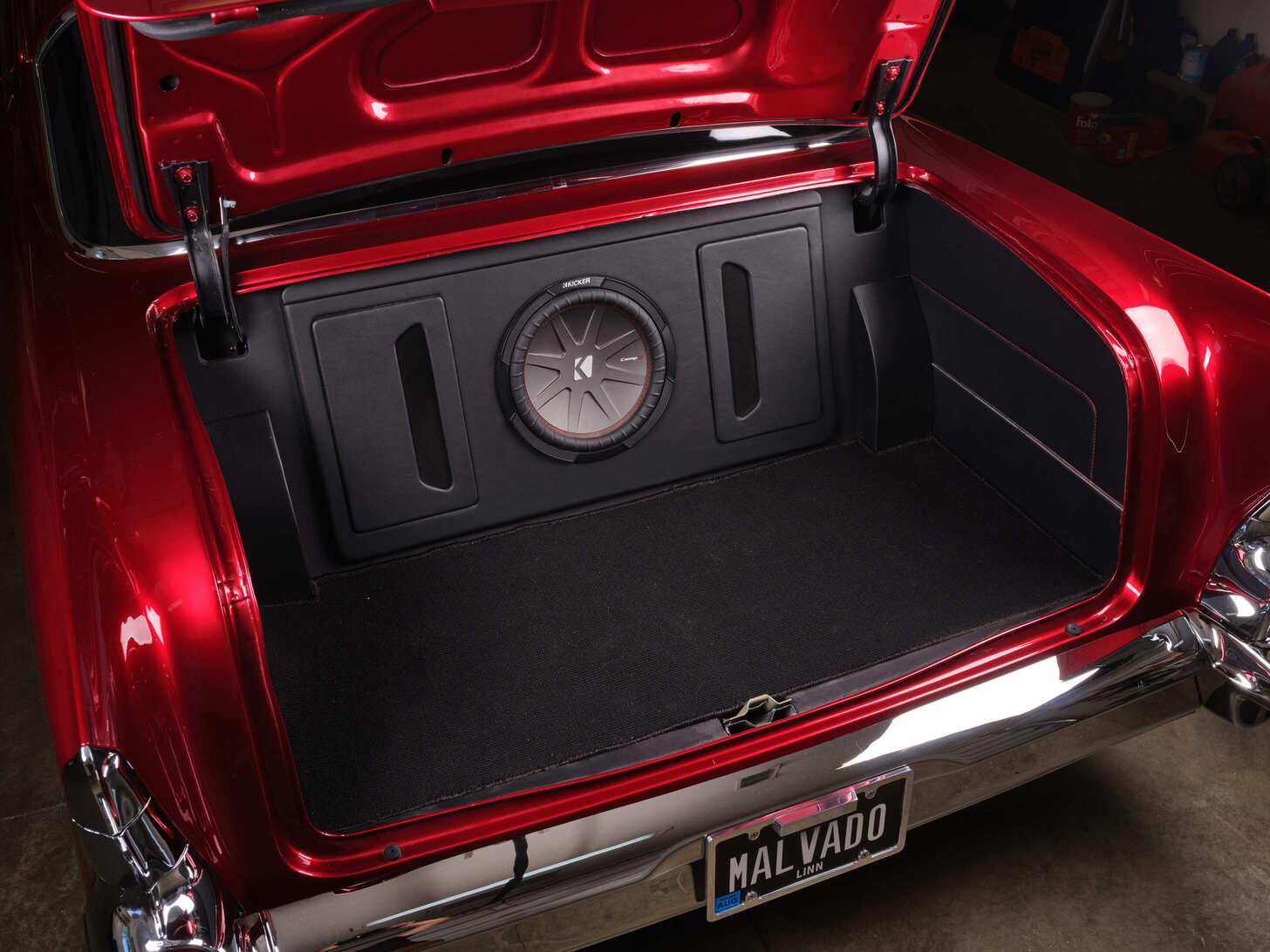 "Working at J&P Cycles in Anamosa, Iowa, and being the owner of an old car, I was chosen to coordinate a monthly cruise night for bikers and hot rodders. Amazingly, the cruise brought bikers and hot rodders together—the bikers check out the cars and the hot rodders check out the bikes," Brad proudly says. "Working with fellow employees for many years and meeting a lot of car and bike folks has provided long-lasting friendships that continue to this day.
Tri-fives are cool and Brad Mrstik's '57 is one of the coolest. "This car has enabled me to take part and help promote the car culture in my area," Brad states. "I have to say, this car is smooth in more ways than one."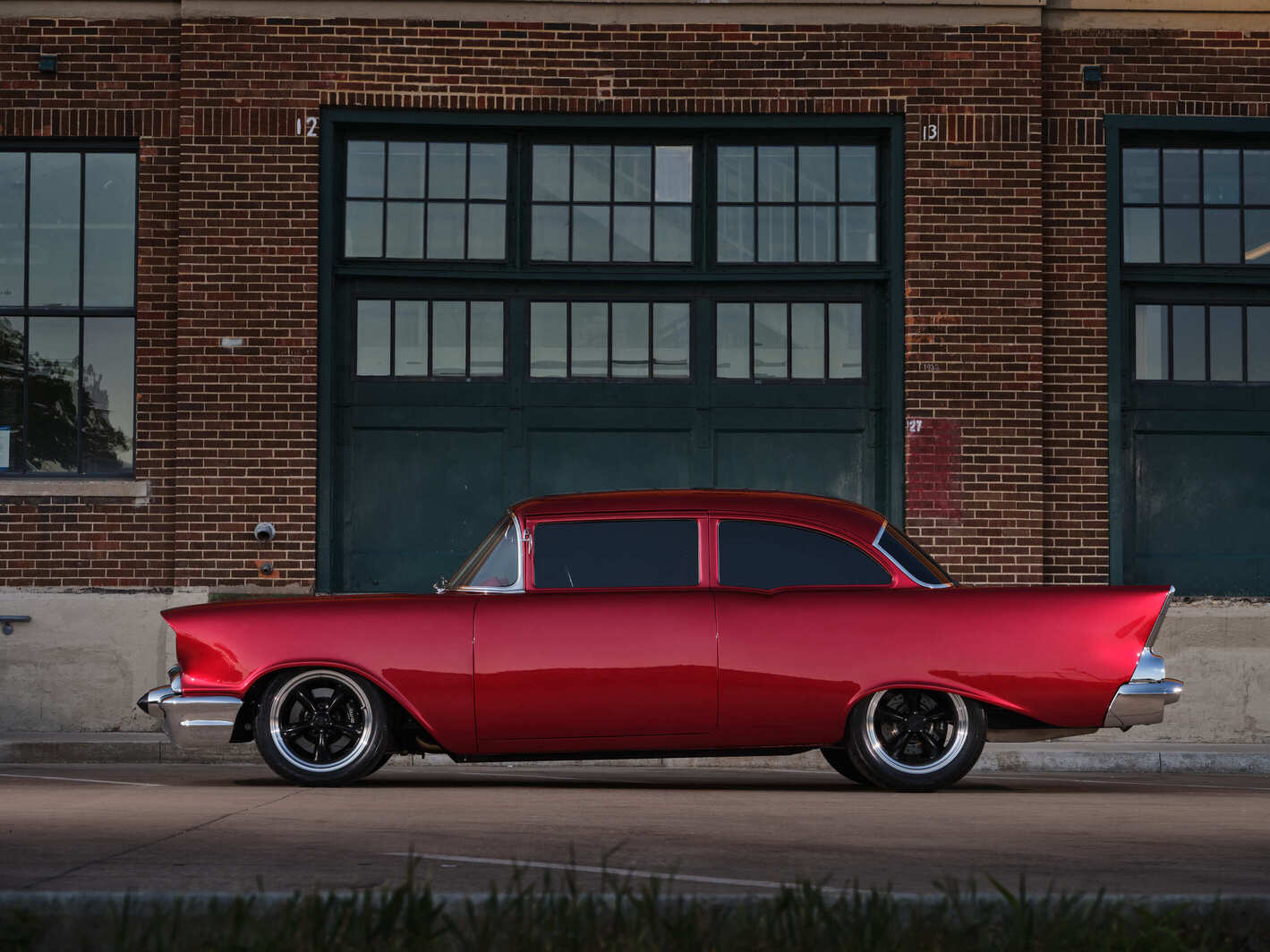 TECH CHECK
Owner: Brad Mrstik, Cedar Rapids, Iowa
Vehicle: 1957 Chevy 150
Engine
Type: Chevrolet Performance LS3
Displacement: 376 ci
Compression Ratio: 10.7:1
Bore: 4.065 inches
Stroke: 3.622 inches
Cylinder Heads: Aluminum L92-style port
Rotating Assembly: Nodular iron crankshaft, powdered metal connecting rods, hypereutectic aluminum pistons
Camshaft: Hydraulic roller (0.525 lift, 219/228 deg. duration at 0.050.)
Induction: Chevrolet Performance LS3 manifold, K&N element
Assembly: GM
Exhaust: Stock LS3 manifolds, custom 3-inch stainless steel exhaust by Ross Michaelis and Craig Haker, MagnaFlow mufflers
Ancillaries: AutoRad aluminum radiator, Ringbrothers hood hinges, Rick's Tanks 21-gallon tank
Output: 495 hp and 473 lb-ft
Drivetrain
Transmission: TREMEC TKO 500
Clutch: Centerforce twin disc
Rear Axle: Ford 9-inch rearend, Truetrac limited-slip differential, GM 3.36 gearset, 31-spline axles
Chassis & Suspension
Chassis: Schwartz Performance G-Machine
Front Suspension: Tubular upper and lower control arms, Ridetech single-adjustable shocks, Ridetech springs, Schwartz splined sway bar, rack-and-pinion steering
Rear Suspension: Schwartz triangulated four-link suspension, Ridetech single-adjustable shocks, Ridetech springs, Schwartz splined sway bar
Brakes: Wilwood 13-inch rotors, six-piston calipers front, Wilwood 12-inch rotors, four-piston calipers rear, Summit Racing master cylinder, Summit Racing booster
Wheels & Tires
Wheels: American Racing Torq Thrust (18×8 front, 18×11 rear)
Tires: Nitto NT 555 G2; 245/45R18 front, 315/40R18 rear
Interior
Upholstery: Black loop carpet, custom black leather door panels, center console, seat covers
Installation: Back Roads Interiors (Washington, IA)
Seats: Procar by Scat buckets front, stock bench modified for wheeltubs rear
Steering: Flaming River steering column, Billet Specialties steering wheel
Shifter: Hurst
Dash: Custom fabricated by Mike Frieden
Instrumentation: Auto Meter
Pedals: Lokar
HVAC: Vintage Air
Entertainment System: Alpine head unit with 7-inch screen, Kicker 827-watt amp, Kicker speakers (6.5-inch in kick panel, 6×9 in rear package tray, 12-inch sub in trunk), installed by Back Roads Interiors
Exterior
Bodywork and Paint: Valley Rod & Custom (North English, IA)
Paint: Axalta Custom Metallic, Kandy, Pearl, Red
Grille: Carriage Works black powdercoated
Front Bumper: California one piece with shaved bolts
Rear Bumper: Custom fitted station wagon with shaved bolts
Headlights: J&P Cycles 7-inch motorcycle tri-bar
Taillights: Stock
Side Mirror: Speedway Motors Peep
Plating: Precision Plating (Quincy, IL)