Garry Gallo's 1955 Chevy is Inspired by a Teenage Memory
By John Machaqueiro   –   Photography by the Author
A few years ago, Garry Gallo was triggered by his buddy Mike Kraemer's purchase of a green '55 Chevy gasser. Now, when you look at the definition of the word triggered, it usually means that it's a response to something that is often perceived as being negative or harmful. For Garry, there was nothing nefarious in Kraemer's purchase, but it did bring back some vivid memories from his youth. He recalls, "When I was about 12 or 13 years old, I used to hang out at a neighbor's house and he had four daughters, with the oldest one being regularly picked up by a guy in this loud and obnoxious car that was jacked up in the front. The minute I saw it, I thought it was the most badass car that I had ever seen." As you can probably guess ­it was a green '55 Chevy.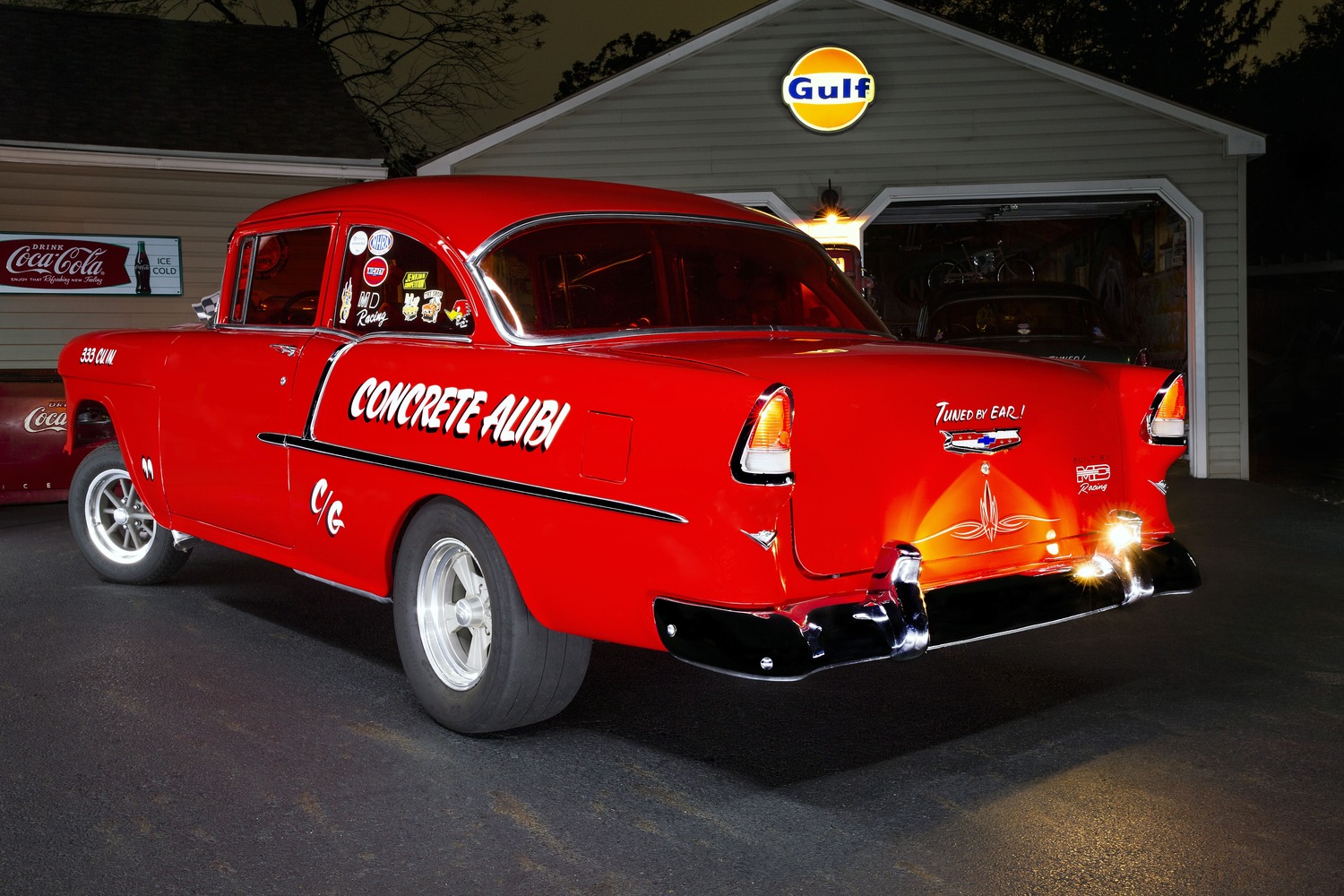 As he eased into adulthood, the relationship with cars was always a constant. He covered most of the domestic manufacturer spectrum with at least a dozen different muscle cars over the years, but as he points out, "The minute I saw Kraemer's gasser I had to have one." For Garry, getting one ended up being just a mouse click away. Back in 2016 while looking through a Tri-Five Facebook group he came across a '55 Chevy for sale in Kentucky. It looked the part, wearing red with a red metallic vinyl tuck 'n' roll interior, a late-'60s 327ci mill mated to a Muncie four-speed, and a set of Cragar wheels at all four corners. Garry cut the deal over the phone and ended up driving down with Kraemer to pick it up.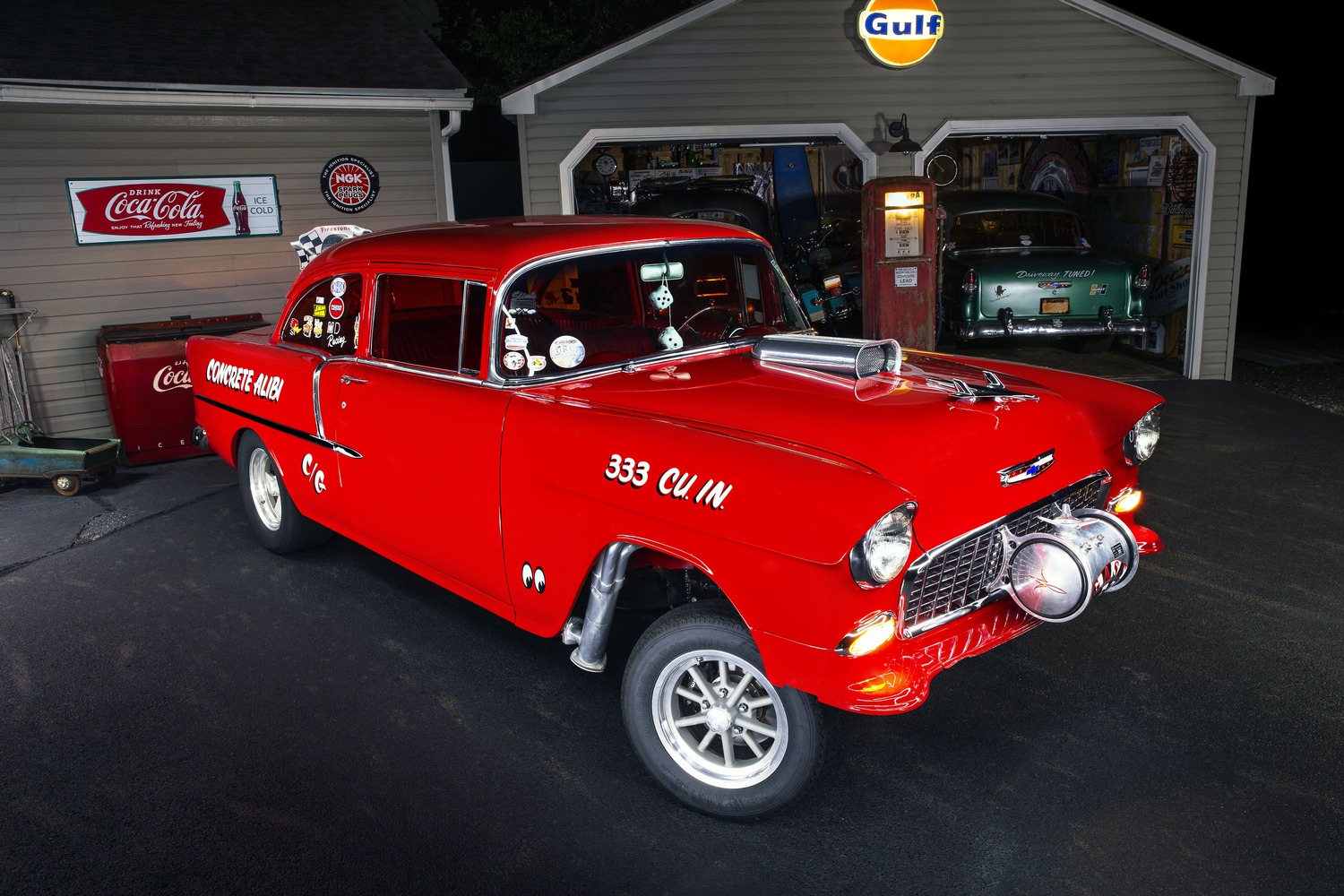 The backstory on the car was that it had been parked in the late '70s in a warehouse and was pulled out in 2015 as a roller. It didn't have an engine and transmission, but the current interior was already in place. Shortly after seeing the light of day, it was taken to the Tri-Five Nationals where it was purchased in "as-found" condition by the previous owner. By the time Garry set eyes on it on Facebook it was a fully streetable car.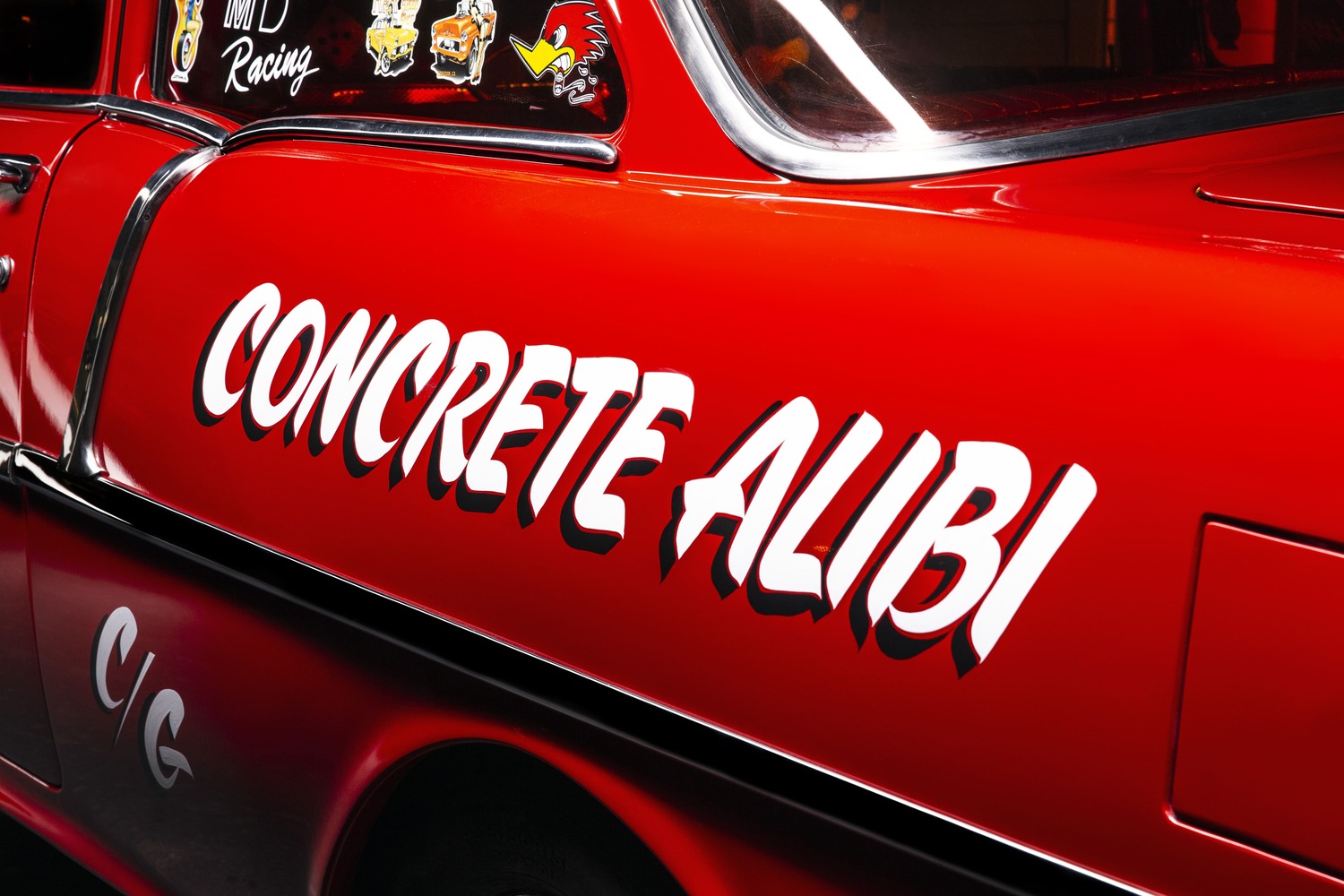 Once the '55 made its way up to the Keystone state there was no ambiguity on what was going to happen to it. "I knew exactly what I wanted to do," Garry explains. "My goal was to build a period-correct, late-'60s or early-'70s gasser. I wanted to stay with a period-correct engine configuration and a setup like a tunnel ram with a dual quads, wheelwell headers, straight axle, and Ford 9-inch rearend." That was the grand plan, however, Garry started off with the low-hanging fruit: The 40-plus-year-old paint was still in really good condition, and a legit gasser needs some creative artwork and a clever name, so that was the first box checked. Garry explains, "The name 'Concrete Alibi' came about when I was backing the car out of the garage to get it lettered. I had originally picked the name Red Ryder after the BB gun, but as I pulled away, I saw a bug screen from a truck I once drove with Concrete Alibi written on it. At that point I knew that was the right name for the car." It sounded so good that he had it hand-painted by KB Letterin in Langhorne, Pennsylvania.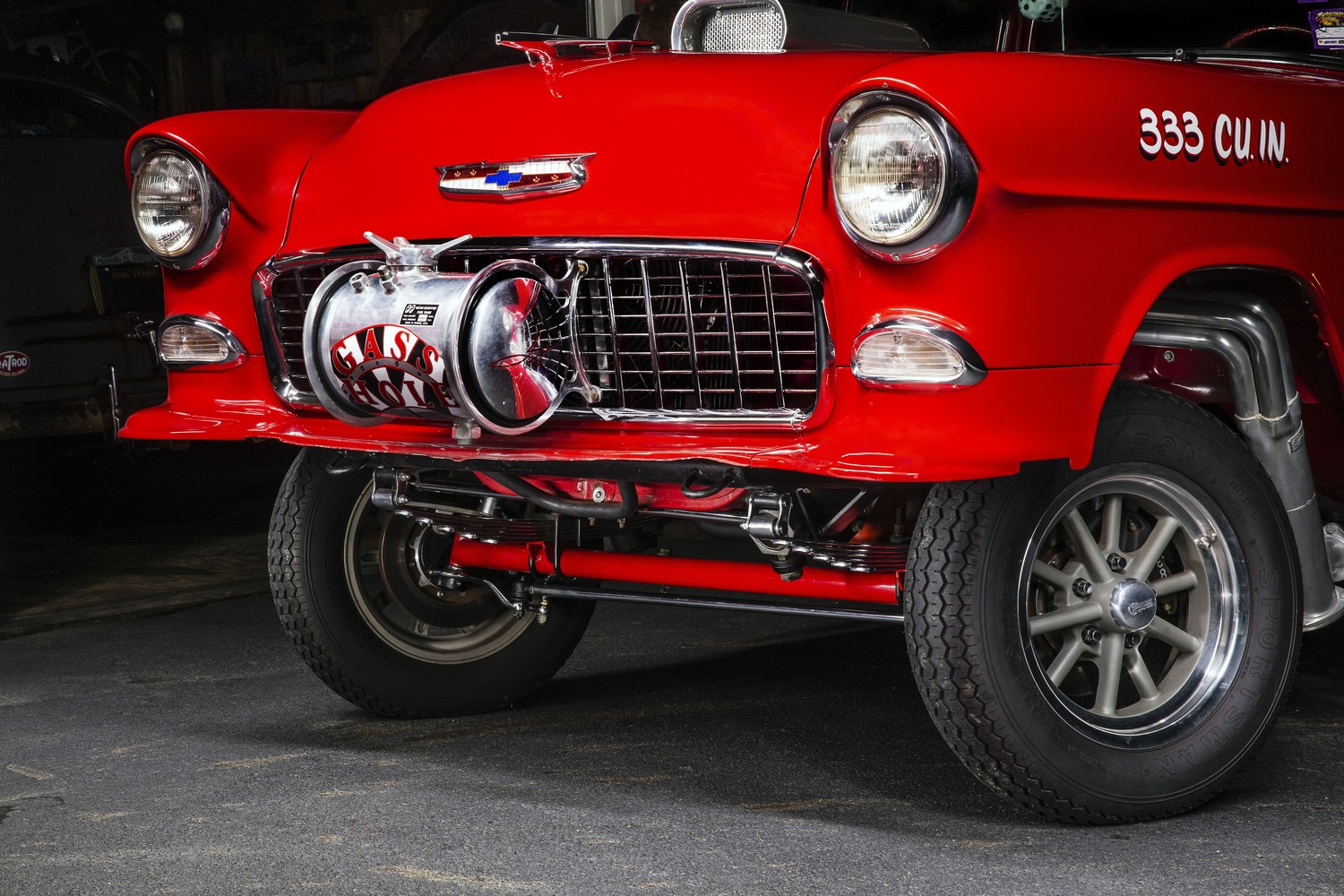 Check it out: 820 HP Pro Street 1955 Chevy Muscle Car
As 2018 rolled in the next plan was to give it a proper gasser stance with the addition of a Nickey Gasser Tri-Five straight axle subframe kit, along with some ladder bars, a rollbar, and the obligatory Mooneyes gas tank—and it also lost the front bumper.
In an effort to keep it local and close to home, Garry entrusted that work to M D Racing in Ivyland, Pennsylvania. They would eventually do most of the fabrication and tuning work on the car. After the front was jacked up, it started to look the gasser part, however Garry didn't have a bottomless pit of money, so the next installment took place the following year.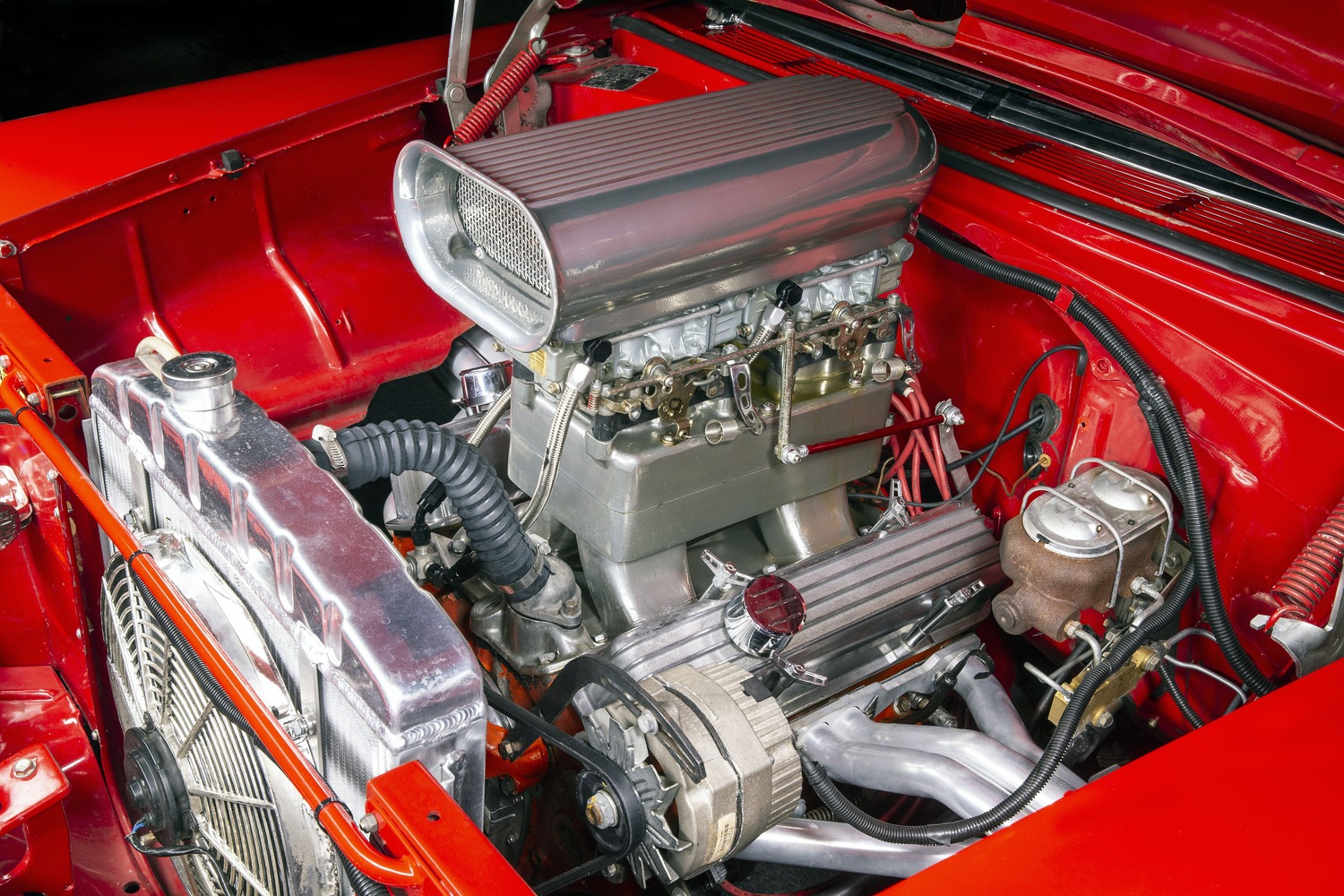 In 2019 it received some performance upgrades in the form of an engine refresh, which included the installation of a Comp Cams Bad Mutha Thumpr camshaft, an Edelbrock tunnel ram intake, and a pair of Holley 600-cfm carbs. At the rear, a Ford 9-inch with 4.86 gears was installed and the crew at M D also reworked the rear wheelwells and openings to accommodate the shiny new Rocket Racing wheels and Mickey Thompson rubber. Those enhancements once again almost tapped the cash stash dry, but he still had a small reserve leftover to finance racing it at the Tri-Five Nationals that year.
His Name is Hoss, and This is His 1956 Chevy Bel Air: 283CI Gasser Style 1956 Chevy Bel Air
By 2020 most of the heavy lifting on the transformation was completed, but the 4.86 gearing was a handful to drive on the street with the Muncie, so he decided it was in need of a friendlier solution in the form of a TREMEC five-speed and a Hurst Line/Loc. The exhaust was also buttoned up with the addition of some plumbing running back to a set of Cherry Bomb mufflers to put closure on the transformation.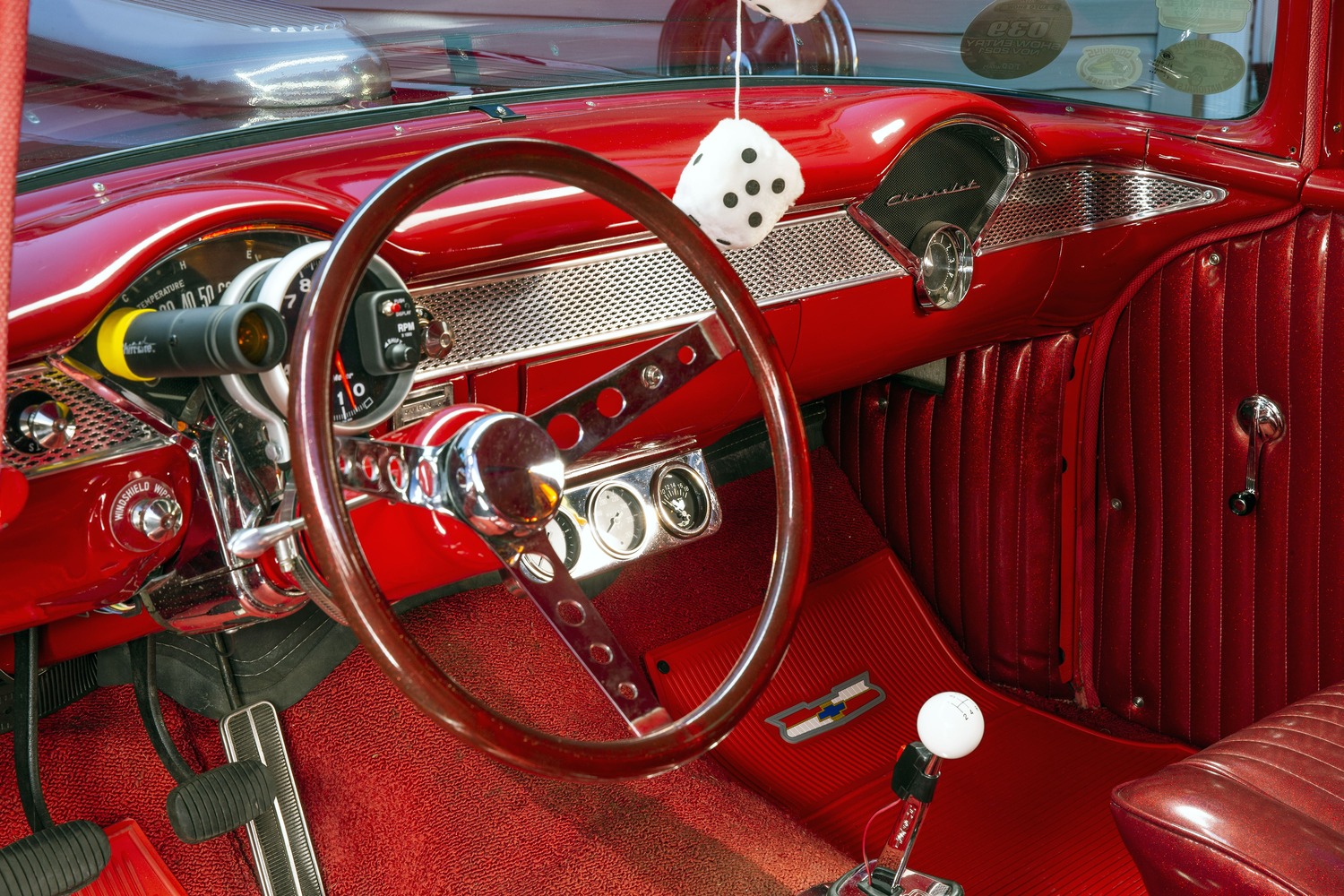 Building this car to Garry's taste spanned four years. "I set out to build a streetable gasser because I wanted to drive it, race it, and show it," he states. "This car is exactly how I wanted it to be, and there isn't anything that I would do differently."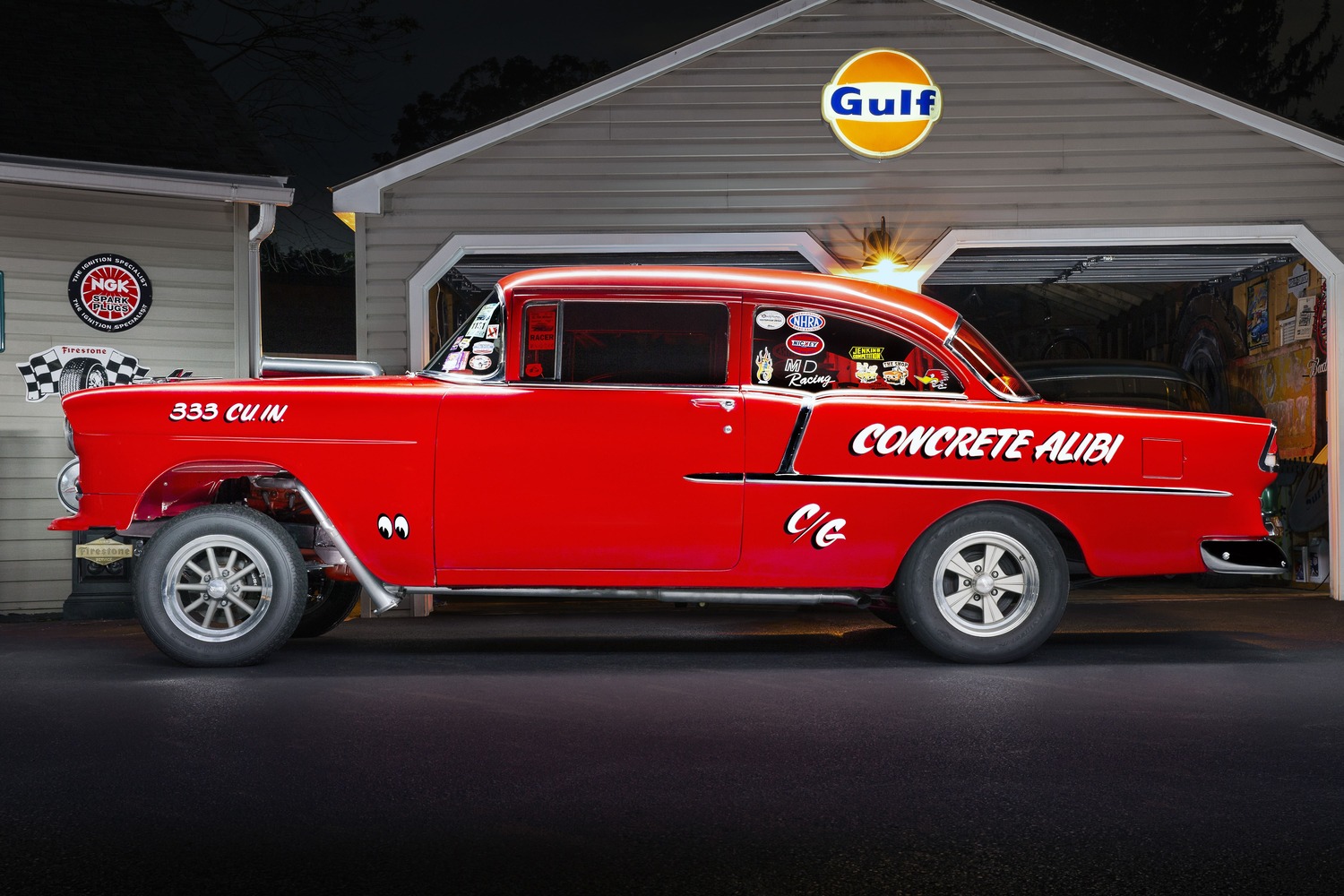 Tech Check
Owner: Garry Gallo, Holland, Pennsylvania
Vehicle: 1955 Chevy
Engine
Type: 1968 Chevrolet 327ci
Displacement: 333 ci
Compression Ratio: 10.5:1
Bore: 4.004 inch
Stroke: 3.25 inch
Cylinder Heads: GM cast-iron
Rotating Assembly: GM forged crank, GM stock metal rods, cast-aluminum alloy pistons
Valvetrain: Stock
Camshaft: Comp Cams Bad Mutha Thumpr
Ignition: MSD 6AL
Induction: Edelbrock TR1 Tunnel Ram aluminum intake, Dual Holley 0-1850C 600-cfm carburetors
Tuned by: Nickerson Performance (Bristol, PA)
Exhaust: Sanderson fenderwell headers, Cherry Bomb mufflers
Ancillaries: Mooneyes 3.5-gallon fuel tank, Melling oil pump
Machinework: Power Tech Racing (Ashland, KY)
Assembly: M D Racing (Ivyland, PA)
Output: 365 hp at 3,200 rpm, 350 lb-ft at 4,000 rpm
Drivetrain
Transmission: TREMEC TKX five-speed; McLeod clutch, flywheel, and Super Street Pro Disc; Hurst Line/Loc
Rear Axle: Ford 9-inch, 4.86 gears, Moser 33-spline axles, Richmond Gear ring-and-pinion posi
Chassis
Front Suspension: Nickey Gasser Tri-Five straight axle subframe kit, early Ford spindles, Monroe shocks, leaf springs
Rear Suspension: Stock leaf springs, 32-inch ladder bars, Monroe shocks
Brakes: Wilwood 11-inch rotors with four-piston Dynalite calipers (front), Currie 11-inch drums (rear), stock master cylinder
Wheels & Tires
Wheels: Rocket Racing Launcher 15×4 (front), Rocket Racing Strike 15×8 (rear)
Tires: Mickey Thompson Sportsman 26×7.50-15LT (front), Mickey Thompson ET Street 275/50R15 (rear)
Interior
Carpet: Red loop
Seats: Red metallic vinyl tuck 'n' roll
Door Panels: Red Metallic vinyl tuck 'n' roll
Steering: Ididit column, Superior steering wheel, Borgeson steering box
Shifter: Hurst
Dash: stock
Instrumentation: Stock instruments, Auto Meter Sport Comp II tach, Stewart-Warner gauges
Rollbar: Custom by M D Racing (Ivyland, PA)
Exterior
Bodywork: Radiused wheel openings
Paint: Red, unknown brand
Hood: Stock steel
Grille: Stock
Bumper: Stock (rear)
Glass: Stock with red tint
Graphics: KB Letterin (Langhorne, PA)
Plating: Bonehead Performance Coatings (Feasterville, PA)