Dave Timm's Homebuilt 1968 Nova
By Nick Licata   –   Photography by John Jackson
Dave Timm has been around cars for as long as he can remember. Working in a car audio shop during his late teens exposed him to the custom car world. That's when he caught the bug—or as his wife, Andrea, refers to it as an "addiction."
"I built my first car in 1996. It was a Dodge Neon and knowing nothing about cars I decided to supercharge it. I believe I was the first person in the world to supercharge a Dodge Neon," Dave laughs.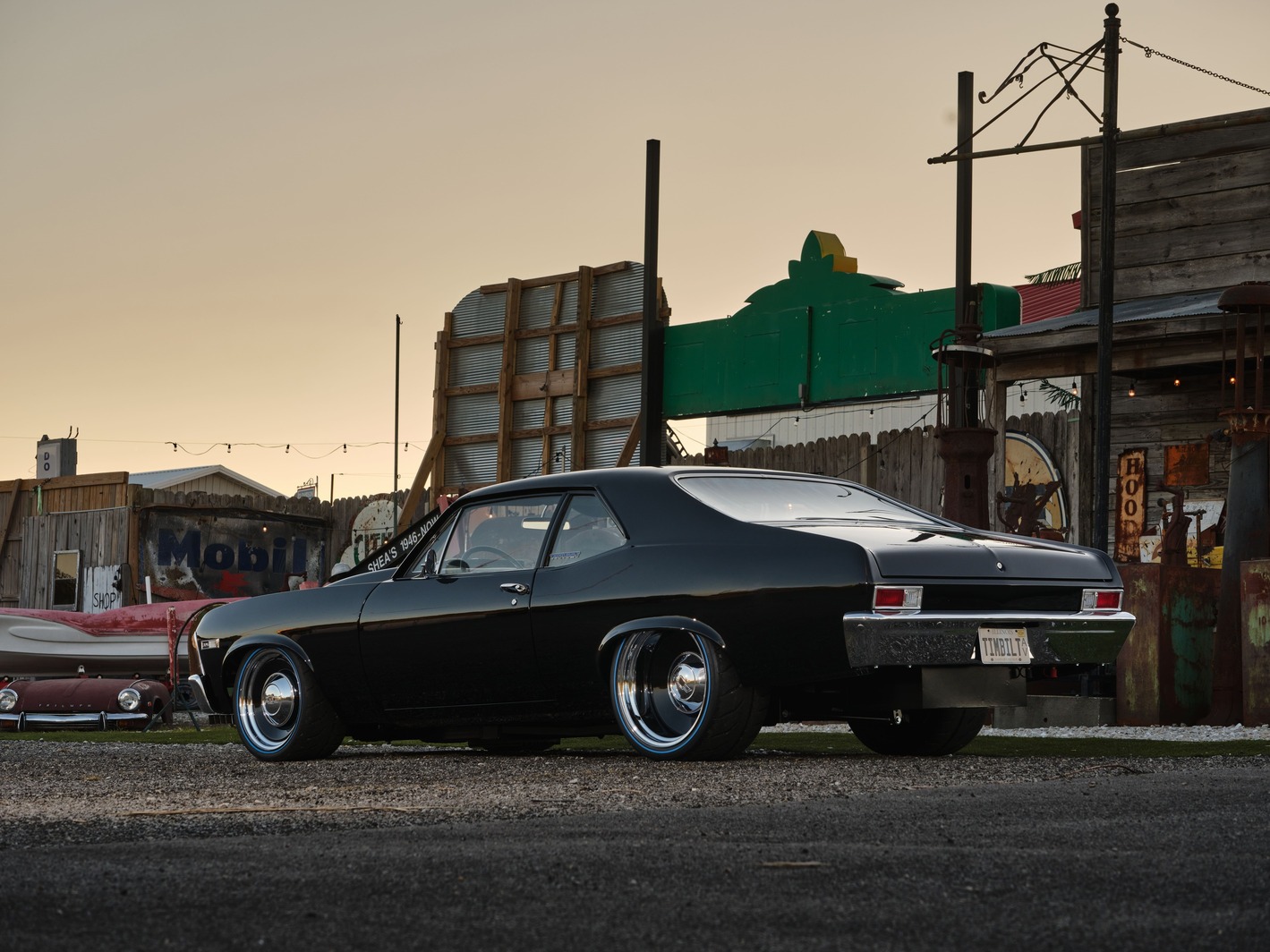 Dave moved on from the custom car audio biz and years later became a deputy sheriff. The Neon was long gone but the car bug remained. One night in 2018 Dave had a little time on his hands and was perusing eBay looking at classic trucks as a new project when a '68 Nova popped up. Intrigued, he clicked on the Nova, which was listed as a "nice cruiser" from Texas with a mere 20,000 miles on the ticker. Excited about the car, the 24-year law enforcement veteran totally shelved the truck idea and shared images of the Nova he'd found with Andrea, who is also a deputy sheriff. She was on board and, in fact, it was her hard-nose negotiation skills that got the owner to come down to what Dave and Andrea considered a fair price.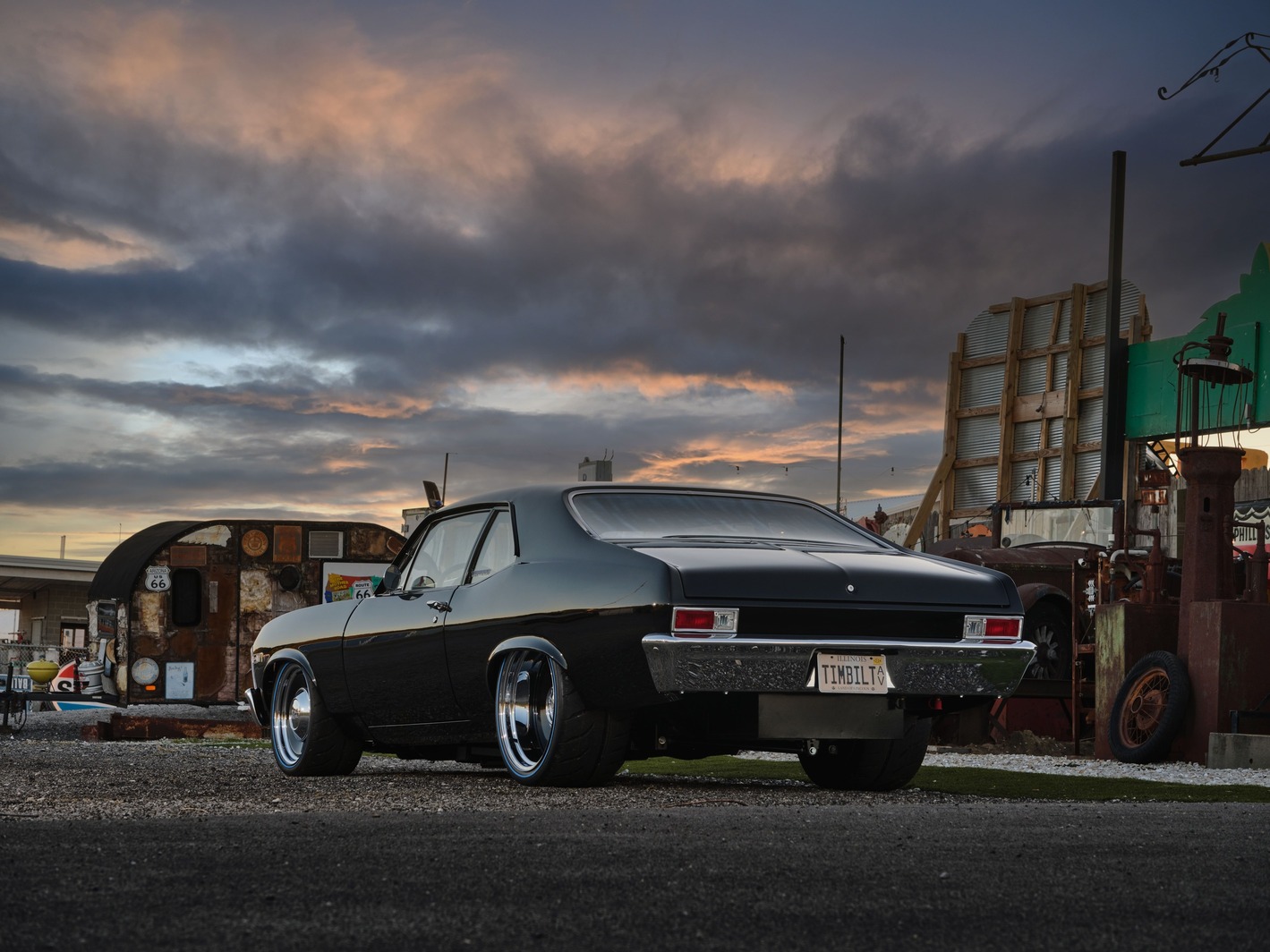 They enjoyed the car for a while–cruised it, showed it, and drove it a bunch. They were totally committed to leaving the car alone and keeping it just how they bought it. That was up until Dave attended the 2019 SEMA show when some folks working in the aftermarket enticed him with some sponsored goodies to upgrade the car. It started out with bolting on a set of wheels and quickly snowballed from there. "I really had a hard time at first as I promised myself I was going to leave this car alone, but that went out the window 27 sponsors later," Dave chuckles.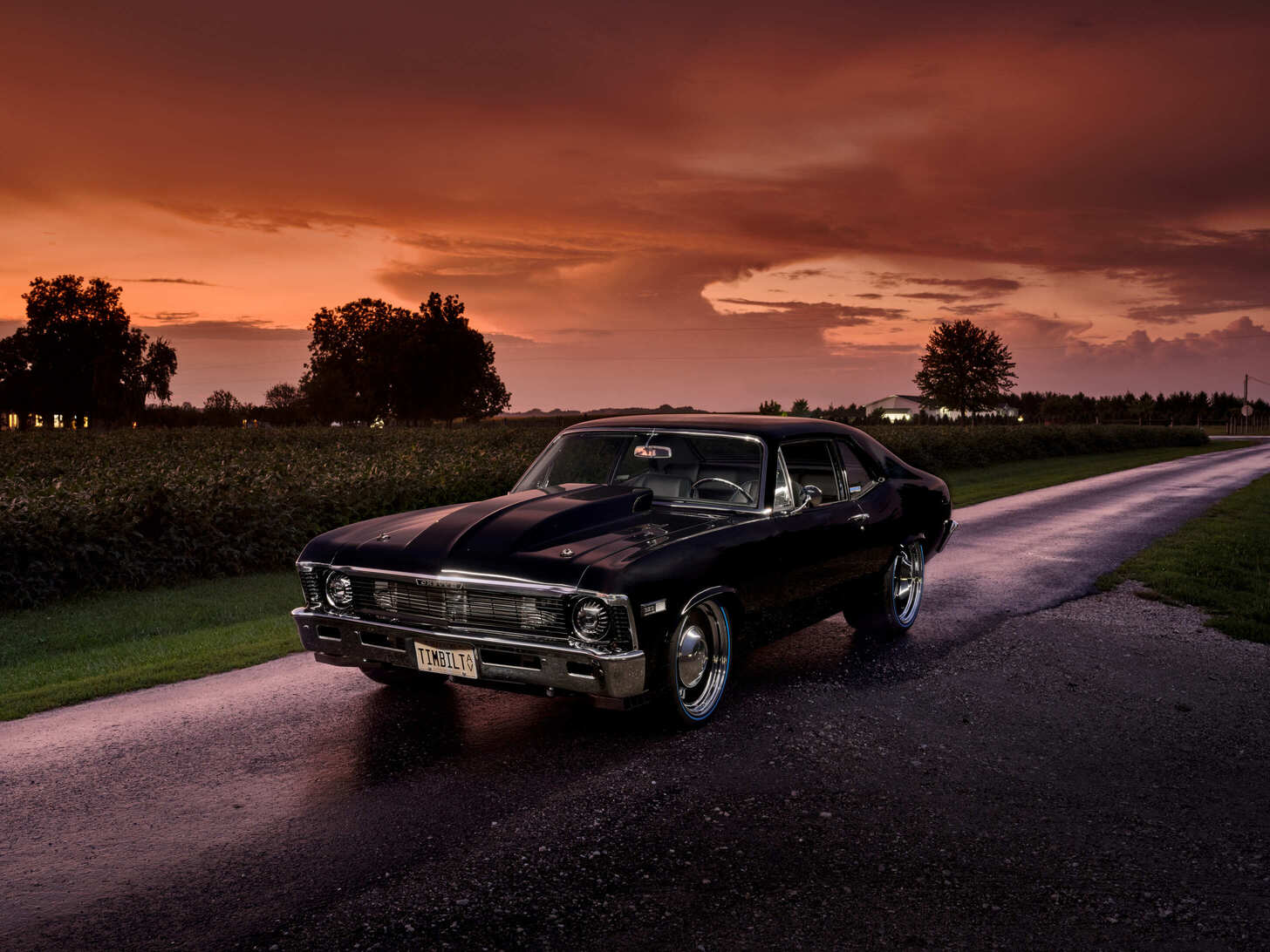 Once the decision was made to upgrade the car, he went all in from the ground up. "I built this car to represent my shop and to show what I'm capable of as a one-man show," Dave says. "I also wanted to display some of the best aftermarket parts from the most reputable companies in the industry." Still working as a deputy sheriff and building customer cars, Dave worked on the Nova during his free time between work shifts and being a dad and a husband. Things really got interesting when he committed to having his car debut at the 2021 SEMA show and had just 10 months to get it completed.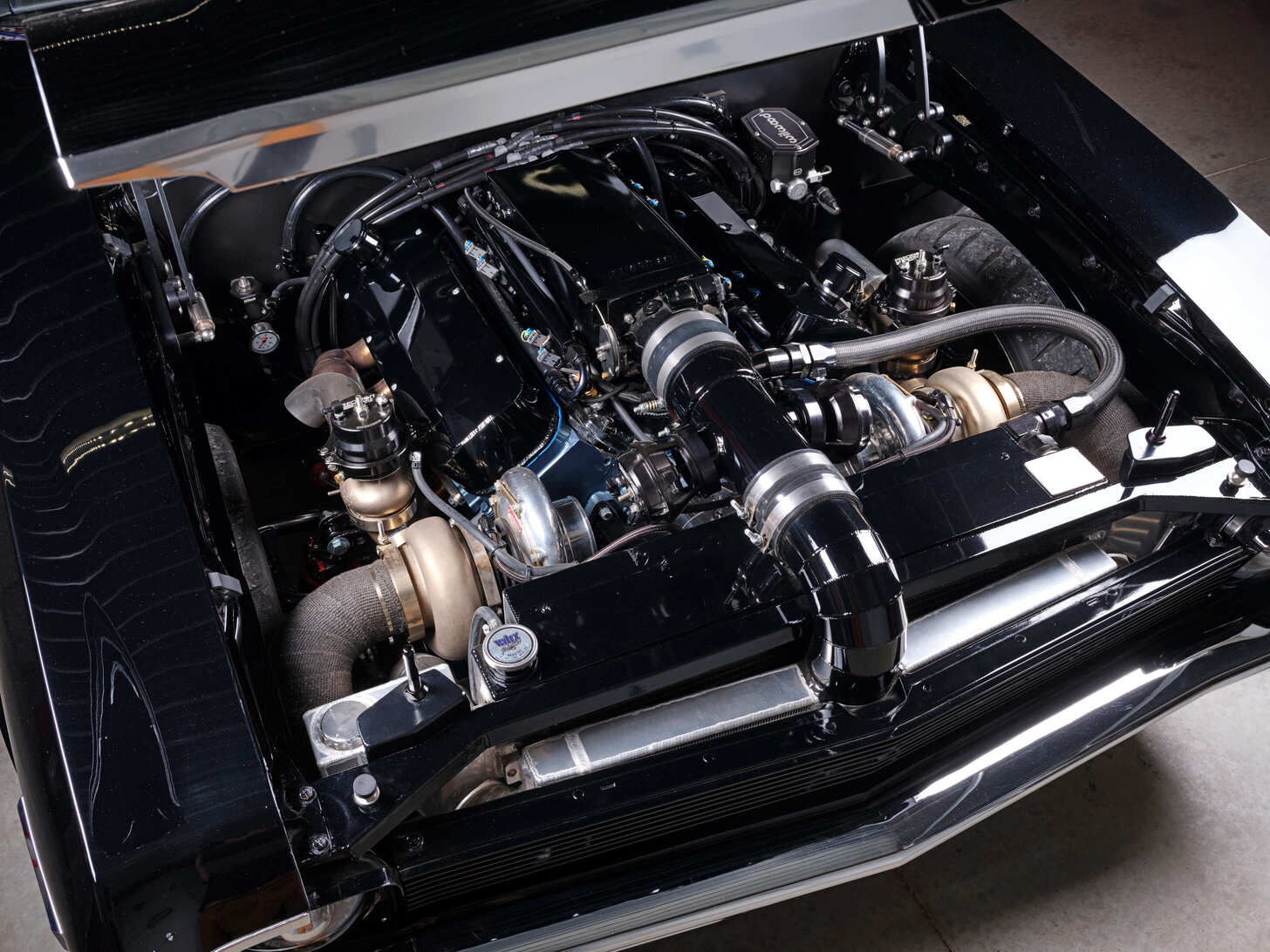 Check out this Boosted Nova: Ken Johnson's 1971 Supercharged Nova
Starting under the hood, Dave went with a 565ci Merlin IV big-block and sent it off to NCP Speed and Machine in Taylorville, Illinois, to handle all the machinework and assembly. The NCP crew knew Dave was going with a Precision twin-turbo setup and would need to provide a hearty rotating assembly. They went with a Molnar crankshaft, Molnar rods, 10.1 RaceTec pistons, and Liberty Performance heads. Shaun Atteridge came up with a custom grind for the Liberty Performance camshaft that plays perfectly with the assigned power adders.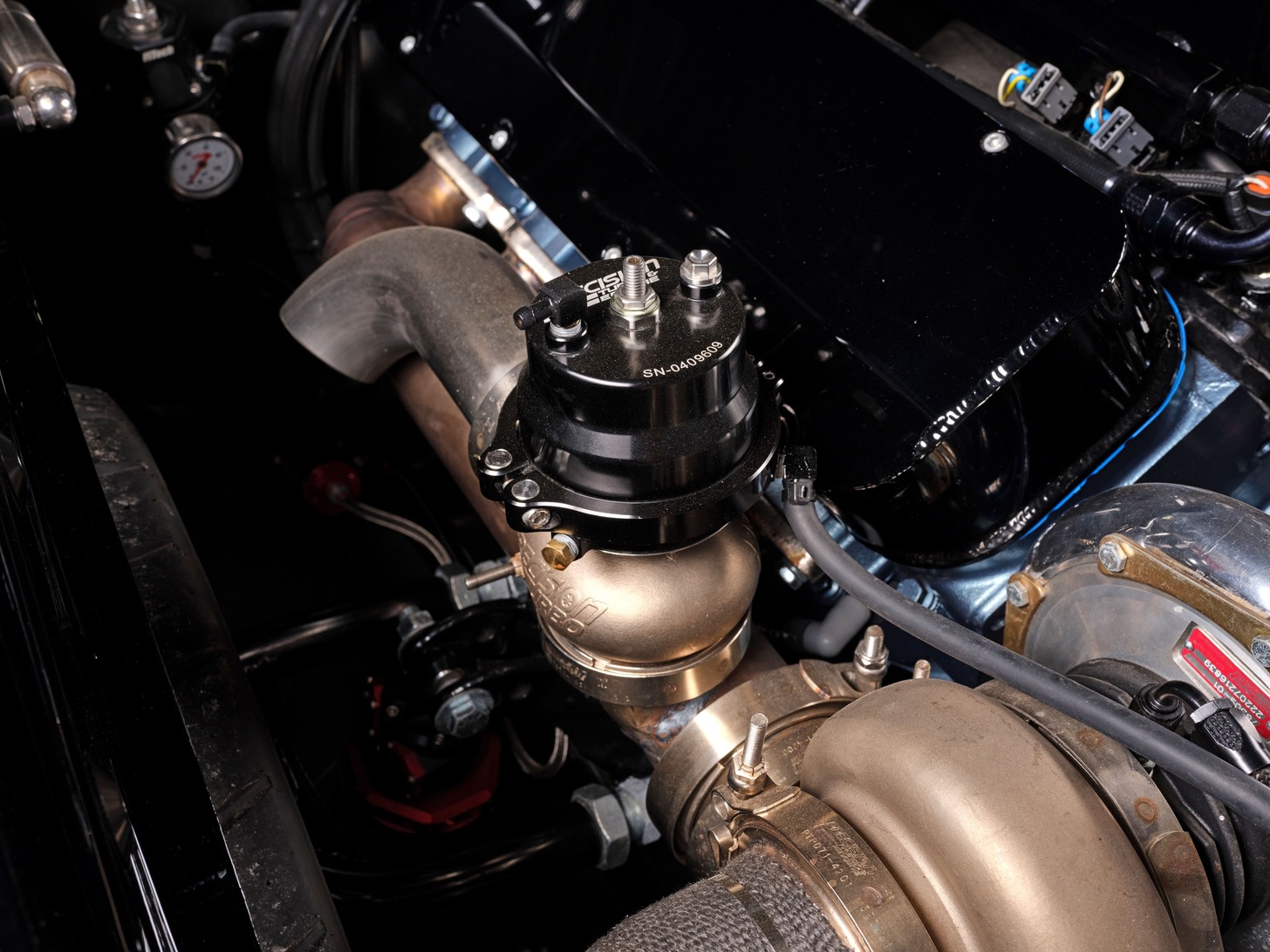 The engine bay and engine consist of all-black components, including Eddie Motorsports valve covers, a black intake tube, and accompanying black Eddie Motorsports hood hinges which promote the engine's mischievous behavior to the fullest.
Once boxed up, the NCP gang bolted on a FiTech Ultra Ram intake with 102mm throttle body and a duo of Precision Turbos 76mm mirror image turbos. FiTech Go Spark ignition and Multi Fire plug wires light the fire while the turmoil exits through a set of Ultimate headers and custom 4-inch exhaust that dumps just ahead of the front tires.
Power travels through a Hughes Performance 4L80E transmission and Hughes 3,000-stall converter and takes orders from a B&M shifter. That anarchy continues to a QA1 carbon-fiber driveshaft and onto a Strange Engineering Ultra Fab 9-inch rearend outfitted with an Eaton limited-slip differential, 3.70 gears, and Strange 35-spline axles–a bombproof combination built to handle every bit of the 1,500 hp exuded by the turbocharged mill.
Dave wasn't shy when it came to bringing on an aggressive stance and handling ability. His research led him to Heidts for one of their front subframes complete with 2-inch dropped spindles and tubular upper and lower control arms. QA1 MOD coilover shocks provide dampening duties and a Heidts splined sway bar keeps body roll in check. Out back resides a Heidts four-link with QA1 coilovers and Heidts sway bar and Panhard bar.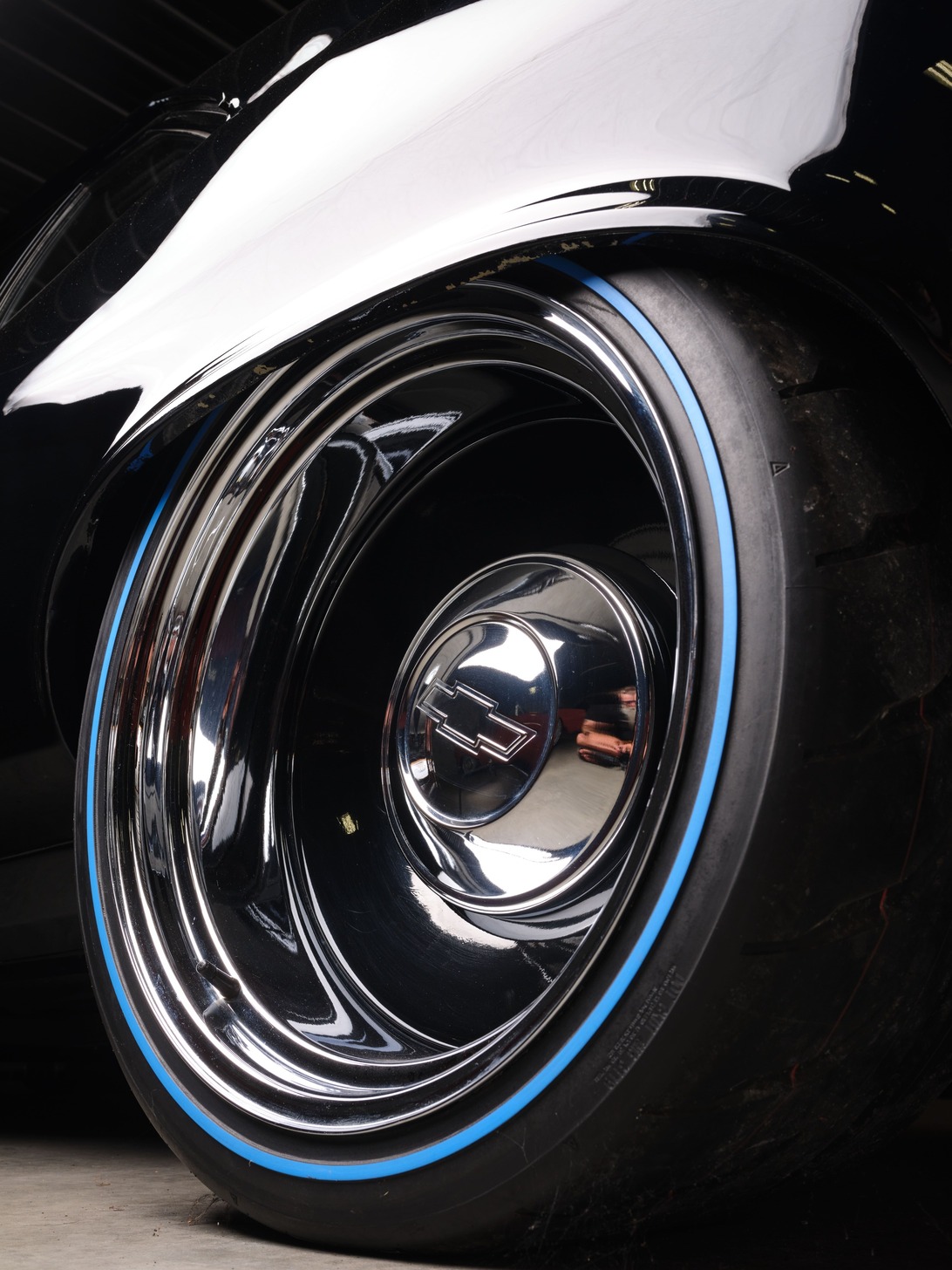 More Nova Love: 900hp N/A SUPER STOCK NOVA
Dave burned in a set of Detroit Speed mini-tubs to provide ample acreage for the massive 20-inch gloss black U.S. Wheels Rat Rod Series rollers and 325/25R20 Toyo rubber decorated with Diamond Back Classic Blue Lines. Up front a set of 18-inchers and Toyo 295/30R18 R888 rubber went in with less fuss yet maintains grip and the look Dave was after. This unique wheel and tire combination gives the Nova an uncommon appearance compared to the general population of Pro Touring street machines on the road today–it was all part of the plan.
Adhering to a mainstream approach to braking, Dave went with a set of Wilwood binders on all four corners combined with a Wilwood tandem booster and proportion valve. It's a tried-and-true recipe capable of harnessing the Nova's brute strength.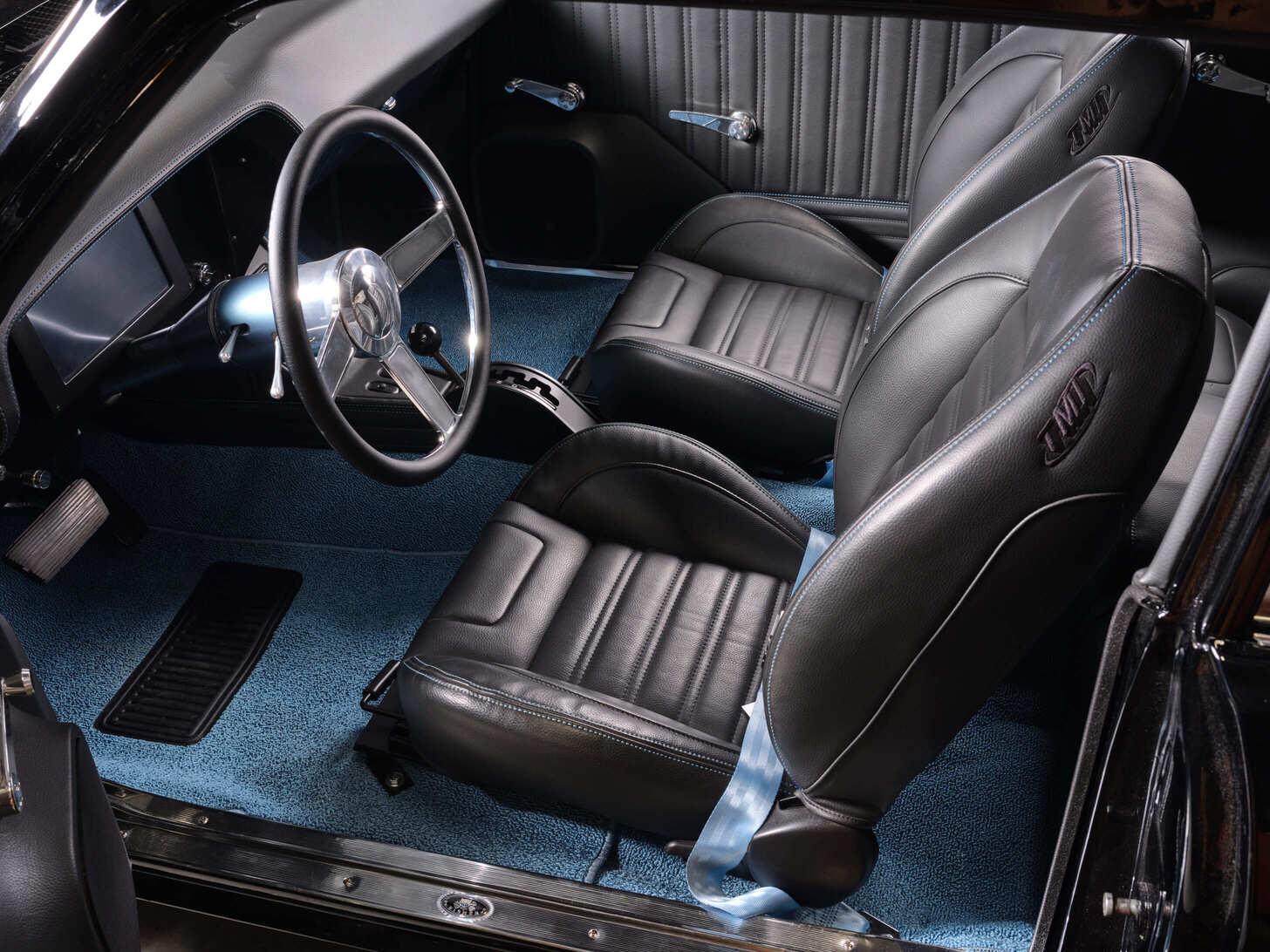 To coincide with the car's overall black and blue performance theme, Dave's search for a suitable interior started and stopped at TMI. The black with blue stitching bucket seats, door panels, custom center console, and dash follow suit. Dave broke up the black with blue loop carpet, also from TMI. The dash features a fully customizable OneGauge LCD screen, and the custom-built center console houses the Kicker KMC4 head unit just above the XK Glow lighting controller. Dave stashed the FiTech Ultra Ram and Go Shift controllers in the glovebox for a cleaner scene. The sound system continues with Kicker amps, mid-bass door-mounted speakers, and four 8-inch subs parked in the trunk. It's enough bottom end to announce the Nova's presence from a distance.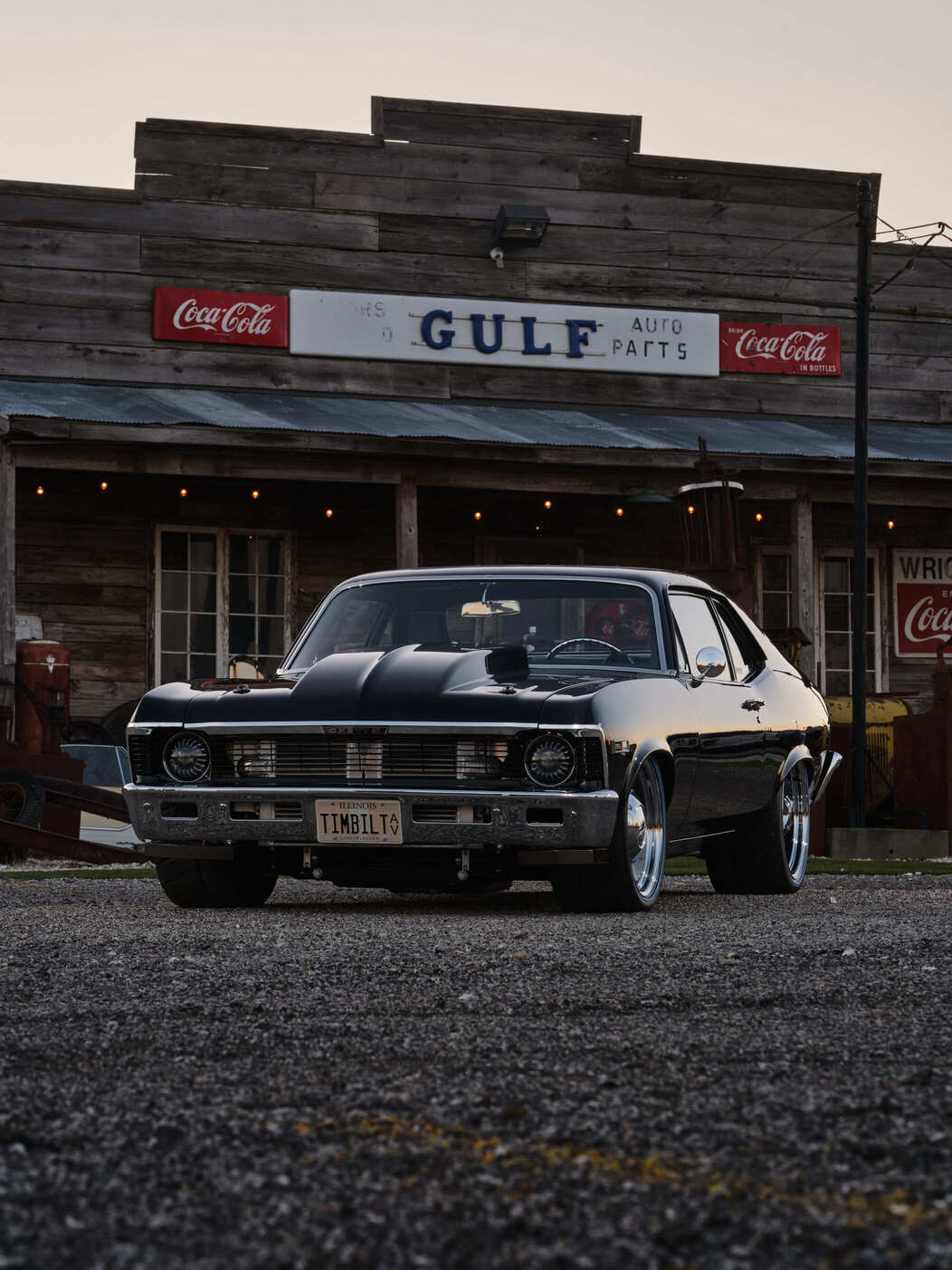 The big reveal is the exterior of this ominous black muscle machine. Beyond the bulbus 4-inch Auto Medal Direct hood, it's got the personality of a stealth bomber with chrome accents and wheel caps providing a scant bit of life beyond the Glasurit Black paint superbly applied by Brian Diveley. Diveley's stellar pre-paint bodywork ritual presents a flawless canvas designed to show off the immaculate, ripple-free finish that launces the Nova into show-car territory.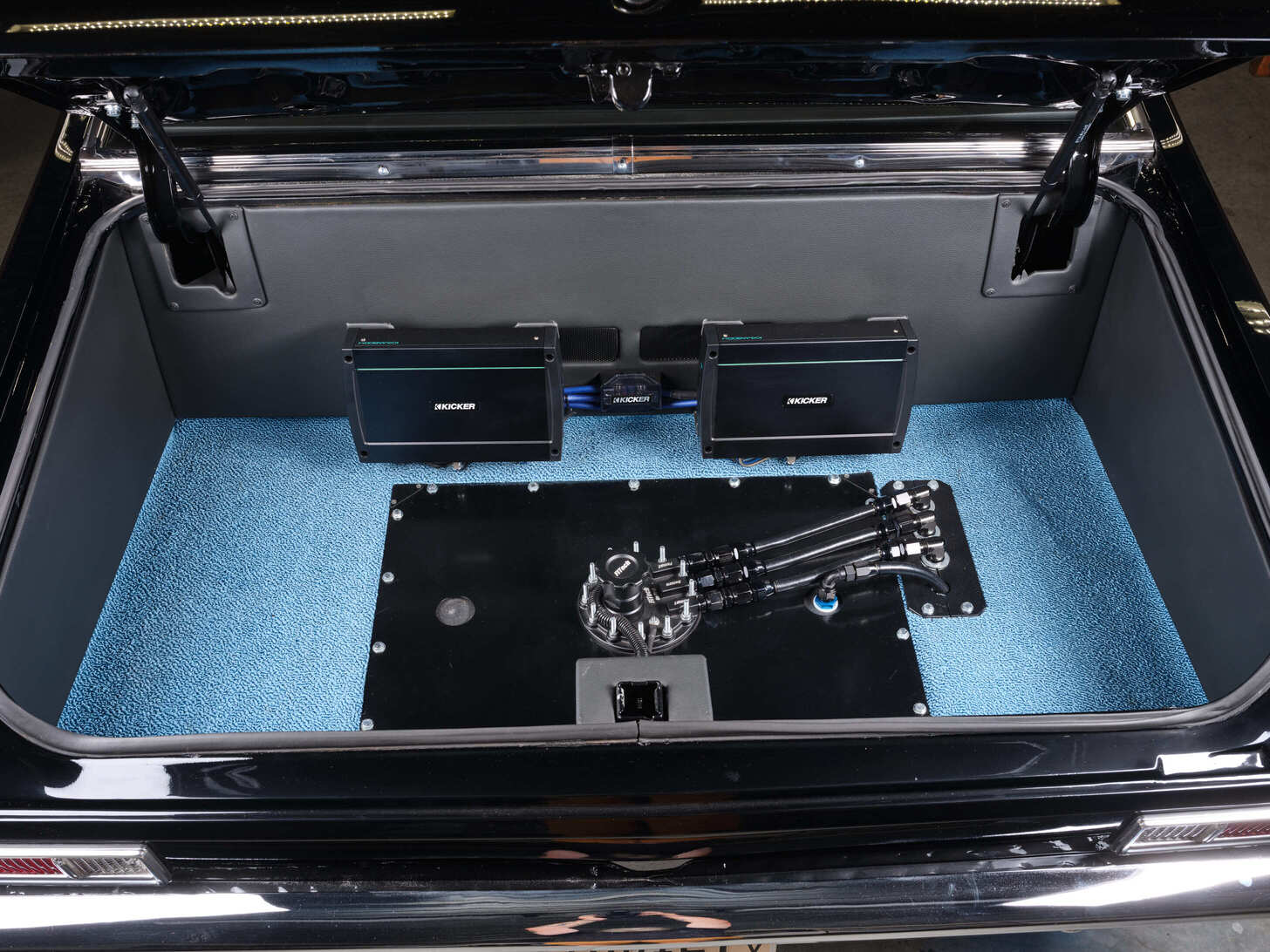 The 10-month saga had some snags here and there, including Dave having a bout with COVID-19, which laid him up for two weeks. The deadline for SEMA 2021 was fast approaching, yet Dave refrained from panic. "I got the engine late one morning and needed it installed later the same afternoon," Dave tells. "Thanks to the brute strength of my wife, sporting flip-flops (not recommended), she was still able to push the cherry picker in position so I could lower the engine and bolt it in." Dave credits Andrea's participation in other areas as a huge help in getting the car done on time. Also, on the "thank you" list is Kevin Diveley, Jerry Howard, and Brian Diveley, as they all stepped in and went out of their way when Dave needed them most.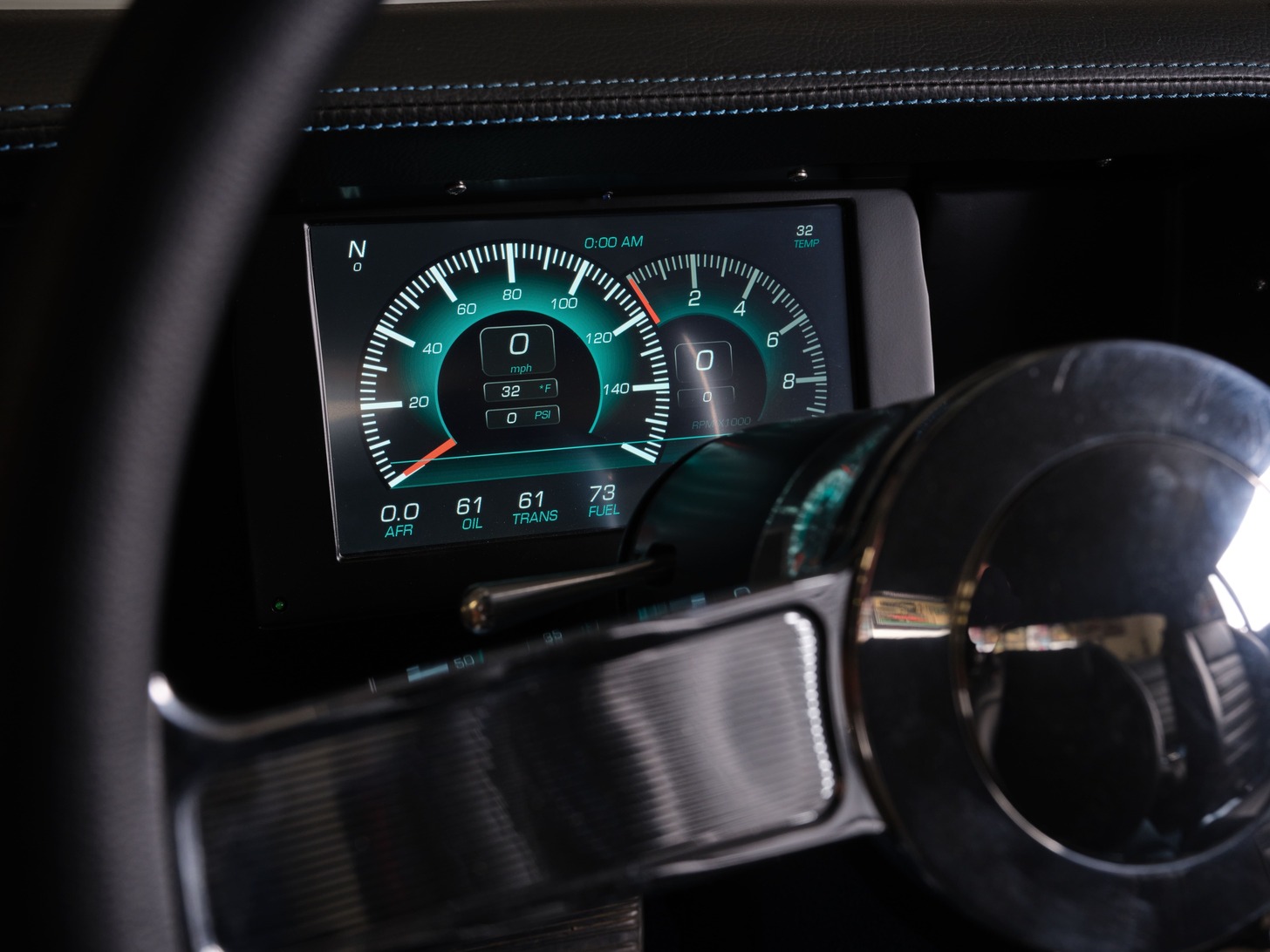 Dave has learned a lot since the days of wrenching on the old Dodge Neon, and the quality and style of his Nova speaks volumes for how far he's come in the muscle car building world. At this point he still works a full-time gig with the sheriff's department and still finds time to work on the Nova and customer cars on the side. The day will come when Dave retires from his day job, and there is no doubt Timm Built Customs will be turning out many more SEMA-bound muscle cars in the future.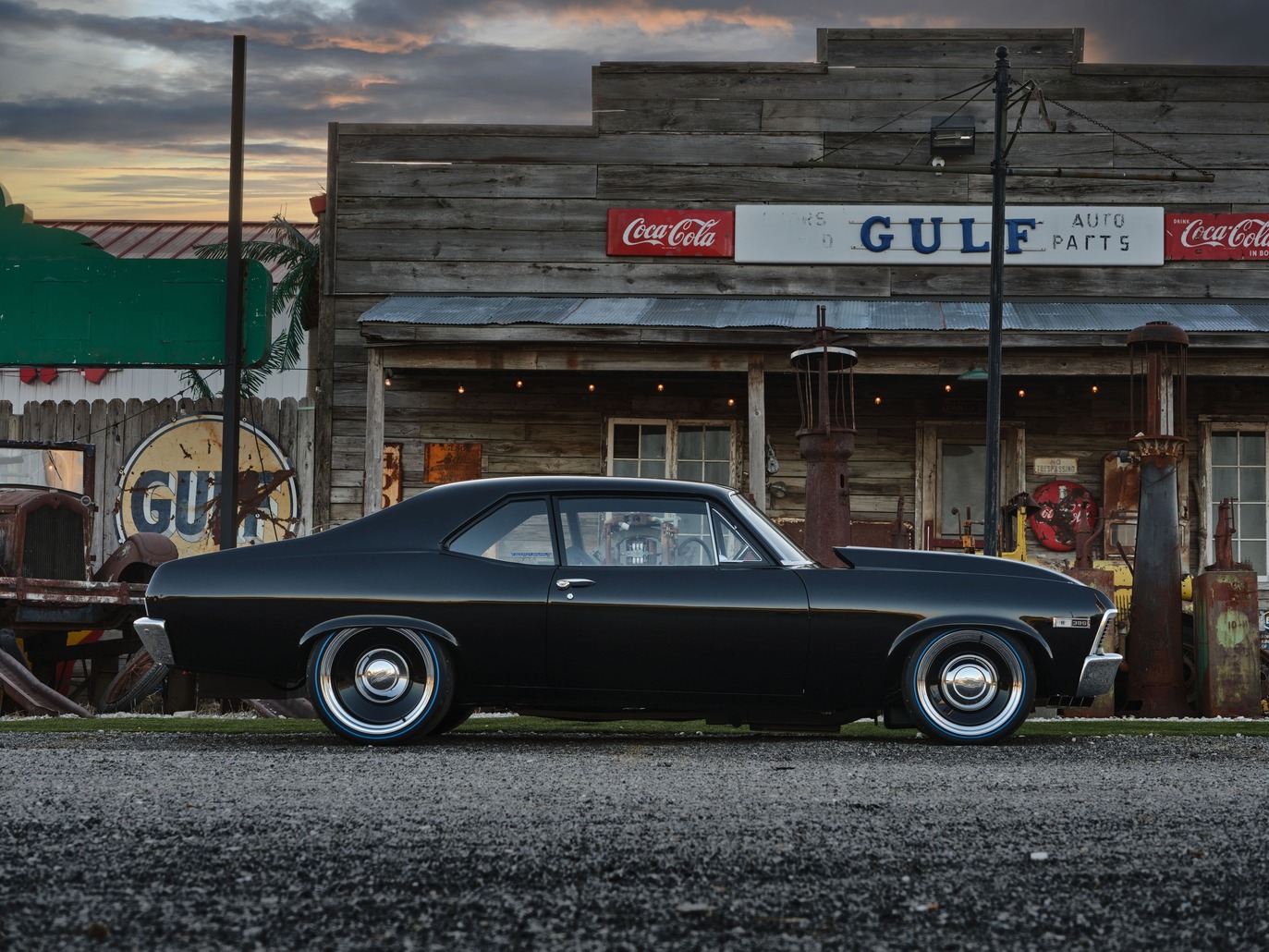 TECH CHECK
Owners: Dave & Andrea Timm
Vehicle: '68 Chevy Nova
Engine
Type: Merlin IV big-block
Displacement: 565 ci
Bore: 4.600
Stroke: 4.250
Cylinder Heads: Liberty Performance Components 340cc, 124cc chambers, 2.250 intake, and 1.880 exhaust valves
Rotating Assembly: Molnar 4340 crank, Molnar 6.535-inch rods, RaceTec 10.1 pistons, Liberty rings
Camshaft: Liberty Performance, Shaun Atteridge custom grind–248/250 at 0.50 duration, 0.651 lift intake and exhaust, 115 LSA
Induction: FiTech Ultra Ram intake, 102mm throttle body
Power Adder: Twin Precision 76mm Mirror Image Turbos
Assembly and Machine Work: NCP Speed and Machine (Taylorville, IL) by Heath Clayton, Greg Clayton, Kevin Clemence, and Kenny Miller
Exhaust: Ultimate Headers, custom 4-inch exhaust, custom tips
Ancillaries: Custom Icebox Performance aluminum radiator and core support with intercooler, Dual SPAL fans, Powermaster alternator, Pro Form electric water pump, XK Glow Lighting
Output Estimated: 1,500 hp at 6,500 rpm
Drivetrain
Transmission: Hughes Performance 4L80E
Torque Converter: Hughes Performance 3,000 stall
Driveshaft: QA1 carbon fiber
Rear Axle: Strange Engineering Ultra Fab 9-inch rearend, Eaton Truetrac limited-slip differential, 3.70 gearset, Strange 35-spline axles
Chassis & Suspension
Front Suspension: Heidts subframe with upper and lower tubular control arms, QA1 MOD coilover shocks, Heidts splined sway bar, Flaming River manual rack-and-pinion steering
Rear Suspension: Heidts four-link rearend, QA1 MOD coilover shocks, Heidts Panhard bar and sway bar
Brakes: Wilwood 13-inch rotors, four-piston calipers front and rear, Wilwood Tandem master cylinder, Wilwood proportioning valve
Wheels & Tires
Wheels: U.S. Wheels Rat Rod Series (18×10 front, 20×12 rear)
Tires: Toyo R888 with Diamond Back Classic Blue Lines; 295/30R18 front, 325/25R20 rear
Interior
Upholstery: TMI black vinyl with blue stitching
Carpet: TMI blue loop
Installation: Timm Built Customs
Seats: TMI buckets front and bench rear
Door Panels: TMI
Console: Custom by Timm Built Customs
Steering: Flaming River steering column, Eddie Motorsports steering wheel
Shifter: B&M
Dash: TMI
Gauges: The One Gauge
Pedals: Lokar
Entertainment System: Kicker KMC4 head unit, Kicker KXMA 800.4 amplifiers (2), Kicker 6.5-inch door speakers, Kicker 8-inch mid-bass door speakers, Kicker 8-inch subs (4) installed by Timm Built
Wiring: American Autowire by Timm Built
Exterior
Bodywork and Paint: Brian Diveley
Paint: Glasurit Black
Hood: Auto Metal Direct steel 4-inch cowl
Body Mods: Shaved rear quarter marker lights, Detroit Speed mini-tubs by Timm Built
Front Bumper: AMD
Rear Bumper: AMD
Headlights: XK Glow
Taillights: Stock with XK Glow LED
Side Mirrors: Classic Industries
Door Handles: Eddie Motorsports