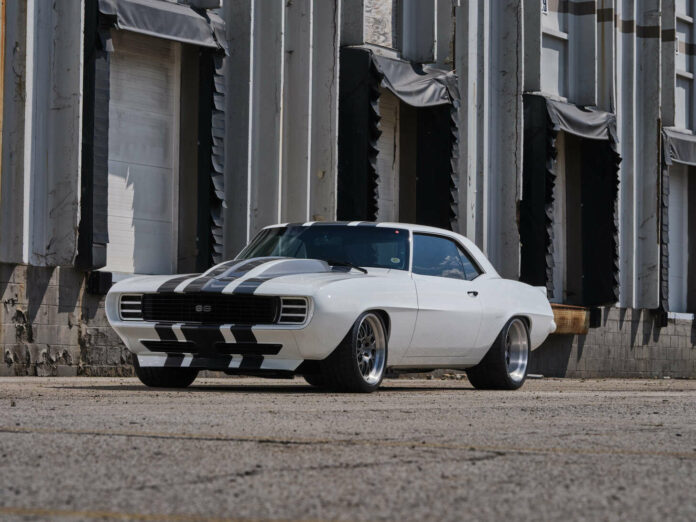 A Totally Custom '69 Camaro With a Hefty Arsenal of Performance
By Nick Licata – Photography by John Jackson
It's no secret the '69 Camaro is considered the most popular of all vintage muscle cars. With the massive appeal and huge success of the '67 and '68 models, GM designers knew they were onto something. But even so, they couldn't help but tweak the bodylines of the '69 with molded swoops along the front fender that continue to the door where it gradually fades, only to reestablish itself on the rear quarter-panel, giving the car an illusion of motion while sitting still. Genius! But they didn't stop there–adding in the non-functioning "gills" in front of the rear tire creates a performance trait that adds to already-excellent styling.
It's those characteristics that have always piqued the interest of Chad Turner, owner of this totally slick '69. Chad found the F-body at a car show in 2010. It had a fairly stout small-block, aftermarket suspension bits, and wheels and tires that gave it a Pro Touring feel. Chad drove it like that for a few years, then took the car to Automotion Design and Fabrication in Obetz, Ohio, for a little TLC and a clutch adjustment. Well, that "little adjustment" morphed into a full-on rebuild. It started when Chad was looking to incorporate some one-off custom ideas he always had rocking his brain. Automotion owner Ron Leibrock and Chad collaborated on those ideas and took a full swing at building a totally custom, next-level '69–something the two had yet to see done on a Camaro of this vintage.
Check This Out: Camaro Chin Spoiler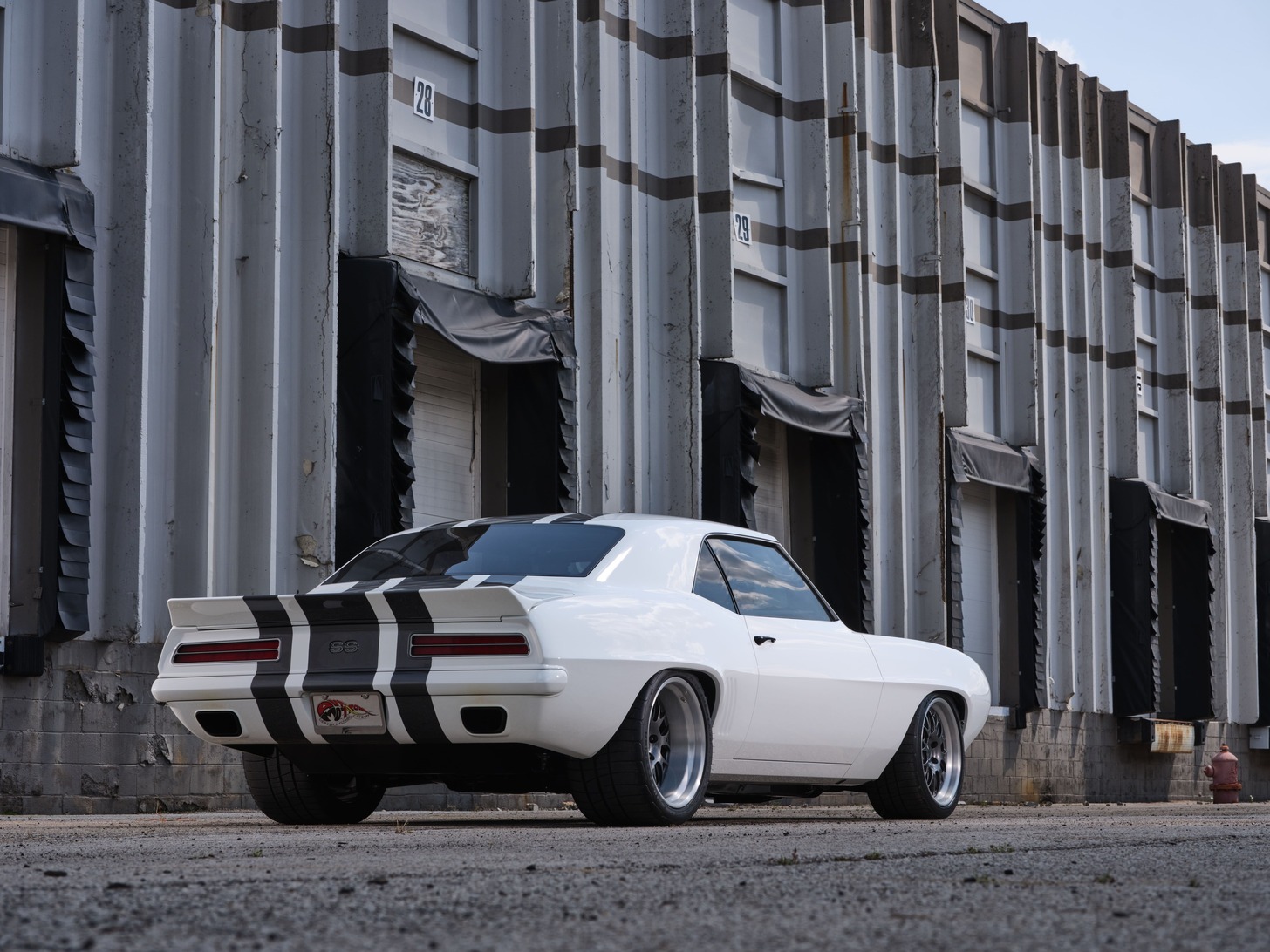 As the Automotion crew began digging into the Camaro, they discovered ill-fitting quarter-panels done by a previous shop, so the new sheetmetal was hung (properly, this time) for correct geometry. Moving to the front of the car, Automotion got serious–they started with angling the header panel edge toward the rear of the car then cut new openings in the lower valance. A frenched-in carbon-fiber spoiler was incorporated with a smooth transition that carries seamlessly into what was once the bumper. The cowl vents were filled while the rear edge was pulled up to the windshield, which creates a continual flow. Check out the thinned windshield posts and hardly visual ¼-inch trim that replaced the bulky stock driprails. It's all part of the plan, as was customizing the rear of the front fenders that now seamlessly flow into the rocker panels.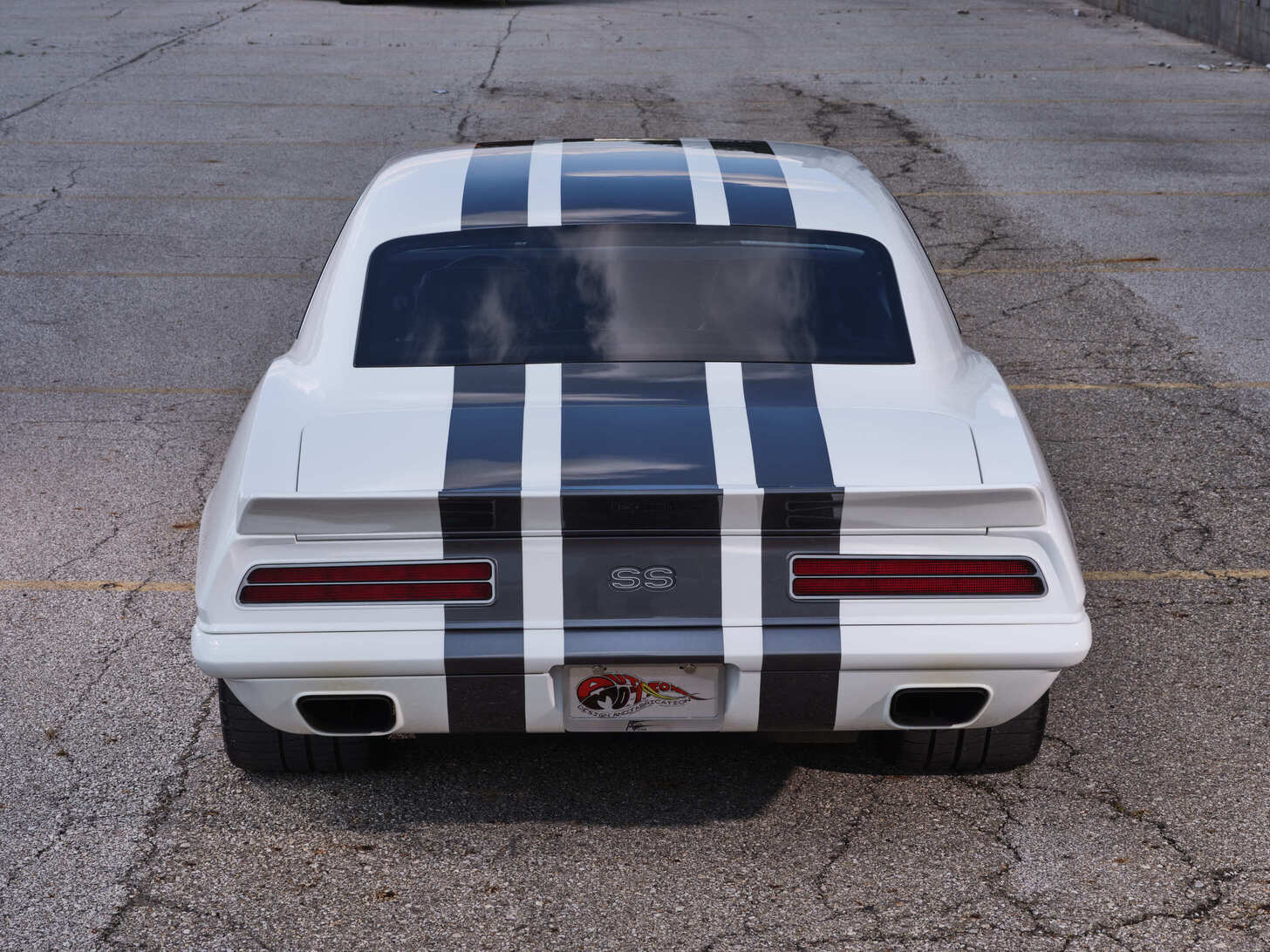 Out back, Automotion fabricated exhaust tips and a custom sheetmetal surround on the rear valance. Obviously, the rear bumper was tucked but it's likely you missed it being lowered–one more custom touch Automotion uses to give this Camaro a sleeker appearance. The aforementioned fresh quarter-panels were bulged for additional tire clearance. Just another subtle modification that adds to the overall package visually and functionally. The carbon-fiber cues continue with an Automotion rear wing that adapts respectfully to the whole scheme. We could carry on with the custom exterior fabrication subtleties, but we'd be remiss if we didn't speak on the PPG Arctic White paint borrowed from the '19 Corvette that institutes a sanitary scene. The three-row gray stripes are a custom PPG mix the Automotion gang refers to as "Battleship Royal." The name has a nice ring to it and those stripes give the car a dynamic personality.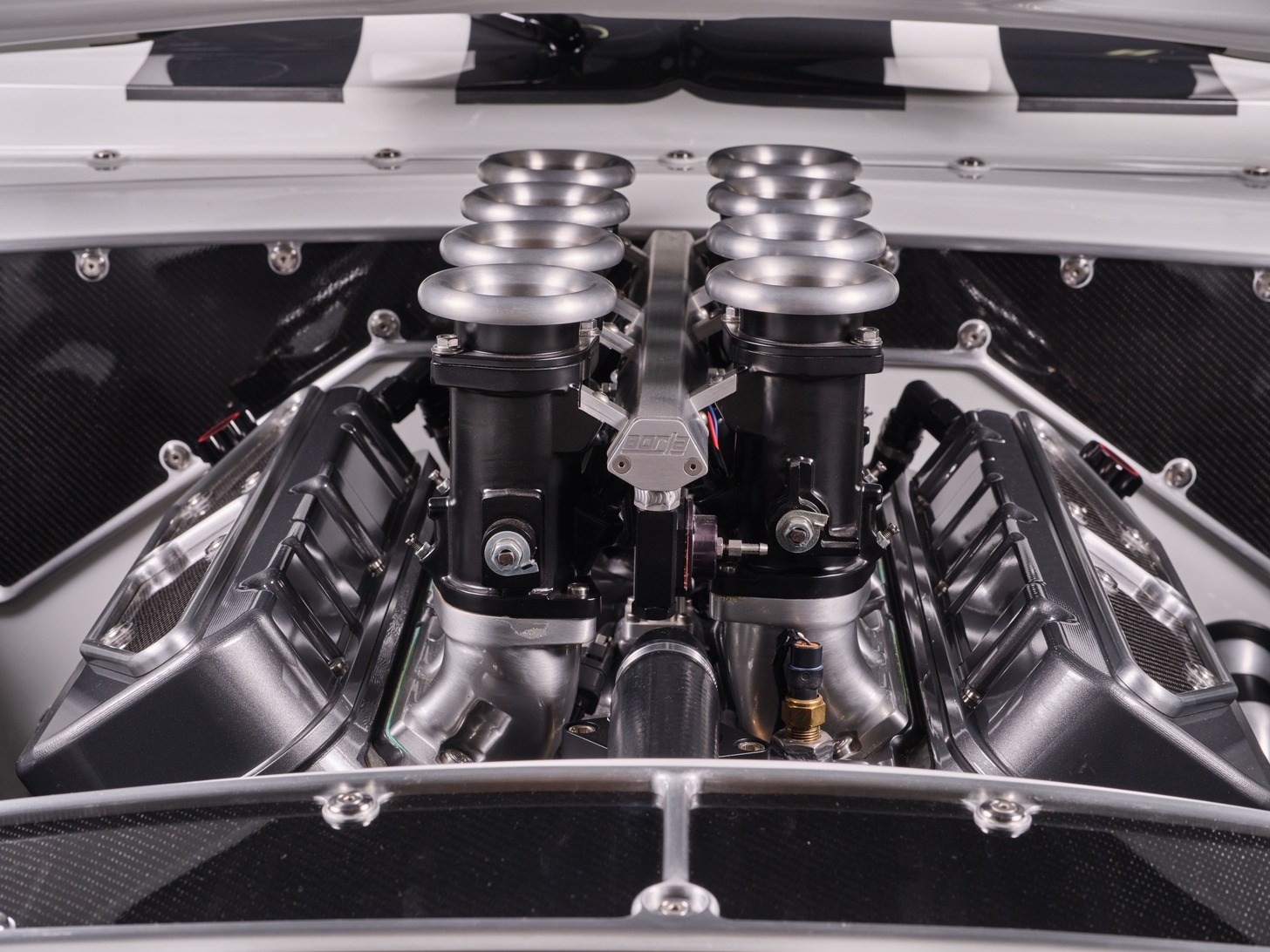 With much of the attention given to the exterior exploits, the engine bay keeps up aesthetically with a BluePrint Engines 496ci big-block topped with a Borla Performance 8-Stack injection system. Also on board are Moroso billet valve covers and an Eddie Motorsports accessory drive system. A set of Ultimate headers with 2-inch primaries and 3-inch collectors mate up to a custom 3-inch stainless exhaust, while a set of MagnaFlow mufflers attempt to subdue the big-inch engine's vocal ferocity. No easy task from a car that belts out over 600 hp.
Read More: 1969 Camaro Powered by a 625hp LS3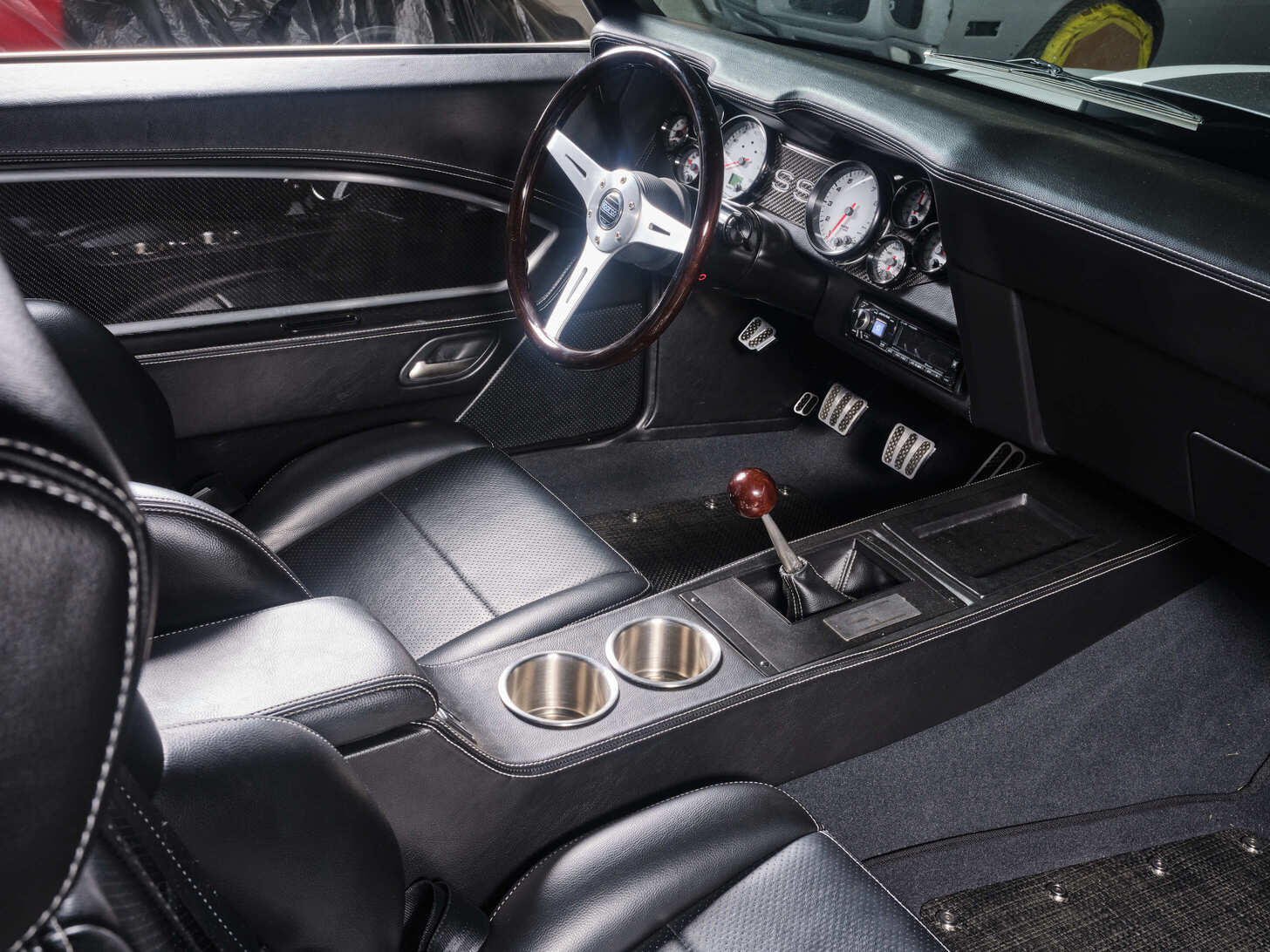 Chad prefers to shift gears on his terms, so a TREMEC TKO 600 five-speed manual was sourced and backed up with a Hays clutch and Hurst shifter for accurate gear changes. A 9-inch rearend loaded with an Auburn limited-slip differential and 3.90 cogs get power to the Moser 31-spline axles–plenty of armor to handle the torquey big-block at its power peak and off-the-line shenanigans.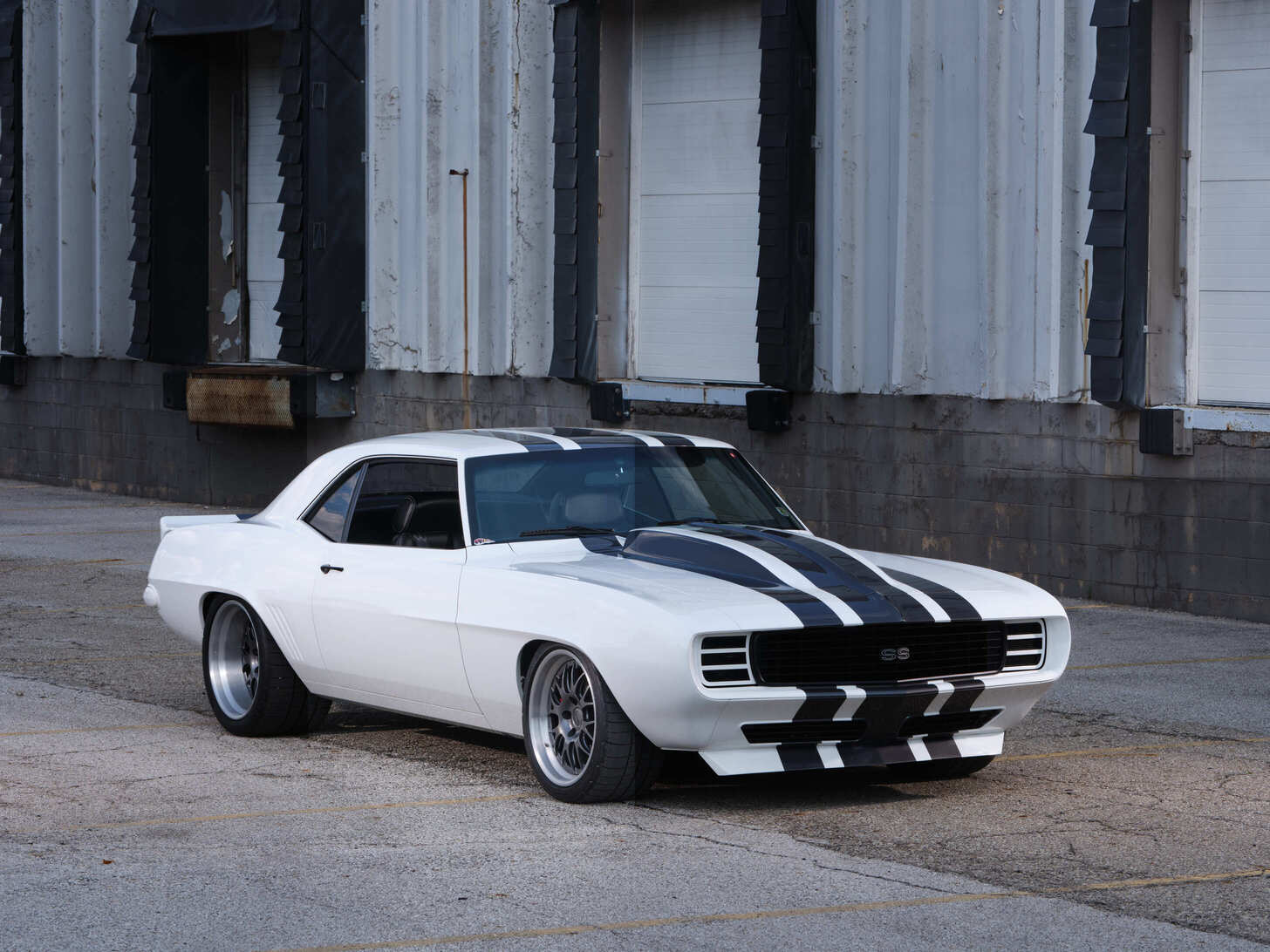 Chad got a taste of driving performance improvements with the mild aftermarket suspension parts the car came with but was ready to go "full send" this go round. He hit up the Detroit Speed catalog for their top-shelf offerings. Up front is a complete Detroit Speed hydroformed subframe fitted with Corvette spindles, DSE upper and lower control arms, JRi double-adjustable coilover shocks, 550-pound springs, and a splined sway bar.
Out back a Detroit Speed QUADRALink suspension system outfitted with JRi double-adjustable coilover shocks, 250-pound springs, Panhard rod, and sway bar keep the business end on track. The front and rear suspension unite via the Detroit Speed weld-in subframe connectors to ensure this Camaro performs as good as it looks.
Baer 14-inch rotors and six-piston calipers on all four corners easily handle stopping chores and look the part resting behind the Forgeline GW3 wheels (18×10 front, 18×12 rear) encased in BFGoodrich g-Force Rival S rubber (275/35R18 front, 335/30R18 rear).
The interior consists of a full arrangement of carbon-fiber accents designed by Automotion, including the custom door inserts and the insert in the Detroit Speed dash, which complement the Speedhut gauges. Yes, those are carbon-fiber floor mats that play well with the Billet Specialties pedals with, you guessed it, carbon-fiber inserts. The guys at Top Stitch Upholstery took the baton and installed the black loop carpet and laid the satin black leather over the Recaro seats, custom console, dash, and door panels for a united front.
Interested In Seeing More: Here's a First-Gen Camaro That Packs Plenty of Big-Block Chevy Punch
Automotion engaged in a four-year process with this Camaro build, but Chad considers that a small price to pay for a car he's been hooked on for a good portion of his life. "The car came out just awesome," Chad says. "The insane custom bodywork, along with amazing paintjob and the three-stripe layout, provides an aggressive look that totally sets the car off. Getting this thing on the road to stretch its legs is an amazing feeling–the sound, performance, and looks–this Camaro has it all. I can't thank all the talented guys at Automotion enough for their hard work in making this Camaro one helluva badass muscle car.
ACP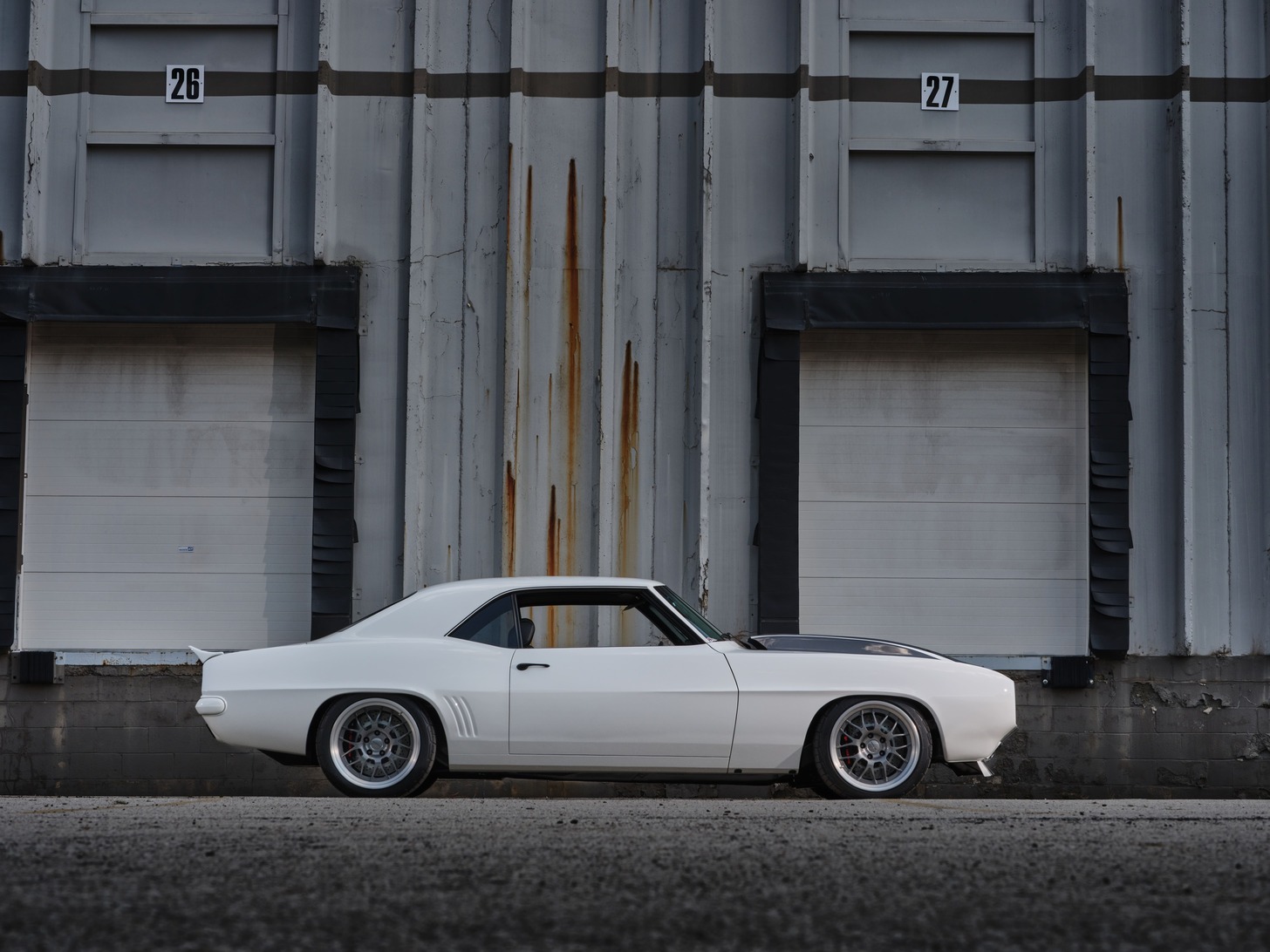 TECH CHECK
Owner: Chad Turner
Vehicle: '69 Chevy Camaro
Engine
Type: BluePrint big-block
Displacement: 496 ci
Compression Ratio: 10.1:1
Bore: 4.250 inches
Stroke: 4.310 inches
Cylinder Heads: BluePrint 119cc chamber, 2.30-inch intake/1.88-inch exhaust valves, 316cc intake/124cc exhaust runners
Rotating Assembly: BluePrint forged crankshaft, 6.385-inch connecting rods, Hypereutectic pistons
Camshaft: Hydraulic roller (0.647/0.647-inch lift, 248/254 deg. duration at 0.050, 112-deg lobe separation angle)
Induction: Borla Performance 8-stack injection system
Assembly: BluePrint
Exhaust: Ultimate Headers 2-inch primary/3-inch collector, Automotion custom 3-inch stainless exhaust, MagnaFlow mufflers
Ancillaries: Eddie Motorsports serpentine system, Powermaster alternator, Moroso valve covers, GM LS3 coils, Taylor wires, dual Lambo fans, Wizard Cooling aluminum radiator, Automotion carbon-fiber firewall insert, Eddie Motorsports hood hinges.
Output: 600 hp/568 lb-ft
Drivetrain
Transmission: TREMEC TKO 600 five-speed manual
Rear Axle: Ford 9-inch with Auburn limited-slip differential, 3.90 gear ratio, Moser 31-spline axles
Chassis
Front Suspension: Detroit Speed Hydroformed subframe; JRi double-adjustable coilover shocks; 500-pound springs, splined sway bar
Rear Suspension: Detroit Speed QUADRALink with Panhard bar; JRi double-adjustable coilover shocks, 250-pound springs, sway bar
Brakes: Baer Brakes 14-inch rotors, six-piston calipers front and rear, C3 Corvette master cylinder
Wheels & Tires
Wheels: Forgeline GW3; 18×10 front, 18×12 rear
Tires: BFGoodrich g-Force Rival S; 275/35R18 front, 335/30R18 rear
Interior
Upholstery: Black loop carpet, satin black leather door panels, dash, and console by Top Stitch Upholstery (Plain City, OH), custom carbon-fiber accents by Automotion
Seats: Recaro with satin black leather wrap by Top Stitch Upholstery
Steering: Factory column, Sparco Steering wheel
Shifter: Hurst
Pedals: Kugel 90-degree pedal assembly, Billet Specialties pads
Dash: Detroit Speed dash with carbon-fiber insert
Instrumentation: Speedhut
HVAC: None
Head Unit: Pioneer
Exterior
Bodywork and Paint: Automotion Design and Fabrication
Paint: PPG Arctic White, PPG custom-mix gray stripes
Hood: Auto Metal Direct modified
Bumpers: Modified front, frenched, tucked, and lowered rear
Door Handles: Automotion custom flush fit
Headlights: Truck Lite
Taillights: Digi-Tails