Here's a First-Gen Camaro That Packs Plenty of Big-Block Chevy Punch
By Brian Brennan – Photography By Grant Cox
We could start this story out with any number of storylines but here's one 1969 Chevy Camaro SS/RS that will be hard to miss with its 705 dyno-proven horsepower and 684 lb-ft of torque. This first-gen Camaro belongs to Jerry Reynolds of Arkansas and we should tell you upfront he's retired from a job all of us at one time or another have dreamed about. Rodders enjoy a mutual "love" of hot rods–and tools! He retired from Snap-on–yes, that tool company. Really, does it get any better? Amazing tools and an amazing and brutally powerful 1969 Chevy Camaro SS/RS.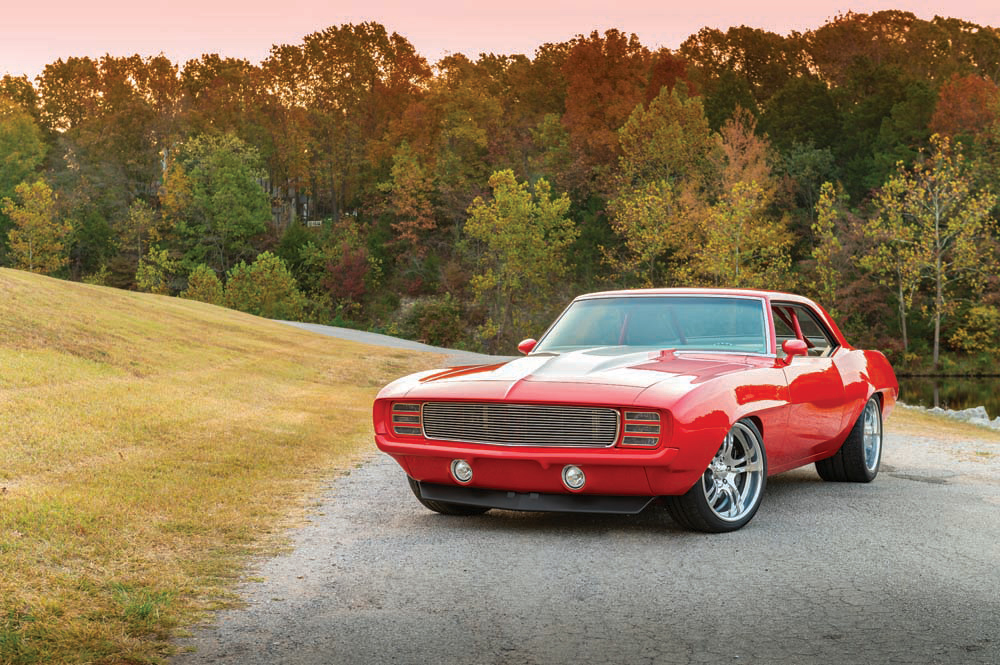 To listen to Jerry, he will tell you that "This 1969 Camaro was found in the weeds beside a shop in Fayetteville, Arkansas." It represents the makings of a lifelong dream to own a first-gen Camaro, especially a potent one. Over the course of time, he enlisted the help of many of his friends, including Gary Angel, Mark Alexander, Andy Porter (deceased), Kenny Barr, Matt Bigellow, Mike Jones, Rick Pearce, and Gary Hagar (owner of the H.A.C.K. Shack).
Read More: The Best of Both Worlds: The Chevy El Camino
We mentioned in the opening about the brutish power this first-gen Camaro packs, so how about a little more to explain just what resides underhood. The 555-inch big-block Chevy and we do mean big-block is based on a Dart Big M iron block (4.56-inch bore and 4.25-inch stroke) that features billet steel four-bolt main caps and dual bolt patterns fitting standard and notched oil pans. From here 10.00:1 JE forged pistons are used along with Edelbrock rocker arms and aluminum heads topped with Billet Specialties valve covers. Pat Musi Racing performed the machinework, which includes balancing the rotating assembly.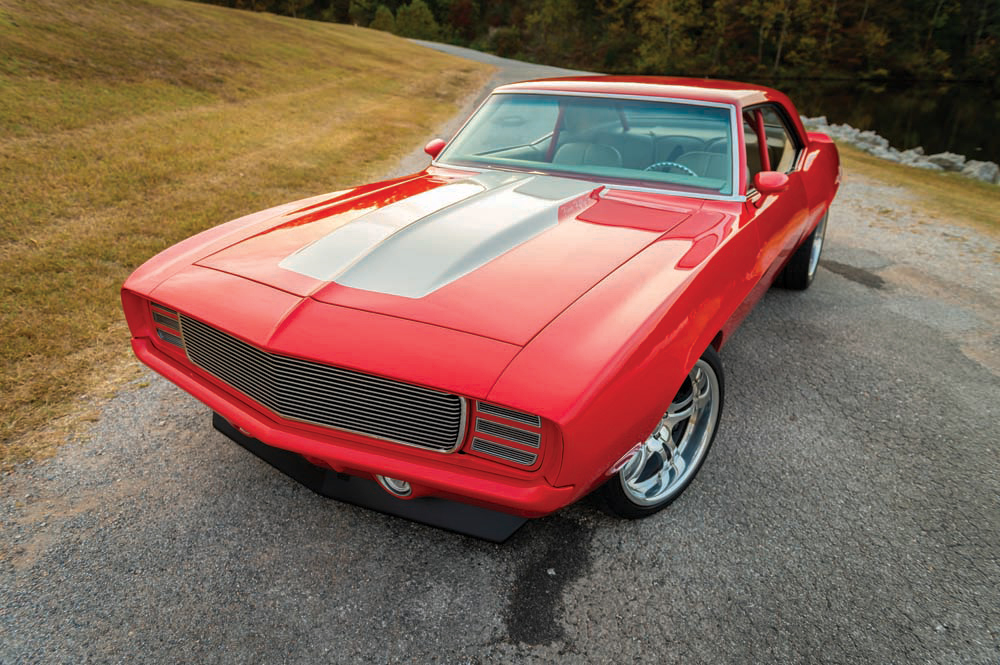 Other Edelbrock components include a Victor Jr. intake, Pro-Flow II 1,000-cfm EFI (topped with a Billet Specialties air cleaner), and engine management system along while the high-octane "go-juice" supplied by an A1000 Aeromotive fuel pump mounted in the polished Rock Valley 17-gallon tank. You will also find ACCEL Extreme 9000 ceramic plug wires as well as a Mallory distributor and coil firing the "load." Making sure the water pump, alternator, power steering, and AC compressor are all in sync falls to the efforts of a Vintage Air Front Runner (serpentine belt system) pulling these jobs together.
Read More: This 1958 Chevy Impala Blends the Lines Between Cruiser and Performer
The Lemons headers feature 2-1/8-inch primary tubes with mandrel-bent 3-inch pipes that work their way back to a pair of SpinTech mufflers. The ceramic-coated custom exhaust was fabricated by Jerry but we have it on good source that it was the patient hands of Kenna, his wife, who held the pieces together, allowing the fabrication to proceed smoothly. (Editor's note: It's always about those who work behind the scenes on any worthwhile project. —B.B.)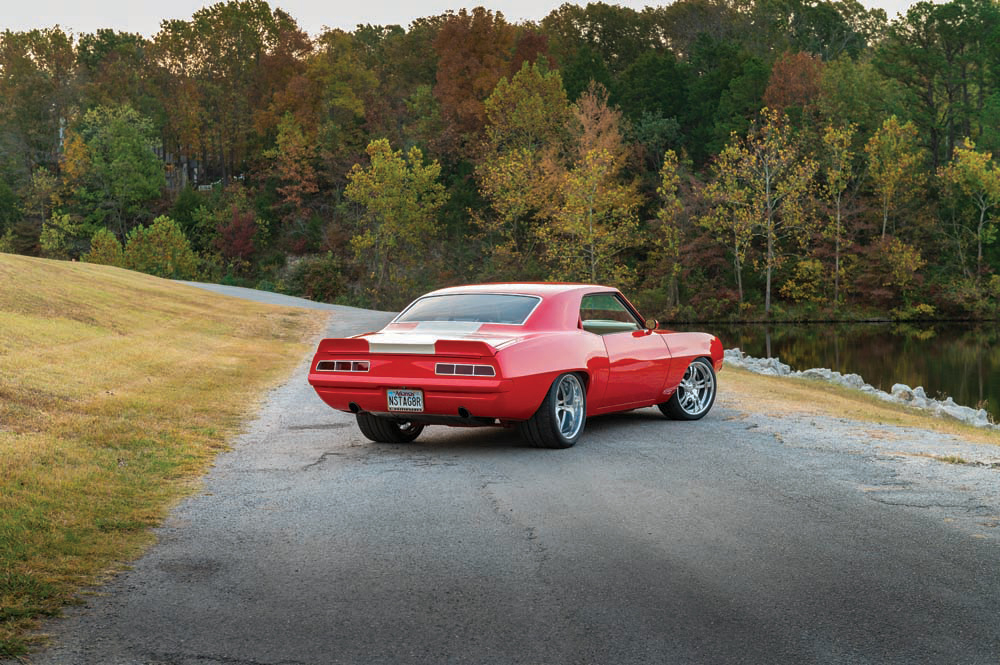 Getting all of this horsepower to the rear wheels falls to a TREMEC TKO 600 five-speed operated by a Hurst shifter while the power is moved through a combination of a billet flywheel and a McLeod dual-disc clutch. Finishing off the transfer of power is an Inland Empire Driveline driveshaft linked to Chassisworks' FAB9 rear end housing filled with limited-slip Richmond 3.73 gears and Strange 31-spline axles. Since a Camaro is a "frameless" car Jerry used a Detroit Speed hydroformed subframe, rear QUADRALink suspension, and subframe connectors, and then welded them into position and performed the necessary bodywork to make it appear as a complete frame.
Upfront there are plenty of Detroit Speed goodies in the form of front spindles, sway bar, steering (with an ididit steering column hooked to it), and coilovers. Moving to the rear you will find more Detroit Speed coilovers as well as a sway bar and a Panhard bar.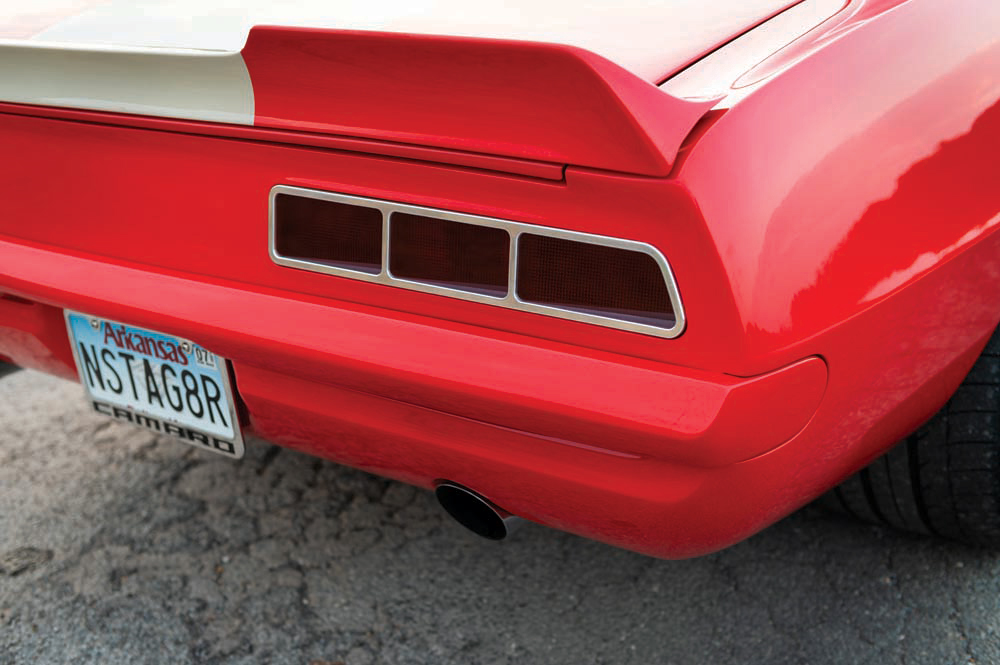 Look through the five-spoke Rushforth Super Spoke design wheels and you will see a combination of Wilwood 14-inch drilled-and-slotted rotors with 6-piston calipers all operated by a Wilwood master cylinder. The polished wheels measure up 18×8 in front and 18×12 in back, all wrapped with Michelin rubber; 335/30R18s in back and 255/35R18s in front. To accommodate the massive wheel-and-tire combo, Detroit Speed wheel tubs were welded into position.
While the motor is highly modified it isn't the only thing on this street machine to receive lots of attention. The 1969 Camaro SS/RS features body mods that include deleted drip rails, door handles, and locks, as well as smoothed firewall, inner fenders, and under the hood. The inner fenders, aside from receiving the "smooth" treatment, are also welded to fenders.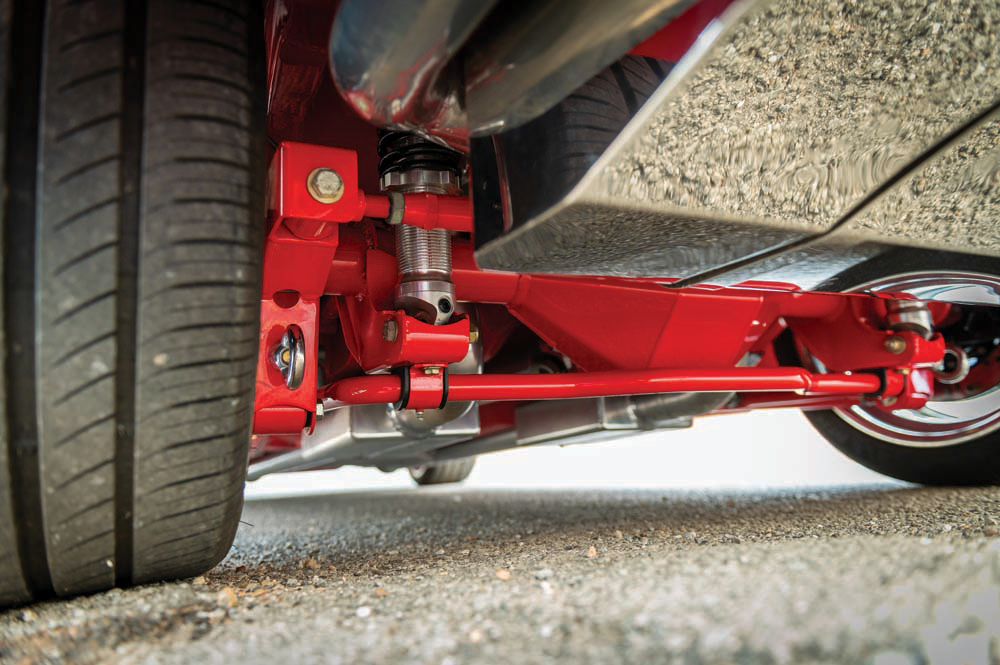 The body seams were then welded, filled, and smoothed over. The rear spoiler is also modified along with the exhaust as it now passes through notches on the bottom of the rear valance. Look closely and you will see that the front and rear bumpers are tucked and fitted to the body.
The vast amount of truly well-done bodywork was done by Bigellow of the H.A.C.K. Shack. This well-known Arkansas shop has done numerous projects and they received the nod for Jerry's 1969 Camaro while Barr handles the spraying of tri-coat (basecoat, midcoat, and clearcoat) DuPont Firecracker Red with a red pearl and a custom-mix tan for the Camaro stripes.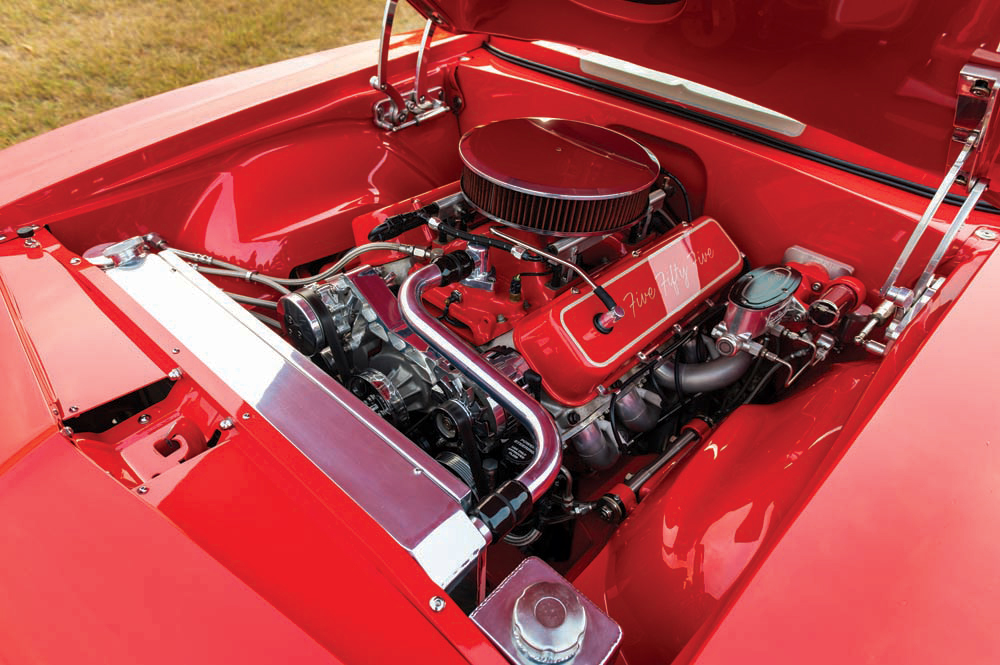 Watch More: Pro Touring 1966 Chevy Nova
Inside the modifications continue, this time with the factory dash featuring Ultraleather "eyebrow" and a fabricated dash panel that holds the featured Auto Meter American Muscle line of gauges. Moving the electricity around falls to the Keep It Clean automotive wiring system under the watchful eyes of Rick Pearce. Upon closer inspection of the dash, you will also see the controls for the Vintage Air AC system, air registers, and push-button controls for headlights, ignition, e-brake, and more … all from Keep It Clean. The power window controls are mounted to the custom center console, which is also home to the TREMEC transmission with Hurst shifter. Nestled to and under the dash are Lokar triple pedals along with the ididit tilt steering column topped with a Billet Specialties spoked wheel. The seating is comprised of custom buckets in front and back with the rears surrounding a "waterfall" to further the appearance of a bench seat. All of this fine stitchwork using Katzkin automotive leather was handled by JR McClelland of McClelland Upholstery another Arkansas-based hot rod shop.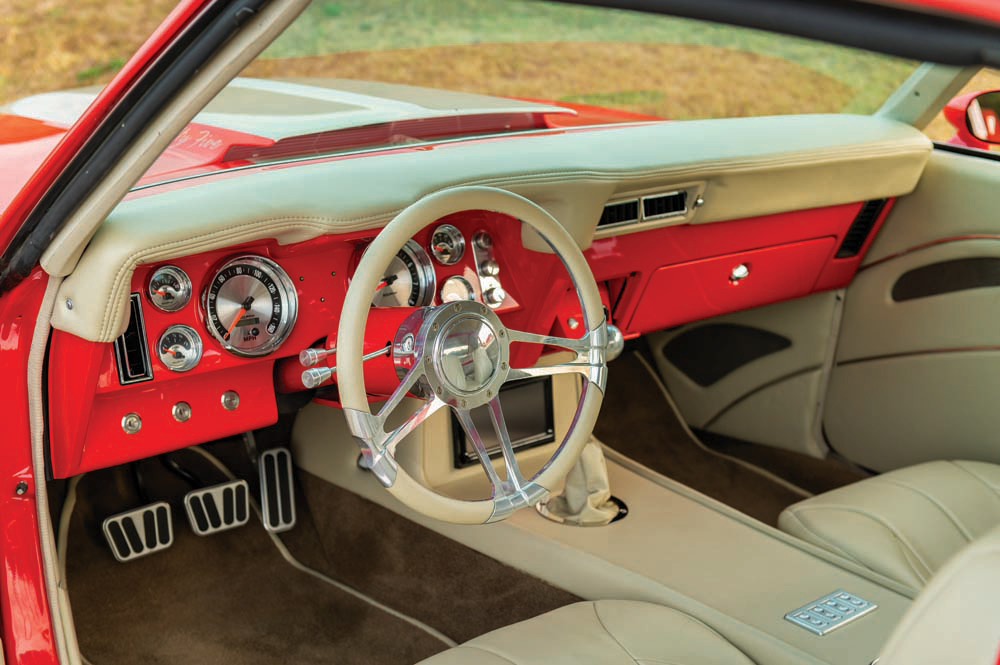 Well, there you have it. A first-gen 1969 Camaro SS/RS that has the looks and the power. MR