Larry Tremaine's 1955 Pontiac was Purchased New by His Granddad
By Dale Moreau   –   Photography by the Author
It's not often that a car has been in the same family for over 60 years. In 1955, Harry Tremaine Sr., Larry Tremaine's grandfather, was driving a '53 Pontiac when it was hit by a log truck, causing permanent damage to his leg. Once Harry recuperated, he went to Windolph Pontiac in Portland, Oregon, and ordered this top-of-the-line '55 Pontiac Star Chief Catalina two-door hardtop.
Read More: One of None … 1961 Pontiac Ventura Convertible
Many years of driving pleasure with the Pontiac came and went, until Larry's grandfather died. His grandmother drove the car until 1979 and then put it into storage. In 1991, she transferred the title to Larry. In 1992, Larry and his family moved to Oregon to complete his medical residency. The car sat outside for a time and then was put into storage until 2017. That was when the old Poncho was put into Terry Morrison's capable hands for restoration. Terry and Laurie have run Terry's Kustom Auto in Wilsonville, Oregon, for many moons and have gone the extra mile to make the '55 Pontiac Catalina the best of the best.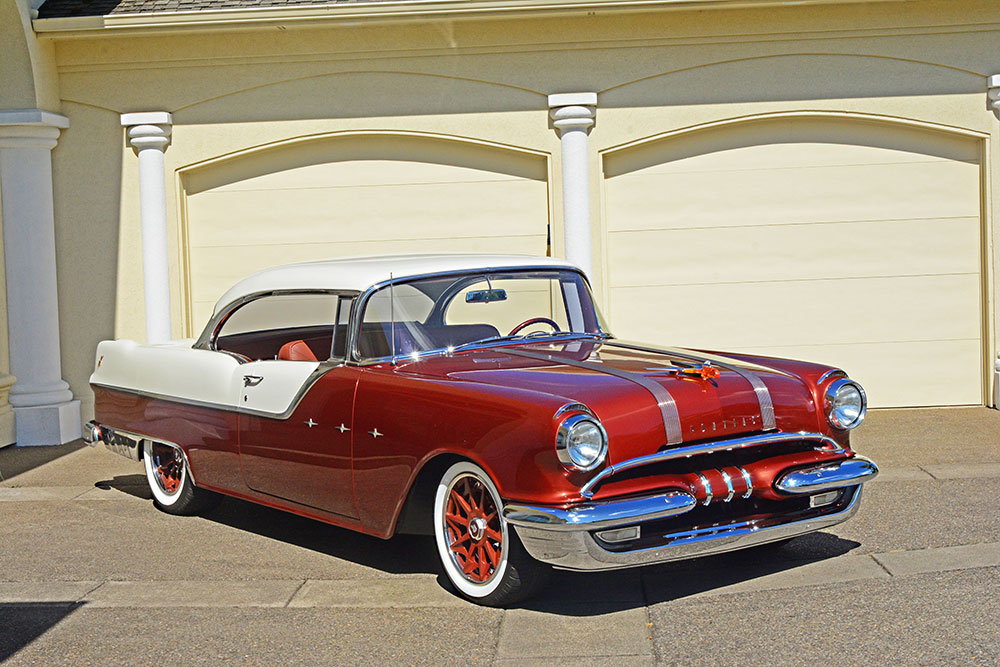 In 1955, General Motors finally blessed Chevrolet and Pontiac with a V8. The other makes of the General's line had many forms of OHV V8s for several years. At the time, each division had its own engine program. Engineers Clayton B. Leach and Ed Windeler managed to squeeze 22 more cubic inches from their small block engine than the just-released Chevy 265. This was the start of years of Pontiacs that were movers and shakers on the dragstrip and on the super speedways.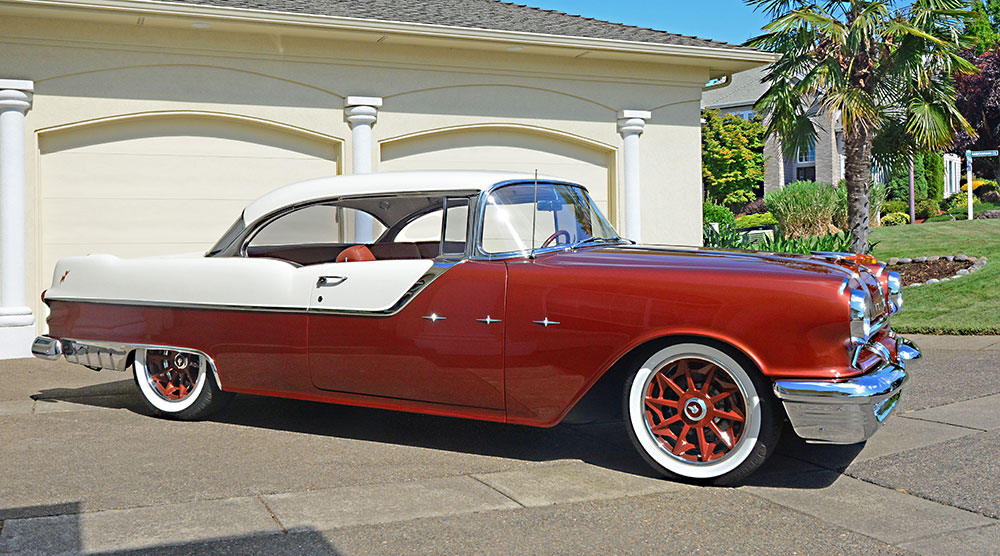 This project was started with a completely original Star Chief Catalina hardtop, which was the top of the line and 7 inches longer than Chieftain models.
Read More: It Runs In The Family: 1968 Road Runner
Upon arrival at Terry's Kustom Auto, the Pontiac was dismantled, and the body sent to MetalWorks in Eugene, Oregon. While that was being done, an Art Morrison chassis was ordered up. It included four-wheel disc Wilwood brakes with drilled-and-slotted 12-inch rotors, four-link rear suspension on all corners, and an Art Morrison supplied Ford 9 inch rear end housing with Strange Engineering axles and limited-slip 3.50 gears. Being that Art Morrison did not do a complete chassis for the rare Pontiac, Terry fitted the 'rails for the installation of power brakes with a Hydro-Vac booster, and a Wilwood master cylinder.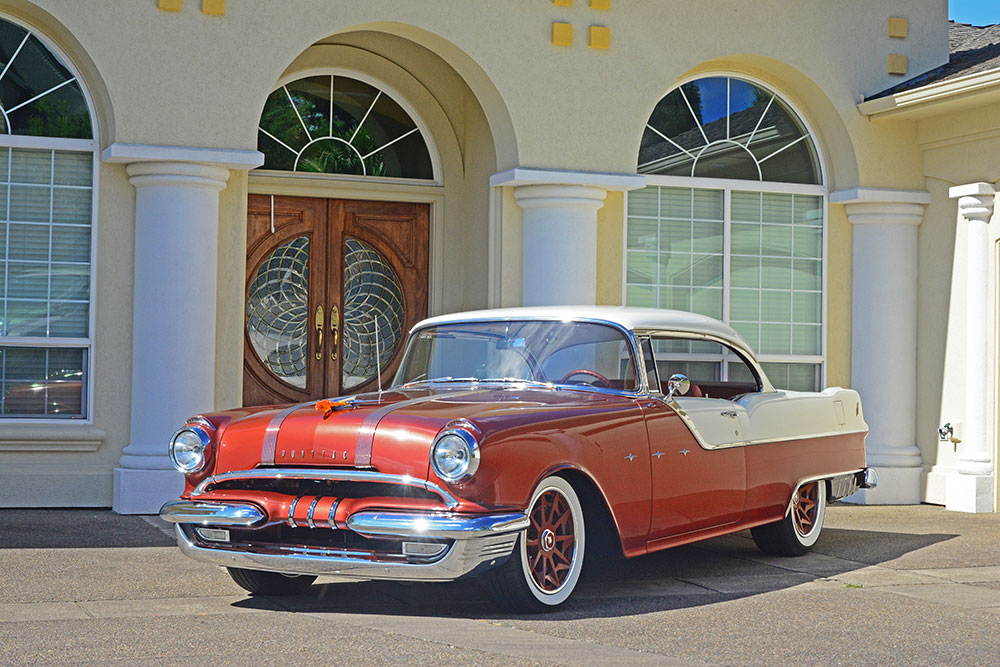 The engine and transmission package includes a GM 430hp LS3 engine (6.2L, 376 inches) Connect & Cruise with 4L65E transmission. Firepower is quieted by ceramic-coated stock headers and a 2-½-inch polished stainless steel exhaust, with DynoMax mufflers by John Keller. Cruisin' across the country is made easy with the help of a 28-½-gallon stainless fuel tank by Rick's Tanks. The LS valve covers are Billet Specialties that were custom machined to read "Pontiac Strato Streak." The air cleaner was made from an original oil bath model.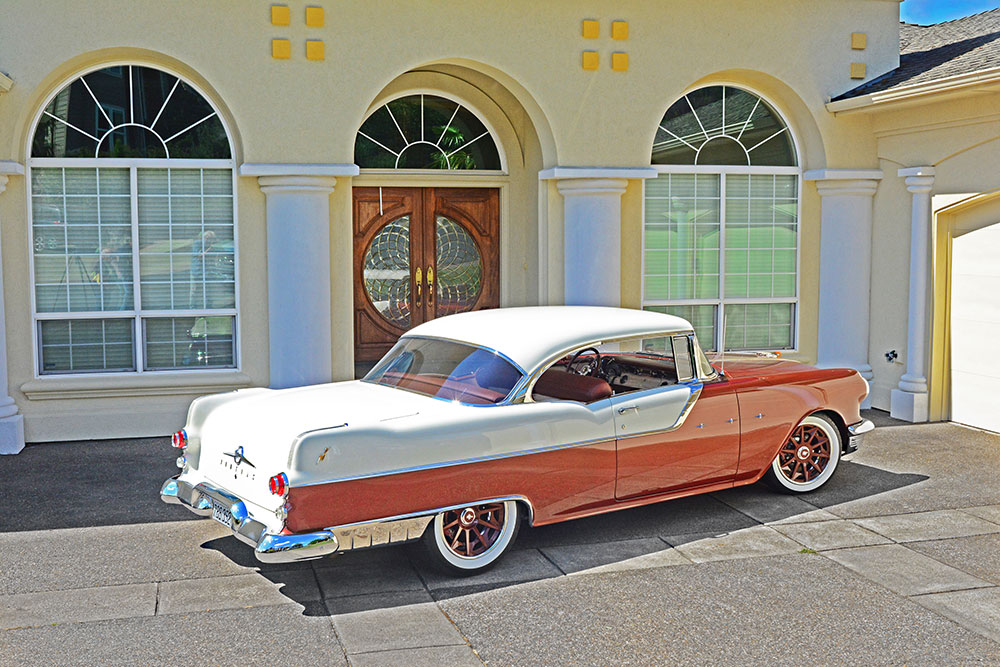 With the body returned, the final metalwork was completed. The body was painted in-house with Bronz Firegold Poly and White Mist two-tone and finished with PPG basecoat/clearcoat urethane. All the chrome and incidental parts that were on the original car have been restored.
In the interior, we find what emulates the original, but with a coach-built look in leather by Jim's Upholstery in Longview, Washington. The dash, with its original gauges, was restored by Abbott Instruments along with the original controls and the Vintage Air Gen IV system. Wiring is a Centech package installed in-house. A tilt Flaming River steering column with a  one-off CON2R steering wheel upgrades the original with a custom touch.
Read More: Hellcrate Redeye Hemi Powered 1970 Cuda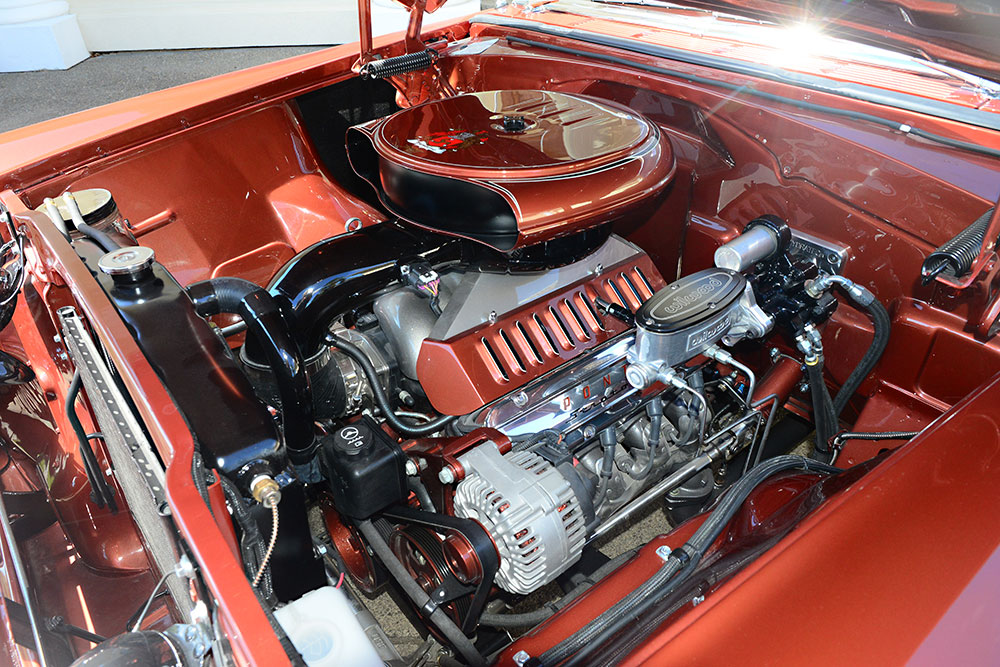 The Pontiac overall looks just like a restoration. Terry solved that by designing a set of one-off wheels. He then color coated them to go along with the two-tone paint on the car. Rotiform Wheel Company is a specialty wheel manufacturer that supplied the  CVT 18×8 and 18×9 Rotiform Wheels with custom-machined center caps. They have their own line of wheels but also make one-off wheels for customers. This application brought the Pontiac build up to current standards and into the limelight. Add the DiamondBack whitewalls (235/50ZR18 at the corners) and you have a perfect mix of today's high-tech rides and the great customs of the past. MR