This 1970 'Cuda is Stuffed With A Hellcrate Engine, With Plenty of MoPower!
By Brian Brennan   –   Photography By Wes Allison
One of the all-time muscle cars is the E-body platform that the 'Cuda was built on from 1966-71. Of this generation, the 1970 Cuda is often considered the most desirable and sought after of the run. Tim Crowley of Roseville, California, has always wanted a '60s-era hot rod but to be outfitted with a modern suspension and powertrain. His 1970 'Cuda fits the build sheet and his wishes have come to fruition. Keep in mind that there were only 652 '71 Hemi 'Cudas built, making an original a highly valuable ride. Tim's Plymouth 1970 'Cuda, while not an original Hemi, is most assuredly a Hemi in its current configuration. To arrive at this street rocket, he teamed up with Ron Cambra of Cambra Speed Shop.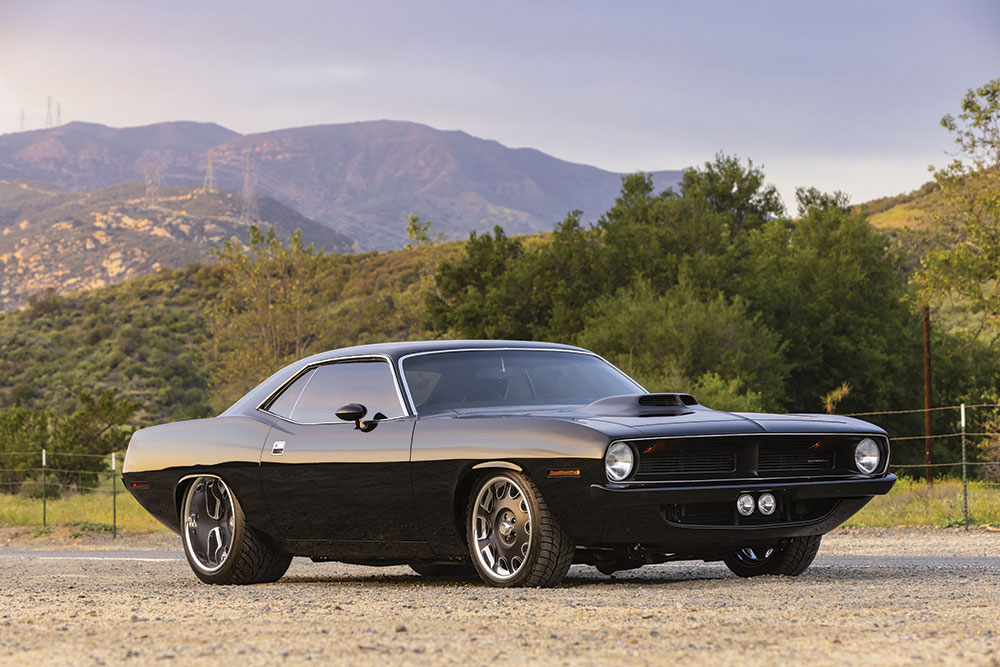 Read More: 1978 Trans Am, Worthy Of Its 'Bird On The Hood
The early era 1970 Hemi 'Cuda was reported to reach 0-60 mph in 5.8 seconds and cover the quarter-mile in 14 seconds at 102 mph. While those may be pedestrian numbers by today's standards those were retina-detaching numbers back in the day. (A note for the uninitiated: The '70 Dodge Challenger and the '70 Plymouth 'Cuda are two distinctly different cars, yet both use the E-body platform. Without looking, and measuring, the casual muscle car aficionado might think they are the same; they aren't. The Challenger is a slightly larger car.)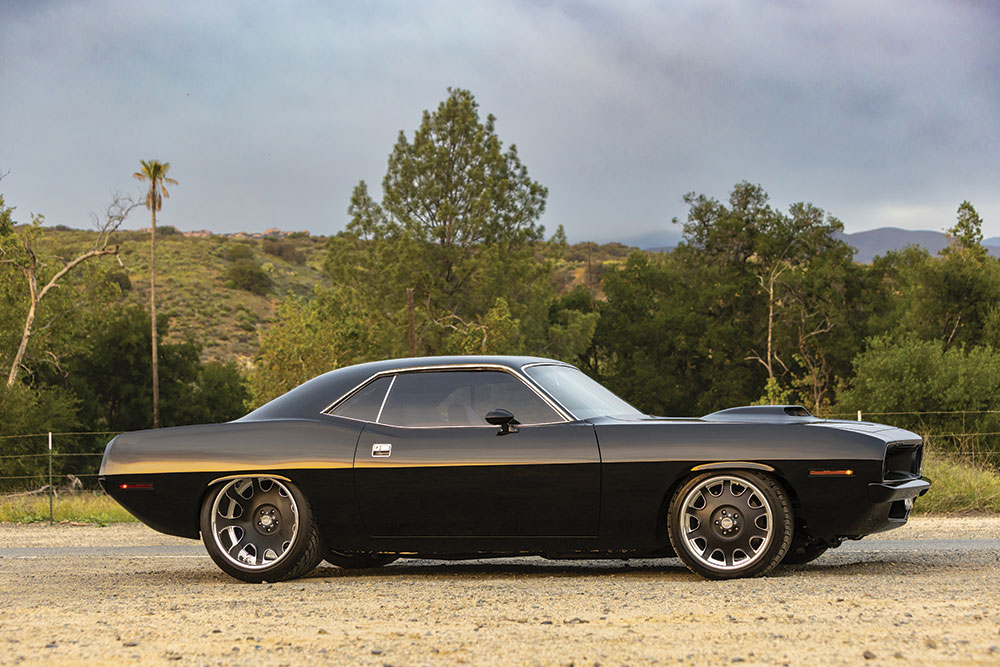 The 1970 'Cuda we are looking at today is powered by a modern modular Hellcrate 6.2L supercharged Gen III V8 that features an iron block and aluminum heads and pumps out 700-plus horsepower. Cambra built the custom headers out of 1-7/8-inch tubing that dumps into 3-inch tubes with V-bend clamps. From here a pair of Black Widow mufflers with resonators are used. The Hemi backs up to a six-speed TREMEC Magnum transmission in conjunction with a McCleod clutch; note the wooden pistol-grip shifter. Did you expect anything else?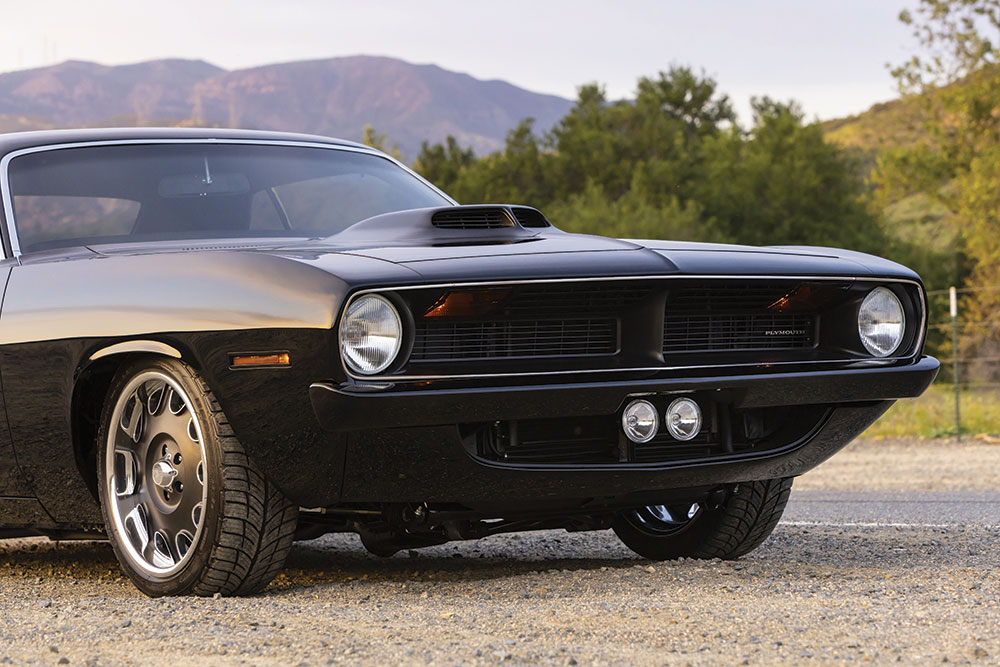 The suspension is attached to a custom frame that features a custom Magnum Force (the Mopar people) K-member that was installed at Cambra Speed Shop. Cambra Speed Shop handled the frame and with the Magnum Force crossmembers then came the Magnum Force tubular control arms, spindles, coilovers. From here you will see a sway bar and ididit rack-and-pinion with Wilwood 14-inch rotors and four-piston calipers in the front and rear as well as a Wilwood master cylinder. In back a Ford 9 inch rear end with 31-spline axles is used along with a Watts link setup. Rolling stock is made up of Schott wheels measuring 18 and 20. Mickey Thompson rubber, measuring 245/40R18 and 29x18x20, find themselves wrapped around the wheels. To handle the massive rear rubber and wheels a set of tubs were fabricated at Cambra Speed Shop.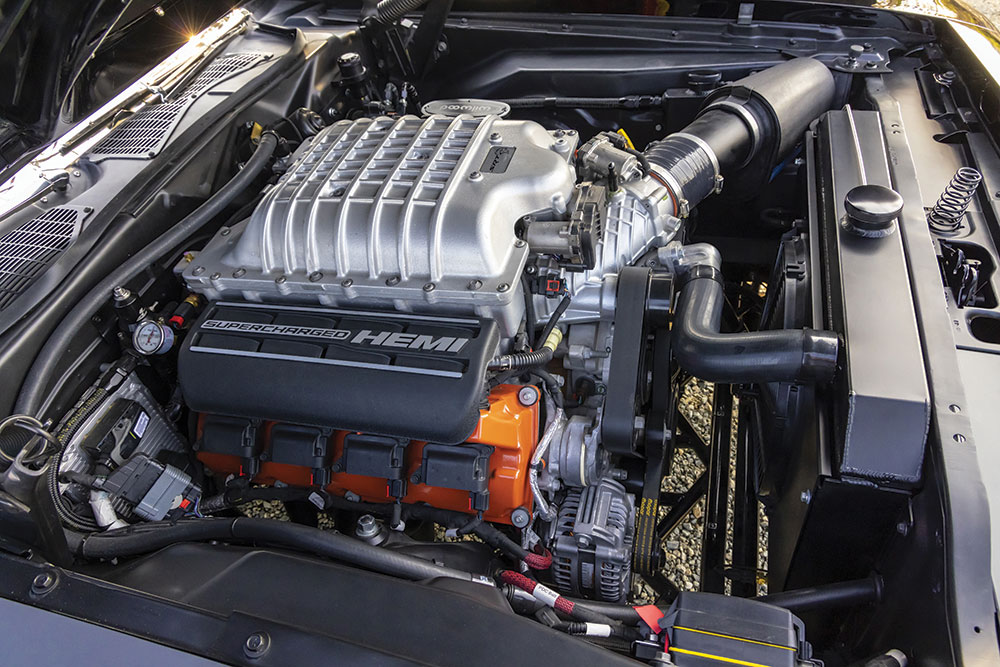 The bodywork and stunning PPG black paint was handled at Cambra Speed Shop by Hitoshi Umekage and Osmar Mata. Some of the subtle sheet metal changes include flush mounting of the rear bumper and tucking in the front bumper tight to the body. Also, the vinyl top, common in the day, was removed and the sheet metal was immaculately prepped for the flawless black paint. The stock hood was fitted with a 'Cuda Shaker air inlet, a sure sign of performance back in the day.
Read More: South City Rod And Custom's Desert Rose 1964 Buick Riviera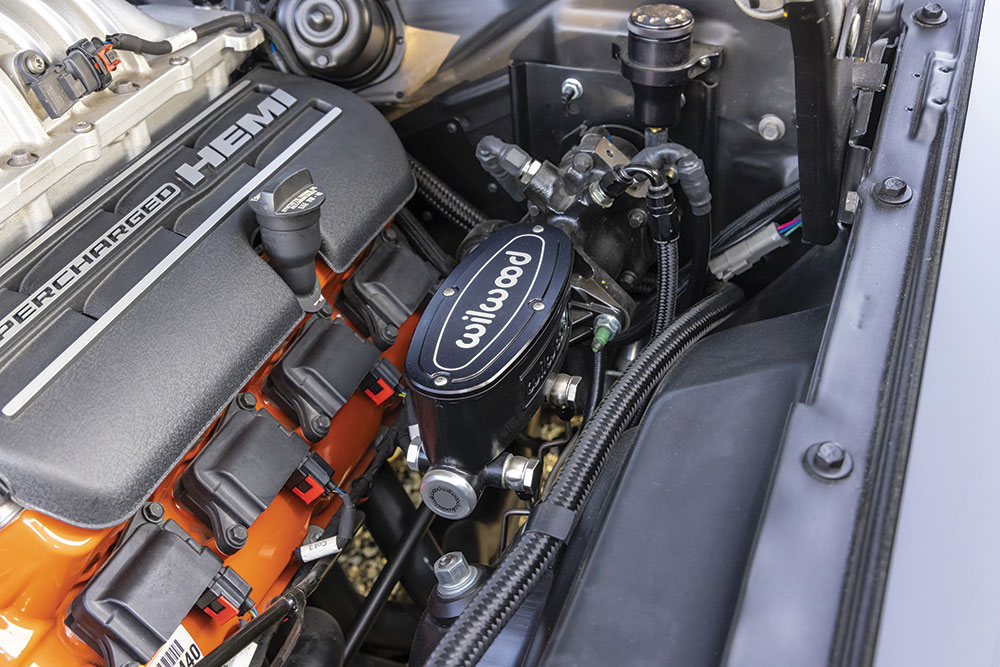 The interior, while looking striking as it would have back in the day, features several custom touches. The factory dash is now wrapped in leather and houses the Dakota Digital instruments and Vintage Air AC that are wired for use through a Coach Control wiring kit that is fired by an Optima battery. The wiring itself was handled at Cambra Speed Shop. The factory wheel was replaced with a three-spoke Grant steering wheel reminiscent of the original. While the rear seating is factory, the front seats come from Procar by Scat and are reworked to look more like their original counterparts. All seating, panels, and headliner are stitched in black leather by Bill's Auto Upholstery.
There's no mistaking the '70s look but the performance is all today, making for an unbelievably good-looking and appealing hot rod. MR