This Voodoo Violet 1968 Plymouth Roadrunner is Truly a Family Heirloom
By Brian Brennan – Photography By John Jackson
This 1968 Plymouth Road Runner has been in the family since the day it rolled off the lot. Jamey Hyder of Tennessee is the proud heir apparent of the car his father brought home as brand new. He remembers as a kid the fun times throughout the years with his dad and this Road Runner. Yet two early memories are displayed in the build. To answer this question, look to the interior. Over the years Jamey and his dad played many games of catch; Jamey was also a Star Wars fan. What does all this mean?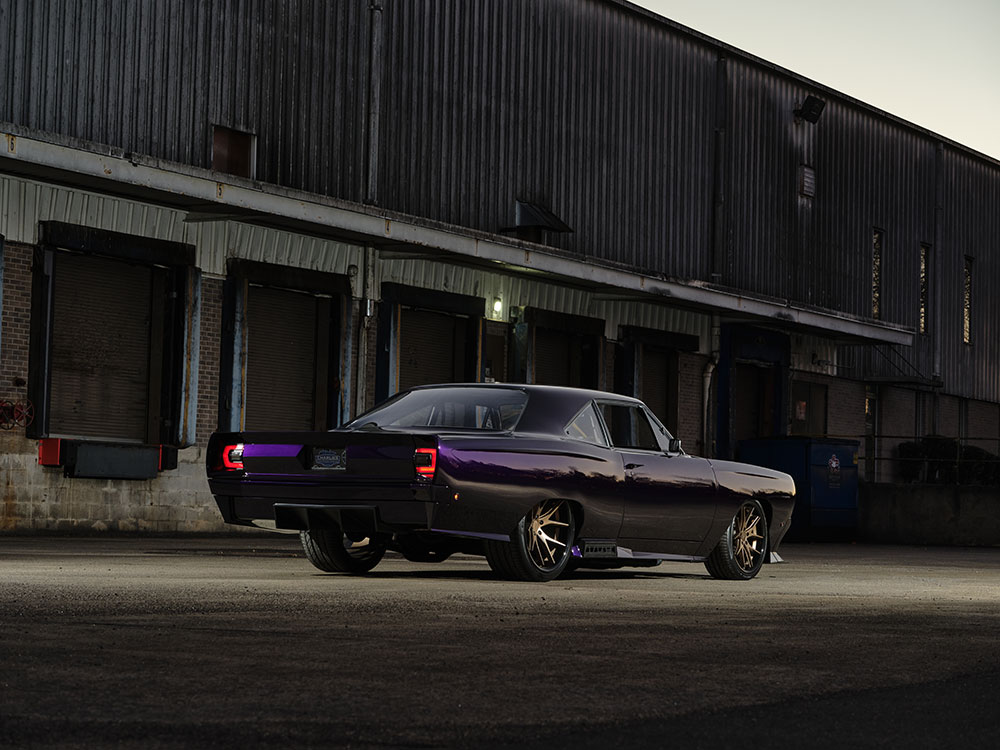 The interior features a Star Wars theme, more specifically the Millennium Falcon. (Come on man, every one of us thought the original Star Wars movie was way cool!) If you don't believe me, pay special attention to the center console and the pattern used in the upholstery. Also, heed the material used. It's what any of us would have remembered as the color of distressed leather found in a well-worn baseball glove. But more on this later.
Read More: Hemi Powered 1967 Dodge D100
The 1968 Plymouth Road Runner is a one-year-only model and as such Jamey wanted to retain many of its original components, albeit "massaged" to keep up with the times. It wasn't long before Jamey and Charlie Swanson and the crew of Charlies Custom Creations (CCC) of Murfreesboro, Tennessee, joined forces to see what could be done. Jamey has a company that manufactures robotic and automation equipment, so lots of the custom one-off pieces were made at his facilities. The four-year effort between the two has yielded a unique 1968 Plymouth Road Runner.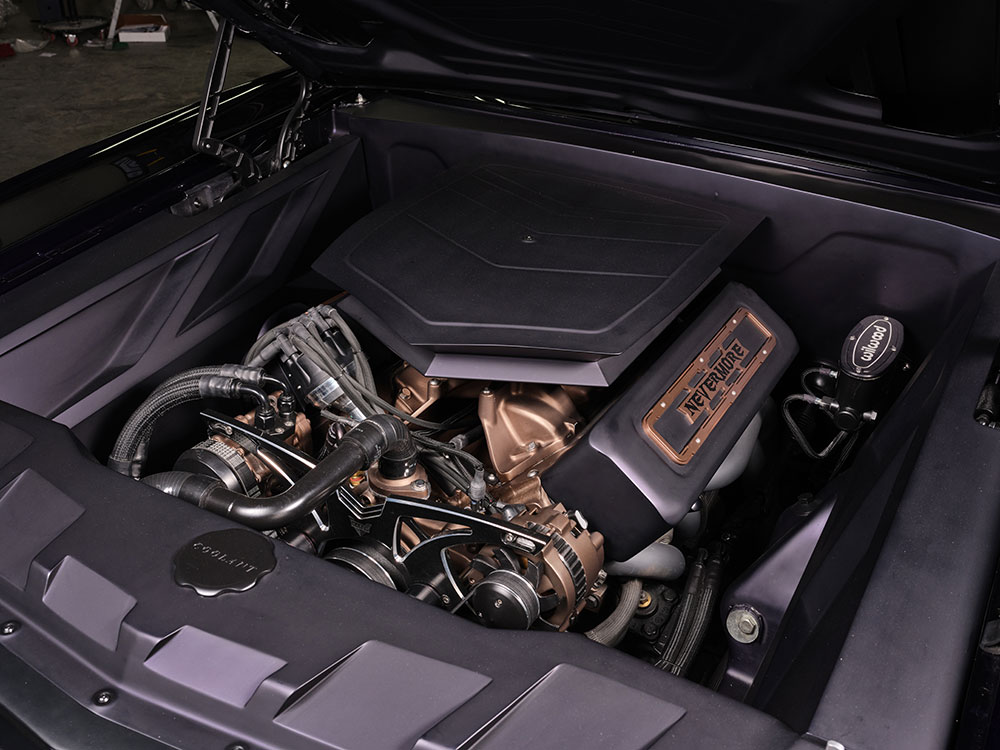 A little back history. The first of the '68 Road Runners were available only as two-door pillared coupes (29,240 units). Later that same year a two-door hardtop model (15,359 units) without the B-post became available. Turns out the Road Runner was an idea whose time had come. It ranked Third in sales that year with 44,599 1968s sold, ranking just behind the Pontiac GTO and the Chevelle SS 396. (If you like your Road Runner trivia try this. It's reported that only 1,109 units had a Hemi engine and only 576 of these were outfitted with a four-speed.)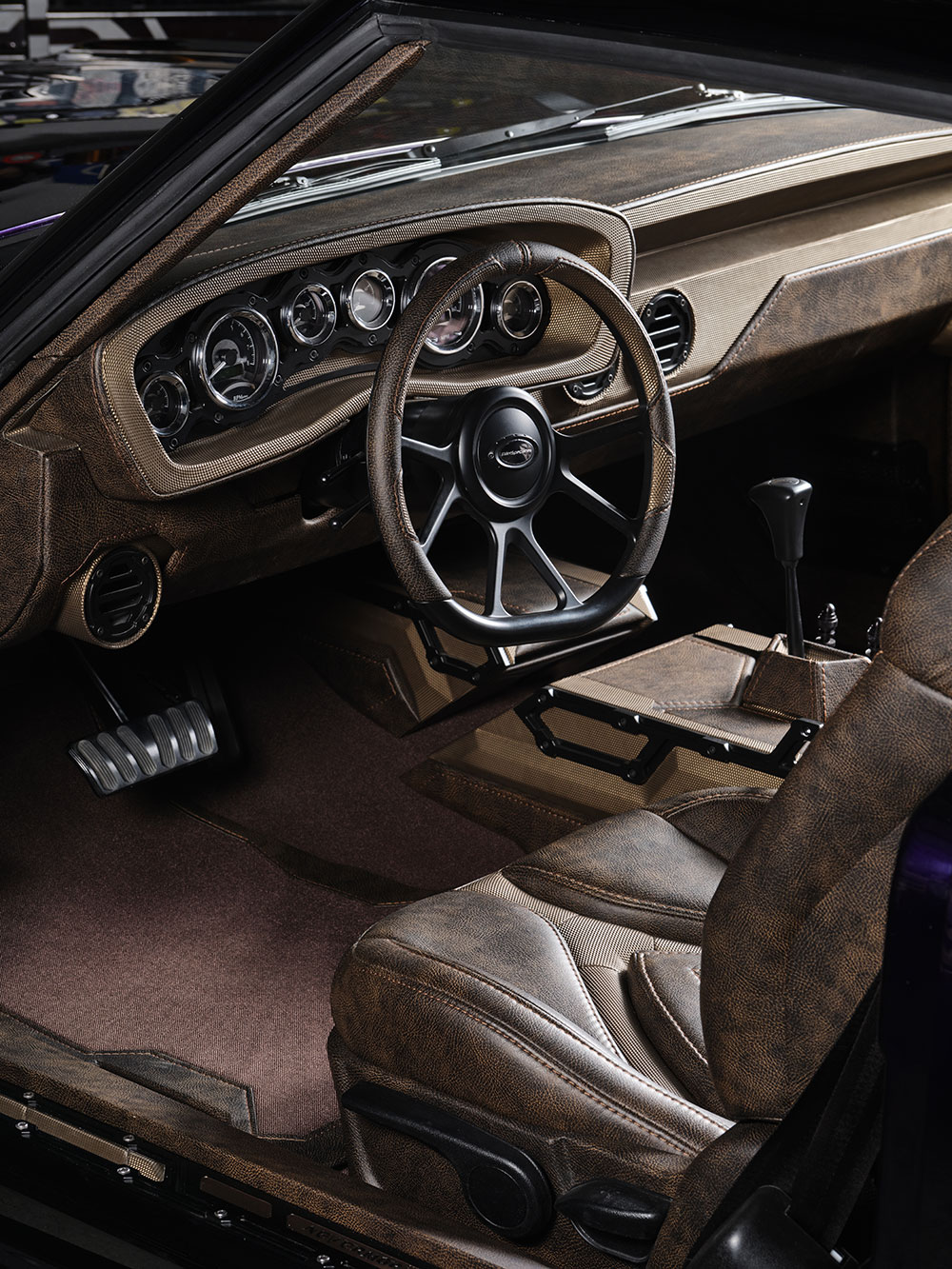 The original Road Runner featured a 383 engine with a Carter four barrel carburetor and registered at 335 hp. The original block is still alive and pumping but now it's 550 hp. Today it measures out at 496 inches through increased bore and stroke with the machine work handled by Charlies Custom Creations. The internal reciprocating parts are all fresh with aluminum Edelbrock heads anchored by ARP head studs with custom hemi valve covers. The intake is an Edelbrock Victor holding up a Holley Terminator EFI system. To this a Holley fuel pump and a K&N air filter element resting within a custom air filter box are used. An MSD distributor, electronic ignition box, coil, and primary spark plug wires are also part of the power mix. Exiting the used fuel are 1-3/4-inch primary tube Doug's headers that empty into 3-inch Cerakoted stainless steel tubing that runs back through a pair of Borla mufflers. The exhaust exits the body, ala NASCAR, just in front of the rear rubber. Other engine accessories include the block-colored aluminum water pump, which is also the same color as the wheels, a SPAL electric fan, a March serpentine belt system, a GM alternator, a Powermaster starter, and an Energizer battery that's located in the trunk.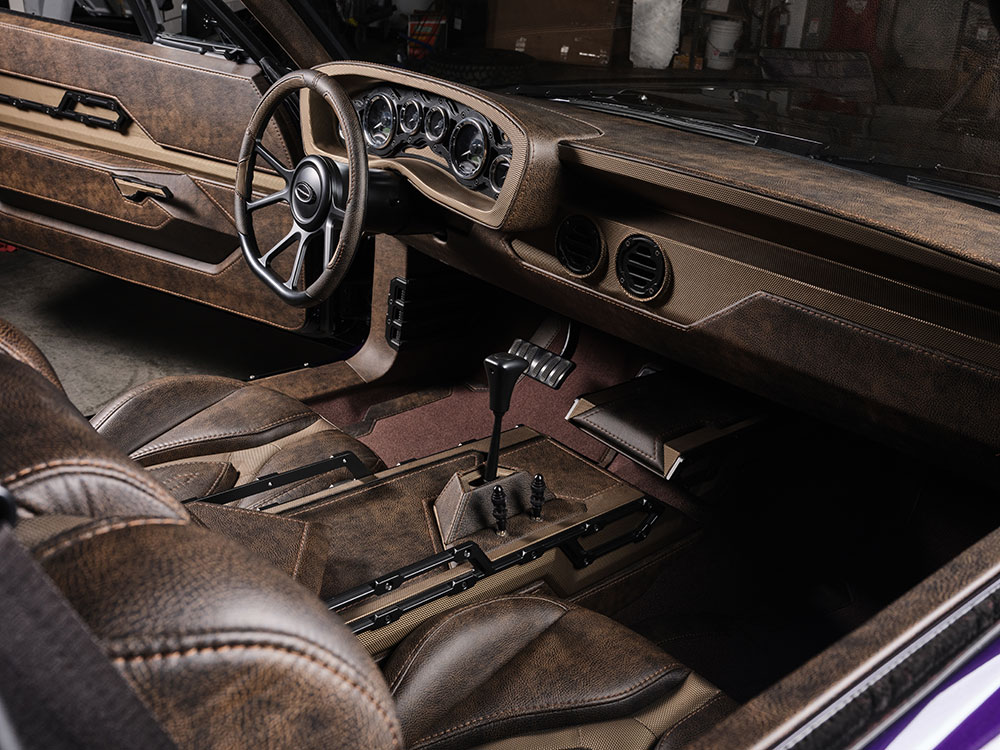 Linked to the modern version of the Road Runner V8 engine is a 727 Torqueflite transmission massaged by Matts Transmissions that includes a 2500rpm stall speed converter. It's run through the gears by a Lokar shifter topped with a Charlies Custom Creations 3D printed shift knob. Cooling falls to a Griffin radiator for both the engine and transmission with a Dave's Driveshafts handling the go-between. Rearward is a Moser engineering 8-3/4-inch Mopar rear end, a 3.27 gear, and 33-spline axles.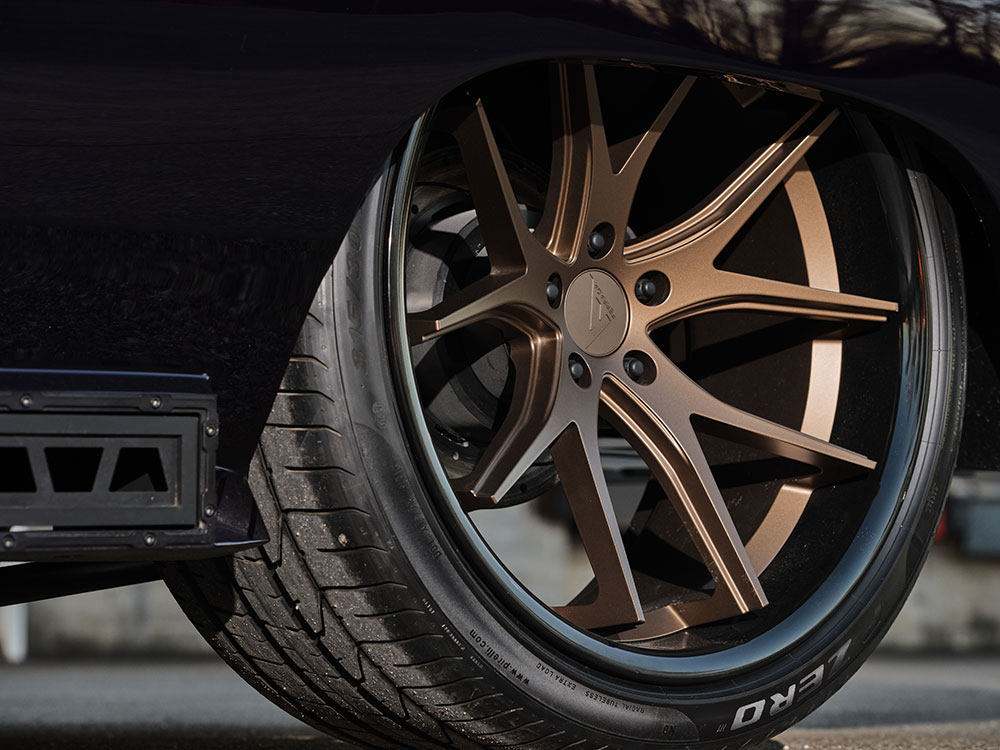 The Hotchkis subframe connectors are positioned by Charlies Custom Creations that ties in the front and rear aftermarket suspensions. A  Level 3 QA1 Independent Front Suspension along with a Control Freak Suspensions rear setup is used. Factory spindles are found along with a fresh Borgeson steering box that's linked to an ididit steering column twisted by a custom steering wheel. In lieu of the original brakes, the latest in today's stopping power is provided by a Wilwood brake kit. A set of 13-inch drilled-and-slotted rotors are used in conjunction with six-piston calipers in front and four-piston calipers in back. The master cylinder is a Wilwood with their firewall mounting using Lokar pedals.
Read More: This Hemi Powered 1950 Plymouth Coupe is all Business
The QA1 Level 3 Independent Front Suspension comes with heavy-duty assemblies that offer stiffer springs to maximize cornering and handling. There are front double-adjustable QA1 shocks, a tubular K-member front sway bar, upper and lower control arms, torsion bar adjuster, camber bolt adjuster, and tie rod sleeves.
The rear is based on a Control Freak Suspensions system that is a triangulated four-link with double-adjustable Viking coilovers and one set of trailing arms that are angled inward to create the "triangle" setup.
The Road Runner is held up at the corners with a set of matte-finished Ferrada wheels in the same color as the motor with Pirelli P Zero rubber. The wheels measure 20×9 in front and 22×11 in back with 315/30R22 and 255/25R20, respectively.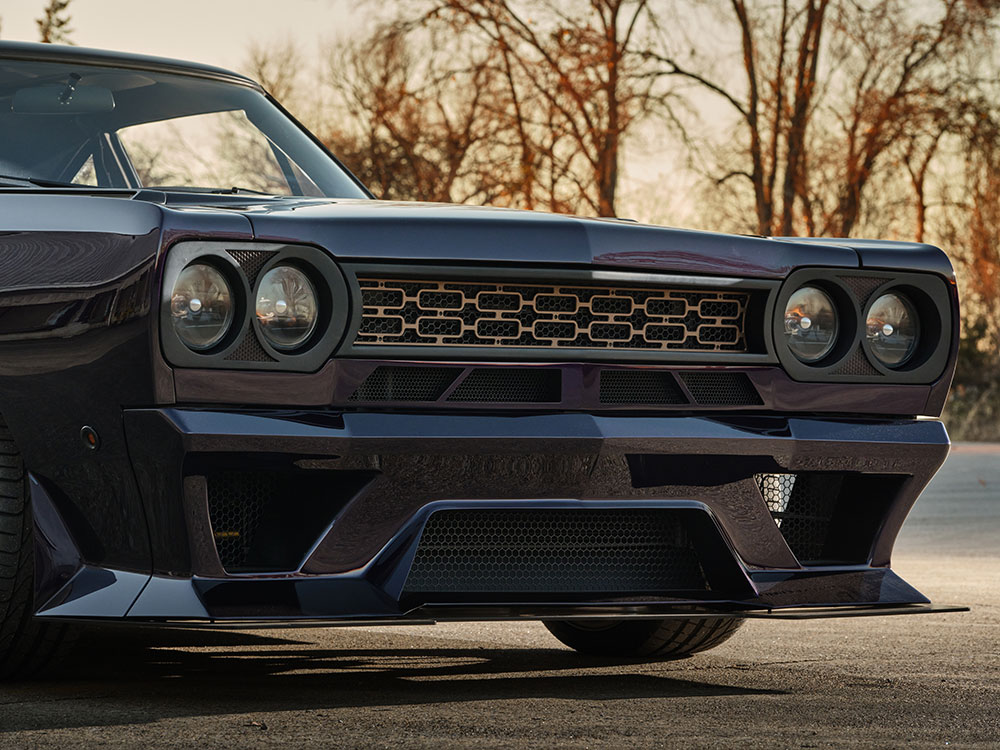 The body began life as a stock 1968 Plymouth Road Runner sheetmetal. Charlies Custom Creations took the factory bumpers and reworked them, giving them a more aggressive appearance, and tucked them in tight to the body. You will also see a front splitter and rear diffuser both fabricated at Charlies Custom Creations; these components also serve as partial belly pans. There is also a subtle rear wing mounted atop the electrically controlled trunk. The headlights, turn signals, and taillights are stock. The tail lights were left alone with the headlights retaining the stock appearance but the grille shell, while having its foundation in the stock appearance, was machined to create a new version of the old. This was the only year that the Plymouth Road Runner used the "dot" side markers. Look closely and you will see these are retained–very cool.
The inner fender panels on a stocker don't come out but Swanson made inner fender covers that do pop out, allowing access to the suspension. More engine room sheetmetal work includes a custom firewall, all bead rolled at Charlies Custom Creations. More of their handiwork includes the frenched rear license plate, a pair of fabricated wheel tubs, a custom fuel filler, and the underside of the hood now mirroring what's going on inside the engine bay. The hood is now heavier and a special set of hood hinges were made. It also has external aero latches, another nod to a performance car. The bodywork was handled by Charlies Custom Creations with Johnny Westwood applying the paint. The color is House of Kolor Voodoo Violet pearl coat over black basecoat with four coats of PPG DCU201 clear.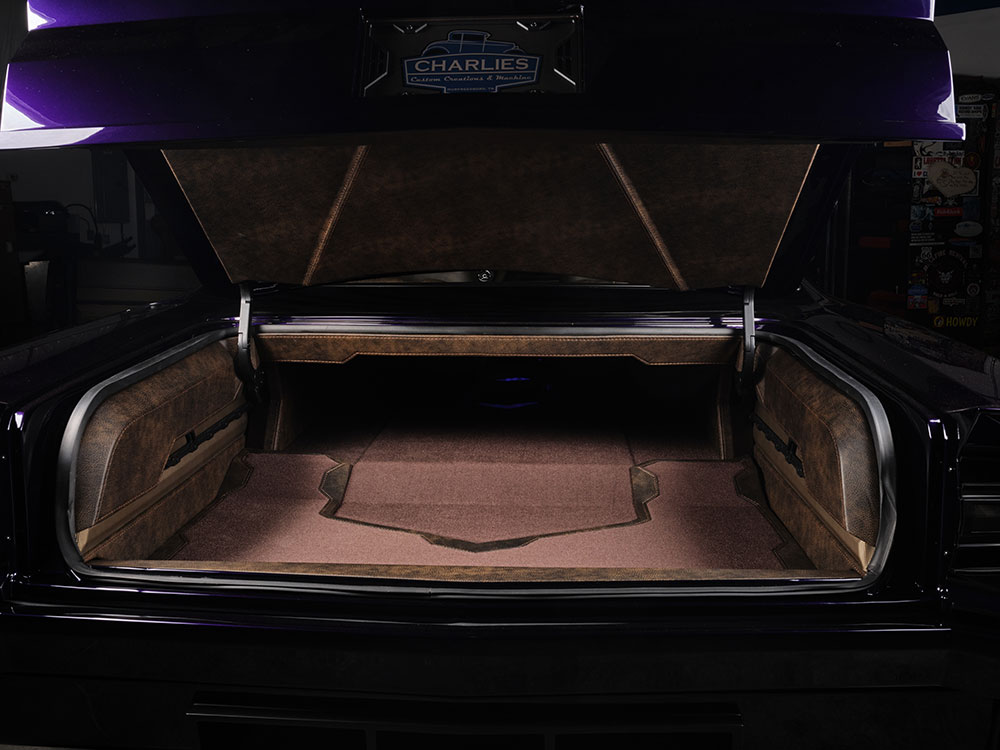 As you step inside you will notice the step plates and these are custom pieces that Jamey made at his shop along with several other custom items throughout the interior. Inside the factory dash was put aside and in its place a custom dash  is now wrapped by Bret at Concord Customs. From here Dakota Digital instruments, the VHX-1060 six-gauge round package, is wired to go through an American Autowire harness that was installed at Charlies Custom Creations. The ididit steering column is topped with a custom steering wheel. The seating is based on 2014 Kia Forte high-back bucket seats that are covered in Brisa distressed steerhide (think a used baseball glove) with a brown Daytona weave for carpeting. The distressed brown leather is also used on the headliner and all the stitchwork was handled by Concord Customs. Note the complement of Lokar accessories in the brake, gas pedals, and shifter. Next to the shifter there are two vertical switches, reminiscent of the "lightsaber" handles, that control the power windows. More Millennium Falcon touches! The center console features a sliding top that's programmed via an actuator push button. Inside you will find the necessary controls for the Air Conditioning, electric trunk release, volume boost for the stereo, and so on, while the grab handles on both sides are more Jamey and Charlies Custom Creations machined aluminum handiwork. (Sidenote: when the trunk is open you can see from the package area straight through to the dashboard. Great place to slide one's skis!)
Read More: 1956 Dodge pickup is Packed with Modern Day Hemi V-8
It's early in the life of this 1968 Plymouth Road Runner and we hope that it will be at all the outdoor events this summer. You will want to see this ride. Might even see it at Shades of the Past competing for the Triple Crown of Rodding. MR