Sam Landis' Fat-Fendered '68 Camaro
By Nick Licata   –   Photography by John Jackson
Not big into first-gen Camaros, Sam Landis sort of shied away from what many muscle car enthusiasts consider the most popular cars of the Ponycar era. It just wasn't his thing. Well, that was until he spotted his buddy's '68 back in 1999. "I was 18 when I first saw the car," Sam tells. "I immediately fell in love as it was the first one I saw that didn't have the stance of a John Deere tractor. This one had flared fenders all around with big rubber on all four corners. It looked like a race car that could do more than go straight down a dragstrip—something I'd never seen before."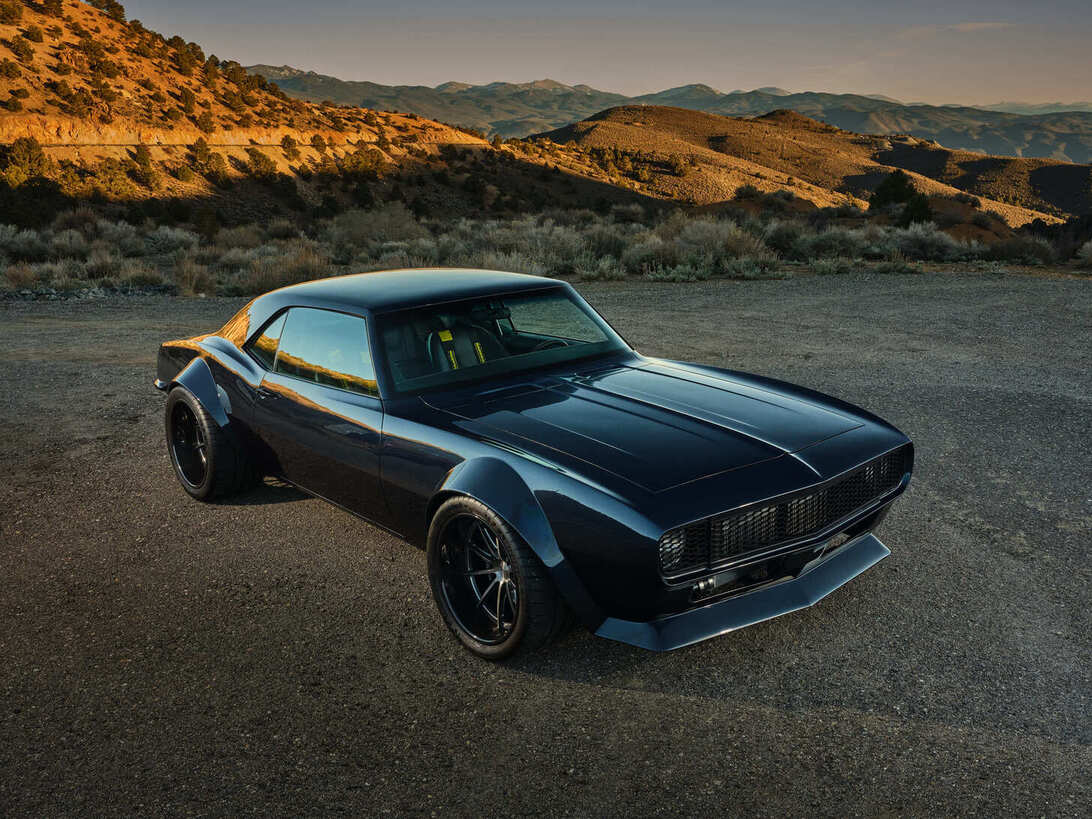 That buddy was Scott Luscombe. His dad, Lou, bought the car some time in the '70s for $350. It was an original RS/SS with a four-speed and a seized big-block. Over time, Lou worked on the car, put in a rowdy-sounding small-block, tidied it up inside, and fabricated a set of flared fenders for a Trans Am look of the era. He promised Scott, he'd give him the car as a graduation gift if he'd nail down some solid grades. Scott did and the car was his.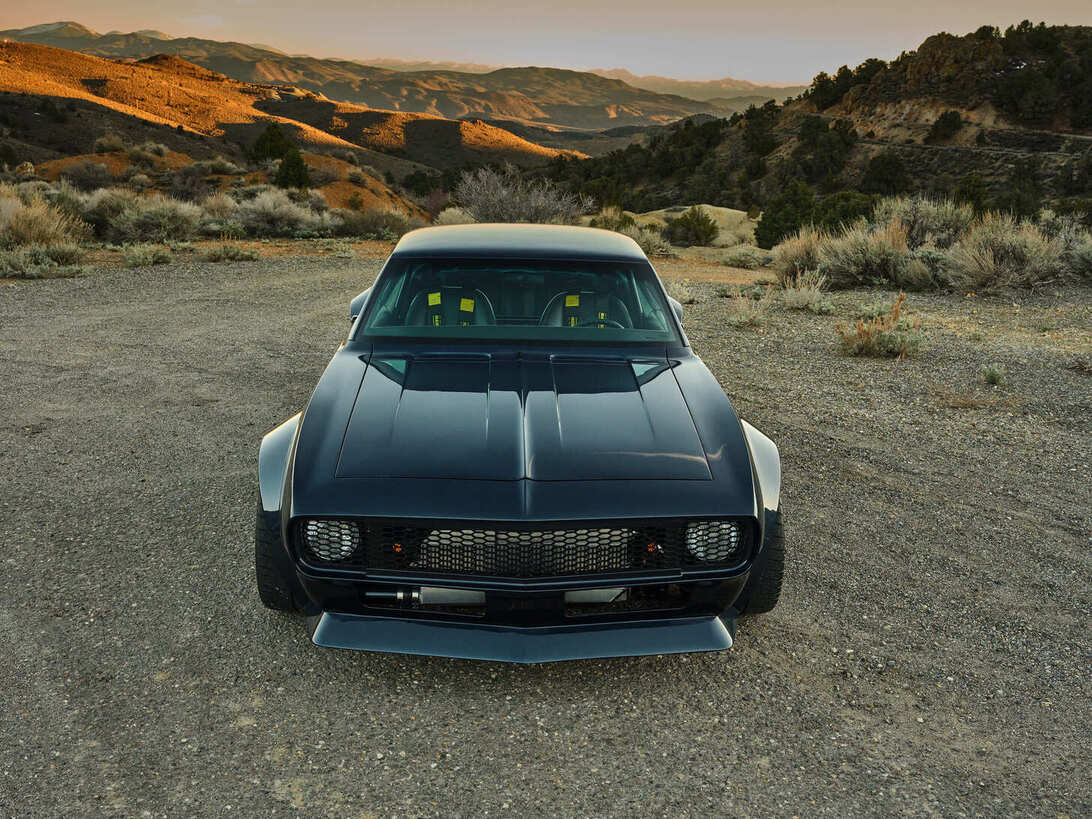 "The car blew my mind, and I told Scott that if he ever wanted to sell it to let me know first," Sam says. "Scott thought that was funny because I was making about $7 an hour working at a car wash at the time and there was no way I could afford it."
Read more: Big-Block Power was the Only Choice for Brian Furness' Badass 1970 Camaro
Fast-forward about nine years when Scott called Sam informing him his first daughter was on the way and that the car was for sale. Sam had just started a home-building business right in the middle of the housing crisis, but that didn't deter him from making what he calls an "irresponsible decision" to buy the car. Sam drove the car for a few years and in 2016 he was ready to take it to the next level. Sam had saved a little cash for the "Camaro fund" and knew Scott had just opened his own shop, Slick's Fab Shop in Houston, Texas. He had some ideas on upgrading the car and would only trust Scott to work on his Camaro due to his car-building skills and close connection with the car.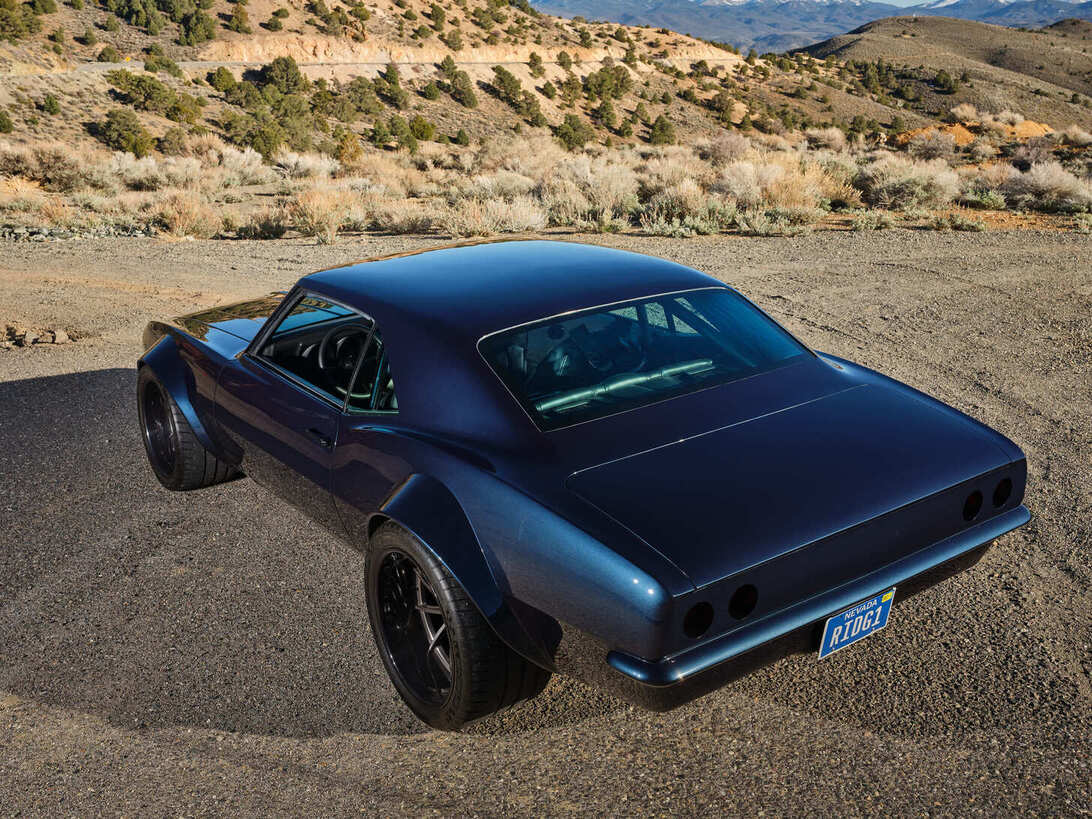 "A high-compression small-block, Detroit Speed subframe, and disc brakes made the initial upgrade list, but knowing the vintage 15-inch mag wheels had no chance of clearing big brakes, the project began to take on a life of its own," Sam states.
"The 460ci small-block we initially went with was temperamental at best," Sam says.  "Luckily Lou was hanging around the shop and told us to stop messing around and put in an LS with a ProCharger and call it good. Experience was speaking—we listened."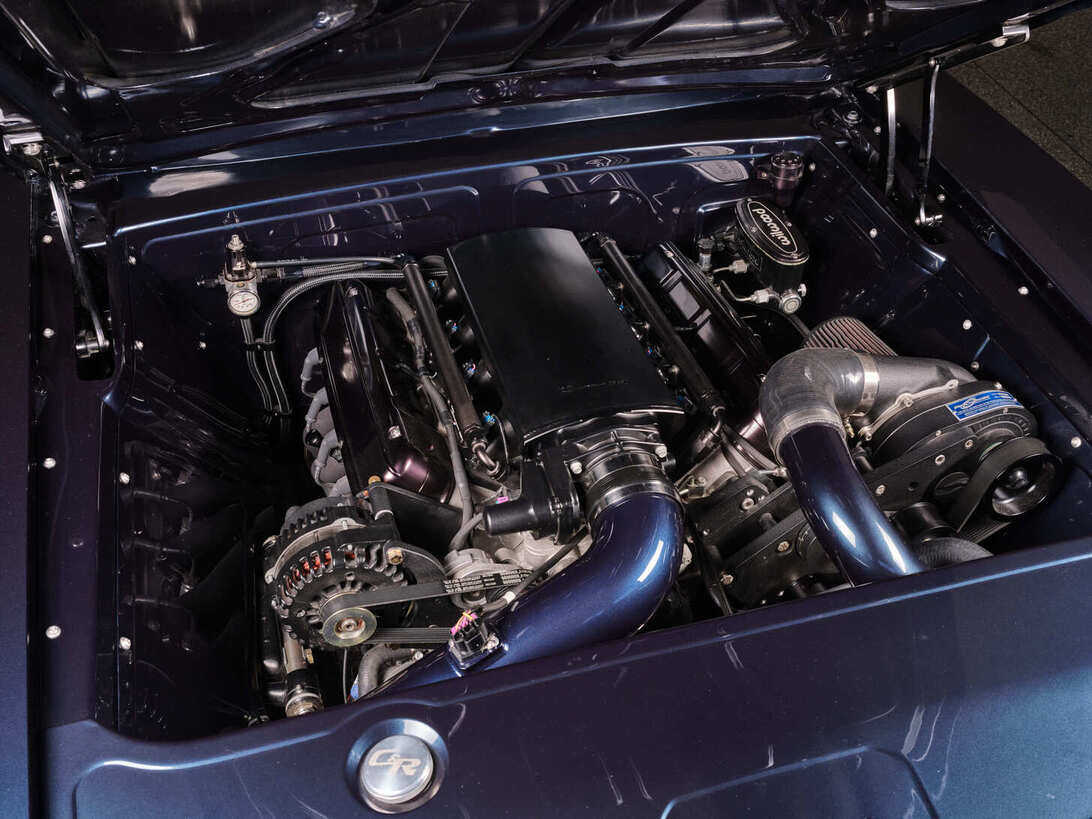 They picked up an LS3 from Chevrolet Performance and bolted on a ProCharger supercharger, dressed up the mill with a pair of Billet Specialties valve covers, and topped it with a Holley Lo Ram LS intake but not before Scott smoothed the firewall and did up some custom inner fenders and a core support cover. The engine delivers 735 hp and looks good doing so.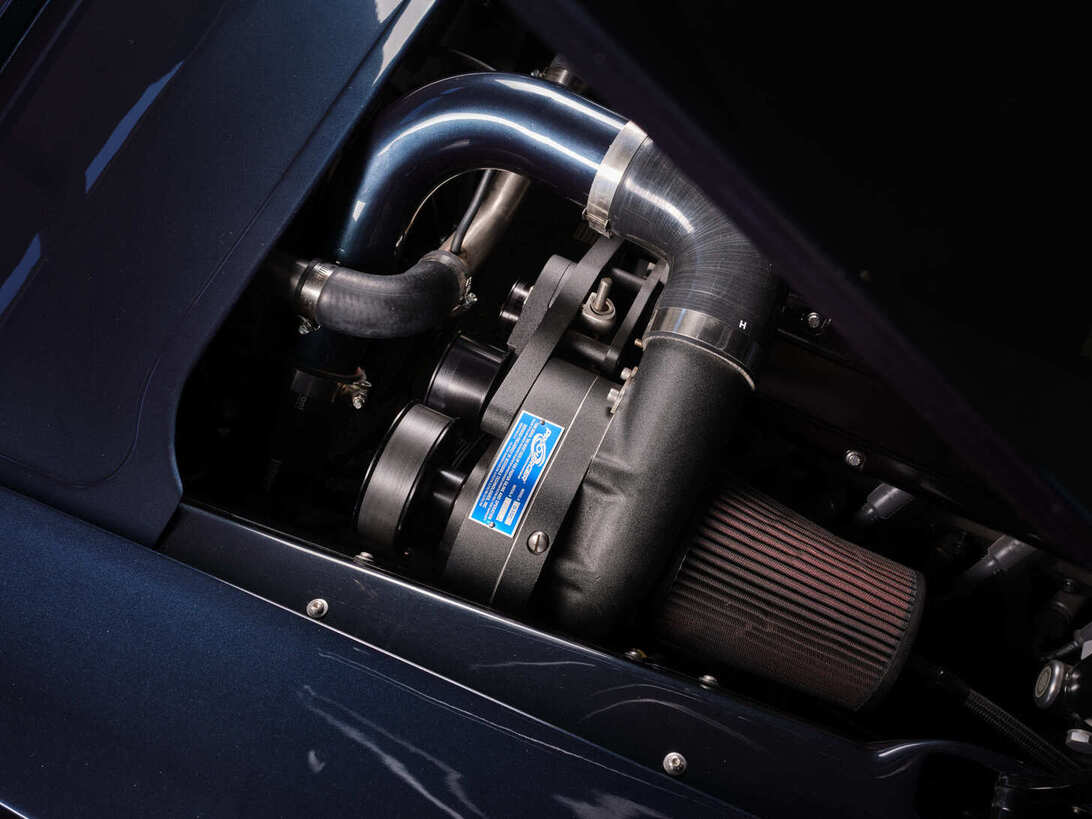 That power makes its way to a TREMEC TKO-600 five-speed transmission and McLeod twin-disc clutch. A GM 12-bolt rearend stuffed with a Yukon limited slip and 3.42 gears gets the turmoil to the ground.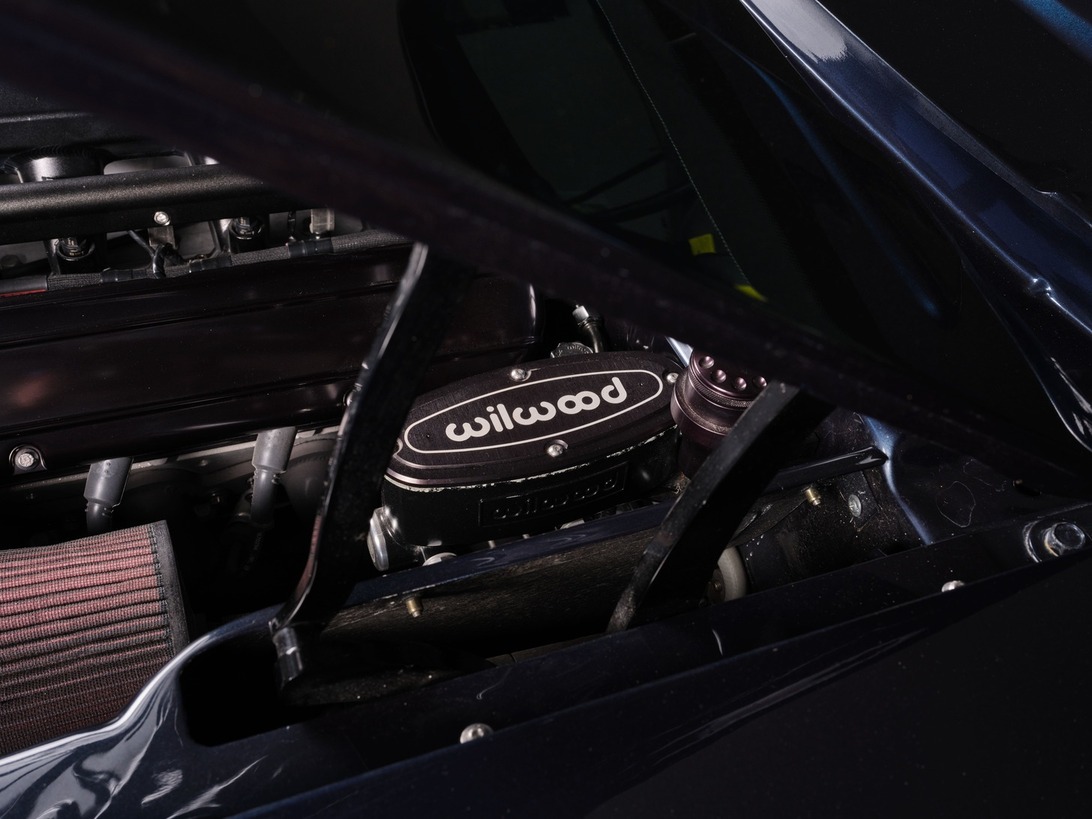 Moving forward with the aforementioned Detroit Speed front subframe, a Detroit Speed QUADRALink was bolted in the rear and tied together with Detroit Speed subframe connectors. Double-adjustable JRi shocks made their way on all four corners to complement the upgraded chassis components, while big Wilwood disc brakes deliver exceptional stopping power. Michelin Pilot Sport Cup 2 rubber wrap around a set of 19-inch Black Forgeline GT3C wheels that fit like a glove within fat fenders and custom wheeltubs. Sam and Scott's version 2.0 is on point and gives the vintage Camaro modern handling and big horsepower while adhering to the original vibe in which Lou built the car over 20 years earlier.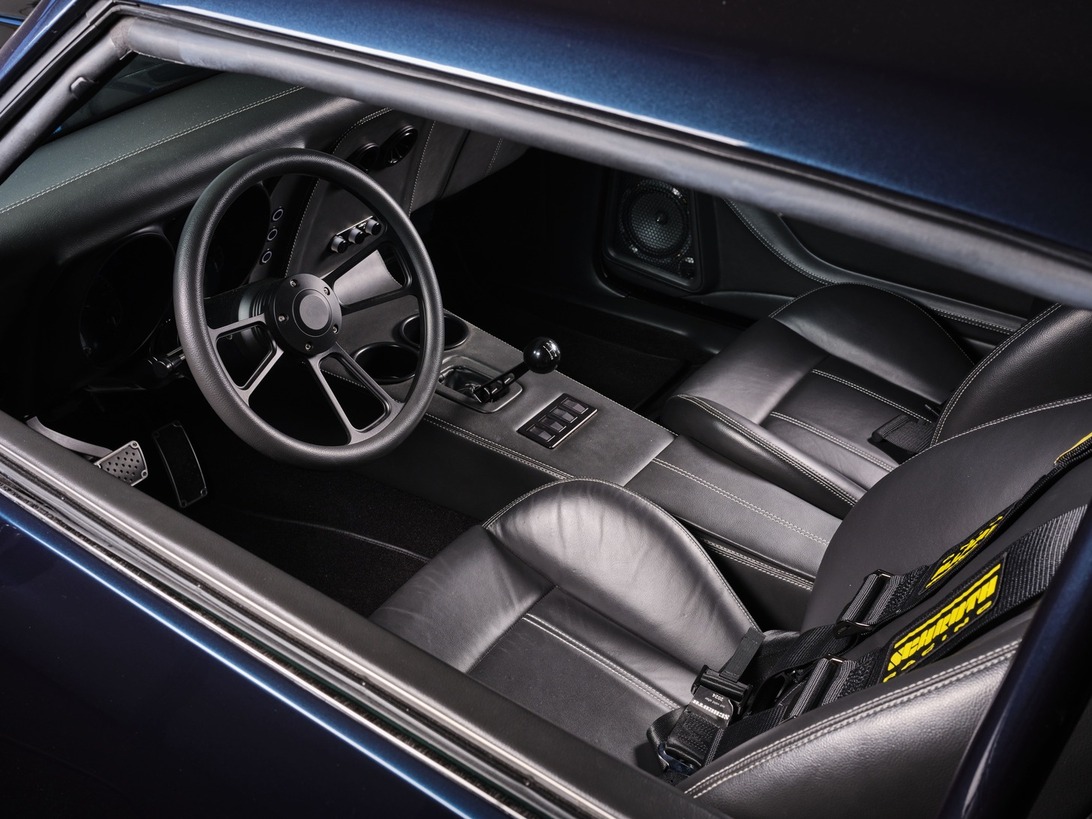 Check it out: Chris Shallcross' LS3 1970 Pro Touring Camaro RS
Cypress Auto Interiors brought in yards of high-quality black leather covering the door panels, dash, and custom center console. The gray carpet offers some life into the business center and shares the stage with a set of Clayton Machine Works pedals and door handles. The Schroth Racing five-point harness is anchored to the custom-fabricated four-point rollcage that abides by the overall scheme. A Forever Sharp steering wheel wrapped in matching leather is propped atop an ididit steering column. Vitals are monitored by Dakota Digital gauges while a Vintage Air A/C system keeps the interior temps in check blowing through a set of Restomod Air vents. A Pioneer head unit and Alpine Amp combines with a quad-dose of Focal speakers to provide a sound wall of Sam's favorite driving tunes.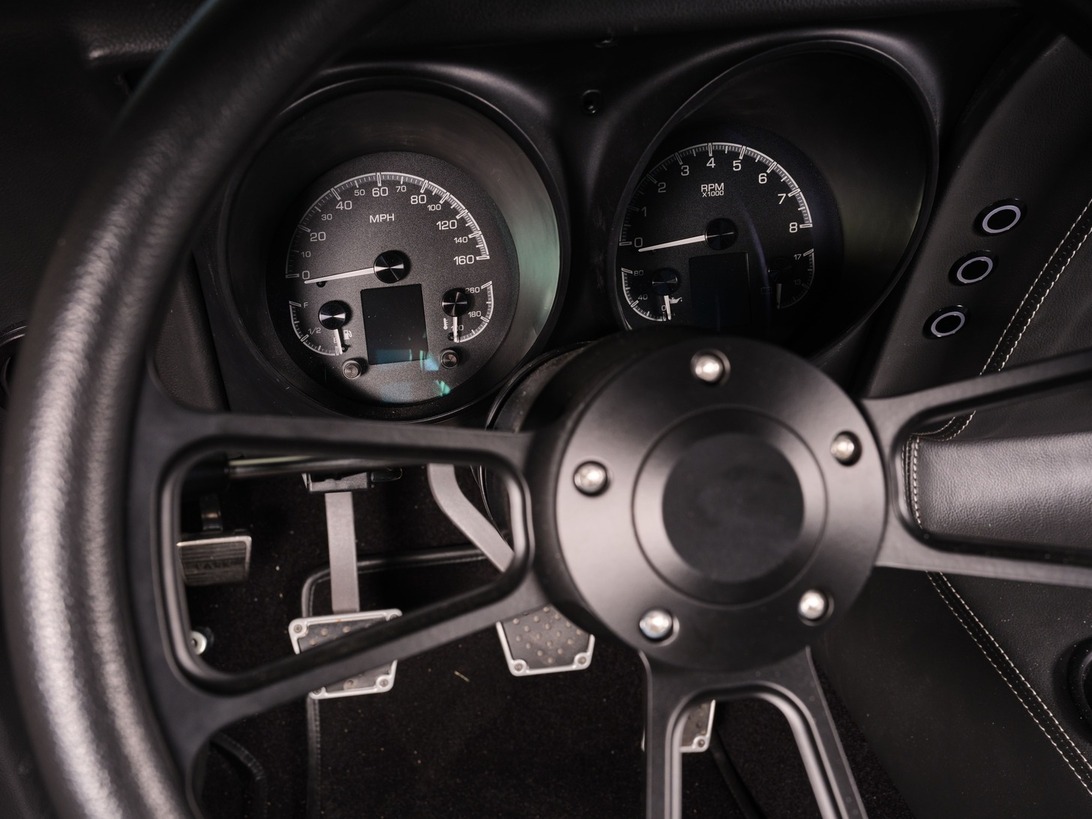 The exterior is where the Camaro takes on a look of its own. Scott retraced the steps of his dad and fabricated a fresh set of fender flares that are a bit more angled while still retaining that same aggressive look that caught Sam's attention years earlier. The Camaro received all-new sheetmetal prior to Scott spraying a deep coat of PPG Bitchen Blue, a custom Slick's Fab mix, then he hit the Camaro with a one-off custom Alumicraft grille, went full front bumper delete, added LED turn signals, and incorporated a custom spoiler that feeds off the front fender flairs. Out back, a custom-fabbed tail panel houses, of all things, round Peterbilt taillights. It's all part of the infinite custom nuances that put Slick's Fab on the map and this Camaro into a class all its own.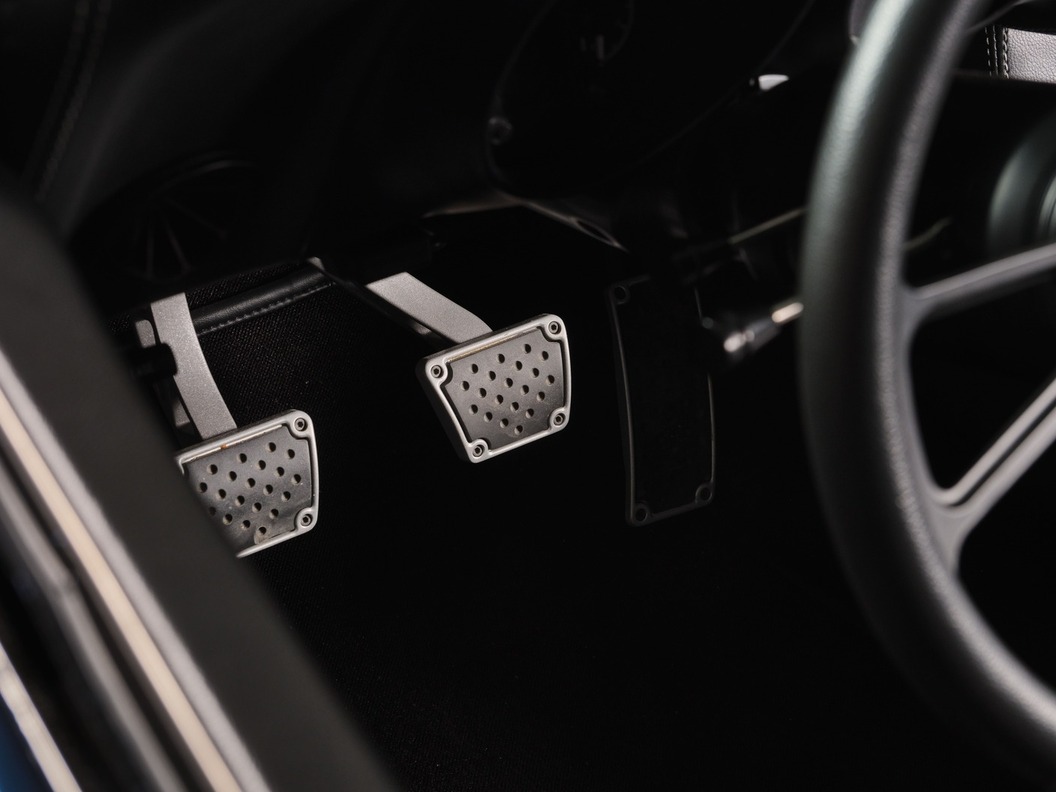 Sam refers to the car's latest incarnation as 2.0 and although there was a lot of overthinking and second-guessing throughout the process, he's happy he and Scott were able to retain the attitude it carried back in the day under Scott's ownership, only today this street-ready, track-capable Camaro goes beyond looks and style as this thing is an absolute beast with enough power to back up every bit of its threatening demeanor.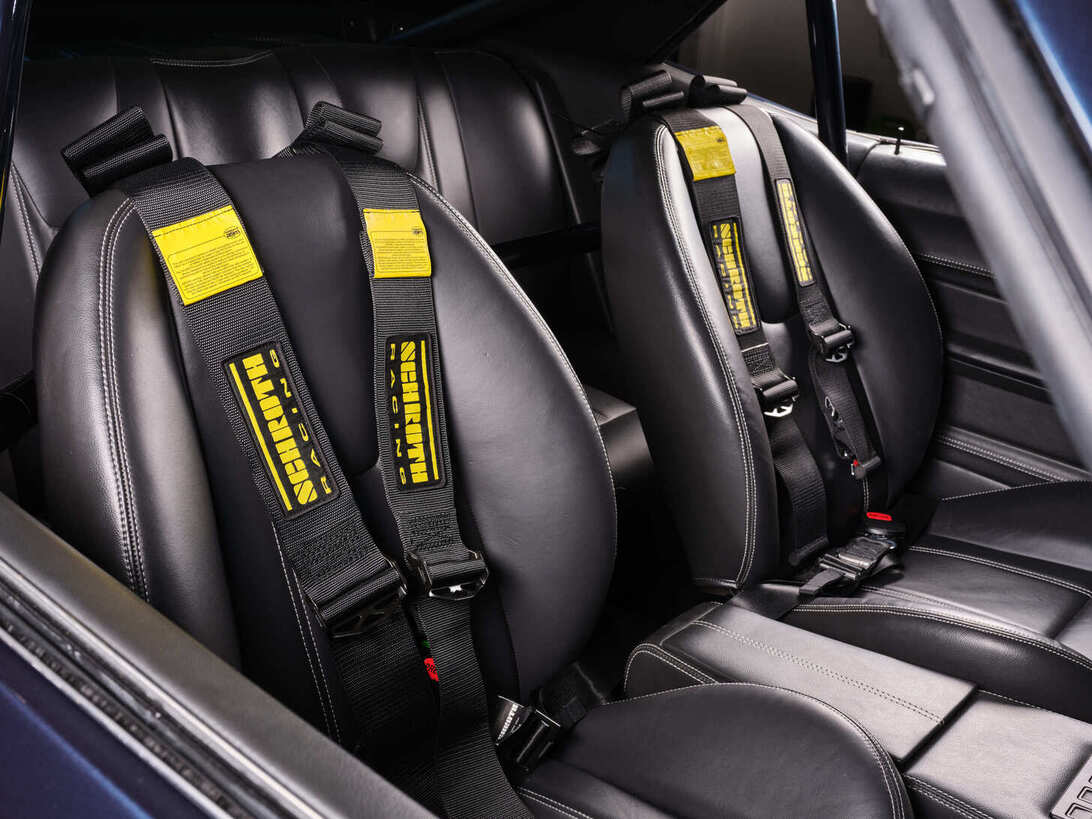 TECH CHECK
Owner: Sam Landis, Carson City, Nevada
Vehicle: '68 Chevy Camaro RS/SS
Engine
Type: GM LS3
Displacement: 376 ci
Compression Ratio: 10.7:1
Bore: 4.065 inches
Stroke: 3.622 inches
Cylinder Heads: Aluminum L92-style port
Rotating Assembly: Nodular iron crankshaft, hypereutectic pistons, powdered metal connecting rods
Camshaft: Hydraulic roller 0.551/0.522 lift, 204/211 degrees duration at 0.50
Induction: Holley Sniper EFI, Holley Low Ram LS intake manifold, ProCharger D-1SC supercharger Chevrolet Performance LS3 manifold, Spectre cold-air intake kit, custom air intake tube
Exhaust: Hedman Hedders 1 7/8-inch headers, Slick's Fab 3-inch custom exhaust, Borla mufflers
Ancillaries: ProCharger accessory drive, Injection Connection 80-pound injectors, stock GM coils, Speartech wiring harness, C&R aluminum radiator, Ringbrothers billet hood hinges, SPAL electric fans, Powermaster alternator, Billet Specialties valve covers
Output: 735 hp and 675 lb-ft
Drivetrain
Transmission: TREMEC TKO 600
Clutch: McLeod twin disc
Rear Axle: GM 12-bolt, Yukon Gear limited-slip differential, 3.42 gears
Chassis
Front Suspension: Detroit Speed hydroformed subframe, C6 spindles, JRi double-adjustable shocks
Rear Suspension: Detroit Speed QUADRALink with subframe connectors, JRi double-adjustable shocks, Panhard bar
Brakes: Wilwood 14-inch rotors, six-piston calipers front, 13-inch rotors four-piston calipers rear, Wilwood manual master cylinder, Wilwood proportion valve
Steering: Detroit Speed rack-and-pinion
Wheels & Tires
Wheels: Forgeline GT3C (19×11 front, 19×12 rear)
Tires: Michelin Pilot Sport Cup 2; 325/30R19 front, 345/30R19 rear
Interior
Upholstery: Gray loop carpet, custom black leather door panels, dash, seats by Cypress Auto Interior (Cypress, TX)
Seats: Custom
Steering: ididit steering column, Forever Sharp steering wheel
Shifter: Clayton Machine Works
Door Handles: Clayton Machine Works
Instrumentation: Dakota Digital HDX
Tunes: Pioneer head unit, Alpine amps, Focal 6.5-inch speakers in doors and package tray by Slick's Fab
HVAC: Vintage Air, Restomod Air vents
Rollcage: Custom four-point by Slick's Fab
Wiring: American Autowire
Exterior
Bodywork and Paint: Slick's Fab
Paint: PPG custom Slick's Fab color "Bitchen Blue"
Glass: Flush-mount windshield
Wheeltubs: Custom by Slick's Fab
Grille: Custom Alumicraft
Front Bumper: Delete
Front Spoiler: Custom by Slick's Fab
Rear Bumper: Custom by Slick's Fab
Tailpanel: Custom
Taillights: Peterbilt