This 1955 Chevy Gasser Literally is a Fire-Breather

By Brian Brennan   –   Photography & Video by John Jackson  –  Sponsored by Optima Batteries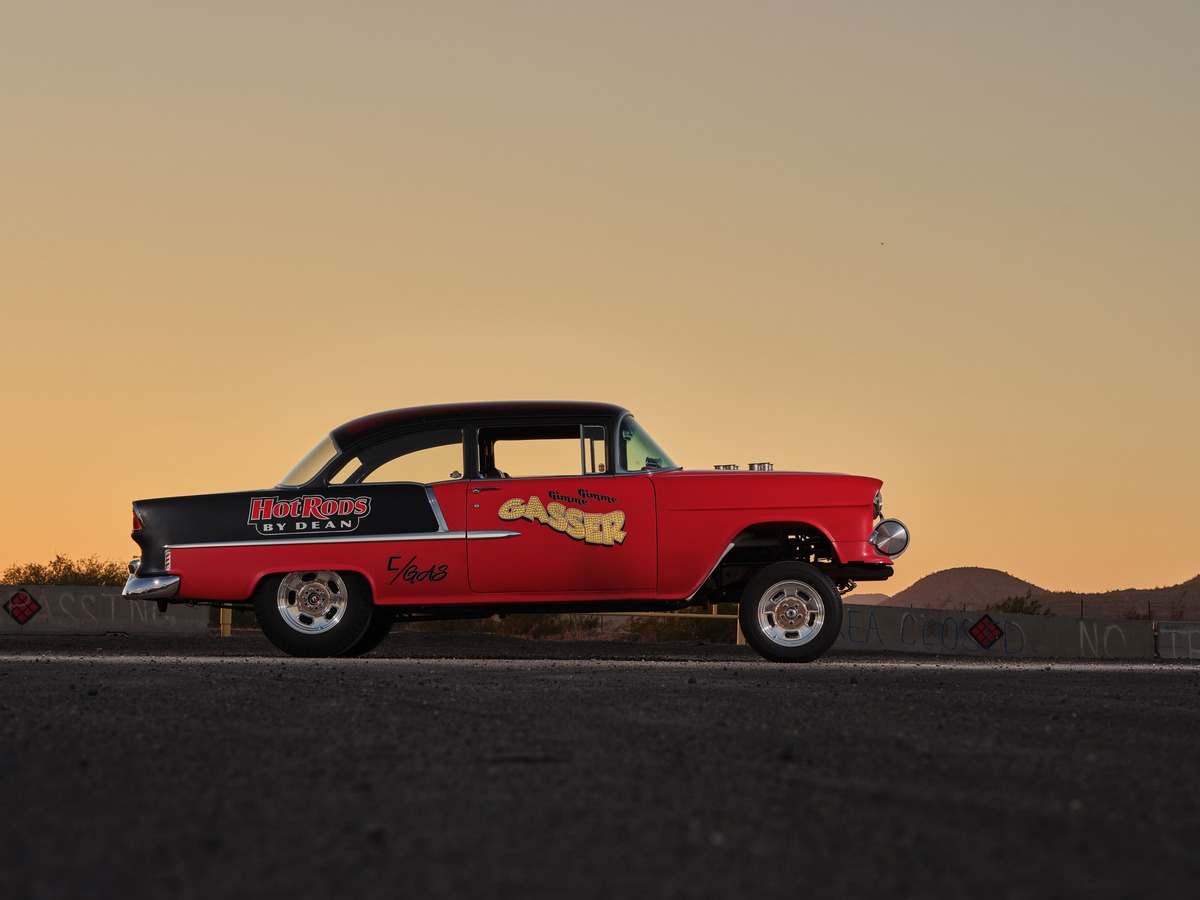 You will hear this often, "It's all about the backstory." There are plenty of great-looking hot rods, and if you look a little bit deeper there are some great stories, all of which make up our dreams. Oftentimes making these dreams come true takes lots of time, effort, friends, and luck. Such is the case with Dean Livermore, owner of Hot Rods by Dean (HRBD) in Phoenix, and his
1955 Chevy gasser that represents one of his lifelong dreams.
What makes this story so much fun is that I (yes, ol' Editor Brennan) was along from the beginning. Some of the touch points you will read may be hard to believe but I can tell you it's all true, every last nut and bolt.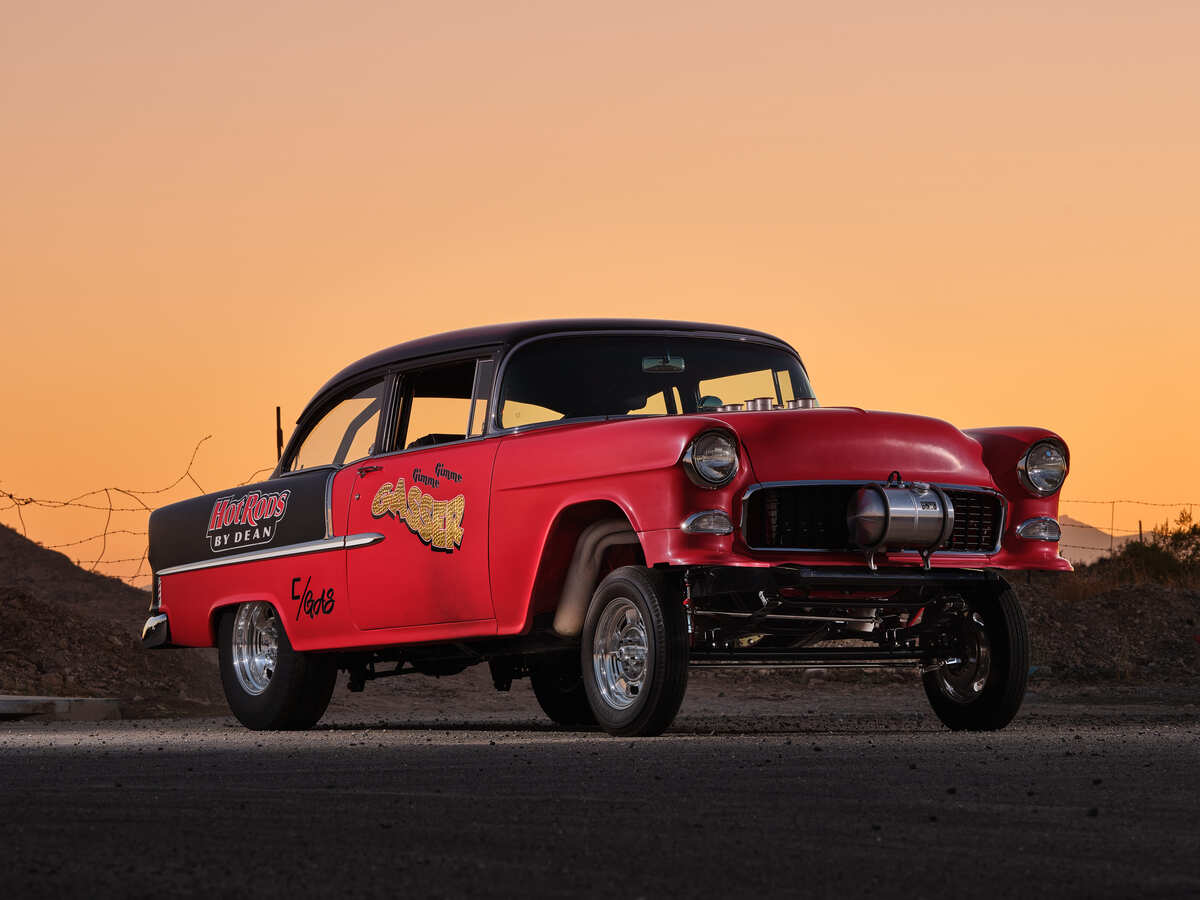 Tri-Five Chevys aren't cheap no matter what condition they're in, so when Dean told me he wanted to build a 1955 Chevy gasser we both knew this would be an expensive proposition. He wanted it to be a gasser-style with real horsepower, the correct mid-'60s look, and he wanted it to be a fire-breather. At first, I misunderstood what he meant by "fire-breather" but in time I would learn.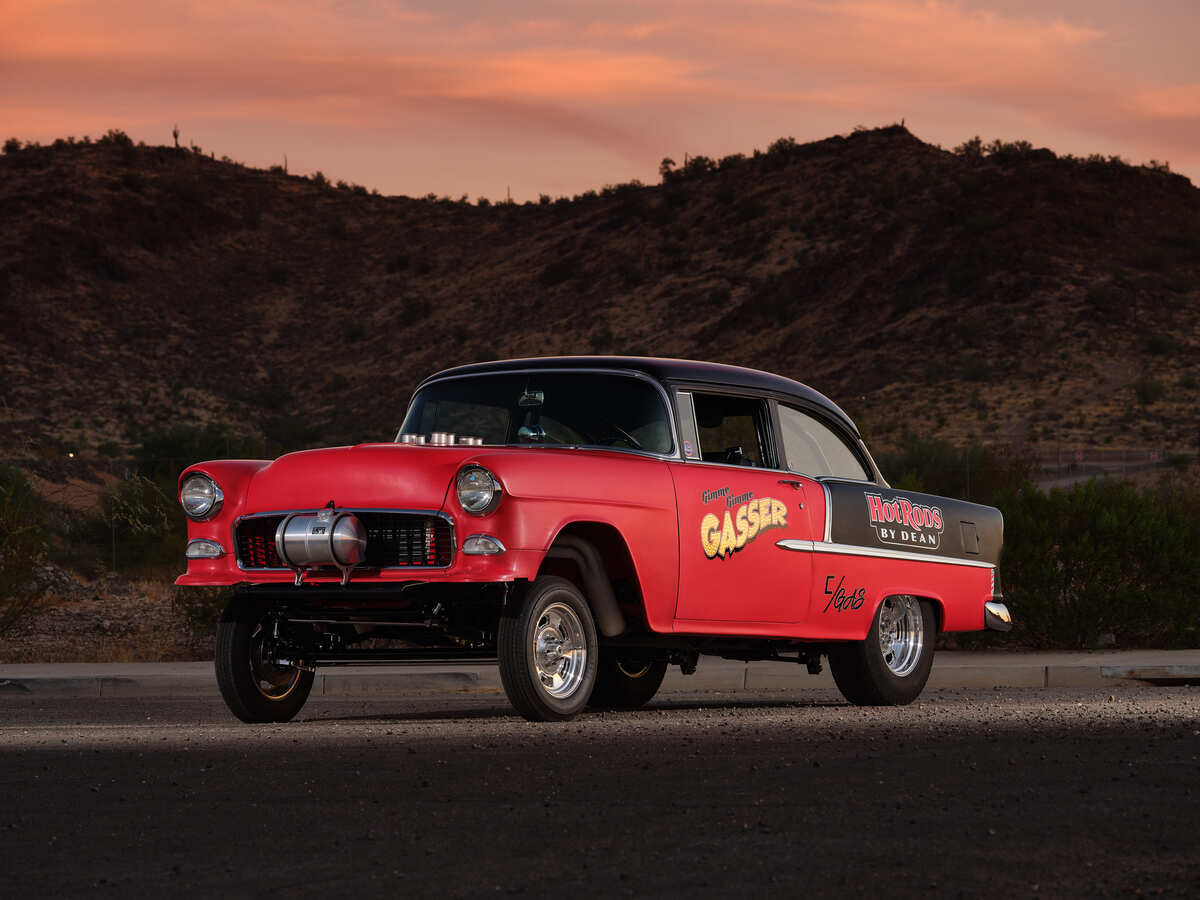 Let us begin. Near the shop is our favorite lunch hangout named the Times Square Italian Restaurant. It's one of those places you visit so often your favorite parking spot is always open, the waitresses know your name, where you want to sit, and what you will be eating today. Think of it as Cheers for the nomadic hot rod journalist, as I spend a lot of time in Phoenix.
Dean would paint a verbal picture of the gasser. It had to have the "nose in the air" straight-axle look, fenderwell headers, a horsepower-pumping injected small-block Chevy, Muncie four-speed, skinnies 'n' fats, front buckets, rear seat delete, a rollbar, a dash-mounted tach, and, of course, the obligatory Moon tank. But at the same time, how to come up with all of these parts? Over the years Dean has collected many parts and pieces that were "homeless" but could be assembled into a 1955 Chevy gasser. But where to come up with a nice 1955 Chevy that wasn't "too nice" to be turned into a gasser?
One day we were exchanging dreams over our Times Square lunch when Dean gets a call from Mike, a police officer friend. Turns out there was a lady (don't make me say it, "a little old lady") who was clearing the back of her recently purchased commercial property when she came across the shell of an old car body and other assorted greasy junk. Yep, a 1955 Chevy 210 two-door sedan. Could it be, the perfect "post" car to make into a gasser!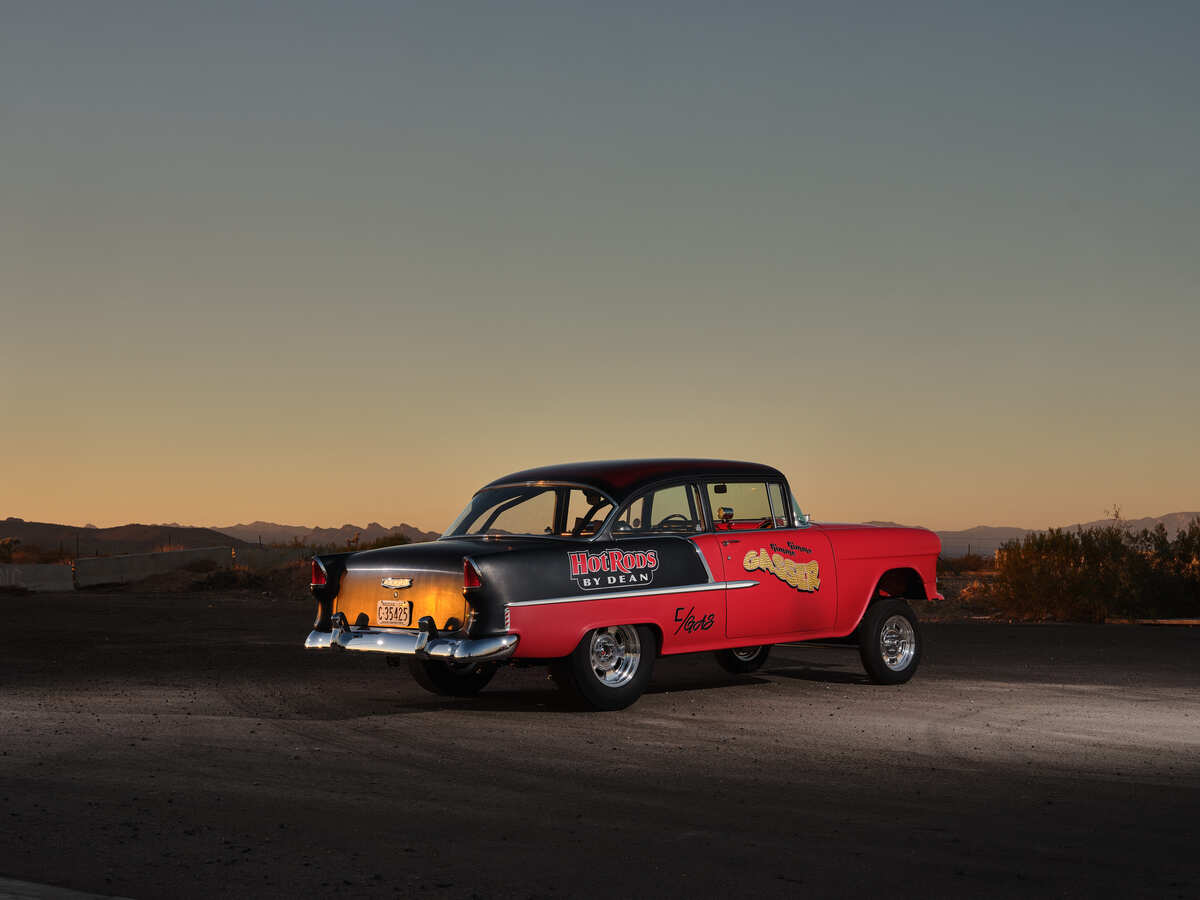 She had called the police and asked how she could have this "junky car" removed from her newly acquired property. She didn't care what it was but she knew it was old and in her way. Officer Mike gave her a few options. She called a scrap company but they wanted too much money to remove it. Next option was to call Dean.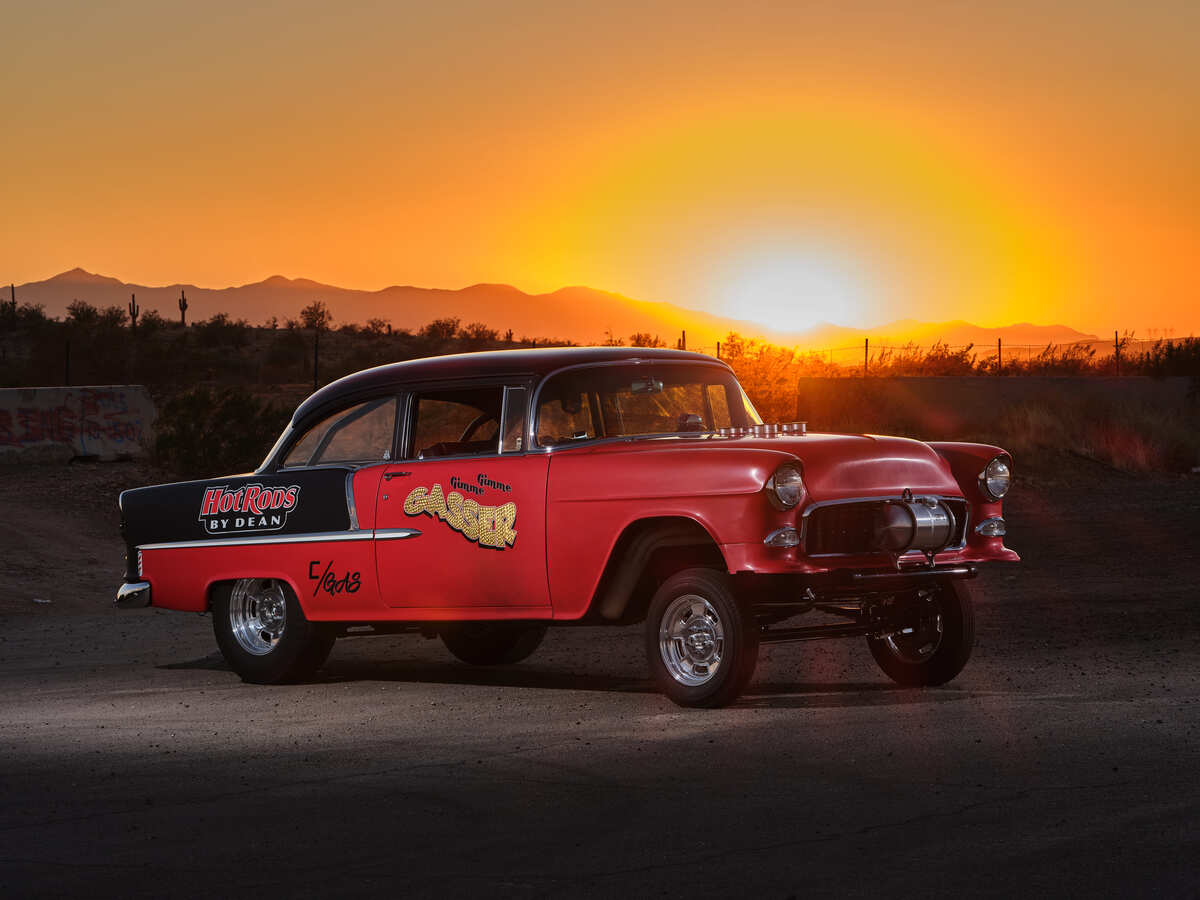 She called Dean and told him there was a lot of scrap in her service yard that needed removal and, oh, there was a car. She needed it removed quickly and wanted to know what he would charge. Yep, Dean was paid to clean the storage yard and "get rid" of a 1955 Chevy 210 that's the gasser you see before you. (I won't go into what else was there but rest assured someday it will make a great editorial.) It didn't take Dean long to get back to the shop, round up a few of his guys, grab the truck and trailer, and head back. Sometimes there's no figuring "blind" luck.
According to Dean, "I always wanted to build a gasser but with the cost of parts and labor these days I saw this as an opportunity to start building my gasser with the free shell. I call it 'Gimme Gimme Gasser.' All of us know how hard it is getting favors, money, or parts returned. So, this was the perfect opportunity to get my 'ataboys' back from my previous industry trades between other car people/builders. After receiving all my ataboys this is still the most expensive free car I have ever built. Yet a total joy to drive."
The heartbeat is a 0.030-over 350 steel small-block Chevy outfitted with RaceTec 12.5:1 pistons, a Crane 0.600-lift roller cam, and topped with Brodix aluminum heads held in place via ARP hardware, which is used throughout the engine and the remainder of the gasser. Capping the aluminum heads are vintage Corvette-finned valve covers with custom adapters from the machining table at HRBD. The focal point of the engine is clearly what appears to be a vintage mechanical Hilborn EFI but is outfitted with today's electronics. The Hilborn EFI rests on a Hilborn intake and is controlled by a Holley CPU that's hidden behind the interior speaker grille. Other vintage-looking go-fast parts include the Joe Hunt Magneto that's packed with modern electronics and uses Taylor plug wires. The eight individual Hilborn injector stacks were modified by HRBD and run between them you will pick up on the Aeromotive fuel rails, lines, filters, and fittings. Dean wanted the vintage look so you will see a cogged belt drive, Moroso vacuum pump, vintage Hilborn front cover with mechanical fuel pump acting as the EFI bypass. Other engine goodies include the Meziere electric water pump (block water pump was deleted), a pair of 14-inch Meridian fans that HRBD used as part of the core support/radiator cooling system they have available for Tri-Fives, a Powermaster 150-amp alternator, and a Tilton high-torque mini starter. All told this vintage-looking but modern-performing SBC pumps out close to 650 hp and 550 lb-ft of torque. The 91-octane gasoline is stored in the Aeromotive tank located in the trunk along with an Optima RedTop battery.
Controlling the power is a Centerforce mechanically operated clutch/pressure plate/flywheel combo run through a Muncie four-speed shifted by a Mr. Gasket Vertigate. Continuing rearward you will find the Arizona Differential–prepped Ford 9-inch Nodular rearend that's equipped with Richmond 4.11 gears, Moser axles, and a driveshaft by way of Inland Empire Driveline.
Dean built the custom 1955 Chevy frame at his home garage and it includes the use of a Speedway Motors straight axle kit, spindles, Koni tube shocks, and Vega steering box. In the rear, Dunbar leaf springs and Koni shocks are used along with Ford drum brakes and the Speedway Motors rear axle floater kit with custom ladder bars by Dean. Wilwood Dynalite calipers and standard rotors are used in front while a Wilwood master cylinder provides the stopping power required to bring this gasser to a "whoa." The gasser rolls down the road on a set of Billet Specialties wheels that Eric Vaughn Machine, rebuilt into 15×4 for the front and 16×9 for the rear. Rubber comes by way of Coker Firestone 5.50-15 and Coker Drag Radials 8.20×16.
The all-steel 1955 Chevy 210 is stock sheetmetal but it does have a custom hood with four pairs of radiused openings to clear the eight-stack injector tubes that pop up ever so slightly through the hood. The gasser runs minus a front bumper while Bell Auto Glass received the nod for the glass all the way around, skipping the usual rear quarter plexiglass. All of the body- and paintwork was done at HRBD. The gasser exterior is Axalta two-tone flat red and black paint while underhood and in the interior you will find gloss red and black. The roof features custom panels and lace artwork using House of Kolor candies and flakes. If you look at the doors and rear quarter-panels you will also see Ron Hernandez lettering and gold leaf engine turned presentation on the doors by Hypnotic Airbrush. The word "Gasser" on the door is in gold leaf and then cleared over in gloss. A bit of a challenge since the rest of the outside is done in flat paint; to achieve smoothtothe-touch lettering over paint, clear was applied over the lettering.
Look closely at the front grille and you will see the custom framehorns that serve as the anchor point for the leaf springs and the platform for the Moon tank. The tank is plumbed with an EFI pump that sends fuel to a firewall-mounted regulator and then onto a nitrous solenoid to shoot the gasoline when requested to make the flames materialize out of the fenderwell headers. On the subject of headers, they were made at HRBD, painted in the traditional heat-resistant white, and feature 1-7/8-inch primary tubes and dump into a 5-inch collector tube. It's at this point that Dean has "flames on demand." Remember I mentioned earlier about "fire-breather"? Well now I fully understand! The flame button is mounted on the steering wheel; once pushed, it sprays fuel past a spark plug that sets the fuel on fire. (Hey, no one ever said Dean wanted to go unnoticed with his gasser.)
There's no mistaking a gasser look with its "nose bleed" front end, sans front bumper, something sticking through the hood, and the combination of bigs 'n' littles. It should also be noted that the interior on a gasser is just as unique. Once inside you realize this is a "business office" and creature comforts really have no place residing in these surroundings. The main gauge panel is stock but there are a handful of AutoMeter gauges set into the engine-turned panel that runs through the center of the otherwise-stock dash. The wiring is handled by an American Autowire harness positioned by HRBD while resting on top of the dash is a Classic Instruments Rocket Tach. (Remember when we would twist the tach mounting so the max shift rpm needle would be straight up?) The steering column is an ididit with Borgeson joints and shafts while a Speedway Motors 15-inch stock replica wheel is twisted into service. The clutch and brake pedal are 1955 but the throttle pedal and cable come by way of Lokar.
The front seating is stitched over 1966 Ford Fairlane buckets, fitted with a Simpson five-point harness by Glenn Kramer of Hot Rod Interiors by Glenn who also did the headliner and carpeting. The buckets were the takeouts from the Street Rodder Road Tour 1966 Fairlane that HRBD built. (That car was later stolen.) The rear seat area uses a Woody's Hot Rodz rear seat delete package, which utilizes the black floormats, door panels, and engine-turned aluminum, further complementing the gasser look.
The gasser is no stranger to events, having attended the Tri-Five Nationals in Bowling Green, Kentucky, as well as the Grand National Roadster Show in Pomona, California, this past year where Gimme Gimme Gas took home Best in Class. Well, there you have two stories in one; the car and what's "behind" the car. MR