His Name is Hoss, and This is His 1956 Chevy Bel Air
By Nick Licata   –   Photography by Wes Allison
Hoss (that's what he'll answer to), like most kids who grew up in the late '70s, played with cars—Hot Wheels and the like—but as he got a little older, that toy car passion turned to real cars. "My dad always had old cars around," Jonathan "Hoss" Nagel says. "We used to restore cars together, Corvettes mostly, which is how I got into this whole car thing."
Working as a mechanic and keeping the fleet of trucks on the road at Leonard's Services, a neighbor near the shop took notice of the old cars hanging and informed Hoss he had an old Chevy for sale. Not thinking it would turn into much at the time, Hoss went to check it out and was surprised to see a decent-looking '56 Bel Air. Car guys have a difficult time passing on these kinds of things, and Hoss is no exception, so he took the guy up and added the Bel Air to his fleet—not the truck fleet, but to his fleet of classic muscle cars. He's got a few that he's usually wrenching on at any given time.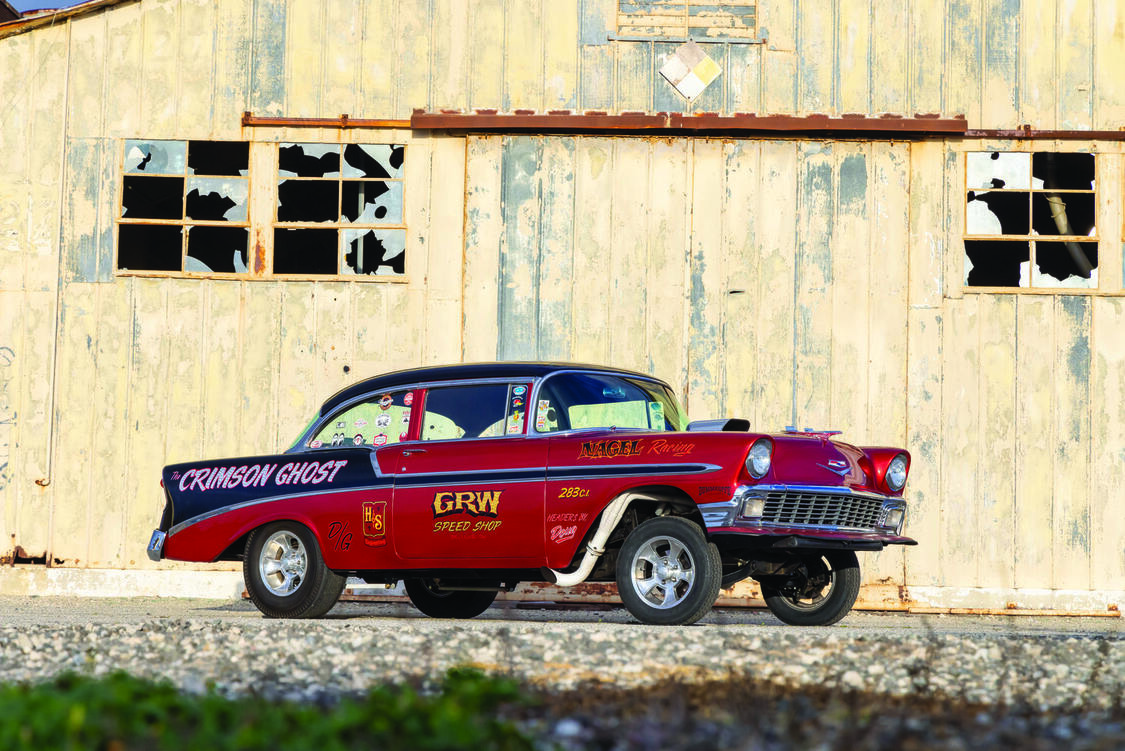 "The car drove pretty well when I bought it, but it had a few small issues, so my buddy Auggie Faris, who has since [died], and I went through the engine and addressed the leaks and freshened it up," Hoss says. "For a vintage 283, [Faris] and I got it running pretty good."
Hoss has a habit of building hot rods to the point where streetability becomes secondary, so this time around he swore off big horsepower and instead focused on keeping it a reliable, "fun car." Hoss confessed he's always liked the gasser look, so this car would be the perfect example to go that direction.
Check it out: Pete Jacob's 700HP Pro Street '63 Nova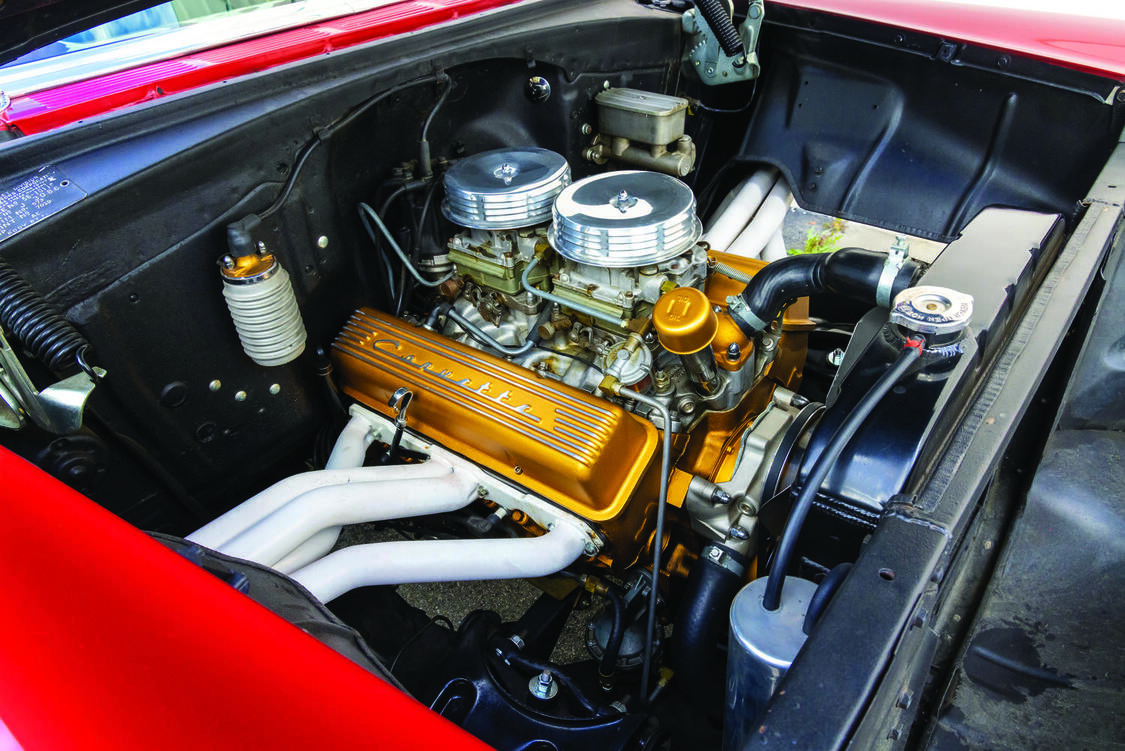 Sticking with the vintage mill, he added a 1957 Corvette dual-quad intake topped with a couple 385-cfm Carter WCFB carbs and found a couple stock Corvette air cleaners on a shelf under some other old Corvette goodies and put those on for some old-school flavor. Hoss painted the block and valve covers gold to bring the old engine a little extra attention then bolted on a set of Doug's fenderwell headers to abide by the gasser look.
He took the car over to Candido's Garage in Orange, California, to dial in a set of ball joint spacers and custom coilover shocks from Aldan American to jack up the  front for the right look. "When we first raised the front end of the car, it had some ill-fitting, no-name-brand shocks on the car and it was outright scary to drive," Hoss chuckles. "Once we bolted on the Aldan shocks and springs, the car took on a much-improved driving personality. A set of Williams Classic Chassis Works traction bars were added to complete the scene. "I was talked into taking the car on an autocross once and it did better than I thought," Hoss laughs. "But that's a story for another day."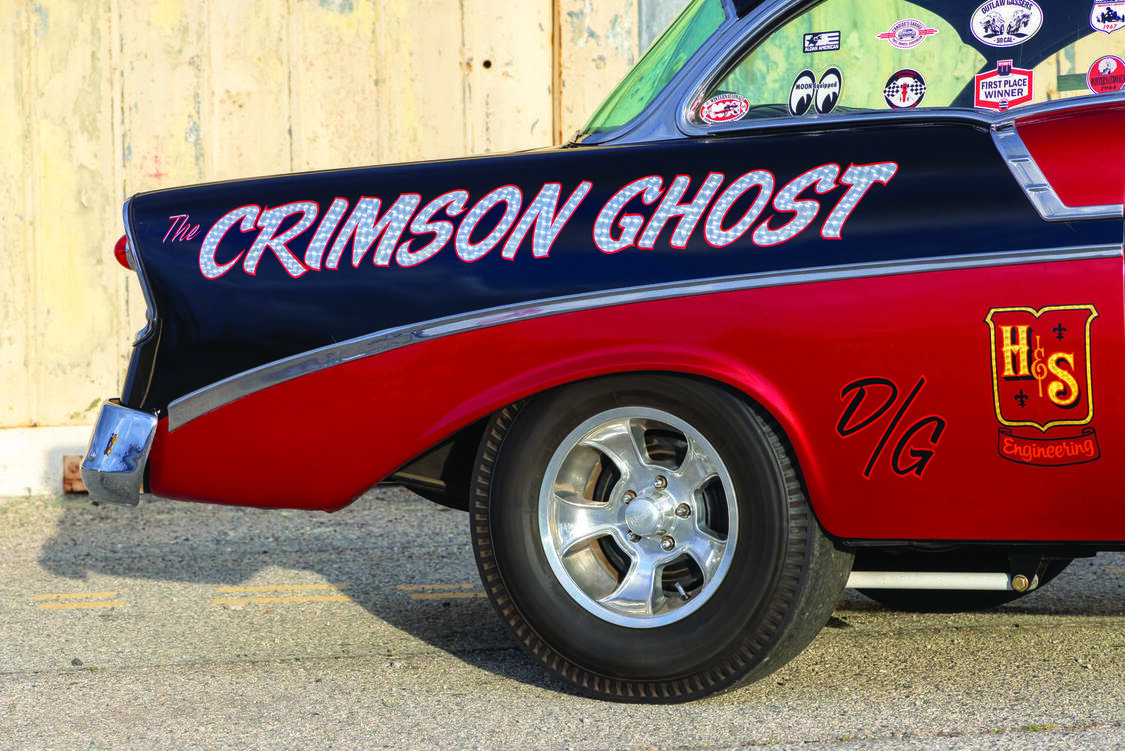 To get the thing to stop, Hoss swapped the crummy stock drums for a set of disc brakes and master cylinder from ABS in Orange, California. The pedestrian-looking rally wheels were swapped for a set of Rocket Racing Injectors that conform perfectly to the vintage look. Vredestein Sprint Classic rubber reside up front, while a set of "pie crust" cheater slicks take care of business out back.
Hoss stuck with the TH350 transmission that came with the car and had the crew at Community Transmission in Bellflower, California, give it a good onceover. He backed it up with a 2,500 stall converter and used an old 4:10 posi rearend he had laying around from his stock of old Corvette parts.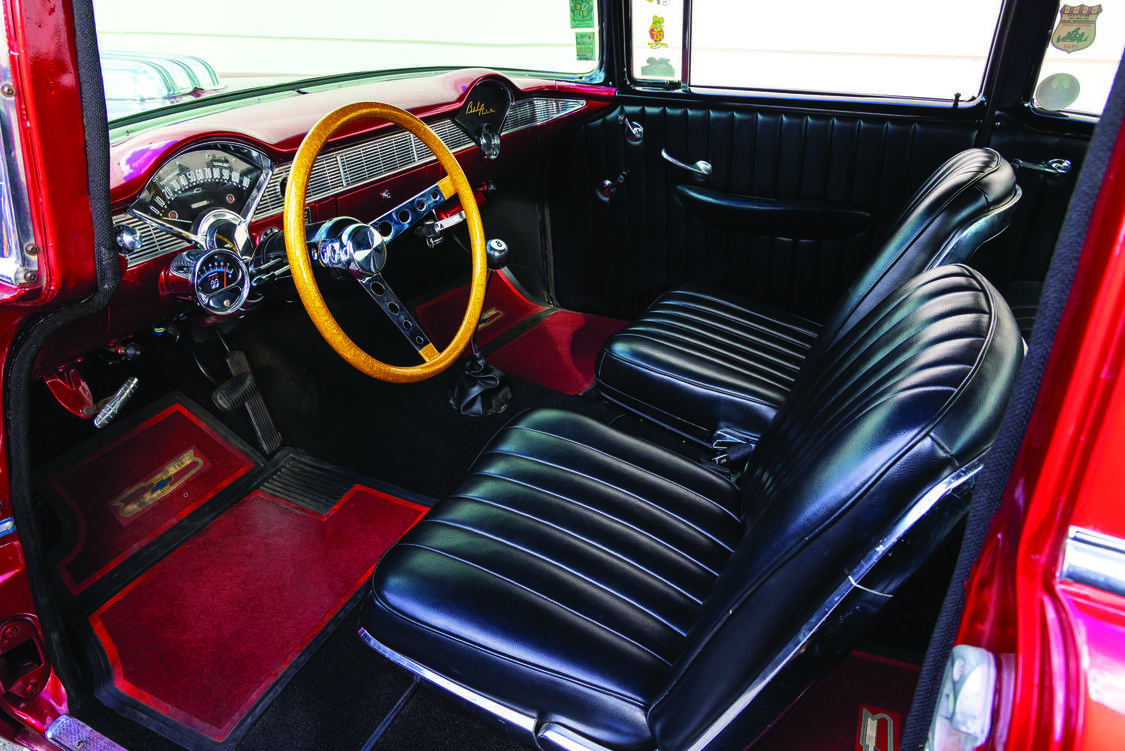 Inside reveals an old-timey interior with a solid foundation. L's Upholstery (Anaheim, California) did up the black loop carpet and installed the pleated vinyl on the door panels and the bucket seats out of a '63 T-bird. Keeping with the period-correct interior mods, Hoss topped off the Classic Performance Products (CPP) tilt column with a Moon gold flake steering wheel and incorporated a Moon half sweep tach in the stock dash accompanied by the familiar underdash three-pod gauge set.
Being the car was painted prior to Hoss taking over, he believes the color is GM paint code 09 Crimson King and black two-tone. The color scheme plays well with the build style Hoss was going for. To complete the old-school gasser vibe, he had Larry Fator provide period-correct graphics and hand lettering, which pulls the Bel Air even further into vintage gasser mode.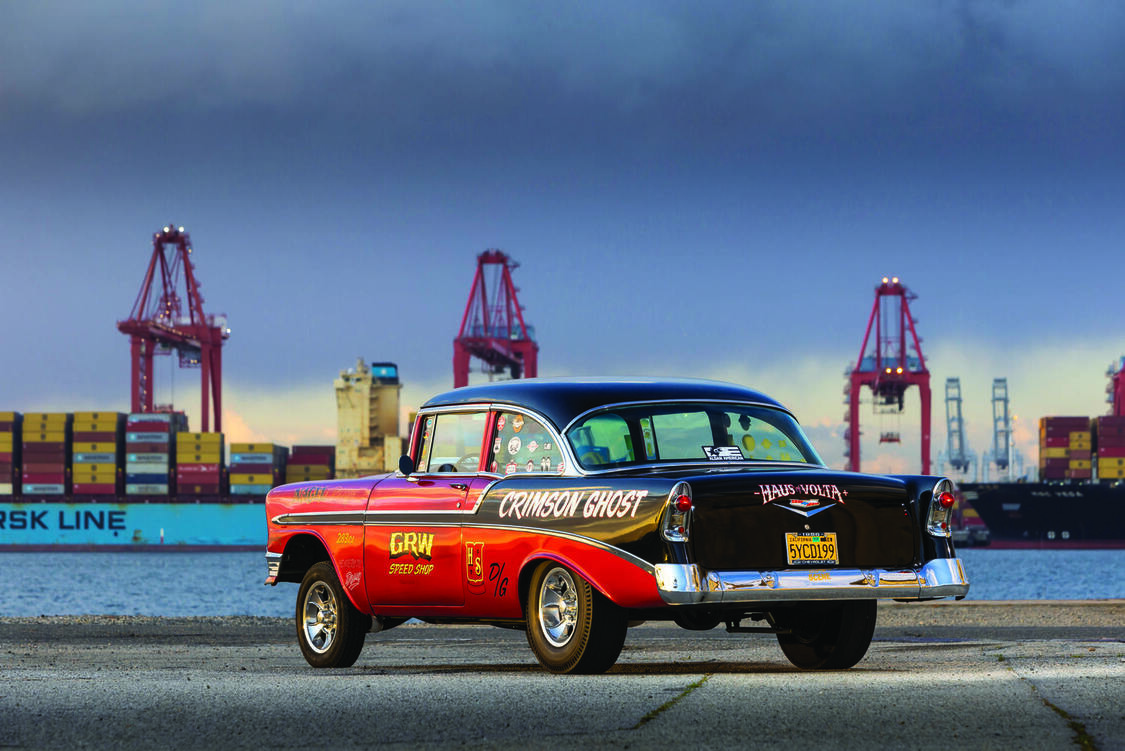 The lettering not only looks vintage but was a fun way to represent his kids: The GRW Speed Shop lettering stands for his kids Garret, Ruby, and Wyatt, while the H&S graphic represents Hannah and Sonya. "While trying to come up with a name for the car, my wife, Stori, is a Misfits fan, so she came up with "Crimson Ghost" as it ties in with the color of the car and is the band's trademark," Hoss reveals.
More Reading: Fade to Black – Doug Klett's Purely Wicked 1956 Chevy 150
Hoss has a '55 Chevy in the wings that he plans to give the full gasser treatment with big power and little street manners that will spend a good amount of time on the dragstrip. "But this '56 is dedicated to [Faris] and my dad—[Faris] for all the help, and to my dad for being such a huge influence and introducing me to the car world," he says.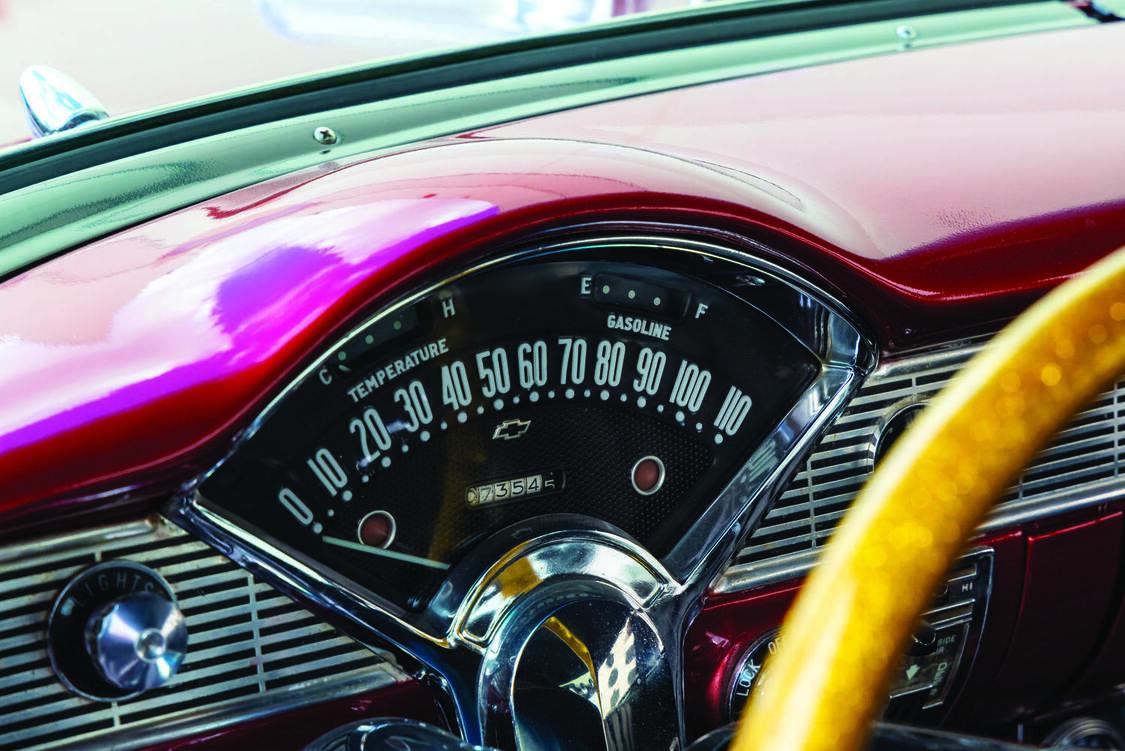 So far, highlights include having the car being in the pinup calendar for Haus of Volta, his wife's non-profit organization dedicated to help women affected by breast cancer; displaying the car at the NHRA Winternationls; Nitro Revival; and the Mooneyes show, and the camaraderie that comes along with being part of the Outlaw Gassers SoCal group. "Because of this car, I've made so many new friends and really enjoy how it's been able to get the family involved," Hoss says. "The Crimson Ghost might be a bit light in horsepower but to me it's the journey not the destination. We'll get there when we get there."
TECH CHECK
Owner: Jonathan "Hoss" Nagel, Murrieta, California
Vehicle: 1956 Chevy Bel Air
Engine
Type: Gen I small-block
Displacement: 283 ci
Induction: '57 Corvette dual-quad, two Carter 385-cfm WCFB carburetors, '57 Corvette air cleaners
Exhaust: Doug's fenderwell headers, custom collectors by Randy Miller
Ancillaries: Painted gold valve covers and block
Drivetrain
Transmission: TH300 by Community Transmission (Bellflower, CA)
Rear Axle: Early Corvette 4:10 posi
Chassis
Front Suspension: Ball joint spacers, custom Aldan coilover shocks installed by Candido's Garage (Orange, CA)
Rear Suspension: Aldan shocks, stock leaf springs, Williams Classic Chassis Works traction bars
Brakes: ABS (Orange, CA) disc brakes and master cylinder
Wheels & Tires
Wheels: Rocket Racing Injectors polished; 15×4.5 front, 15×8 rear
Tires: Vredestein Sprint Classic 165 HR 15 front, Pie Crust Cheater Slick 28×9 R15 rear
Interior
Upholstery: Black loop carpet, black vinyl pleated doors and seat covers
Installation: L's Upholstery (Anaheim, CA)
Seats: '63 T-Bird bucket
Steering: CPP tilt column, Gold Flake Moon steering wheel
Shifter: Lokar
Dash: Stock
Instrumentation: Stock gauges, Moon half sweep tach, Moon underdash three-pod gauge set
HVAC: Windwing open
Exterior
Bodywork and Paint by: N/A
Paint: GM Crimson King
Lettering and Graphics: Larry Fator (San Dimas, CA)
Bumpers: Deleted front, stock rear