Pete Jacob's Pro Street '63 Nova
By Nick Licata   –   Photography by Jason Matthew
For Pete Jacob, the car bug bit him at a young age. Starting at about 11, building model cars took up a good chunk of his time. That little hobby led to working on cars with his older brother who at one time had a '71 Plymouth Cricket–not a particularly popular car to get the fire started, but the flame was lit. Pete's contribution to the unlikely project included "upgrading" the tires. "I looked at the car and thought it needed something to make it cool." Pete recalls, "So I painted the tire letters white to give the car some performance style."
Fast-forward to Pete's high-school years and he was at the wheel of his dad's '66 Olds F-85. Soon after graduation he bought a '72 Nova with a straight-six. "I upgraded it to a 350ci small-block, four-speed Muncie, and a 12-bolt with 4.56 gears," Pete tells. "I did all the work myself except for the paintjob. The car was so nice I ended up buying a '75 Ford Pinto as my daily driver to plow through New Jersey's horrible winter weather. I still have that car today–the Nova, not the Pinto."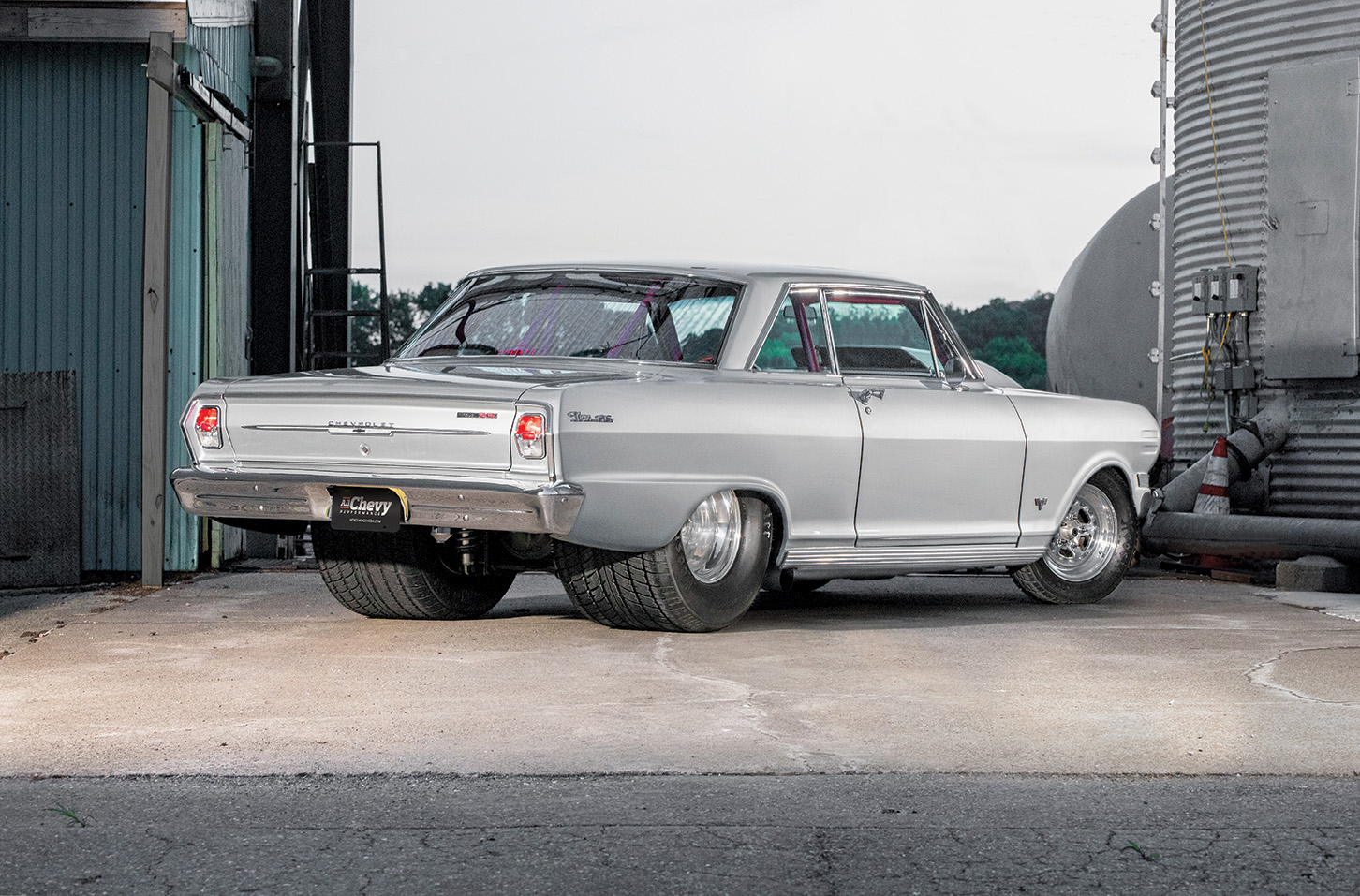 Sticking with the car scene, Pete gravitated to dirt track racing and bought a used Troyer that he raced and wrenched on for a while until that led to a new Tobias. Having a blast racing on dirt for a few years, marriage and having kids put the car shenanigans on hold. Today the kids are grown so Pete decided to ease back into the scene again and began looking for a '66 or '67 Nova SS to build, or find one already built. A long search on the Internet and other sources left him empty-handed, but this '63 Nova showed up while on one of his Online searches and it was in Virginia. Pete reveals it was "love at first sight." And as Internet finds go, the actual condition on cars found this way are commonly misrepresented and sketchy all at the same time. "I set up a time to see the car in person and was pleasantly surprised as the car was in great condition," Pete says. "It had a few minor bumps and bruises but just needed a little TLC to get the car where it is today."
Check it out: Joel Russell's 1966 Nova
The car came pretty much built, so Pete left the major components as they are. Underneath, the car was loaded with quality suspension goods, including the Checkered Racing chassis, which is accompanied by QA1 coilover shocks and springs front and rear, with tubular control arms and drop spindles up front. Stopping duties are handled by Wilwood disc brakes on all four corners and rely on a Wilwood Tandem master cylinder for proper pedal feel and braking performance. A Flaming River rack-and-pinion steering system provides true and solid steering to help keep the little Chevy on course.
Power comes by way of a Dart 540ci Big M iron block bored 4.500 inches with a 4.250-inch stroke. Highlights include 11.1 JE Pistons, Dart 355 Pro 1 aluminum heads, and an Erson solid roller camshaft to ensure excellent high-rpm functionality.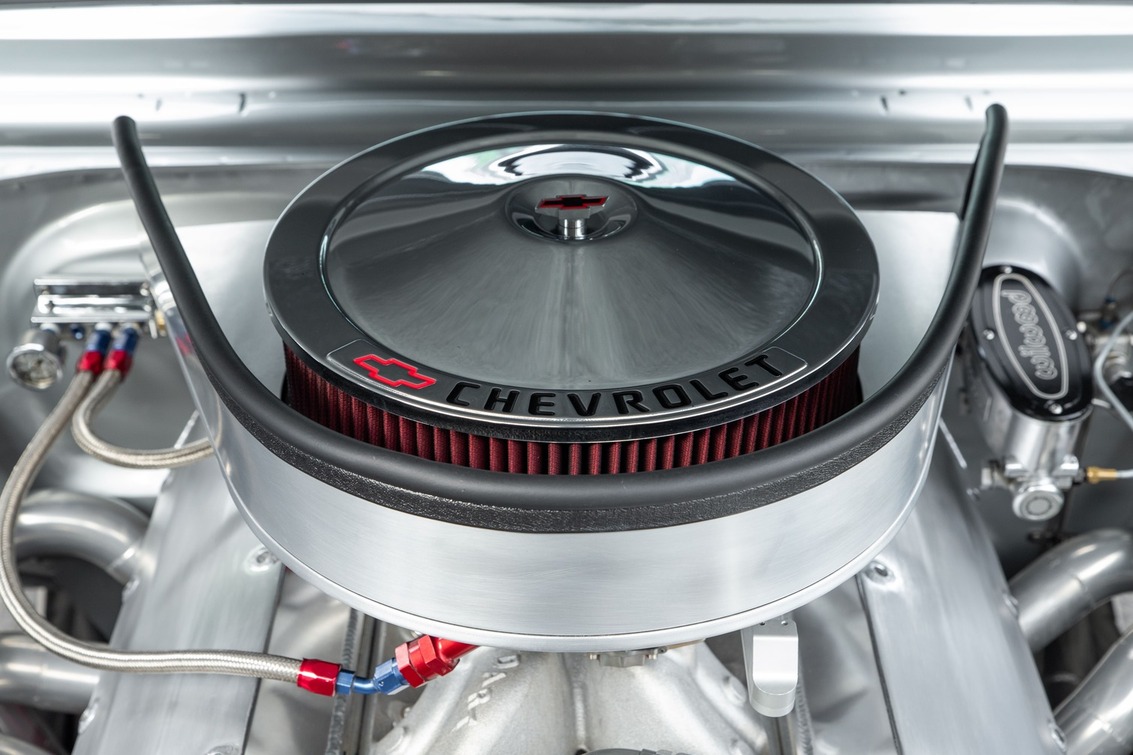 The nasty big-block gulps fuel from an 1,150-cfm Holley Dominator carburetor while a K&N filter surrounded by a custom aluminum diverter Pete fabbed up himself provides more than ample airflow. An MSD ignition produces the spark and ceramic-coated 2¼-inch headers dispense spent fuel through a custom 4-inch exhaust topped with Flowmaster mufflers. Exact engine specs are a bit thin, but mathematics estimate the burley mill delivers 700-750 hp.
A Powerglide transmission and 4,200 stall converter sends power to a Yukon 9-inch rearend armed with an HD drag spool, 4.56 gears, and bulletproof Moser custom alloy 40 spline axles.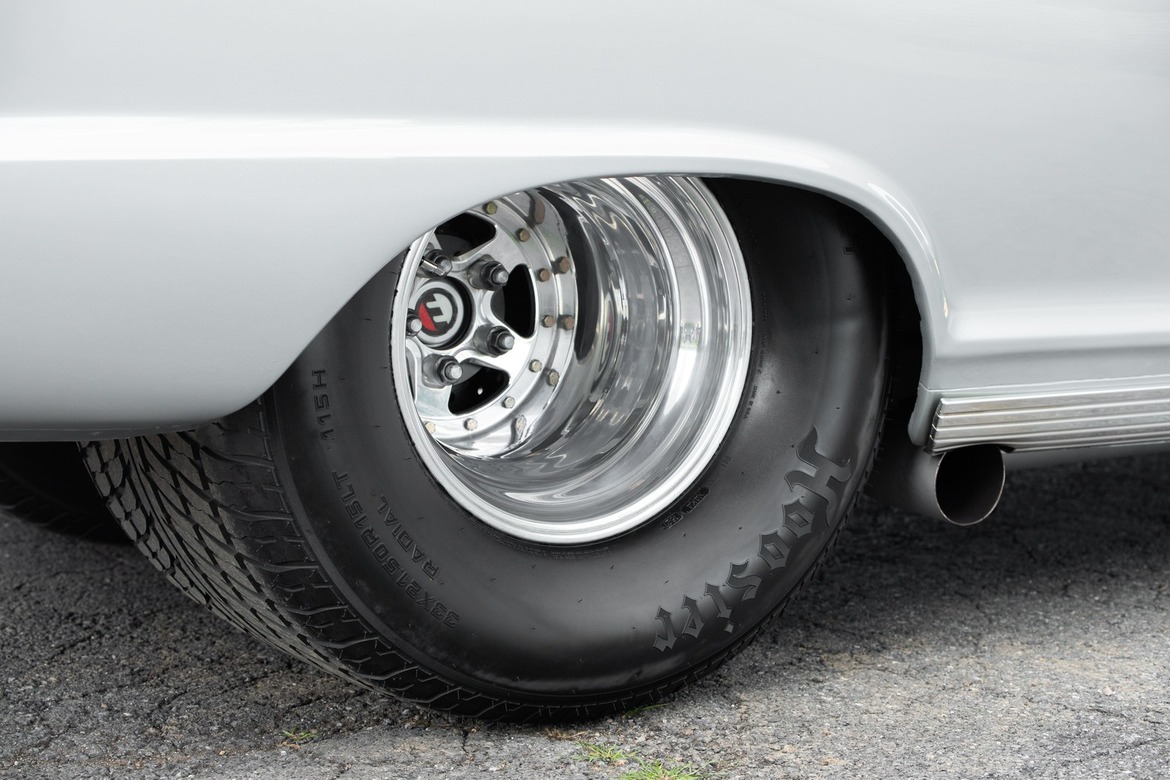 Weld Racing Alumastar wheels comply with the car's Pro Street manners (15×3.3 front, 15×15 rear) and are wrapped in Hoosier Pro Street skinnies up front (26×7.50 R15) while the massive meats out back (33×21.50 R15) conform with the Nova's pugnacious intentions.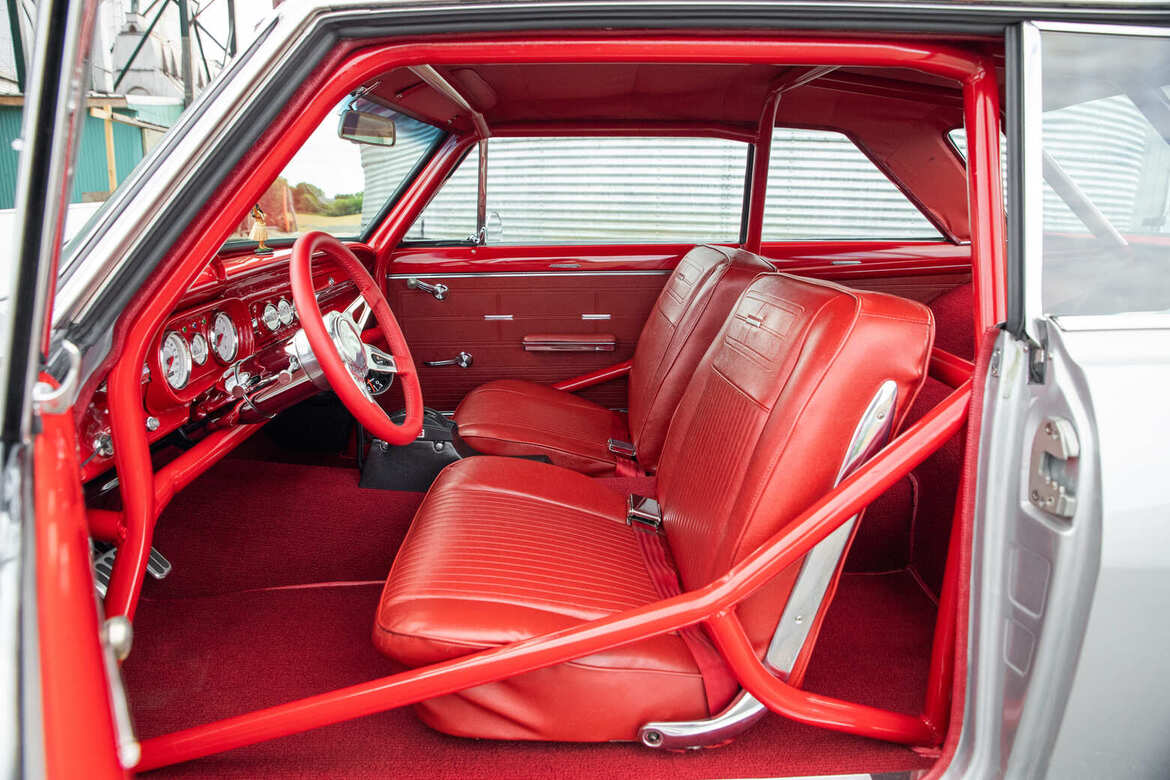 Purpose Built: Mark Dykeman's 1972 Chevy Camaro Packs a Punch
The interior consists of a no-nonsense arena immersed in red leather, covering the factory GM bucket seats and door panels that coordinate with the red custom-cut pile carpet. The stock dash houses TPI-Tech gauges (soon to be updated to Auto Meter American Muscle) while a billet aluminum steering wheel sits atop a Flaming River tilt column that integrates with the Lokar pedals and Cheetah SCS shifter. The full-frame, 12-point rollcage offers incredible chassis stiffness and additional safety.
An Auto Meter tach manages the custom-installed shift light, and the dash-mounted hula girl adds a bit of island flavor to the otherwise essential-only arrangement.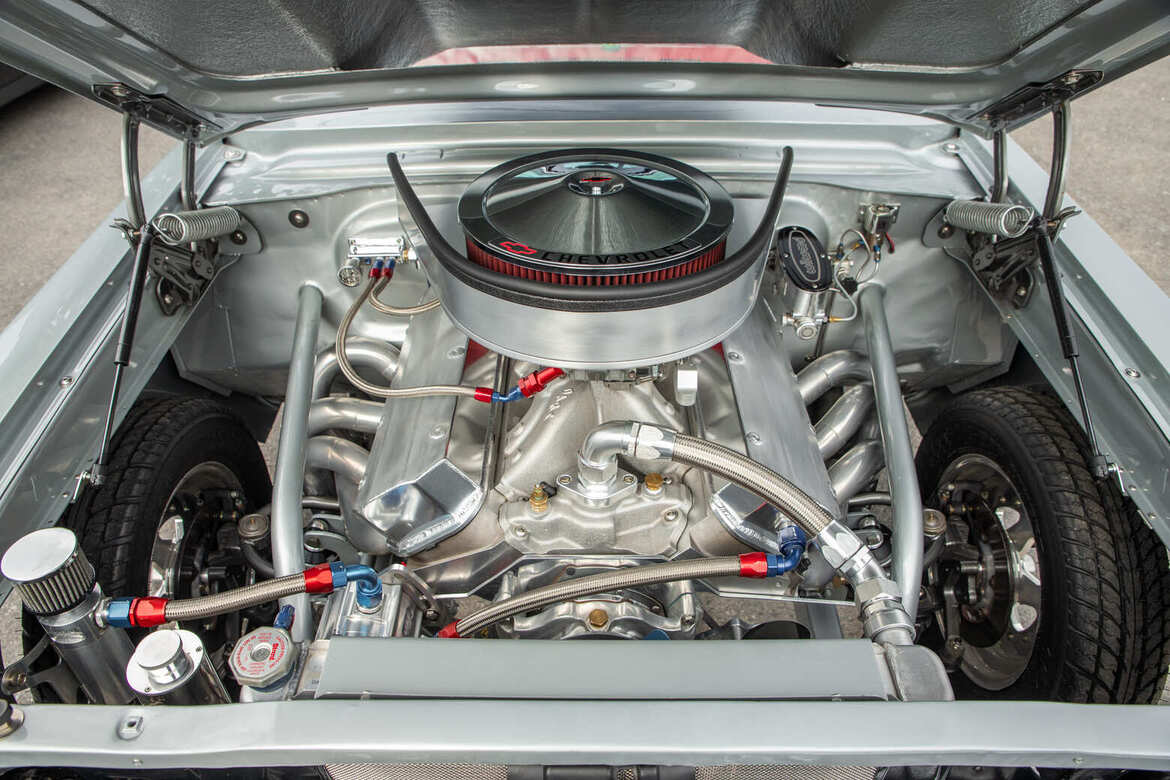 Pete purchased the Nova pretty much "as-is" and added a few pieces to give it his own touch but was given very little information regarding the car's exterior by the previous owner. "All I know is that it's Cortez Silver paint and a shop called Vanishing Point performed the bodywork and paint," Pete says. "The car looks great, so I'm going leave it alone and continue to drive the snot out of it."
Beyond the 5-inch cowl hood and Pro Street stance, Pete purposely kept the stock trim and badges intact along with the factory bumpers and mirrors to retain the car's remaining factory vibe.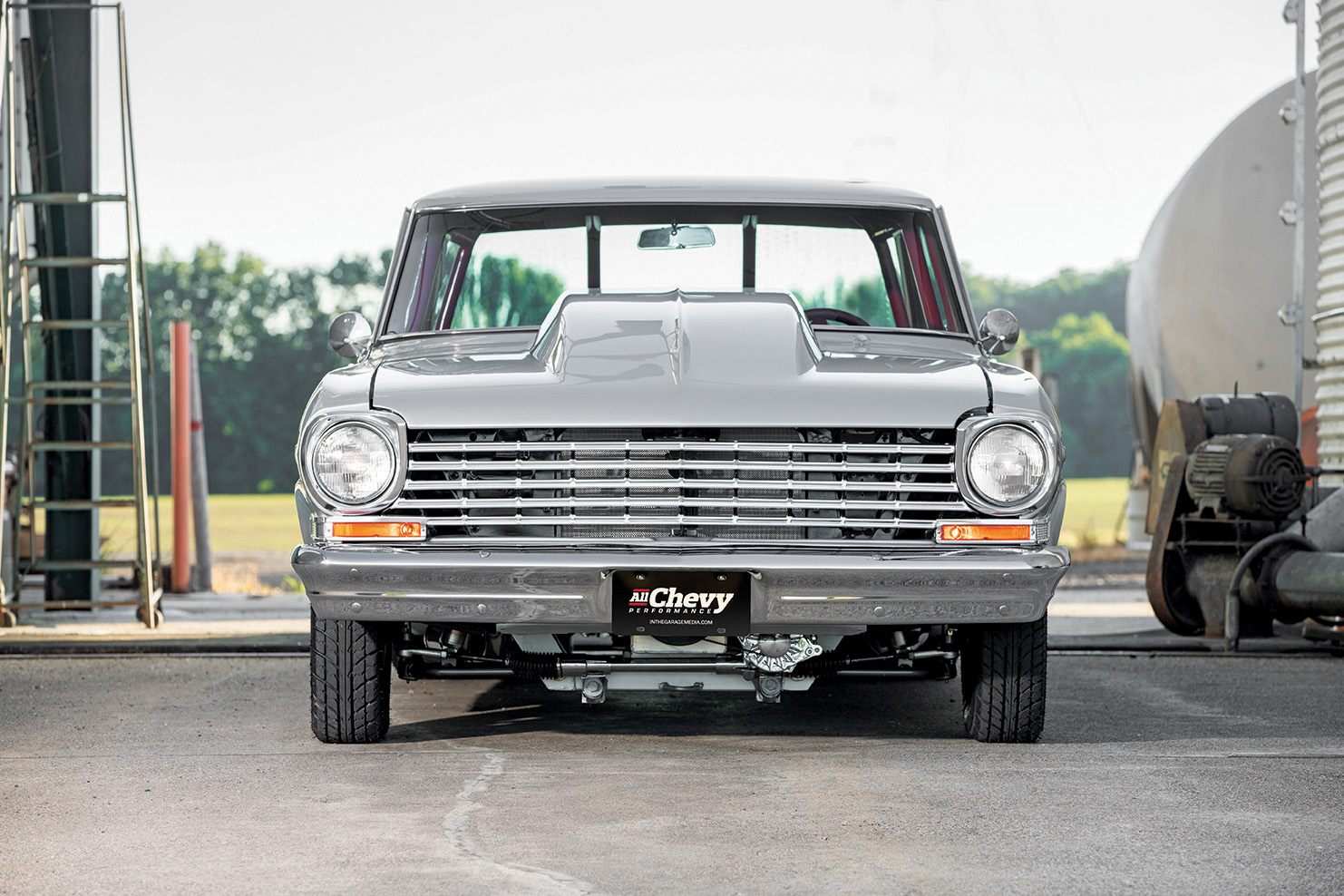 Being an auto mechanic by trade, Pete performed a lot of internal work before hitting the streets. "You just never know what the prior builder did or did not do, so I replaced the spark plug wires, brake and fuel lines, adjusted the valves, and did other basic preventive maintenance to ensure the car is safe and runs and drives to its full potential."
Pete admits the most memorable time with the car so far is watching how people react to it. "Whether driving down the road or at a show, the car gets quite a reaction." He informs. "It's even won a few Best in Show awards."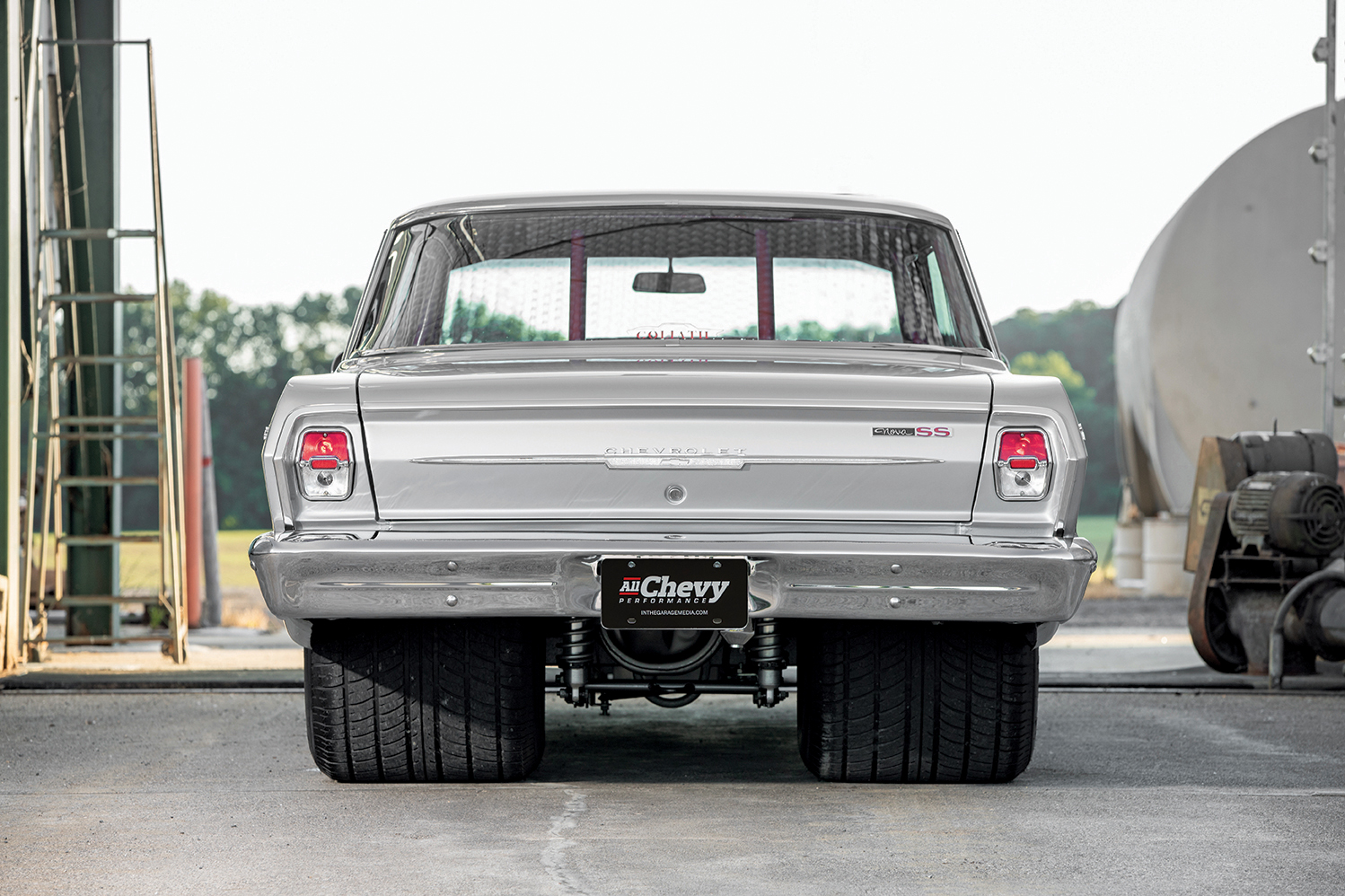 We asked Pete what separates his '63 from the other Novas out there. "This little car hauls ass with a ton of class."
Well-said, Pete. We couldn't agree more.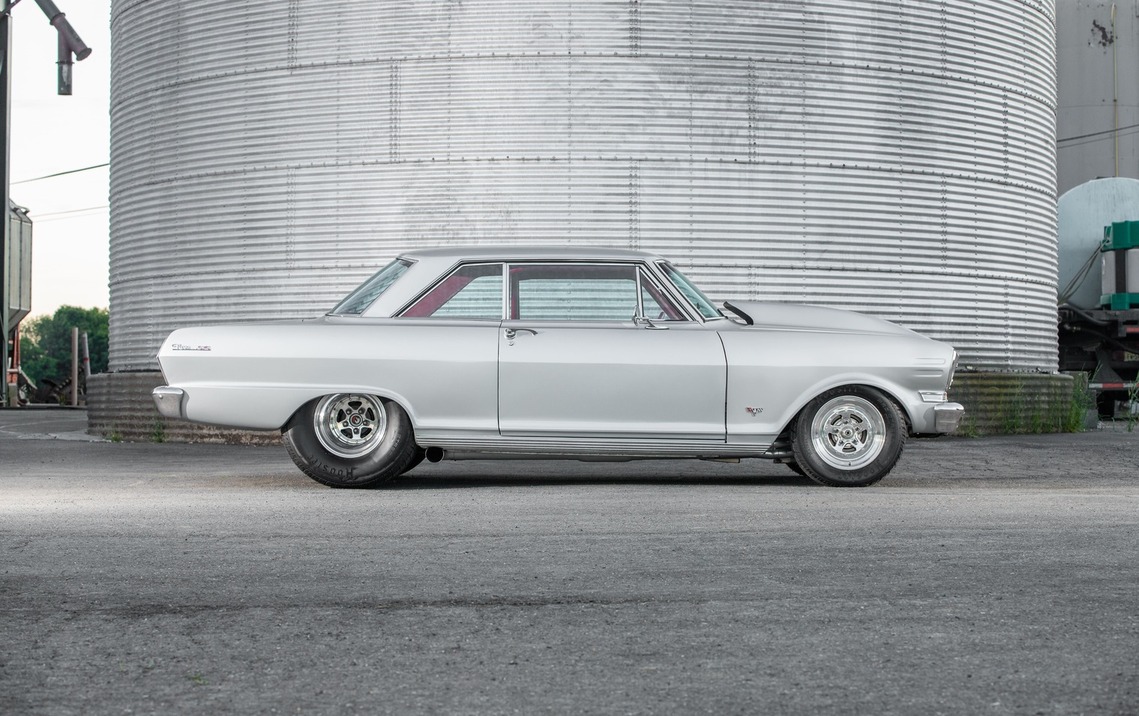 TECH CHECK
Owner: Pete Jacob
Vehicle: '63 Chevy Nova SS
Engine
Type: Dart BBC
Displacement: 540 ci
Compression Ratio: 11.1
Bore: 4.500 inches
Stroke: 4.250 inches
Cylinder Heads: Dart Pro 1 Aluminum
Rotating Assembly: Steel crank, H-beam rods, JE Pistons, Childs and Alberts's rings
Camshaft: Erson solid roller 0.680/0.680 lift, 0.282/0.292 duration at 0.050
Induction: Holley 1,150-cfm Dominator carburetor, K&N air cleaner custom-fabbed aluminum air diverter
Exhaust: Custom 2 ¼ inch headers, 4-inch stainless exhaust, Flowmaster mufflers
Ancillaries: Crank case vacuum pump; Weiand mechanical water pump, 8mm Taylor wires, Optima RedTop battery, trunk-mounted 15-gallon aluminum fuel cell, custom radiator hoses by owner
Output: 700 hp (est.)
Drivetrain
Transmission: Powerglide
Rear Axle: Yukon Gear & Axle 9-inch, 4.56 gearset, HD Drag Spool, Moser 40-spline axles
Chassis
Chassis: Checkered Racing frame
Front Suspension: Checkered Racing tubular control arms, drop spindles, QA1 single-adjustable coilover shocks, QA1 springs
Rear Suspension: QA1 single-adjustable coilover shocks, QA1 springs
Brakes: Wilwood 11-inch rotors, two-piston calipers front and rear, Wilwood tandem master cylinder, Wilwood proportion valve
Steering: Flaming River rack-and-pinion
Wheels & Tires
Wheels: Weld Alumastar; 15×3.5 front, 15×15 rear
Tires: Hoosier Pro Street Radial; 26×7.50R15 front, 33×21.50R15 rear
Interior
Upholstery: Custom cut pile red carpet
Seats: Factory bucket with red leather
Door Panels: Factory with red leather
Steering: Flaming River steering column, billet steering wheel
Pedals: Lokar
Shifter: Cheetah SCS
Dash: Factory
Door Handles: Factory
Instrumentation: TPI-Tech gauges, Auto Meter tach
Rollcage: 12-point mild steel
Exterior
Bodywork and Paint: N/A
Paint: Cortez Silver
Hood: Harwood 5-inch cowl
Grille: Factory
Front Bumper: Factory
Rear Bumper: Factory